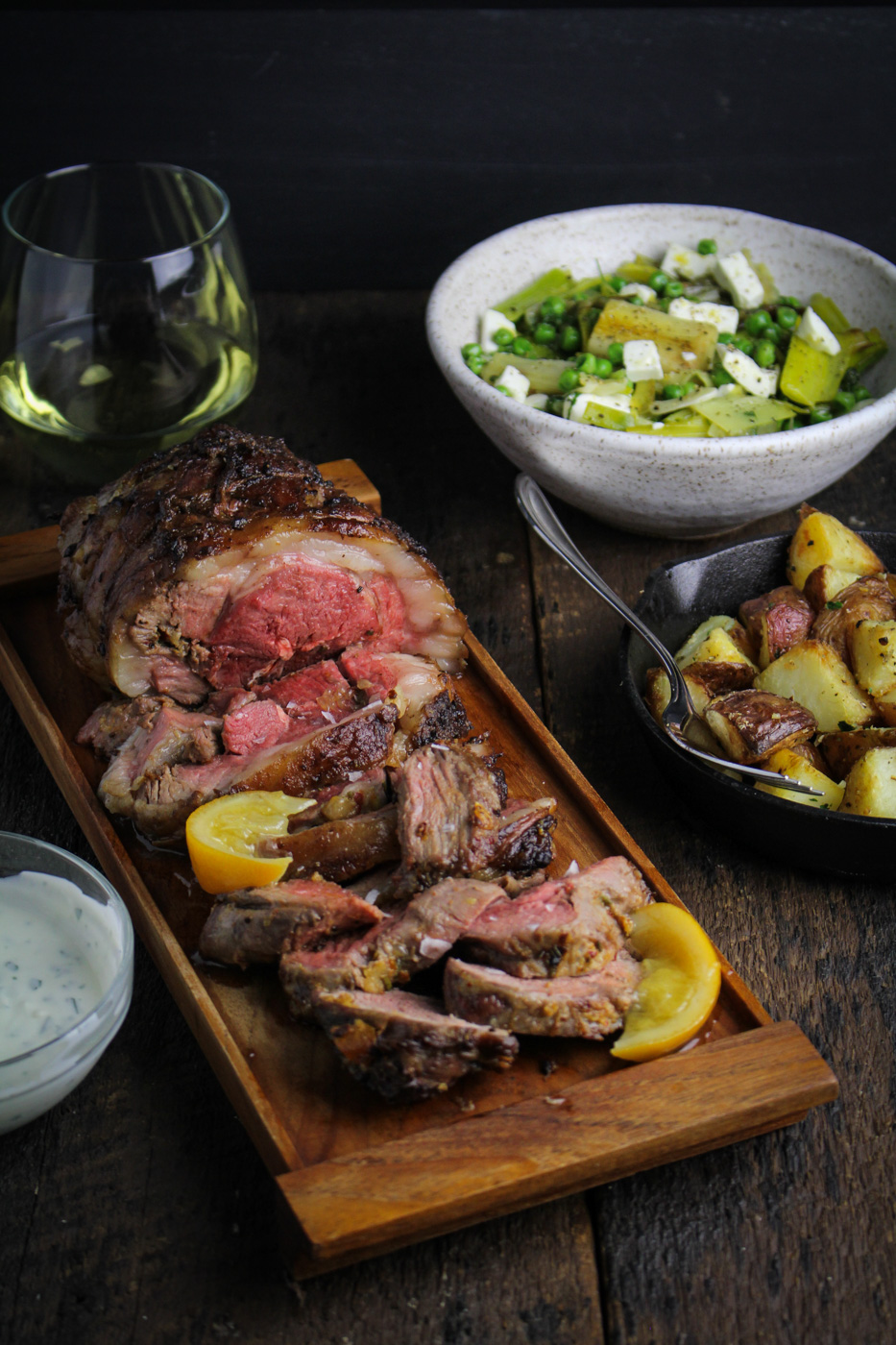 One of Trevor's Christmas presents this year was a subscription to Walden Local Meat, a Boston-based company that delivers locally raised, high quality beef, pork, lamb, and chicken on a monthly basis. Our first delivery was in February and I was thrilled to find a boneless leg of lamb included in our share, along with fresh chorizo, pork for braising, and a nice flat iron steak. We don't eat a ton of meat so it was exciting (especially for Trevor!) to have a freezer stocked with fancy cuts just waiting for inspiration to strike.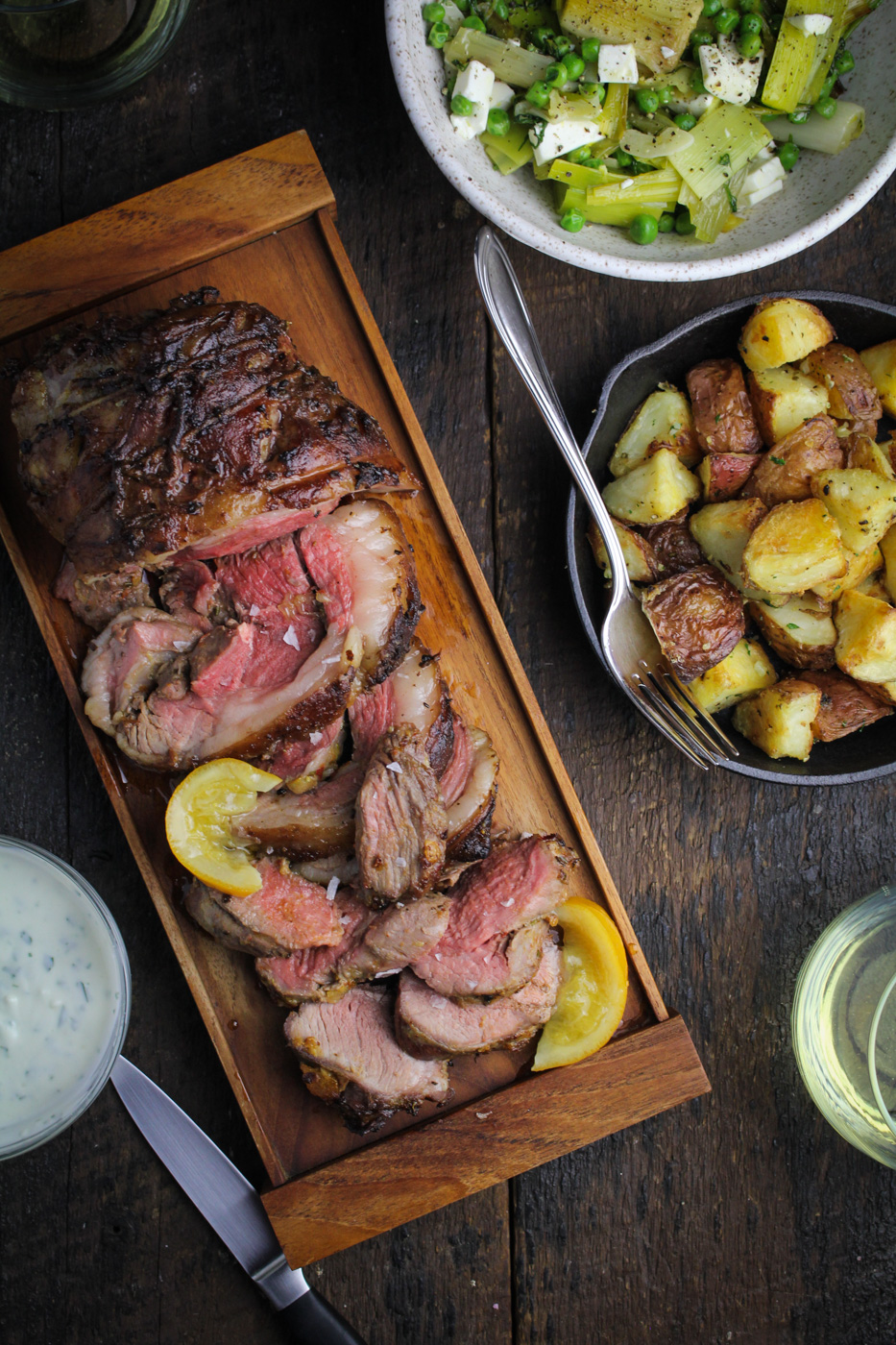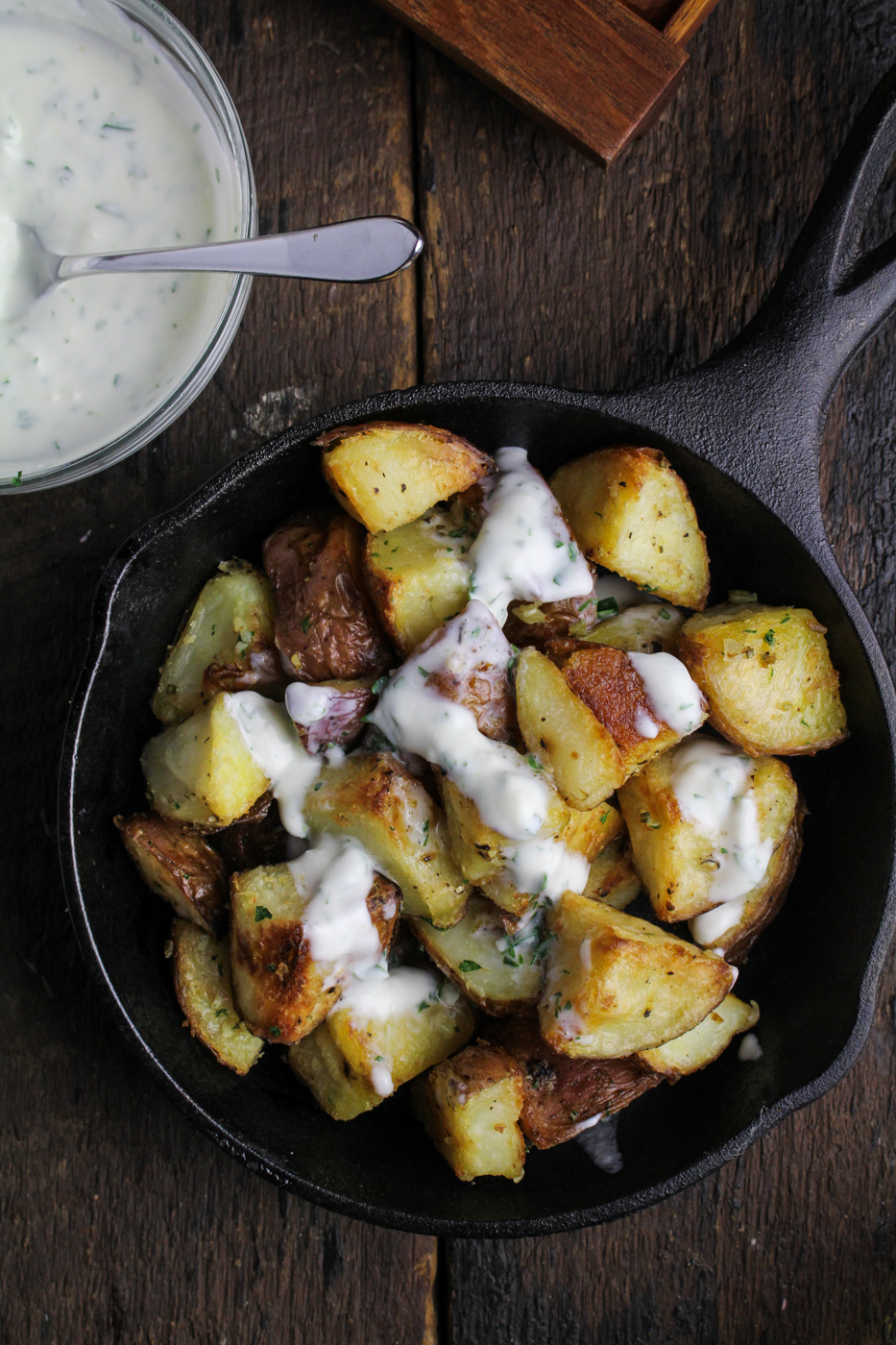 Sometimes constraints are the best driver of creativity, and this proved true with the lamb. I knew I wanted to make something special with it, something that highlighted the quality of the meat and was full of spring flavors. I found a recipe for leg of lamb with preserved lemon and cumin butter that was intriguing, but perhaps more Middle-Eastern then I wanted to go. But I loved the idea of using intense preserved Meyer lemon with the lamb, so I worked on the idea over a few days, and landed on a preserved lemon, harissa, and rosemary butter filling that I could slather all over the lamb.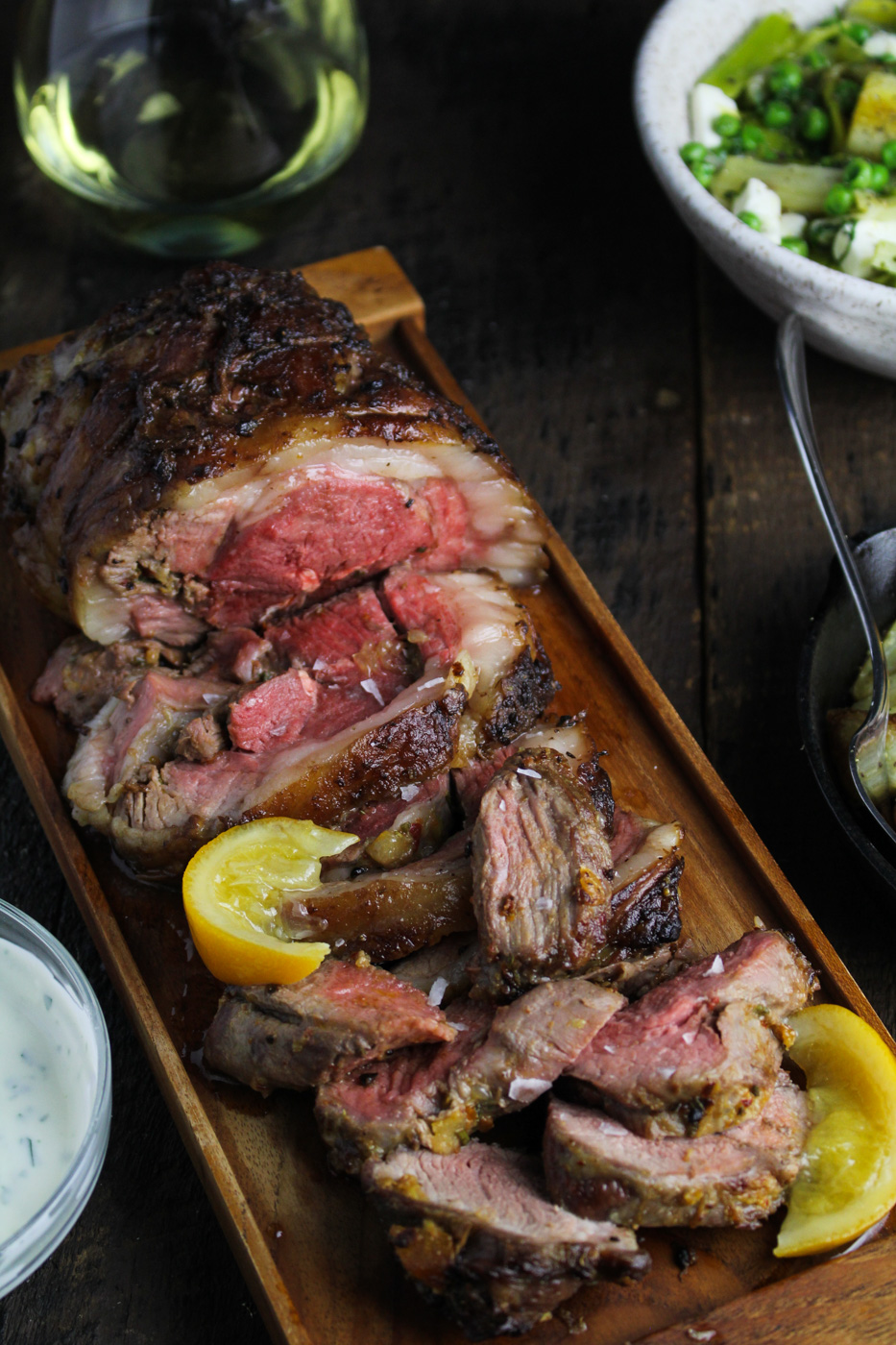 As leg of lamb is a favorite choice for Easter, I decided to make the lamb the centerpiece of an Easter-themed Sunday Dinner post. It's been a while since I've done a Sunday Dinner post, but they are still one of my favorite things to pull together. Of course, we didn't actually eat it on Easter (or we wouldn't have been able to share it with you in time!), but it made for a lovely Sunday evening meal in March. Alongside the lamb, we served Olive-Oil Braised Leeks and Peas with Feta and Roast Potatoes with Garlic Creme Fraiche. For dessert, we each had a thick slice of this Blood Orange and Olive Oil Cake I posted a few weeks ago.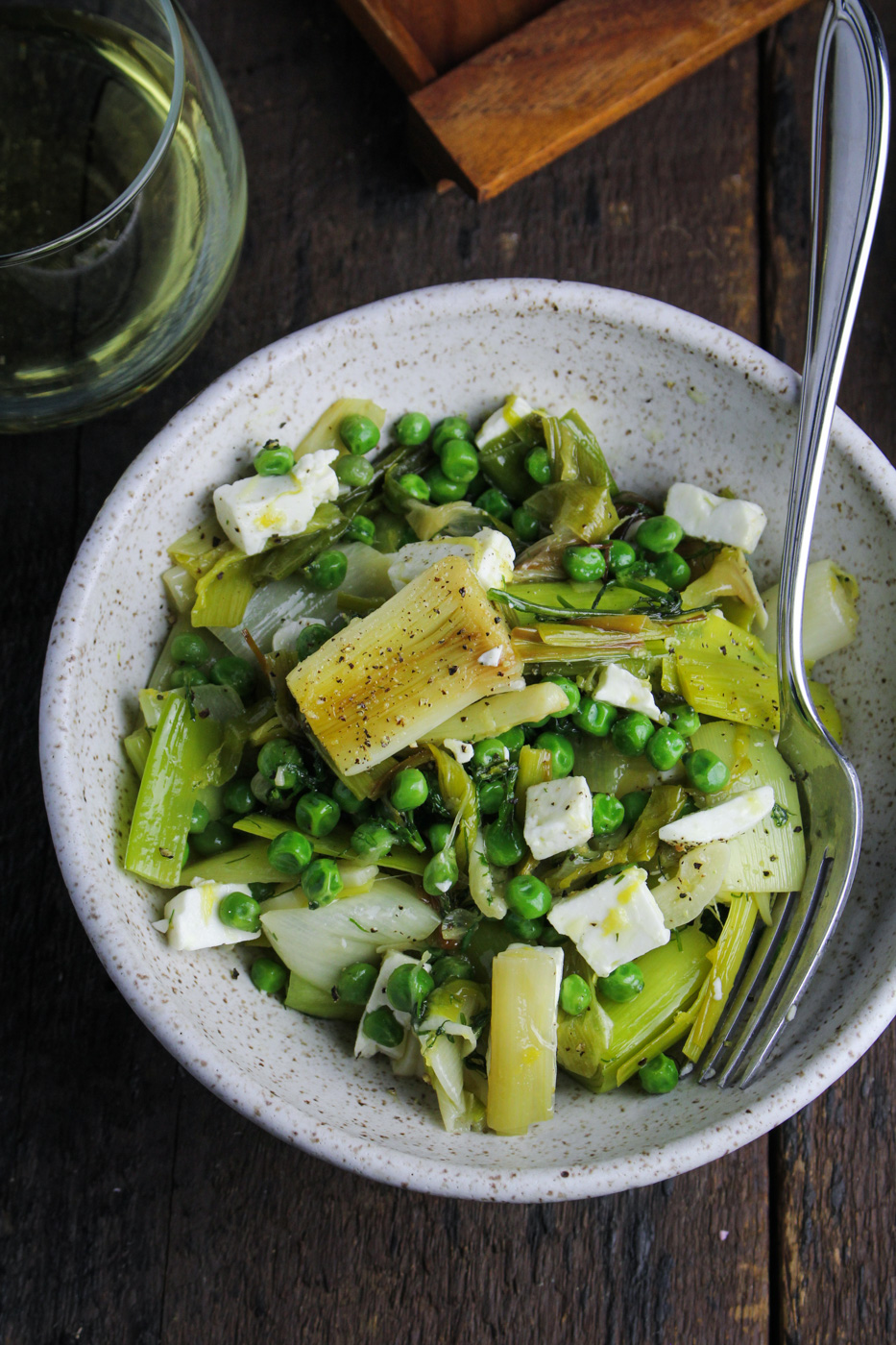 The Olive-Oil Braised Leeks were a surprise hit, and I ended up making them twice in one week. I often find leeks a bit rubbery when served in larger pieces, but these were tender and flavorful. Braised in olive oil and chicken stock, then mixed with barely-cooked English peas, dill, lemon zest, and mild feta, they make a really lovely spring side dish. The layers of delicate flavors harmonize wonderfully and evoke all the best bits of spring. It's definitely a permanent addition to my repertoire.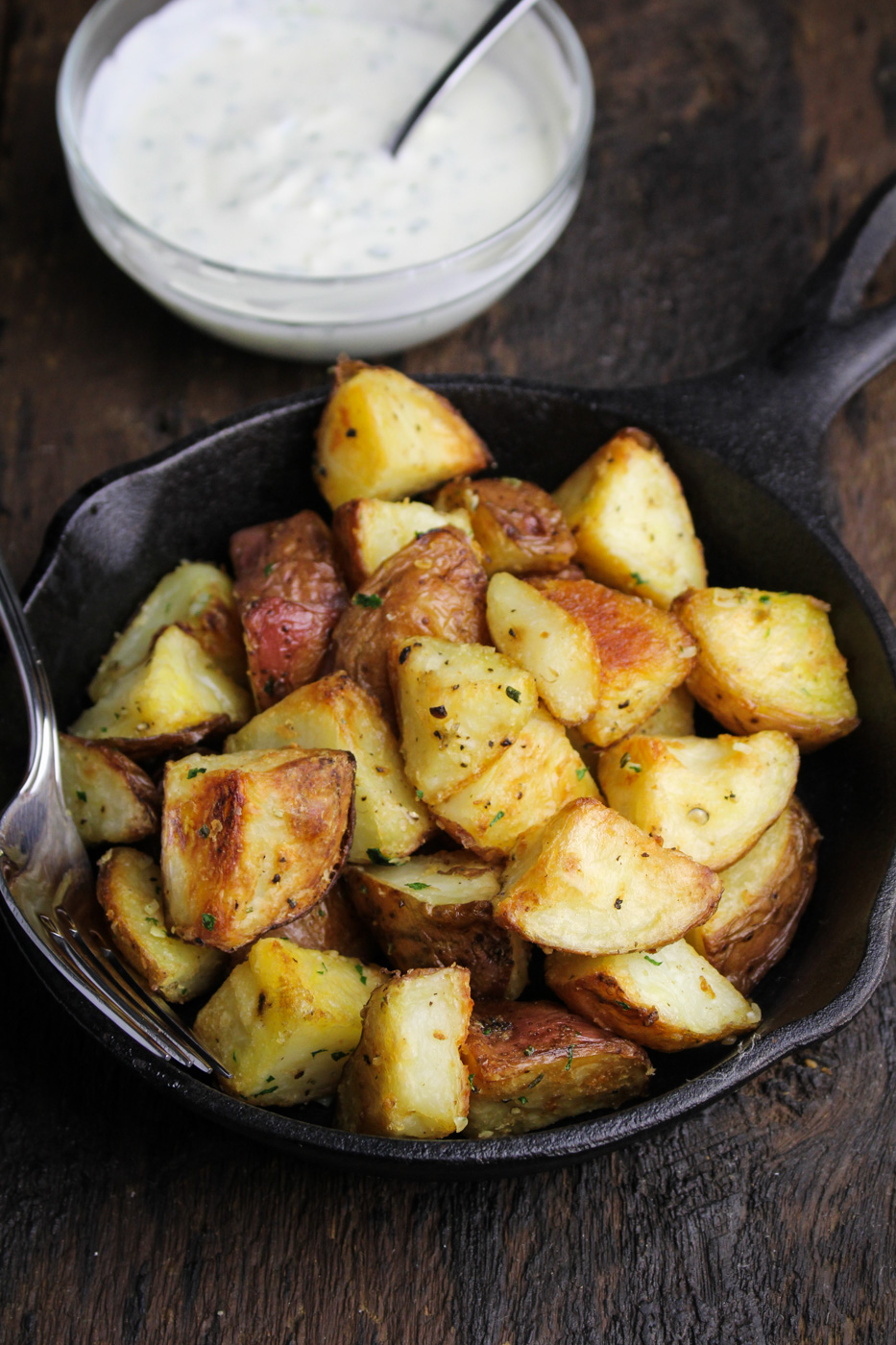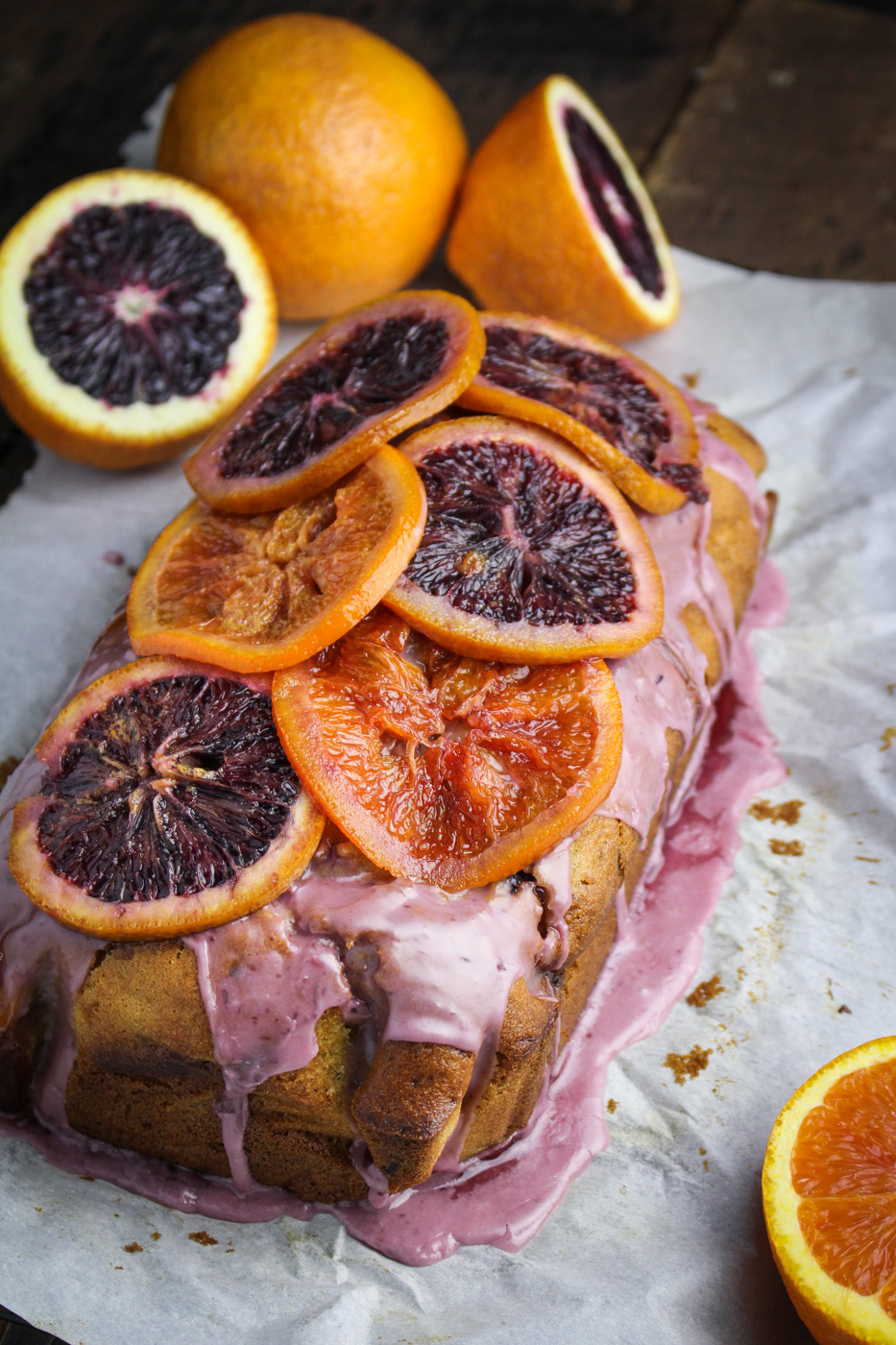 I'm excited to be really moving into spring cooking, now that the last of yesterday's snow has melted and the sun is shining with real warmth. Before we know it the trees will be bursting into blossoms, and we'll be spending Sunday afternoons putzing in the garden and sipping chilled glasses of rosé (I genuinely cannot wait until the first rosé-worthy afternoon, and I'm only a little embarrassed about it). The arrival of spring will only make coming together at the end of the day for a meal to linger over that much sweeter, whether it's Easter Sunday or a quiet day at home.
The Menu
Olive-Oil Braised Leeks and Peas with Feta and Dill (recipe below, adapted from Simple)
Boneless Leg of Lamb with Preserved Lemon and Harissa (reicpe below)
Best-Ever Roast Potatoes (Serious Eats) served with Garlic Creme Fraiche (Food & Wine)
Blood Orange and Olive Oil Pound Cake
Past Sunday Dinners:
December 14, 2015: Roasted Root Vegetable Salad; Herb-Crusted Roast Beef; Cauliflower and Horseradish Gratin
February 15, 2015: Blood Orange Mimosa; Endive and Blood Orange Salad; Chanterelle and Chestnut Bisque; Coffee-Crusted Duck Breast with Brandy-Balsamic Sauce; Chocolate Espresso Layer Cake
August 31, 2014: Roasted Garlic, Ricotta, and Maple-Roasted Cherry Tomato Crostini; Eggplant and Pesto Napoleons; Maple Mixed-Berry Pie
March 31, 2014: Fried Halloumi with Spring Veggies and Strawberry-Basil Gastrique; French Gnocchi with Watercress Sauce; Strawberry-Rhubarb Meringue Pots
October 28, 2013: Braised Lamb Shanks with Gremolata; Creamy Polenta with Fresh Corn and Blue Cheese; Roasted Brussels Sprouts; Classic Apple Pie
July 1, 2013: Strawberry-Lime Agua Fresca; Smashed Pea, Dill, and Feta Crostini; Chilled Asparagus Soup with Meyer Lemon Yogurt; Mustard Spaetzle with Mushrooms; Ricotta Bavarese with Red-Wine Poached Rhubarb
May 26, 2013: Coffee-and-Chile Rubbed Strip Steaks with Chimichurri Sauce; Charred and Smoky Belgian Endives; Oven-Roasted Potatoes; Strawberry-Sour Cream Ice Cream
Like what you just read? Subscribe to Katie at the Kitchen Door in the box on the right, on Feedly or Bloglovin', or follow along on Facebook, Twitter, Pinterest, and Instagram. Thanks for reading!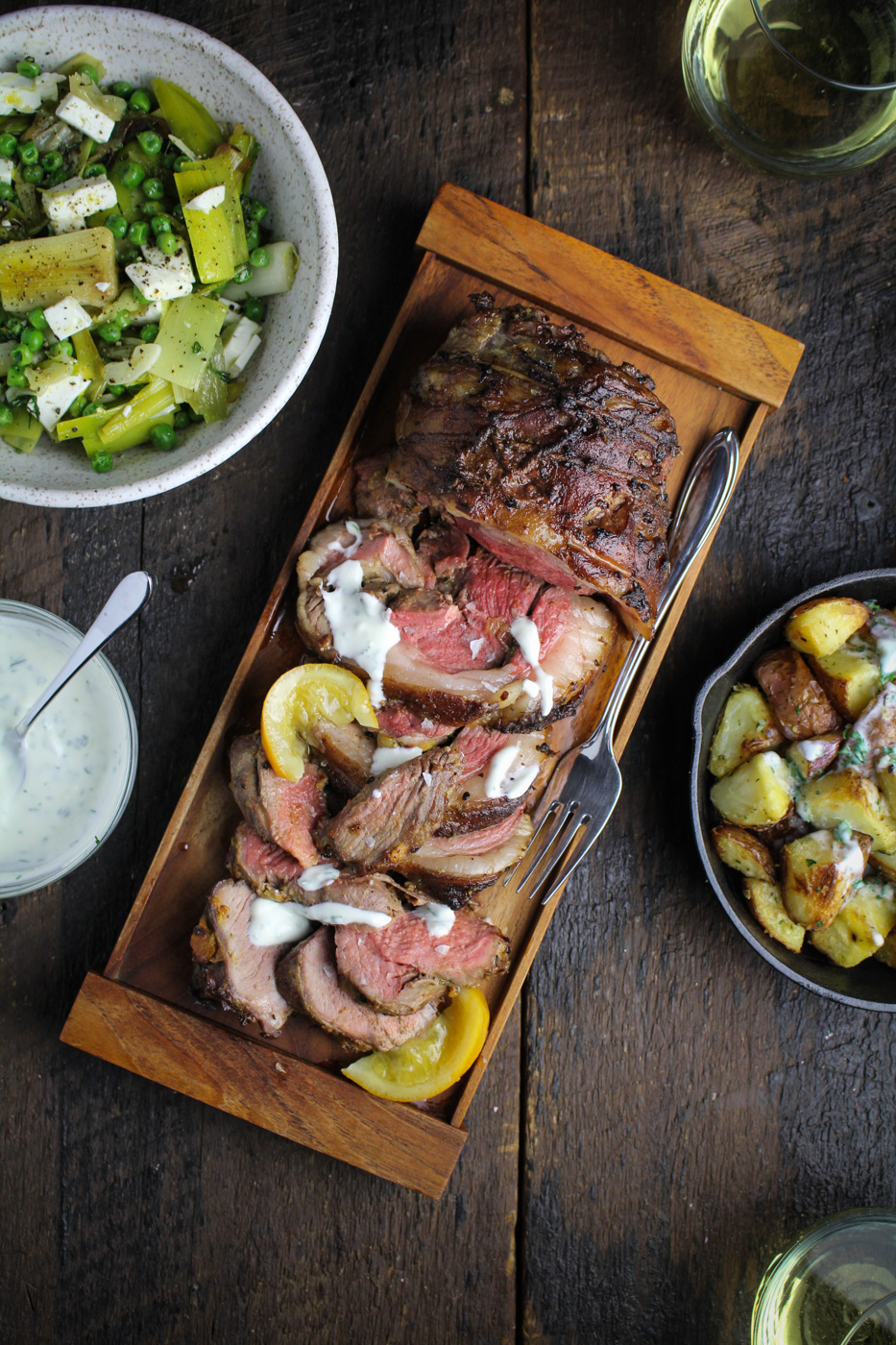 Preserved Lemon and Harissa Boneless Leg of Lamb
Serves 4-5 as a main.
1/2 stick of salted butter, softened
1 TBS harissa paste
1/4 cup chopped preserved meyer lemon (about 1 lemon)
1 TBS finely chopped fresh rosemary leaves
1/2 tsp sea salt
3-4 lb. boneless leg of lamb
To prepare the rub, mix the softened butter, harissa paste, meyer lemon and rosemary leaves together in a bowl until thoroughly combined. Set aside.
Remove the netting from the lamb and unroll onto a cutting board. Carefully remove as much of the interior fat as you can, leaving the exterior fat intact, or partially trimming if desired (see this Serious Eats article for a good tutorial on preparing a boneless leg of lamb). Using about half of the seasoned butter, rub all over the interior of the lamb, pushing the butter into pockets between muscles and fat. Tightly roll the lamb up so that the butter is inside and tie in several places with butchers twine. Use a sharp knife to cut deep diagonal slits in the fat on the top of the lamb. Use the remaining half of the butter to rub all over the outside of the lamb, including into the slits in the fat. Sprinkle with salt (go easy on the salt – the preserved lemon will already be quite salty). Place the lamb on a rack in a roasting pan. Let sit for 30 minutes at room temperature, or, preferably, for 8 hours in the fridge (bring it to room temperature for 30 minutes before cooking).
When you're ready to cook the lamb, preheat the oven to 450°F. Cook the lamb at 450 just for 10-15 minutes, to brown the outside and crisp up the fat, then reduce the temperature to 300°F. Cook until the interior temperature of your lamb is 130°F for medium-rare lamb, which should take another 45-60 minutes for a small roast. Check the doneness of the lamb frequently using an instant-read thermometer to avoid overcooking it. Once it is cooked, remove from the oven, cover pan loosely with tin foil, and let sit for 10-15 minutes. Slice and serve.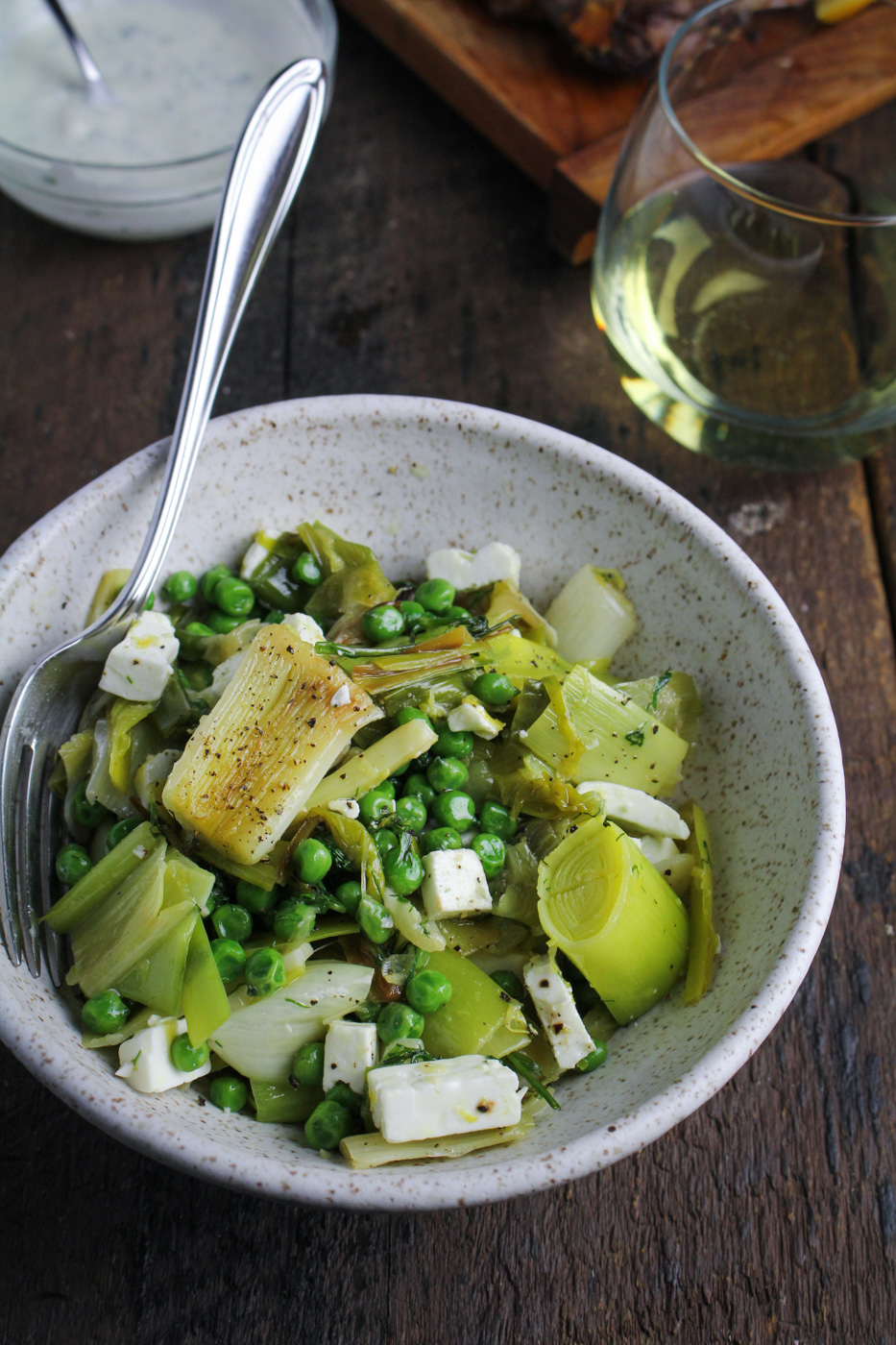 Olive-Oil Braised Leeks and Peas with Feta and Dill
Recipe adapted slightly from Simple. Serves 4 as a side dish.
4-5 large leeks
1/4 cup extra virgin olive oil
1/3 cup chicken or vegetable stock
sea salt and pepper
1 cup English peas, fresh or frozn
finely zest from one lemon
2 TBS coarsely chopped dill fronds
2/3 cup crumbled feta cheese
Remove the dark green tops from the leeks and discard. Remove about 1/4 inch from the root ends as well, if the roots are still attached. Cut a long slit along one edge of each leek and rinse the leeks very well in cold running water. If the leeks are especially dirty, you may need to cut another slit on the opposite edge to rinse them very well. Once clean, cut the leeks into 1 inch pieces.
Heat the olive oil over low heat in a large frying pan. Add the leeks and saute until they are beginning to get tender, about 5-6 minutes. Stir leeks frequently and try not to let them brown. Add the stock, season with salt and pepper, and bring the leeks to a gentle simmer. Cover with a lid and cook until leeks are tender when poked with a knife, about 10 minutes. (Stir the leeks occasionally while they are cooking to make sure they don't burn).
Remove the lid and add the English peas, lemon zest, and chopped dill to the pan. Cook for 2-3 minutes longer, until the peas are just tender. Transfer to a bowl and sprinkle with the feta cheese. Serve warm.
11