I struggled a bunch to come up with the right goal for July. I knew the problem I wanted the goal to address: backsliding. I've made so much progress this year – I hit the ten pounds lighter mark at the end of June, something that has felt vaguely impossible for the past few years – and I'm worried about losing that progress. I feel really good about how I look, and I've been feeling energized and even excited about working out. But last year, July was the month I pretty much stopped working out, partly because of the heat, partly because it was the month we moved, and partly because my work travel schedule became really busy. Although we're not moving this year and my work schedule is lighter, the memory of last year is looming large over me. Coming up with a concrete goal to address this, that would also continue forcing forward progress, was challenging.
Eventually, I settled on this: do 8 different types of workouts during the month of July. My regular workout routine has 3 components – running, Nike Training Club weight training, and ballet. Those are the easy ones. Hopefully, adding 5 other things will keep me engaged, excited, and active – and maybe I'll even find something new to add to my regular routine. I have lots of ideas for the types of activities I can try: hip hop, biking, roller blading, swimming, rock climbing, yoga, boot camp, hiking, tennis, jump rope… anything else you guys would suggest? I plan to continue running and lifting on a regular basis, as well, so of course I'll work out more than 8 times in total.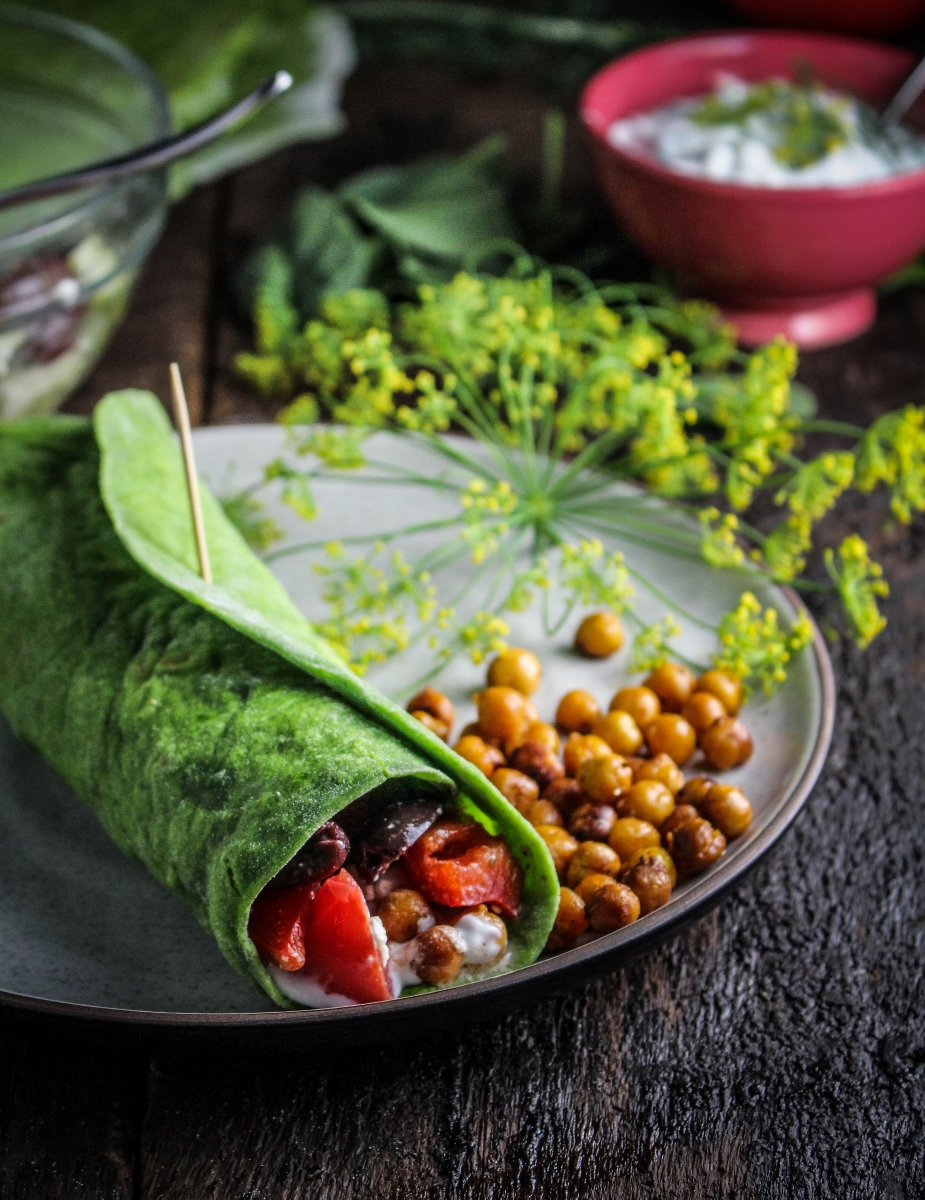 Now, let's talk about food. I think a big part of the reason I'm feeling so healthy and strong coming into July is because of how well my goal for June went. Forcing myself to include fruit or vegetables in every single meal was weirdly eye-opening for me. After only about a week or two, my afternoon cookie cravings had significantly diminished, I was eating light meals and feeling satisfied, and when I did feel like indulging, it was easy to stop after a bite or two of whatever overly decadent thing I was eating. The most successful days were the ones when I was able to bring a healthy breakfast, lunch, and snack to work – instead of running to the cafe downstairs for an afternoon treat, I'd reach right next to me and munch on raw peas or blueberries.
Now, there are plenty of days when I do not have my act together enough to even get one of these meals in my bag, let alone all three, so this month's recipe is a portable, make-ahead, healthy lunch that I can throw in my bag on those super-harried mornings with very little forethought. Wraps aren't on my normal grocery list, but my mom always has some in the fridge, along with some easy salad-based fillings for them, and it's a great way to have a quick and healthy lunch. Since the ingredients in store bought wraps and tortillas can be a little suspect, I decided to make my own spinach wraps for easy grab-and-go sandwich lunches this month. They're surprisingly easy to make – the dough is extremely elastic and fun to work with – and I like knowing exactly what's in them, including lots and lots of spinach. I filled my first batch with chopped Greek salad, tzatziki, and roasted chickpeas – they were so tasty and zingy and crunchy, a very satisfying vegetable-focused lunch. Because the chopped salad has a lot of liquid, it's best to serve these immediately after assembling, so if you're bringing them to go, throw the salad in a tupperware, bring a wrap, and assemble when you're ready to eat.
Past Fitness Challenges
January: 10 Visits to the YMCA; Recipe: Gluten-Free Olive-and-Feta Corn Muffins
February: One vegan meal every day; Recipe: Pakistani Chickpea Pulao with Sweet-Hot Date-Onion Chutney
March: Run 40  miles in 20 days; Recipe: Chocolate-Dipped Almond Butter Cookie Bites
April: Walk 8,000 steps a day; Recipe: Herb-Flecked Spring Couscous
May: 180 minutes of Nike Training Club; Recipe: Warm Arugula Salad with Maple Mustard Dressing
June: Fresh fruit/veggies at every meal; Recipe: Chickpea Crepes with Grilled Curried Chicken and Mango Salsa
Like what you just read? Subscribe to Katie at the Kitchen Door on Feedly or Bloglovin', or follow along on Facebook, Twitter, Pinterest, Instagram, or Google+. Thanks for reading!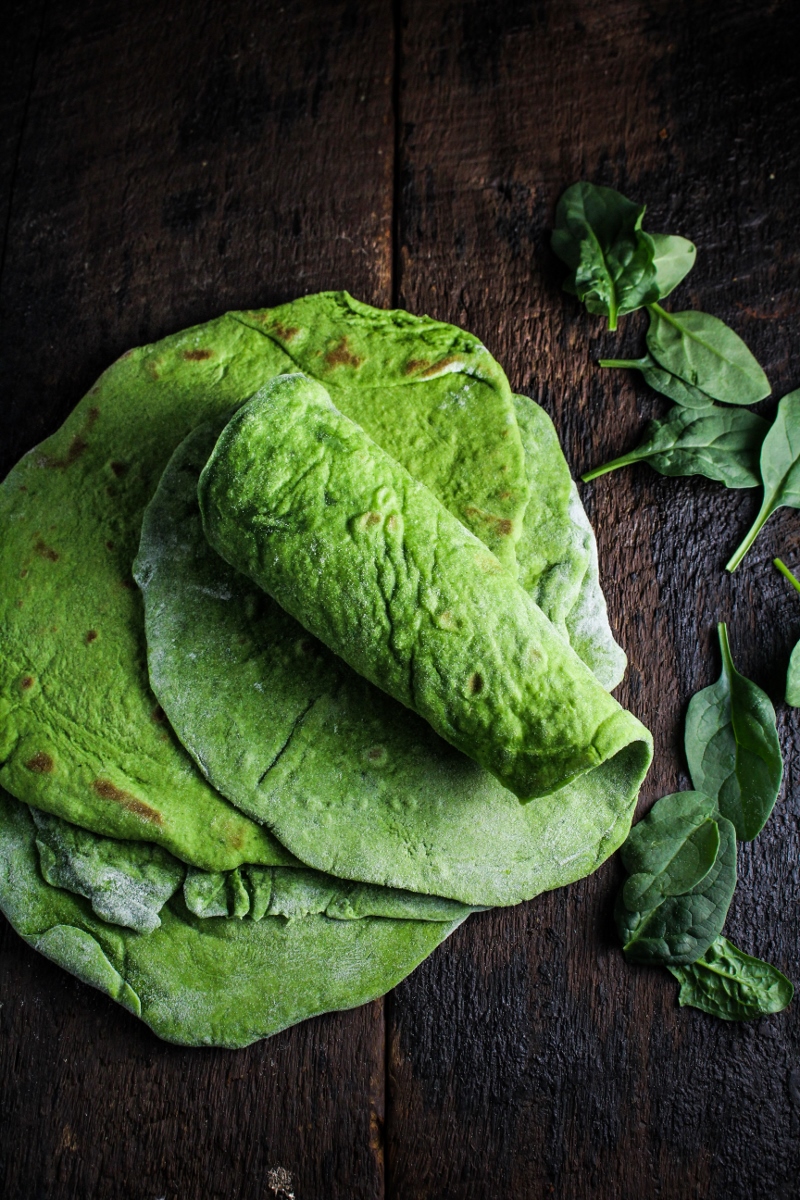 Homemade Spinach Wraps
Makes 10-12 wraps.
3 c. flour
1 1/2 tsp baking powder
1 tsp salt
4 TBS vegetable oil
4 oz. spinach
3/4 c. milk, warmed in the microwave or on the stovetop
In a large bowl, stir together the flour, baking powder, and salt until evenly mixed. Add the vegetable oil and stir until crumbly dough is formed. Set aside.
Place the spinach and warm milk in a blender, and blend on high until the mixture is smooth. Pour the spinach into the flour and stir to combine. If mixture is too wet, add a little bit more flour. Knead the dough with your hands for about 5 minutes, until smooth. Form the dough into a ball, wrap in plastic wrap, and refrigerate for 30 minutes.
Lightly flour a work surface and a rolling pin. Break the chilled dough into 10-12 golf-ball sized balls. Roll each ball out into a very thin circle about 8 inches in diameter. The thinner the dough is, the more pliable the wrap will be. Heat a large frying pan over medium heat. One at a time, cook the wraps in the dry frying pan, for about 30 seconds on each side or until wrap has stiffened slightly and is golden brown in spots. Let cool, then wrap in plastic wrap and store in the fridge until ready to use.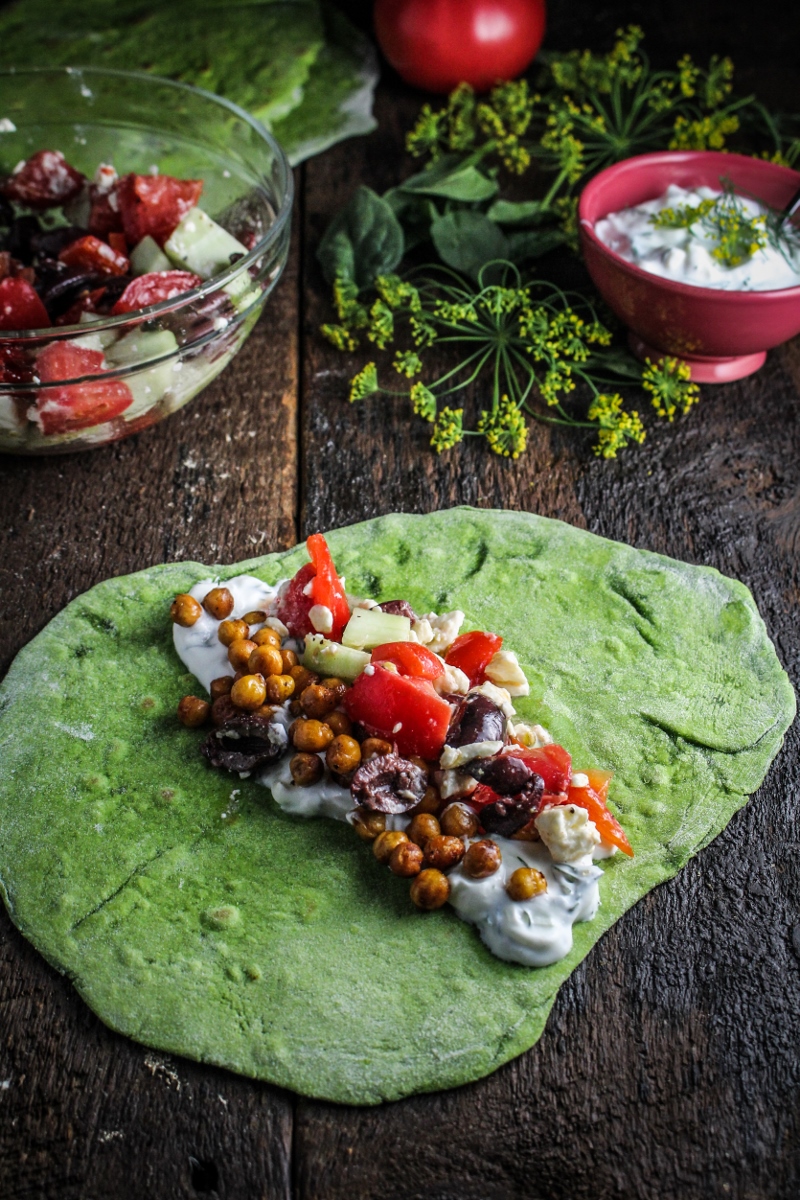 Chopped Greek Salad
Serves 3-4 as a wrap filling.
1 1/2 c. cooked chickpeas
2 TBS + 1 TBS olive oil
1/2 tsp smoked paprika
1 medium tomato, cored and roughly chopped
1 small red pepper, stemmed and seeded and roughly chopped
1 small cucumber, peeled and seeded and roughly chopped
1/3 c. feta cheese
12-15 kalamata olives, pitted and halved
1 TBS red wine vinegar
sea salt
freshly ground black pepper
tzatziki, for serving (optional)
Preheat the oven to 400°F. Toss the chickpeas with 2 TBS of the olive oil and the smoked paprika, and spread out on a baking sheet. Sprinkle with sea salt and black pepper. Roast until crispy, about 30 minutes in total, stirring once about halfway through. Remove from the oven and set aside.
Combine the tomato, red pepper, cucumber, feta, and olives in a large bowl. Add the red wine vinegar and the remaining 1 TBS of olive oil. Stir to coat vegetables with oil, and season with salt and pepper. Cover and refrigerate until ready to serve. Just before serving, mix in the roasted chickpeas.
To serve as a wrap, spread a layer of tzatziki on the inside of the wrap, then place several spoonfuls of the chopped salad on top. Roll up and enjoy immediately.
33