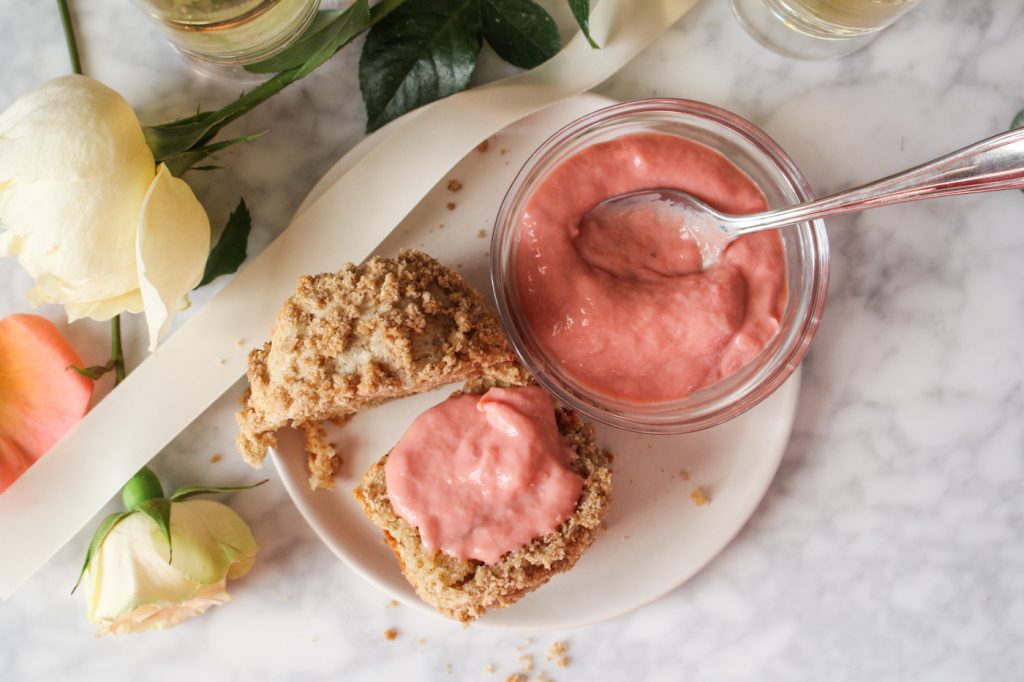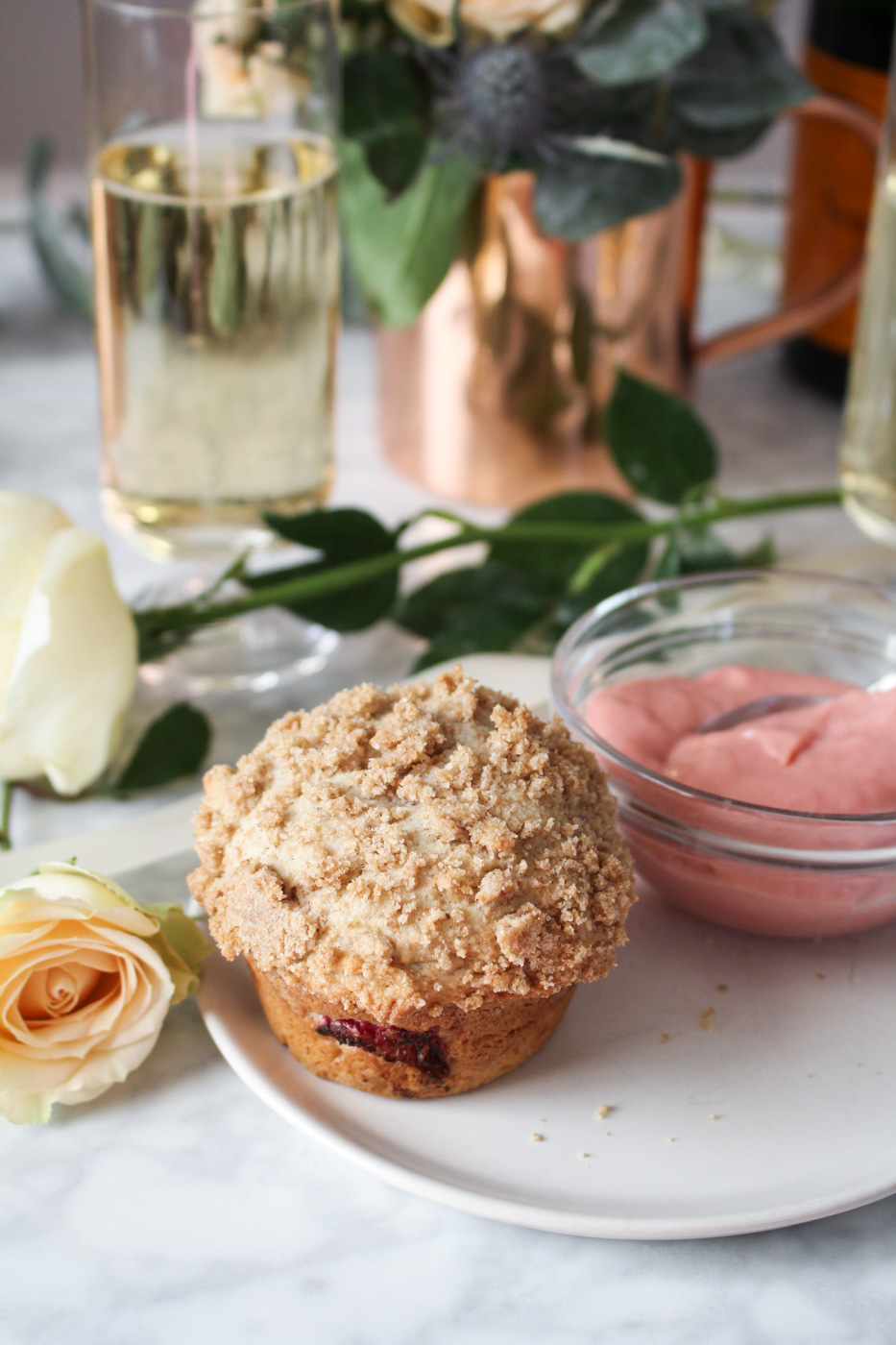 Last weekend, I had my mother, my future mother-in-law, and one of my oldest friends come over to practice flower arranging. I'm doing our wedding flowers myself, and while I'm super excited about it, I also want to make sure that I at least sort of know what I'm doing before the big day. My current daydream profession is to be a flower farmer – have you seen the gorgeousness that is Cut Flower Farm? – so this played nicely into my fantasies of being continually surrounded by fragrant pink garden roses.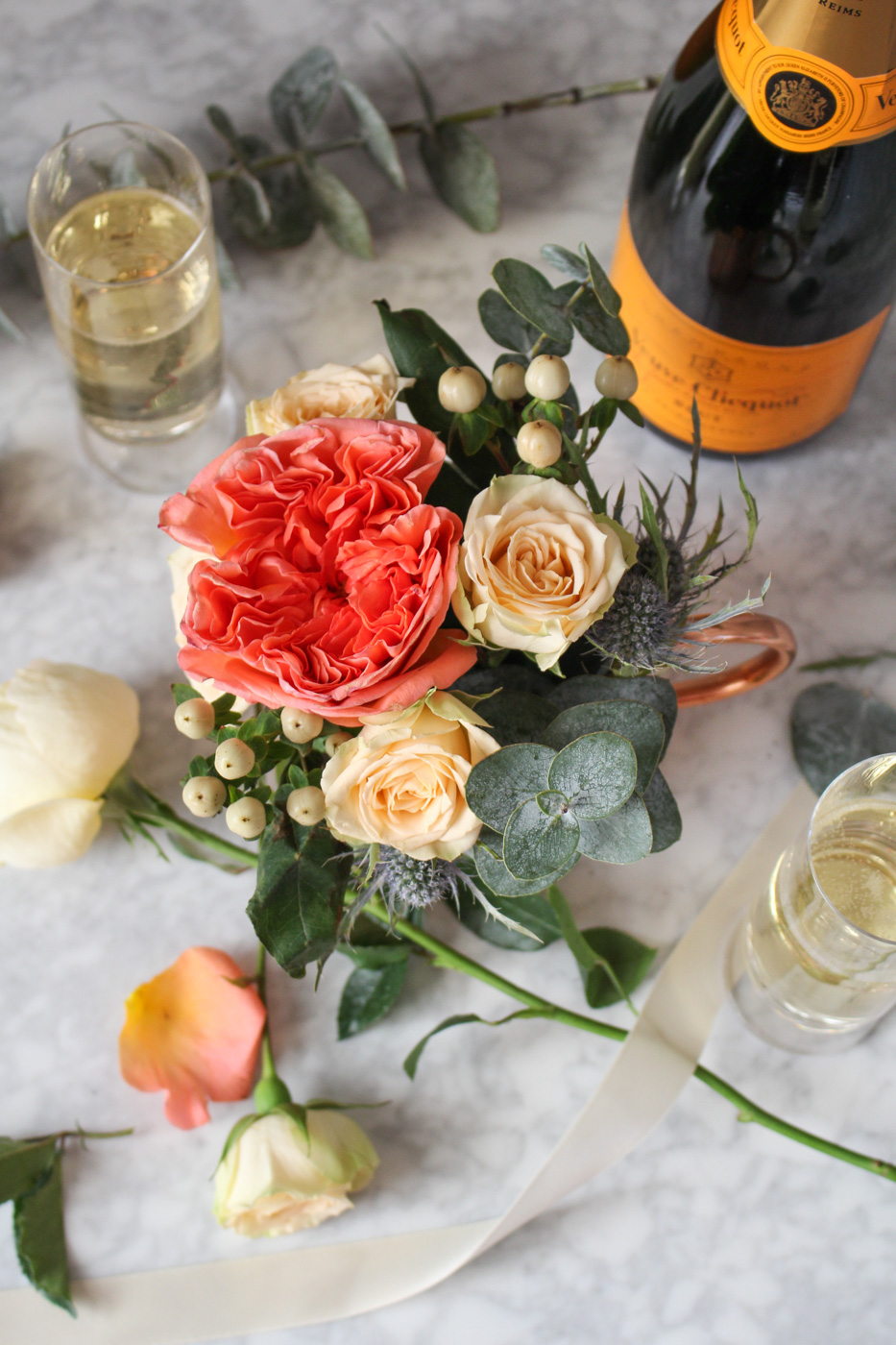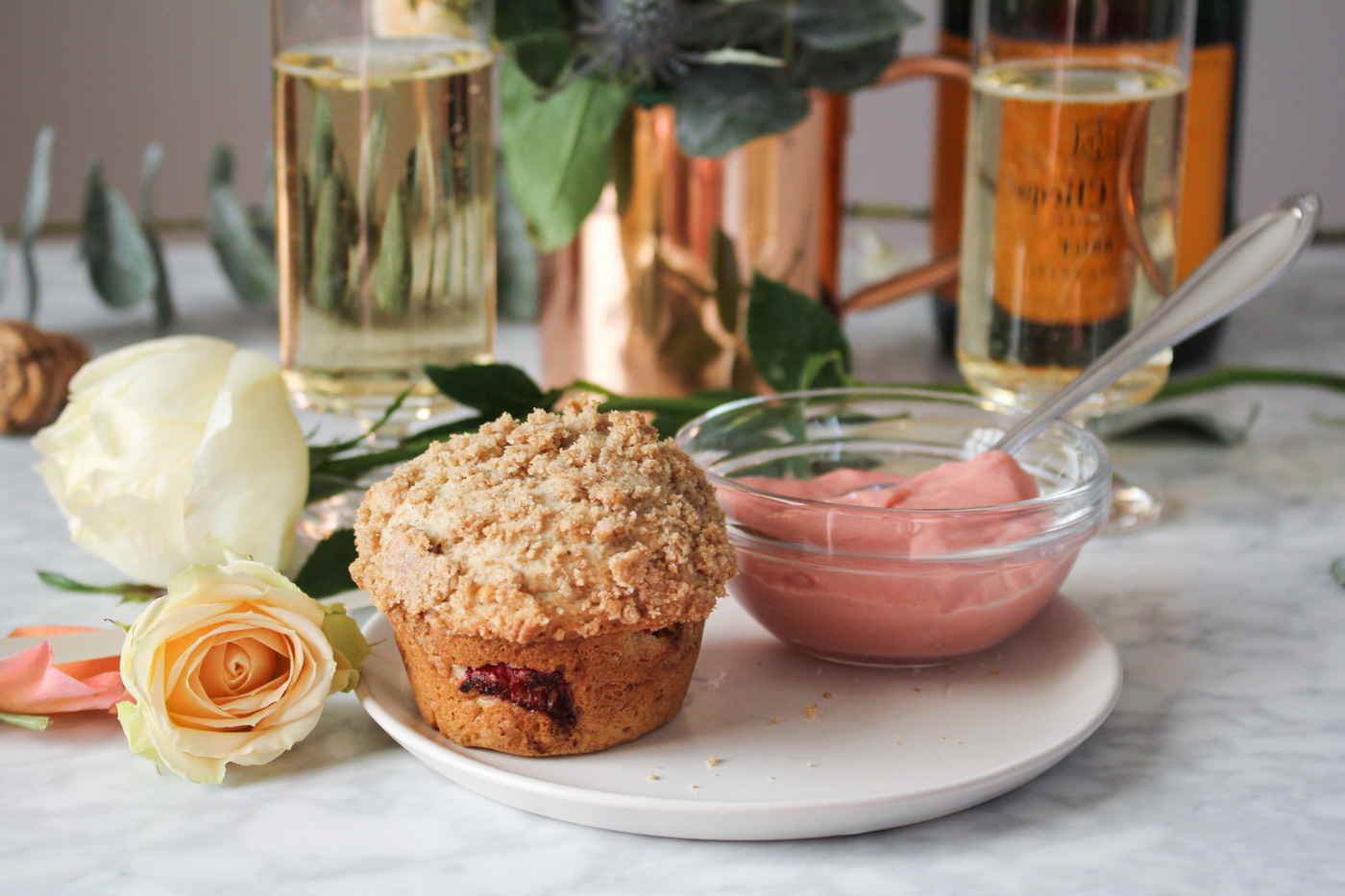 Since I had buckets full of roses and a fancy bottle of champagne, I couldn't resist turning the morning into a little photo shoot before my guests arrived. The sun was streaming through the window and it gave me a chance to show off our newly finished guest room. When you only have one finished room in your house you've got to flaunt it so that people won't notice the holes in the walls in all the other rooms.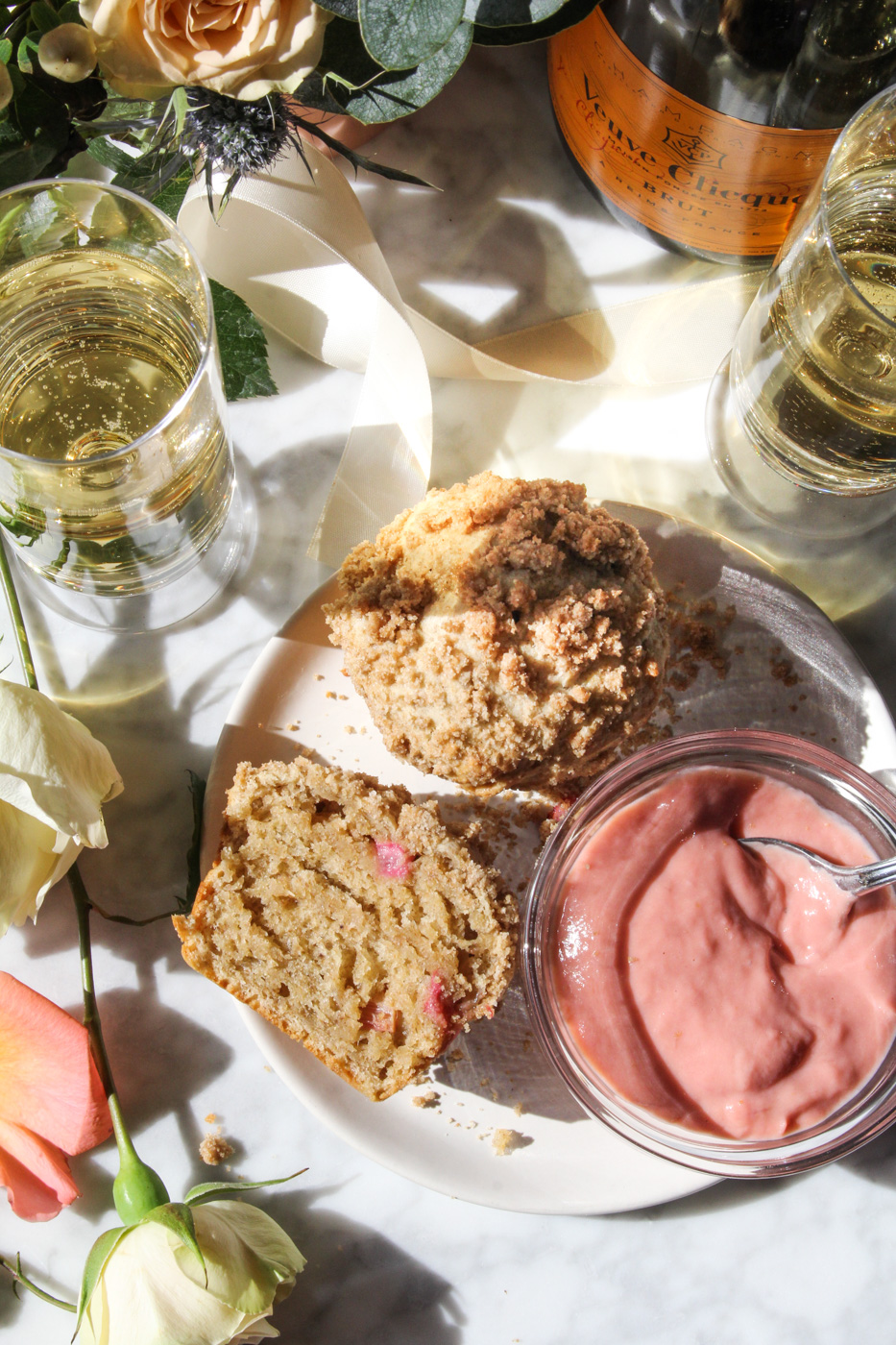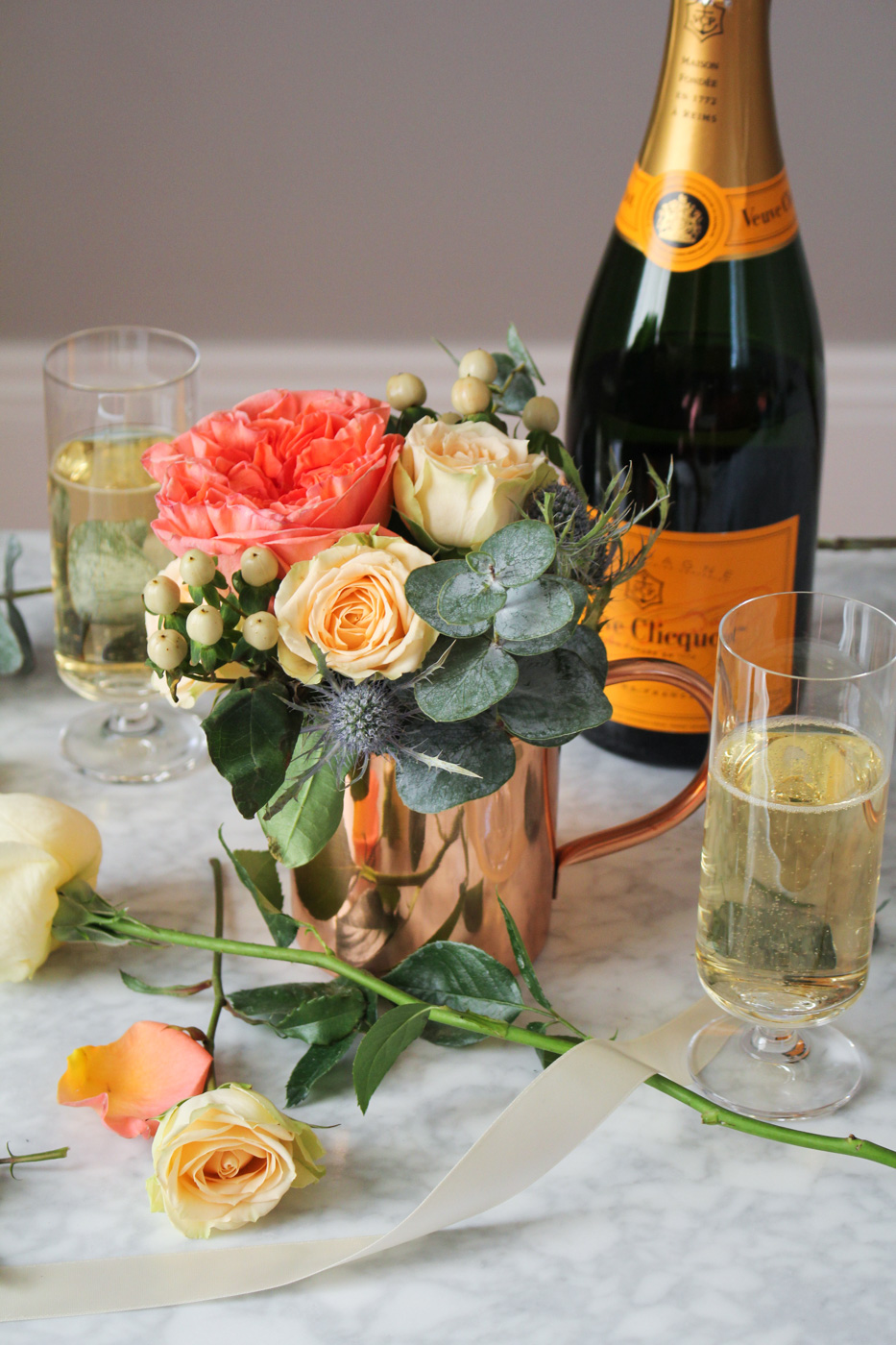 To top off the morning, I made a batch of Rhubarb and Rye Streusel Muffins and served them with a bowl of pink Rhubarb Curd. Flower arranging is hard work, you know? Got to stay fortified. I adapted the muffins from Deb's Rhubarb Streusel Muffin recipe, replacing some of the whole wheat flour with rye flour. The muffins are lovely – a little bit hearty from the rye and not too sweet or cake-like. The rhubarb for the curd was such an amazing shade of fuchsia while I was cooking it. But then the moment I added it to the custard the curd became a sort of pinkish gray. I have to find a way to make a curd that keeps that beautiful hot pink color! Luckily it tastes lovely either way.
The flowers turned out beautifully, even the practice bouquets. We're using peach and pink garden roses, cream spray roses, eucalyptus, hypericum, and thistle. I'll also be growing dahlias – but not counting on them. They'll be more like a nice surprise if they work out. As a bonus, our house has been absolutely filled with roses all week and smells amazing. It's going on day 8 since they arrived in the mail and they are just starting to fade. Wedding flower fears allayed – it's going to be beautiful.
Like what you just read? Subscribe to Katie at the Kitchen Door in the box on the right, on Feedly or Bloglovin', or follow along on Facebook, Twitter, Pinterest, and Instagram. Thanks for reading!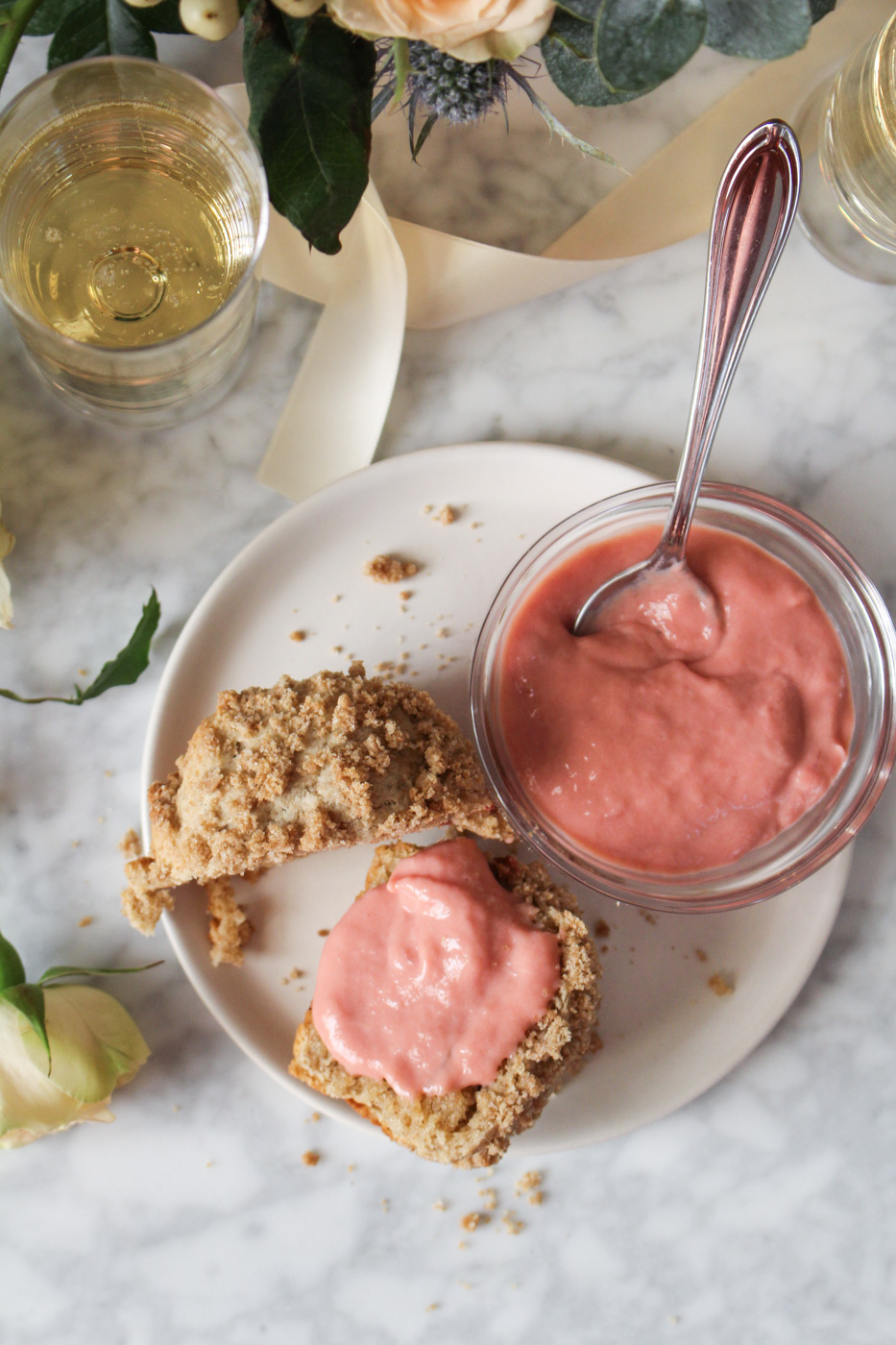 Rhubarb and Rye Streusel Muffins
Adapted from Smitten Kitchen. Makes 10-12 muffins.
For the streusel:
3 TBS all-purpose flour
3 TBS rye flour
2 TBS granulated sugar
2 TBS light brown sugar
1/4 tsp ground cinnamon
3 TBS butter, melted
For the muffins:
1 large egg
1/4 c. light brown sugar
1/4 c. white sugar
5 TBS salted butter, melted and cooled to lukewarm
1 c. sour cream
1 c. all-purpose flour
1/2 c. rye flour
1 1/2 tsp baking powder
1/4 tsp baking soda
1 c. diced rhubarb
Preheat the oven to 375°F. Lightly grease a muffin tin with cooking spray or melted butter and set aside.
To make the streusel: mix all of the dry ingredients together in a small bowl, then add the melted butter. Use your hands to mix the streusel until medium-sized crumbs form.
To make the muffins: In a large bowl, whisk together egg and the sugars until smooth. Add the melted butter and whisk to incorporate, then add the sour cream and whisk to incorporate.
In a separate bowl, whisk together the flour, rye flour, baking powder, and baking soda. Add the dry ingredients to the wet ingredients and stir gently, just enough to mix together. Gently fold in the rhubarb and about a third of the streusel crumbs.
Divide the muffin batter evenly between the prepared muffin cups. Sprinkle some of the streusel crumbs on top of each muffin, pressing gently to get the crumbs to stick to the tops of the muffins. Bake until a toothpick inserted into the center of each muffin comes out clean, about 17-20 minutes. Serve with rhubarb curd.
Rhubarb Curd
Makes about 2 cups. Adapted from Foodess and Food 52.
1/2 pound rhubarb, cut into 1/2 inch pieces (choose the brightest red rhubarb you can find!)
1/4 cup plus 3 TBS sugar
1/4 cup water
juice from 1/2 lemon
2 egg yolks
1 whole egg
4 TBS salted butter, cut into 4 pieces
Add the rhubarb, 1/4 cup of the sugar, and the water to a small saucepan. Bring to a simmer over medium heat and simmer until the rhubarb is very soft and falling apart. Remove from the heat and add the lemon juice. Use an immersion blender to blend the rhubarb into a paste – it should have the consistency of a thick jam. Do this while the rhubarb is still hot (but be careful of splatters!)
In a separate bowl, whisk together the egg yolks, egg, and the remaining 3 TBS of sugar until very smooth. Slowly pour the hot rhubarb paste into the egg yolk mixture, whisking the eggs vigorously as you do so. This should temper your eggs. Pour the whole mixture back into the saucepan and return to medium-low heat. Cook the mixture, stirring constantly, until it thickens enough to be spoonable. This should take 5-8 minutes. Remove the curd from the heat and stir the butter into the curd one piece at a time, stirring to melt the butter in between additions. If the curd is free of lumps, transfer to a bowl, cover tightly, and chill until ready to serve (at least 2 hours). If there are any lumps or bits of egg, strain the curd through a fine mesh strainer before chilling.
3