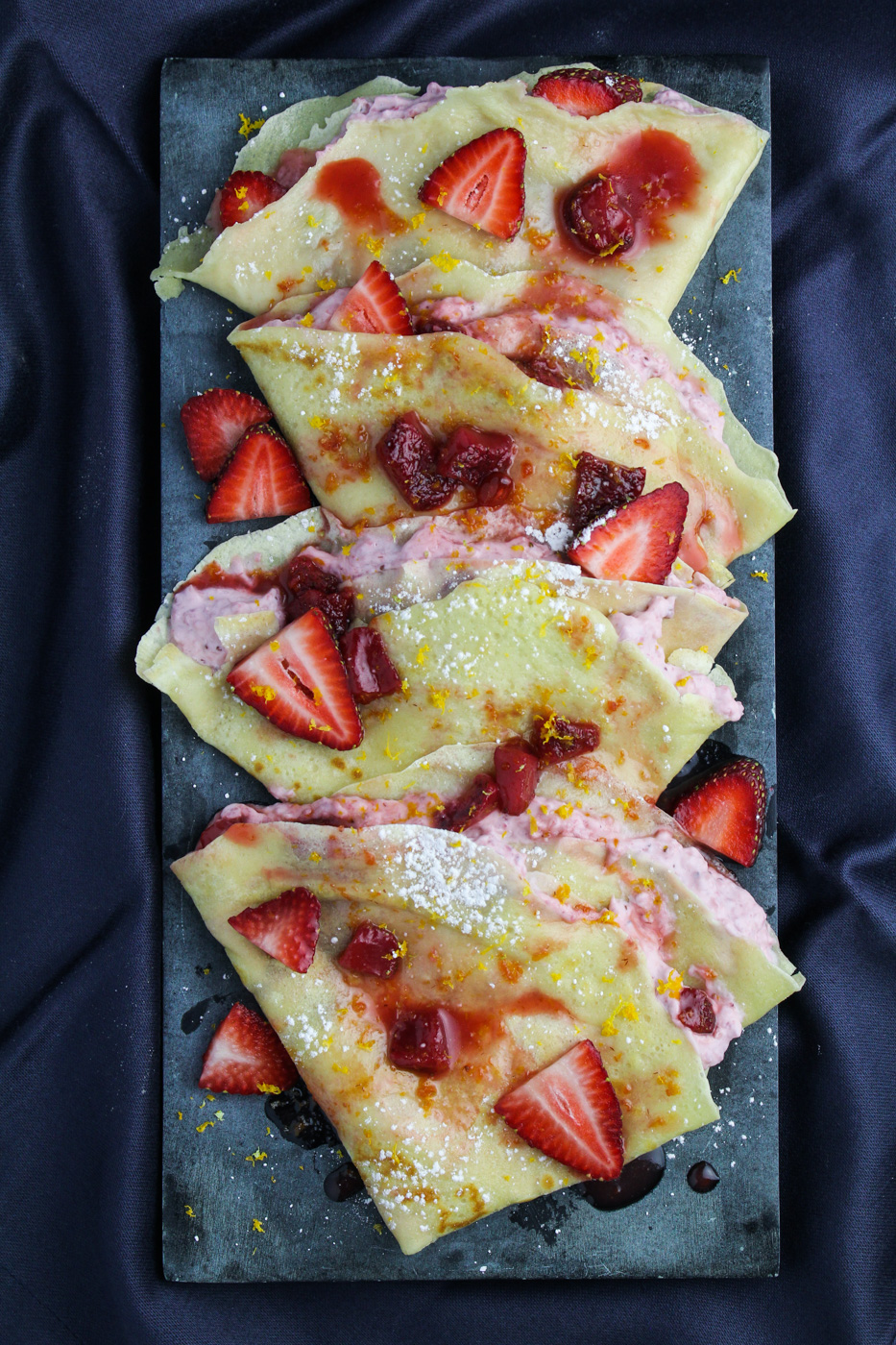 I first learned to make crepes in high school. During one French class our professor took us to his house for a simple French cooking lesson. It was a boarding school and most of the professors lived on campus, so this wasn't particularly unusual. He taught us the ratio – 1:2:1 milk, eggs, flour – and pan-fried dozens of crepes. Like most of my classes in high school, I spent a good portion of it flirting, an activity that was only enhanced by speaking French and eating crepes. French – the language of ballet, patisserie, and love.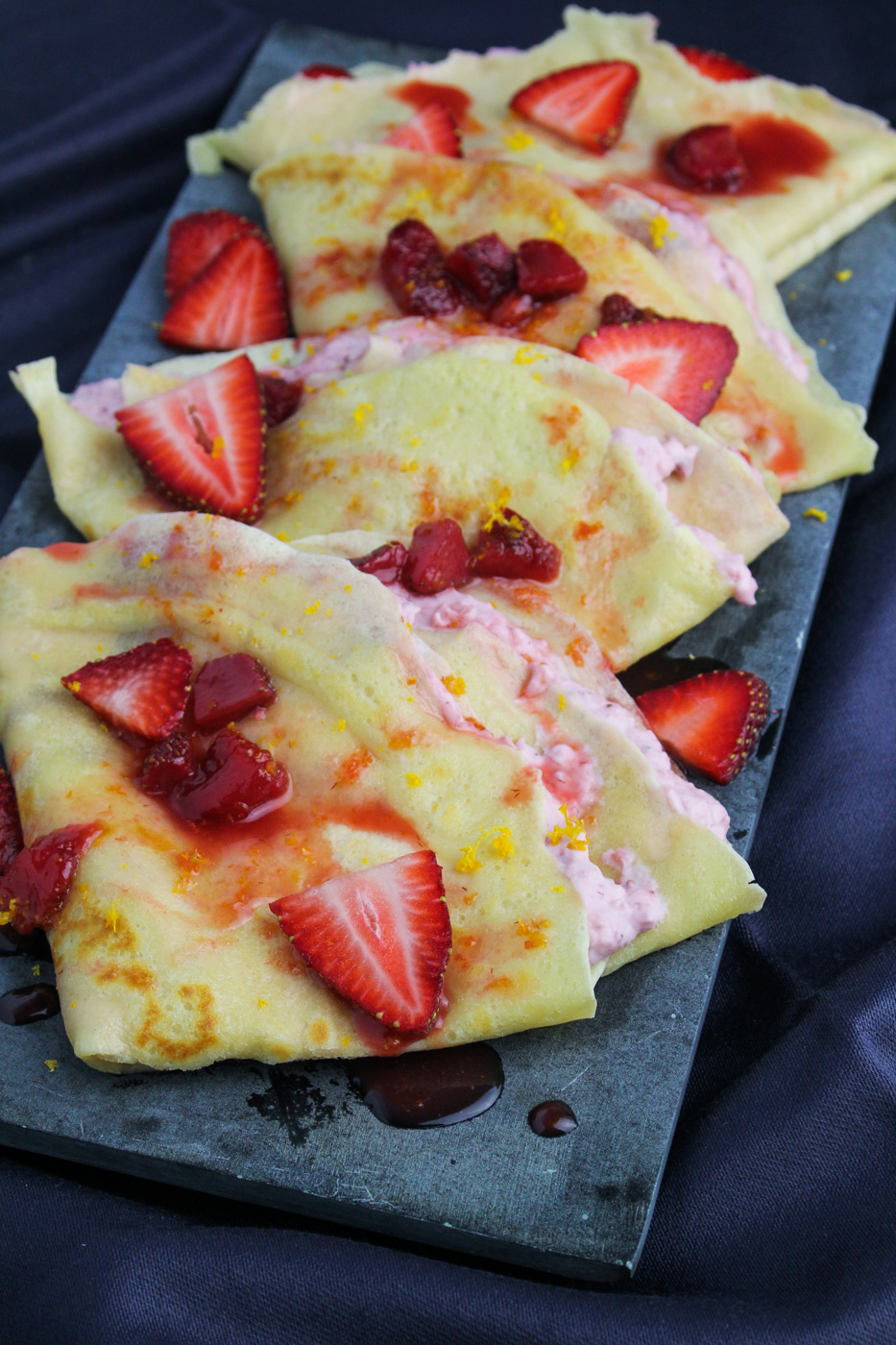 I've all but forgotten French, but I do remember how to make crepes. They are such a wonderful dessert. At their simplest, they require only 4 ingredients – milk, eggs, flour, and a pat of butter for the frying pan. From there, you can dress them up in seemingly infinite ways. You can stuff them with fruit and cream, stack them in layers with salted caramel to make a crepe cake, or flambée them with a bit of rum. You can make the batter chocolate-flavored or go the savory route and fill your crepes with ham and cheese. They are simple, economical, and delicious.
These Strawberry and Meyer Lemon Crepes are on the fancier end of the crepe spectrum.  The crepe batter itself has a splash of brandy, vanilla, sugar, and melted butter added to the base. After cooking, you spread each crepe with two different strawberry-based fillings. The first is a strawberry-mascarpone cream (it's the loveliest shade of pink!) and the second is a jammy sauce made from strawberries, meyer lemon, and a splash of vodka. Folded and garnished with fresh strawberries and powdered sugar they make a spring dessert that's both elegant and simple.
Like what you just read? Subscribe to Katie at the Kitchen Door in the box on the right, on Feedly or Bloglovin', or follow along on Facebook, Twitter, Pinterest, and Instagram. Thanks for reading!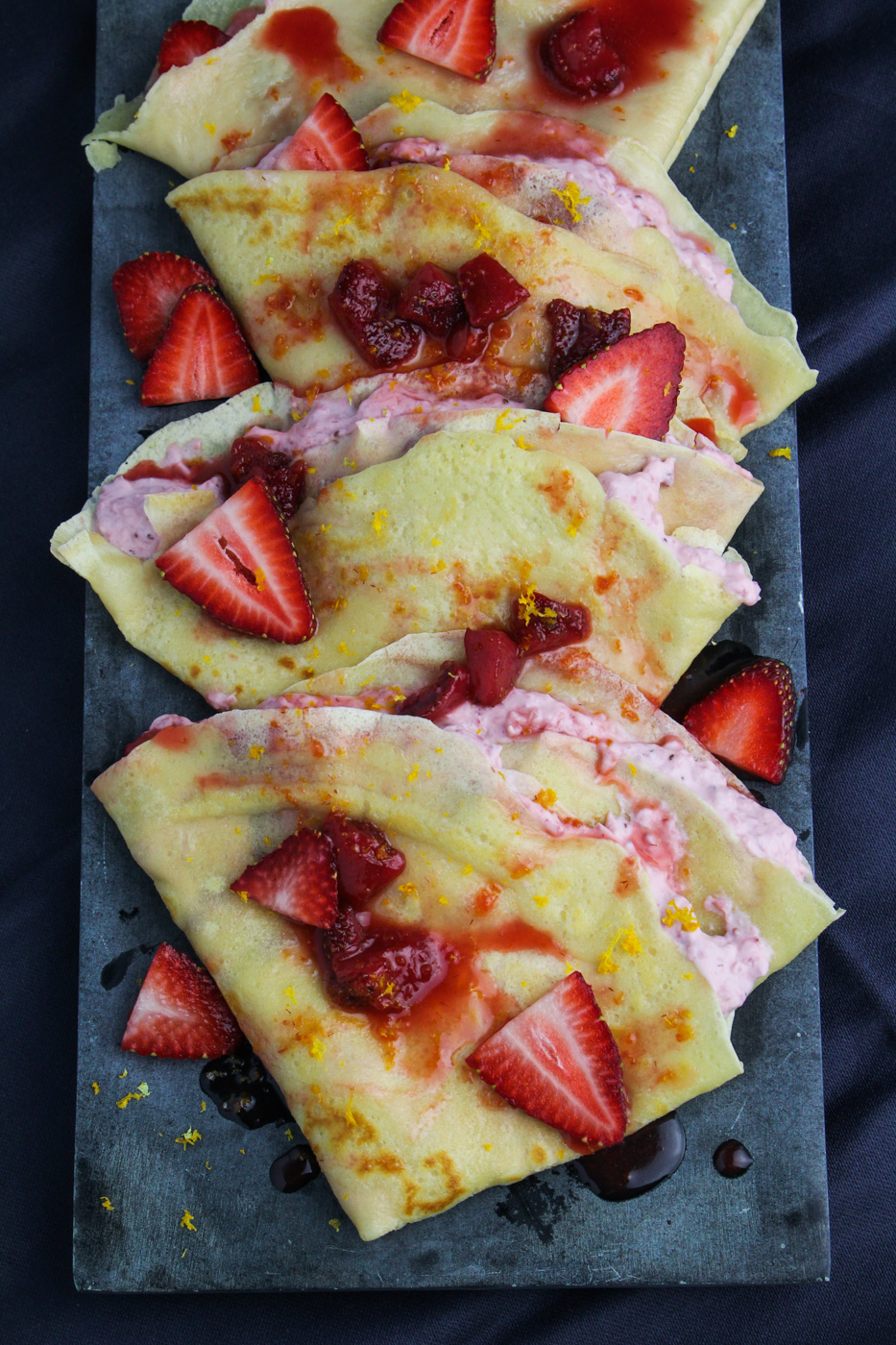 Strawberry and Meyer Lemon Filled Crepes
Adapted from Pickles, Pigs & Whiskey. Serves 6.
1 lb. fresh strawberries, stems removed and cut into 1/4 inch pieces
1/3 cup plus 2 TBS granulated sugar
8 oz. mascarpone cheese
2 TBS butter, room temperature
zest and juice of 1 meyer lemon
1 TBS vodka
2 large eggs
3/4 cup whole milk
3 TBS butter, melted (plus a bit more for coating the pan)
2 TBS brandy
1 tsp vanilla extract
1/2 cup water
1 cup all purpose flour
Toss the diced strawberries with the 1/3 cup of sugar in a large bowl. Cover with plastic wrap and let macerate for at lest one hour, or overnight in the fridge.
After macerating, spoon half of the strawberries out of the bowl and into a food processor. Puree until smooth. Add the mascarpone cheese and process again until smooth. Cover strawberry-mascarpone cream and chill until ready to use.
Place 2 TBS of the butter in a small saucepan and melt over medium heat. Add the remaining strawberries, the strawberry syrup that has collected in the bowl, the meyer lemon zest and meyer lemon juice to the pan and stir to combine. Cook over medium heat, stirring frequently, until the strawberries are very soft and the sauce has become thick and syrupy. This should take about 10 minutes. At this stage, remove from the heat and stir in the vodka. Set aside.
To make the crepe batter, whisk the eggs, whole milk, melted butter, brandy, vanilla extract, and water together in a large bowl. Whisk thoroughly until frothy. Add the flour and whisk until you have a thin and smooth batter. The batter should run freely when lifted from the bowl – the consistency should be that of heavy cream. Cover the bowl and refrigerate for one hour.
To assemble the crepes, melt a bit of butter in a large non-stick pan over medium heat. Swirl to coat the pan with butter. Using a measuring cup, add 1/3 cup of batter to the center of the pan. Immediately lift the pan from the heat and swirl so that the batter spreads out thinly and evenly to the edges of the pan. Set down over the hat. Cook for about 60-90 seconds per side, or until the edges of the crepe are lacy and there are spots of golden brown on the otherwise pale crepe. Once each crepe is cooked, lay it out flat on a cutting board. To fill the crepes, spread a large spoonful of the strawberry-mascarpone cream over one side of each crepe, then spread a little of the strawberry-lemon sauce on top. Fold into quarters and place on a plate. Drizzle with more strawberry sauce and serve.
9