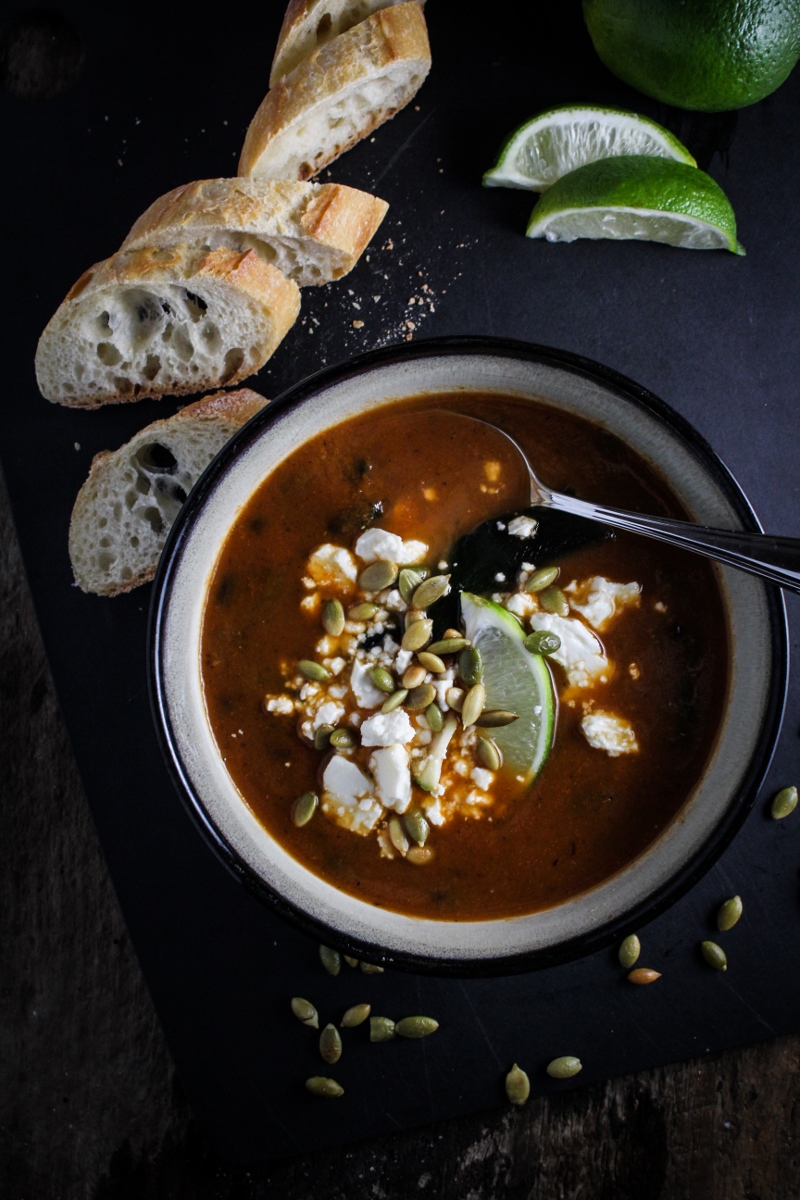 Merry Two-Days-After-Christmas! I'm sorry I didn't get to pop in again before the big day and share some last minute sweets – after 6 months of intense work, travel, and just generally keeping it together, my body finally called for a time out, and I was out cold with the flu from Friday afternoon until Wednesday morning. I'm still taking it pretty easy, but I'm on my feet again and actually grateful for all the time I've had to rest. Time to do a few little things I've been meaning to get around to forever, like order a new bed and organize my photos from this year. And more importantly, time to reflect, to think about all the accomplishments of this past year and to take stock of what I'd like for myself in the next one. Although having the flu isn't the most ideal of circumstances for vacation, I'm glad I'll start the new year refreshed and refocused.
I made this simple black bean soup the other night to eat while snuggled up in front of a movie. I'm thinking ahead to my annual winter cleanse and testing out new recipes to see if they're worth including. This soup seems to fit the bill – meat and grain free, low fat, flavorful, quick and easy to put together from cupboard ingredients, and filling enough for dinner on a cold December night. The soup itself is not very complex in flavor, but all the add-ins – feta cheese, pumpkin seeds, and lime wedges – add good contrast and brightness to the smooth and spicy broth. Be warned, the poblanos are surpisingly hot! They look sort of non-intimidating, but they pack a punch.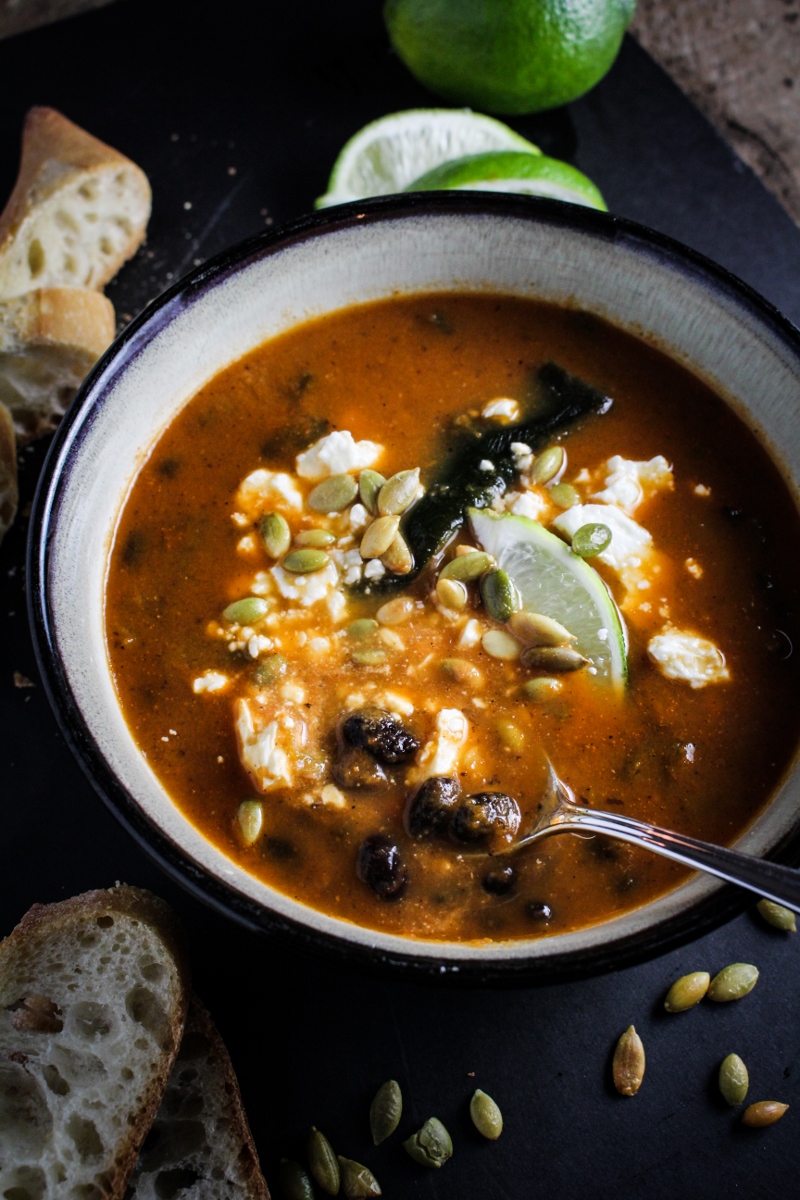 Black Bean Soup with Roasted Poblanos
Adapted slightly from Bon Appetit. Serves 3-4.
2 fresh poblano chiles
2 TBS olive oil
1 medium onion, peeled and finely chopped
4 cloves garlic, peeled and crushed
1 large dried ancho chile
One 14.5 oz can of fire-roasted diced tomatoes
3 c. chicken or vegetable broth
3 c. cooked black beans (about two 14.5 oz cans, rinsed and drained)
kosher salt to taste
4 TBS roasted, salted pepitas (pumpkin seeds)
1/2 c. crumbled feta cheese
1 lime, cut into 4 wedges
Preheat the broiler. Place the poblanos on a foil-lined baking tray, and broil for 8-12 minutes, turning every few minutes with tongs, until the peppers are blackened all over. Remove the peppers from the oven, and place them in a bowl, covering the bowl immediately with plastic wrap. Let the peppers steam under the plastic wrap for 15 minutes, then peel off and discard their skins, remove and discard the seeds and stems, and finely dice the pepper flesh.
Heat the olive oil in a large saucepan over medium heat. Add the chopped onion and crushed garlic cloves and saute until onion is golden brown, about 8-10 minutes. Remove the seeds and stem from the dried ancho chile and discard. Place the ancho chile in the pan with the garlic and onion and cook, stirring, until chile has softened and become pliable, about 1-2 minutes. Add the garlic, onion, ancho chile, and tomatoes to a blender and puree until smooth, then return the puree to the saucepan. Stir in the broth, then bring to a boil. Reduce heat to a simmer, and simmer until the soup is thickened, about 10-15 minutes. Stir in the beans and the diced poblanos and cook until heated through, about 3-5 minutes. Season to taste with salt.
Divide the soup between 3 or 4 bowls, topping each with 1 TBS of pumpkin seeds, 2 TBS of crumbled feta cheese, and a squeeze of lime juice. Serve immediately.
5