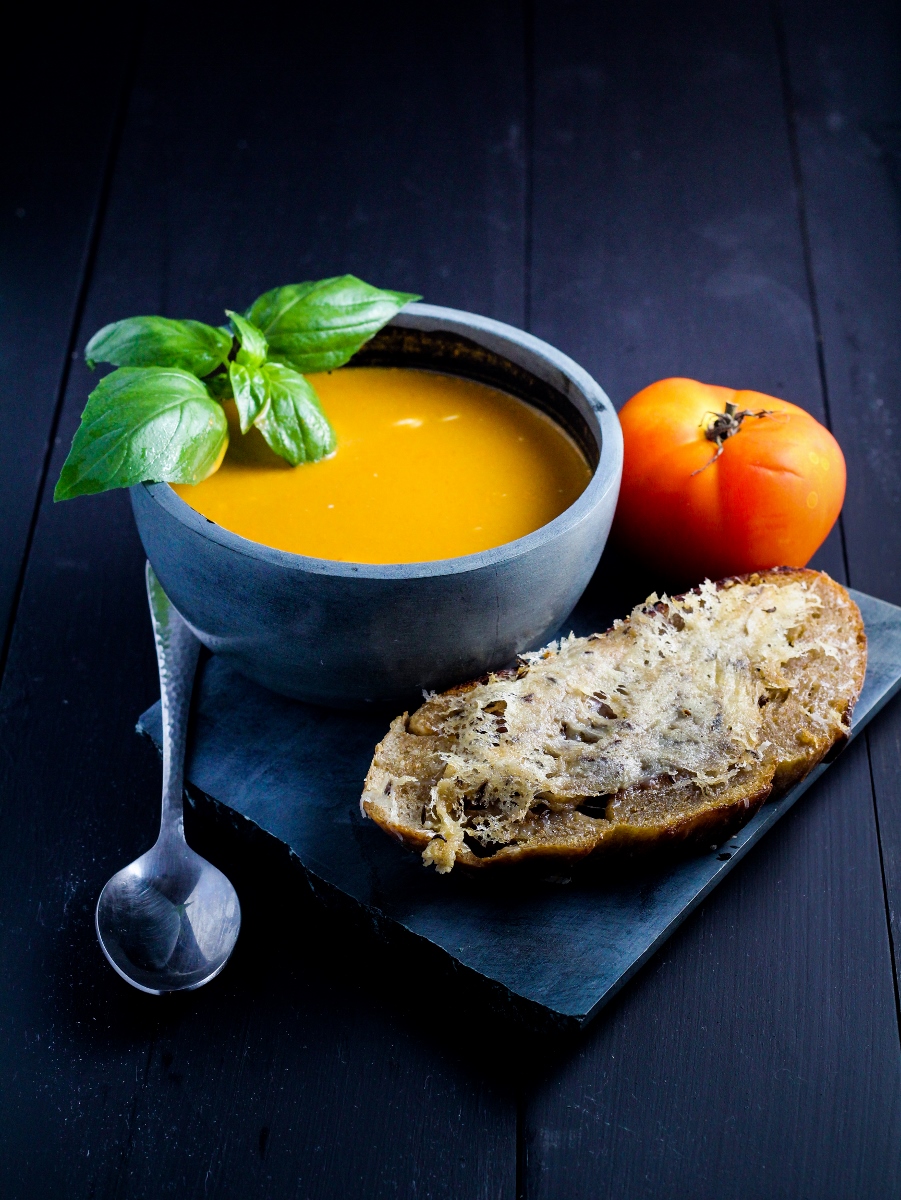 This soup came about as a result of the confluence of two forces – an end-of-summer head cold, and an overdue fridge clean out. Perhaps it's just that all of the travel and hubbub of the summer have caught up to me, but my body is telling me that it needs a few days of doing nothing before it begins cooperating with me again. So I'm taking it easy at home (especially since I want to be in fighting form for my trip to IFBC this week! Will I see any of you in Seattle?) and eating comforting, nourishing things. As for the fridge, it's really not so bad, but we've hidden lots of garden produce away in it's drawers and it's easy to forget about it – and there's nothing sadder then seeing something that you've grown from seed go to waste. We still have a glut of tomatoes, and since we also had half a container of stock, I decided that soup was the perfect solution to both my problems.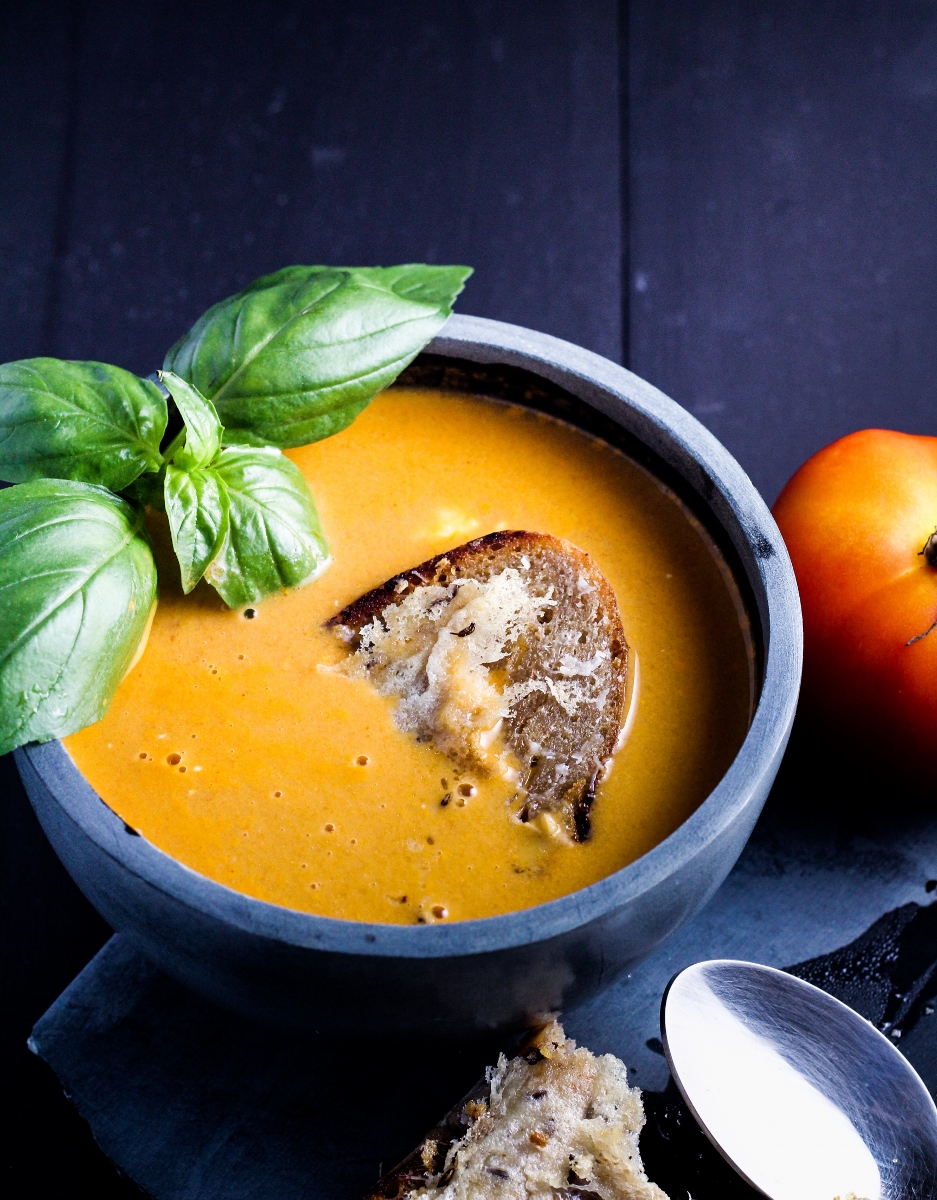 This turned out just right for the situation and the weather – a little spicy to clear my head, smooth and comforting on a sore throat, warming on a cool fall day, but still packed with the fresh taste of summer. I wrote down there that this recipe serves 2 to 3, which it could, but I'm not going to lie to you – I ate the whole pot in one go, bowl after bowl, sitting on my couch and watching chick flicks. It helped a lot. Of course, I added a healthy dose of heavy cream to the pot after pureeing, and the mix of the bright acidic tomatoes and rich cream was too much for me to resist. Since I didn't bother to peel the tomatoes before throwing them in the pot, the strained puree was quite thin – almost drinkable – but you could thicken it up with a bit of couscous, rice, or some croutons if you wanted. I chose to serve it with a slice of homemade sourdough toasted with grated parmesan and caraway seeds – an open-faced grilled cheese of sorts. It was a perfect comfort meal – I might even make it again tomorrow.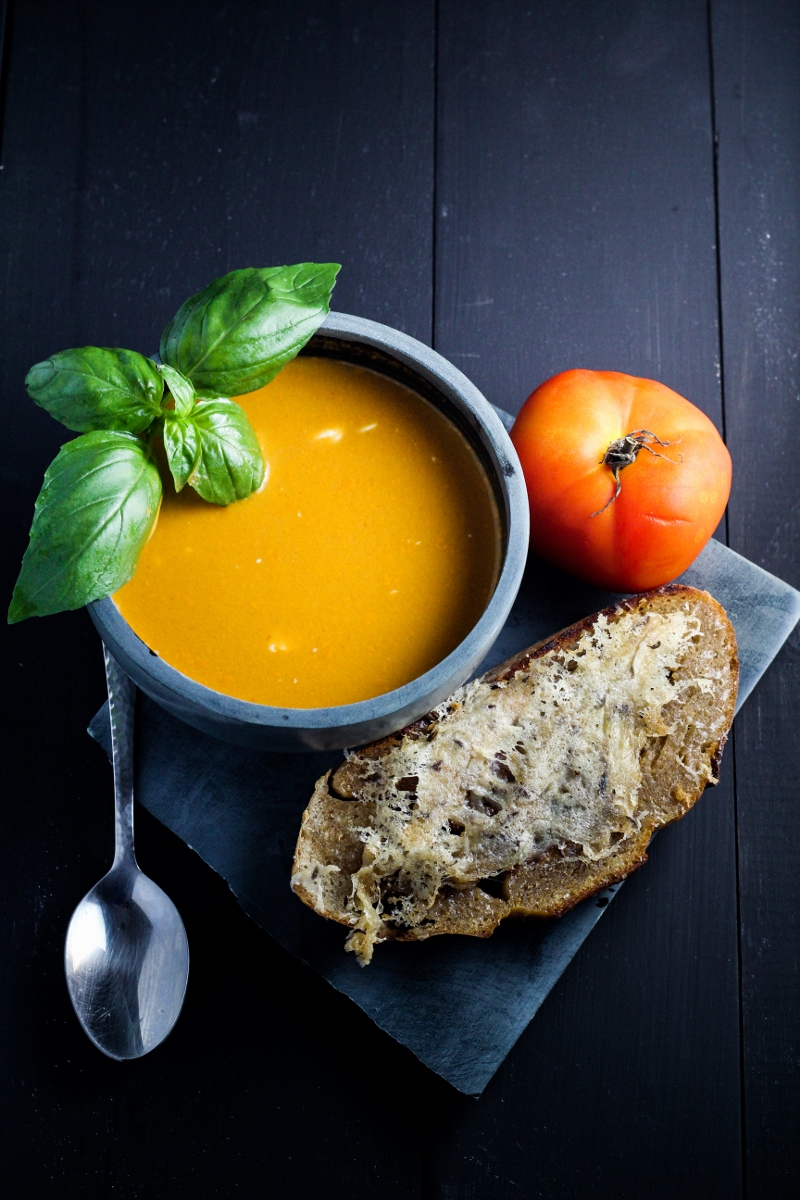 Spicy Fresh Tomato-Basil Soup
Adapted loosely from Stir. Serves 2-3.
2 TBS butter
1/2 medium onion, diced
3/4 tsp red chili flakes
3 cloves garlic, peeled and diced
5 medium tomatoes, cored and quartered
2 cups chicken stock
1/3 c. heavy cream
8-10 leaves fresh basil, chiffonaded
salt
Add butter to a large saucepan and melt over medium heat. Add onions and chili flakes and saute for 6-8 minutes, stirring occasionally, until onions are soft and translucent. Add diced garlic to pan and saute until fragrant, about 1 minute longer.
Add the tomatoes and chicken stock to the saucepan and bring the mixture to a boil. Lower the heat to a simmer, and simmer, uncovered, for about 30 minutes, or until the tomatoes have fully broken down. Carefully puree the hot soup in a blender, then strain through a colander or mesh strainer back into the pot to remove the seeds and skins (if you use a colander, you will have a thicker soup with some seeds; a mesh strainer will result in a thin soup with no seeds). Add the heavy cream and basil to the soup, season to taste with salt, and heat over low heat for 1 minute, just to fully warm the soup. Serve hot with Caraway-Cheese Toasts, recipe below.
Caraway-Cheese Toasts
Inspired by Stir. Serves 3.
1 tsp caraway seeds
1/2 TBS butter
3 slices fresh sourdough bread
1/3 cup grated parmesan cheese
Heat a large frying pan over medium-low heat. Add the caraway seeds to the dry pan and toast until fragrant, about 1-2 minutes. Add the butter, melt it, and swirl it around the pan. Place the 3 slices of bread in the pan, and toast in the butter until golden brown on both sides, flipping each piece once or twice.
Remove the bread from the pan and set aside. Turn the heat down to low. Sprinkle the cheese directly onto the hot pan in the size and shape of the three pieces of bread. Allow the cheese to melt and crisp for 20-30 seconds, then place the slices of bread on top of the cheese and press down. Wait 20 seconds, then carefully flip the slices of bread over without disturbing the cheese layer (using a fork or your fingers is probably your best bet). Serve hot. (You could also do this more easily in the oven under the broiler, sprinkling the grated cheese on top of each slice of bread and broiling until melted, but I didn't want to get more than one pan dirty!)
0