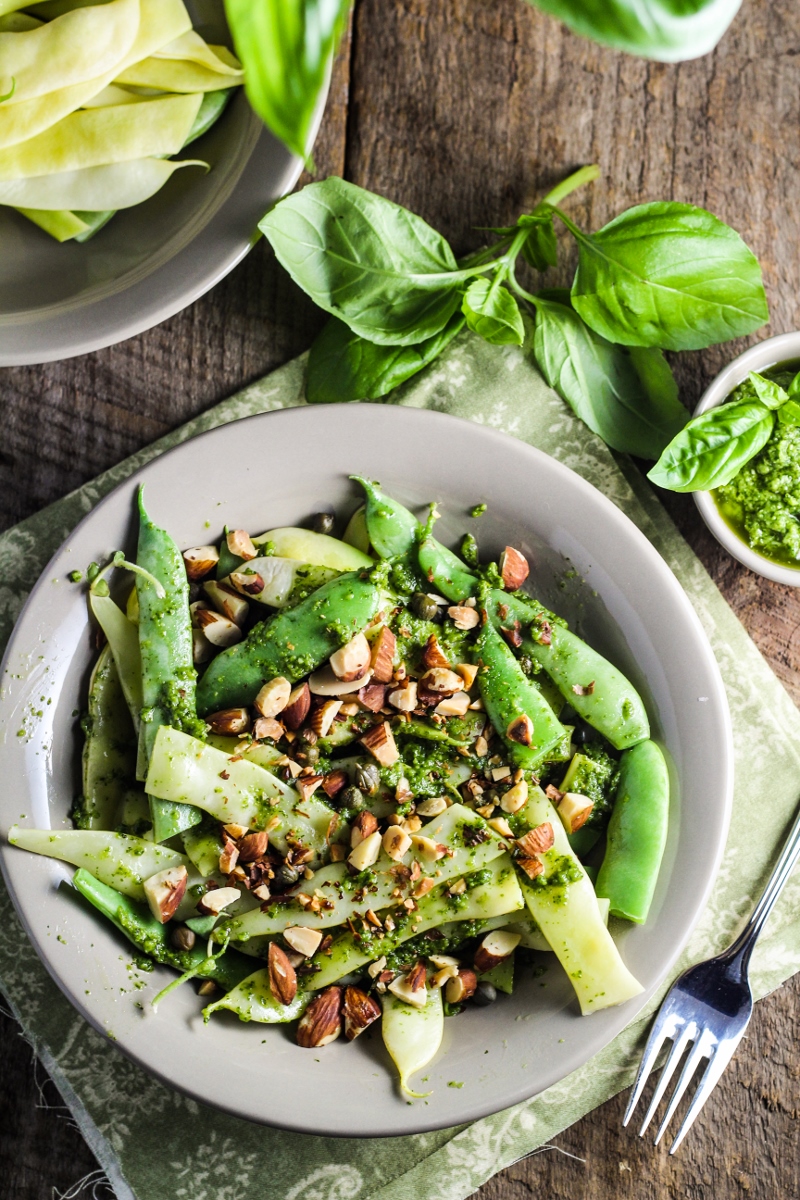 The idea for this pasta came to me after reading a post on Not Without Salt that had absolutely nothing to do with green beans, or pasta, or pesto. The post was about apricot pie, and it's a beautiful post and a beautiful pie, but the sentence that stuck with me was the one about what preceded the pie – "a picnic dinner with steak sandwiches, horseradish butter, pesto laden green beans with capers and an onion-spiked salad of tomatoes and peaches." A) I was reading this on a plane, and even though I got to fly business class for the first time and the food was quite good, (and I totally took advantage of every single offer of champagne), that picnic meal made me want to run off that plane and drive immediately to an idyllic country house and picnic in a meadow. B) Pesto-laden green beans with capers? What an amazing idea. We've had pounds and pounds of beans come out of the garden, and have tried several yummy recipes (we especially liked this one with romesco sauce), but this one sounded like it could top them all.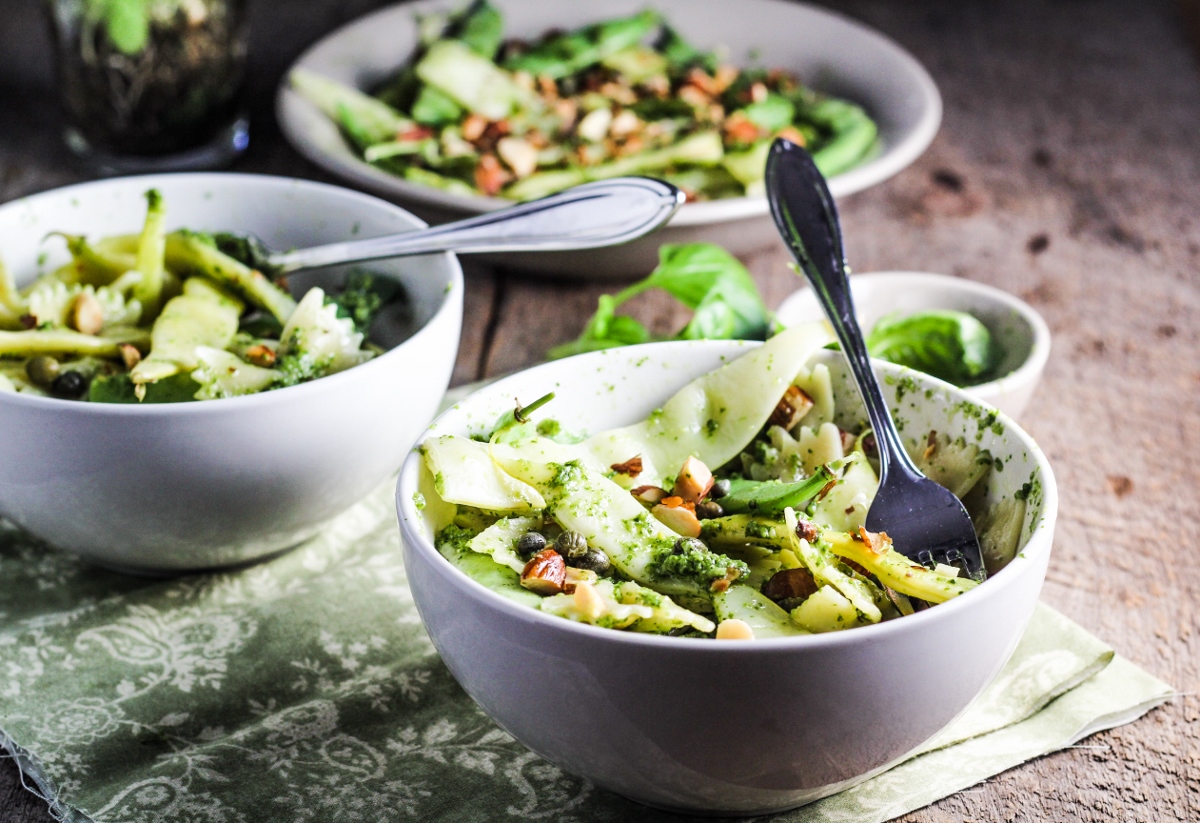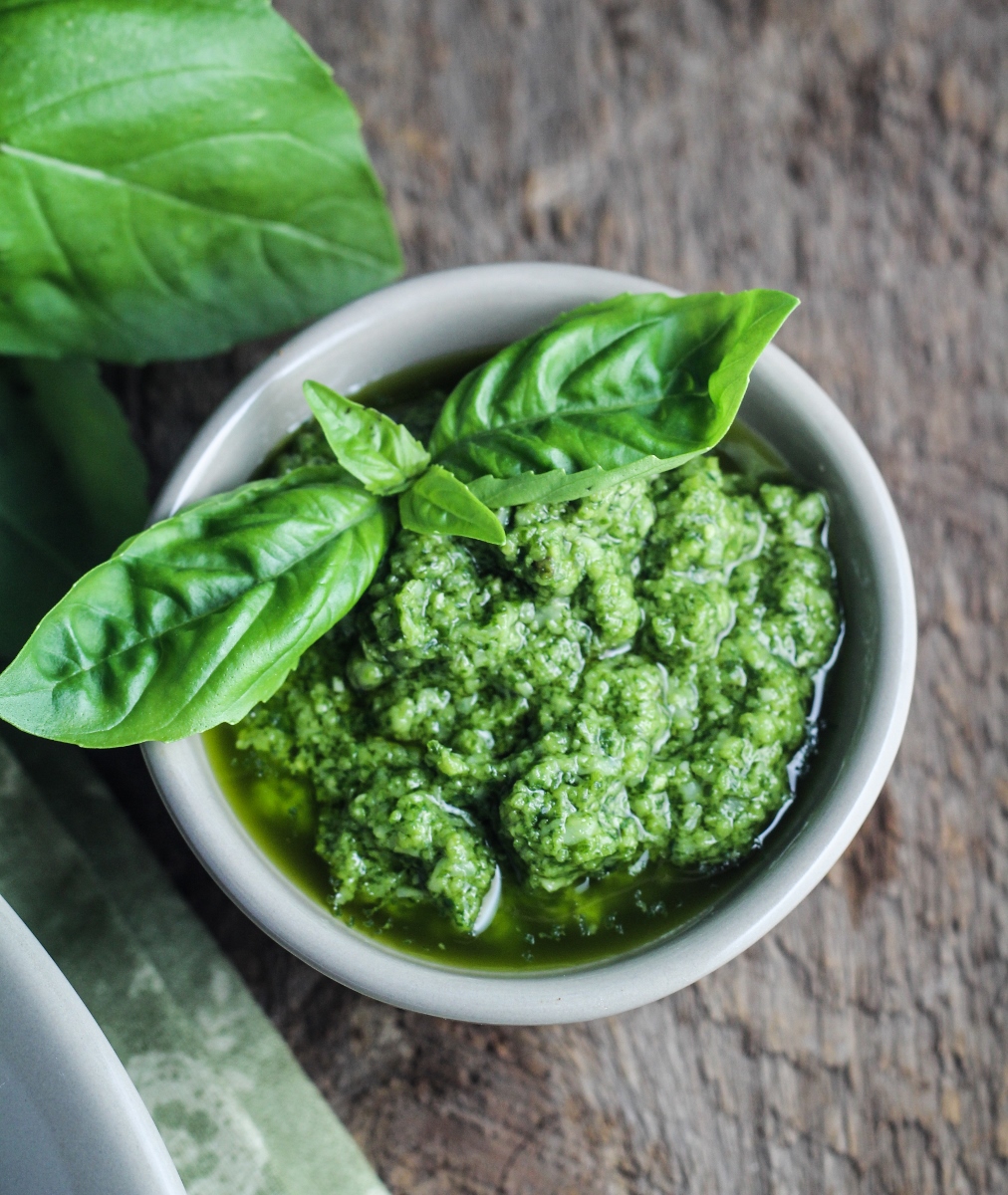 This is my first batch of pesto this summer – sadly, our basil plants never really took off this year. I usually make pesto by throwing the five ingredients – pine nuts, parmesan, garlic, olive oil, and basil – into the food processor all at once, blending, then tasting, usually adding more cheese, and blending again. The thing is, I'm never quite happy with the results – it's inconsistent, and it's never as good as my mom's pesto. So this time, I did a little research into "best pesto" recipes, and take a more methodical approach. Two recipe caught my eye – this one, by The Best Remedy for A Cup of Jo, and this classic Marcella Hazan recipe. The two recipes aren't so different from one another, so I followed the Marcella Hazan recipe and borrowed The Best Remedy's idea of toasting the pine nuts first. The extra steps – grating the cheese by hand and stirring it in at the end, pre-chopping the garlic, and the little bit of butter added to the final product – made a huge difference. It really was perfect pesto. Tossed with the quickly blanched green beans, a few spoonfuls of capers, lightly toasted almonds, and hot pasta, it was a perfect and light summer lunch. And a really good way to use up some green beans.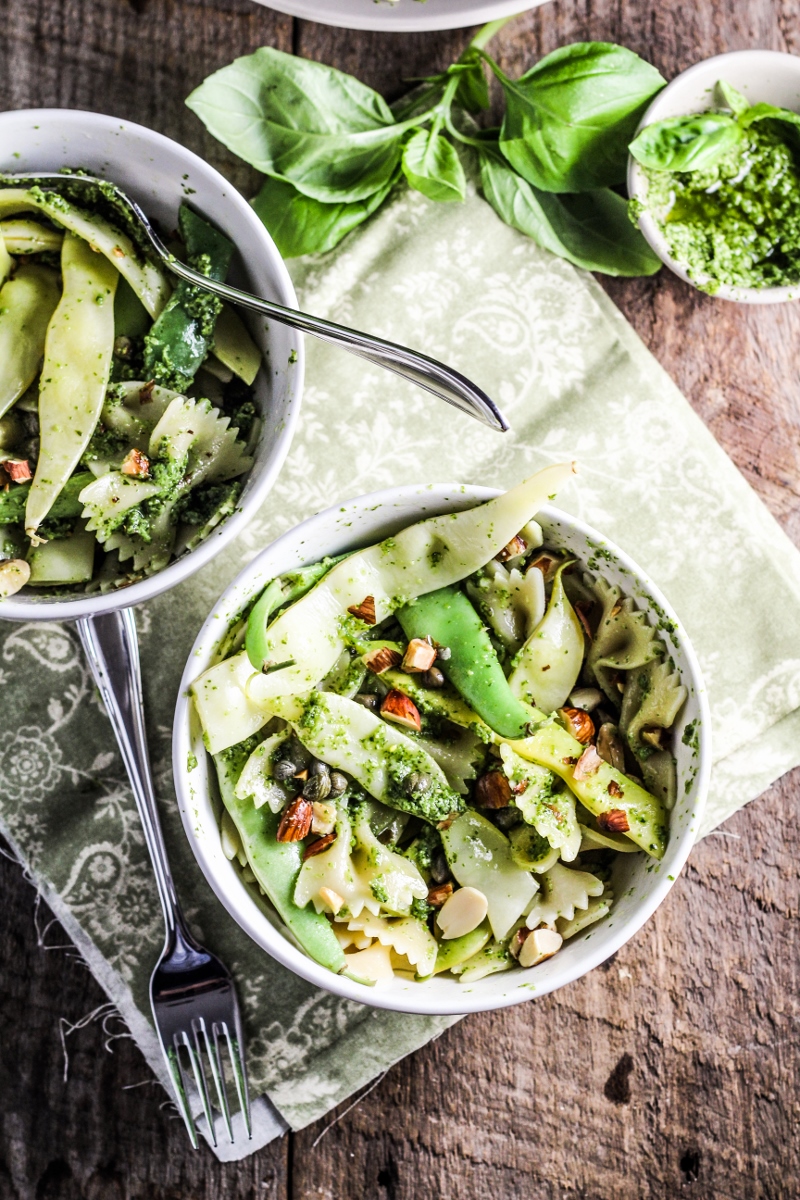 Green Bean Farfalle with Pesto, Capers, and Almonds
Pesto recipe adapted from Marcella Hazan. Green Beans inspired by Not Without Salt. Serves 4.
2 cups fresh basil leaves, tightly packed
1/2 c. olive oil
3 TBS pine nuts
2 garlic cloves, peeled
salt
1/2 c. finely grated parmesan cheese
3 TBS butter at room temperature
2 lbs. green beans, ends trimmed, sliced in half on the diagonal
1 lb. farfalle
1/3 c. almonds, roughly chopped
1/3 c. capers
Wash the basil gently, then pat completely dry with a paper towel.
Toast the pine nuts until they are fragrant in a dry skillet over medium heat. Stir frequently to prevent them from burning.
Finely chop the garlic by hand.
Add the basil, olive oil, pine nuts, garlic, and a pinch of salt to a food processor. Blend until smooth and creamy. Stir in the parmesan cheese by hand, then stir in the butter.
Bring a large pot of salted water to a boil. Blanch the green beans until bright green, then remove with a slotted spoon and set in a large bowl. Add the farfalle to the boiling water and cook according to package directions, then drain.
Lightly toast the chopped almonds in a dry skillet over medium heat until they are golden brown and fragrant. Stir frequently to prevent them from burning.
Toss together the green beans, pesto, farfalle, capers, and almonds, until everything is equally coated. Serve hot.
1