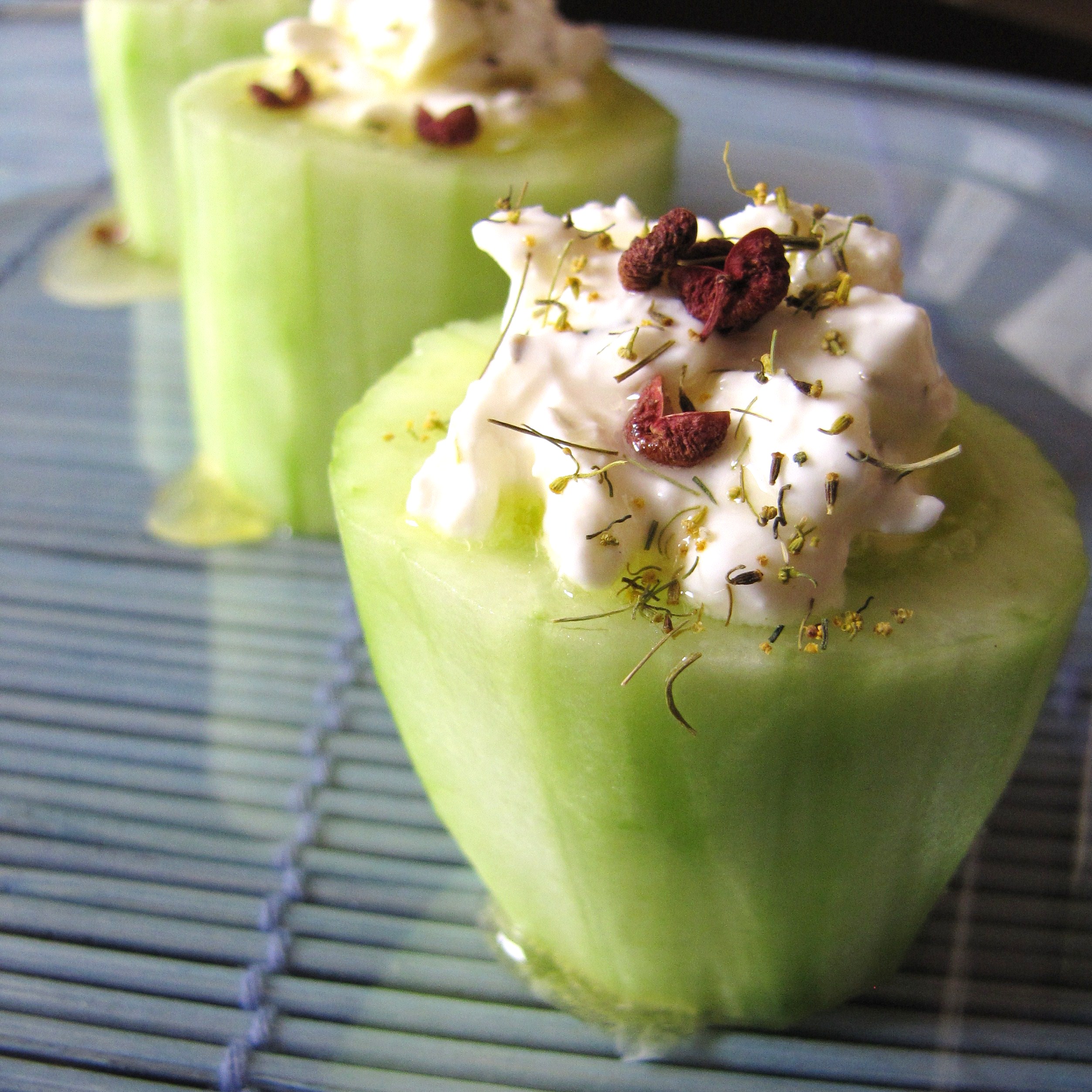 The second stage of the "Ridiculously Delicious Challenge" hosted by Marx Foods consists of developing your own recipe using two ingredients out of a box sent by Marx Foods.  There aren't many things I like better than receiving a box full of food in the mail, which actually seems to happen to me at a wonderful frequency, so I was a little bit thrilled about this.  Upon opening the box last Tuesday, I was greeted with small samples of many exciting spices – including saffron, dried Tepin chilies, and grains of paradise – but the thing that really got me was the dill pollen.  Mostly because as soon as I opened the top of the box the scent of dill pervaded my entire apartment.  (Thanks to a Christmas gift of lovely glass spice jars from my baby bro, the scent of my apartment has since returned to equilibrium.  Thanks Ryan!)  While sitting and writing out ideas of different recipes that could incorporate two of the spices in a harmonious way, I could not escape the scent of the dill, and so I was having a tough time imagining saffron scented rice or Tepin chile enchiladas or really anything that didn't scream of the Great White North.
I wanted to come up with a simple but elegant combination that would really show off both the dill and my second chosen ingredient – Szechuan peppercorns.  My solution – cucumber cups stuffed with a feta-dill filling and served with a lemon-Szechuan dressing.  Really, they came together quite nicely, and even though I did my photo shoot 30 minutes after breakfast (such is the life of a very busy college student with limited daylight hours at home – I also did my hot fudge photo shoot at 9:30 in the morning and ended up eating half of it before forcing myself to stash it in the freezer) I ended up eating the whole tray.  These would be lovely as a fresh and bright party appetizer, although the dressing might need to be served on the side for neatness.  You will probably need to tinker with the cucumber-filling-dressing ratio until you find your perfect combo, but what I have listed here is a good base.  Ridiculously dillicious, you might say.  God I love puns.
Voting will take place on the MarxFoods website from March 1st to March 4th.  Vote here!

Cucumber Cups with a Feta-Dill Stuffing and Lemon-Szechuan Dressing
Makes 1 cucumber's worth (4-5 pieces).  Scale as needed.
1 cucumber
2 oz. crumbled feta cheese
2 TBS sour cream
3/4 tsp. dill pollen
2 TBS lemon juice
1/4 c. olive oil
Szechuan peppercorns, ground/grated, to taste
Dill pollen, for finishing
Peel the cucumber and cut into 1 inch rounds.  Scoop out the middle from 1 side of each round, so that the cucumber forms a stand-alone cup.
In a small bowl, mix the feta cheese, sour cream, and dill pollen until well combined but not completely smooth.  In another small bowl, vigorously whisk the lemon juice and olive oil together until uniform.  Add the grated peppercorns a pinch at a time, tasting the dressing between additions, until the spiciness is to your liking.
Stuff each cucumber cup with a tablespoon of feta filling.  Sprinkle more dill pollen on the top of each cup, and drizzle with dressing.
0