Please vote for my entry in the Marx Foods Ridiculously Delicious challenge here!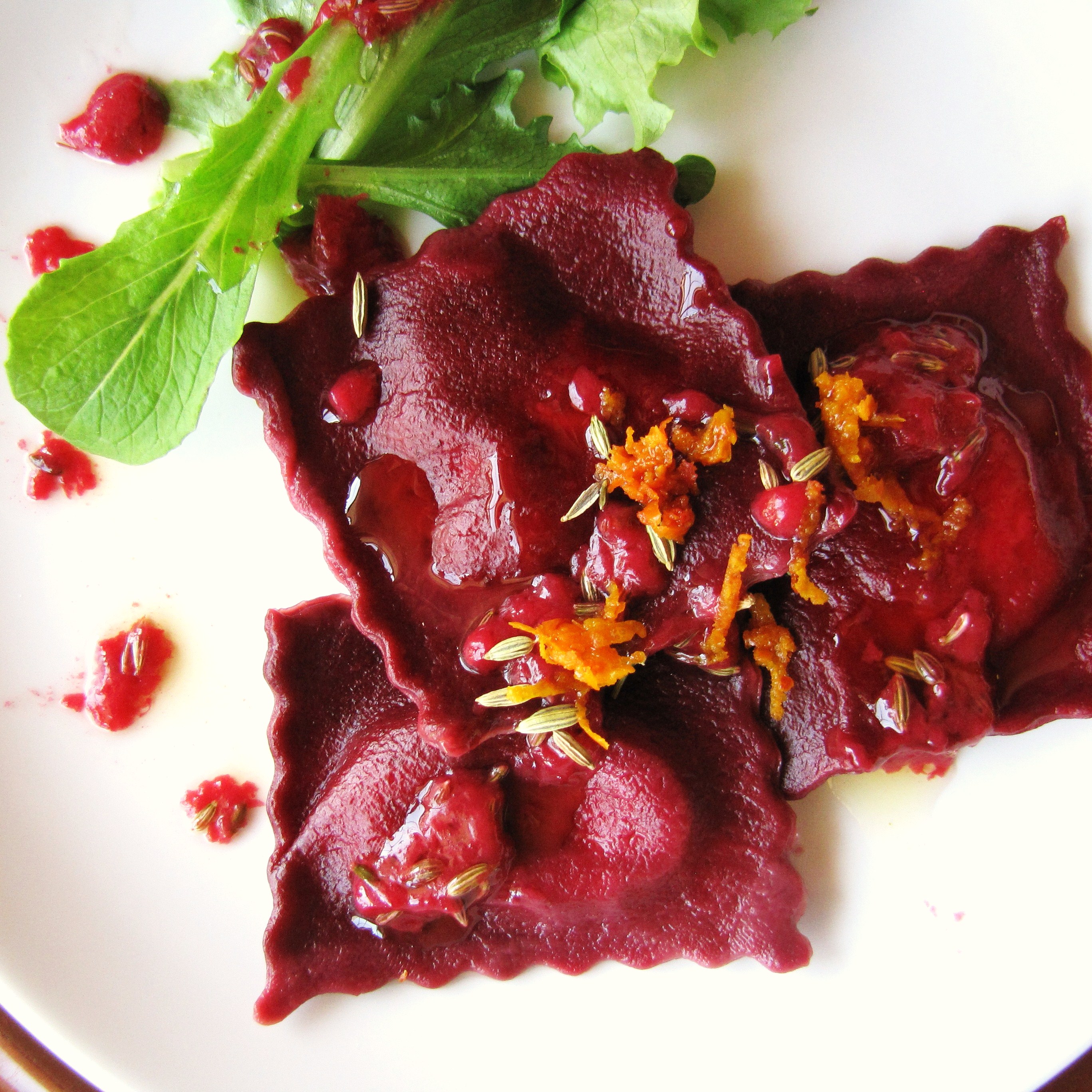 Remember when I competed (and won 2nd place!) in Duke's Iron Chef competition and got a fancy pasta machine and went on and on about how I was gonna use it all the time?  Well, if your definition of all the time is approximately once every two months, then I guess you could say I was telling the truth.  And even if I don't frequently have the opportunity to spend a few luxurious hours rolling out pasta dough, I do really enjoy it when I get the chance.  Kneading, stretching, cranking, folding, and re-cranking the dough is just an activity that really focuses me.  When Trevor and I went to the pasta class with Terrence, we used a food processor to mix and a KitchenAid to roll out the dough, but, while efficient, it really wasn't the same.  Maybe it's just that I'm so entranced by the idea of moving to Italy and living in a Tuscan farmhouse and growing my own perfect tomatoes and walking barefoot across the stone floors while singing (in Italian of course) and kneading pasta dough that I feel like practicing the kneading part now will leave me in good stead when I inherit an Italian estate.  Or maybe I was an Italian grandmother in a past life.  Or maybe I'm just trying to snag an Italian lover.  Who knows?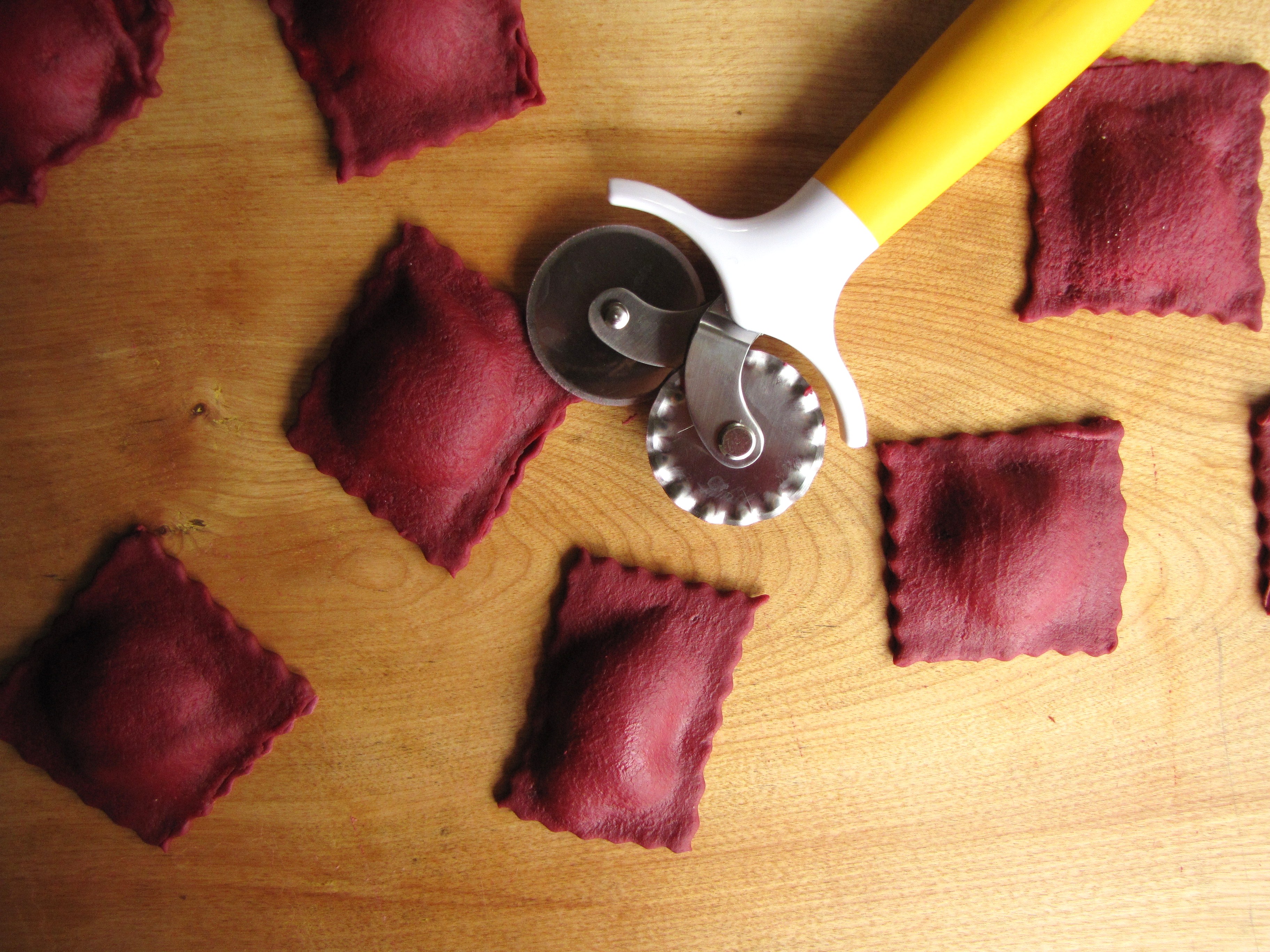 In any case, last weekend Trevor visited and it was a completely rejuvenating 3 days.  It was sunny and 70 degrees every day, I pushed aside all thoughts of work, I slept more than 8 hours each night, we went mushroom picking in the Duke Forest with Justin and Clark, Trevor made his debut at shooters… all in all, pretty good stuff.  And of course, we had to play around in the kitchen just a little bit.  What better to occupy a few hours in the kitchen than fresh pasta?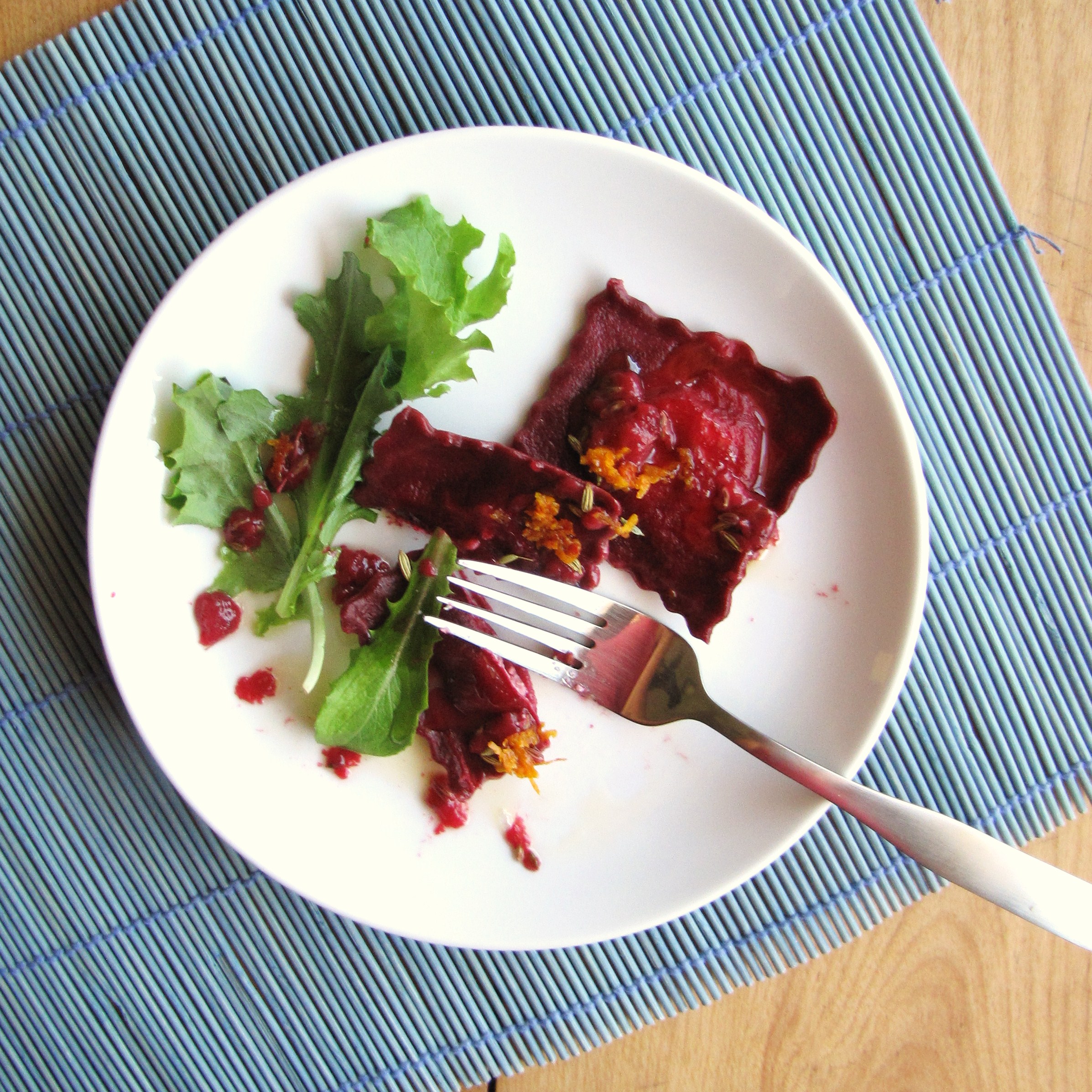 Ever since I had been totally awed by the beautiful color of these beet ravioli they had been in the back of my mind, so I decided to go for it.  They were incredible!  While the beets made the dough a bit more challenging to work with than an egg-based dough, they also lent a wonderful tenderness to the finished pasta.  Stuffed with a goat cheese, ricotta, and parmesan filling that melted out of the ravioli with every bite, they were a total win.  Last weekend we simply served them with some caramelized onions, a bit of melted butter, and grated parmesan cheese, and this weekend, for round 2, I mixed up a blood-orange and fennel butter sauce, based on a combination in The Flavor Bible.  Neither sauce was perfect, although I think I enjoyed the simple crunchy-sweetness of the onions more.  However, the blood orange sauce definitely won out in terms of sophistication and presentation.  If you try either preparation or think of something new, definitely let me know.  Either way, if you feel like spending a little time working with your hands and/or pretending your a five year old with the largest, tastiest quantity of purple play-dough you've ever encountered, definitely try this recipe.
Don't forget to vote for my entry in Marx Food's Ridiculously Delicious Challenge, March 1st – March 4th!
Beet and Chevre Ravioli in a Blood-Orange and Fennel Sauce
Beet ravioli recipe adapted from Martha Stewart via Madeline's Adaptations. Three beets makes about 2 pounds of pasta, probably enough for 80-100 ravioli.  Extra dough can be frozen, wrapped in plastic wrap, for several months.

For the ravioli:
3 beets
1 TBS olive oil
3 eggs
5-8 cups flour
1 tsp. salt
For the filling (makes enough for 3-4 servings of ravioli):
1/3 c. ricotta cheese
1/3 c. goat cheese
1/4 c. grated parmesan cheese
2 tsp. olive oil
kosher salt and pepper to taste
For the Blood-Orange and Fennel Sauce (makes enough for 3-4 servings of ravioli):
3 TBS butter
1 tsp. fennel seeds, lightly toasted and coarsely ground (can leave whole if desired)
juice of 1-2 medium blood oranges
zest of 1 blood orange
For the pasta dough:
Preheat the oven to 400°F.  Chop off beet greens, wash beets, and wrap in foil.  Roast in foil for 45 minutes to 1 hour (beets should be tender).  Allow to cool enough to handle, then peel off skin, and puree beets in blender.
Mix beet puree, eggs, olive oil, and salt in a large bowl.  Add 3 cups of flour, and incorporate fully with a wooden spoon.  Add remaining flour 1 cup at a time, kneading by hand between additions, until the dough is elastic, does not stick to hands, and has been kneaded for at least ten minutes.  I ended up using about 8 cups of flour to balance the amount of liquid that 3 beets added to the dough.
Allow dough to rest for 30 minutes.  Roll out using a pasta machine, or with a rolling pin as thinly as possible.
For the filling and ravioli:
Mix all ingredients together until smooth.  Season to taste.  Place a teaspoon of filling inside a 3 inch square of pasta dough.  Fold one edge over and seal edges, pressing together firmly with fingers.  Trim with a ravioli cutter for presentation.  Boil ravioli for 2-3 minutes in a gently boiling, salted pot of water.
For the sauce:
Melt butter in a small saucepan until beginning to foam.  Add fennel and sautee until fragrant, about 1 minute.  Add blood orange juice and reduce to desired consistency.  Season with salt as necessary.  Serve over ravioli; top with blood orange zest.

4