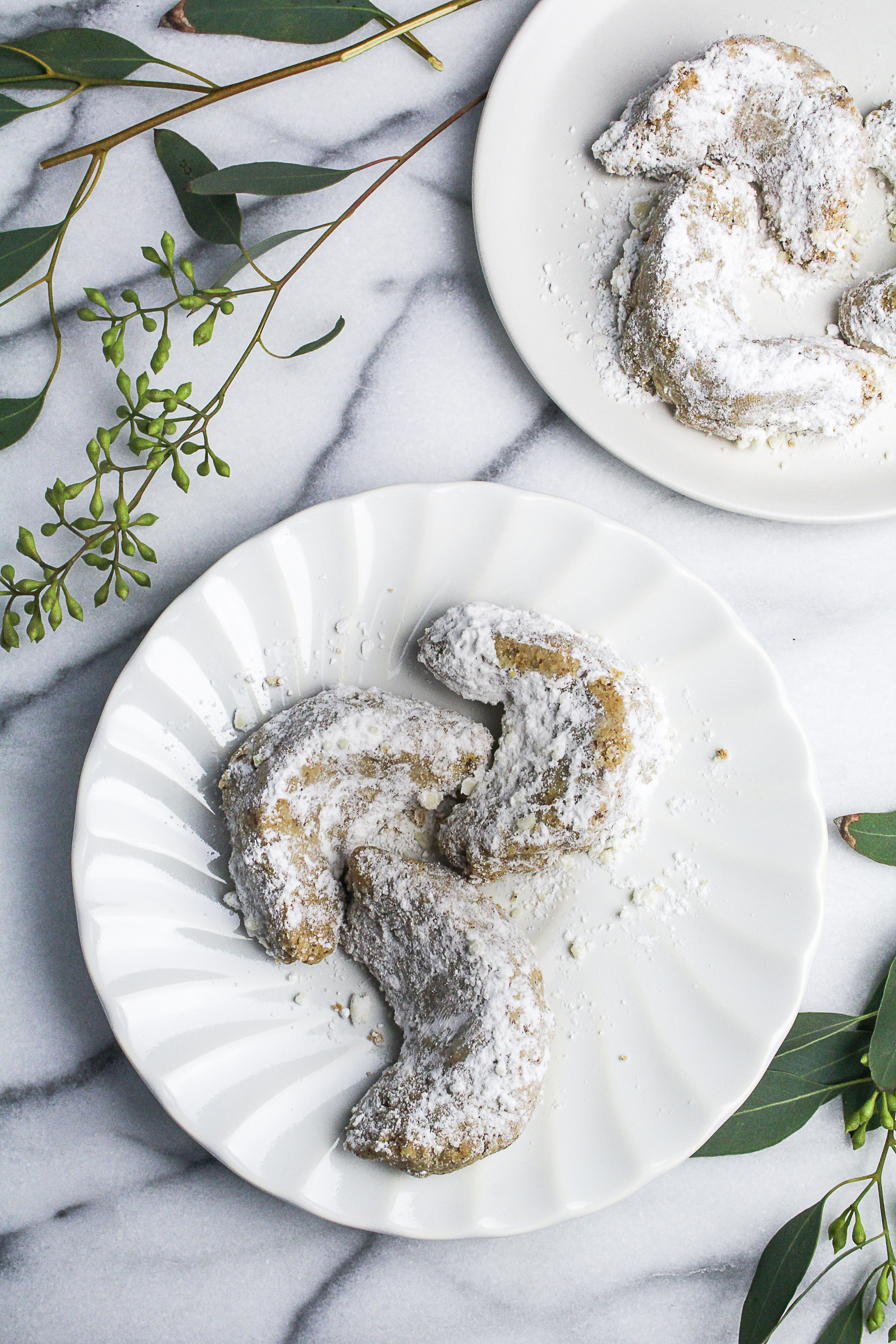 I'm home from my last trip of the year and very ready for a few days off for Christmas. Originally I had all kinds of last minute errands planned for today, but it's treacherously icy outside. After a brief trip to the grocery store, the freezing rain had us turning tail to get back inside. Now we're all sorts of cozy – wrapping presents, baking cookies, assembling this year's gingerbread house, and listening to Christmas swing music. Although I still have a bunch of miscellaneous little things to do tomorrow, I'm so much happier for being forced to take a rest day. December always feels like a bit of a sprint, and now I want to slow way, way down.
If you've left your Christmas baking to the last minute, like I inevitably do, I have a simple little cookie recipe for you. They may not be the world's prettiest cookie, but these Pecan Crescent Cookies are wonderfully tasty. I just took a batch out of the oven and can verify that they are just as good as I remember. You can also make them from start-to-finish in less than 45 minutes with only pantry ingredients. Perfect for a day when you really don't want to leave the house (see: freezing rain).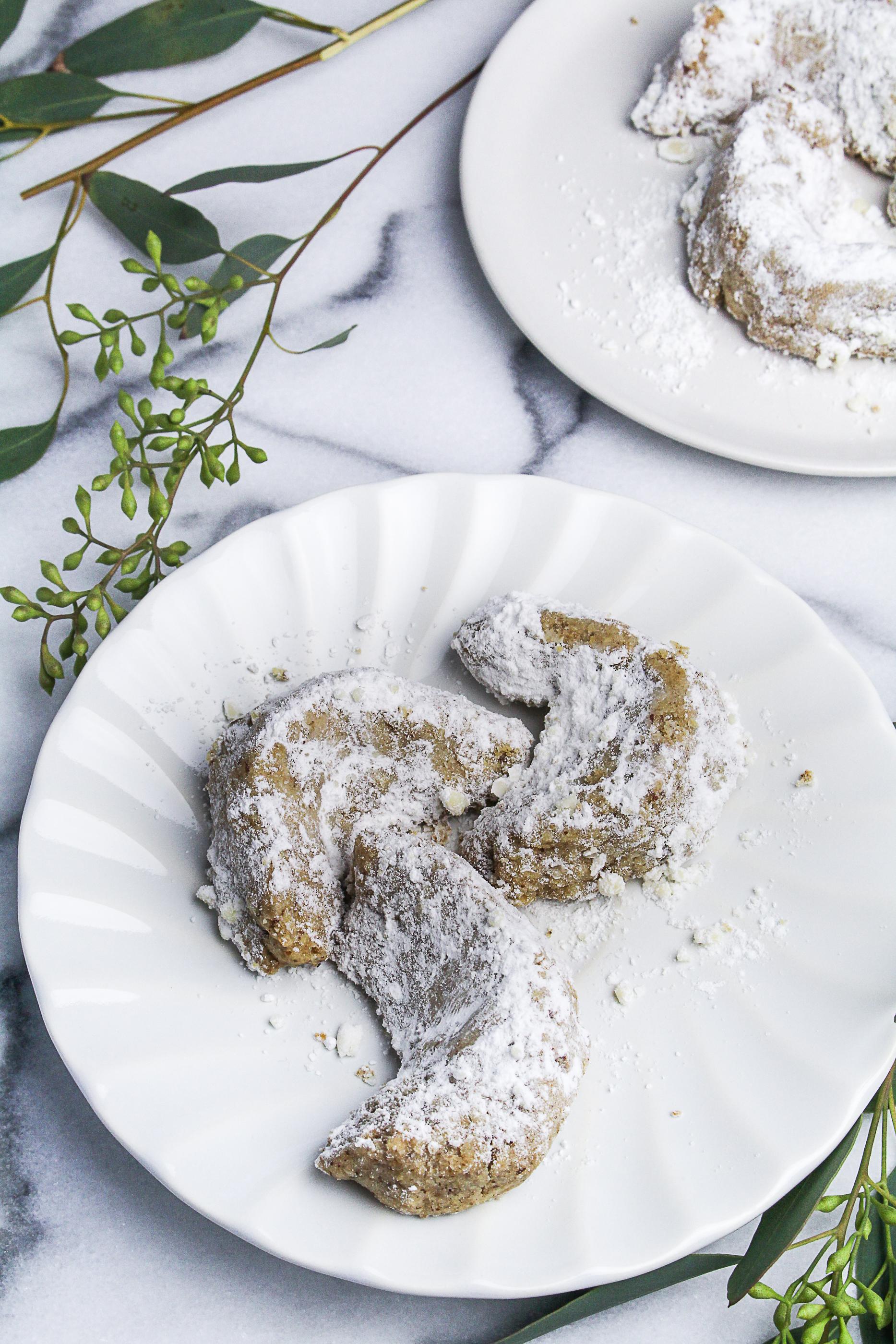 These cookies are incredibly easy to make. All you need to do is pulse the ingredients in a food processor, then shape and bake the cookies. I found the recipe in the giant Bon Appetit Cookbook last year, hidden amongst dozens of other cookie recipes. After the first batch received rave reviews, I made a second and third tray. Now in their second year on our Christmas cookie tray, I think we can declare these a Christmas staple. They're crumbly and tender but not dry, and just barely sweet. They almost toe the line between sweet and savory. In fact, if you opt to skip the powdered sugar, they are delicious with a little blue cheese.
I hope all of you find a day or two to slow down over the next week. Have a wonderful Christmas if you're celebrating!
Like what you just read? Subscribe to Katie at the Kitchen Door in the box on the right, on Feedly or Bloglovin', or follow along on Facebook, Twitter, Pinterest, and Instagram. Thanks for reading!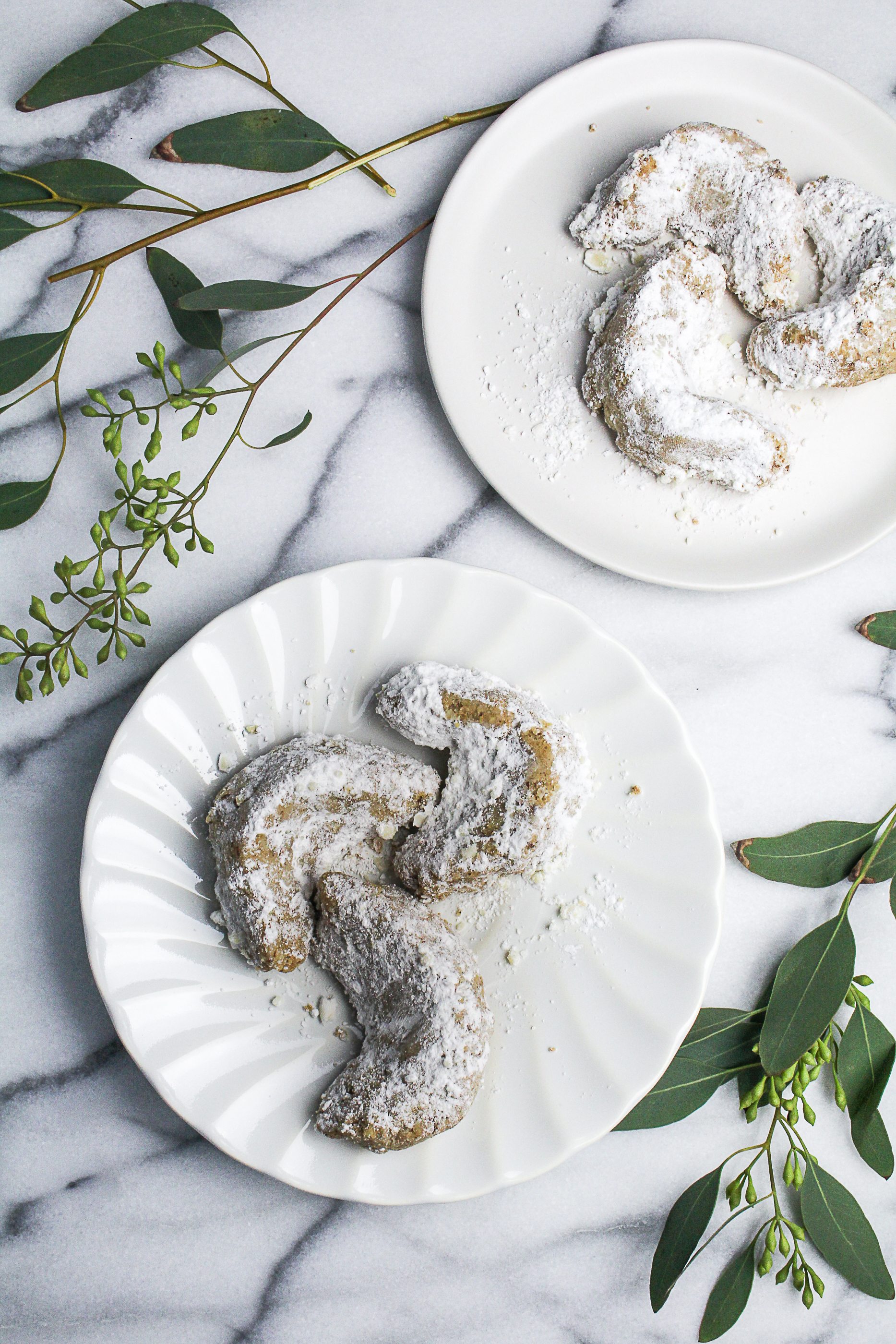 Print
Pecan Crescent Cookies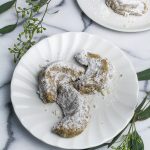 Author:
Yield:

20

cookies

1

x
3/4 cup

pecans

1 cup

AP flour

1

stick chilled butter

1/4 cup

packed dark brown sugar

1 tsp

vanilla extract

1/2 tsp

ground cinnamon
pinch sea salt
powdered sugar
Instructions
Preheat the oven to 325F. Place the pecans on a cookie sheet. Toast in the oven for 4-5 minutes, until just fragrant. Take care not to let them burn.
Add the toasted pecans and all other ingredients to a food processor. Pulse several times until the dough looks crumbly, then process on high until the dough begins to come together. Press a bit of dough together between your fingers – if it holds together, the dough is ready. If not, blend a bit longer.
Use your hands to gather the dough together. Pinch off a little more than a tablespoon of dough and form a short rope of dough by squeezing the dough in the palm of your hand. Place the rope on a cookie sheet and shape into a crescent, smoothing any lumpy parts. Repeat until you have used all the dough. Bake the cookies for 25-30 minutes, until just barely firm to the touch. Let cool completely, then sift powdered sugar over the top of the cookies.
0