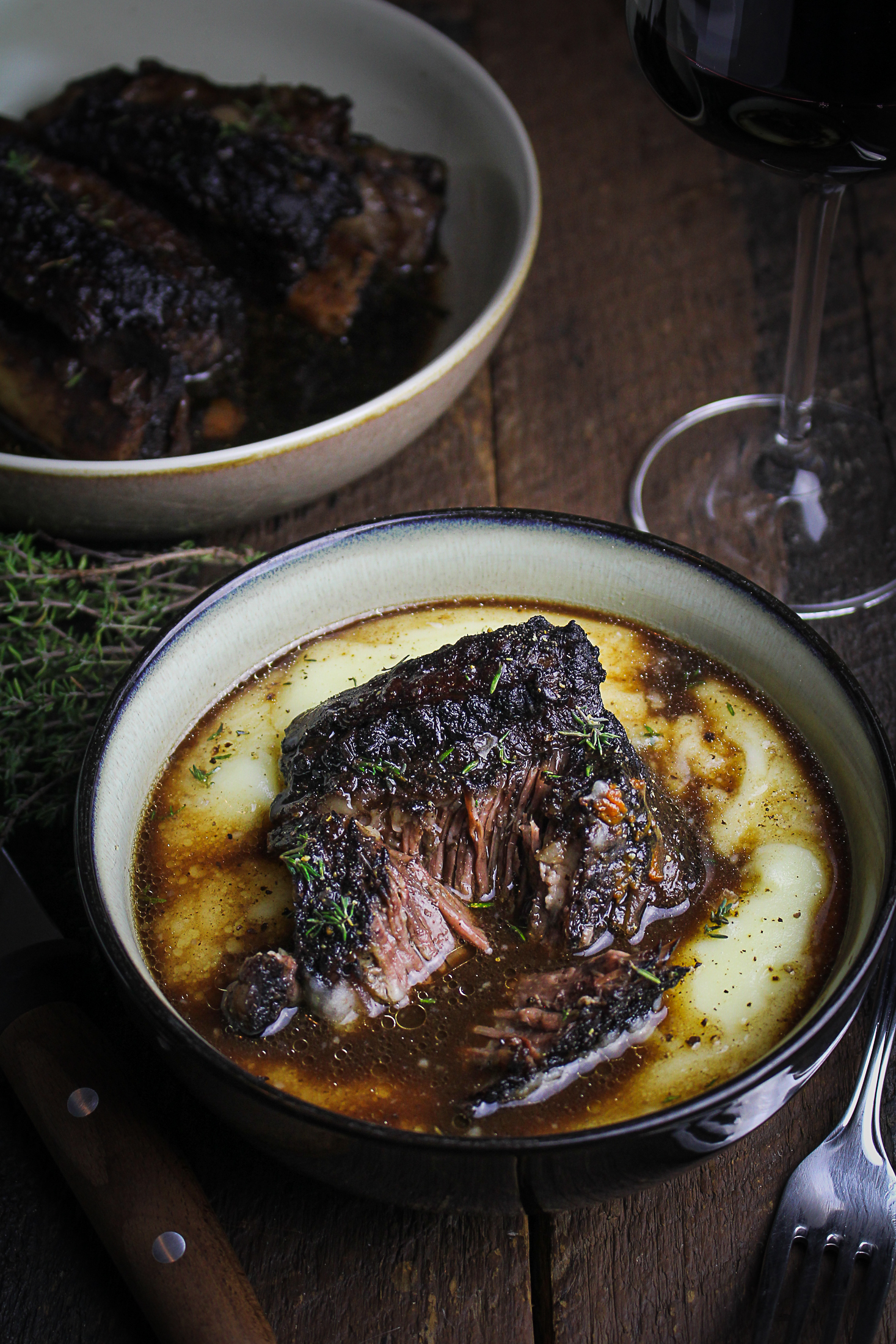 It's one of those gray December days that makes me feel like cozying up on the couch with a blanket and a cup of hot chocolate. I know that it's too warm for snow, but it looks like it could start flurrying any minute. It's early enough in the season that I don't mind. It still feels festive to stay inside by the Christmas tree, or even to bundle up and walk through the neighborhood at dusk, looking at everyone's lights (and, let's be real, the plethora of horribly tacky but also endearing Christmas inflatables in our neighborhood).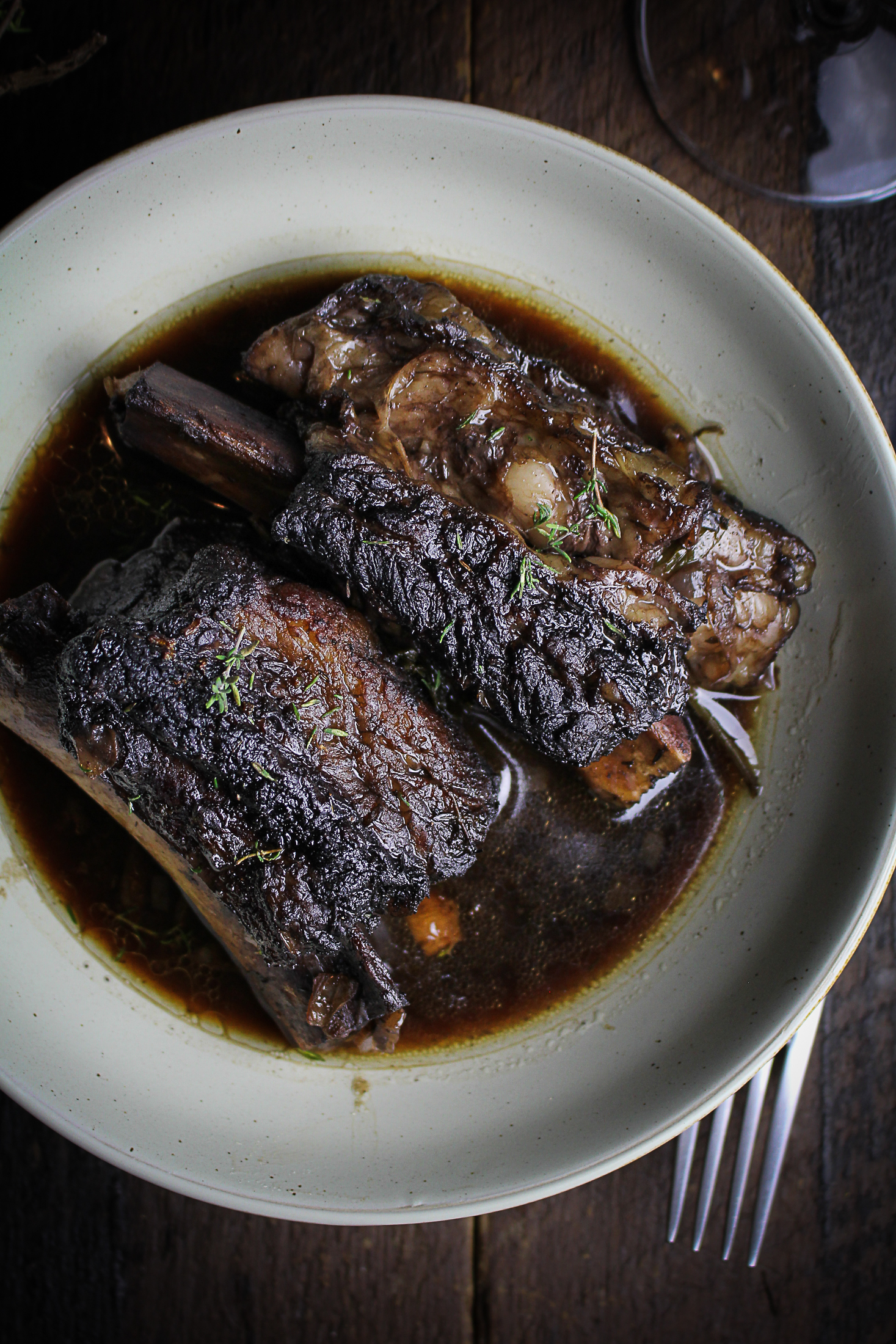 It's also the perfect sort of day for slow cooking. It will be dark by 4pm, at which point we'll start thinking about dinner and wonder what we have that we can pop in the oven. That's what this short rib recipe is for. It's for days when you have hours to while away indoors, when you crave something rich and tender, when you want an excuse to open a nice bottle of red wine before 5. This is your excuse – you'll need a cup or two of wine to braise the short ribs. This is also your excuse to stay put while the short ribs roast, filling your house with the savory scent of beef slumping into red wine.
These short ribs are classic but wonderful. If you do a little research, you'll find that most short rib recipes out in the world are fairly similar, with only minor tweaks in the order of operations and a secret ingredient here or there. You could argue that this means the recipe is ripe for innovation, or you could just take what's been tried and tested by the world's greatest chefs and go with it. This version is most closely inspired by Sunday Suppers at Lucques, my favorite cookbook. I go through periods when I can't seem to cook from any other book, as I've mentioned before. It also takes a few cues from this Daniel recipe. Whichever recipe you use, the tricks I've picked up for great short ribs are as follows. One, season generously.  Two, brown until caramelized, not just grayish-brown. Three, set aside at least 3 hours cooking time and don't be tempted to take the ribs out before they are super tender. Four, refrigerate overnight before serving in order to skim and discard as much fat as you can.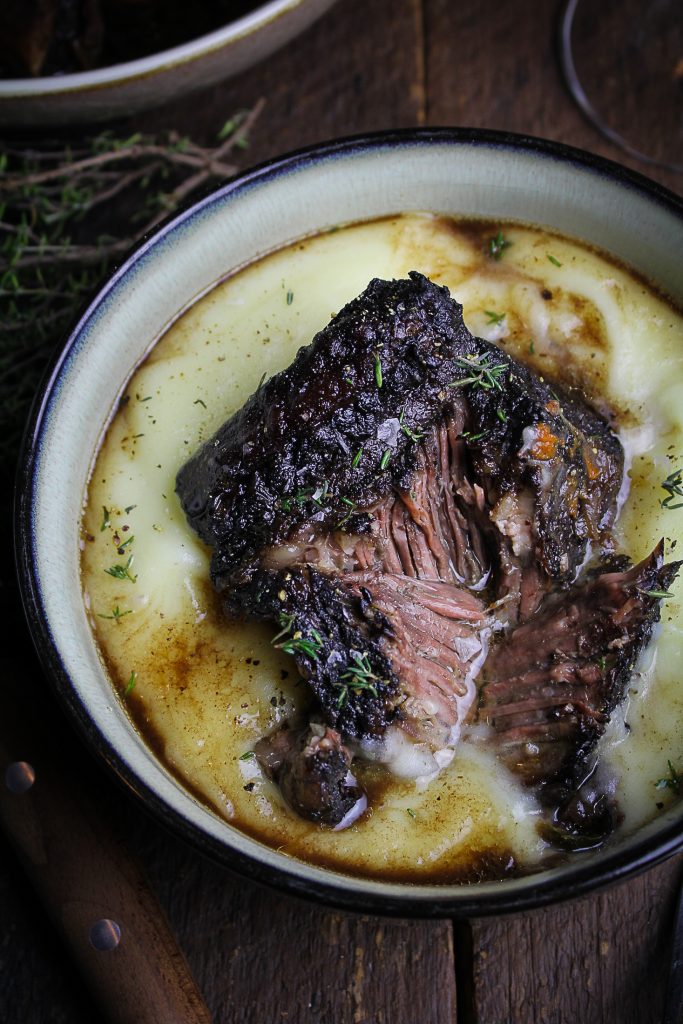 I had originally planned on doing a follow-up post as well – a short rib grilled cheese sandwich. They offer a similar sandwich, on rich challah bread, at Tatte. We made the sandwiches but, shockingly, they were too rich for me. It turned out I had met my match when it comes to how much richness you can squeeze into one bite. So I'll save the short rib grilled cheese for another day, when I've cracked that recipe. For now, I hope these delicious red wine-braised beef short ribs will warm up your kitchen this winter.
Like what you just read? Subscribe to Katie at the Kitchen Door in the box on the right, on Feedly or Bloglovin', or follow along on Facebook, Twitter, Pinterest, and Instagram. Thanks for reading!
More winter braises…
Print
Classic Red Wine-Braised Beef Short Ribs
Classic beef short ribs, braised in red wine for hours until meltingly tender. Best served over creamy mashed potatoes, potato gnocchi, or buttered egg noodles.
Adapted from Sunday Suppers at Lucques and Daniel (via Serious Eats)
4

bone-in short ribs, about 10-12 oz each (

3

lbs. total)

1/2 tsp

freshly ground black pepper

1/2 tsp

coarse sea salt

1

TBS fresh thyme leaves

1

TBS olive oil

1

onion, peeled and finely chopped

2

carrots, peeled and finely chopped

2

stalks of celery, finely chopped

5

cloves garlic, peeled and finely chopped

2

whole bay leaves

2 cups

full-bodied red wine, such as Cabernet Sauvignon

1/2 cup

port wine

3

TBS saba or aged balsamic vinegar

3 cups

beef broth

1

bunch fresh parsley
Instructions
Preheat the oven to 325F.
Pat the short ribs day and sprinkle the pepper, sea salt, and thyme leaves on top of them. Rub the seasoning in to fully coat the short ribs on all sides. Heat the olive oil in a dutch oven or medium heat, then add the short ribs to the pan (do this in batches if they don't fit in a single layer). Brown the short ribs on all sides, about 2-3 minutes per side, until a nice, caramelized brown crust has formed on the exterior of the ribs. Remove the browned short ribs to a plate.
Drain the rendered fat from the pan, reserving only 1 TBS of fat in the pan. Return the pan to the heat and lower the heat to medium-low. Add the chopped onions, carrots, celery, garlic and bay leaves to the pan. Saute until the vegetables are tender and translucent, about 5-7 minutes.
Add the red wine, port wine and balsamic vinegar to the pan with the vegetables. Bring to a simmer and scrape up any browned bits stuck to the bottom of the pan with a wooden spoon. Simmer the wine until it has reduce by one third, which should take 5-8 minutes.
Add the beef broth to the reduced wine and stir to combine, then place the short ribs back in the pan. They should fit snugly in the pan and be just barely covered by the liquid. Tuck the parsley in to the pan around the side of the ribs. Cover with a lid and transfer to the preheated oven. Roast the short ribs for 2 1/2 to 3 1/2 hours, checking every 30-45 minutes and turning the ribs over in the pan at least once. When finished, the ribs should be completely tender, such that you can easily pull the meat apart with a fork. Remove them from the oven and let cool for 20 minutes. For best results, cover and transfer them to the fridge overnight before serving.
When ready to serve, remove the ribs from the fridge. Skim off and discard the hard white fat on top of the dish (there will likely be a lot of this). Preheat the oven to 400F, and return the ribs, uncovered, to the oven for 15-20 minutes – this is to both reheat the ribs and to gently brown the exterior. Before serving, ladle the sauce and vegetables out of the pan and strain through a fine mesh strainer. Discard the vegetables. Serve the ribs on mashed potatoes, gnocchi, or buttered egg noodles, topped with the strained sauce.
72