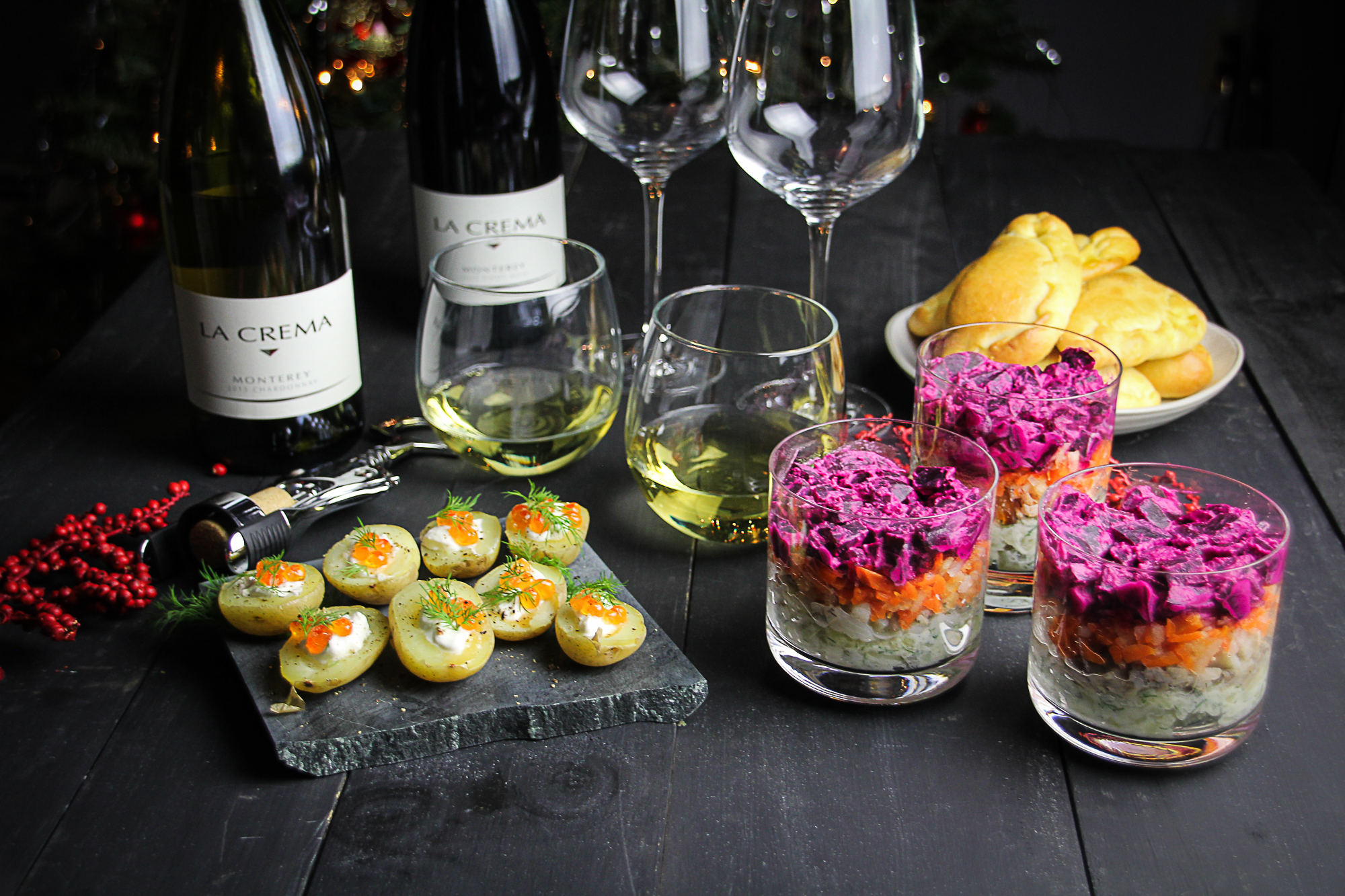 This post is sponsored by La Crema Wines. All opinions here are my own. You can find the companion recipes over on the La Crema blog. 
Way back in 2013 (seems like ages ago now, doesn't it?) I spent a lot of time in Russia. I've written about those trips a little bit, here and here, but never in great depth. I studied Russian throughout high school and college, so getting the chance to travel there for work was a dream. My primary destination was St. Petersburg, a glamorous, coastal city of old-world charm. I was there frequently between July – when the beauty and midnight sunsets of the white nights kept the whole city feeling celebratory – and December. And in December, it is very dark.
The dark is more shocking than the cold. In fact, at least in coastal St. Petersburg, it's not much colder than New England. This week, for example, lows there are a balmy 29°F, while here in Boston we're bracing ourselves for a week of -3°F nights. The dark, however, is a real challenge. For most of December, the sun rises at 10am and sets around 3:30. It never quite feels like daytime. The sun arcs low across the sky, resulting in sort of a 5 hour-long sunrise/sunset. In the context of all this darkness, it's not hard to understand how New Year's Eve became the bright spot of a Russian winter. It celebrates light and warmth, and requires feasting with friends long into the dark night.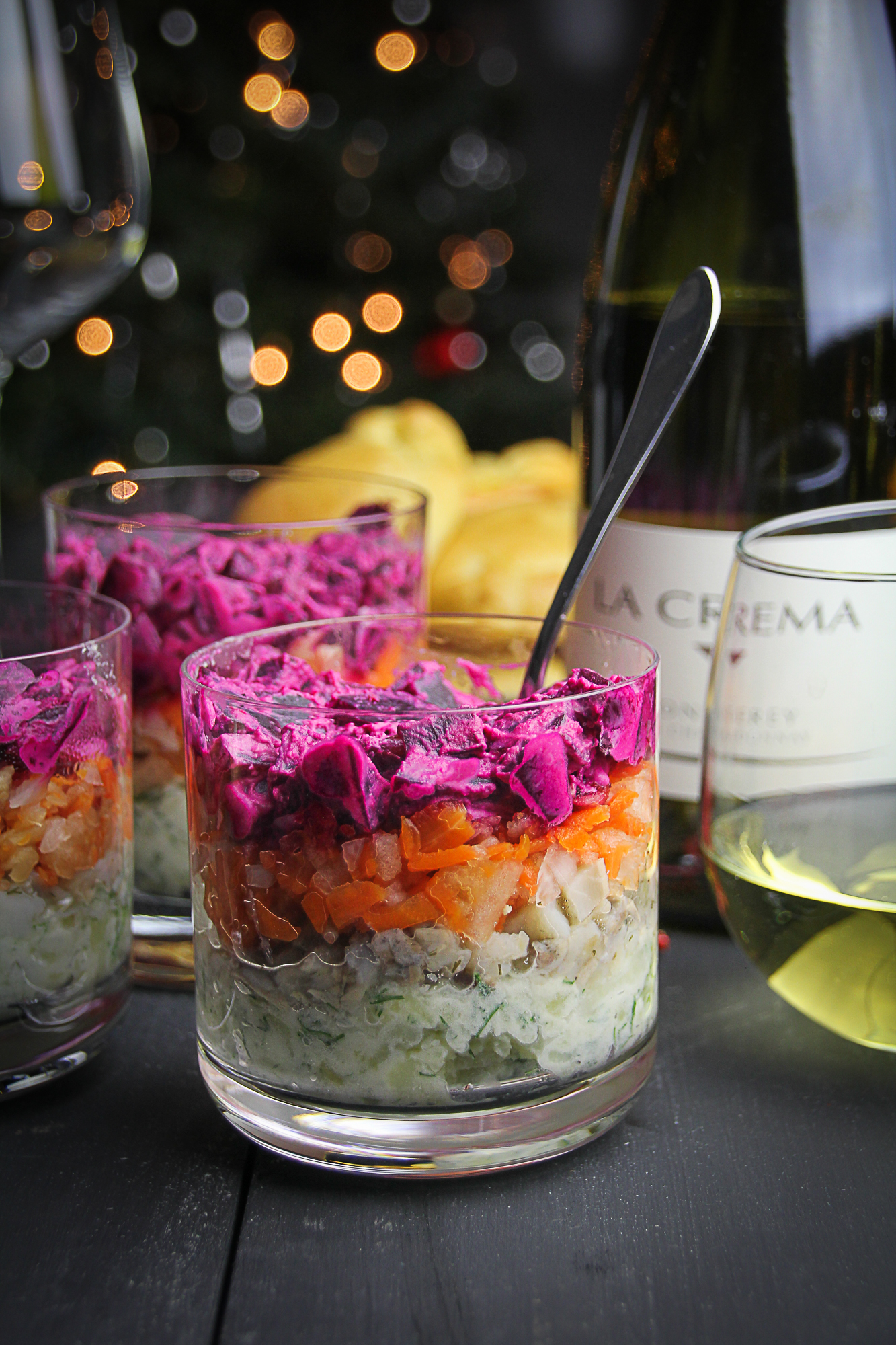 For my final La Crema post of the year, I put together a celebratory menu of Russian-inspired New Year's treats. A typical Russian New Year's Eve spread consists of lots of small plates, salads, pickles, breads, and plenty to drink. A few years back I did a Russian-inspired end-of-year post, with recipes for rye blini, hot-smoked salmon dip, beet dip, and a pink vodka cocktail. This menu builds on those recipes. Taken all together, you could put together a pretty serious New Year's Eve spread.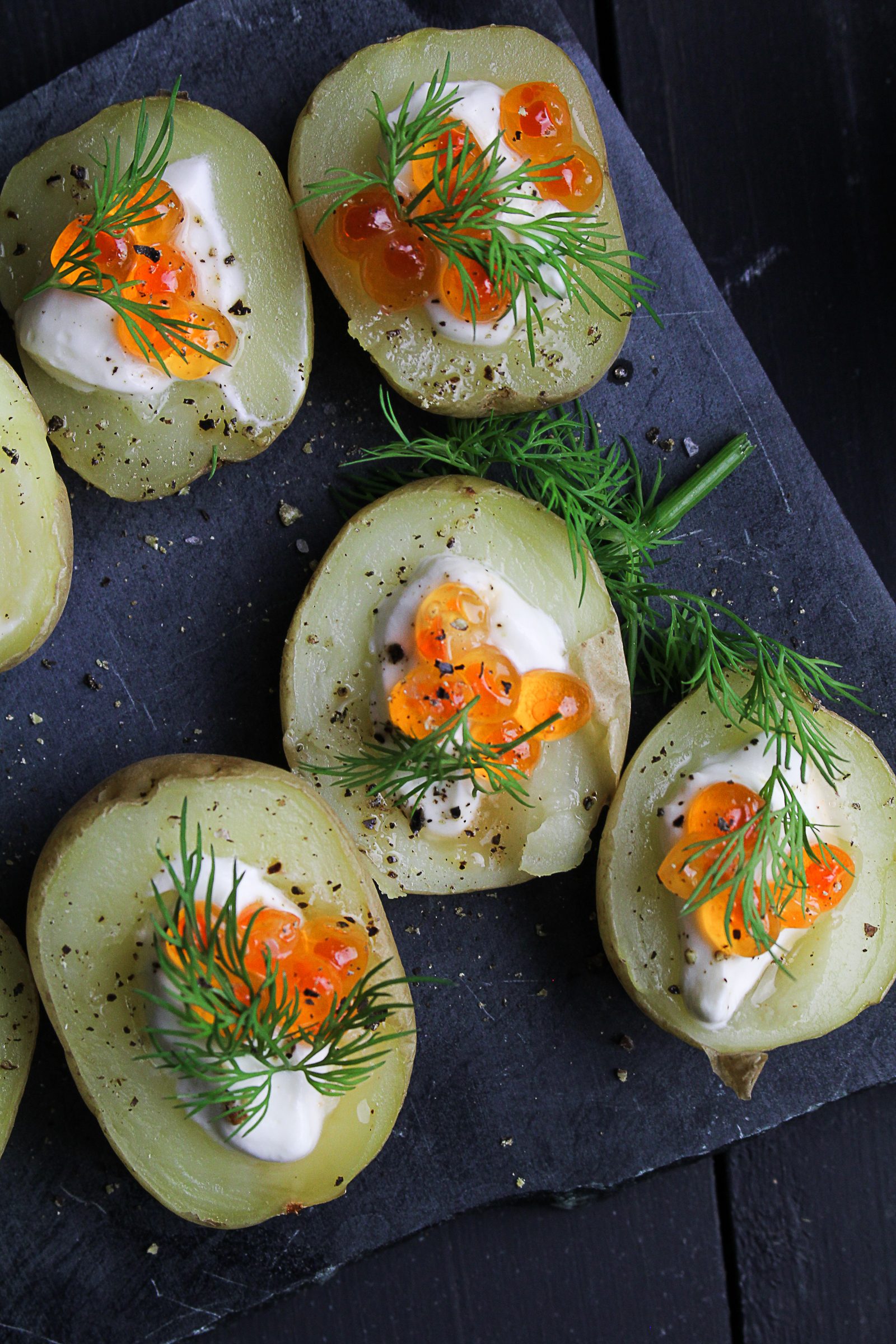 The first dish – Potato Bites with Caviar – is one of the easiest holiday appetizers I've ever made. All they require is boiling a pot of small potatoes, slicing them in half, scooping out a bit of the center, and dolloping each potato half with sour cream, a few pearls of caviar, and a tiny sprig of dill. That's it – that's the whole recipe in one sentence. And they are delicious! I was surprised by how addictive each little bite was.
The next dish is a bit strange to the American palate, but it's super traditional. Herring Under A Fur Coat is a classic layered salad consisting of pickled herring, potatoes, carrots, onion, mayonnaise, beets, and hard-boiled eggs. I attempted to modernize it a bit, with the goal of making each layer taste good on its own. The changes I made were to cut out the mayo, add grated apple to the carrot and onion layer, and use smoked salmon in one half and pickled herring in the other. I also served them individually, for easier party-consumption. They were pretty good, although arguably still an acquired taste. Check out the recipe over on the La Crema blog if you're feeling adventurous!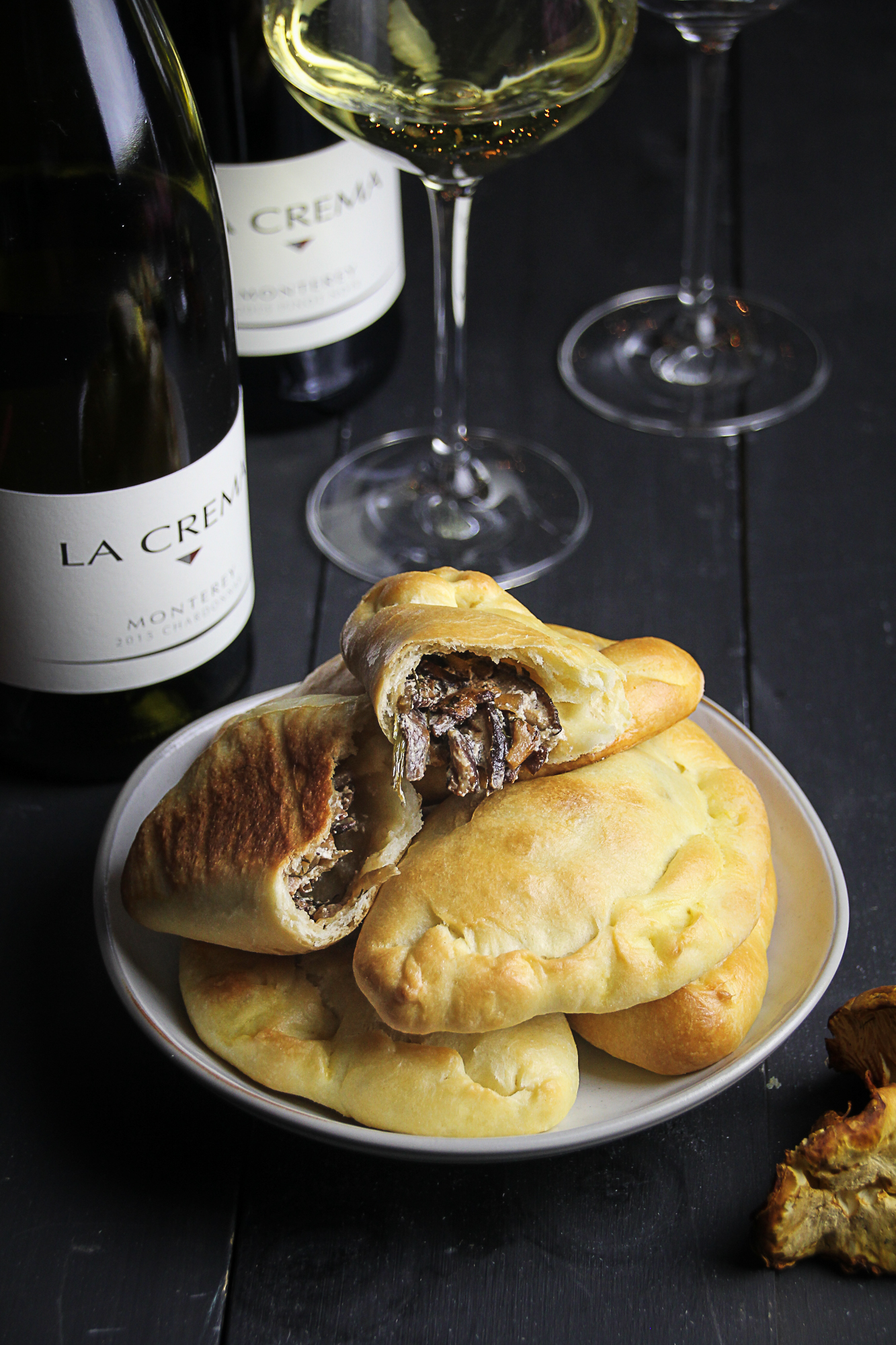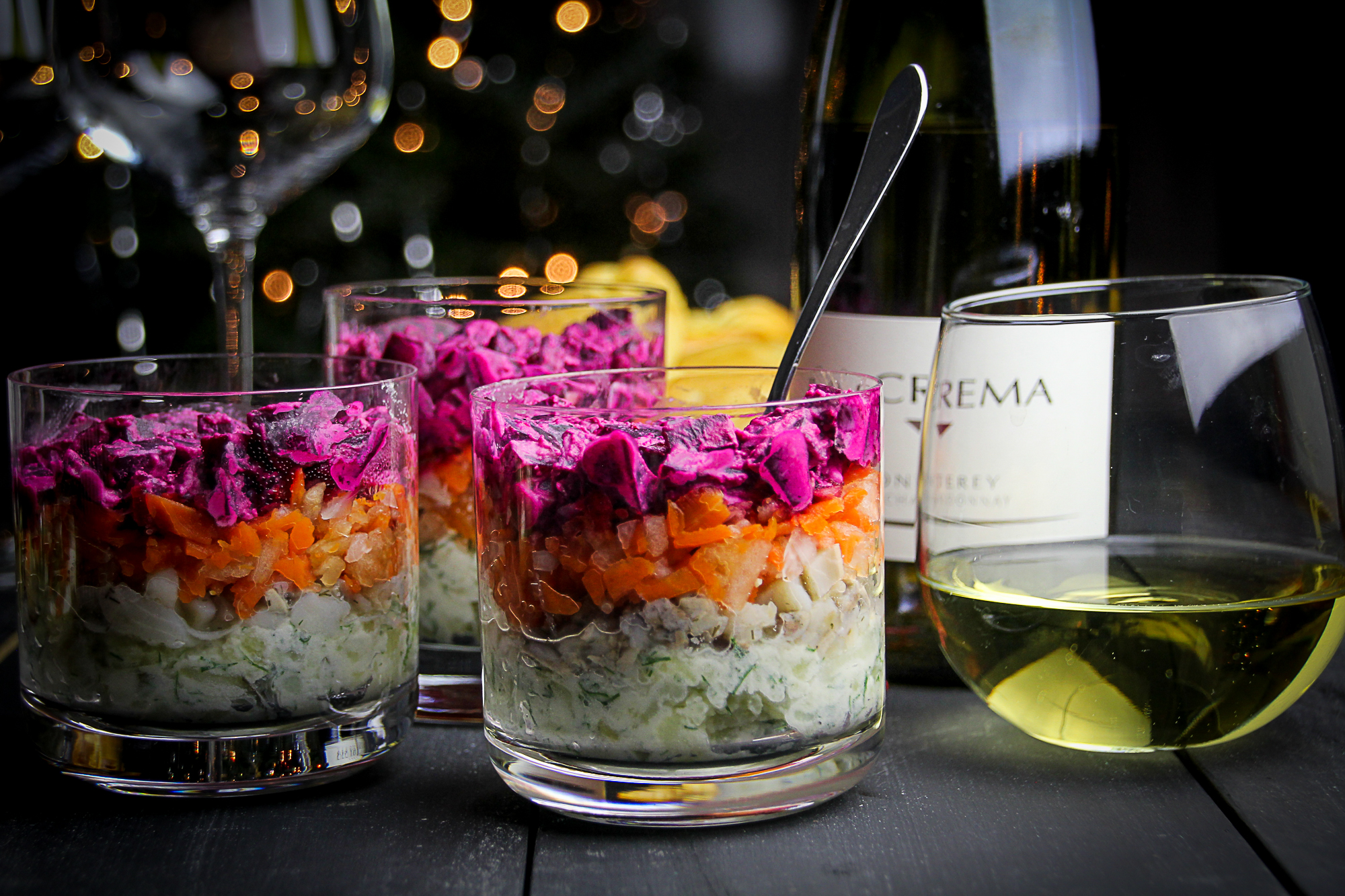 Last in the menu is a party friendly version of my favorite Russian recipe – Mushroom Pirozhki. These are a bite-sized, vegetarian version of the Rabbit and Mushroom Pie I posted a few years back. These little guys are addictive, and the perfect party food (warm, carby, easy to carry, and great with wine!). The filling for these Mushroom Pirozhki is a tasty mixture of wild mushrooms, sour cream, wine, and dill.
With all these recipes, you probably don't need much dessert. If you must have something sweet, put out some Russian chocolates (like Alenka if you can find them!) and fresh fruit. And of course, we can't forget the drinks. While vodka is the traditional drink at a Russian New Year's party, there's plenty of room for other libations. I'm definitely more of a wine girl than a vodka girl, and I opened a bottle of La Crema's Monterey Chardonnay and one of the Monterey Pinot Noir for this menu. The potatoes and herring salad are both best with the Chardonnay. Mushrooms are deeply earthy, so the pirozhki pair well with the Pinot Noir – but if you're only opening one bottle, the dill and sour cream in the filling also make them a good match with the Chardonnay.
Enjoy, and don't forget to head over to the La Crema blog via the links below for all the recipes:
8