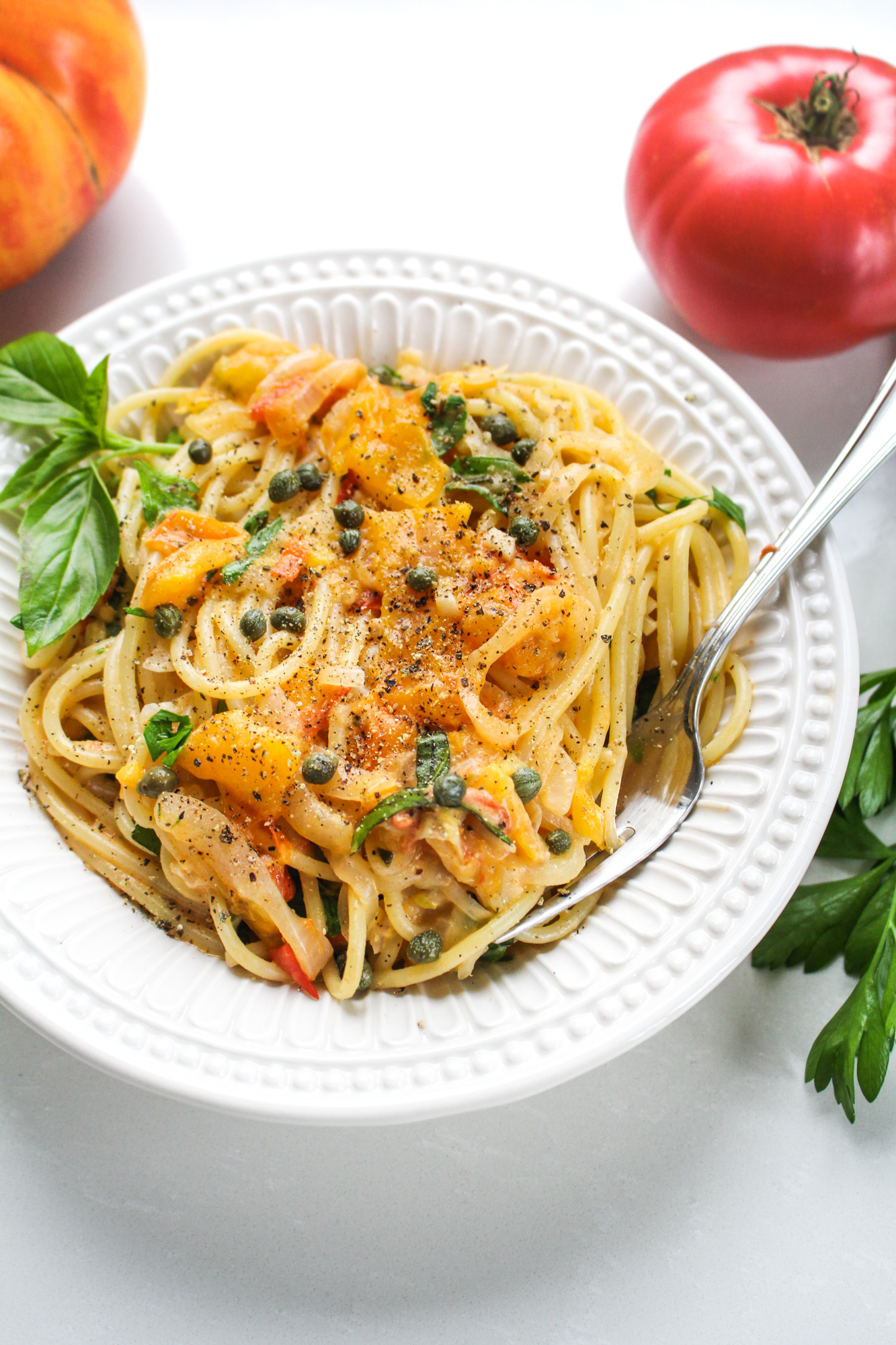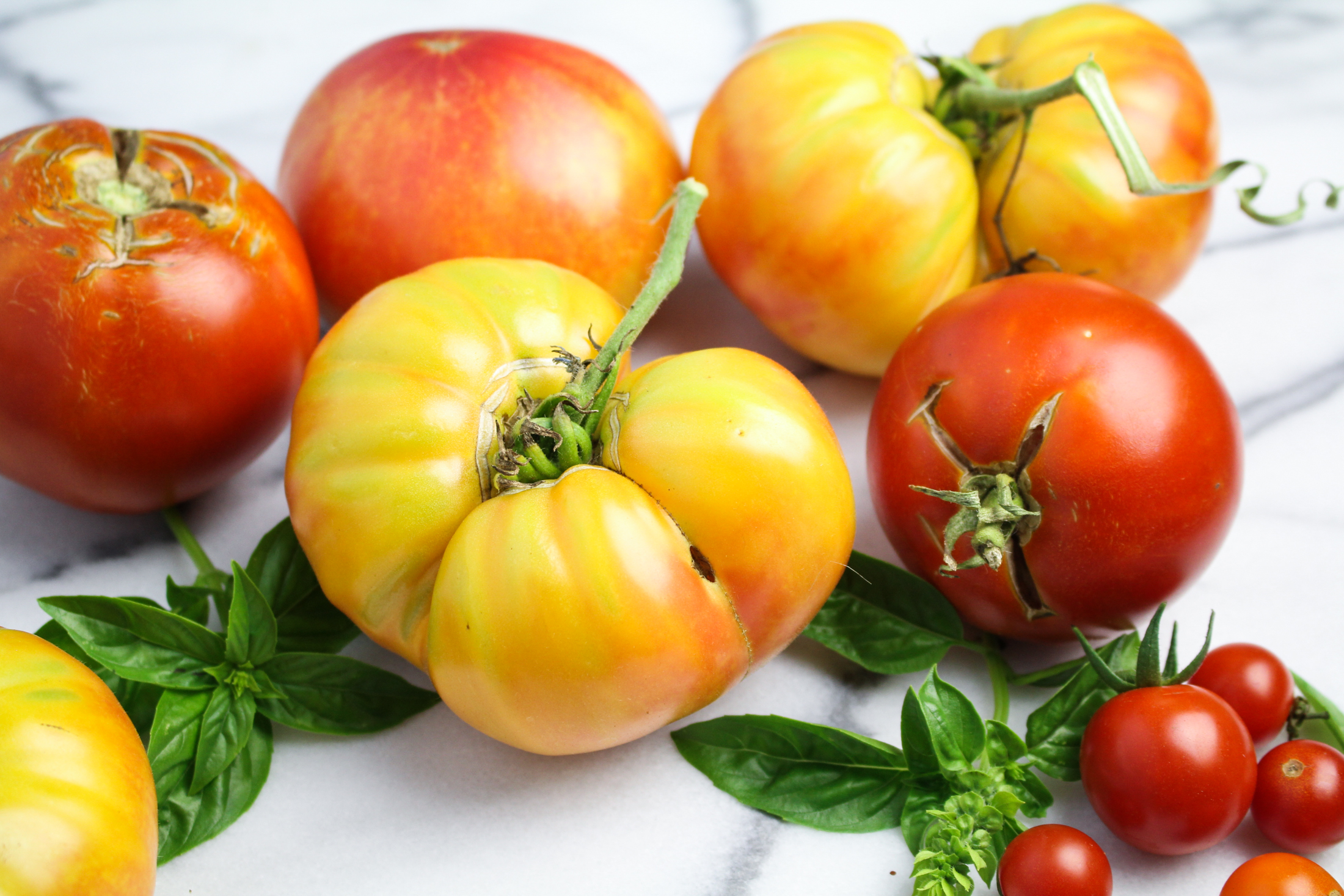 I have the perfect recipe for your last heirloom tomato – I hope you've been saving it. When all of our beautiful, Striped German tomatoes ripened seemingly simultaneously at the end of September, I was sort of at a loss for what to do with them all. I like tomatoes but I don't love tomatoes, at least the way some people do. You will probably never catch me eating a tomato like an apple. I'm a little bit embarrassed to admit it but you might actually find me picking the tomato out of a sandwich now and then, if it's a particularly bad tomato. So I was a bit stressed by the idea of using up 12 pounds of beautiful homegrown tomatoes before they went bad.
I was flipping through my favorite cookbooks, looking for tomato-inspiration, when I came across a recipe for Spaghetti with Heirloom Tomatoes, Basil and Bottarga Breadcrumbs in Sunday Suppers at Lucques, which is my very favorite cookbook, at least currently (all of Suzanne's recipes are so spot on, and seemingly timeless, given that the flavors still sound incredible over 10 years after the book was published). While I wasn't looking for anything as complicated as making homemade breadcrumbs flavored with cured tuna roe on this particular evening, the other flavors in the recipe sounded just right, so I made a few quick modifications and tried it. It was good, but not mind-blowing. But I loved the idea of the dish, and there were elements that were really strong – I loved the mellow sweetness of the onions melding with the tangy-sweet tomato, the way the rosemary fried in olive oil seemed to perfume the whole dish, and the process of cooking the spaghetti in the sauce so it would soak it up. It just needed more body and more salt. So I kept trying the recipe, adding a spoonful of capers here, toning down the chile heat, and finally, the move that sealed the deal, stirring in a generous spoonful of mascarpone cheese, which transformed the sauce into something silky and luxurious that coated every noodle.
Now that it's perfect, I want to eat this spaghetti every day. Which is why, although I considered it, I couldn't wait until next tomato season to share this with you. I want you to be able to try it now, with those last tomatoes. And after this I promise that it's going to be all soups and roasts and dumplings and pumpkin-y things around here.
Like what you just read? Subscribe to Katie at the Kitchen Door on Feedly or Bloglovin', or follow along on Facebook, Twitter, Pinterest, Instagram, or Google+. Thanks for reading!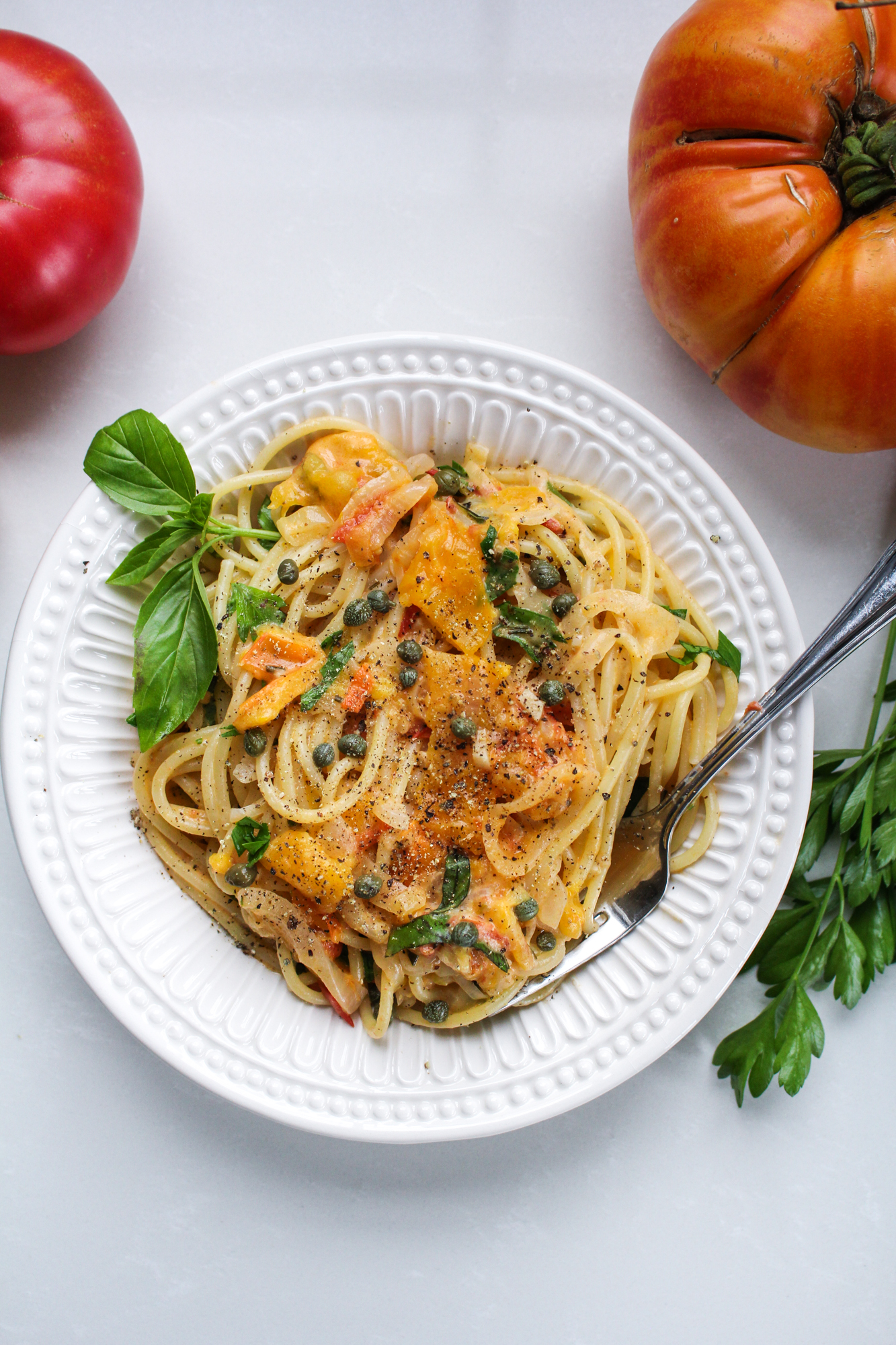 Heirloom Tomato and Sweet Onion Spaghetti
Inspired by Sunday Suppers at Lucques. Serves 2-3.
2 TBS olive oil
1 TBS chopped fresh rosemary leaves
1/2 small red chile, seeded and finely minced OR 1/4 tsp red pepper flakes
1 large sweet onion, peeled, halved, and cut into very thin half-ring slices
2 large heirloom tomatoes (about 2 pounds total), cored and cut into 1 inch pieces
1/2 lb. spaghetti
2 TBS butter
1 TBS capers
1/4 c. mascarpone cheese
10 leaves fresh basil, rolled and julienned
2 TBS chopped fresh parsley leaves
1 oz. parmesan cheese, shaved into flakes with a vegetable peeler
Bring a large pot of salted water to a boil over high heat.
Heat the olive oil in a large frying pan over medium heat. Add the rosemary leaves and the minced chile or red pepper flakes. Saute until fragrant and sizzling, about 60 seconds. Lower the heat to medium-low, add the onion slices and saute, stirring frequently until very tender and translucent, about 5-7 minutes. Add the tomato pieces and stir. Cook, stirring frequently, until tomatoes have softened into a sauce and the sauce has thickened, about 10-15 minutes.
When your sauce is almost ready, add the spaghetti to the boiling water. Cook until it is almost al dente – drain the pasta about 1-2 minutes before it is done (you are going to finish cooking it in the sauce). Transfer the hot pasta to the pan with the tomatoes and toss to coat. Add the butter and capers and toss with the pasta and sauce. Cook for 1-2 minutes longer then remove from the heat. Stir in the mascarpone cheese until it has coated all of the pasta. Sprinkle the sliced basil and parsley over the top of the pasta and stir to mix. Divide the pasta between 2 or 3 plates and top each serving with some of the flaked parmesan cheeese. Serve immediately.
3