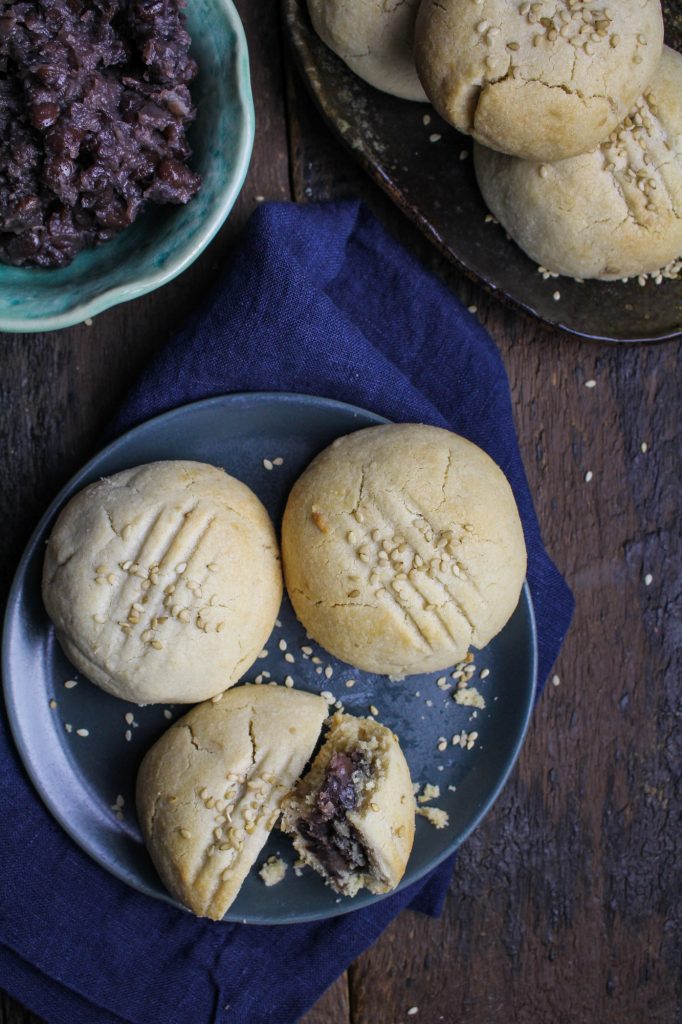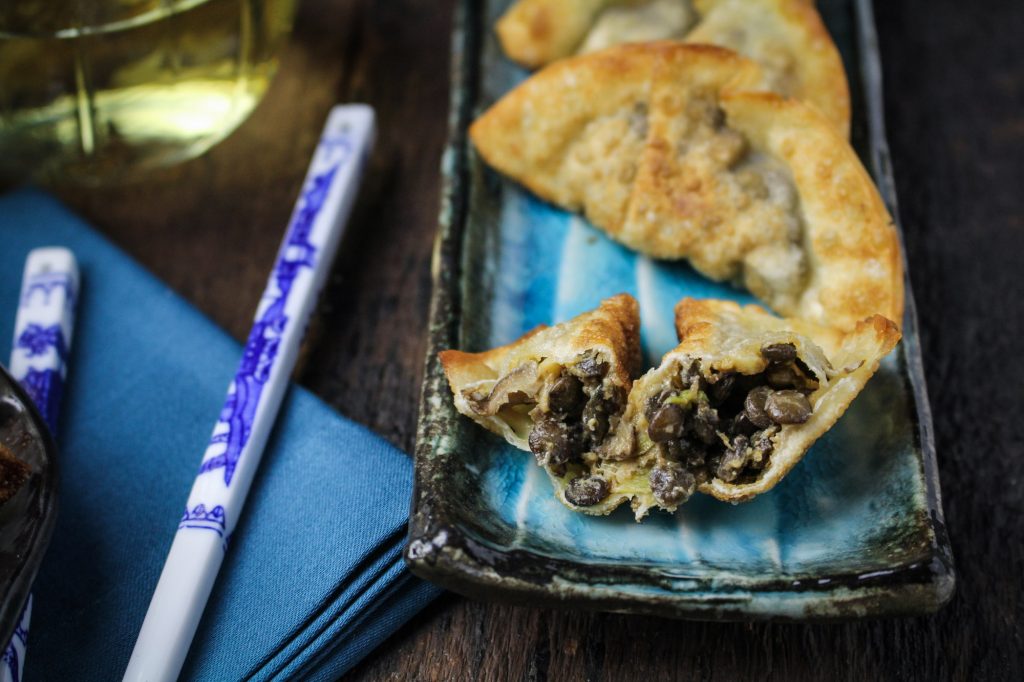 I've been working with La Crema for a while now, and we recently seem to have found a groove in a series of internationally-themed dinners to pair with their Chardonnays, Pinot Gris, and Pinot Noirs. In July we did an al fresco Italian seafood feast, for Labor Day we had a Greek-American cook-out, and now, as the weather turns colder, we're looking to the other side of the world to find the inspiration for this Korean-inspired dinner. I say Korean-inspired because, well, I'm not Korean, and I've never even been to Korea, and I don't want to call these recipes something they are not. Because they are definitely not traditional, authentically-prepared Korean recipes, the kind of recipe that gets passed down from generation to generation and takes a lifetime to learn. What they are are a collection of delicious recipes that attempt to incorporate some of the influences and flavors of Korean cooking into the way I cook and eat at home.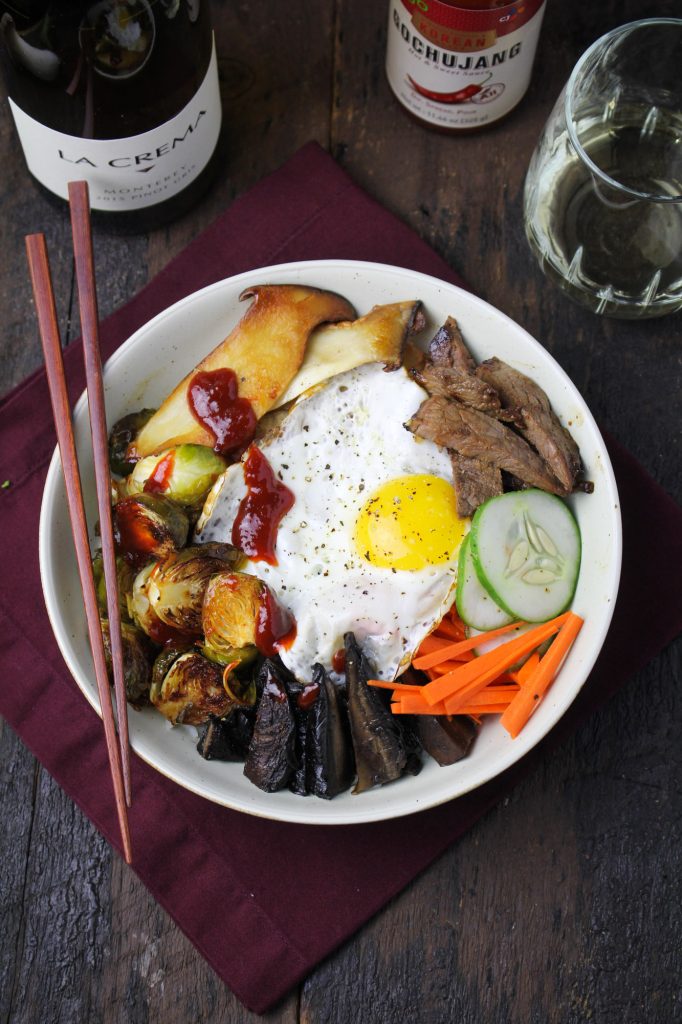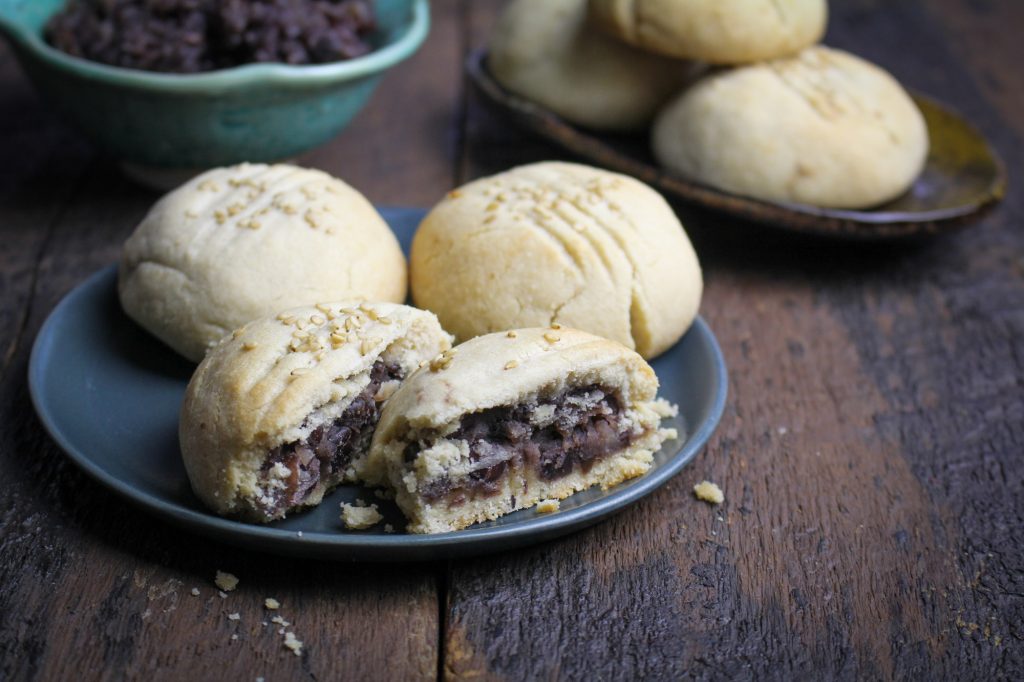 With that disclaimer out of the way, let's get to the food! The appetizer here is Vegetarian Lentil and Mushroom Mandu, Korea's stuffed dumpling. Trevor walked in the door just as I was frying these up. "You're just in time," I told him, and he grabbed one (one of the ugly ones that I would let him eat before photos) straight from the frying pan. He bit into one and sort of grunted appreciatively before I said "they're vegetarian." At which point he looked at me with a mixture of anger and confusion, so upset because he didn't even notice they were vegetarian. (Also when we eat vegetarian food without me telling him in advance he feels like I'm tricking him.) Because lentils and mushrooms and cabbage can taste as good as ground pork when wrapped up in a dumpling and fried. Not that I have anything against pork, I just love being able to create vegetarian food that's as satisfying as meat. You can find the Mandu recipe here on the La Crema blog.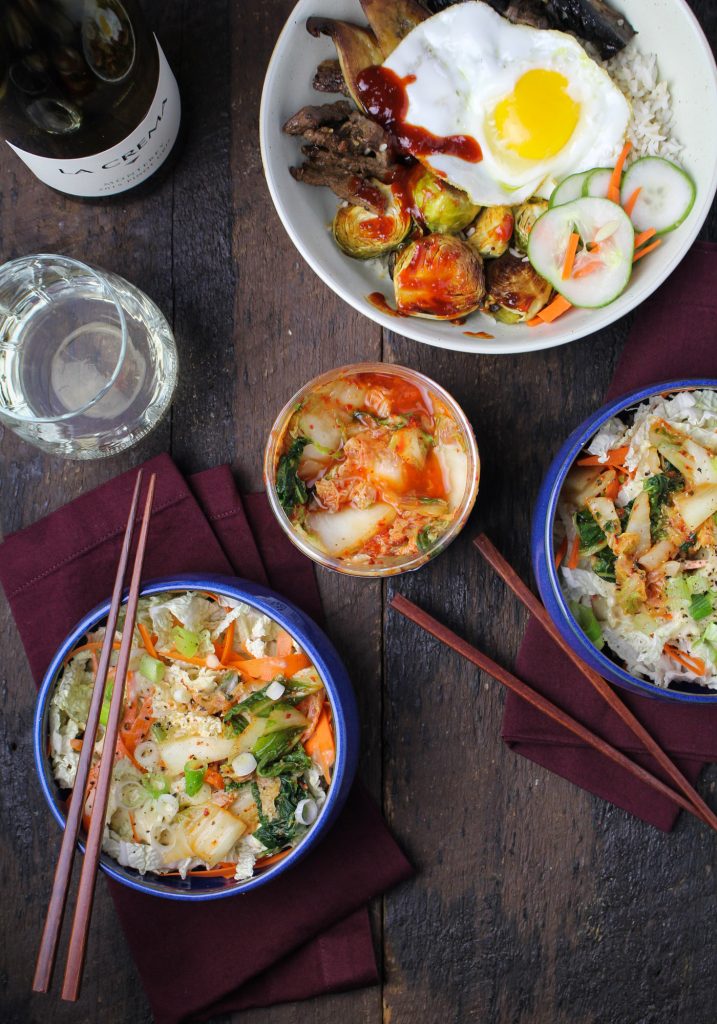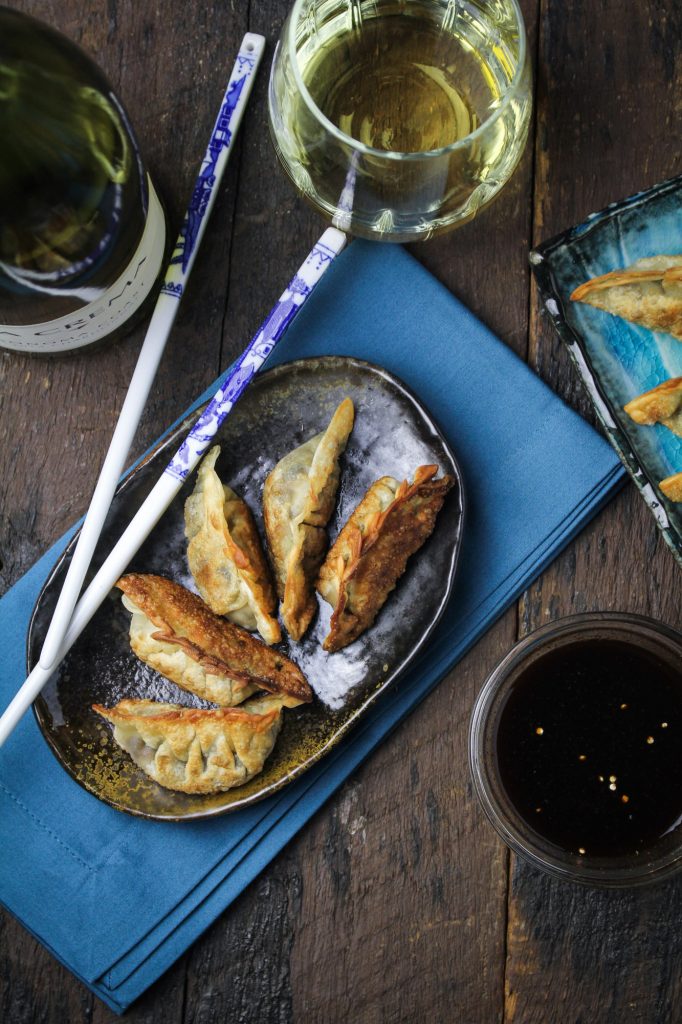 For the main event, we have two dishes – a simple Cabbage and Kimchi Salad with Sesame-Miso Dressing, and an Autumn Bibimbap. The salad is all about the super flavorful and creamy dressing – a mixture of tahini, miso, honey, ginger, and rice vinegar. It's the kind of dressing that makes eating raw cabbage slightly addictive instead of slightly awful. The addition of kimchi – a funky, tangy, spicy fermented cabbage dish that's ubiquitous at any Korean meal – brings an unexpected heat and excitement to an otherwise sweet and mild salad. The bibimbap, which is inspired by the book Bowl: Vegetarian Recipes for Ramen, Pho, Bibimbap, Dumplings, and other One-Dish Meals, includes a few seasonal variations on a classic bibimbap: gochujang-roasted brussels sprouts and tamari-roasted portobello mushrooms. Mixed with the more traditional toppings of bulgogi-marinated beef, pickled cucumbers, and a fried egg, it makes a comforting, delicious fall dinner, especially served with a glass of La Crema Monterey Pinot Gris. The bright minerality of the wine is a good counterpoint to the spicy gochujang and rich egg in the bibimbap and the funky heat of the kimchi in the salad. (Find the bibimbap recipe here and the cabbage and kimchi salad recipe here!)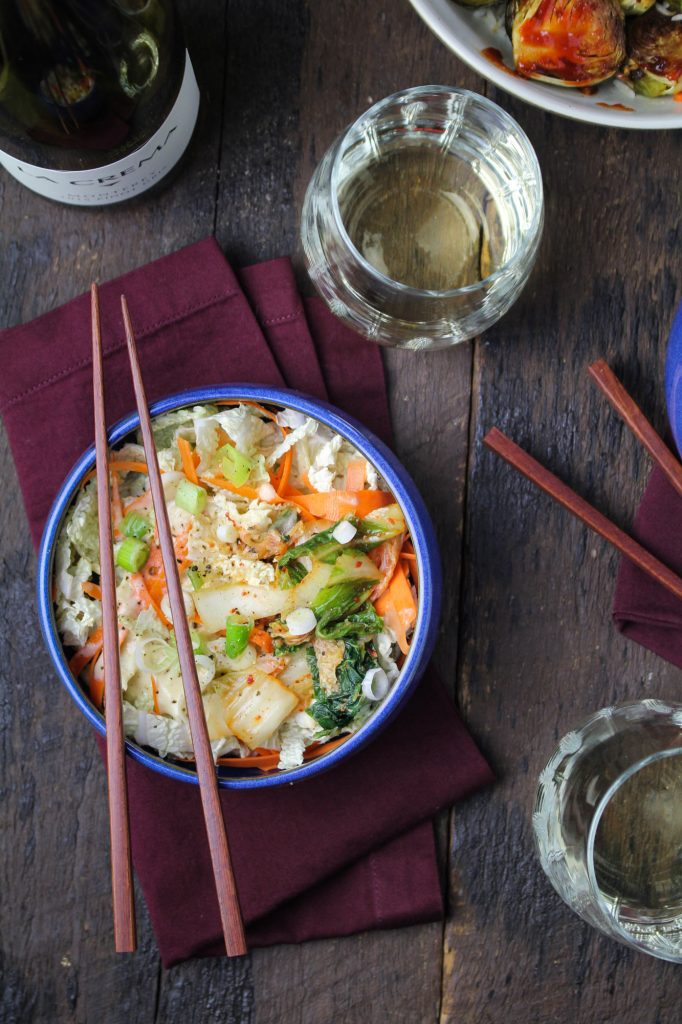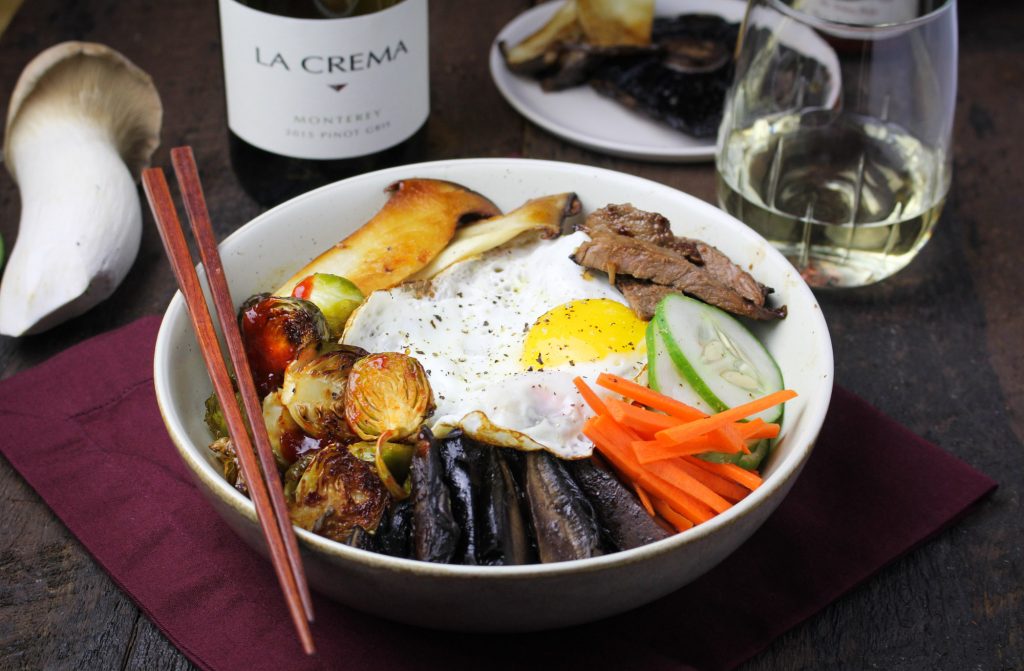 And for dessert, we have Red Bean Paste Filled Sesame Cookies, which are arguably more inspired by our time in Hong Kong and Japan than Korea but the flavors seemed to be loosely aligned with Korean desserts. I knew what I wanted these cookies to taste and look like, but I wasn't quite sure how to get there. Incessant googling of variations on "crispy sesame cookies stuffed with red bean paste" didn't reveal anything, so I had to experiment on my own. I started with the vague idea that these cookies should have the texture of shortbread, crumbly and buttery, with a distinct sesame flavor from a generous amount of tahini. And I knew I wanted them to be sizable, big enough that you could fill them amply with sweet red bean paste. I'm pretty happy with the way they turned out – and they were super easy to make. They're not perfect perfect, but I'll come back with an updated recipe if I end up tinkering with them any more.
Stay tuned, because I'm really excited about what La Crema and I have cooked up for Thanksgiving! Think chipotle, passionfruit, mole sauce… it's going to be all kinds of delicious.
Disclaimer: This post is sponsored by La Crema. All opinions are honest and my own.
Like what you just read? Subscribe to Katie at the Kitchen Door on Feedly or Bloglovin', or follow along on Facebook, Twitter, Pinterest, Instagram, or Google+. Thanks for reading!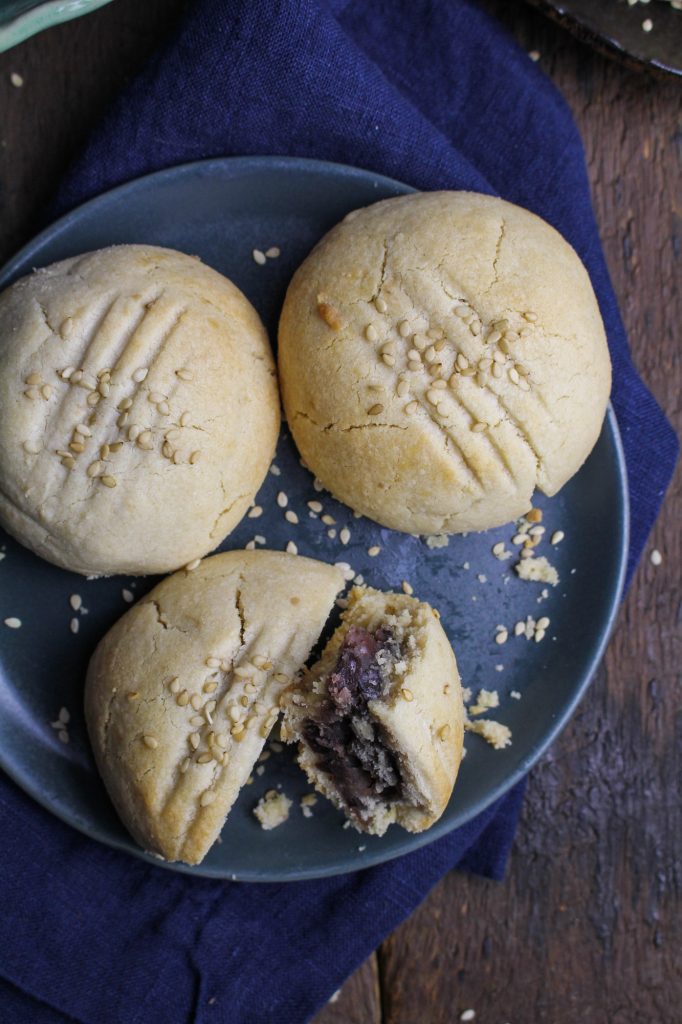 Red Bean Paste Filled Sesame Cookies
A Katie at the Kitchen Door original recipe. Makes 8 large cookies.
1 stick salted butter, room temperature
1/4 c. tahini paste
1/2 c. powdered sugar
1 c. cake flour
1/2 c. sweetened red bean paste, store bought or homemade, chilled
2 tsp sesame seeds
Preheat the oven to 350°F. Line a baking sheet with parchment paper and set aside.
In a medium bowl, beat room temperature butter until light and fluffy. Beat in the tahini paste until it is evenly combined with the butter. Sift the powdered sugar into the butter-tahini mixture and beat until evenly combined. Stir in the cake flour and beat until a smooth dough is formed. Dough should stick together in a ball when you make one with your hands. If the dough is too difficult to work with, chill for about 30 minutes before continuing.
To form the cookies, take ~1 TBS of dough and use a cupped hand to form a half sphere with a hollow center. Fill the center of the cookie with 1 tsp of the chilled red bean paste, then carefully close the tops of the cookie dough over the top of the red bean paste. Roll into a ball and then flatten slightly to make a thick, disc-shaped cookie. Use a fork to gently press hash-marks into the top of the cookie and sprinkle with sesame seeds. Repeat until you have used all of the dough. Bake cookies until golden brown and just beginning to crack, about 20-25 minutes. Let cool slightly and serve warm.
1