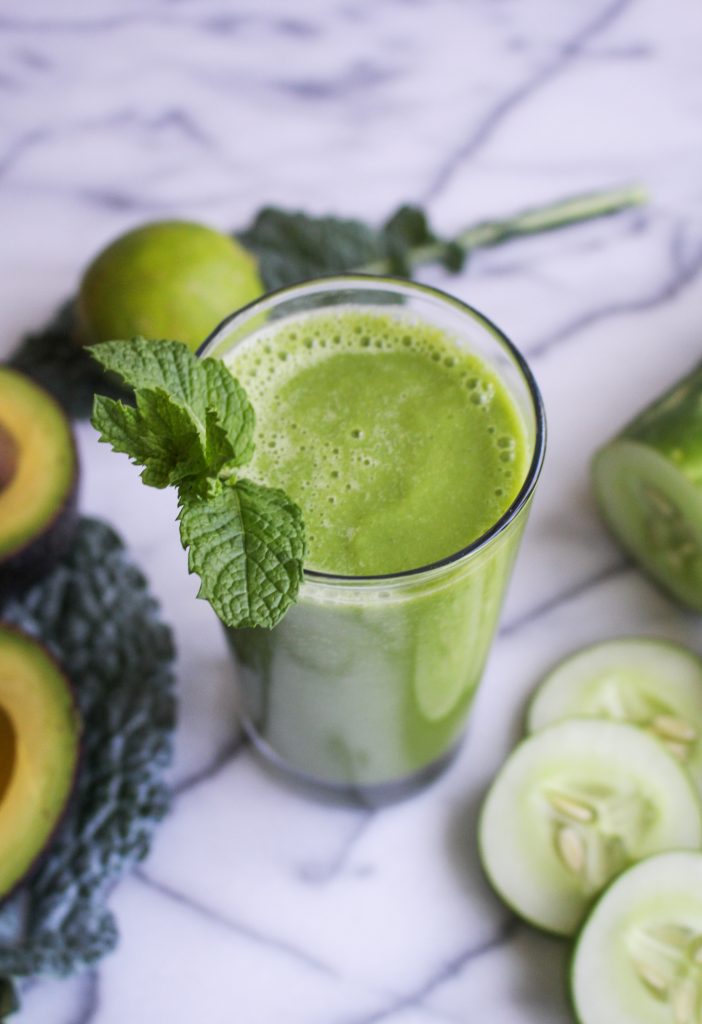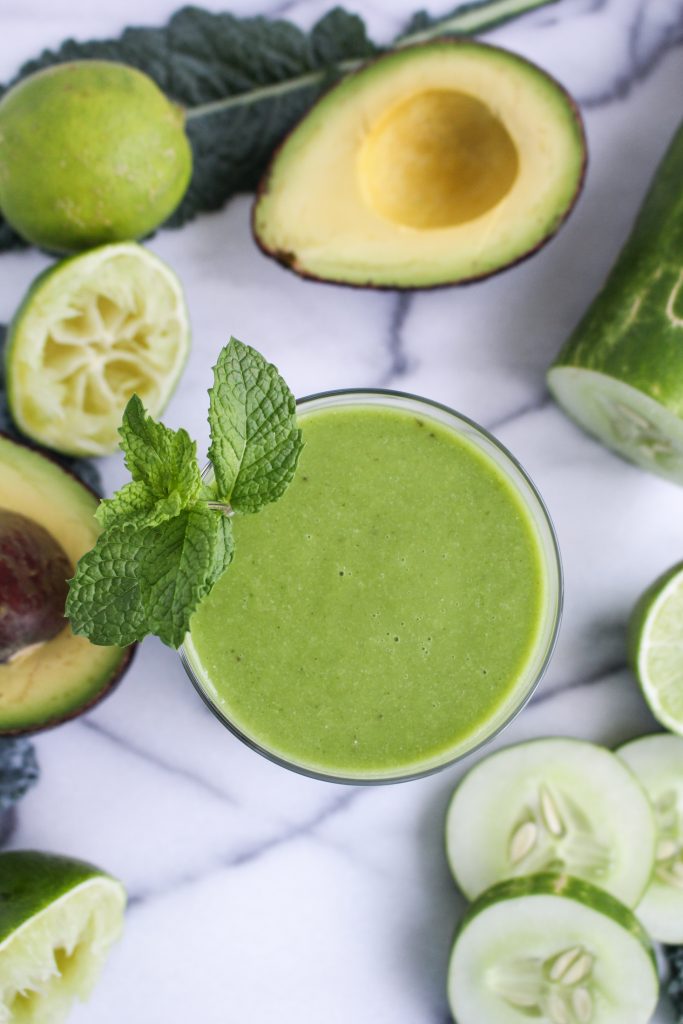 I didn't do a very good job taking advantage of my jet lag this morning. I woke up early to gray, heavy skies and thought – what a perfect morning to make a cup of tea and take a blanket to my desk and write. But it turned out that it was also a perfect morning to lie under a pile of down comforters and waste an hour on various forms of social media. And I was only in Europe for a few days so it's probably my only morning of jet lag. Oh well.
I've been wanting to get this post up before it comes irrelevant – I'm sure many of your gardens are winding down, and personally, my morning cravings have turned more towards baked apples and oatmeal than bright green smoothies. But I know we still have a few hot days ahead of us, and there are still 3 cucumbers hanging on the vine, so smoothies it is.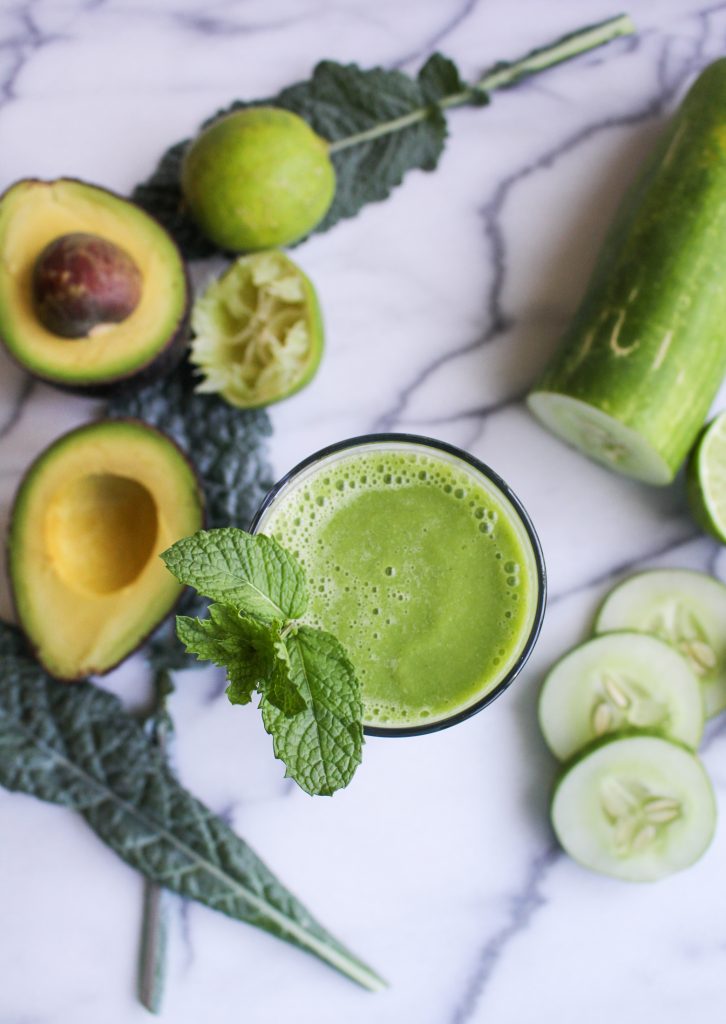 Our cucumber vine flourished this year – I had forgotten just how many huge cucumbers one modest vine could produce. Sadly, more than one beautiful, plump, homegrown cucumber languished and shriveled up in our fridge. I don't know if the variety we planted had a particularly short shelf life, or if we just don't really eat cucumbers, but it seemed nearly impossible to keep up with them.
I did find a couple of good ways to use them up, and one of the simplest was adding them to my green smoothies. I'm pretty loyal to my standard green smoothie recipe (although these days I tend to omit the water and add ginger), but every once in a while I switch it up. The flavor of cucumber is super refreshing, and pairs well with lime and mint. I added avocado for creaminess and a little bit of banana and mango for sweetness and body. Oh, and of course, the green part: lovely tuscan kale, another plant that's flourishing in my garden. It's not my everyday smoothie but it's a really good one when I want something a little different.
Like what you just read? Subscribe to Katie at the Kitchen Door on Feedly or Bloglovin', or follow along on Facebook, Twitter, Pinterest, Instagram, or Google+. Thanks for reading!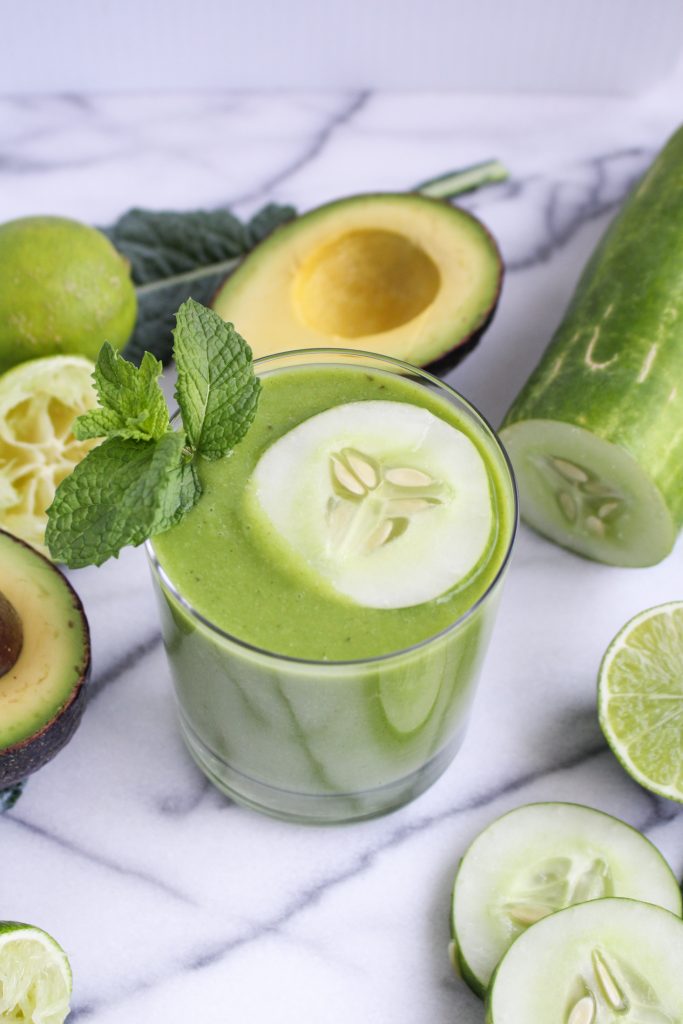 Print
Cucumber-Avocado-Lime Green Smoothie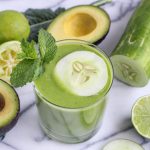 A smooth and creamy green smoothie with lots of vegetables.
1/2

large cucumber, peeled

1/2

banana

1

c. lemonade
juice of

1

lime

1

c. frozen mango

1/2

avocado

6

large leaves tuscan kale, center ribs removed

5

–

6

leaves fresh mint
Instructions
Add all ingredients to blender in order listed (you want to be sure the lemonade goes in early to ensure even blending). Blend on high until smooth and creamy. If using a high-powered blender, serve right away; if using a regular blender, you may want to strain it through a fine mesh blender before serving for a smoother drink.
15