People ask me all the time what my favorite thing to make is. I think that's sort of a difficult question – it depends on my mood, on what I feel like eating, on what produce is abundant in my garden. But when someone asks you a question like that, to show interest in your hobby, to learn a little more about you, they don't want to hear "it depends." So I tell them, soup. And it's true. I love to make soup. I love the rhythm of chopping vegetables, I love the way onions browning in butter smell, I love the sound of gentle simmering, the way steam curls over a pot and fills the entire house with the scent of comfort. I love sitting with a warm bowl of soup between my hands, how nourished and relaxed I feel after eating it. Campbell's got it right all those years ago – soup is good food.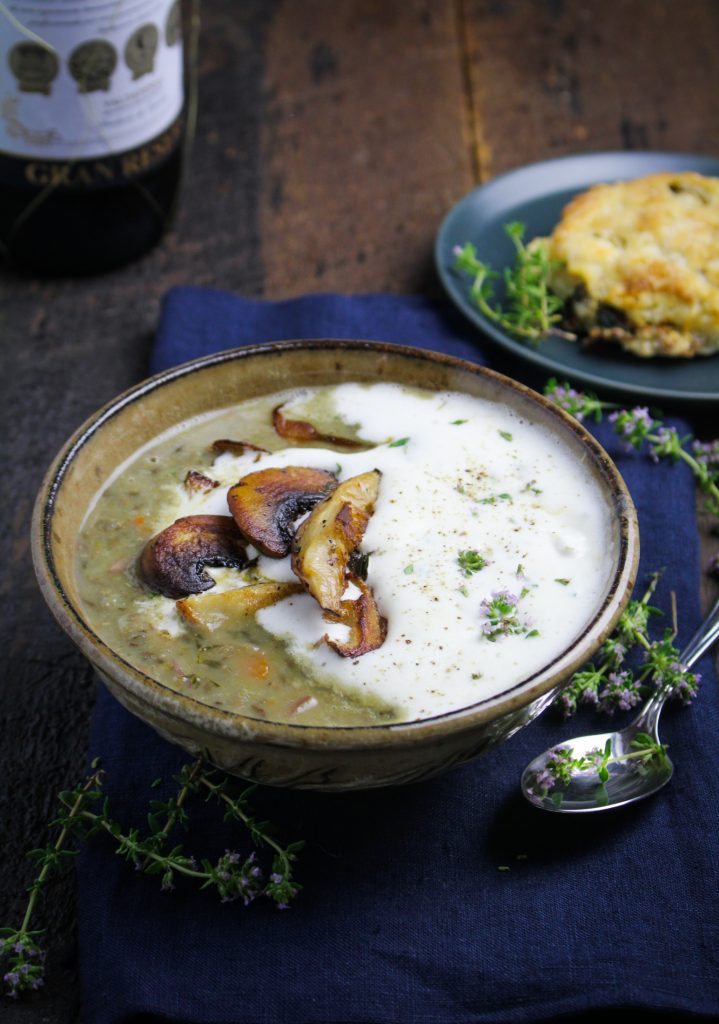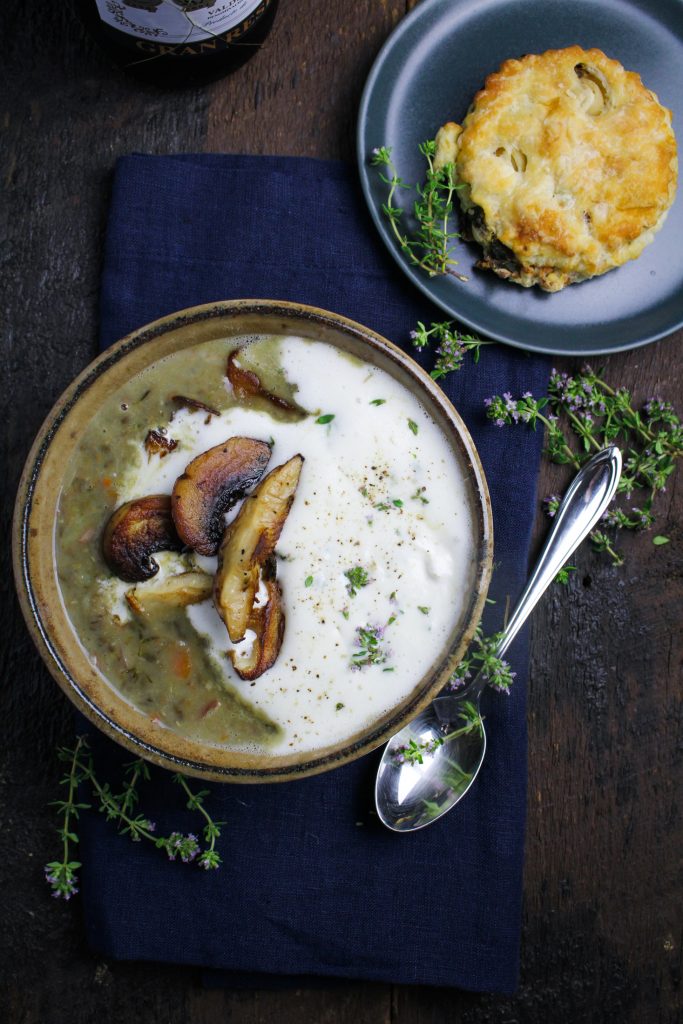 In our house, it's an all-year food, too – I eat soup almost as much in the summer as I do in the winter. But it's particularly gratifying to make and eat in the fall, on a rainy and blustery day, when the leaves are wet and slippery under your feet and houses, windows lit up against the blue-gray sky, begin to look incredibly inviting. I'm getting a little bit ahead of myself here – it's currently 75° and partly sunny here, and while we did get some much needed rain this week, it was more of a tropical, humid rain than a cold, fall-ish rain. But I still found myself thinking about simmering pots of fragrant broth and chunky vegetable stews. So I thought it was finally time to share this lentil, mushroom, and pancetta soup that I made on a rainy day back in May. It's a fairly straightforward French-style soup – shallots, carrots, celery, potatoes, and lentils – that gets three little upgrades. First, a bit of pancetta or bacon cooked with the mirepoix; second, crisp and earthy sauteed mushrooms on top; and third, a dollop of thyme-laced whipped cream that melts into the top of each bowl. It's a soup that makes the simple and earthy just a little bit elegant, but still while being easy enough to whip up on a weeknight with ingredients you probably have in your fridge already.
Like what you just read? Subscribe to Katie at the Kitchen Door on Feedly or Bloglovin', or follow along on Facebook, Twitter, Pinterest, Instagram, or Google+. Thanks for reading!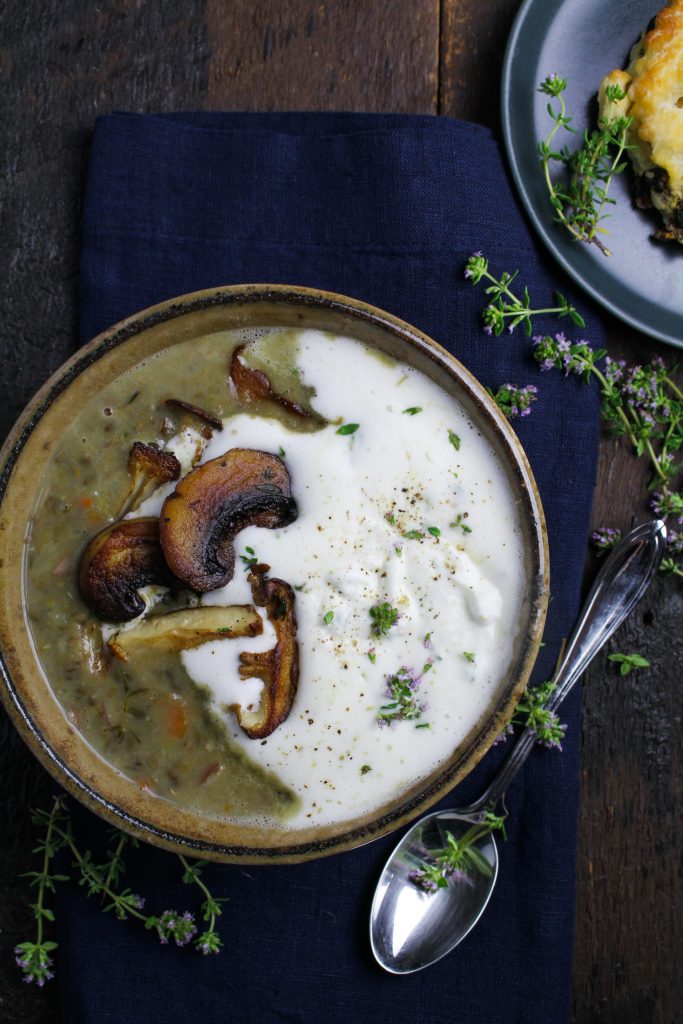 Lentil and Mushroom Soup with Thyme Cream
Adapted from Revolutionary French Cooking. Serves 4.
1 TBS olive oil
3 oz. pancetta or bacon, cut into 1/4 inch pieces
2 shallots, peeled and finely sliced
1 carrot, peeled and diced
1 stalk of celery, diced
3 cloves garlic, peeled and minced
4 sprigs thyme, divided
1 c. Puy lentils, rinsed
5 c. chicken or vegetable stock
2 medium potatoes, peeled and cut into 1/2 inch cubes
2/3 c. heavy cream, divided
2 TBS butter
1 1/2 cups thickly sliced shiitake mushrooms
sea salt and pepper to taste
Heat the olive oil in a large saucepan over medium heat. Add the pancetta and cook, stirring occasionally, until golden brown all over. Add the sliced shallot, carrot and celery and saute, stirring frequently, until vegetables are slightly soft and beginning to brown, about 6-8 minutes. Add the minced garlic and saute until fragrant, about 1-2 minutes longer. Add the 2 of the thyme sprigs, the lentils, and the stock. Bring to a simmer then add the cubed potatoes. Simmer the soup until the potatoes and lentils are tender, about 15-20 minutes.
When the potatoes are tender, use a slotted spoon to fish out the thyme sprigs and discard the stems. Add 1/2 cup of the cream to the soup. Transfer two thirds of the soup to a blender and blend until smooth and creamy, then return to the saucepan and mix with the remaining lentil and vegetable pieces. Season the soup to taste with salt and pepper. Keep the soup warm over very low heat.
Melt the butter in a large frying pan over medium heat. Add the sliced mushrooms to the pan in a single layer, and season with sea salt and pepper. Let the mushrooms cook for two minutes without disturbing them, then flip them over using a spatula and cook two minutes on the other side. Mushrooms should be golden brown. If not, continue sauteing, stirring occasionally, until golden brown. Remove from the heat and set aside.
Pour the remaining heavy cream into a medium bowl. Whip until soft peaks form. Remove the leaves from the remaining two sprigs of thyme and whip into the cream. Season the cream lightly with black pepper.
To serve, ladle the soup into bowls, then top each bowl with sauteed mushrooms and a generous spoonful of the thyme cream. Serve immediately.
0