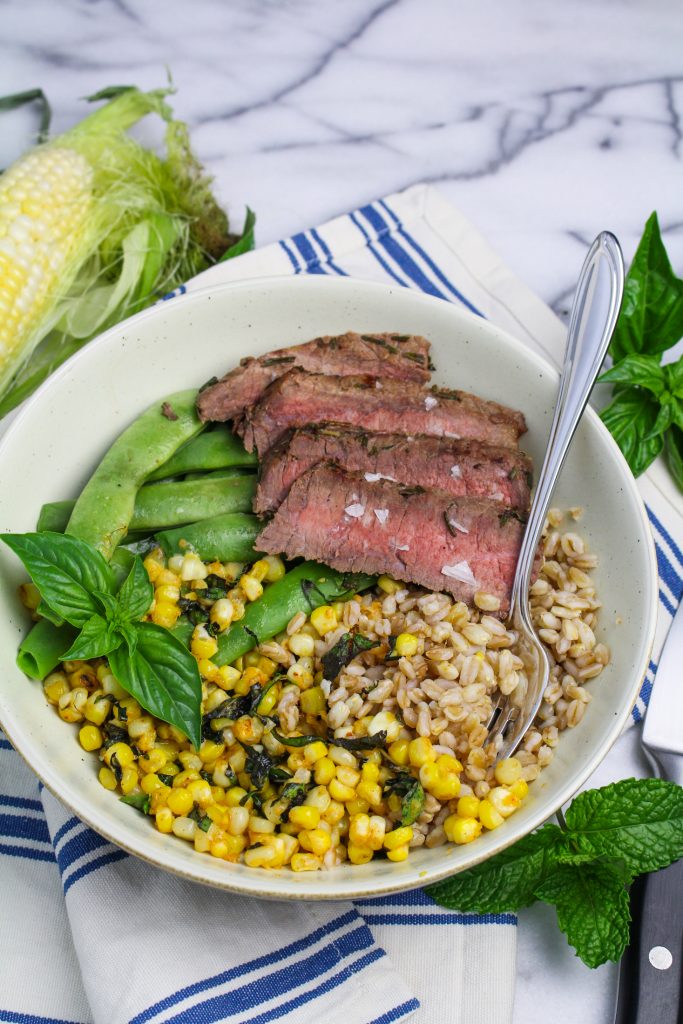 It's hard to believe it's already September. Even when you're not a student and/or don't have school-age kids, September still has that back-to-school feeling, doesn't it? Maybe it's just ingrained in us to start buying jeans and sweaters and new notebooks once September hits. Or maybe that's mass marketing at it's finest. Either way, September always feels like a little bit of a new start.
So, since I'm feeling the September-vibe as much as I did as an eager high school freshman, and since I have the luxury of being at home for a few more weeks, I'm launching a little health challenge here and on Instagram for the next few weeks. Every day I'll be eating (and sharing!) some form of "bowl food," whether it's a smoothie bowl topped with fruit and coconut or a full-on meat+grain+veg combo like this one.
"Bowl food" seems to be all the rage right now, a trend that places like Sweetgreen and Dig Inn have really been able to capitalize on. Trevor thinks it's a dumb trend – he argues that any food placed in a bowl becomes "bowl food" – and I see where he's coming from. But to me a bowl is a distinct culinary thing, a combination of healthy but filling ingredients, placed together in a bowl but each maintaining their own flavors and textures. It's different than a salad, and I can't seem to get enough. In a nutshell, it's going to be healthy around here, and it's going to be delicious. Follow along on Instagram with #dailybowlchallenge (by the way, most existing permutations of #DailyBowl on Instagram were primarily about pot, which didn't even cross my mind until I searched it. Sigh.)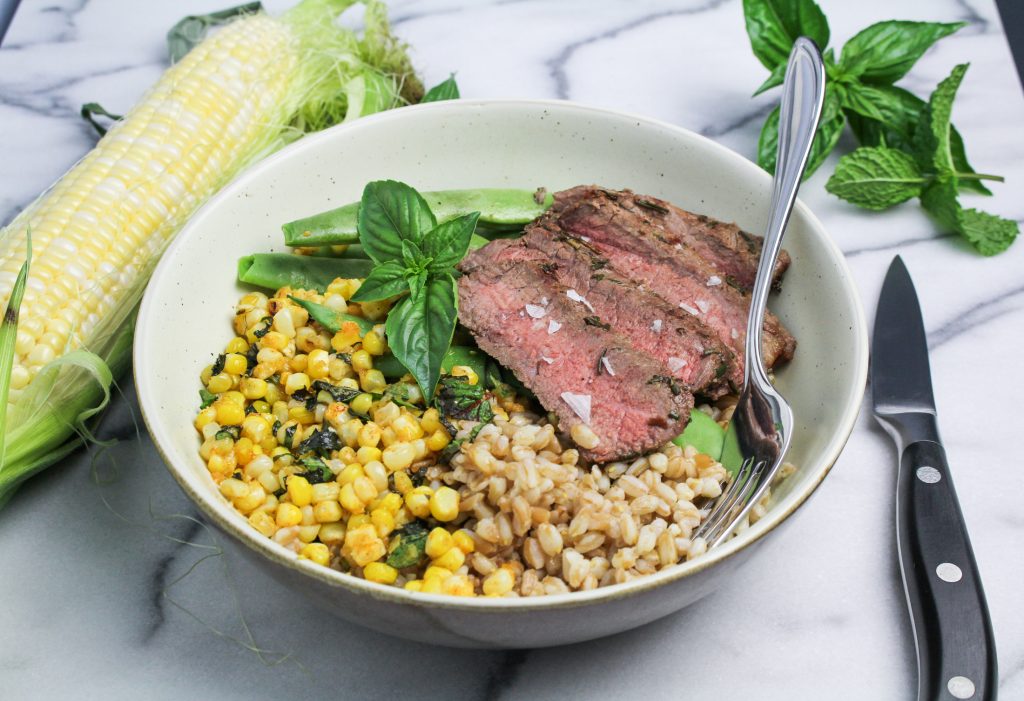 This first bowl is one that even Trevor grudgingly acknowledges is delicious (primarily because it contains steak, which can pretty much warm him to any meal). For me, the star of the show is the corn, which is so good at this time of year that I'm always nibbling it off the cob without cooking it. Elote, which is a Mexican street snack of grilled corn topped with mayonnaise, lime juice, chile powder, and grated cheese, is one of our all time favorite things to eat, so converting it into bowl form is a big win. Sweetgreen did offer an Elote Corn Bowl earlier this summer, but it had too many other vegetables and not enough cheese for my taste, so I had to make it my own. And by make it my own I mean add rosemary-and-olive oil grilled steak, barely cooked green beans, nutty farro, and tons of mint and basil. It's summery and nourishing and a pretty good start to this little challenge, I think.
Like what you just read? Subscribe to Katie at the Kitchen Door on Feedly or Bloglovin', or follow along on Facebook, Twitter, Pinterest, Instagram, or Google+. Thanks for reading!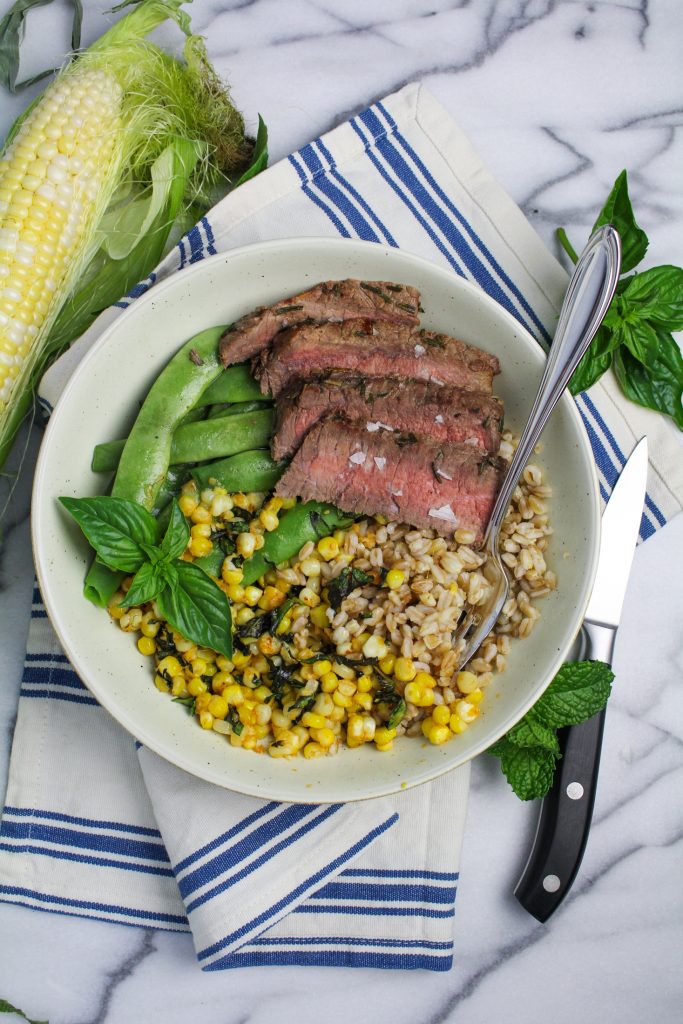 Steak and Elote Corn Bowl
Inspired by Sweetgreen and Bon Appetit. Serves 4.
leaves from 2 sprigs rosemary, roughly chopped
leaves from 3 sprigs thyme
1/3 c. plus 1 TBS olive oil, divided
1 tsp coarse sea salt
1 1/2 lb. skirt steak
2 c. cooked farro
1 lb. fresh romano or green beans
3 large ears fresh corn
3/4 c. grated parmesan or pecorino cheese
2 TBS butter
leaves from 3 sprigs mint, cut into thin strips
4 sprigs basil, cut into thin strips
1/4 tsp. smoked paprika
sea salt to taste
pepper to taste
In a small bowl, whisk together 1/3 cup of olive oil, rosemary leaves, thyme leaves, and sea salt. Place steak in a a shallow baking dish, pour marinade over steak, cover dish with plastic wrap, and refrigerate for 6-8 hours.
About 30 minutes before you are ready to serve, preheat the grill to medium-high. Grill the steak until medium-rare, about 3-5 minutes per side. Remove from the grill and let rest for 10 minutes before slicing on the bias.
While you are grilling the steaks, also grill the corn. Place the ears of corn, still in their husks, directly on the grill, and grill for about 15-20 minutes, turning the corn every few minutes to char on all side. When the corn is done, remove it from the grill and let cool for a few minutes before removing and discarding the husks. Use a serrated knife to cut the kernels from the cob. I find that the easiest way to do this is to hold the corn by the cob vertically, with the tapered tip in a bowl, and slice down the length of the corn. Mix the warm corn kernels with the grated cheese, butter, mint, basil, and smoked paprika, stirring to evenly incorporate. Season to taste with salt and pepper.
To assemble the bowls, mix the cooked farro with the remaining 1 TBS of olive oil then divide between four bowls. Top the farro with a handful of green beans on one side of the bowl, and several scoops of the corn mixture on the other side of the bowl. Spread 3-4 pieces of sliced steak on top and serve.
0