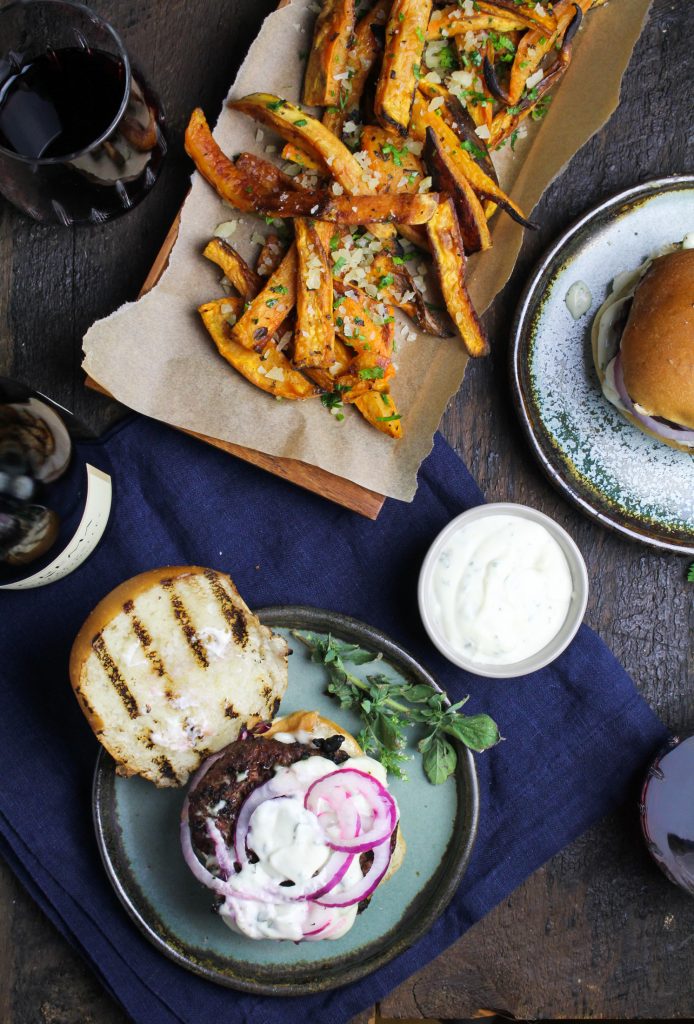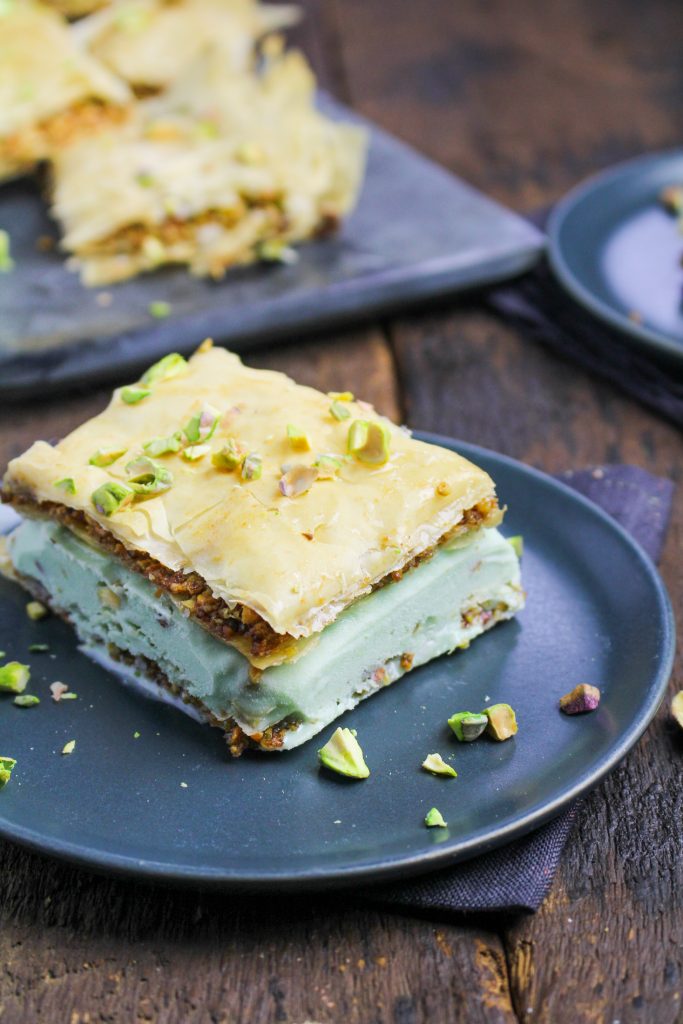 Labor Day is a bittersweet moment – it's a sign that summer is winding down and instead of summer firsts ("the first swim of the summer! The first BBQ!") everything becomes the last. The weather is still warm and the summer produce is still abundant, but the days are decidedly shorter, and there's a chill in the air in the evenings. It's actually a beautiful time of year, but the prospect of having to wait 8 long months until the season returns is saddening. So we soak up the last warm days, storing memories of sunshine, salty water, and grill smoke to get us through the cold dark ones we know are ahead.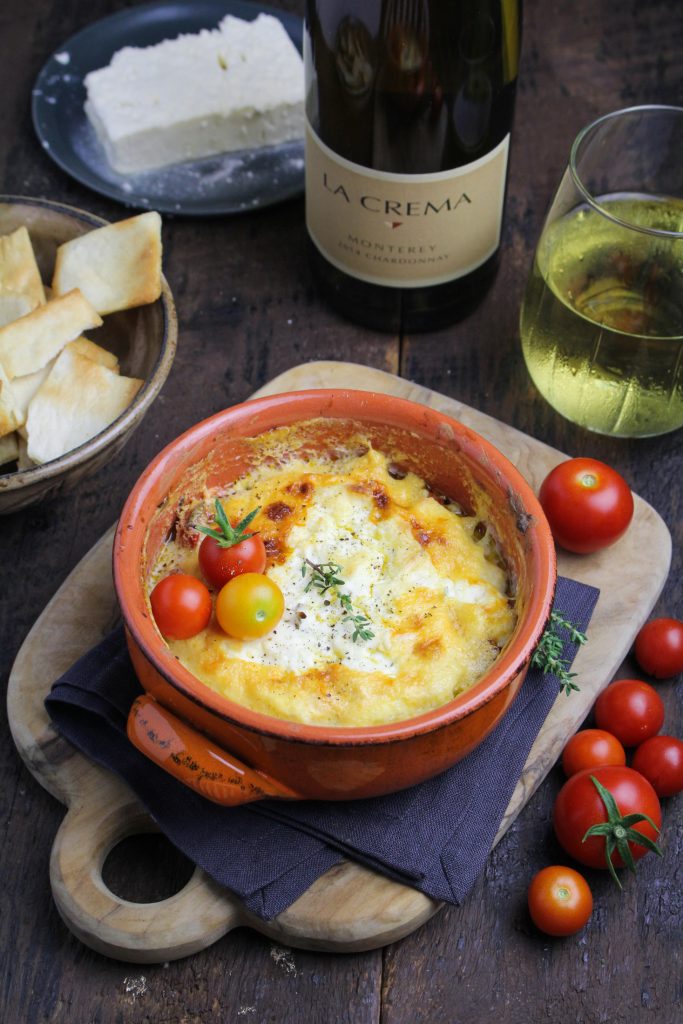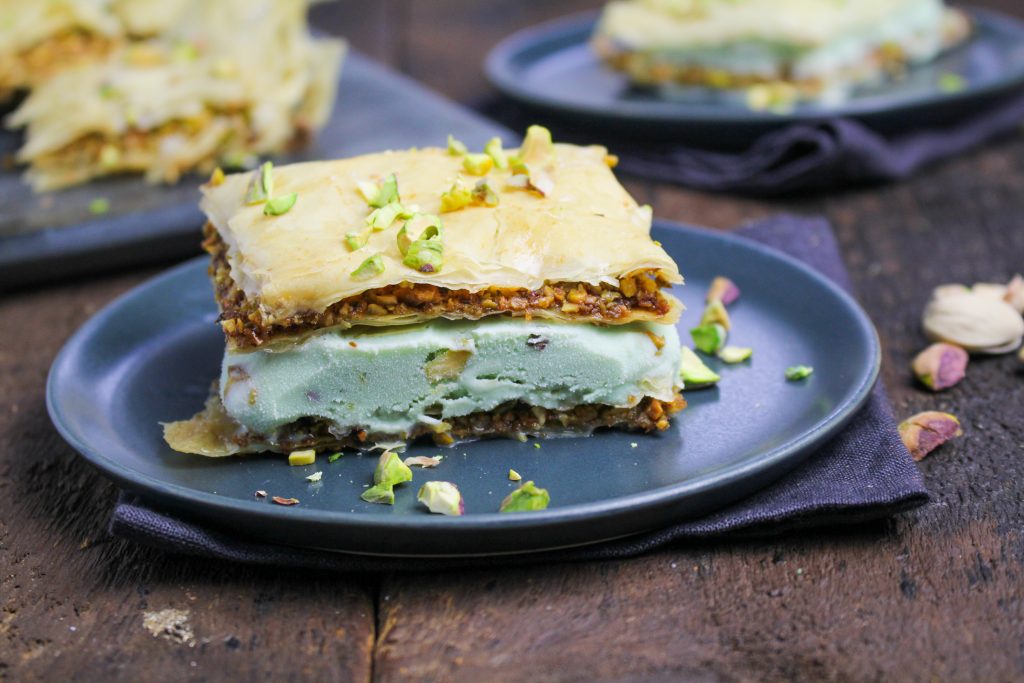 Grilling is one of summer's great pleasures, and it's how people all over the country will be closing out the season. Together with La Crema, I've put together an indulgent, Greek-American inspired cookout for you this Labor Day. We've got lamb burgers, we've got Greek-style sweet potato fries, we've got gooey roasted tomato and feta dip, and we've got baklava ice cream sandwiches. You're going to be full and happy after this one.
The appetizers set the tone for any party, and this is a casual, friendly feast, so our first course is a Roasted Tomato and Feta Dip, the kind of thing that's a little messy and requires you to reach over your friends to dip into one big bowl. I didn't want this roasted tomato feta dip to be fresh – I wanted it to be indulgent, spreadable, and addictive. So I whipped some cream cheese and high quality feta together, and spread it on top of the cherry tomatoes before popping the whole thing in the oven. The end result was hot gooey cheese hiding sweet and garlicky roasted tomatoes underneath. This dip would pair equally well with La Crema's Monterey Pinot Gris or Monterey Chardonnay, although I have a slight preference for the chardonnay – buttery chardonnay and creamy cheese is one of those combos I just can't resist. (Find the dip recipe on the La Crema blog , here!)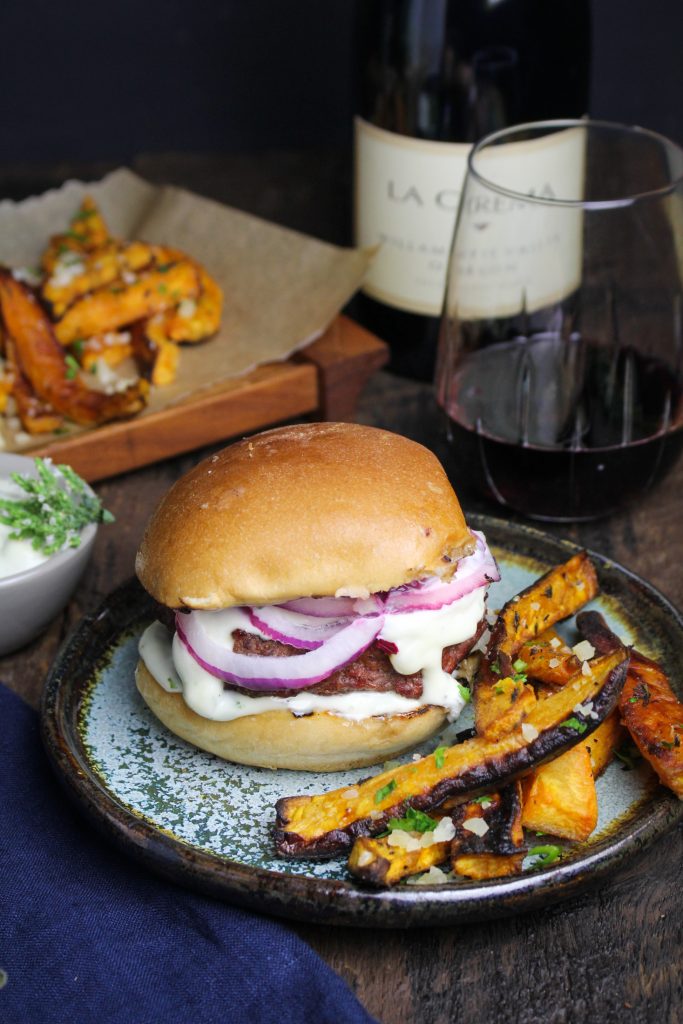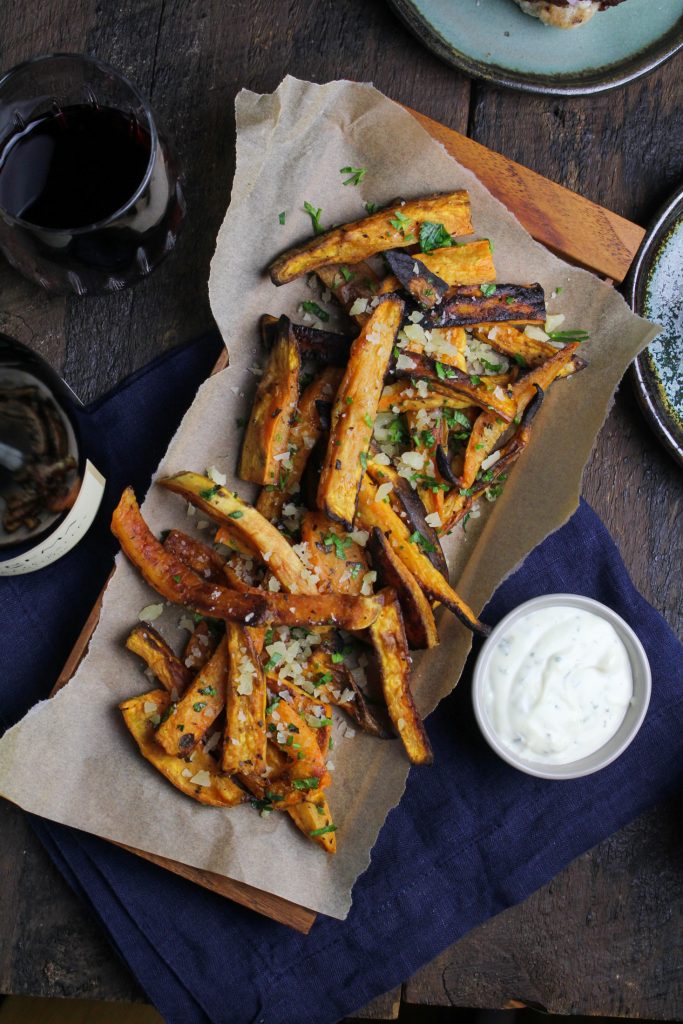 For the main event, burgers and fries, because there's no greater crowd-pleaser on a languid summer night. A solid burger with crispy, steak-cut fries is one of my all-time favorite meals – it's tied with spaghetti bolognese as my answer to the "last meal" question – but it's a combo that is strangely underrepresented on this blog. So here's one small step towards remedying that. The burger is simple – just ground lamb, salt, pepper, and a pinch of cumin, so that all the wonderful, gamey lamb flavor comes through. It's topped with a creamy lemon-garlic aioli and a few delicate slices of red onion, sliced as thinly as you possibly can. The fries are thick-cut wedges of sweet potato, tossed with oregano and olive oil before getting roasted to crispy perfection, then finished with the "Greek-style" treatment – a shower of grated cheese, lemon juice, and fresh parsley. Both the burgers and the fries pair beautifully with a bottle of La Crema Willamette Valley Pinot Noir, which has just enough earthiness to complement the grilled lamb. It's a lovely wine, pleasantly tart and light-bodied enough to feel right at home at an end of summer, outdoor gathering. (Find the lamb burger recipe here and the sweet potato fries recipe here.)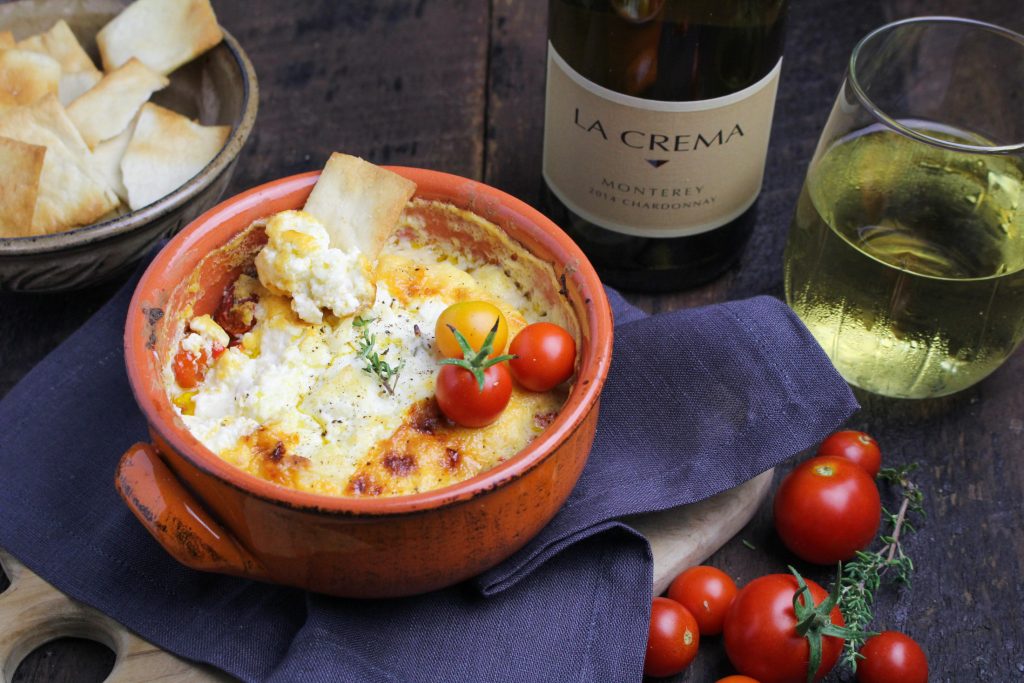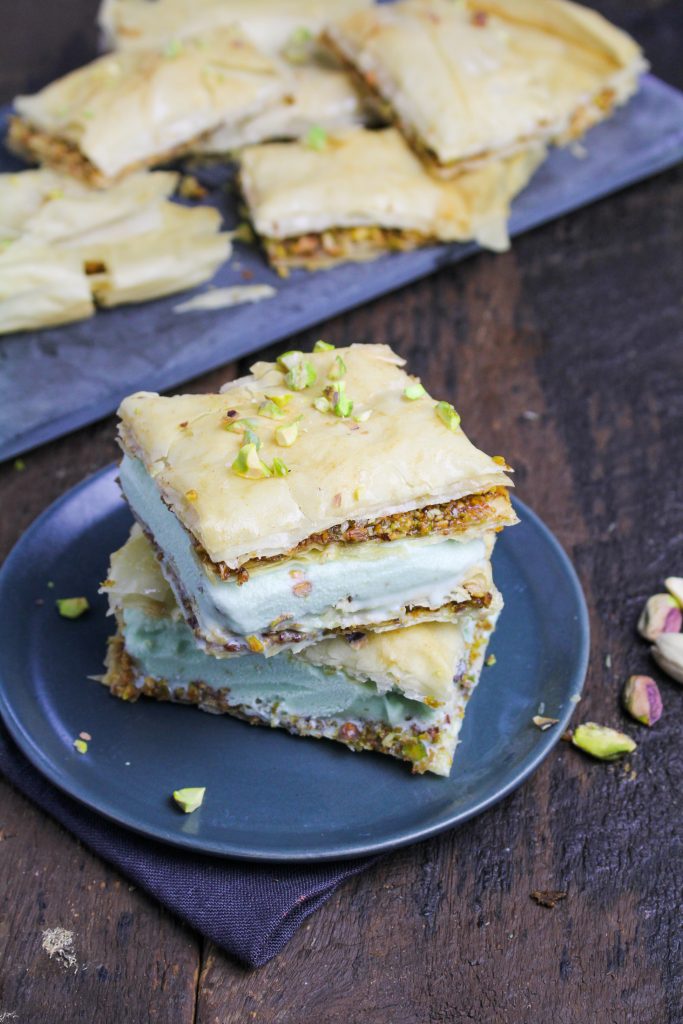 And for the grand finale, Baklava Ice Cream Sandwiches. Admittedly, us Bostonians will eat ice cream even on the coldest day of the year, so ice cream isn't exactly seasonal. But I would argue that ice cream sandwiches and popsicles and other frozen treats that you eat on the porch so that all the sticky drips running down your arms can be rinsed down with a hose, are very seasonal. So for a last summer hurrah, fancy ice cream sandwiches, with smooth pistachio gelato sandwiched between two skinny layers of homemade baklava. The flaky crunch of the baklava, sticky with rosewater-perfumed syrup, makes a delicious wrapper for the sweet and mildy nutty gelato.
Disclaimer: This post is sponsored by La Crema. All opinions are honest and my own.
Like what you just read? Subscribe to Katie at the Kitchen Door on Feedly or Bloglovin', or follow along on Facebook, Twitter, Pinterest, Instagram, or Google+. Thanks for reading!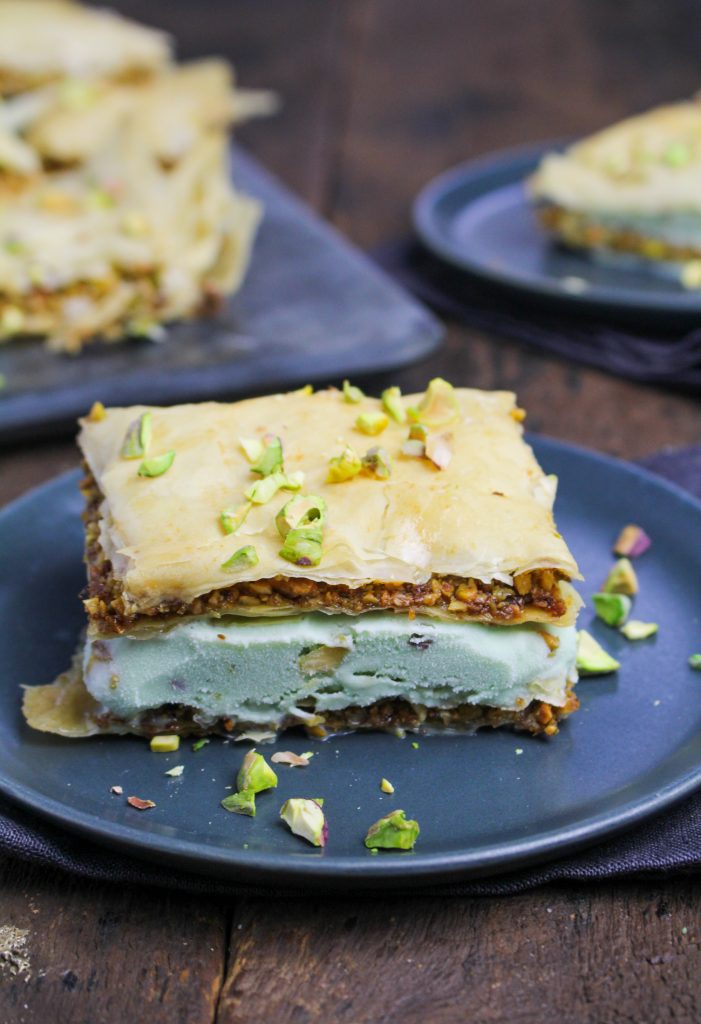 Baklava Ice Cream Sandwiches
Baklava recipe adapted from The New Book of Middle Eastern Food and Serious Eats. Makes 8-10 ice cream sandwiches.
2 c. sugar
1 c. water
2 cardamom pods
1 1/2 tsp rosewater, divided
1 1/2 c. shelled pistachios
1/2 c. blanched sliced almonds
2 TBS powdered sugar
1 stick + 2 TBS butter
3/4 lb. phyllo dough, defrosted for 8 hours in the fridge
1 pint pistachio ice cream
To make the syrup: combine sugar, water and cardamom pods in a small saucepan. Bring to a simmer and simmer until sugar is dissolved and syrup is thick, about 3-4 minutes. Remove cardamom pods from syrup and discard. Stir 1 teaspoon of the rosewater into the hot syrup. Let syrup cool to room temperature, then chill in the fridge until cold.
To make the pastry: preheat the oven to 350°F. Place the shelled pistachios, sliced almonds, powdered sugar, and the remaining 1/2 teaspoon of rosewater in a food processor. Pulse until the nuts are very finely chopped. Set nuts aside. Melt the butter in the microwave and keep warm. Remove the phyllo from it's packaging and cover with a sheet of plastic wrap followed by a damp paper towel, to keep it from drying out. Brush a cookie sheet with melted butter than place one sheet of the phyllo dough on top, letting any extra dough push up over the sides. Brush generously with butter, then top with another sheet of phyllo. Repeat until you have used 6 sheets of phyllo. Spread the ground nuts evenly on top of the phyllo, then continue the phyllo-butter layers to use 4 more sheets of phyllo. Brush the top sheet generously with butter. Place any extra phyllo dough in a sealable plastic bag and place in the freezer. Use a sharp knife to cut the baklava into rectangles, being sure to press through all the layers of the phyllo to make a clean cut.
Bake the baklava for 30 minutes, until golden brown on top. Remove from the oven and pour the cold syrup over the hot baklava, particularly along the cut edges. You can use anywhere from half to all the syrup, depending on how sweet you want your baklava to be. Let baklava cool completely.
Remove ice cream from freezer and let soften just enough so that it is spreadable. Spread a thick layer of ice cream on top of one of the baklava squares, then quickly top with another baklava square, pressing down gently to adhere. Immediately place in a plastic tupperware or wrap with plastic wrap and place in the freezer. Repeat until you have used all the ice cream. Let ice cream sandwiches freeze for at least 3 hours, preferably overnight. Just before serving, you can use a paring knife to trim the edges of the ice cream into a neater square. Serve immediately.
3