I'm quite excited to be collaborating with Stonewall Kitchen on this post. Stonewall is a well-loved New England brand, based out of York, Maine. They are probably best known for their jams and jellies, but they also carry a broad range of other specialty food products, from Bourbon Pecan Caramel Sauce (yum) to Butternut Squash Risotto Mix (yum) to Maple Bacon Aioli (double yum!). Having Stonewall products in my pantry always feels like a bit of a special treat – the kind of treat that inspires such scenarios as "oh, yes, I have raspberry hot fudge sauce in the fridge! I should definitely have some ice cream tonight." And for other New Englanders, I can attest that visiting their store/production facility/cooking school in York is a worthwhile detour on any trip from Boston up north (or honestly, as a destination in and of itself).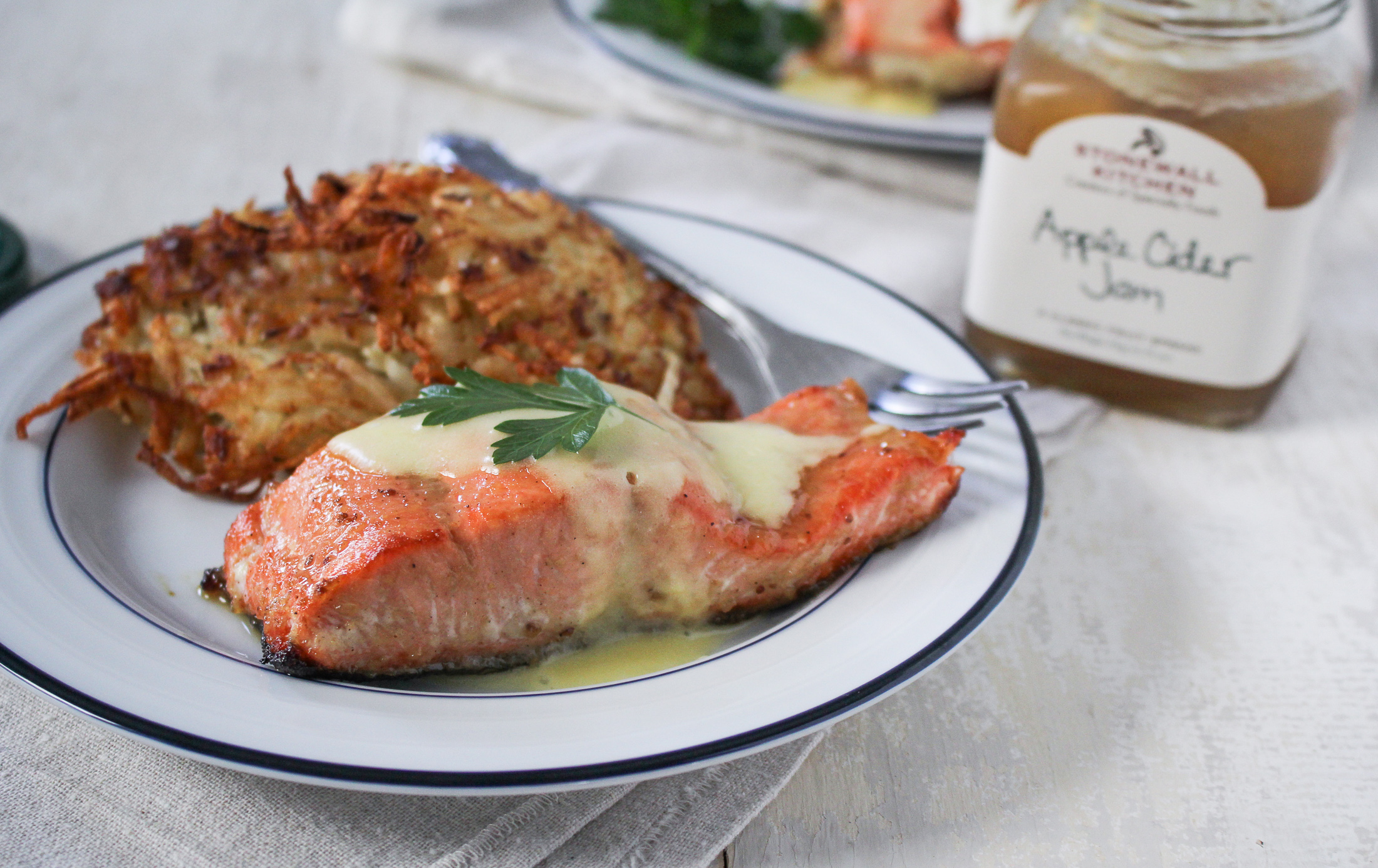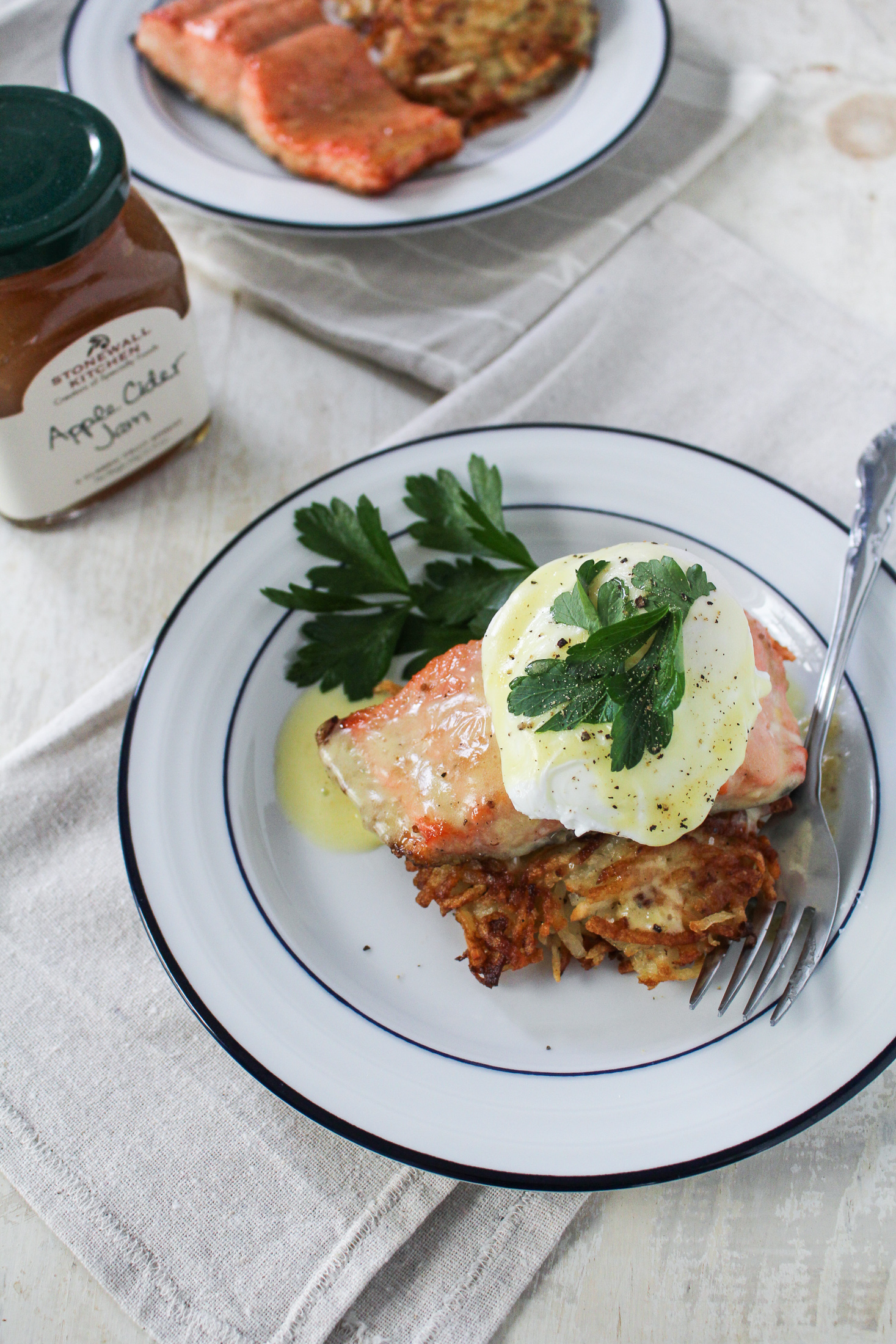 But I don't want to gush too much lest you think I'm going to forget about sharing this delicious-looking brunch dish you see here. Right now everything seems like it's fall, fall, fall. That's true all over the U.S., I'm sure, but I have to imagine that the everything-fall-craze is especially prevalent here in New England, land of apples and brilliant foliage and quaint Vermont towns. Fall is by far my favorite season, and I'm so happy that I'm actually home for it – the first season of the year that I'm truly here for, in fact. Fall cooking is no small part of the reason that fall is my favorite, what with the abundance of squash and apples and cruciferous vegetables to roast and braise and stew. When the team over at Stonewall sent a list of fall products that I might be able to put to good use in a new Katie at the Kitchen Door recipe, the list read like a celebration of all the delicious autumnal flavors you could ever hope to pack into one kitchen: Apple Cranberry Chutney, Caramel Apple Butter, Maple Bacon Onion Jam, Butternut Squash Pasta Sauce, and so on. It was a hard list to choose from, but ultimately I couldn't resist the Apple Cider Jam, which I knew would be absolutely delicious in a savory-sweet application.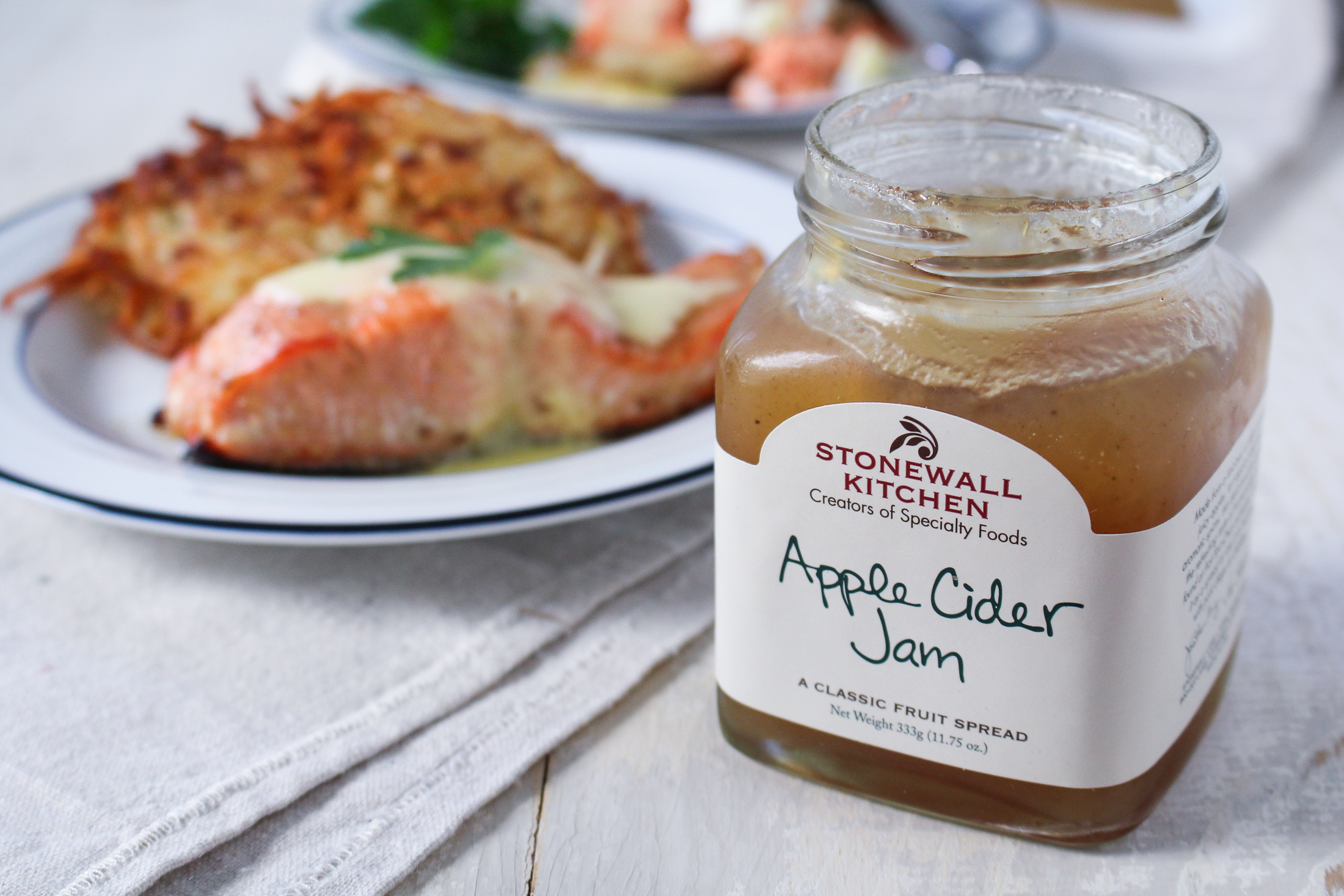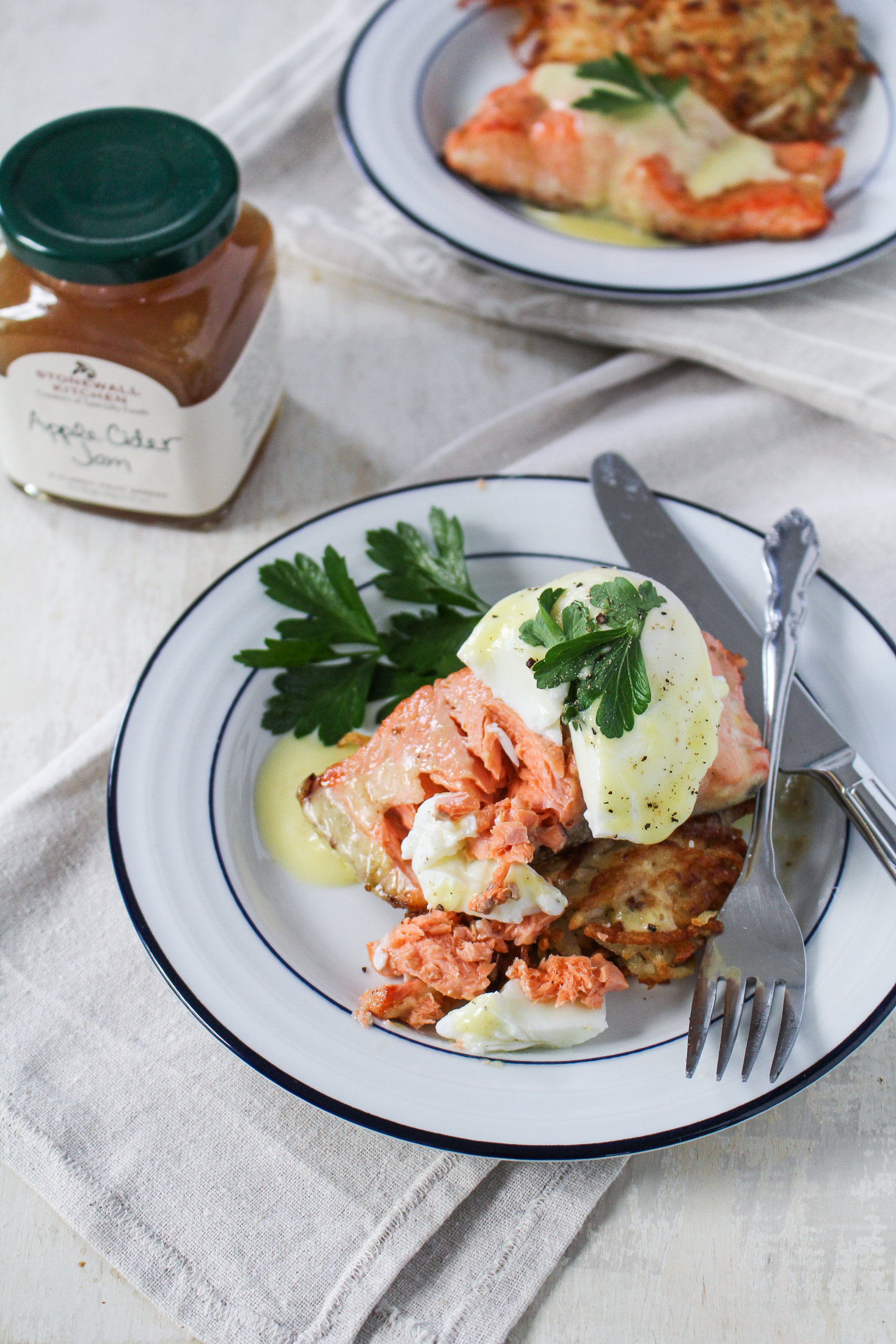 The Apple Cider Jam is thick and sweet and heavily spiced with holiday spices (I'm not sure precisely what's in it – trade secret? – but think along the lines of cinnamon, nutmeg, ginger, etc.). Having a spoonful is like eating apple pie filling but concentrated down into one delicious bite. That said, it needs a little bit of tempering for use in a savory context, so for this recipe I mixed it with apple cider vinegar, mustard, olive oil, and salt and pepper for a sweet-and-tangy glaze. We brushed the glaze on wild salmon, which we then broiled until just cooked through, and served on top of potato-apple latkes with a poached egg and hollandaise for a fancy-pants version of eggs benedict. It was incredible – crunchy fried potato latkes, rich sweet-and-tangy salmon, soft and runny eggs (although I'll admit I overcooked them slightly – it was my first time poaching an egg, if you can believe that!), and of course, buttery hollandaise sauce. So much flavor and texture and deliciousness in every bite.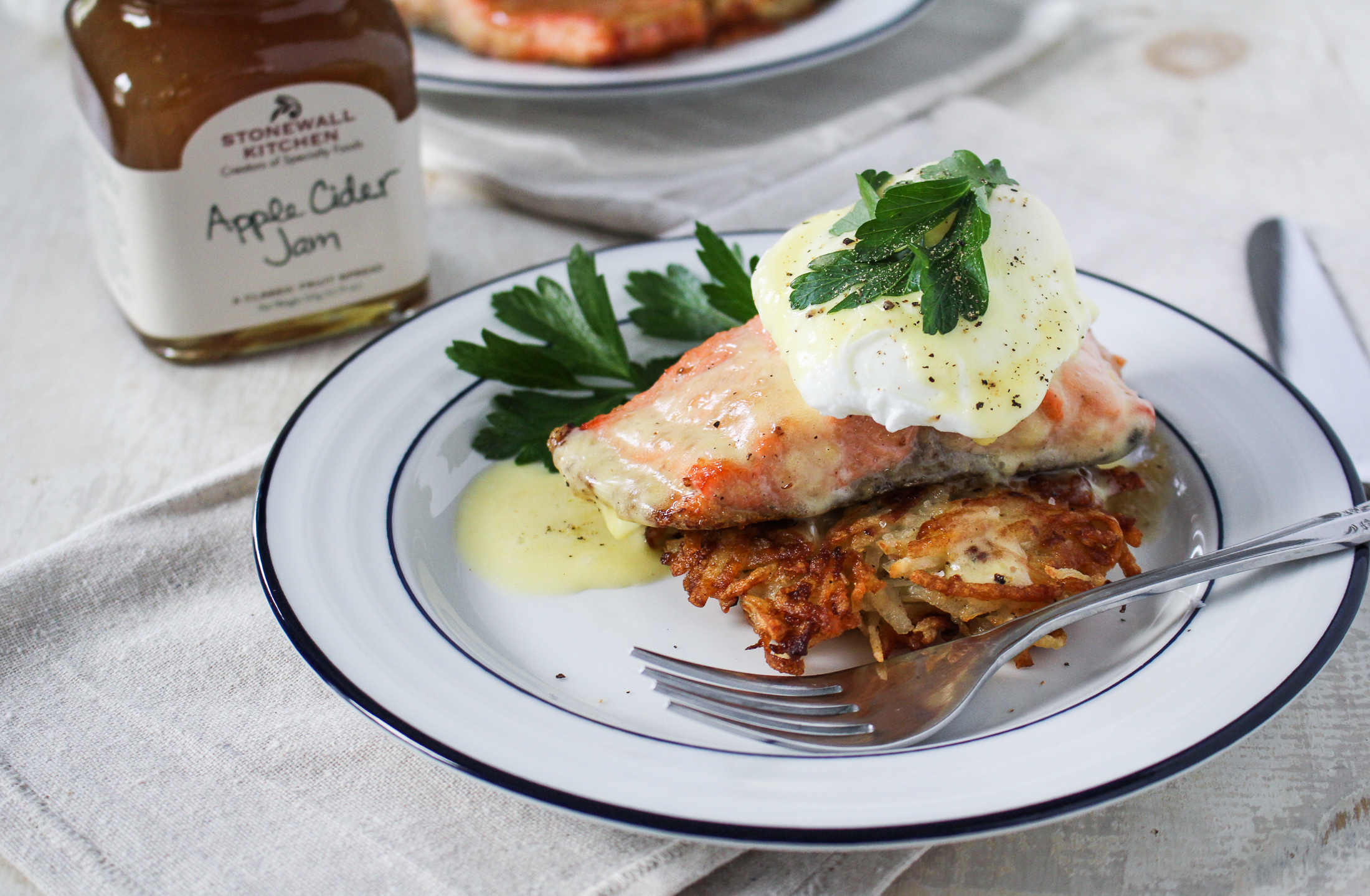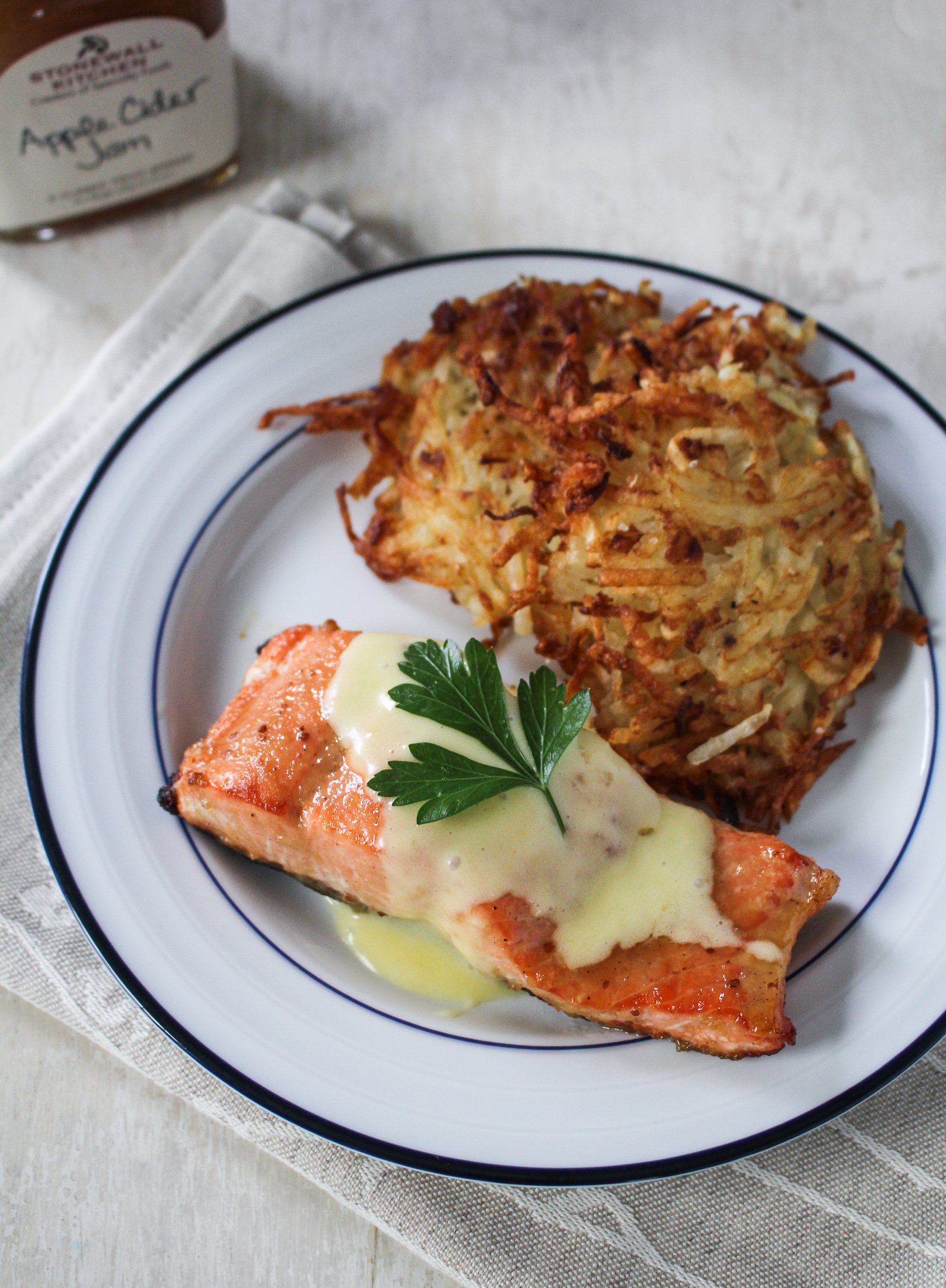 Now, I want to take a minute here to say that I get that making cider-jam-glazed salmon and latkes and poached eggs and hollandaise sauce is a time commitment. This is definitely a weekend luxury meal. But the salmon by itself is incredibly quick to prepare – it probably takes 10 minutes from start to finish – and would be a great weeknight dinner with any number of side dishes. So keep that in mind before you write this recipe off as too complicated! And when you do have an hour on a lazy Sunday morning, make the whole thing. I promise you, it will not be a wasted hour.
Disclosure: This post is sponsored by Stonewall Kitchen, but all opinions are honest and my own as usual.
Like what you just read? Subscribe to Katie at the Kitchen Door on Feedly or Bloglovin', or follow along on Facebook, Twitter, Pinterest, Instagram, or Google+. Thanks for reading!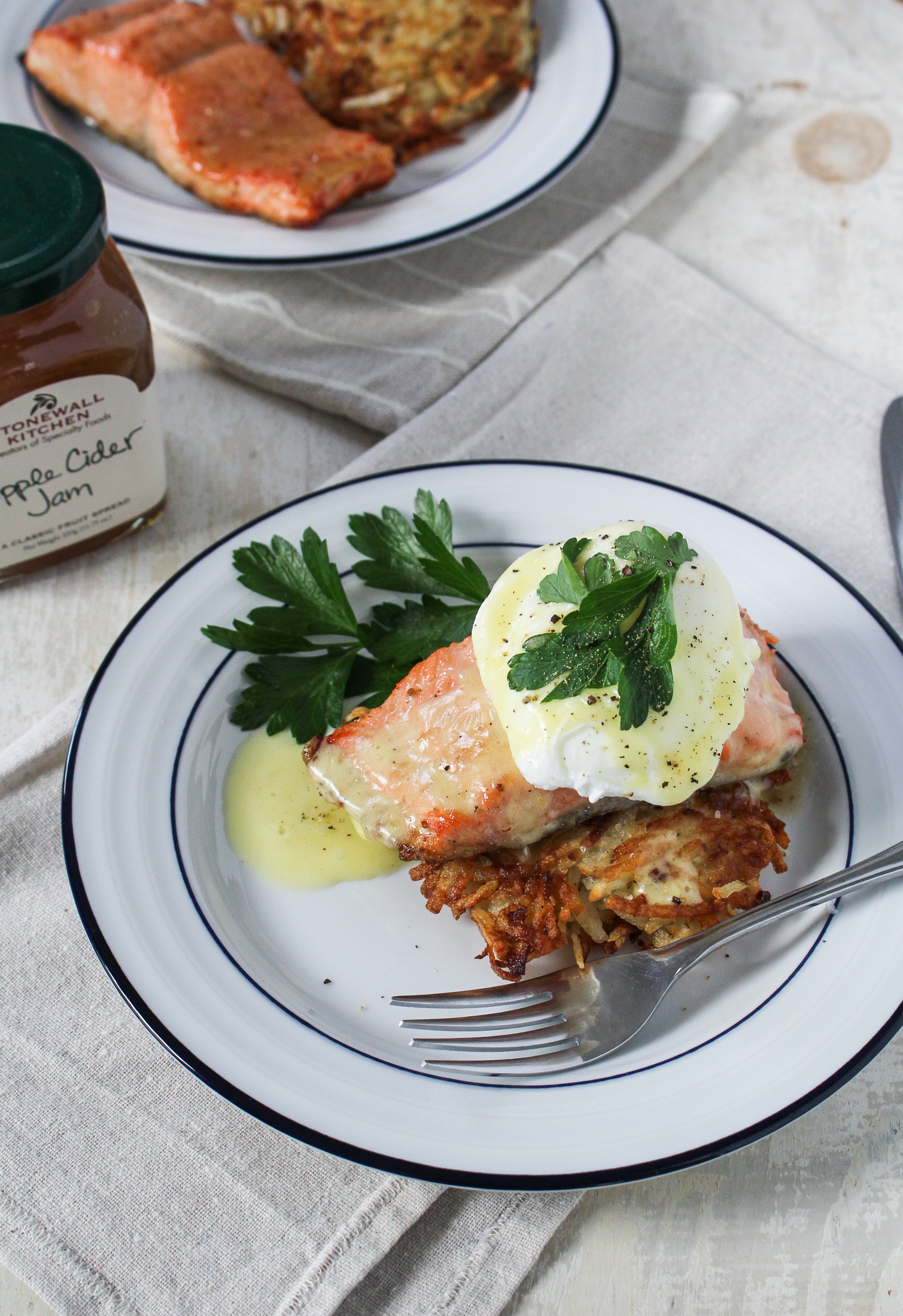 Cider-Jam-Glazed Salmon and Potato Latke Eggs Benedict
Serves 4. Latke-making guidance from Serious Eats. Hollandaise and poached egg recipes from linked sources.
For the latkes:
2 large russet potatoes
1 large apple
1/2 medium yellow onion
1 egg, lightly beaten.
1/2 tsp coarse sea salt
1/4 tsp black pepper
1/2 c. canola oil, for frying
For the salmon:
1 TBS plus 2 tsp apple cider vinegar
1 tsp mustard
1 TBS olive oil, plus more for greasing the pan
1/4 tsp salt
1/8 tsp black pepper
1 lb. wild-caught salmon fillets with skin-on, cut into individual portions
1 TBS canola oil
To assemble:
To make the latkes: Peel the potatoes. Using a food processor with a grating disk attached, or the large holes on a hand-held box grater, evenly shred the potatoes. Place in a large bowl and squeeze the potatoes to remove excess liquid, pouring the liquid off into another bowl as you work. You should try to squeeze as much liquid as possible out of the potatoes – it may help to set the potatoes aside for 2-3 minutes in between rounds of squeezing them dry. Let the separate potato liquid sit for a few minutes, then pour off the water on top, leaving the thick white potato starch on the bottom of the bowl. Add the potato starch back to the shredded potatoes and stir to mix.
Shred the apple and the onion in the food processor or on the box grater. Squeeze to remove excess liquid, discarding the liquid, and add the shredded onion and apple to the potato. Stir in the beaten egg, salt, and pepper. Heat the canola oil in a large frying pan over medium heat for 2-3 minutes, or until a piece of potato sizzles when dropped into the oil. Form the potato mixture into palm-sized patties and place gently in the oil. Fry the latkes in batches, for 3-4 minutes per side, draining the finished latkes on a paper-towel lined plate. If you are making the latkes in advance, you can re-heat the latkes in a low-temperature oven immediately before serving.
To make the salmon: Preheat the broiler on the high setting. In a medium bowl, whisk together the apple cider jam, apple cider vinegar, mustard, olive oil, salt, and pepper until smooth. Grease a foil-lined baking sheet with a little bit of olive oil. Brush the salmon fillets with the jam mixture, spreading it on thickly. Heat the canola oil in a large frying pan over medium heat, and place the glazed salmon fillets skin-side down in the pan. Cook for 2-3 minutes, just to crisp the salmon skin and cook the bottom of the fillets. Do not flip the fillets. Transfer directly from the frying pan to the prepared baking sheet, skin-side still down. Put the salmon under the broiler and broil until salmon is just cooked through, about 5-6 minutes. Remove from the oven.
To assemble: Place a warm latke on each place, and top with one of the salmon fillets. Gently place a poached egg on top of the salmon, and drizzle with the hollandaise sauce. Garnish with parsley leaves and serve immediately.
0