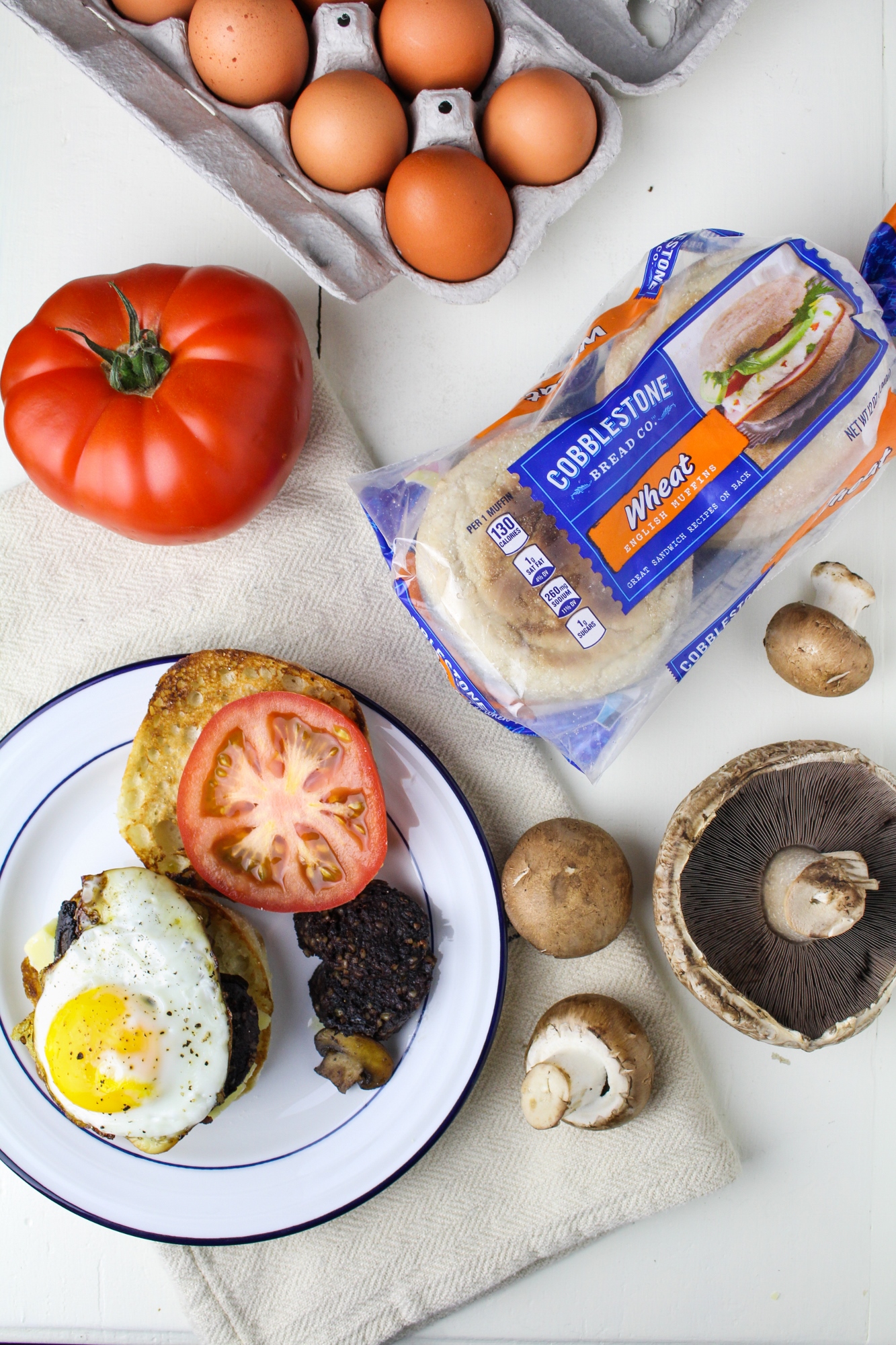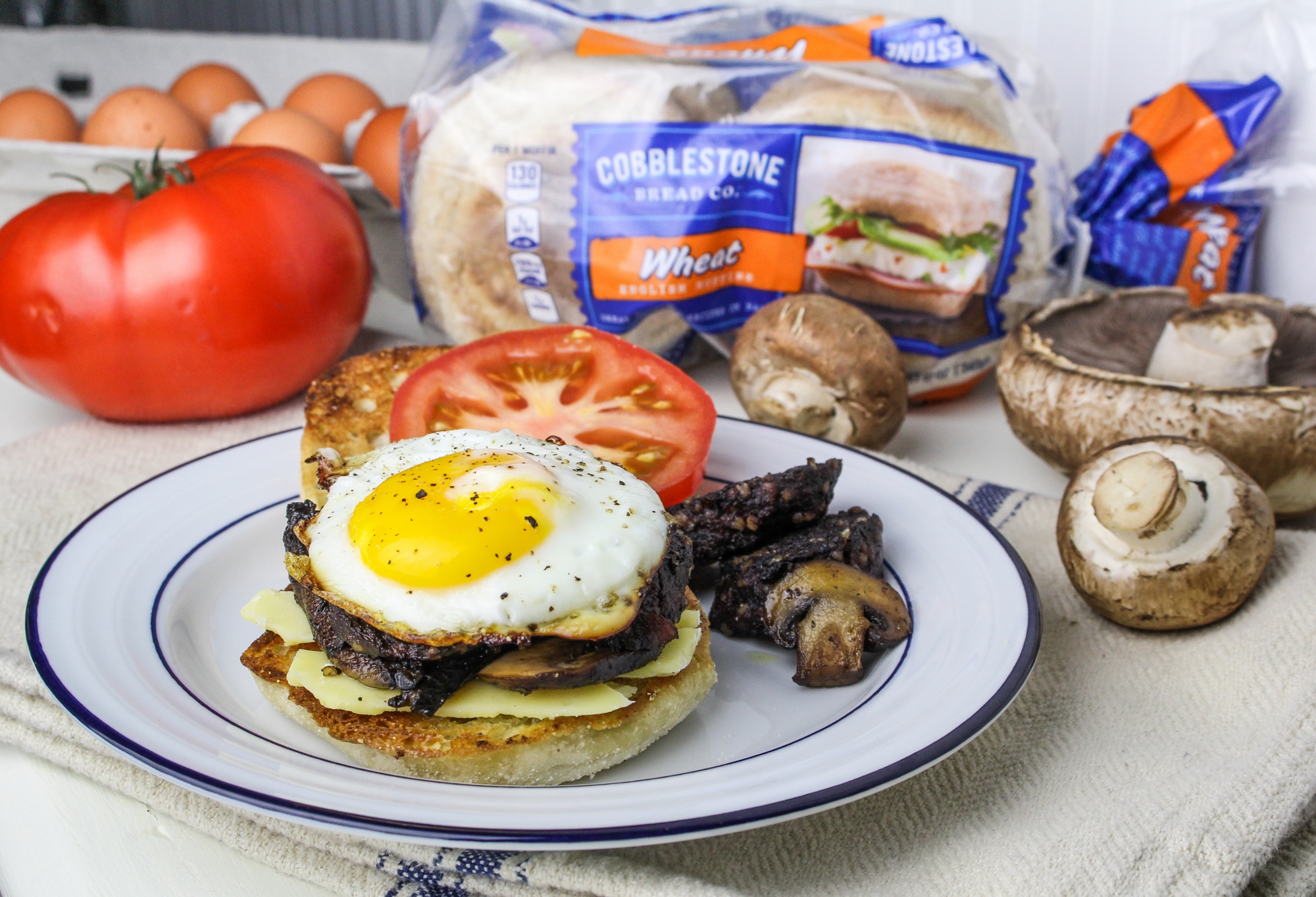 I think we all have breakfast phases. Personally, I tend to go through a cycle – yogurt and berries; peanut butter and banana oatmeal; kale and mango smoothie; egg, ham and cheese breakfast sandwich; bran muffin and a latte. Repeat. Which phase I'm in (and for how long) is a little bit weather dependent (green smoothies for the summer, oatmeal for the fall) and a little bit schedule dependent (bran muffin and a latte from the cafe downstairs tends to come up a lot when I'm totally slammed at work and need to be in the office early) Because breakfast is part of a morning routine that, for many of us, is executed on auto-pilot, it's easy to fall into a breakfast rut. But breakfast has such wonderful possibilities as a meal, that I think it's worth thinking outside the box a little to avoid breakfast boredom.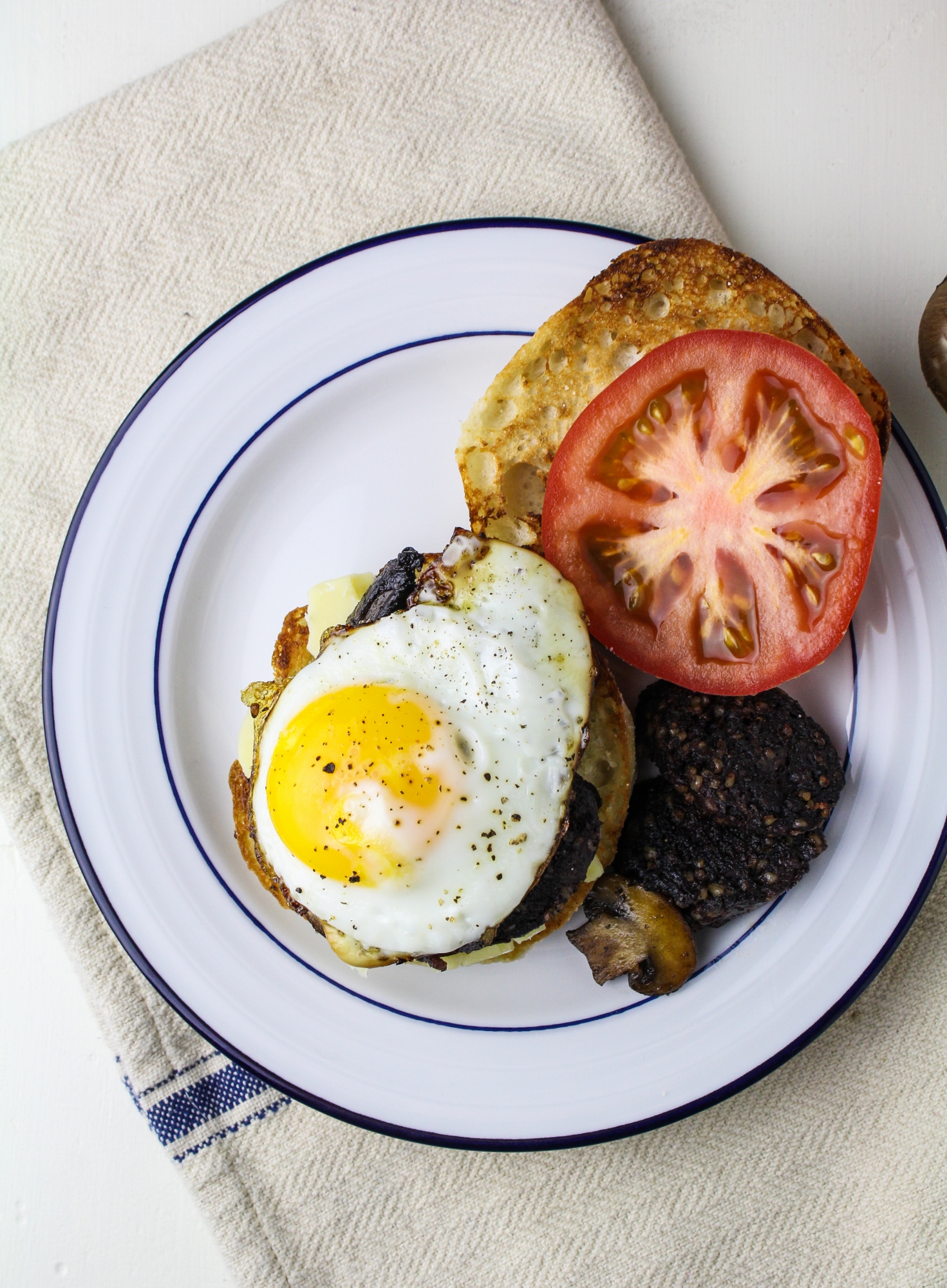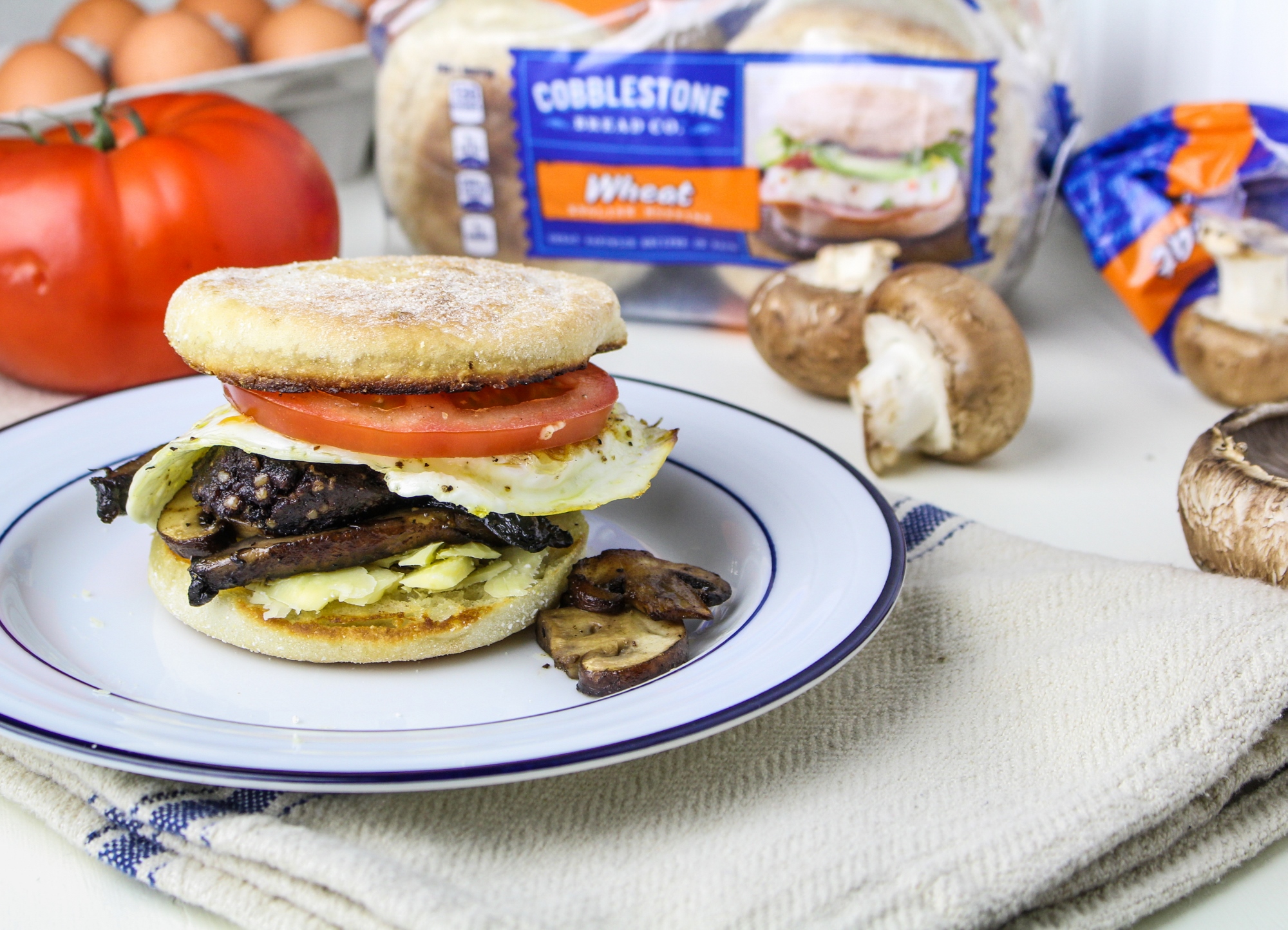 Cobblestone Bread Co. recently asked us to try out their newest line of English muffins and bagels, which I took as a welcome invitation to come up with a few new ideas for our breakfast routine. English muffins aren't on my normal grocery list, but perhaps they should be. They're incredibly convenient, and are a bit of a blank canvas as far as preparing interesting breakfasts goes. The first CBC muffin I sampled I prepared simply, reminding myself of the pleasure of a good, soft, English muffin, faintly toasted with a pat of salted butter and some homemade strawberry jam.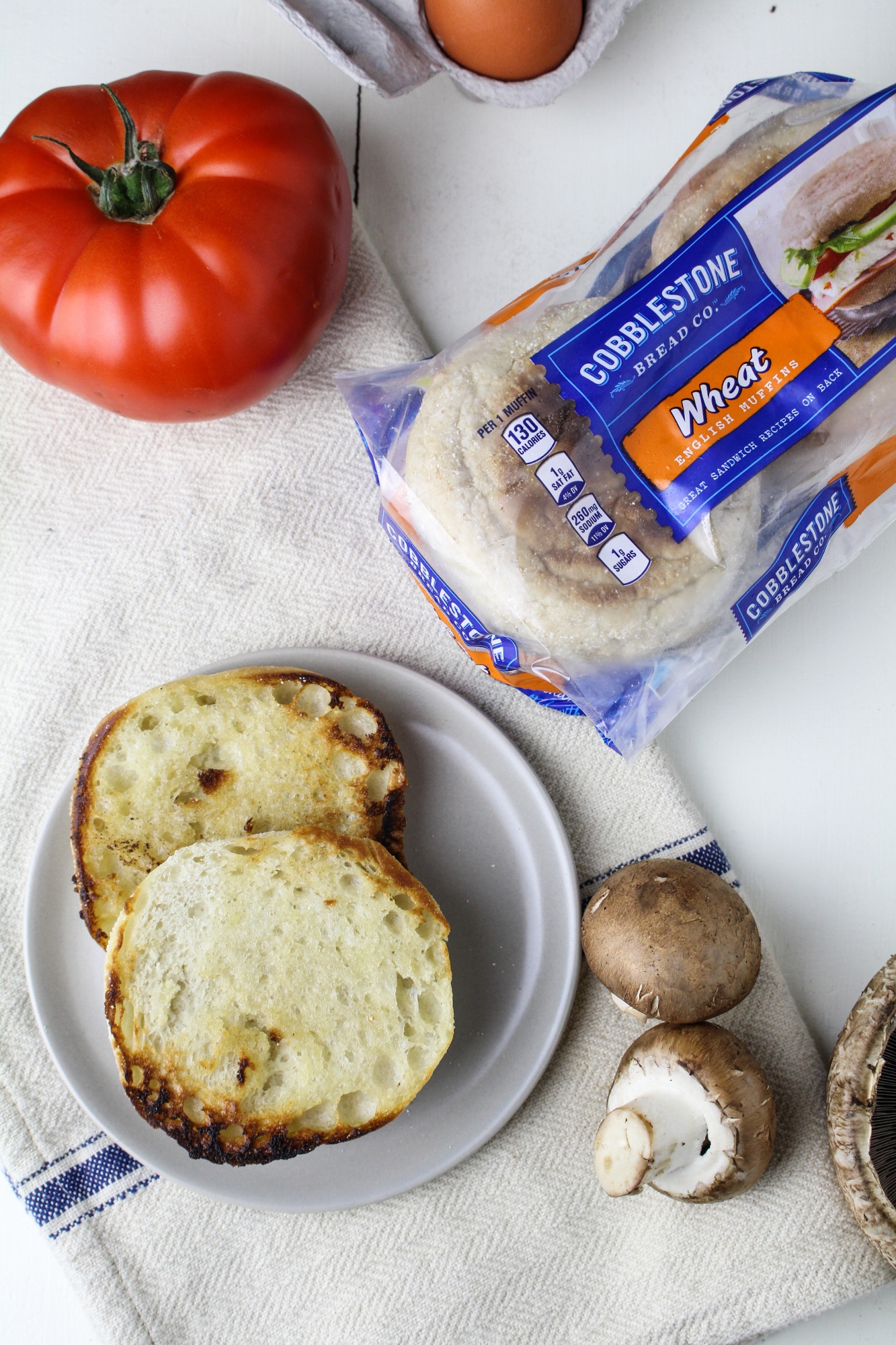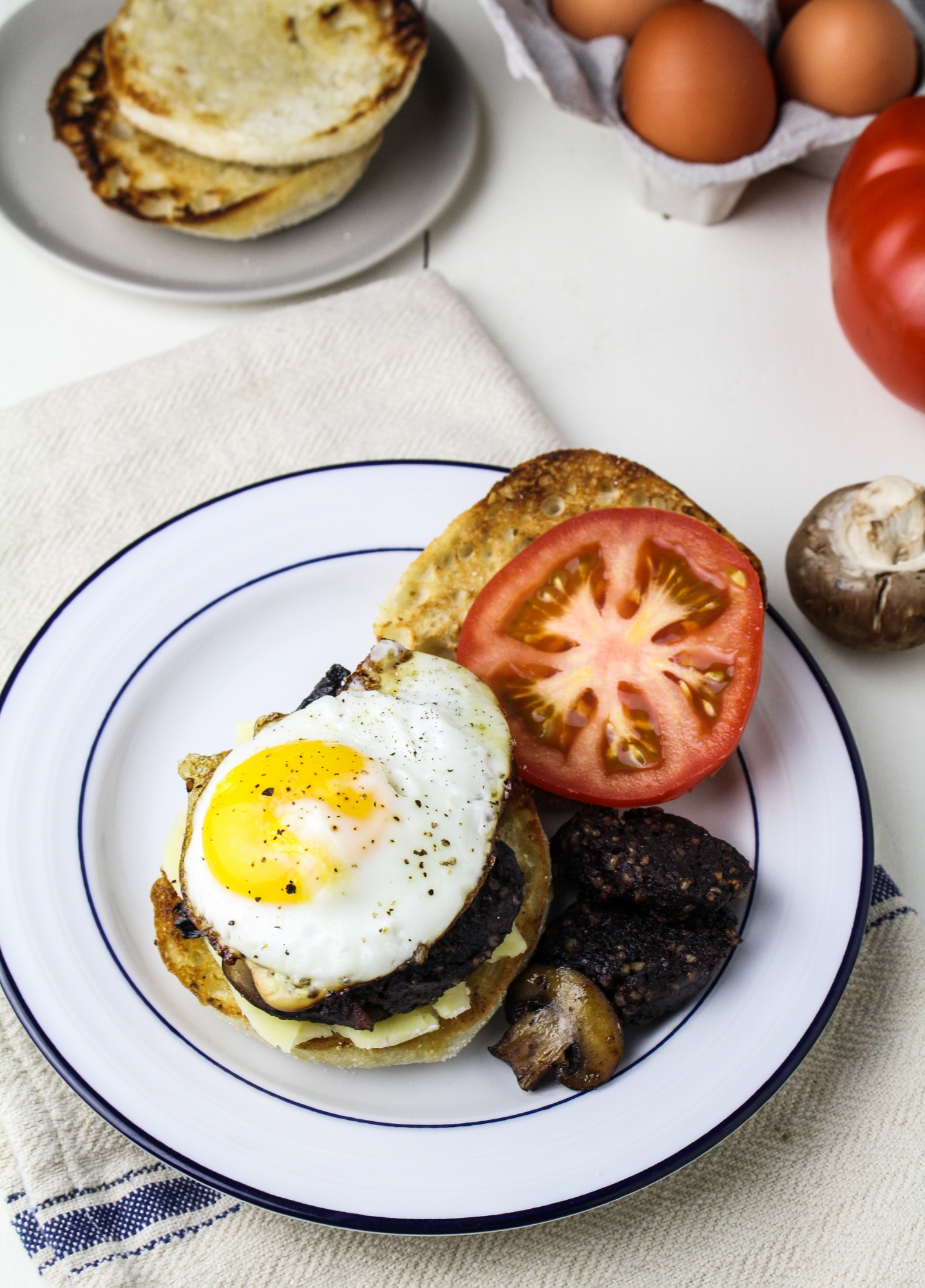 As Trevor and I continued sampling buttered CBC English muffins (for "research purposes," of course), we chatted about what recipe we might be able to contribute to the already rich collection of breakfast sandwich recipes out there. We wanted something new and a little different to shake up our breakfast routine, but that was still quick to make and filling on a busy weekday morning. I was toying with the idea of a Mexican-inspired breakfast sandwich, when Trevor pointed out that it is, after all, an English muffin… why not make an English sandwich? The most typical (or at least the most famed) English breakfast is a "full English breakfast" or a "fry up" – a plate consisting of eggs, bacon, sausage, black pudding, fried tomato, fried mushrooms, and baked beans. To convert this classic meal into a sandwich easy enough for a weekday, portable enough to take on the go, and that was less likely to give you a heart attack if eaten more than once a week, we opted for just one form of meat, and to keep the tomato raw for just a little freshness. Our sandwich, which was a huge success in our eyes, is prepared with one toasted Cobblestone Bread Co. English muffin, a handful of sautéed mushrooms, a fried egg, a few slices of fried black pudding, a slice of Cheddar cheese, and a juicy slice of fresh tomato to top it off. Not exactly light, but certainly filling for a busy day, and definitely not boring.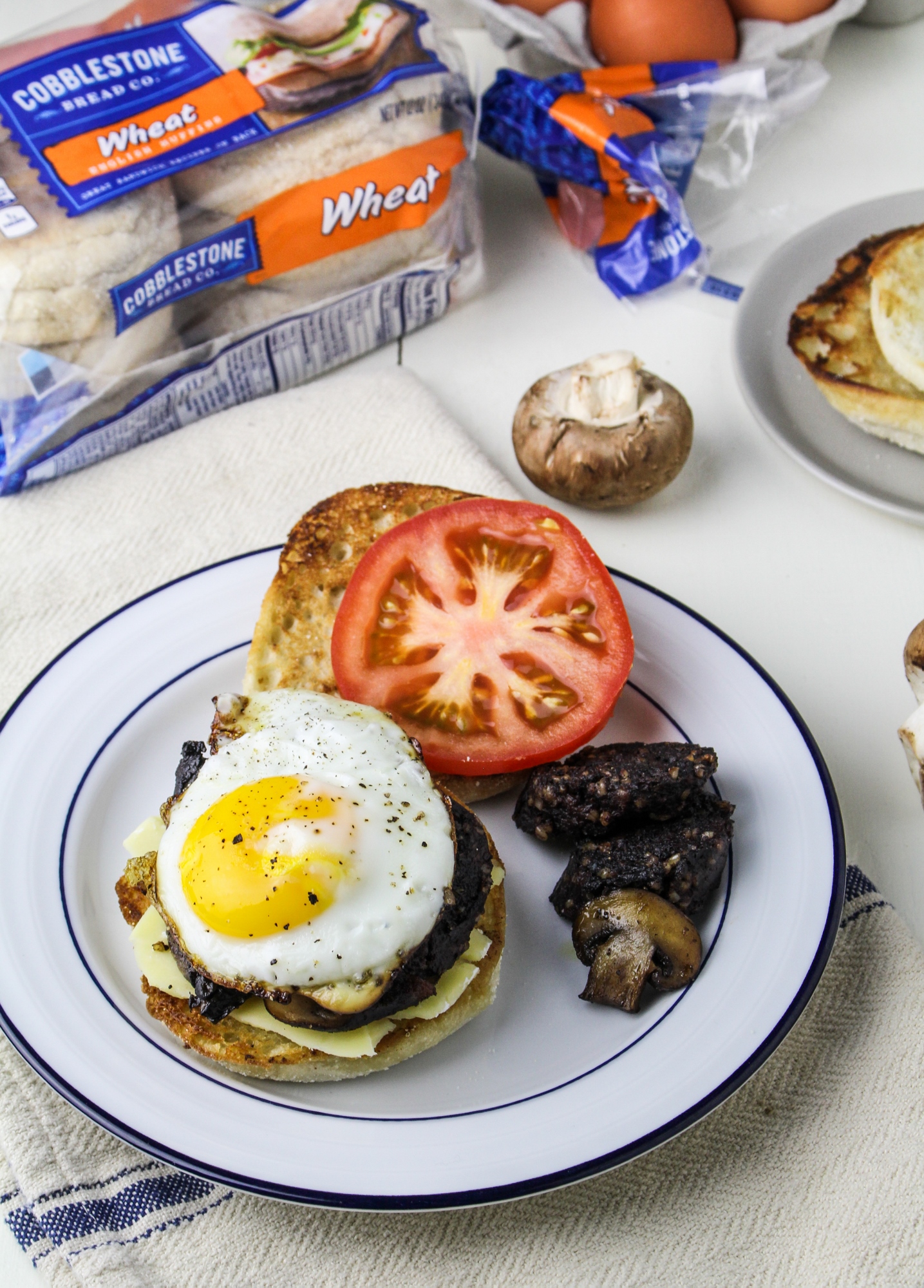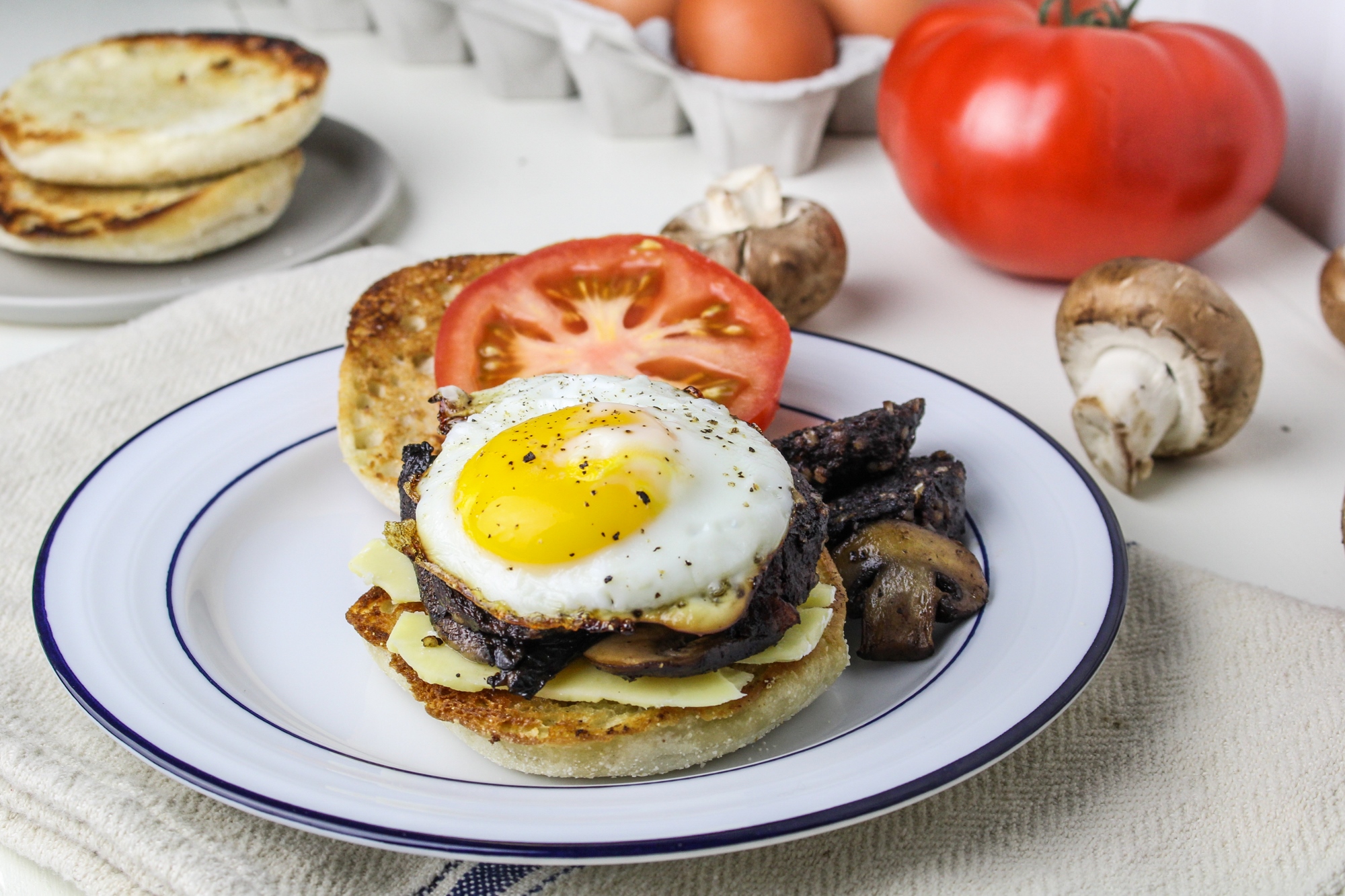 A quick note about blood sausage: it might sound a little off-putting (which is perhaps why they call it black pudding), but it's really mild and delicious – and it totally makes this sandwich. Soft and slightly crumbly, with a hint of allspice flavor faintly reminiscent of Christmas festivities, it's far less salty than other breakfast sausages, and much more tender. I'm lucky enough to have a good butcher around the corner from my house, but if you can't find it near you, feel free to replace it with a smaller amount of another sausage or a slice of bacon.
Check out more ways to make breakfast exciting again here!
Like what you just read? Subscribe to Katie at the Kitchen Door in the box on the right, on Feedly or Bloglovin', or follow along on Facebook, Twitter, Pinterest, Instagram, or Google+. Thanks for reading!
Compensation for this post was provided by Cobblestone Bread Co. via AOL Media.  The opinions expressed herein are those of the author and are not indicative of the opinions or positions of Cobblestone Bread Co. or AOL.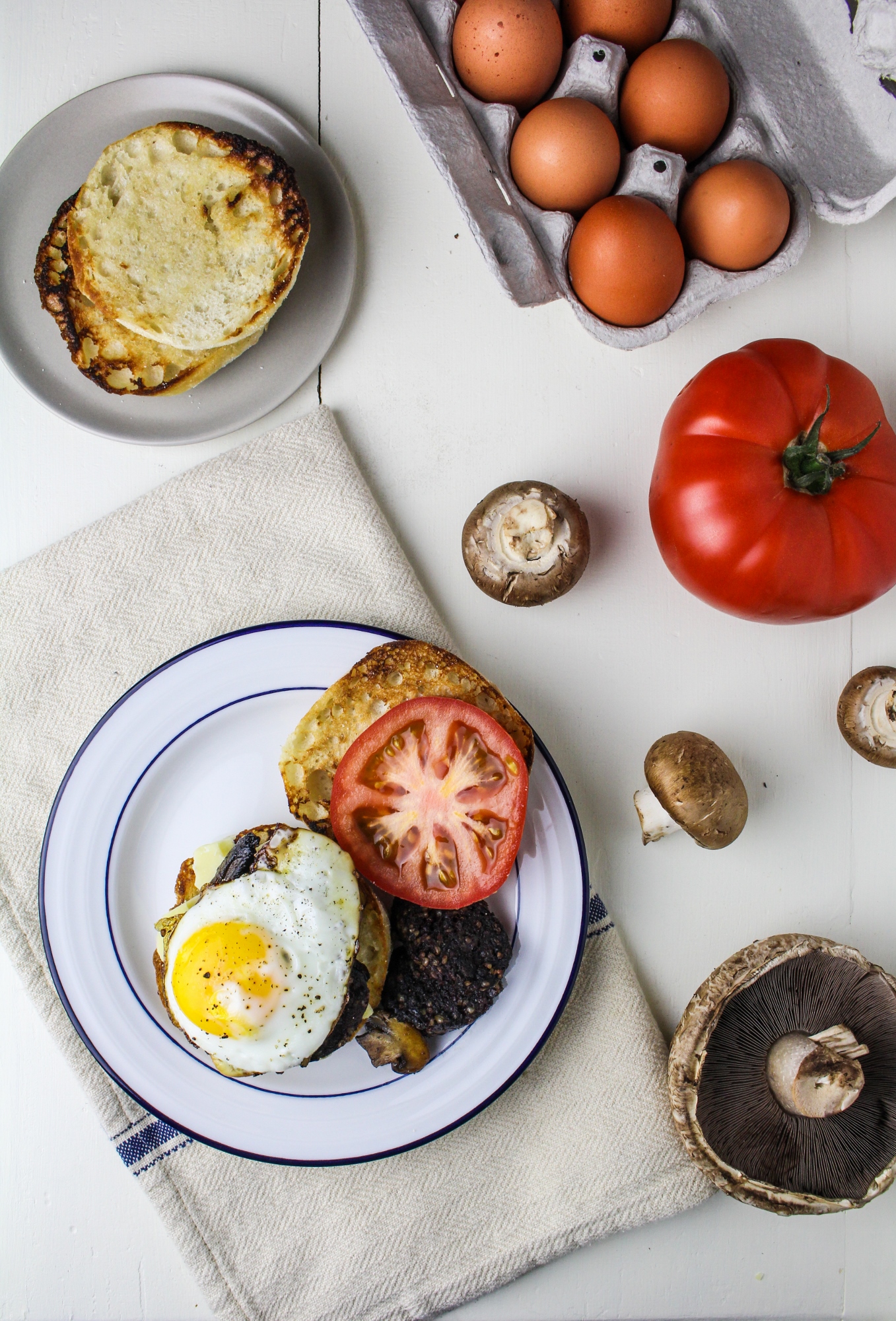 Full English Breakfast Sandwich
Makes 1 sandwich.
2 TBS salted butter
1 Cobblestone Bread Co. English muffin, sliced in half lengthwise
4 button mushrooms, thickly sliced
sea salt and pepper
2 inch piece of black pudding, sliced into 4 pieces, skin removed
1 large egg
1 slice of cheddar cheese
1 slice of fresh tomato
Melt 1 TBS of the butter in a small frying pan over medium heat. Place the CBC English muffin halves sliced side down in the melted butter and toast until golden brown, about 2 minutes. Remove from the heat and set aside.
Add the sliced mushrooms to the pan and saute until golden brown all over, about 5 minutes. Season generously with salt and pepper and place the cooked mushrooms on top of the bottom half of the English muffin.
Add the sliced black pudding to the pan and cook until dark black all the way through, about 2 minutes on each side. Place the slices on top of the mushrooms.
Melt the remaining 1 TBS of butter in the pan and crack the egg into it. Fry the egg to your liking, season with salt and pepper, and then place on top of the black pudding. Top with the cheddar cheese, the tomato slice, and the top of the English muffin. Compress slightly and eat immediately.