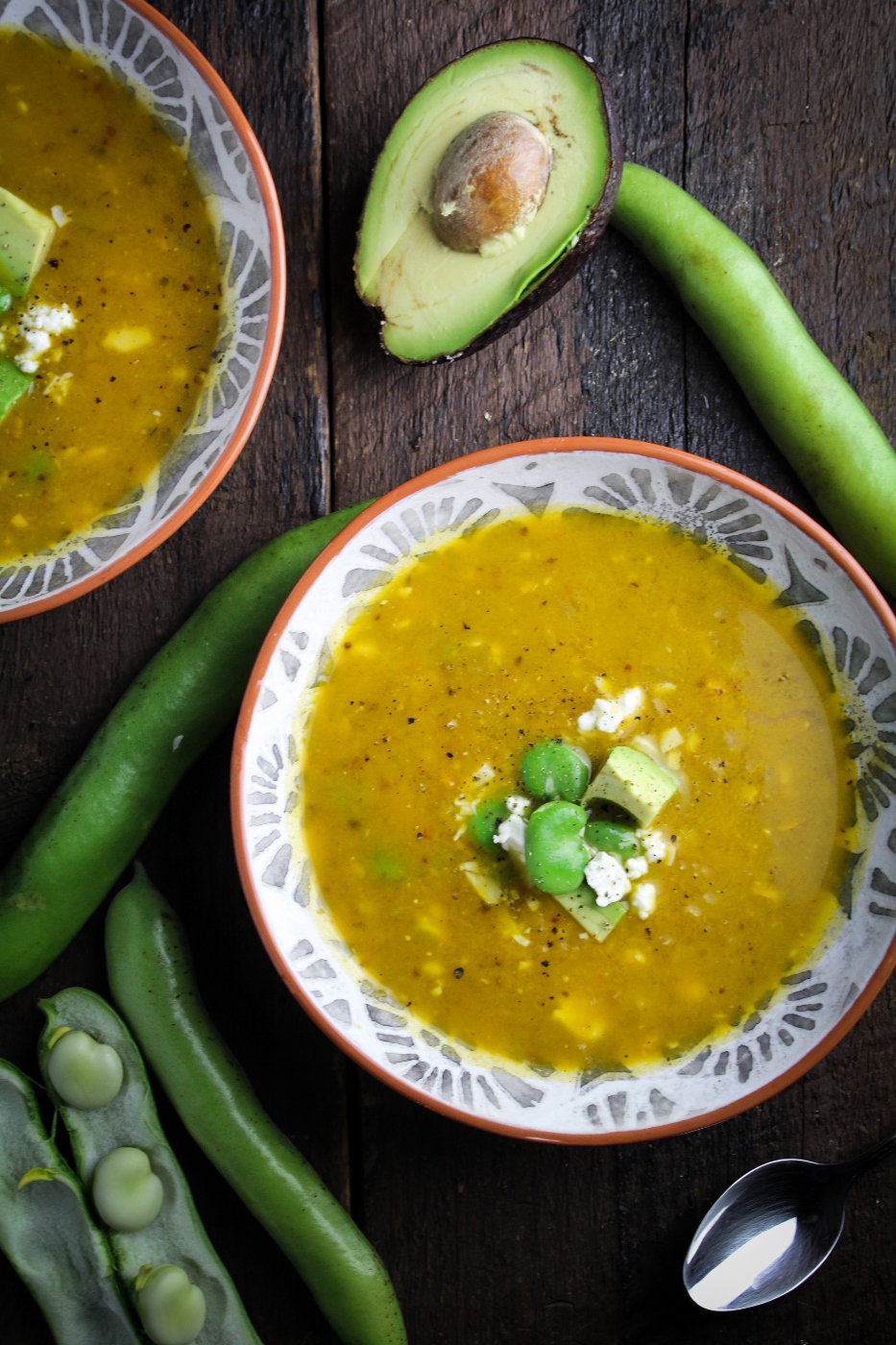 It will come as no surprise to most of you that one of my favorite things about my frequently overwhelming travel schedule is all of the opportunities it affords me to eat delicious food. In the past 14 months I have been on 12 international trips, mostly for work, visiting Hong Kong, Ecuador, Canada, Italy, Malaysia, Ireland, Colombia, and Chile. Although right now thinking about it is sort of exhausting (particularly since I just got off a plane from Chile and I get back on one to Colombia in less than 2 weeks), I know how lucky I am to have these experiences.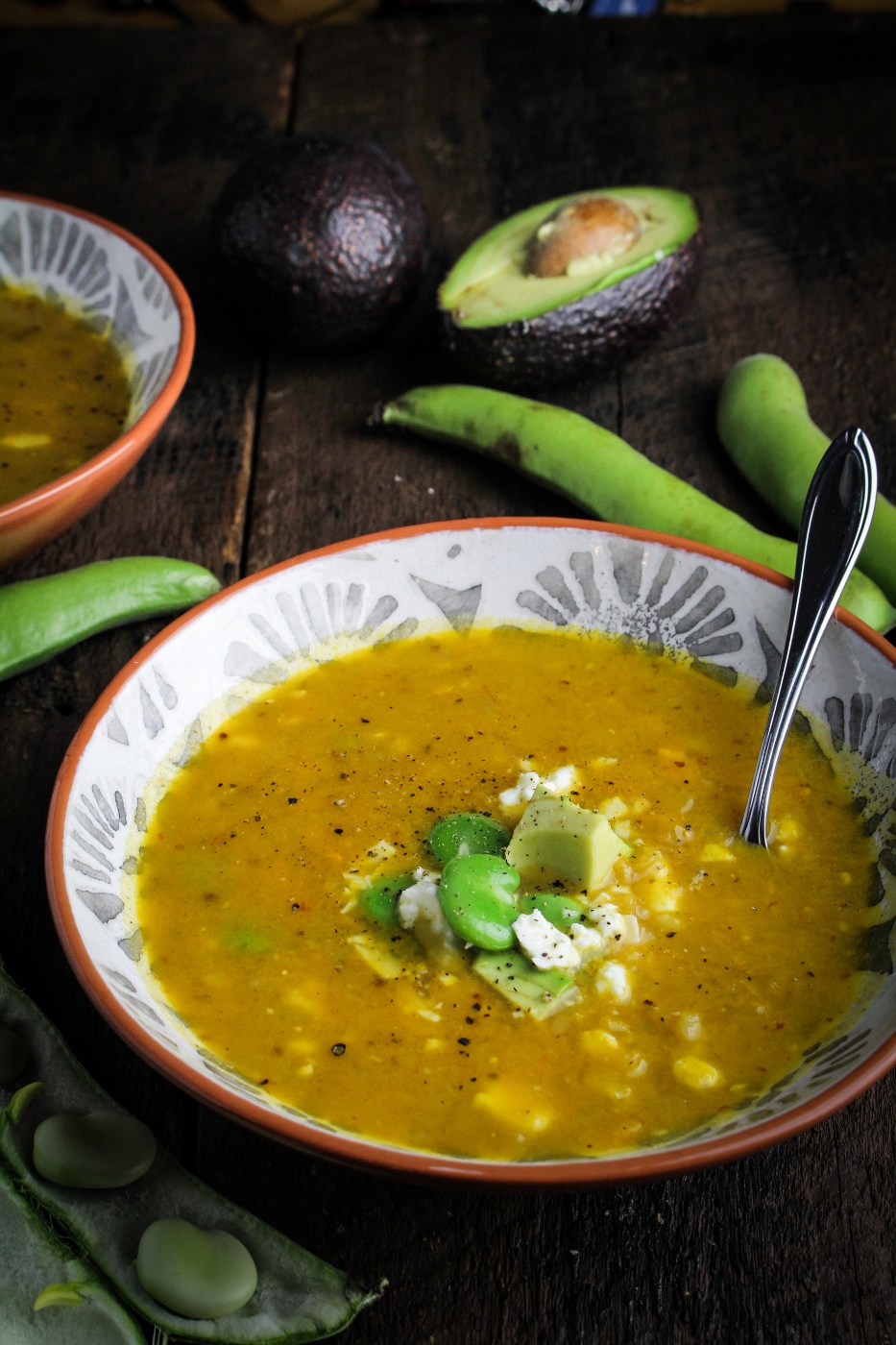 I can tell you with certainty that none of these things are good for my waistline, but the three things I love the most about eating in Latin America are:
The juices (yes, please, I would like fresh passionfruit juice with every meal)
Enormous avocados served with everything
The soups
The third one was a little bit of a surprise to me – while I'd eaten plenty of Mexican food and Latin street food before I first traveled to Latin America, I had never even heard of all the incredible Latin soups out there before my first trip to Ecuador. I generally think of Latin America is a place with a pretty warm climate, which is why I never used to connect soup to Latin cuisine. Now that I've spent so much time in Ecuador, Colombia, and Chile, though, I can tell you that those high altitude nights can be seriously chilly… and a bowl of hearty, potato-based soup is exactly what you want to eat.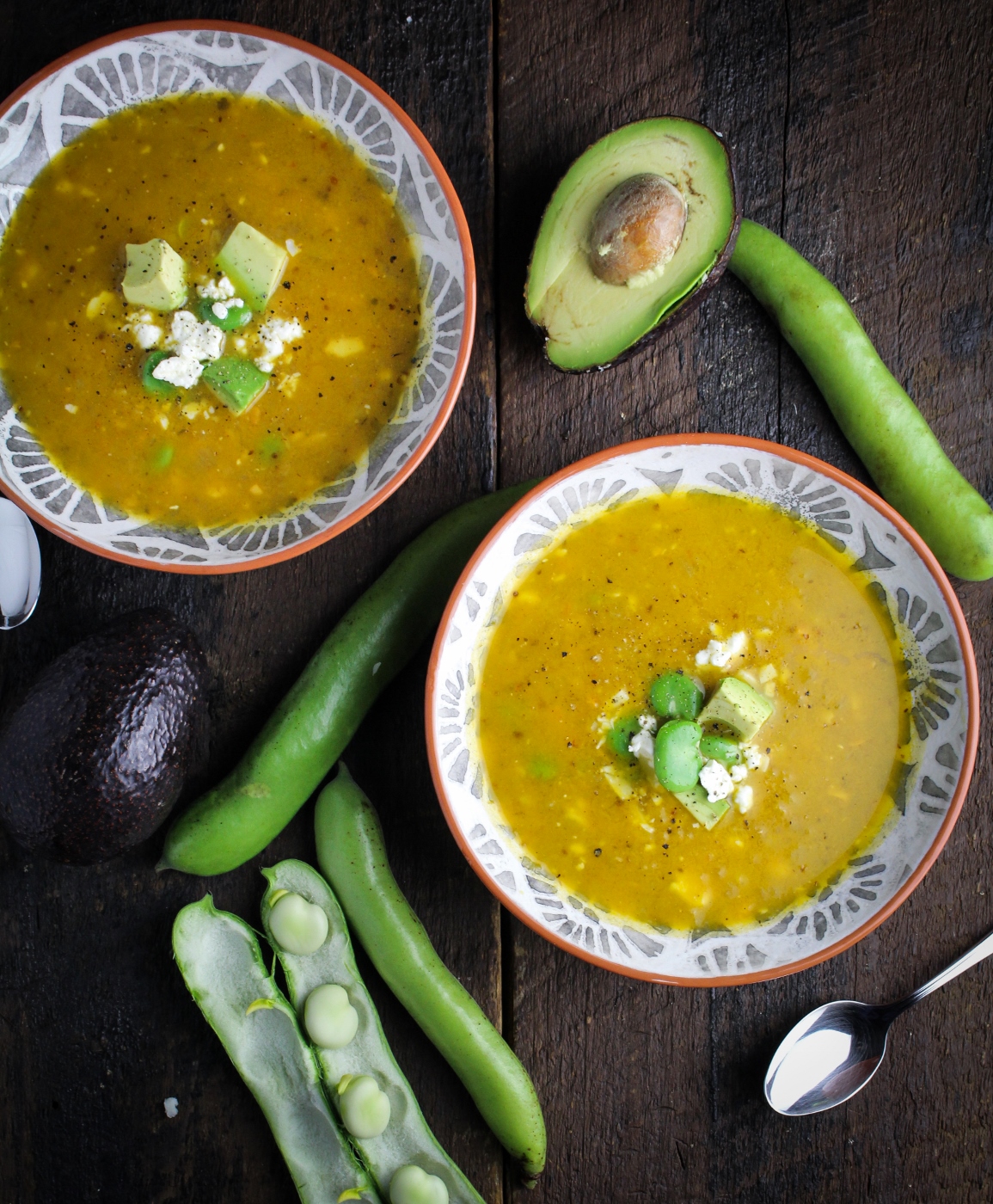 A while back I posted my favorite Colombian soup, Ajiaco Bogotano, a thick chicken and potato stew served with generous amounts of avocado and capers. Now, since there are finally fresh fava beans in the markets, it's time for my favorite Ecuadorian soup: Locro. Locro de papa is an Ecuadorian soup based on the combination of potatoes and cheese – pretty much my two favorite food groups. I've had different variations of it in different parts of the country, but my favorite bowl was served in a tiny town outside the quilotoa lagoon, a gorgeous aquamarine lake in a volcanic crater in the Andes. I was actually miserable during my hike down into and back up from the lagoon, the only time I really suffered from altitude sickness, but I think that's what made the bowl of soup waiting for me at the top so memorable. After two hours of counting my steps in sets of 50, holding back tears and barely able to breathe, sitting down at the long wooden bench and holding a steaming bowl of soup in my frozen hands was heaven. This bowl of locro incorporated lots of fresh fava beans into the usual potato-cheese combination, and now that's how I like it best. Make it when you need a little bit of comfort on a spring evening.
Like what you just read? Subscribe to Katie at the Kitchen Door in the box on the right, on Feedly or Bloglovin', or follow along on Facebook, Twitter, Pinterest, Instagram, or Google+. Thanks for reading!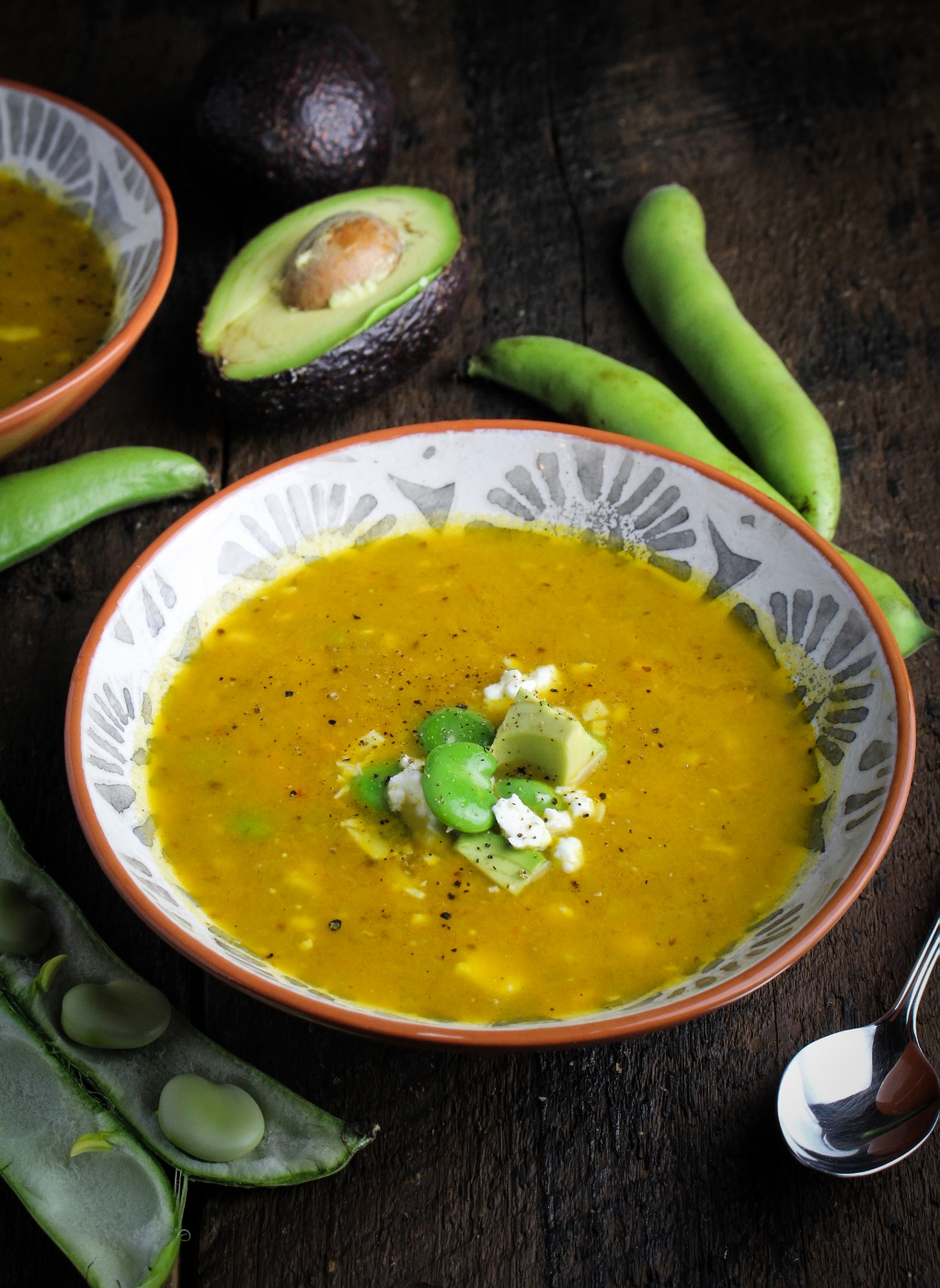 Ecuadorian Locro – Creamy Potato, Cheese, and Fava Bean Soup
Serves 4-6. Adapted from Laylita's Recipes and The Kitchn. Serves 4-6.
2 TBS olive oil
1 small onion, peeled and diced
2 garlic cloves, peeled and minced
2 tsp dried oregano
1 tsp achiote powder
2 large russet potatoes, peeled and cut into 1/4 inch dice
4 c. chicken stock
2 c. water
2 lbs. fava beans in their pods
1 c. whole milk or 1/2 c. heavy cream
salt and pepper to taste
6 oz. crumbled feta or queso fresco
2 avocados, peeled and sliced, for serving
In a large saucepan, heat the olive oil over medium heat. Add the onion and saute until soft and translucent, about 5 minutes. Add the garlic, oregano, and achiote powder and saute until fragrant, another 2 minutes. Add the diced potato and saute, stirring frequently, for 5 minutes. Add the chicken stock and water, bring to a boil, then reduce to a simmer. Let soup simmer, uncovered, until potatoes are very soft, about 30 minutes.
While the soup is cooking, blanch the fava beans. Bring a large pot of salted water to a boil. Remove the fava beans from their pods and blanch in the boiling water for 2-3 minutes, then remove with a slotted spoon and run under cold water. As soon as the beans are cool enough to handle, use your thumbnail to split the outer, pale green skin from the bean and pop the inner, bright green beans into a bowl. Set the peeled beans aside.
When the potatoes in the soup are tender, use a potato masher to roughly mash the potatoes in the soup until soup is thick with just a few chunks of potato. Add the peeled fava beans and cook for 2 more minutes, then remove from the heat. Stir in the milk or cream, the crumbled cheese, and season to taste with salt and pepper. Cheese will not fully melt into the soup but should remain slightly chewy. Serve with the sliced avocado.
3