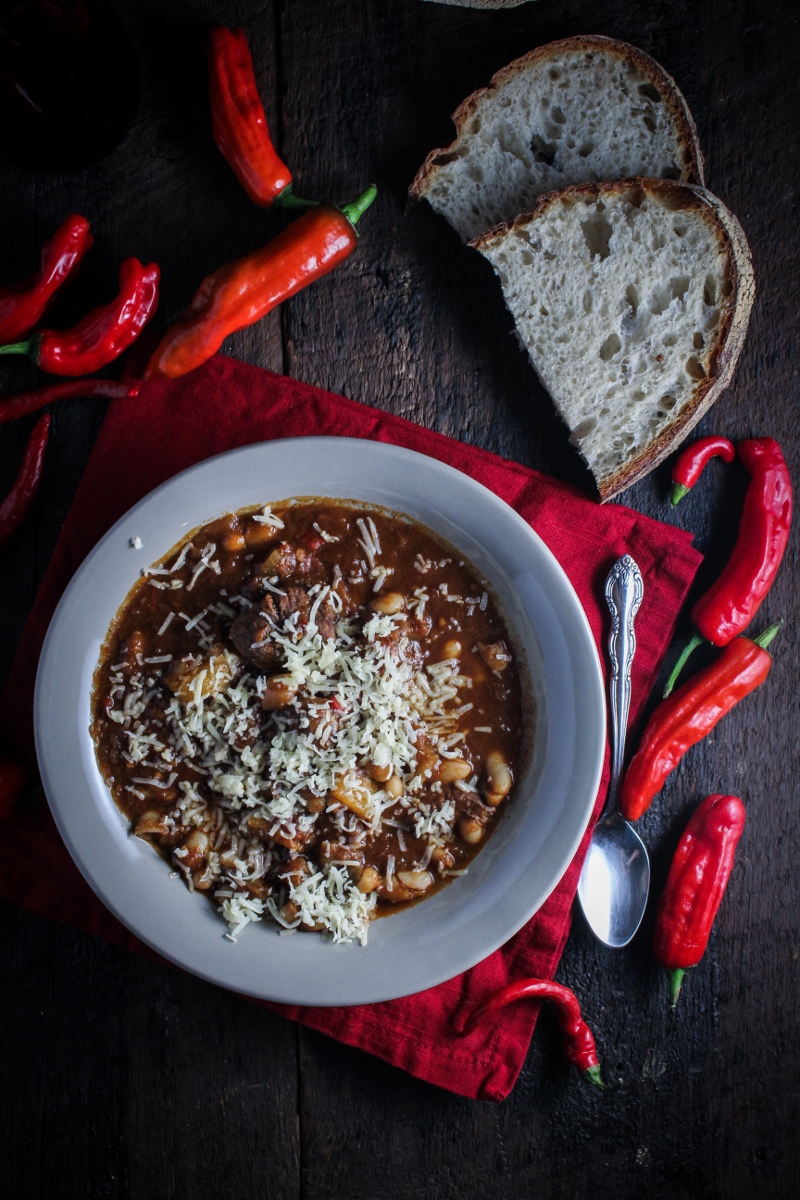 Last weekend we got up to the White Mountains for a hike, something I've been aching to do since the first hint of coolness crept into the air. The weather wasn't great – low gray clouds and cold – but I just wanted to get out there, so we went anyways. It's so refreshing to be somewhere so quiet and fresh, and the four hours we spent walking up the misty slopes, and meandering down along the brook were exactly what I needed. The hike was invigorating, but with temperatures in the low 40s at the bottom and high 30s at the top, I was daydreaming about a big bowl of chili and a hot toddy before we even made it to the summit. It was 30° warmer back in Boston, but I already had my heart set on chili, so chili it was. I'd been brainstorming all the way home, and I knew I wanted a lamb, roasted butternut squash, and fresh tomato base with hints of sweetness and chocolate from cocoa powder and our home-brewed Russian Stout beer.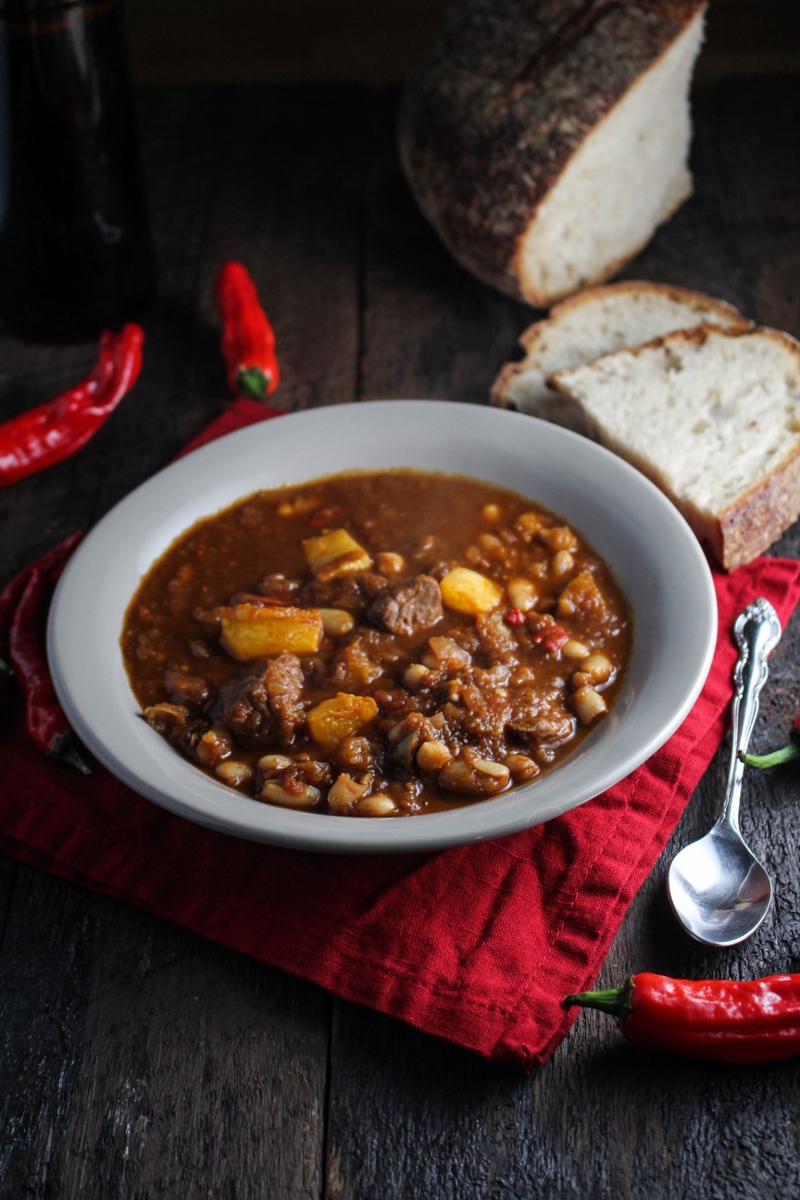 This chili came out even better than I wanted it to. I was kind of winging it, taking a few tricks out of other recipes I make as I went. – cocoa powder and allspice from our favorite steak rub, red wine vinegar and a splash of beer from my mom's chili recipe, and roasting the squash with smoked paprika before adding it to the chili the way I do with pretty much all vegetables.Rich and saucy and slightly sweet, with just a hint of lip-tingling spice, it blows every chili I've made (except maybe my mom's vegetarian chili, which is a completely different animal) out of the water. For me, at least, the slightly gamey, tender chunks of lamb are so much better than beef. I know there's all kinds of debates raging about what qualifies as chili and what doesn't, but in my book, this is chili and it's damn good.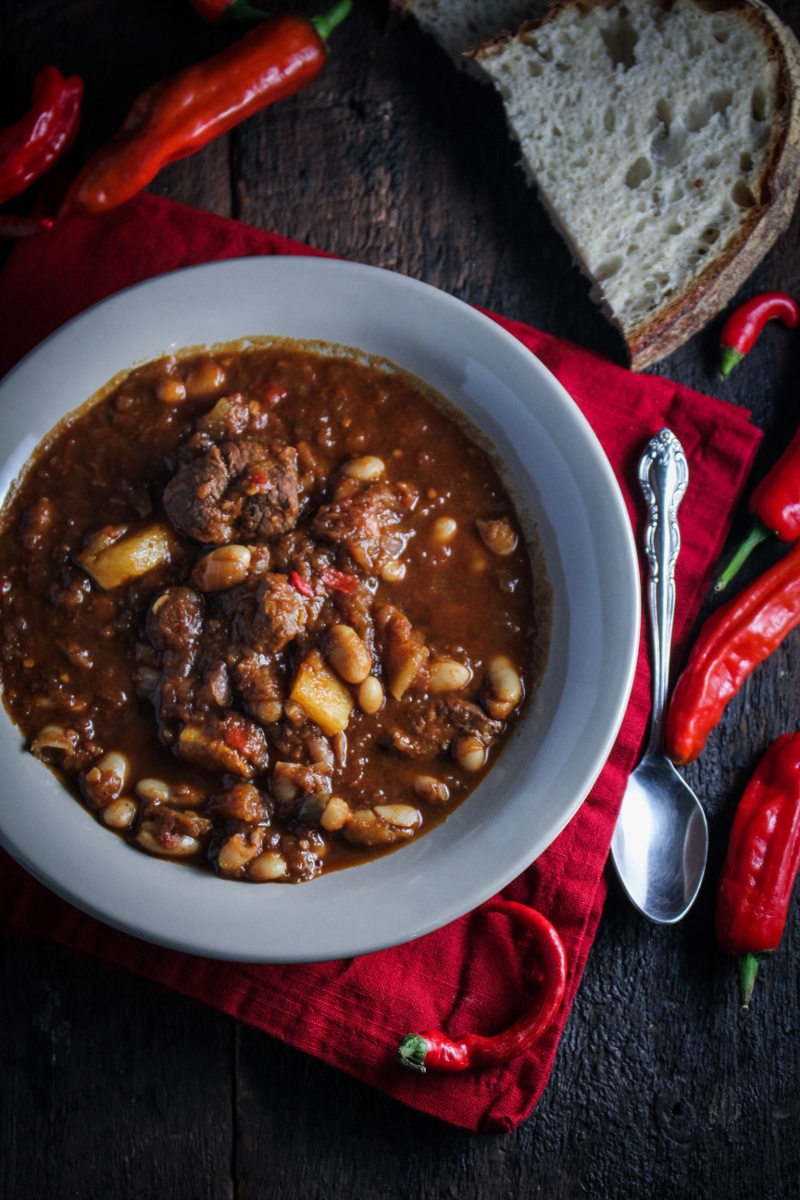 I'm also sharing this over on Instagram today for the Huckle and Goose #InstaPotluck. Huckle and Goose is a meal-planning service that provides truly inspired menus to your inbox once a week, with a focus on finding creative ways to use the vegetables you're finding at the farmer's market or in your CSA box that week, both the common ones (tomatoes, corn), and the stranger ones (hubbard squash, radicchio). In addition to creating their own seasonal recipes, they also license recipes from a group of really talented bloggers, and I'm thrilled to have some of my own recipes included in their meal plans from time to time. Seeing the recipes they use from other bloggers actually inspires me to create more original recipes that utilize whatever I'm picking in my garden or grabbing at the farmer's market that week, rather than defaulting to old standbys – there are so many things you can do with fresh tomatoes besides caprese and tossing them with pasta!  If you'd like to give Huckle and Goose a try, you can use the code "INSTAPOTLUCK" to get 50% off any annual subscription (code valid today only, 9/23/2014) or sign-up for the two week free trial.
Like what you just read? Subscribe to Katie at the Kitchen Door on Feedly or Bloglovin', or follow along on Facebook, Twitter, Pinterest, Instagram, or Google+. Thanks for reading!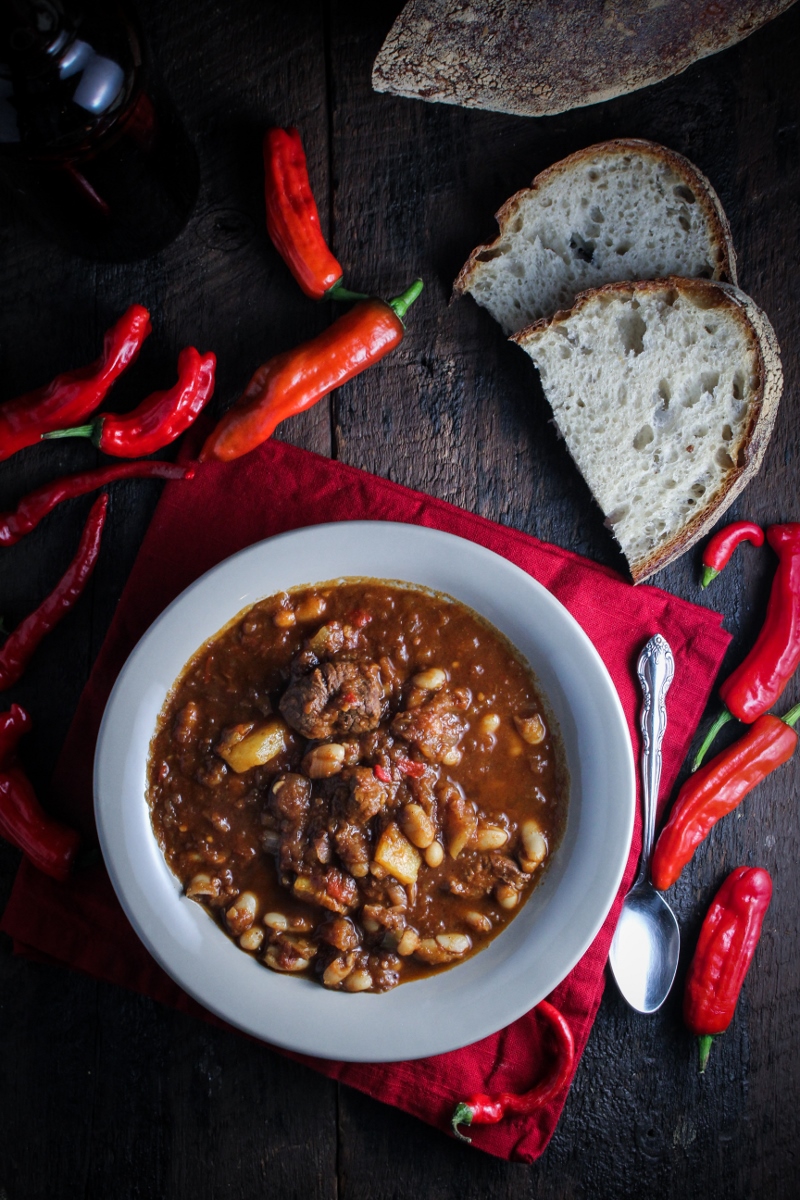 Lamb, Butternut Squash, and White Bean Chili
A Katie at the Kitchen Door original recipe. Serves 4-6.
1/2 large butternut squash, peeled, seeded and cut into 1/2 inch cubes (about 4 cups cubed)
3 TBS + 2 TBS olive oil, divided
sea salt
1 tsp smoked paprika
1 lb. cubed boneless lamb (cut for stew)
1 large onion, peeled and diced
4 cloves garlic, peeled and diced
1 serrano chile pepper, stemmed, seeded and finely minced
1 red bell pepper, stemmed, seeded, and diced
1 1/2 tsp chili powder
1 tsp ground cumin
1 tsp cocoa powder
1/4 tsp allspice
1 bay leaf
2 c. water
2 TBS tomato paste
3 c. chopped fresh tomatoes, about 2 large (cores and stems discarded)
1 TBS red wine vinegar
1 (15 oz.) can of canellini beans, rinsed and drained
3/4 c. dark beer, such as stout
grated cheddar cheese, for serving (optional)
sour cream, for serving (optional)
Preheat the oven to 400°F. Toss the butternut squash with 3 TBS of olive oil, a generous sprinkling of sea salt, and the smoked paprika until evenly coated. Spread in a single layer on a baking sheet and roast until tender when poked with a fork, about 30 minutes (stir/flip the cubes once after about 15 minutes). Remove the butternut squash from the oven and set aside.
Add the remaining 2 TBS of olive oil to a large stockpot and place over medium-high heat. Generously season the lamb with sea salt, then add to the stockpot and brown on all sides, which should take about 5 minutes (1-2 minutes per side). Use a slotted spoon to remove the lamb from the pot and set aside.
Add the onion, garlic, serrano, and bell pepper to the pot and saute, stirring frequently, until soft, about 5 minutes. Add the chili powder, cumin, cocoa powder, and allspice, and stir to coat the vegetables. Saute for 2 minutes longer, then return the lamb to the pot and stir to combine with the vegetables and spices. Add the bay leaf, water, tomato paste, chopped fresh tomatoes, and half of the roasted butternut squash, stir to combine, and bring to a simmer. Cover the pot and let simmer for 1 hour.
Remove the lid from the pot and continue to simmer the chili until it is thick and saucy. About 15 minutes before you plan to serve, add the red wine vinegar, canellini beans,the remaining half of the squash, and beer (add the beer slowly, as it will bubble up!). Stir to combine and taste for seasoning. Simmer for 15 minutes longer, to heat beans through, then serve immediately with grated cheddar cheese and sour cream.