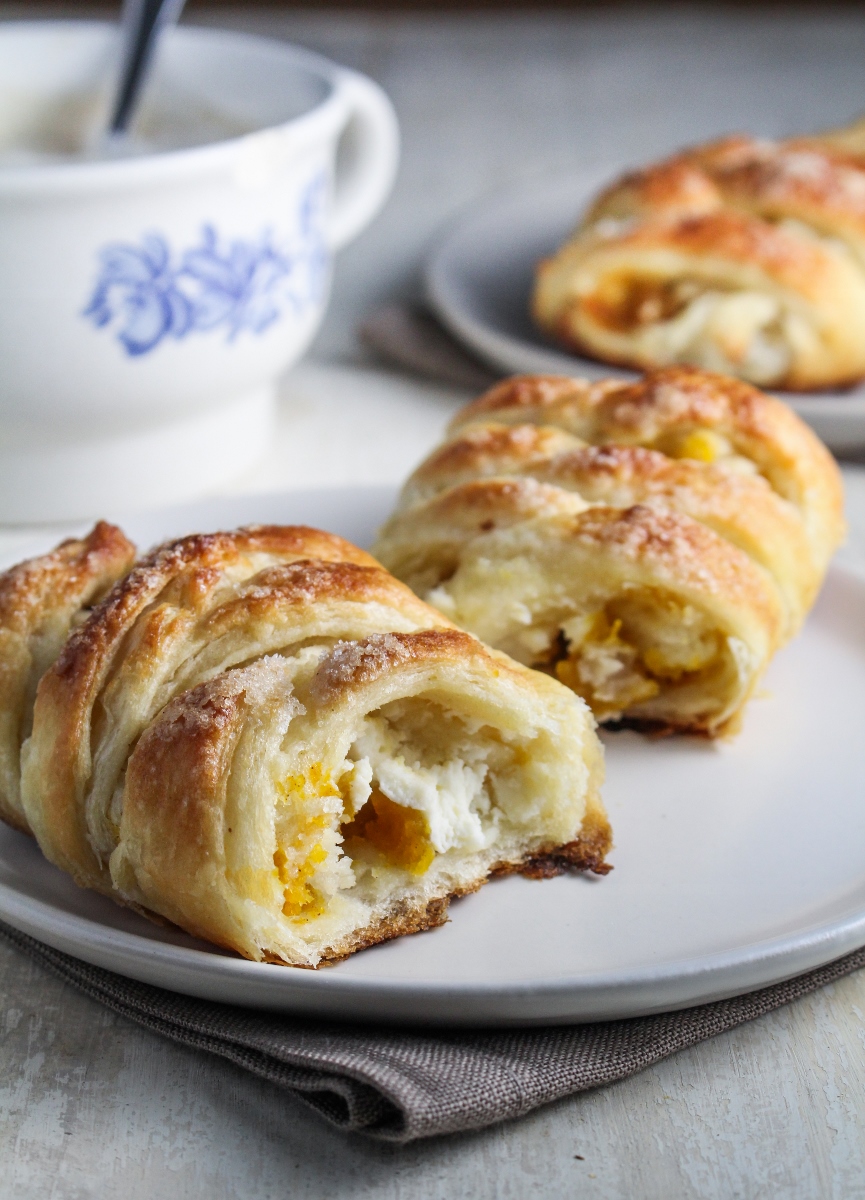 It's your favorite guest poster! Trevor is here with his latest creation, pumpkin butter and cream cheese danishes, made from our very own home-grown pumpkins. These danishes are incredibly delicious, and I think they're multiplying while I'm at work, as we seem to have an infinite supply that gets replenished every time I think I've polished off the last one. Raise your hand if you want one! Just kidding, I'm keeping these (and their baker!) all to myself. But you can definitely have the recipe.
Last summer, my greatest garden wish was to have a super wild, super productive squash patch in our garden. This year, we got exactly that, and we learned there is a lot of value in order. We spent a solid chunk of the summer in our new patch tracing out vines from the winter squash and melons as they wound around and underneath our mounds of summer squash and zucchini plants. Half the trick was trying to find all the zucchini before they became giant inedible monsters. We definitely owe Katie's dad for sacrificing his wildflower field, which will hopefully regrow in it's new location, and for tilling the whole 30' x 50' patch for us and our pumpkin dreams.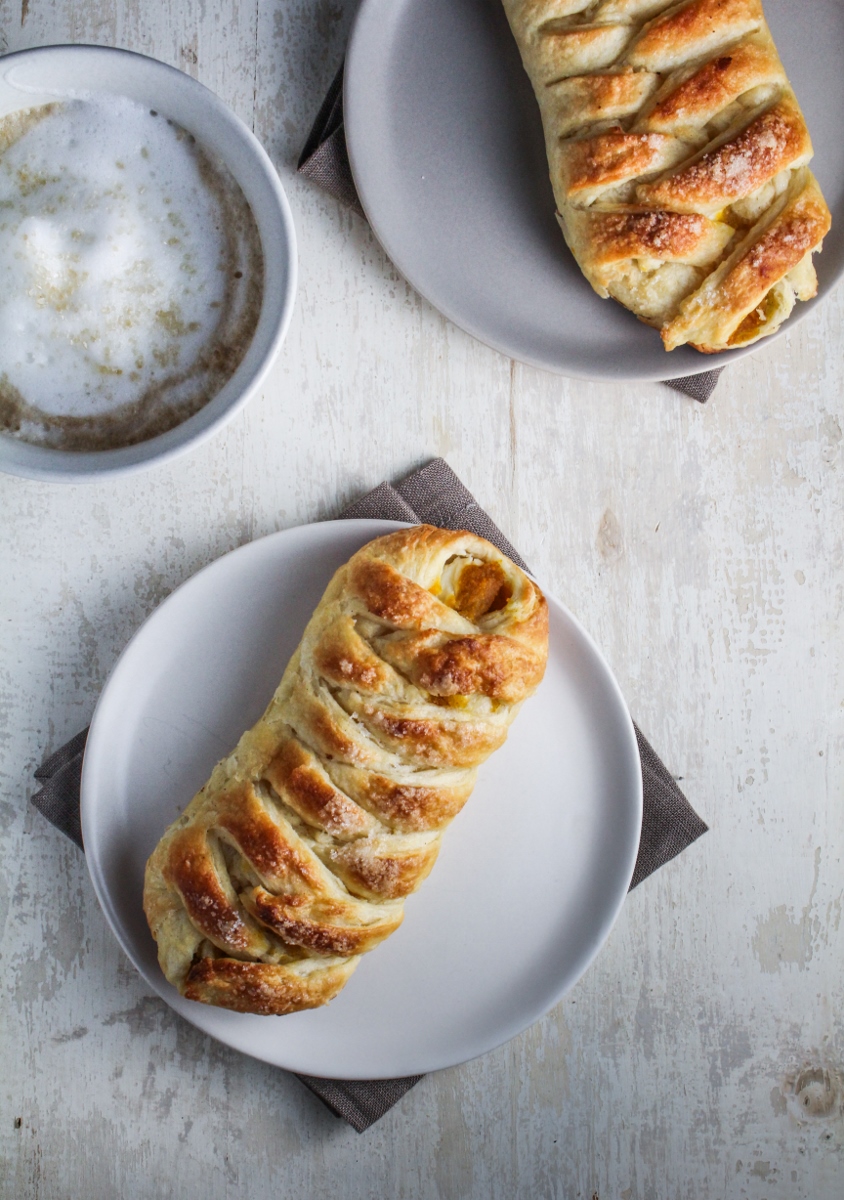 Despite the disorder, we ended up with a ton more squash than we've had in past years, and a huge jumble of vines of questionable origin. Somehow our New England Sugar Pie pumpkins managed to grow vines about 20 feet long extending in every direction, and setting fruit in literally every corner of the patch. After two big, promising, just-turning-orange pumpkins were completely demolished by our friendly neighborhood deer, we put up a hasty fence and secured a harvest of about 8 nice-sized pumpkins, with more still ripening on the vines. Now the only challenge that remains is figuring out what to do with it all.
So far, I've made some apple-wood smoked pumpkin that we used in a risotto, Katie's done that beautiful vegetable curry, and I made some pumpkin butter to go in these danishes. I'm a huge fan of raspberry cream cheese danishes, so that's the route I chose to go with for the pumpkin ones. I make the pumpkin butter a little lemony to get some tartness to go with the cream cheese, and I think they came out really well. The dough recipe I used makes about twice as much dough as I needed for the first batch, so more pastries are definitely in order.
Like what you just read? Subscribe to Katie at the Kitchen Door on Feedly or Bloglovin', or follow along on Facebook, Twitter, Pinterest, Instagram, or Google+. Thanks for reading!
Pumpkin Butter and Cream Cheese Danishes
Pastry dough recipe adapted from Food.com. Makes 16 danishes.
For the pumpkin butter filling:
4 c. pumpkin puree
¾ c. water
1 tsp cinnamon
2 tsp lemon juice
¼ tsp powdered ginger
1 Tbsp honey
¾ c. brown sugar
For the Cream Cheese Filling:
8 oz. package of cream cheese
½ c. Greek yogurt
¼ tsp vanilla
¼ c. sugar
For the Danish Pastry Dough:
2 c. milk
1 ½ tsp dry yeast
2 large eggs
½ tsp vanilla
7 c. all-purpose flour
⅓ c. granulated sugar
1 ½ tsp salt
1 lb unsalted butter
½ tsp cardamom
For the pumpkin butter:
If you are using whole pumpkins to begin with, follow these instructions to make your puree. If you are using canned pumpkin, skip to step two.

Preheat oven to 300°F.
Cut the pumpkin in half, and scoop out the seeds and fibers, discarding or reserving for another use.
Place  pumpkins, cut side down, in a pyrex baking dish and fill the dish with ½ inch of water.
Steam pumpkin in oven for about 45 minutes, until flesh is fork-tender all the way to the skin. Remove the pumpkins from the oven and let cool.
Once the pumpkins are cool enough to handle, scoop out the flesh and blend until smooth

Combine all pumpkin butter ingredients in a small sauce pan over medium heat. Cook, stirring constantly, until the ingredients are evenly blended and the mixture holds it's shape.
For the cream cheese filling:
Whip together all ingredients until the mixture is smooth and completely combined.
For the Danish dough:
Warm milk to 110°F (in a small saucepan over low heat or in the microwave), then sprinkle yeast over the top of the warm milk without mixing. Allow to sit for five minutes, then beat in eggs and vanilla. Whisk until ingredients are thoroughly combined.
Mix together dry ingredients in a large bowl until just combined. Cut in 3 Tbsp of butter, cut into small cubes, and use a pastry cutter to loosely combine.
Add wet ingredients to dry ingredients and knead until combined. Refrigerate dough for 1 hour. Leave remaining butter to soften while dough chills. The butter should be stiff, but spreadable.
On a lightly floured surface, roll out the dough into a 2' x 1' rectangle. Spread remaining butter over the bottom two thirds of the dough. Fold the top third of the dough down into the middle, then fold the bottom third up onto the top, and roll into a 2' x 1' rectangle again. Repeat the folds, and refrigerate for another hour.
Repeat the folding and rolling process two more times to create layers of butter in the dough. This is what makes the final product light and flaky.
To assemble and bake:
Preheat oven to 450°F.
Roll out chilled dough to approximately ¼ inch thickness. Cut into 6"x8" squares.
Orienting rectangles such that the long edge is horizontal, make seven 1 ½ inch slits on either side.
Spread a line of cream cheese filling and a line of pumpkin butter vertically down the center of the rectangle, keeping approximately ½ inch away from the inner end of the slits on either side.
Fold the top and bottom slits on either side vertically down, to create a cup shape at either end.
Fold the remainder of the strips over the filling diagonally, starting from the top and alternating sides to create a crosshatch pattern. Pat down the ends of the strips as you go.
Place danishes on a parchment-paper lined baking sheet and bake for 8 to 10 minutes, until the pastry is golden all over.
0