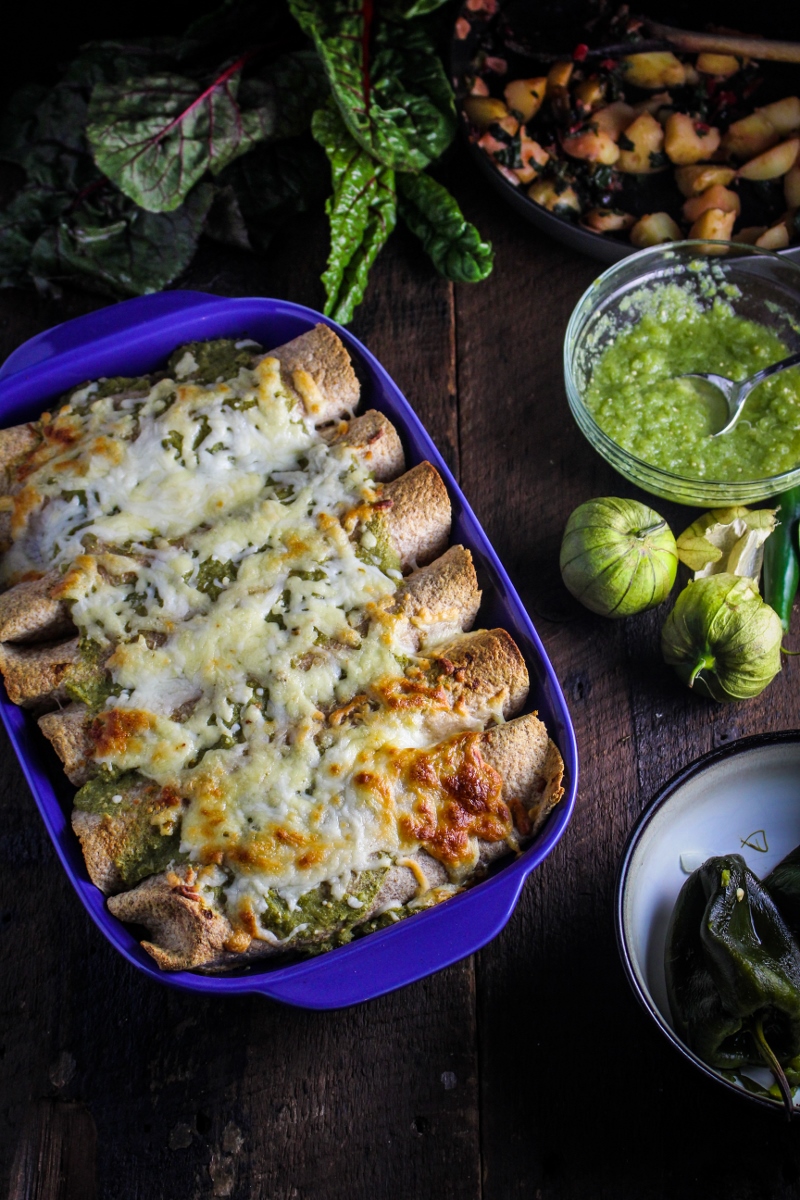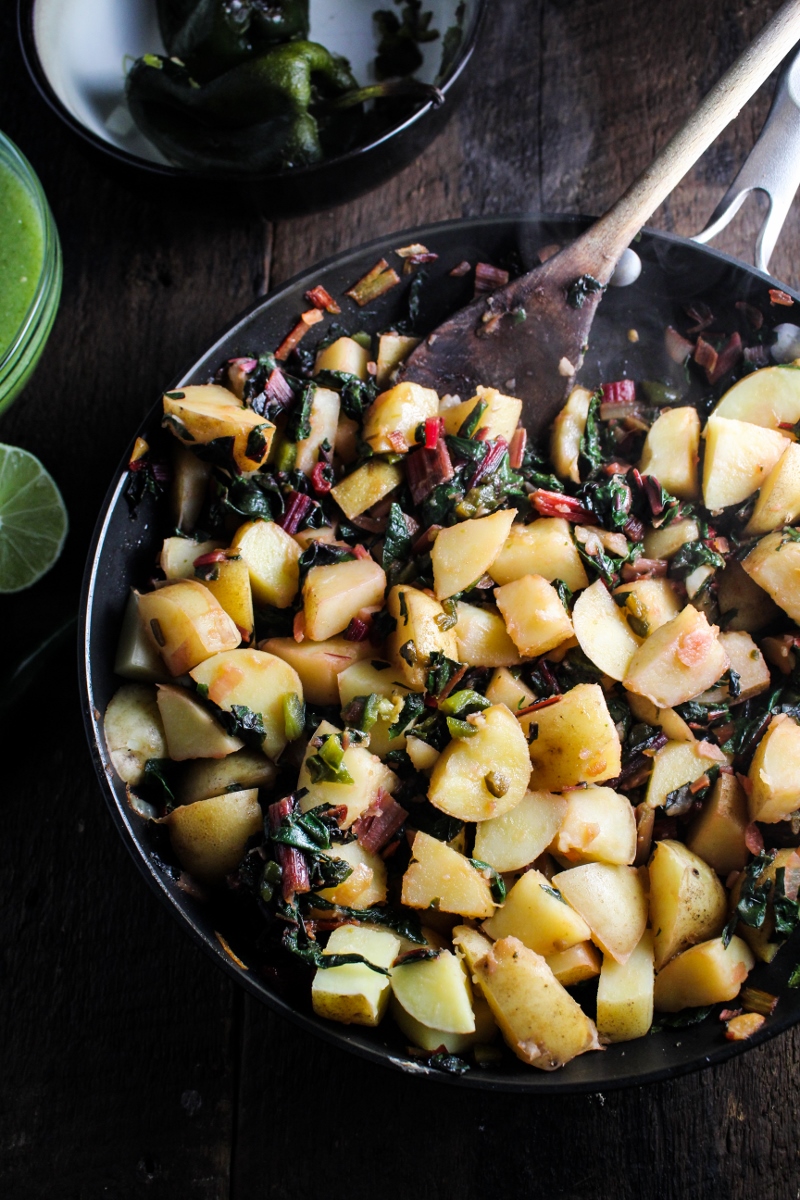 It was nice to take August off from holding myself to, well, much of anything. I needed the break. Of course, I was still working, and work was actually quite hectic – the main reason for needing to let everything else slide a little. But things have slowed down, and I'm finally feeling caught up on all the other aspects of my life. A part of that, of course, is getting back into a healthy daily routine, and that means the monthly fitness goals are back on.
I've known that speed would be the focus of my September goal since July, really. Since I started running again in January (after the longest hiatus I've probably ever taken last fall), I've been pretty diligent about getting out there. Starting back up again is the worst part of running, so once I've got a little endurance I like to hang on to it. So far this year I've run over 300 miles, and from January through June I was getting faster every month, moving from an average pace of 9'22" in January all the way down to an 8'04" in June. But July and August were full of hot, slow slogs, so I promised myself that once the weather cooled down, I'd focus on getting my pace back up. I set a goal of getting down under an average pace of 8'10" again, and although the first few runs of the month were a struggle, my last three were all sub 8′, and my current average is exactly 8'10". But that doesn't mean I'm done! I've run 20 miles this month and I'd like to get in at least 20 miles more, maybe even getting down to my stretch goal of 7'59". We'll see. For now I'm just glad to feel a little faster and lighter (not to mention cooler!) out on the road.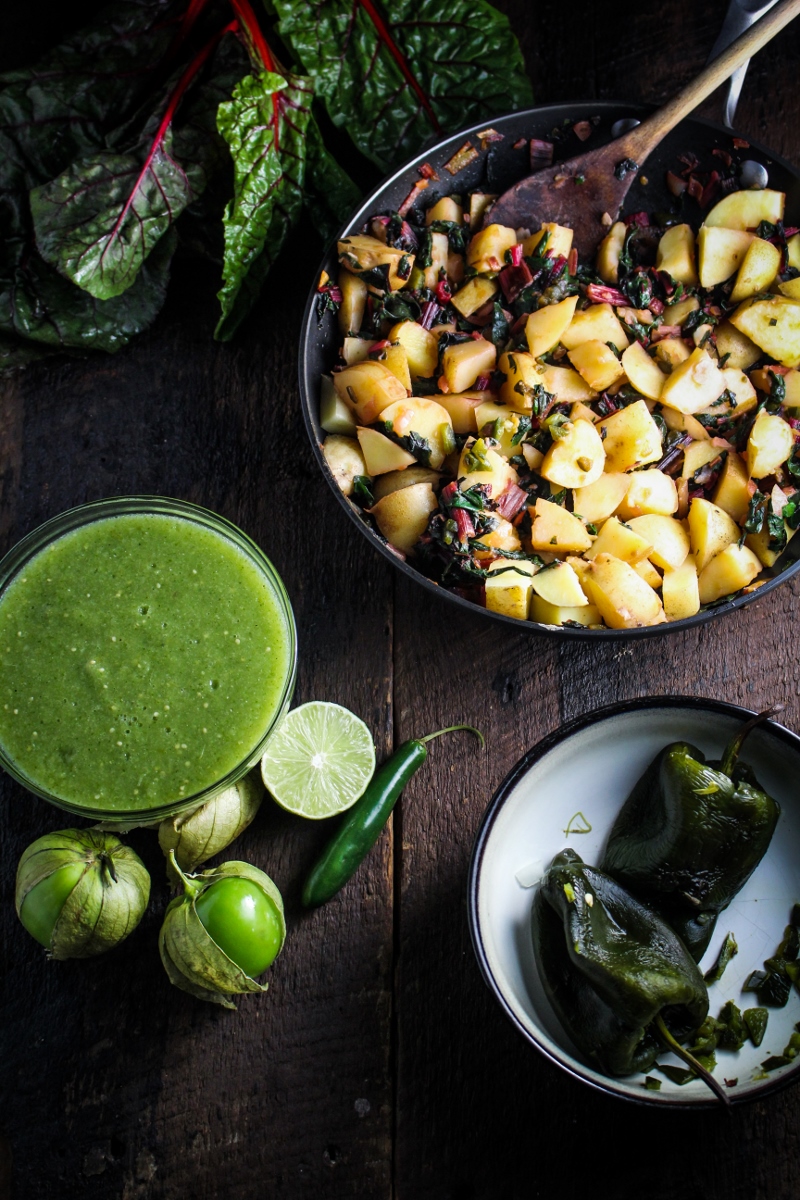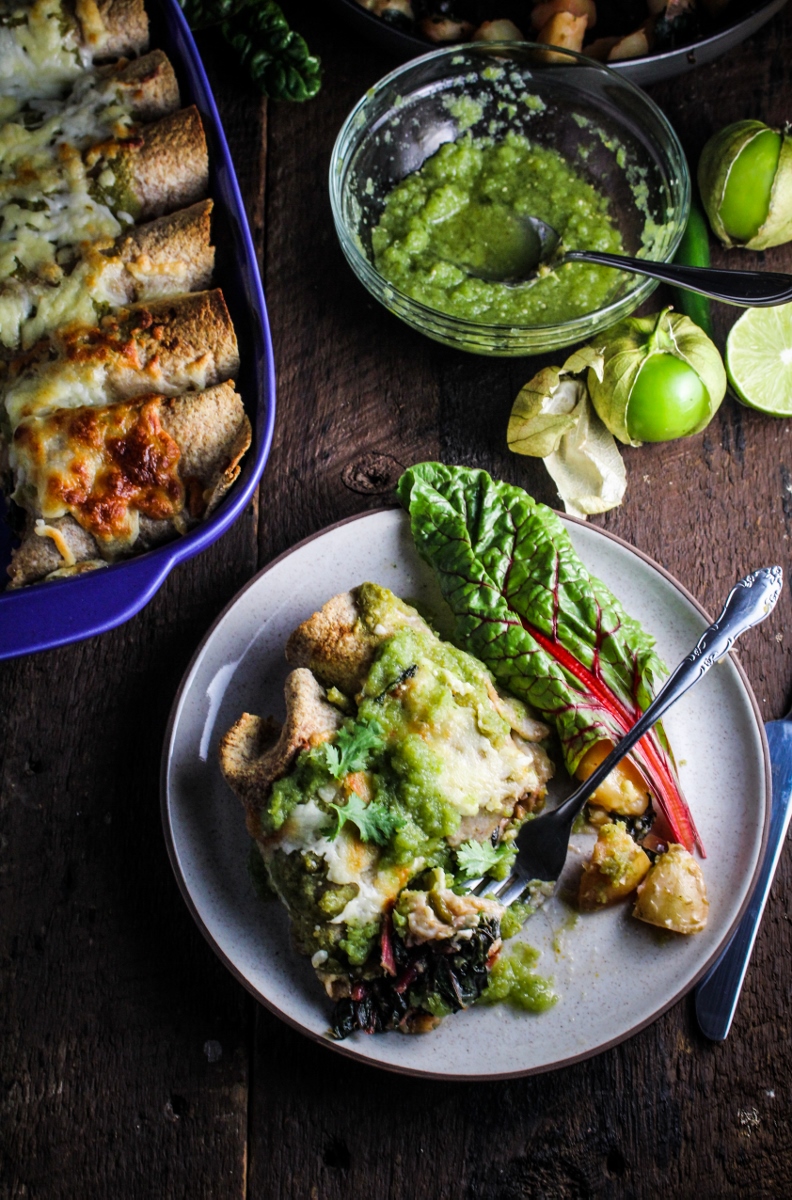 On a different note, let's talk about these enchiladas. On our way home from Maine after Labor Day we stopped in at a little restaurant in Belfast called Chase's Daily. It's an airy space, and in the back they sell the most gorgeous local vegetables and flowers. Belfast is a small town, but the line to buy fresh produce snaked all the way down the counter. We sat down for a late breakfast, and although Trevor looked somewhat crestfallen when I told him it was a vegetarian restaurant, we both very much enjoyed our meals. I ordered the potato and roasted poblano enchiladas, which were smothered in the tangiest salsa verde, and liked them so much I knew I wanted to recreate them at home ASAP. Since they use lots of vegetables and we're moving into that time of year where we all need to figure out how to make warm, comforting food be good for you, I thought they would do nicely for this month's healthy recipe.
As I researched salsa verde recipes I saw two basic variations, one using raw tomatillos and the other using roasted tomatillos. Beyond that, and perhaps the ratio of chiles to tomatillos to cilantro, most of the recipes were nearly identical. As I thought about how to make this recipe my own, I decided that with equal numbers of recipes for raw salsa verde and roasted salsa verde, they must both be good – why not build in an extra layer of flavor and make a raw and roasted version? That was a good starting point, and yielded a salsa verde that was both tangy and a little sweet. For the enchilada filling, I grabbed a few potatoes out of the large bag we harvested last week and boiled them, then cooked them briefly with garlic, swiss chard, and diced roasted poblano. The potato-poblano filling gets rolled up in tortillas, smothered with salsa verde, and sprinkled with grated pepper jack, before a brief stint in the oven that yields crispy tortilla edges, golden-brown cheese, and steaming hot filling. I ate way too much of this in one sitting, but managed to save a little bit of leftovers (that I'm very much looking forward to for lunch tomorrow). It's perfect on a chilly night – warm and filling but full of veggies!
I hope all of your Septembers are off to an equally healthy and productive start. It's a good time of year to take stock, get organized and energized and charge into a new season.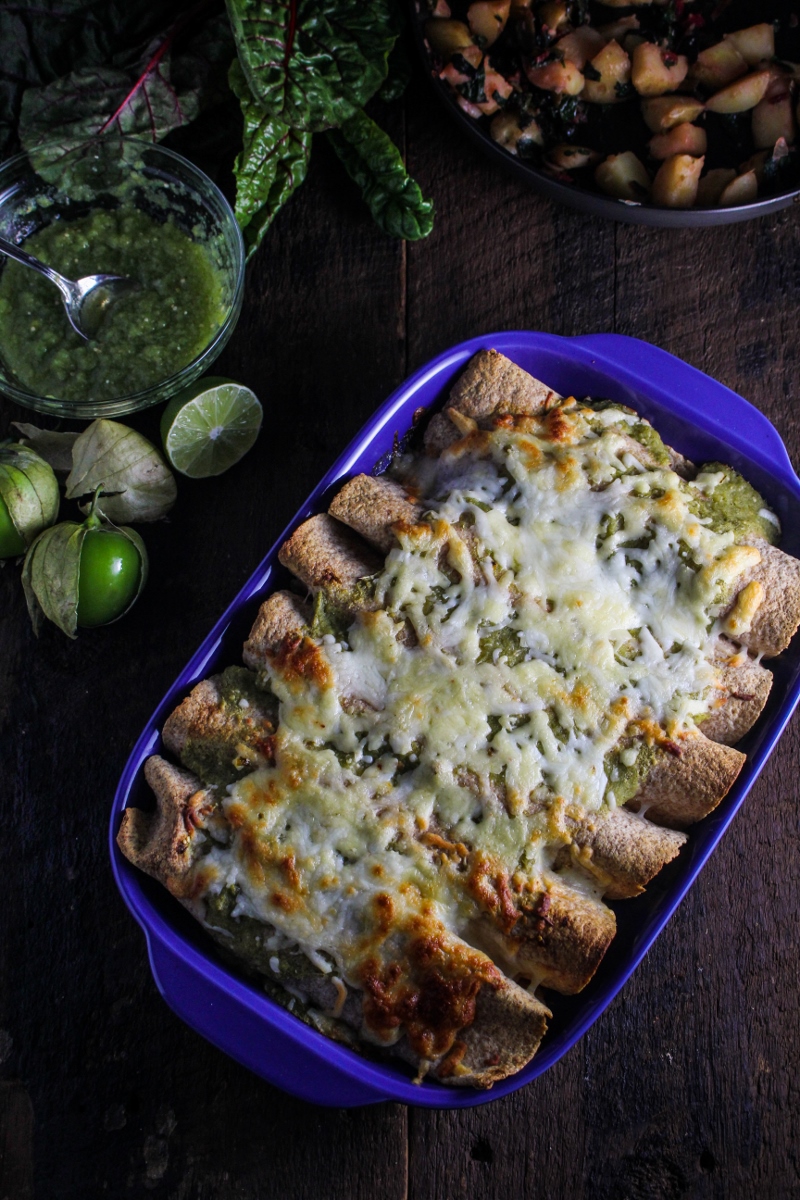 Past Fitness Challenges
January: 10 Visits to the YMCA; Recipe: Gluten-Free Olive-and-Feta Corn Muffins
February: One vegan meal every day; Recipe: Pakistani Chickpea Pulao with Sweet-Hot Date-Onion Chutney
March: Run 40  miles in 20 days; Recipe: Chocolate-Dipped Almond Butter Cookie Bites
April: Walk 8,000 steps a day; Recipe: Herb-Flecked Spring Couscous
May: 180 minutes of Nike Training Club; Recipe: Warm Arugula Salad with Maple Mustard Dressing
June: Fresh fruit/veggies at every meal; Recipe: Chickpea Crepes with Grilled Curried Chicken and Mango Salsa
July: 8 different types of exercise; Recipe: Homemade Spinach Wraps with Chopped Greek Salad Filling
August: Relax; Recipe: Green Tea and Zucchini Noodles with Honey Ginger Sauce
Like what you just read? Subscribe to Katie at the Kitchen Door on Feedly or Bloglovin', or follow along on Facebook, Twitter, Pinterest, Instagram, or Google+. Thanks for reading!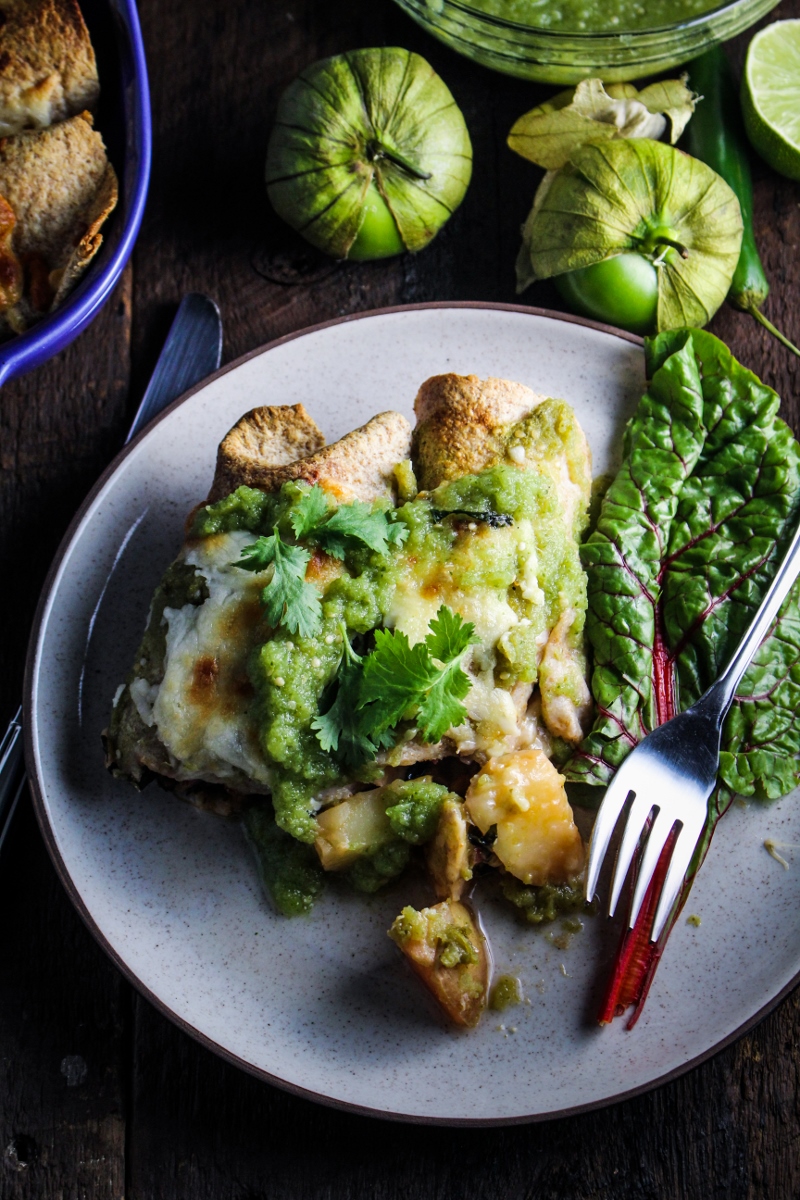 Potato, Poblano, and Chard Enchiladas with Salsa Verde
Inspired by breakfast at Chase's Daily in Belfast, ME. Serves 4-5.
2 poblano peppers
1 1/2 lb. Yukon gold potatoes, cut into 1/2 inch cubes
sea salt
2 TBS olive oil
1/4 c. diced onion
6 cloves garlic, peeled and thinly sliced
1/4 tsp smoked paprika
1/2 bunch of swiss chard (about 15-20 medium-sized leaves)
Eight 8-inch tortillas
1 1/2 c. raw and roasted salsa verde, recipe below
1 c. shredded pepper jack cheese
1 c. shredded mozzarella cheese
Preheat the broiler and line a baking sheet with foil. Place the poblano peppers on the baking sheet and broil for 10-15 minutes, turning with tongs every 5 minutes, until blistered and blackened all over. If you are making the salsa verde at the same time, do this while broiling the tomatillos. When the peppers are done, remove them from the oven and place in a bowl, then cover with plastic wrap and let steam for 20 minutes. After they have steamed, you will be able to easily peel and discard their skins. Do this, then cut into slices, discarding the stem and seeds. Chop roughly and taste for heat to get an idea of how much you should use in your filling.
Add the diced potatoes to a large pot and fill with cold water. Add salt to water and bring to a boil. Boil the potatoes until just tender when poked with a fork, about 5 minutes once the water has reached a boil. Drain and set aside.
Heat the olive oil in a large skillet over medium heat. Add the onion, sliced garlic, and smoked paprika and saute, stirring frequently, for 5 minutes. Roughly chop the stems of the swiss chard and add to the saute pan, then chop the leaves add add to the pan as well. Saute until wilted, about 3 minutes, then add the potatoes and chopped poblanos (start with one, add the second after tasting the mixture for heat). Saute for 2-3 minutes, then remove from the heat.
Preheat the oven to 375°F. Spread half a cup of salsa verde on the bottom of an 11×13 inch roasting pan. Mix the two cheeses together in a bowl. Fill each of the tortillas with a few spoonfuls of the potato filling, and 2-3 TBS of cheese, then roll up and place seam-side down in the pan. Repeat with all tortillas, filling pan completely, then spoon another half cup of salsa verde over the top of the enchiladas. Sprinkle the remaining cheese over the top, then bake until cheese is bubbly and golden and edges of tortillas are crispy, about 25-30 minutes. Remove from oven and serve with leftover salsa verde.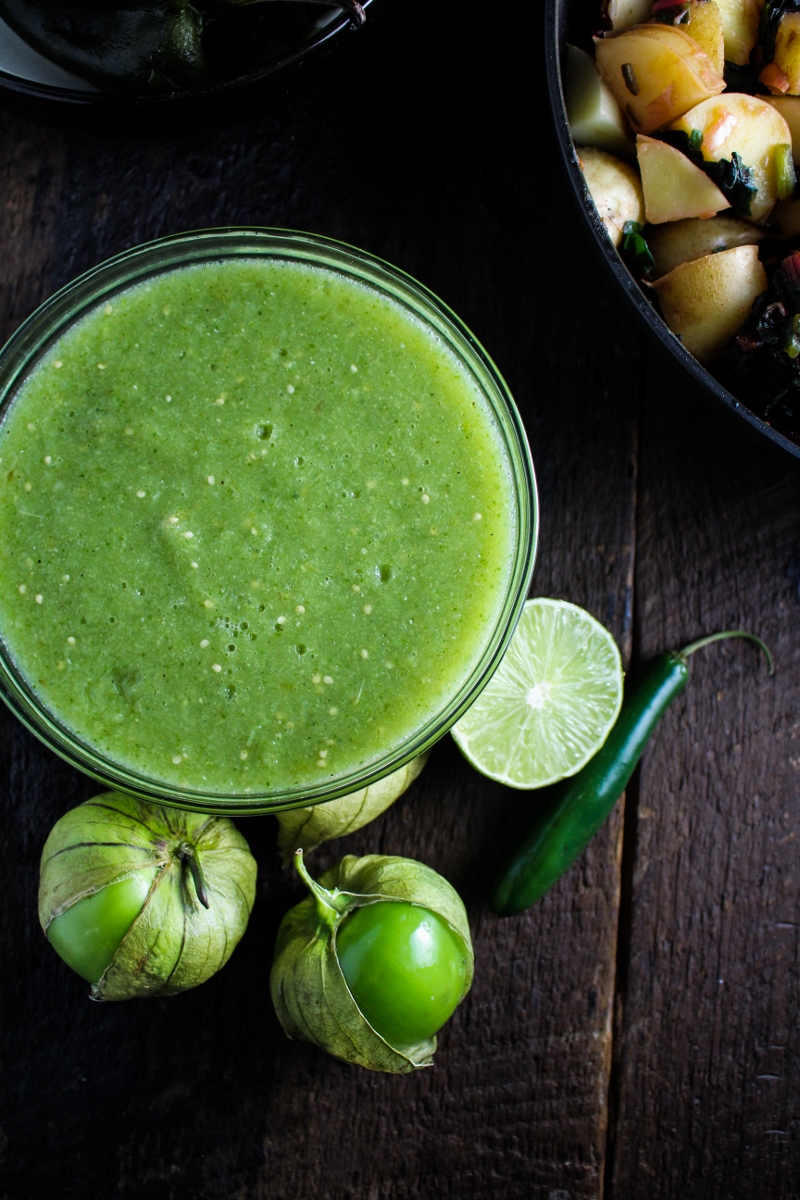 Raw and Roasted Salsa Verde
Makes about 1 1/2 cups.
1 lb. tomatillos
1-2 serrano chiles
1/2 c. chopped onion
1 garlic clove, roughly chopped
1/4 c. fresh cilantro leaves
1/4 c. water
1 TBS fresh lime juice
1/2 tsp sea salt
Preheat the broiler and line a baking sheet with foil. Remove the husks and stem from the tomatillos and wash the sticky residue off the fruit. Cut the tomatillos in half. Place half of the tomatillos cut side down on the baking sheet. Set the other half aside. If using two chiles, place one of the serranos on the baking sheet as well. Broil the tomatillos and chile for 8-10 minutes, flipping over with tongs once about halfway through. Remove from the oven.
Add the roasted tomatillos and their juices to a blender, then add the raw tomatillos, onion, garlic, cilantro, water, lime juice, and salt. If you like your food spicy, remove the stem from the roasted serrano and add to the blender, then remove the stem from the raw serrano, roughly chop and add to the blender with the seeds. If you prefer a milder salsa, remove the seeds from the raw serrano, chop, and add to the blender. After blending, taste and decide whether to add the roasted serrano. Blend the tomatillos on high until a smooth puree forms. Taste, and add additional chile, lime, or salt if desired. Set aside.
0