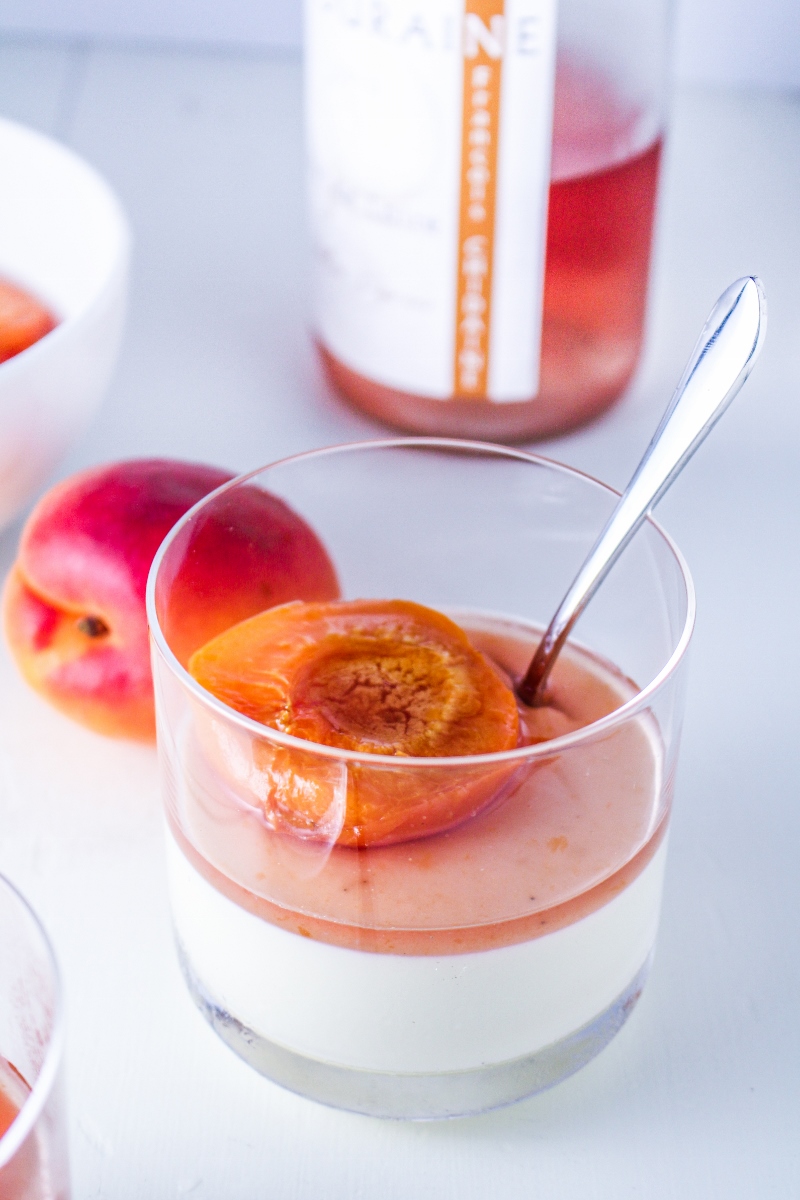 I could not be more ready for the weekend. I had one too many 7am meetings this week, each one followed by long days working frantically toward a major deadline Thursday afternoon. The minute the deadline passed, I felt a wave of exhaustion wash over me. I was spent. But now the weekend has arrived and I have two full days to sleep in, not think about insurance, and enjoy the beautiful weather we're supposed to have. We're going to head out to the garden to check for tomatoes and squash and blueberries, try and catch a showing of Chef, and hopefully head up to Maine to look for chanterelles with Trevor's uncle.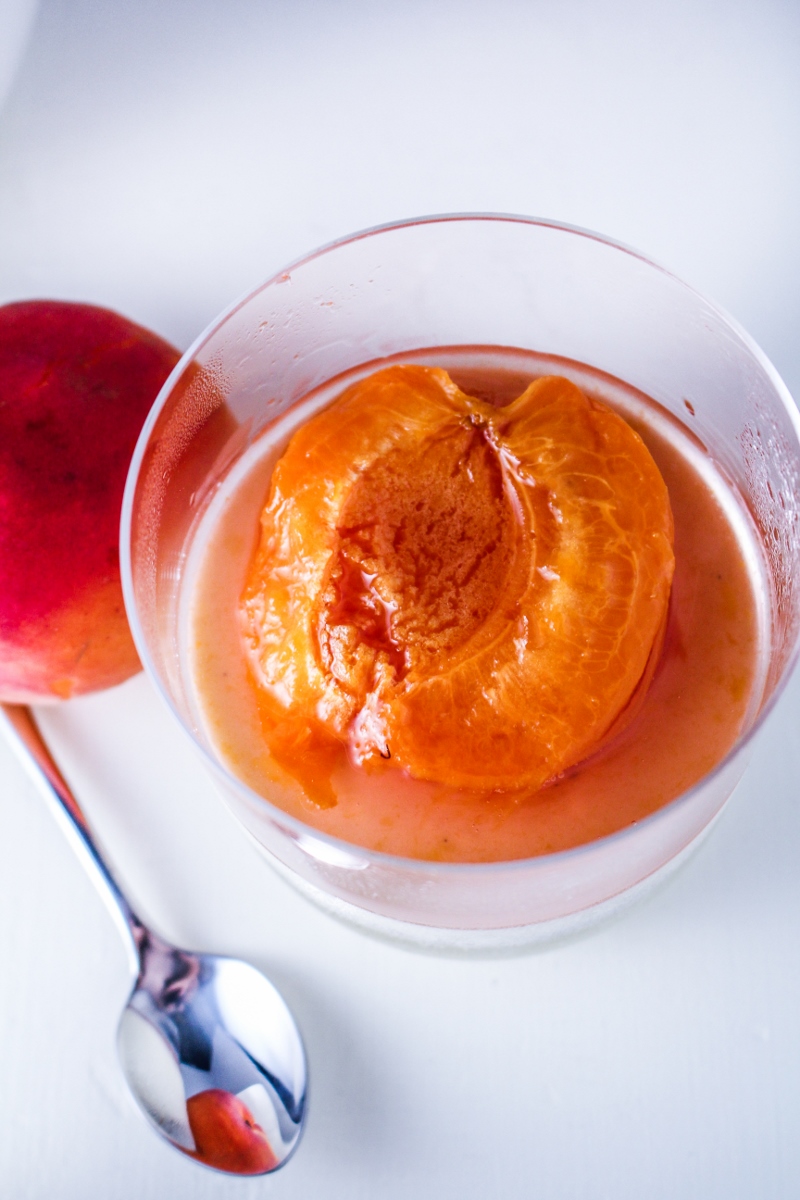 One thing that helped me keep my head up during this hectic week was coming home to these delicious basil panna cottas in the fridge – I won't lie, I had a few bites every night this week. When it comes to basil, my eyes are often bigger than my stomach. I find the scent of basil truly intoxicating, and am seemingly unable to walk by a box in the store or a patch in the garden without taking some home. But its shelf life is shorter than I think, and more often than not I use up a little right away and then end up with a bunch of slimy black leaves a week later, which feels like such a terrible waste. One solution is to mix up and freeze a big batch of pesto, but after a while, as delicious as pesto is, it feels boring.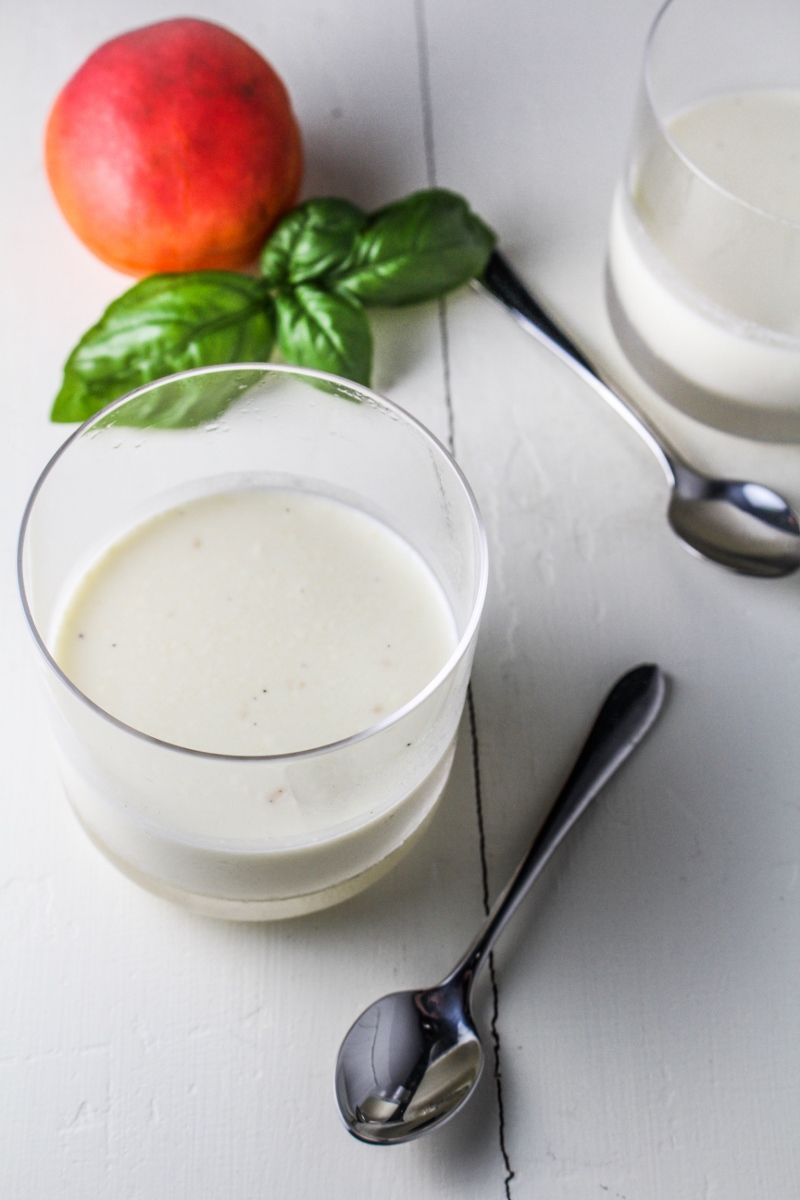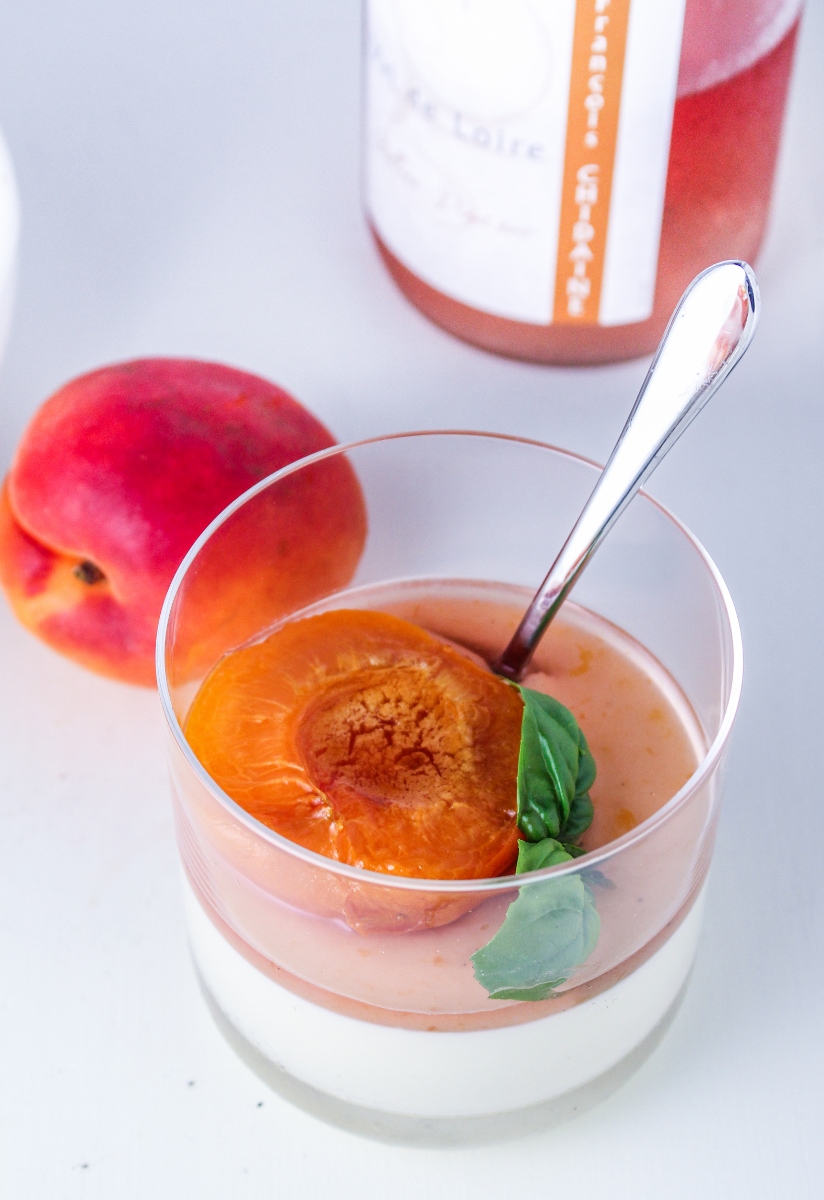 On the ride home from our garden the other day, a bag of freshly picked basil sitting in my lap, I tried to think of things other than pesto that I might make to use up leaves on their last leg. When I got to basil ice cream, I moved backwards a few steps to basil-infused heavy cream, and then jumped forward again to settle on basil panna cotta. Since I had a few overly ripe apricots in the fridge that needed to be used up as well, I decided on rosé-poached apricots as a topping. I read up on my panna cotta theory in The Best International Recipe (a great resource for knowing how and why recipes work), then changed things up a little, and the result was sublime. Not too sweet, extremely light and smooth, and with delicate, floral flavors, it tasted like a restaurant quality dessert but was extremely simple to execute. It might be my new dinner party go to. If you also have an abundance of basil and quickly ripening stone-fruit sitting on your counter ('tis the season!) I encourage you to give this recipe a go – you won't be disappointed, and you'll have spared yourself the sadness of wasted produce.
Have a great weekend, everyone!
Like what you just read? Subscribe to Katie at the Kitchen Door on Feedly or Bloglovin', or follow along on Facebook, Twitter, Pinterest, Instagram, or Google+. Thanks for reading!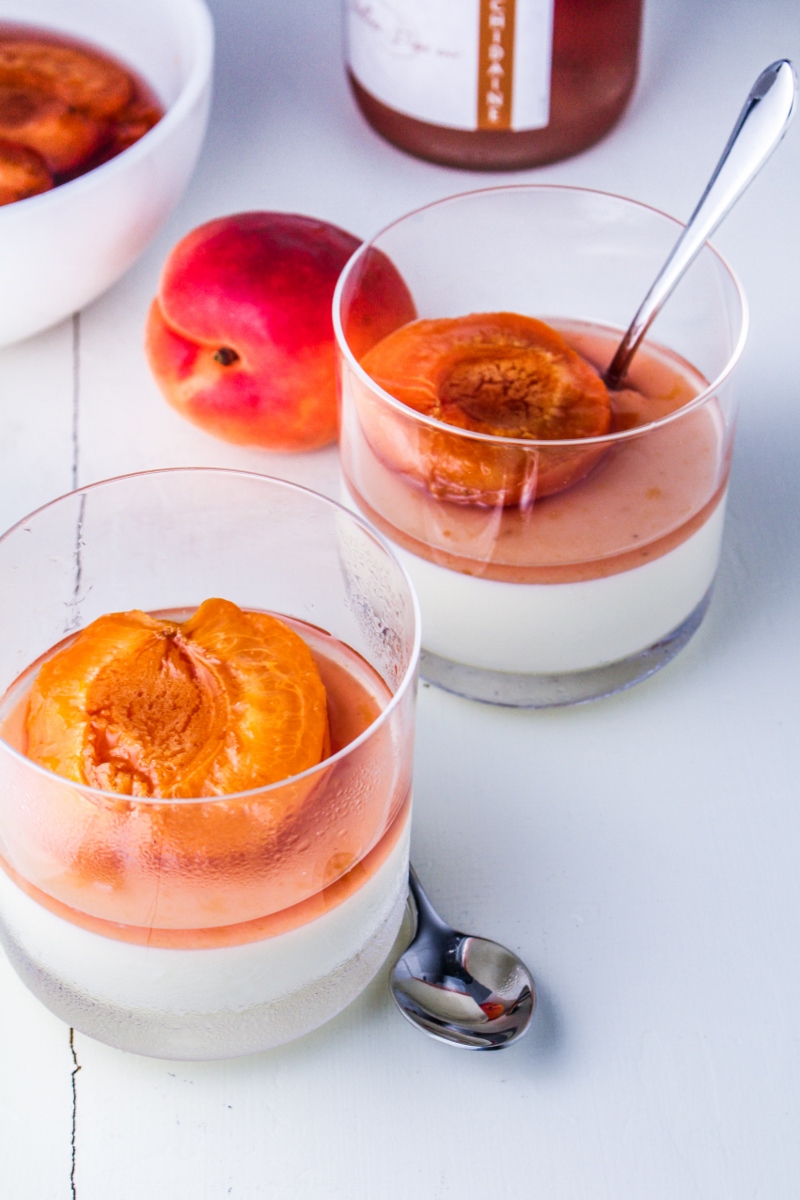 Basil Panna Cotta with Rosé-Poached Apricots
Serves 4.
1 1/2 c. heavy cream
1/2 c. basil leaves, washed and dried
1 c. sugar, divided
1/2 vanilla bean
1/2 c. milk
1 1/2 tsp gelatin
3/4 c. rosé wine
4 fresh apricots, halved and pits removed
Add the heavy cream, basil, and 1/4 cup of the sugar to a small saucepan. Split the vanilla bean lengthwise and scrape the seeds out into the cream with a small spoon, then add the vanilla bean pod to the cream as well. Heat the cream over medium heat, stirring gently to dissolve the sugar, until the cream just comes to a simmer. Remove from the heat and let sit for 15 minutes, then strain the cream through a fine mesh strainer into a bowl. Cover with plastic wrap and chill until cold, at least 30 minutes. Discard the basil.
Add the milk to a small saucepan and sprinkle the gelatin over the top of the milk. Stir gently to combine. Let the gelatin sit for 10 minutes to hydrate, then heat over medium-low heat just until the gelatin dissolves, which should take about 90 seconds to 2 minutes. Remove from the heat, whisk to combine, then pour into the chilled basil-infused cream. Whisk the mixture for 1 minute to fullly combine and to begin to chill the gelatin, then divide the mixture between four ramekins or glasses, cover each with plastic wrap, and chill until firm, at least two hours.
For the apricots: add the remaining 3/4 c. of sugar and the rosé to a small saucepan. Bring to a simmer, then gently place the apricot halves into the pot, submerging in the simmering liquid. Let simmer until soft, about 3-4 minutes, then remove with a slotted spoon to a bowl. Continue simmering the liquid until it is reduced by half and slightly syrupy, about 10-15 minutes. Remove from heat and pour over the apricots. Cover the apricots and syrup and chill until cold.
Serve each panna cotta with one or two apricot halves and a few spoonfuls of syrup poured over the top. Serve cold.
0