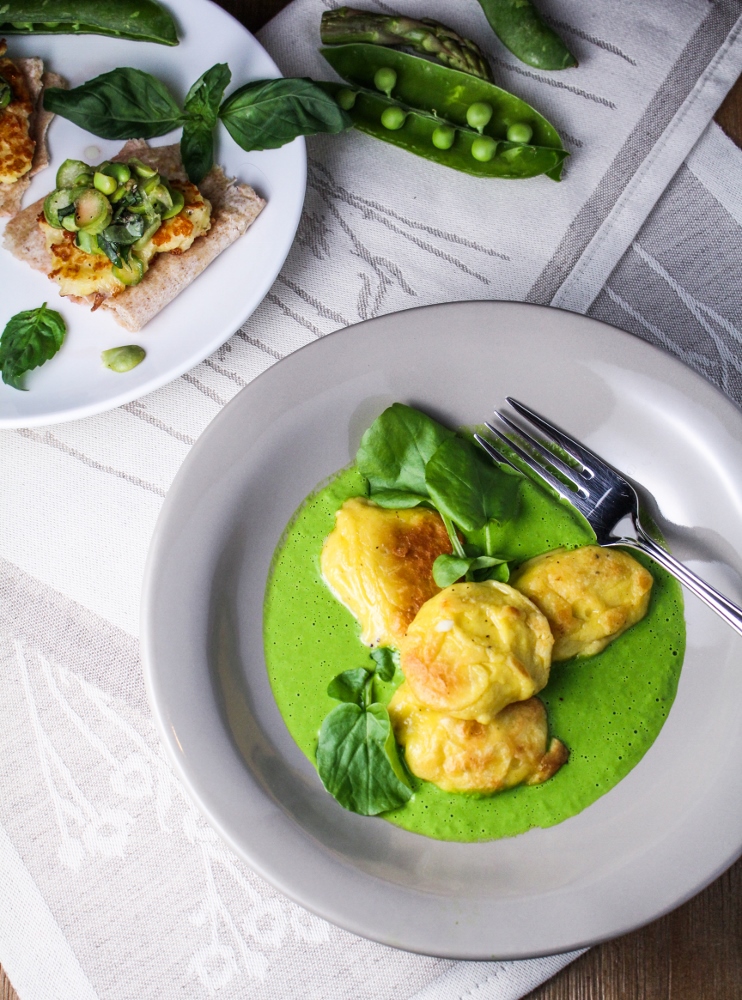 It's been ages since my last Sunday Dinner post. Five months to be exact. I've had a blog-color-coded Google Calendar event called "Sunday Dinner!" that I've been dutifully dragging forward from Sunday to Sunday, month after month, until finally, it found its resting place last week. Since we had just gotten back from two completely cooking-free weeks, I was fired up to be back in the kitchen, and looking ahead at the busyness of April, it didn't seem like there would be another chance to do a Sunday Dinner for a while, so I went all out. Although it is decidedly still wintery in Boston, the fava beans, English peas, asparagus, and strawberries that are being flown in from California were too tempting to pass up, so I pretended that I lived somewhere where it was spring and bought a little bit of everything.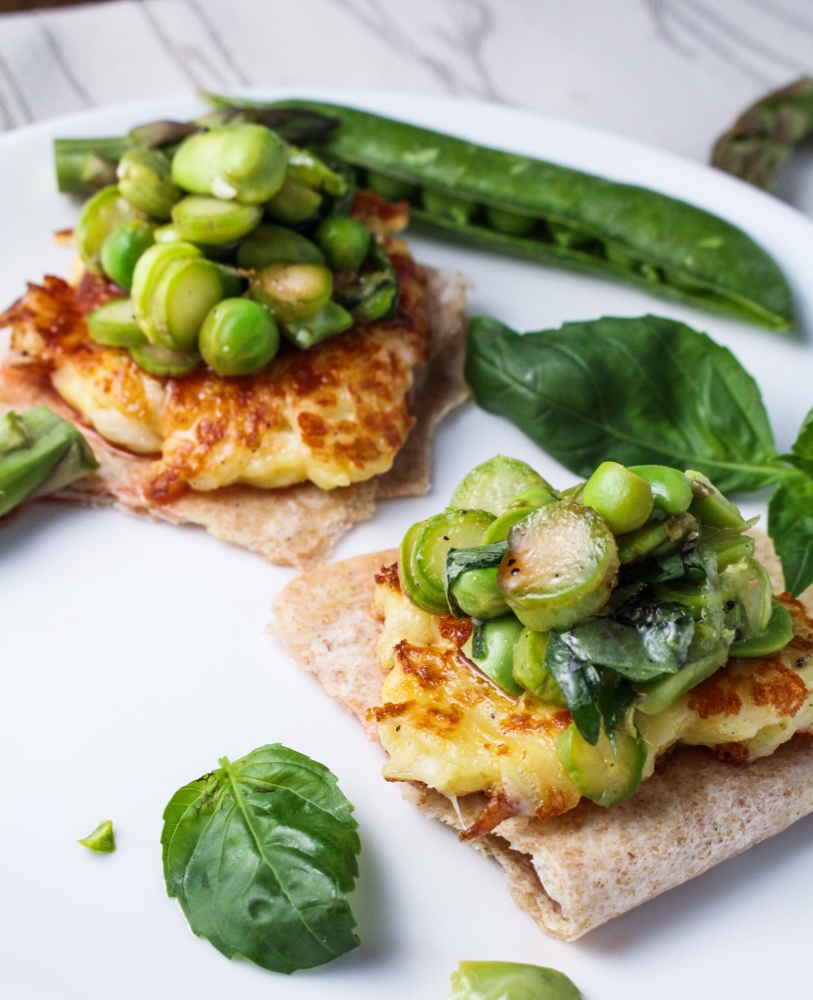 I haven't cooked from Girl in the Kitchen in a while, so I decided to make it the theme of this dinner. Stephanie Izard is a wonderfully creative cook, and I've made some great spring recipes from her in the past (like this Asparagus Pasta with Almond-Parmesan Crumble and a Poached Rhubarb and Goat Cheese Salad). This time, I chose to make the Fried Halloumi with Spring Veggies and Strawberry-Basil Gastrique as an appetizer, followed by French Gnocchi with Watercress Sauce as a main. Fried halloumi is something I've been wanting to try for a while, but the warm and gooey cheese ended up playing second fiddle to its toppings. The lightly dressed mixture of favas, peas, raw asparagus, and basil was fresh and lemony and very spring-like, and I would make just this component again to serve on its own, or perhaps to mix with couscous or scrambled eggs. The strawberry-basil gastrique was the polar opposite of the veggies – thicky, syrupy, sweet, and intense, paired with the fresh-tasting vegetables and the warm and mild cheese it was quite the flavor combination. The only challenge was finding an elegant way to eat them, as they're not quite finger food but not really large enough for a fork and knife.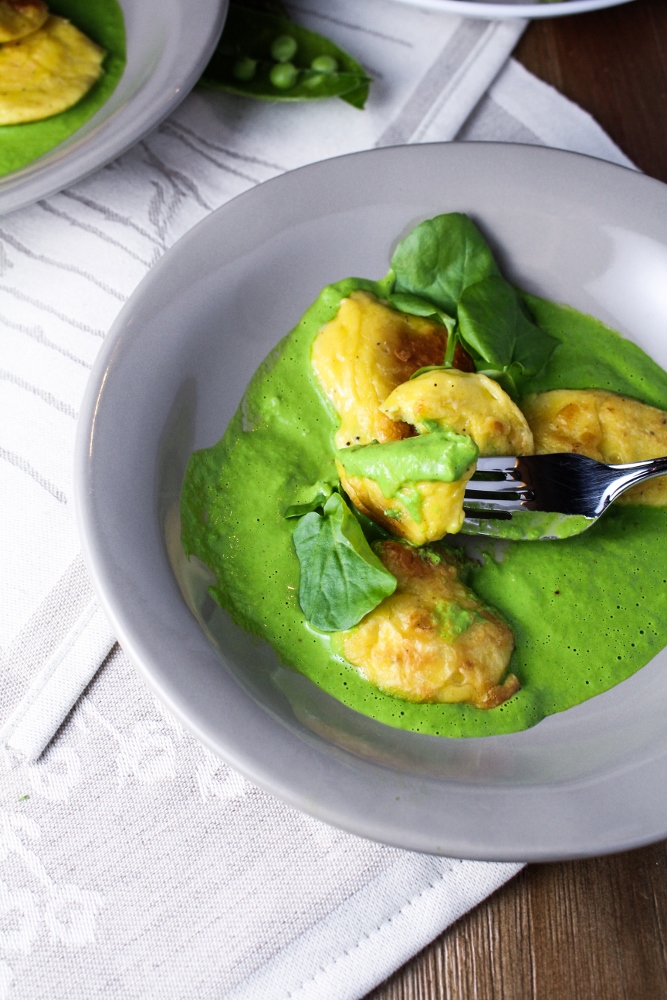 On to course two: we've made gnocchi a lot of different ways. We've made the traditional potato version (served with Argentinean-style beef short ribs), we've made sweet potato gnocchi, we've made ricotta gnocchi with corn and mushrooms (one of my all-time favorite recipes), and now, we've made "French" gnocchi. In the intro to this recipe, Stephanie explains that you can make a type of gnocchi by making a classic pate a choux dough, piping it into gnocchi-sized rounds, freezing them, and then cooking them still frozen. I was intrigued by this idea, as it's quite different than traditional gnocchi recipes I've seen, so I decided to give it a try. Ten eggs and a stick of butter went into the dough, so I had high hopes for its flavor, but in the end, I was kind of disappointed. While it's an interesting technique, my "gnocchi" spread out to the point that they looked more like little pancakes, and they kind of tasted like pancakes too. The simple watercress sauce they were served in was a beautiful color, but mostly just tasted like butter, in a sort of overwhelming way. I'm still sharing the recipe, as it has its strong points, but I wanted to give you my honest take on it, first.
As for dessert, I knew we would want something light after all that butter, and I wanted to use up at least a few of the 10 egg whites I had leftover from making the gnocchi. We also still have several pounds of rhubarb in our freezer from last spring, so it was high time that some of that got used up. With those constraints, I whipped up a sort of crustless strawberry-rhubarb meringue pie, baked in a casserole dish like a crisp or a crumble, and it ended up being my favorite course. I used a fair bit of cornstarch in the filling to make sure that the dessert would be semi-spoonable, then chilled it thoroughly before quickly broiling the meringue topping. With just a hint of vanilla, it was light, sweet, and just the right ending for a spring dinner.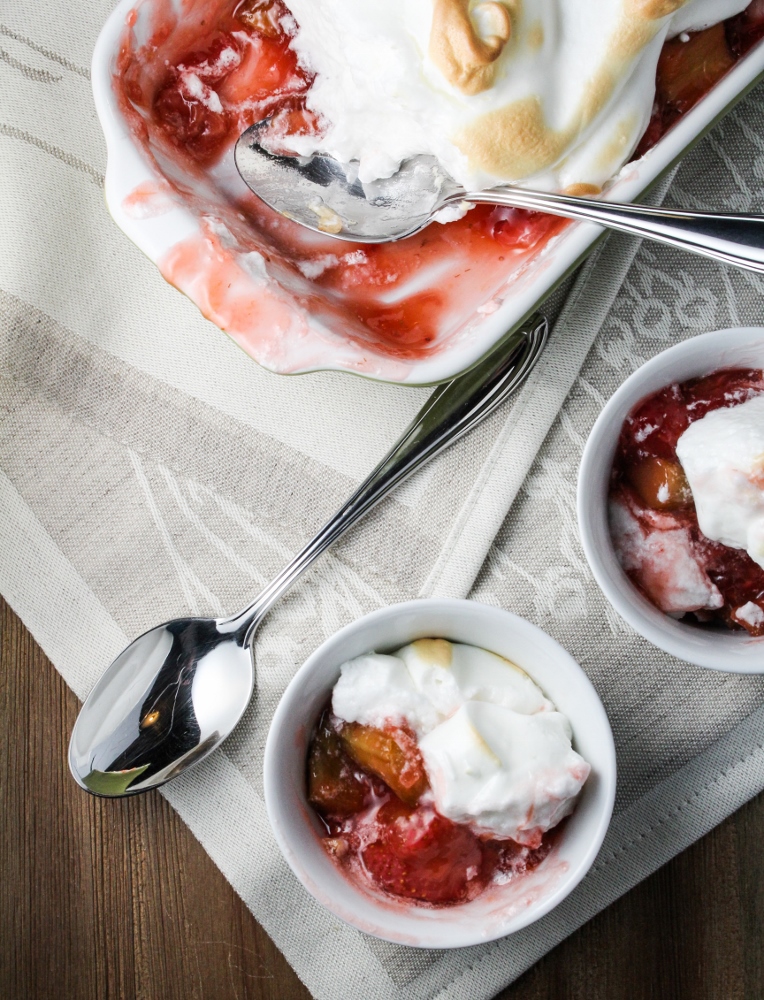 The Menu
Fried Halloumi with Spring Veggies and Strawberry-Basil Gastrique – see recipe below
French Gnocchi with Watercress Sauce – see recipe below
Strawberry-Rhubarb Meringue Pots – see recipe below

Past Sunday Dinners:
May 26, 2013: Coffee-and-Chile Rubbed Strip Steaks with Chimichurri Sauce; Charred and Smoky Belgian Endives; Oven-Roasted Potatoes; Strawberry-Sour Cream Ice Cream
July 1, 2013: Strawberry-Lime Agua Fresca; Smashed Pea, Dill, and Feta Crostini; Chilled Asparagus Soup with Meyer Lemon Yogurt; Mustard Spaetzle with Mushrooms; Ricotta Bavarese with Red-Wine Poached Rhubarb
October 28, 2013: Braised Lamb Shanks with Gremolata; Creamy Polenta with Fresh Corn and Blue Cheese; Roasted Brussels Sprouts; Classic Apple Pie
Like what you just read? Subscribe to Katie at the Kitchen Door on Feedly or Bloglovin', or follow along on Facebook, Twitter, Pinterest, and Instagram. Thanks for reading!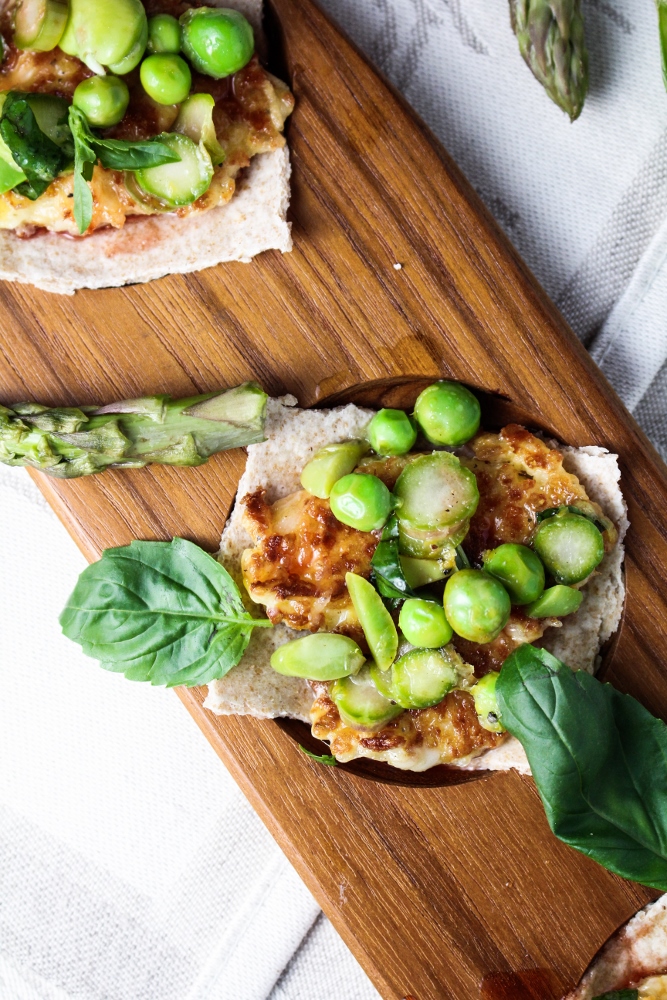 Fried Halloumi with Spring Veggies and Strawberry-Basil Gastrique
Adapted from Girl in the Kitchen. Serves 4-6 as an appetizer.
For the Strawberry-Basil Gastrique:
1 c. white balsamic vinegar
1 c. sliced fresh strawberries
1/4 c. packed fresh basil leaves
1/4 c. sugar
1/4 c. fresh lemon juice
Add the vinegar, strawberries, basil, sugar, and lemon juice to a small saucepan. Bring to a boil and then immediately reduce heat (keep an eye on it to prevent it from boiling over). Simmer to reduce the liquid by half, which should take 25-35 minutes. Strain, discard the solids, and allow the liquid to cool.
For the veggies and cheese:
3/4 c. shelled fresh fava beans
1/2 c. shelled English peas
4 spears of fresh asparagus
5 fresh basil leaves, chiffonaded
1 lemon
2 TBS olive oil
salt and pepper to taste
1 1/2 c. shredded halloumi or oaxaca cheese
1 large egg, lightly beaten
2 TBS flour
2 TBS canola oil
1 or 2 pieces of lavash, torn into bite-sized pieces (10 to 12 pieces needed)
Bring a small pot of salted water to a boil. Add the fava beans and English peas and boil just until bright green, about 2-3 minutes. Drain the beans and peas and plunge in ice water to cool. Pop the fava beans out of their paler shell by slitting with your thumb and pressing on the other end.
Slice the asparagus into very thin rounds. Add the asparagus rounds, fava beans, peas, and basil to a small bowl. Zest and juice the lemon, adding both to the bowl with the vegetables. Add olive oil, and salt and pepper to taste. Stir to thoroughly mix, and set aside.
Just before serving, stir together the shredded cheese, egg, flour, and salt and pepper to taste. Heat the canola oil in a large frying pan over medium-high heat. Place spoonfuls of the cheese mixture into the pan, forming small round pancakes, and pressing down lightly to compress the cheese. Cook until golden brown, about 1 minute on each side, then transfer to a paper towel. Repeat until all the cheese mixture is used up. Place the warm fried cheese on top of pieces of lavash, and top with a spoonful of the vegetables and a drizzle of the gastrique. Serve immediately.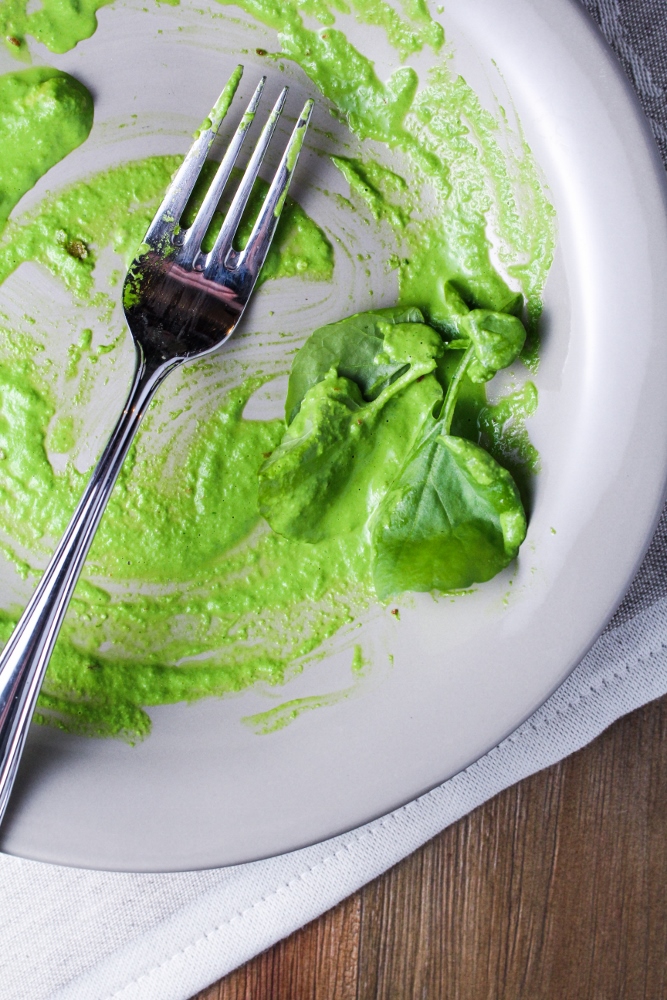 French Gnocchi with Watercress Sauce
Adapted from Girl in the Kitchen. Serves 4.
2 sticks (1 cup) of unsalted butter, divided
1/2 c. milk
1/2 tsp freshly ground black pepper
salt
1/2 c. plus 2 TBS flour
8 egg yolks
2 whole eggs
8 oz. fresh watercress, roots/stems removed
1/4 tsp red pepper flakes
Add 1 stick of butter, milk, pepper, and 1/2 tsp of salt to a small saucepan. Bring to a boil over medium heat, then add the flour and stir with a wooden spoon until the mixture pulls away from the sides of the pot. Cook for 30-60 seconds longer, still stirring, then remove from heat and continue stirring until the dough has cooled to room temperature.
Beat in the egg yolks and eggs one at a time, mixing completely between additions. The dough should have the consistency of a tacky paste. If the dough seems runny, chill the dough in the fridge for 20-30 minutes before piping/forming the gnocchi.
Line a baking sheet with parchment paper. Either use a pastry bag to pipe 1-inch dots of the dough onto the baking sheet, or use a tablespoon measure to scoop small rounds (I tried both and preferred scooping). Once the baking sheet is filled, freeze until gnocchi are solid, which should only take 10-15 minutes.
When ready to serve, bring a large pot of salted water to a boil. Add the frozen gnocchi to the boiling water and cook them for about 4 minutes – they will float to the top when they are done. Remove them with a slotted spoon and transfer them to a large bowl.
Add the watercress to the boiling pasta water and blanch until tender, about 2-3 minutes. In a small pot, melt 6 TBS of the remaining stick of butter. Add the melted butter to a blender, then use a slotted spoon or tongs to transfer the cooked watercress from the pot to the blender. Blend on high until smooth, then season with red pepper flakes and salt.
Place the remaining 2 TBS of butter in a saute pan over medium-high heat. Add the gnocchi to the pan and saute until they are golden brown. Toss with the watercress sauce and serve.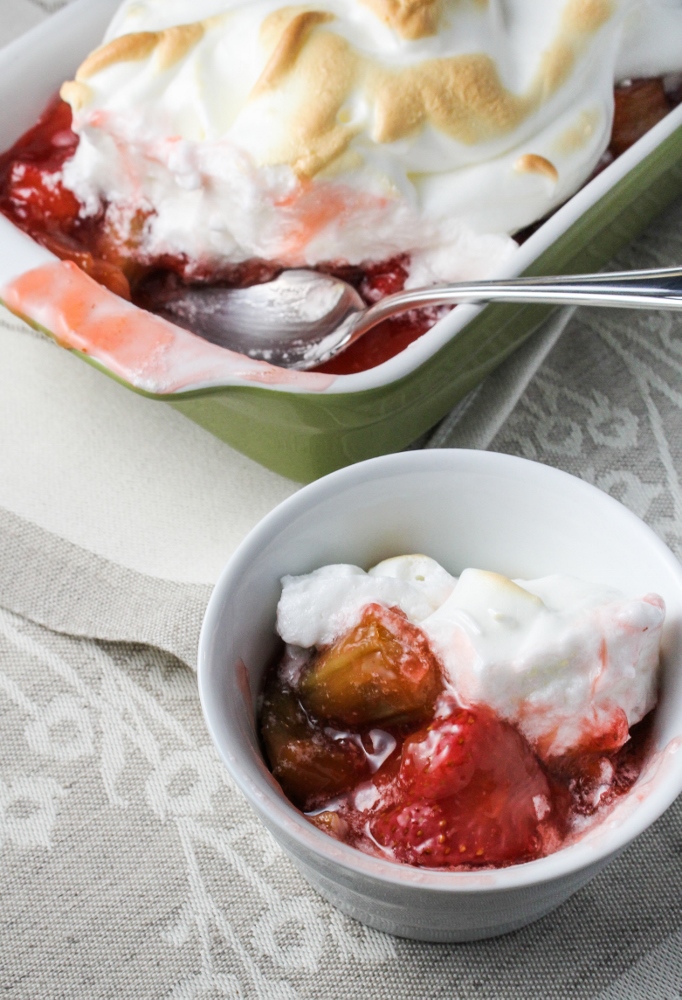 Strawberry-Rhubarb Meringue Pots
Serves 4.
2 c. sliced rhubarb, in 1/2 inch pieces
2 c. sliced strawberries
3/4 c. plus 1/4 c. sugar, divided
1/4 c. cornstarch
3 egg whites
Add rhubarb, strawberries, 3/4 c. of the sugar, and cornstarch to a small saucepan, and stir to combine. Bring to a boil over medium heat, then reduce heat and simmer, stirring occasionally, until mixture is very thick and fruit is broken down, about 10 minutes. Pour mixture into a small, oven proof casserole dish or ramekin. Refrigerate until chilled.
Beat the egg whites on high until frothy, then add sugar and continue to beat until whites are stiff and shiny. Spread meringue over the top of the strawberry-rhubarb mixture with a spatula, forming peaks as you do. Preheat the broiler. Broil on high until meringue is just beginning to turn golden brown, about 5 minutes. Remove from oven and serve immediately.
1