I had a friend in Prague named Violeta.  Violeta is Argentinean.  Violeta's mother is a caterer.  Violeta's brother is a chef.  Violeta is the best cook I have ever met.  She is just one of those people with an intuition for food – no recipes and everything always turns out better than I thought food could taste.  Living down the hall from her?  Major perk.  That room always smelled great, and if you went by around dinnertime looking for an extra egg or a homework assignment you could usually steal a bite of whatever she had made.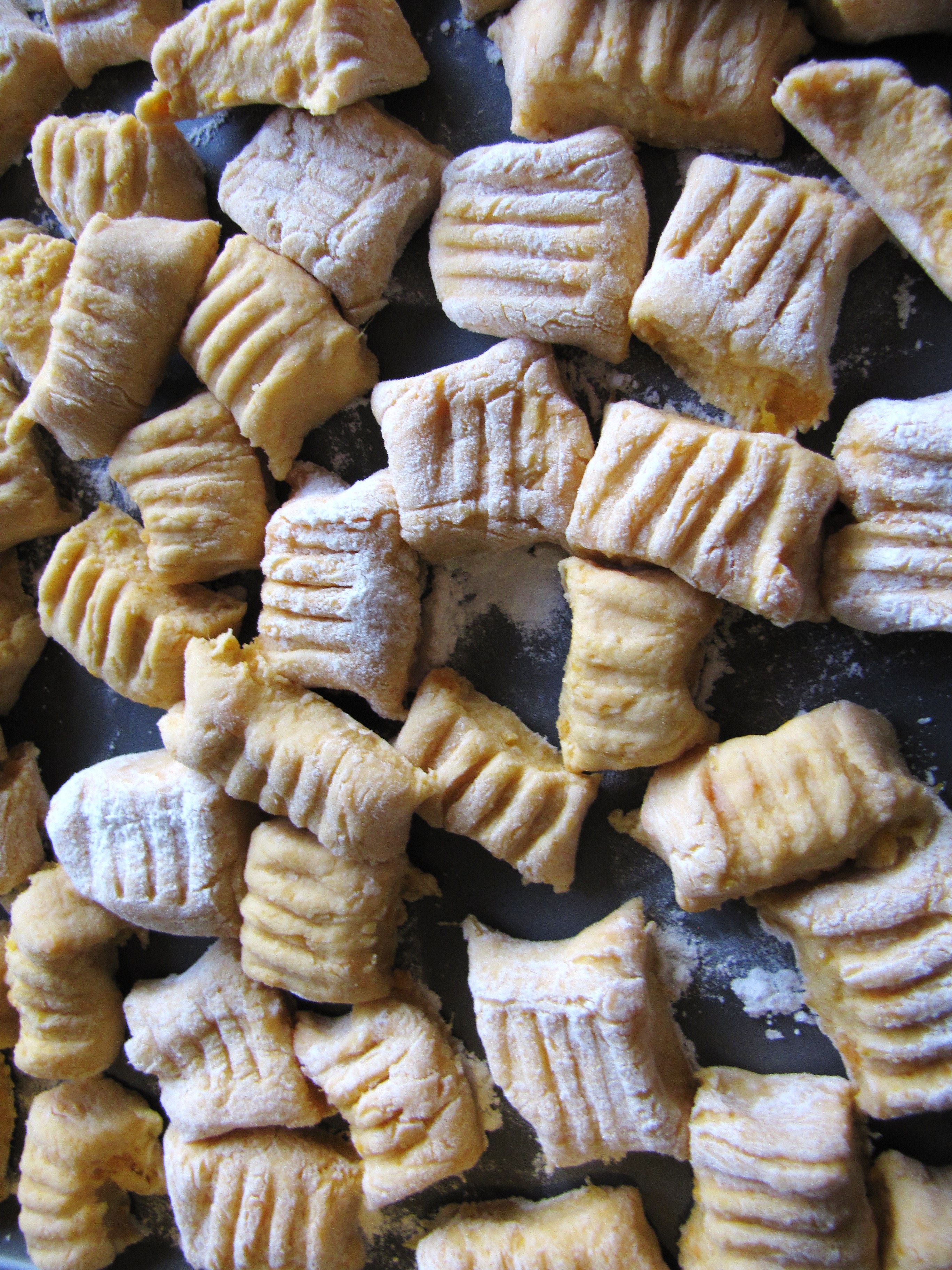 My first experience with homemade gnocchi was through Violeta.  She decided to host a dinner party in our dorm, Osadni.  The menu was homemade gnocchi with either meat sauce or vegetable sauce.  The size of the guest list was eighty.  EIGHTY.  Homemade gnocchi for eighty people??  Major undertaking.  But she pulled it off and of course everything was delicious and after eating our resident band The Relatives played a very intimate concert in one of the piano rooms and Prauge is just a magical place.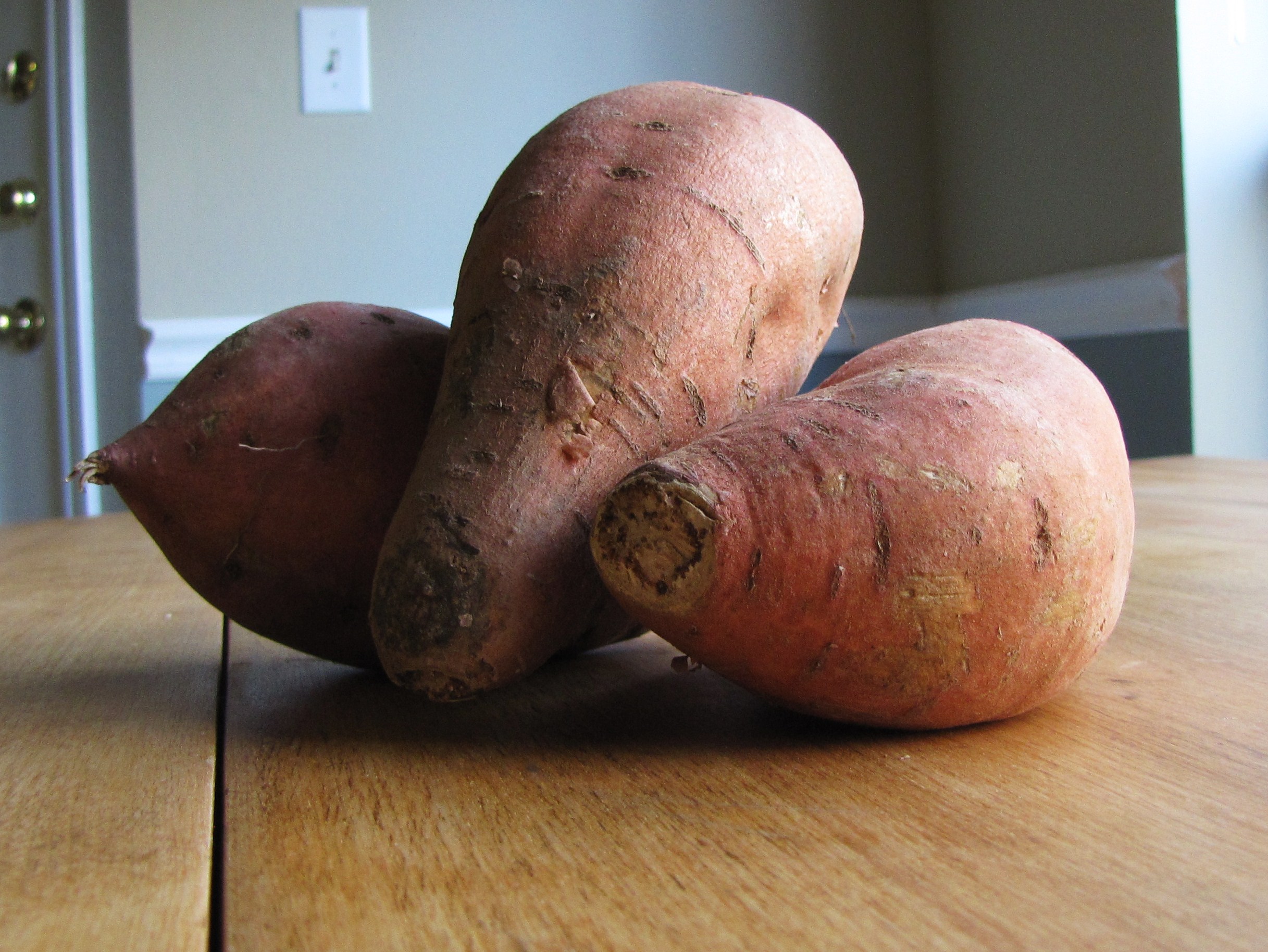 Sweet potatoes also have a special Prague story.  It's very short: you can't get them.  There are a lot of foods that are still very hard to find in Prague, even if you can find them in Germany, Austria, Hungary, and Poland.  The Czech Republic is still a bit more closed than it's neighbors.  At first this was a major source of frustration for me, but it ended up forcing me to explore the city in search of things like cranberries and cilantro.  And sweet potatoes.  Which I never found.  But my neighbor Steph did.  As Thanksgiving approached everyone got a little bit anxious about how Thanksgiving would be so far away from home (it was great – Violeta cooked) and people began to scramble to put together their favorite dishes, which is why Steph went to the TESCO hypermarket and bought their entire supply of sweet potatoes.  Which I think was about six.  They were delicious, and oh so American.
These sweet potato gnocchi are not specifically something I ate in Prague, but they definitely remind me of it a bit, which makes any food better.  At least for me.  But for everyone who is not me, these were also easy and fun and very tasty.  Gnocchi have a reputation for being difficult to get right, but these came together very well on the first try.  Of course, that could be because they're not traditional potato gnocchi.  Or it could just be because I'm awesome.  But it's most likely because it's a very good basic recipe.
Here's the gist of the recipe, originally from Bon Appetit: cook 2 or 3 sweet potatoes in the microwave and let them cool.  I was impatient and tried to scrape them out hot, which resulted in pain (I would say minor burns but I would be exagerrating too much).  If you're really in a hurry, wrap the bottom of the potato in a towel to protect yourself.  Scrape all of the insides of the potatoes out and mash with a fork.  Don't worry too much about chunks of potato that won't mash – as long as they're not too big they won't affect the final consistency of the gnocchi.  Mix ricotta and grated parmesean into the sweet potato mash, followed by brown sugar and salt.  Stir, stir, stir.
Once you have an even mixture, begin incorporating flour by the half cup.  I used 2 1/2 cups of flour for 3 medium sized sweet potatoes, and probably ended up incorporating another cup during the rolling process so that I had a workable dough.  I was worried that my dough would be too flour-y, but it turned out fine.  Divide the dough into six equal pieces and roll them into worms about an inch thick.  I had so much fun doing this – it was like being in elementary school art class.  I almost made a coil pot out of one worm but I refrained.  Don't play with your food, unless it's in the recipe instructions.  Cut your worms into 20 or so equal sized pieces.  They look like little pillows, and they have a great fluffy texture too.  If you're feeling fancy, gently press a fork onto the top of each pillow for that true gnocchi look.  And once you've done that – boil them!  The recipe says to cook them in batches and then leave them out on the counter until you're ready to re-heat them in whatever sauce you are going to serve them in, so that's what I did.  I was wondering though if you could refrigerate the dough for 24 hours or so and cook them the next day, or if it would be better to cook them and then refrigerate them.  Thoughts?  The only problem I had with leaving them out on the counter already cooked was that every time I walked by I popped one into my mouth, so I had about 20% less at dinner time then I did at 4PM.  Oh well.
I served these in a sage-gorgonzola sauce adapted from Gretchen's Cookbook.  It was delicious!  Margie (my roommate from Prague, just so many connections) came over and Megan was home and the three of us ate 2/3 of this recipe.  The other 1/3 was in the freezer so we couldn't eat that.  I would say that this recipe makes 5 dinner sized servings, but people who eat less than me (i.e. regular amounts) might get 6 or 7 servings out of it, especially if you skipped the 20% reduction on the counter. =D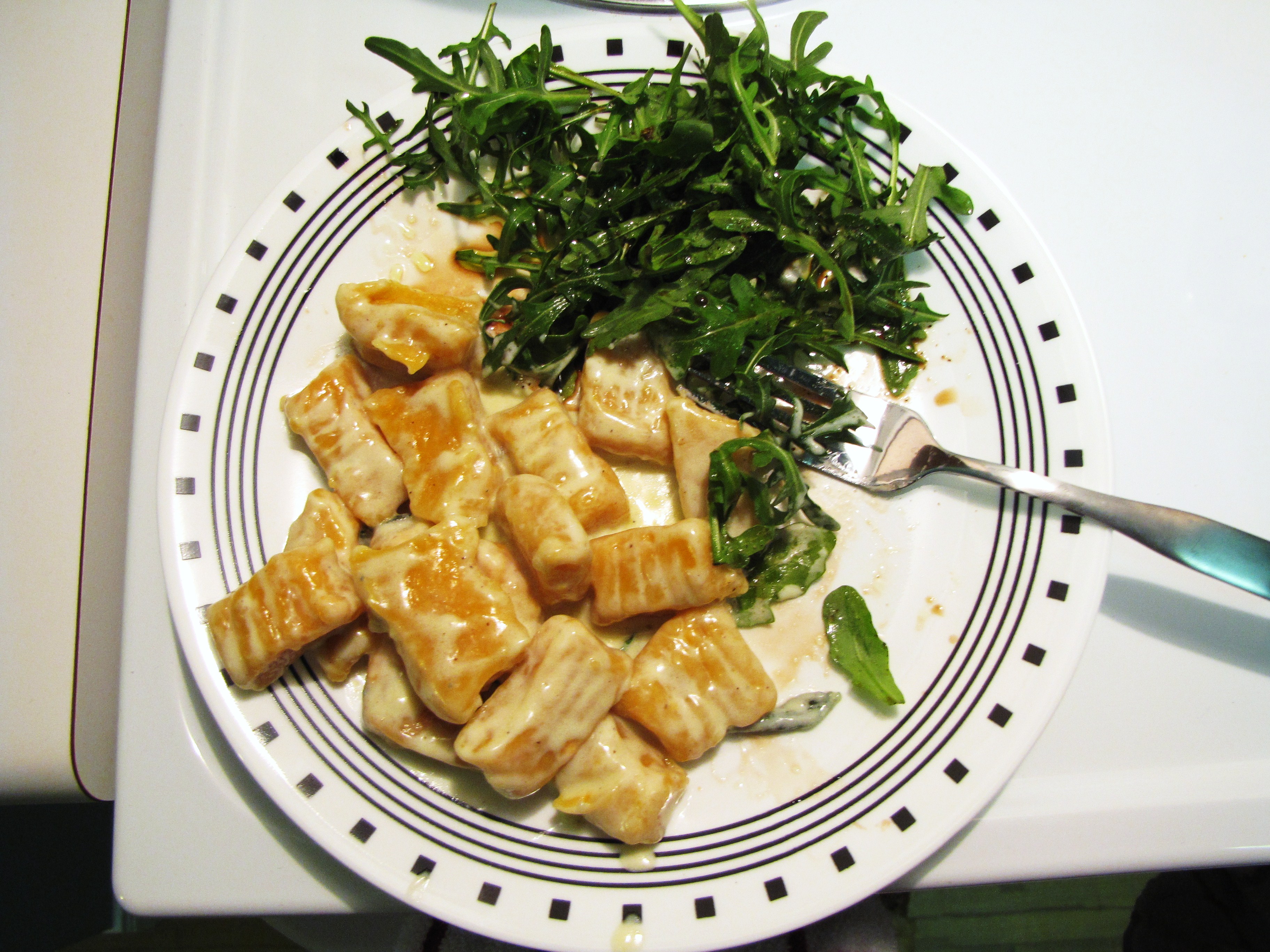 Sweet Potato Gnocchi in Sage-Gorgonzola Cream Sauce
makes 5-6 large servings
For the gnocchi:
2 lbs. sweet potatoes
12 oz. ricotta cheese, drained for 2 hours
1 c. parmesan cheese, grated
2 tsp. salt
2 T brown sugar
1/2 tsp nutmeg
2 1/2 c. flour, plus more for rolling
For the sauce:
3 T butter
10-20 leaves sage
1 clove garlic, peeled
1 c. heavy cream
1/2 c. crumbled gorgonzola
black pepper
Sweet Potato Gnocchi
Wash the sweet potatoes and poke all over with a fork.  Microwave on high until tender, about 7 minutes per side.  Cut in half and allow to cool.
Scrape the potato out of the skin into a large bowl.  Mash with fork.  Add ricotta cheese and stir until well-blended.  Add parmesan cheese, brown sugar, salt, and nutmeg, and stir until mixture is even.
Add the flour a half cup at a time, incorporating slowly, until a soft dough is formed.  Turn the dough out onto a well-floured counter.
Divide the dough into 6 equal portions.  Roll each portion between your palms and the floured surface until it is a log with thickness of about 1 inch.  Cut each log into 20 pieces.  Gently press the tines of a fork into the tops of pieces.  Place pieces on a floured pan to prevent sticking.
Bring a large pot of water to a boil.  Once boiling, add about 2 T of salt, and return to boil.  Boil the gnocchi in batches until tender – they are done cooking when they float to the surface of the pot.  Re-salt between batches.  Return cooked gnocchi to a clean, lightly oiled pan, and allow to stand at room temperature for up to 4 hours.
Sage-Gorgonzola Cream Sauce
Melt butter in a large skillet over low heat.  Add sage leaves and garlic clove and allow to stand 2 to 3 minutes.
Add cream, gorgonzola, and black pepper to taste, and stir until cheese is melted.
Add gnocchi to skillet and coat with sauce, cooking until heated through.