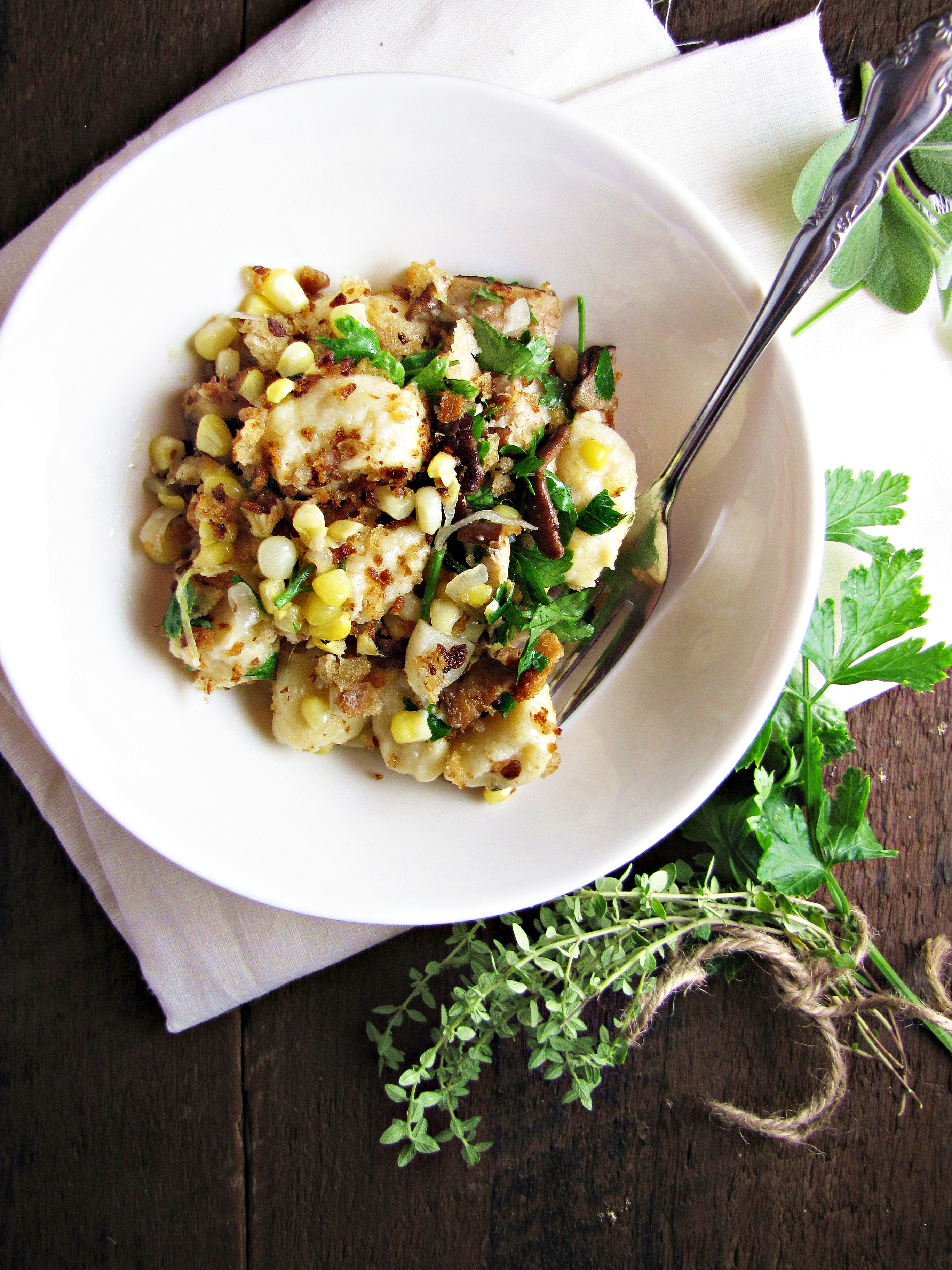 It's been a while since I've managed to publish one of these things in the month that it's supposed to be in, but I'm ready this time, and with a few days to spare before we move into September (September!  Already?).  Perhaps I'm more on top of things because this month's book, Sunday Suppers at Lucques, is one of my absolute favorites, and cooking from it all month has been anything but boring.  It's up there with Antojitos and In the Sweet Kitchen as a cookbook that I turn to again and again, always producing great results, always exciting and inspiring.  I get the feeling that I could cook every single recipe from this book and be amazed by the results every time.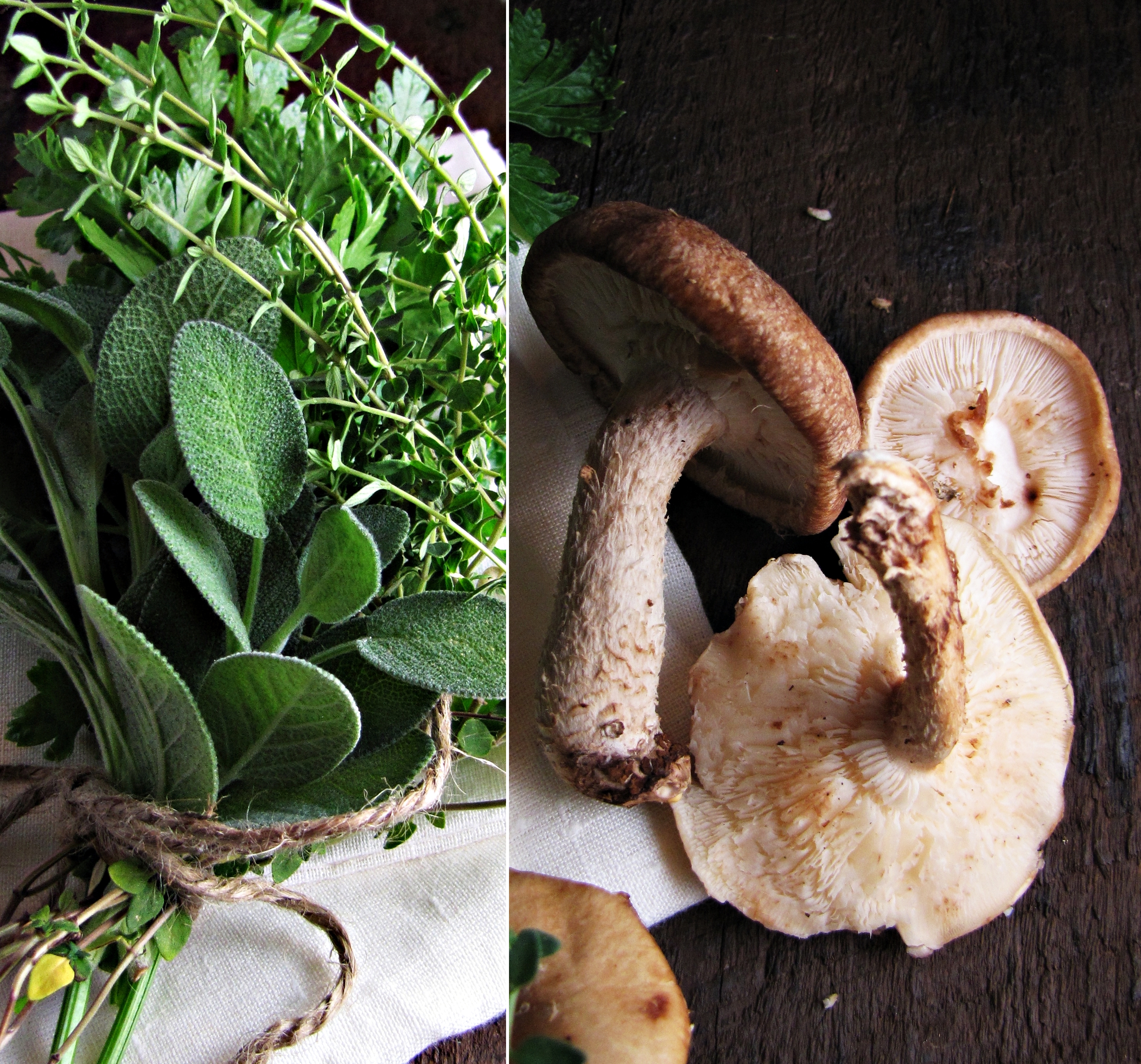 Written by Suzanne Goin, owner of the prestigious California restaurant Lucques, Sunday Suppers at Lucques is the ultimate entertaining cookbook for an ambitious home cook.  Organized into seasonal menus with 4 dishes per menu, the recipes are not simple or quick, but they are certainly inspired.  The five or six recipes I've tried have all been jam-packed with flavor, color, and texture.  Each menu tends to have a lot of different elements in it, but as long as you're not in a hurry and you go into it ready to enjoy the process, the techniques are simple and rewarding.  And even though this book was published almost 7 years ago, none of the menus are tired or overdone.  For example, one spring menu has you start with an Endive, Meyer Lemon, Fava Bean, and Olive Salad, followed by Hawaiian Snapper with Green Rice and Cucumbers, a Leg of Lamb with Chorizo Stuffing, and finished off with Vanilla Semifreddo and Rhubarb Compote.  In the winter, you may find yourself itching to try the menu that starts off with a Broccoli, Burrata, and Pine Nut Salad and ends with a Meyer Lemon and Chocolate Tart.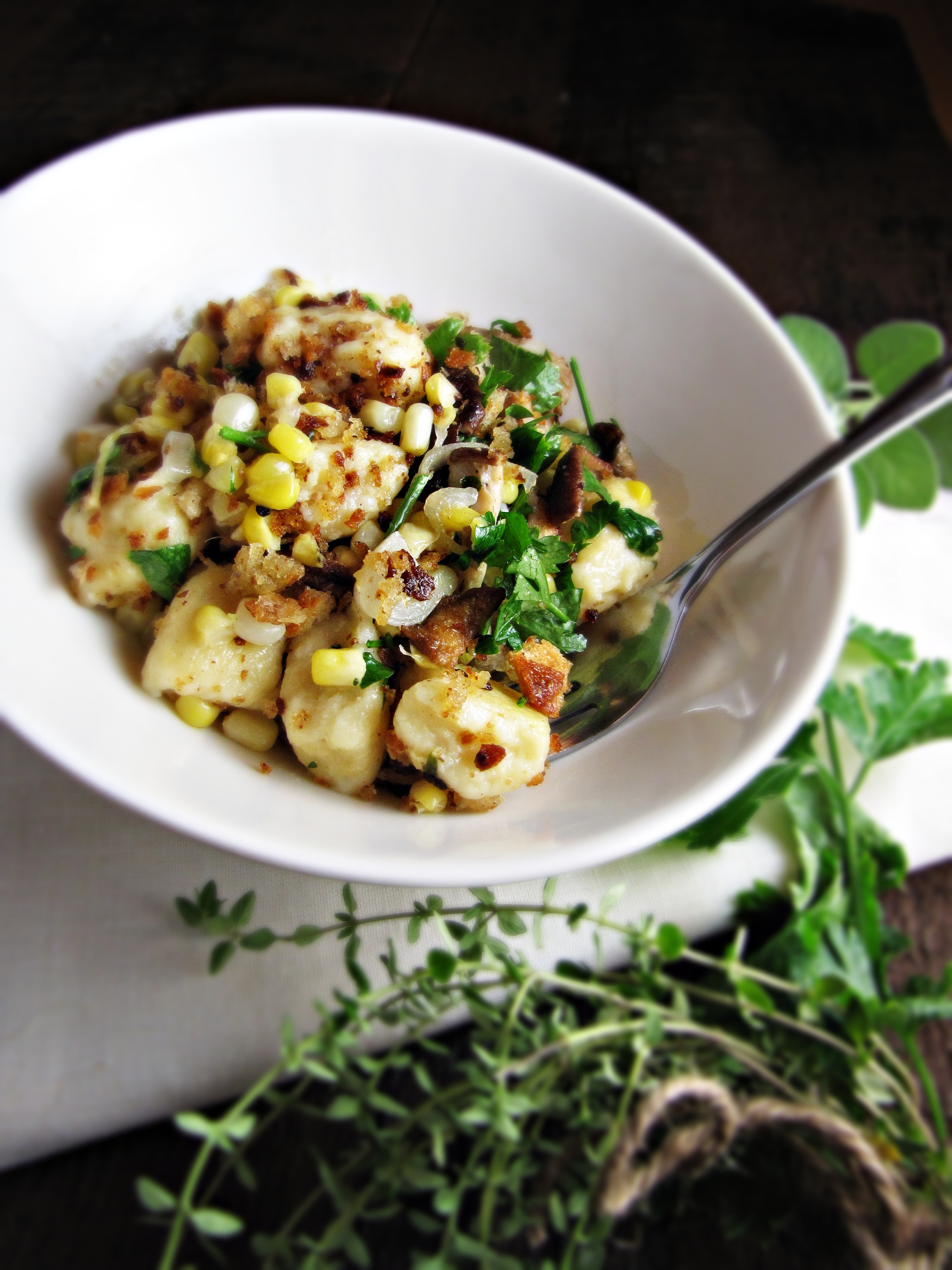 I thought it was only appropriate to share the first recipe I made from Sunday Suppers at Lucques, a dinner I made over two years ago when my aunt and cousins were visiting us in Maine.  Now, making homemade gnocchi for 8 is not necessarily something I would recommend unless you really like making gnocchi, but making this meal when you have a little bit of extra time on hand and someone to impress is definitely recommended.  If you've never tried them before, ricotta gnocchi will be a delightful change from traditional potato gnocchi – they are incredibly light and fluffy, a little bit sweet and rich from the cheese, and not too difficult to work with.  Sauteed with some mushrooms, sweet corn, and a bunch of summer herbs (as well as a copious amount of salty butter), they make the perfect late summer meal.
I'm far from done experimenting with this book.  In fact, I'm planning on putting together a full menu from the summer section of this book this weekend – if it's successful, I'll be back with more recipes.  Come fall, I've got a bunch more recipes flagged to try, including Tunisian Lamb-and-Eggplant Stew with Farro, Cranberry-Walnut Clafoutis with Bourbon Whipped Cream, and Grilled Duck Breasts with Roasted Grapes and Potato-Bacon Gratin.  Sounds luxurious, doesn't it?  In the meantime, give this one a try, or check out some of the other ones I've shared in the past.
More from Sunday Suppers at Lucques: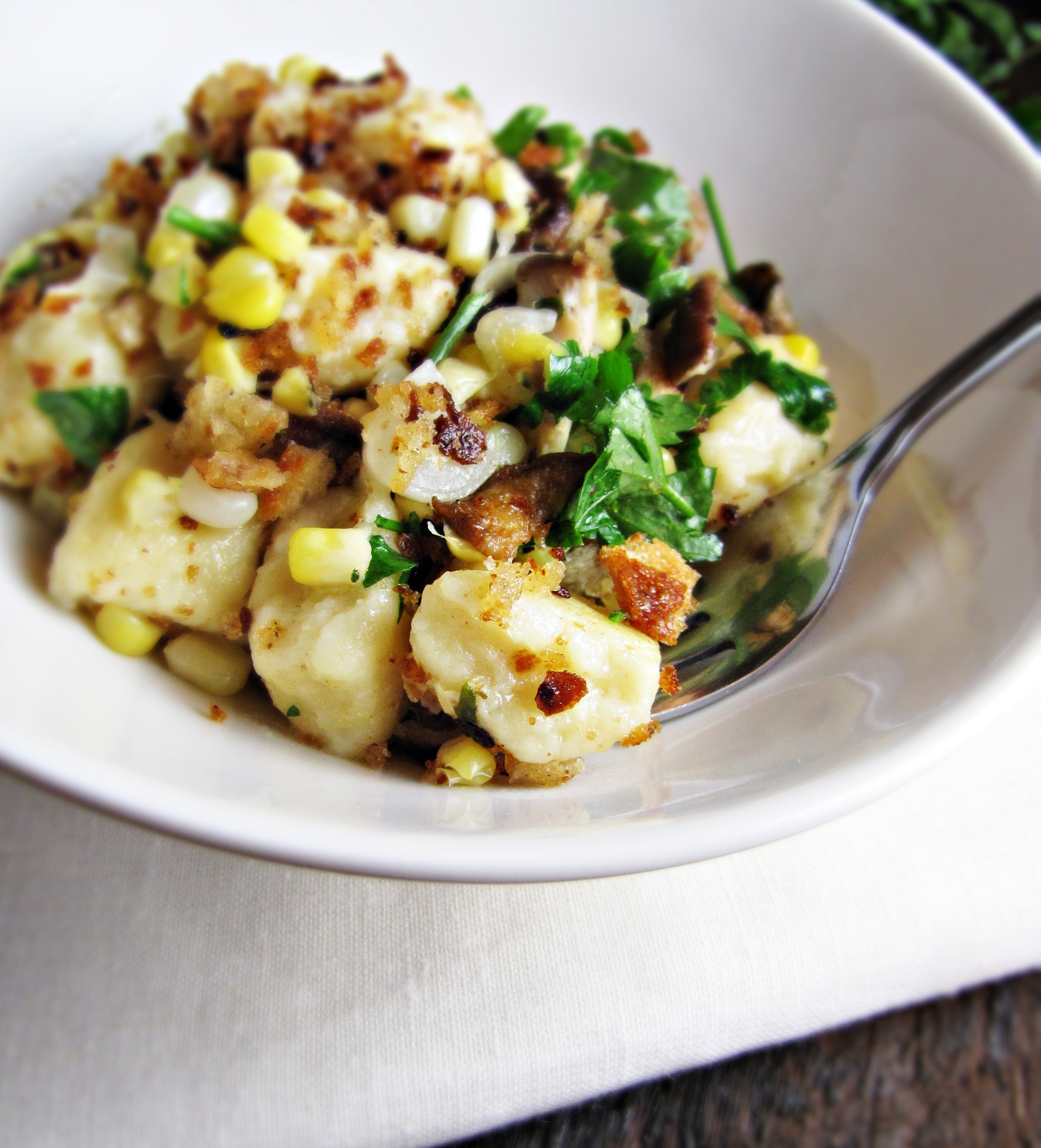 Ricotta Gnocchi with Mushrooms, Sweet Corn, and Sage Brown Butter
Recipe adapted slightly from Sunday Suppers at Lucques.  Serves 6.
For the gnocchi:
2 eggs
2 c. flour
1 lb. whole milk ricotta, drained of excess liquid
3 TBS olive oil
salt and pepper
Beat the eggs together in a small bowl.
Whisk together flour, 1 tsp salt, and 1/4 tsp pepper in large bowl.  Add the ricotta, and use two butter knives to cut the ricotta into the flour.  When they are evenly mixed, make a well in the middle of the bowl and add the eggs.  Use a fork to slowly incorporate the eggs into the flour/ricotta by dragging a small portion of the eggs out into the flour, mixing gently, then returning to the center.  Once eggs are fairly well mixed in, use your hands to briefly knead the dough, just until it comes together into a ball.  If it is too moist to work with, add a bit more flour (careful, too much flour or kneading will make it tough).  Turn dough out onto a lightly floured cutting board, cut into eight equally sized pieces, and cover with a kitchen towel.
Bring a large pot of salted water to a boil.  One at a time, take dough pieces out from under towel and roll out into a 1-inch thick rope on a floured work surface.  Gently cut the rope into 1 inch slices and sprinkle with flour.  If you're feeling fancy, roll the gnocchi over the tines of a fork, but this step is purely decorative.
In batches, cook the gnocchi in the boiling water for a few minutes.  Once they rise to the surface, they need to cook for about 1 minute more before they are done.  The whole cooking time should be less than 5 minutes per batch.  Transfer the gnocchi to a large baking sheet and toss with olive oil.  You may make the gnocchi ahead of time and refrigerate or freeze if using later in the week.
For the sauce:
1 recipe gnocchi, see above
1 1/2 c. fresh breadcrumbs
4 TBS olive oil
7 TBS butter
1 lb. mushrooms, preferably wild, cleaned and sliced into uniform pieces
1 TBS thyme leaves
1 TBS sliced sage leaves
kernels from 4 ears fresh corn
2 large shallots, finely diced
1.2 c. chopped flat-leaf parsley
salt and pepper
Heat 2 TBS olive oil in a large saute pan over medium-high heat.  Add the breadcrumbs and stir to coat with oil.  Cook, stirring occasionally, until breadcrumbs are toasted and golden brown.  Remove from pan and set aside.
Add remaining olive oil plus 1 TBS of the butter to the pan, and heat until the butter foams.  Add the mushrooms, thyme, 1/2 tsp salt, and pepper.  Saute the mushrooms about 5 minutes, until golden brown and beginning to crisp.  Don't move them around in the pan too much – let them begin to caramelize on each side before turning.  Remove mushrooms from pan and set aside
Add remaining 6 TBS of butter to the pan and cook until the butter begins to brown and smell nutty.  Scrape the brown bits from the bottom of the pan, then add sage, cook for 1 minute or until it sizzles, then add corn, shallots, 1 tsp salt, and pepper.  Saute quickly, stirring the whole time, until corn is tender, about 2-4 minutes.  Add prepared gnocchi to pan and toss to coat gnocchi with butter.  Add mushrooms, parsley, and breadcrumbs, and heat the whole dish through if necessary.
Remove from heat and season to taste.  Serve hot.