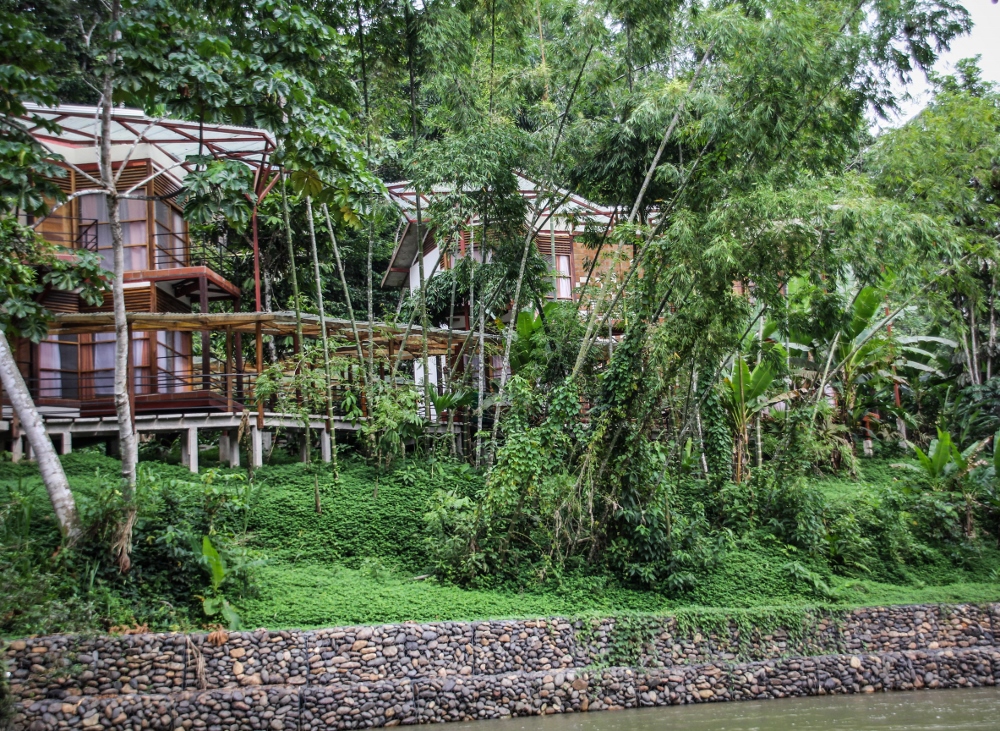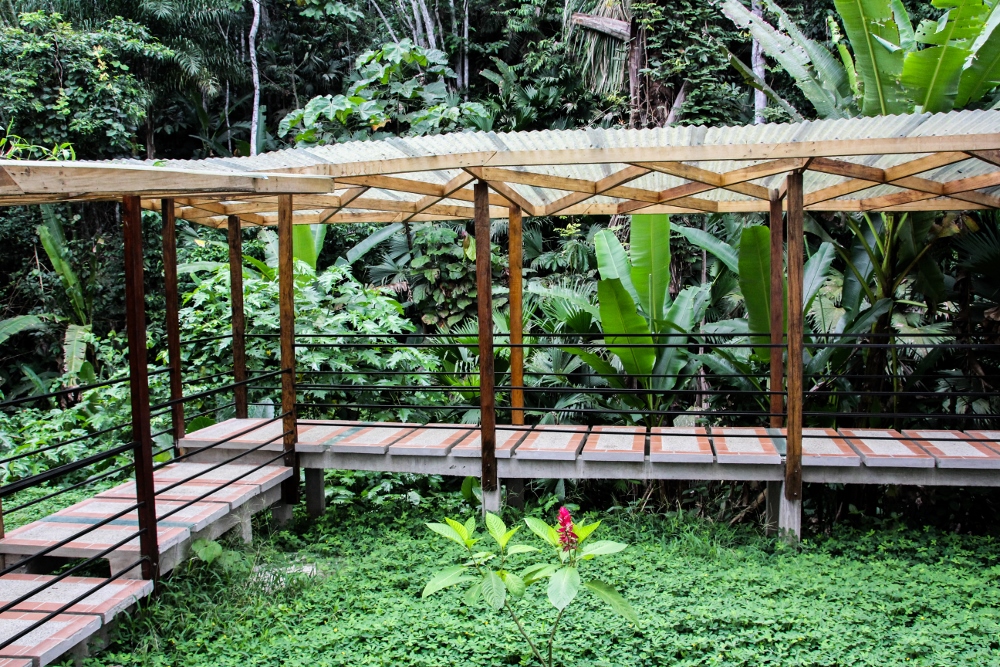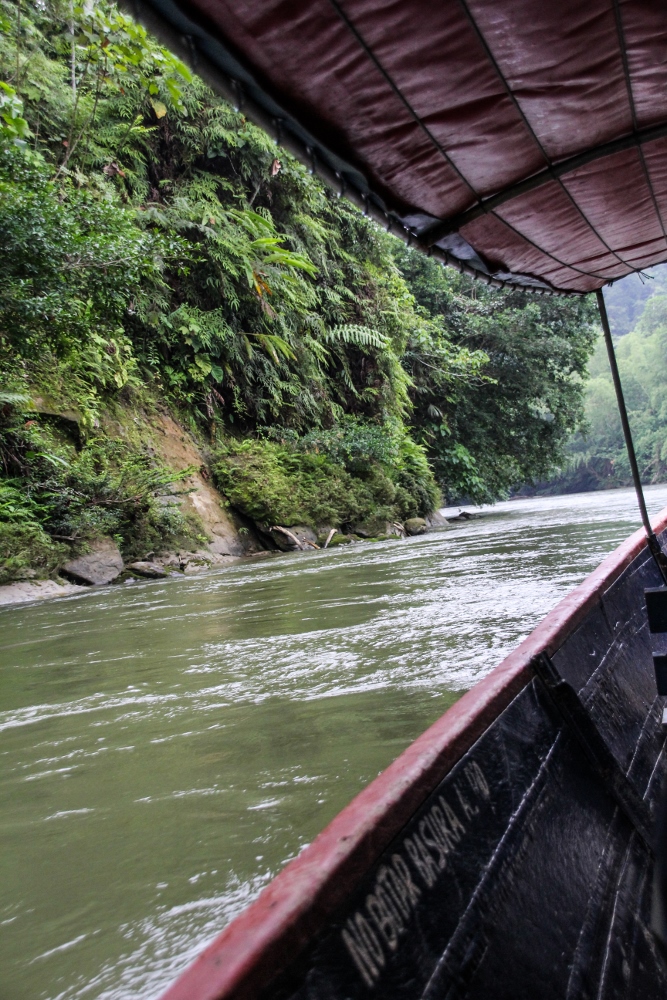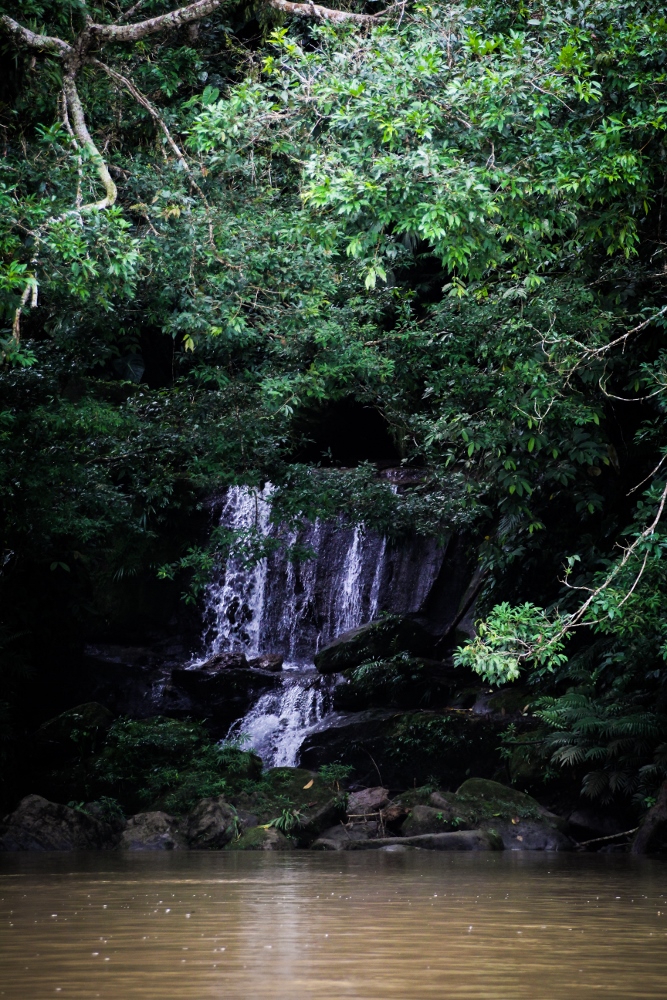 Itamandi Lodge – Facilities
For our three day jungle experience, we stayed in the newly opened Itamandi Lodge, an eco-lodge on the banks of the Arajuno river. The lodge is only accessible by boat (specifically, by 30-ft long motor canoe), so we were picked up at the Arajuno bridge, fairly close to the town of Tena, loaded into the boat with our luggage, and whisked up the river. Itamandi is one of the more accessible lodges, being only 20-30 minutes from a road; other jungle lodges, including another property by one of the owners of Itamandi, require an eight hour boat ride to access. I have to say, it was unnerving enough being in an unfamiliar environment 20 minutes from a road – I can't imagine being eight hours from one. The design of the lodge is very nice, well integrated into the jungle, with covered walkways everywhere to protect you from the frequent rainstorms, a large open dining pavilion, a beautiful long pool that uses a small amount of salt-water instead of chlorine for disinfecting, and spacious rooms with views of the river and lots of tropical hardwoods. We actually loved the pool, which was deep enough for diving and long enough for laps, and spent way more time in it than we anticipated – it's really nice to be able to cool off after trekking through the sticky jungle. As far as eco features go, besides the pool, there was a big array of solar panels for energy, and the toilets and waste water systems were composting. There were probably other features, but I don't get that into that stuff so I didn't take note of them. The five of us were the only guests for the three days that we were there, so we had the undivided attention of all the staff, which felt both really luxurious and a little strange. That said, everyone on the staff was wonderful, friendly, and took excellent care of us, making our experience decidedly more positive than it would have been without them.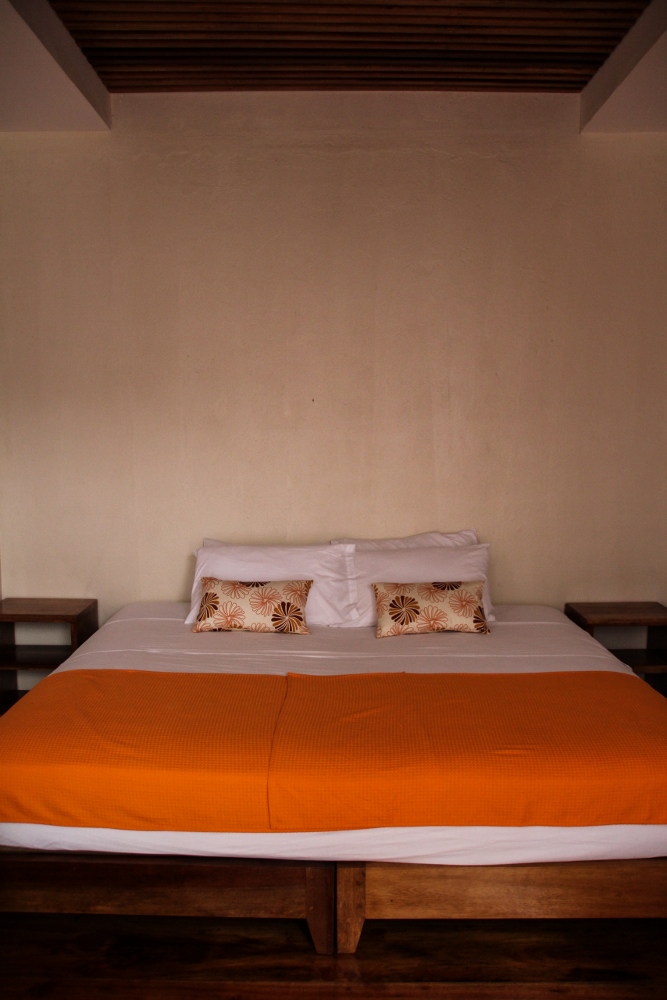 The property has only been open since November of 2013, so it did feel like there were still some kinks being worked out. The first issue we had was with our screens, which were full of fairly large holes – apparently the giant crickets like to eat the screens. When we mentioned it, everyone was very accommodating, and we fixed the problem with some duct tape, which was a perfectly satisfactory solution for us. The second night, there was a major rainstorm, and although it didn't bother us much during the night, in the morning we noticed that the rain had actually ripped through the plaster in our room. Again, the staff was very accommodating and we moved to a different, leak-free room. We actually preferred our second room as it was on the second floor, and there was much more of a breeze moving through the room. Two things we thought the rooms could really use – a ceiling fan, for those desperately still and hot nights, and wall hooks, for the numerous wet things you'll acquire during your stay. Hopefully they can fix some of the structural issues as they continue operating – otherwise, it might be hard to keep the jungle at bay. Even with these small issues, I would recommend the property to anyone looking for a semi-luxurious jungle experience in Ecuador – just think of it as something between "glamping" and a typical hotel, and you'll be in the right mindset to enjoy it.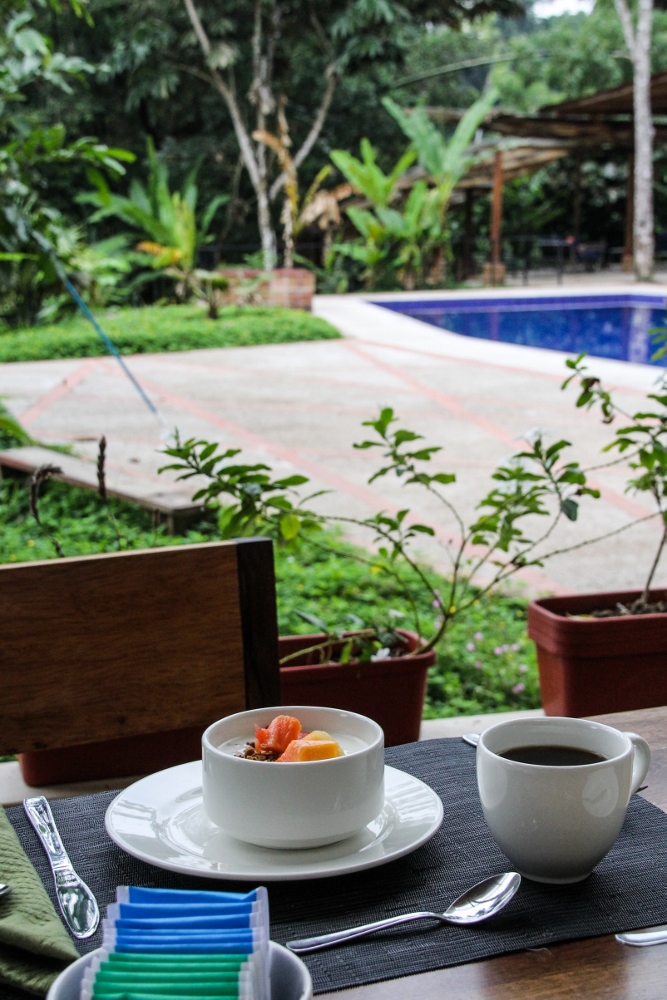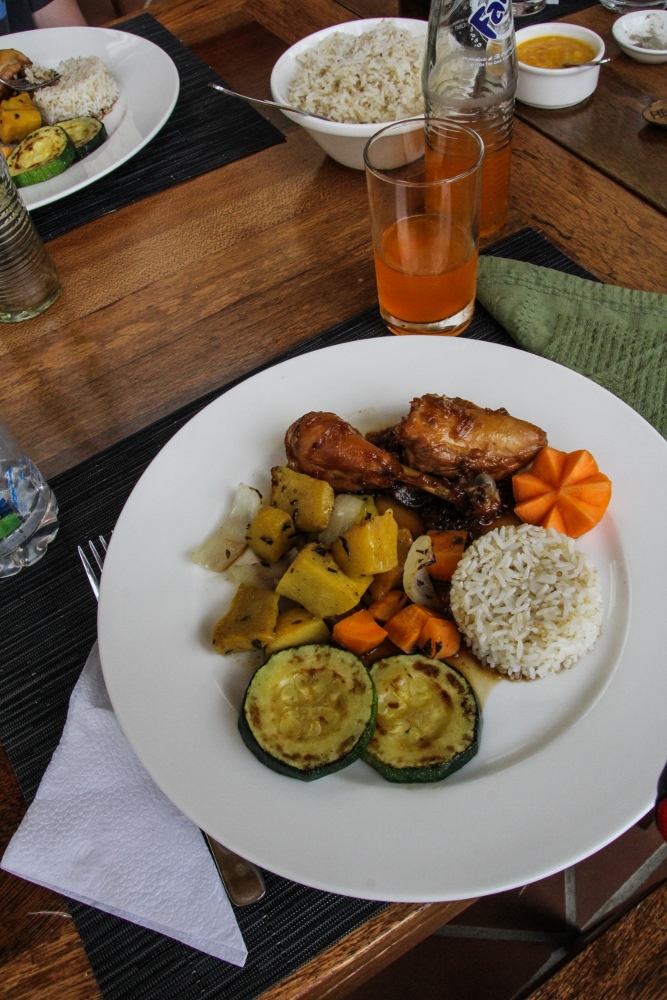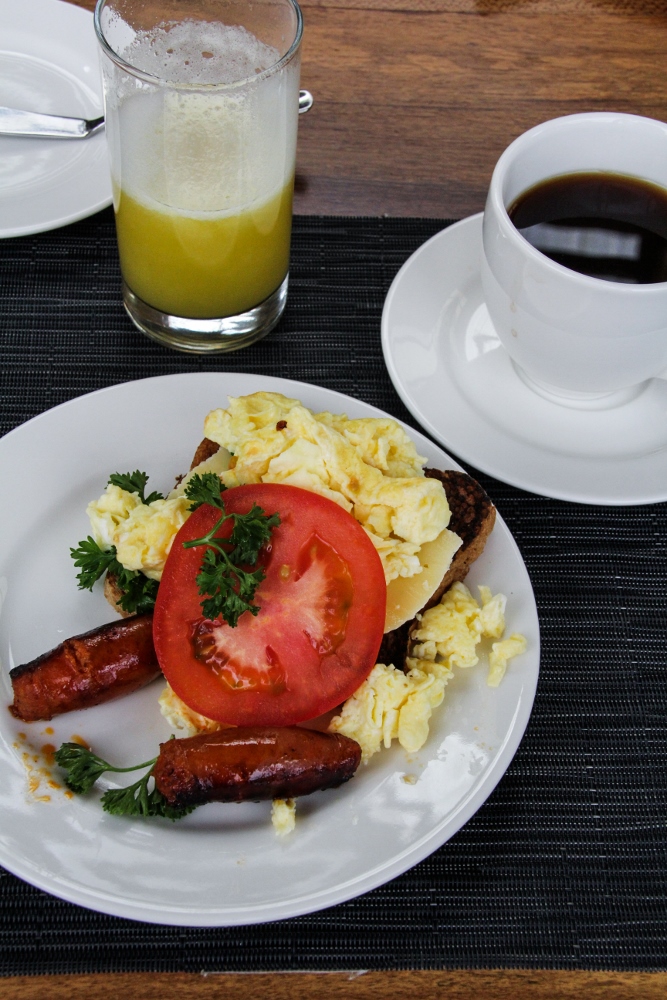 Itamandi Lodge – The Food
Since this is a food blog, after all, I wanted to call out some of the meals we had at Itamandi, as they were the best that we had on our trip. Alex, the manager, and Clide, our guide, were both kitchen whizzes, and turned out multiple three course meals a day just for the five of us. Breakfasts were standard fare – eggs, sausages, really tasty fresh tomatoes, fruit, yogurt, and juices – but very well prepared, and pleasant to eat by the pool in the fresh(er) morning air. Lunches and dinners were delicious, three course affairs. Some highlights were the coconut-sugar glazed chicken, yucca fries, tilapia prepared in a banana leaf, patacones (plantain fritters), hot cheese empanadas served immediately upon our arrival, and the exotic poached fruits for dinner – starfruit, tree tomato, pineapple, all served in a cinnamon syrup. Everything was delicious, and way more gourmet than we expected to find in the middle of the jungle.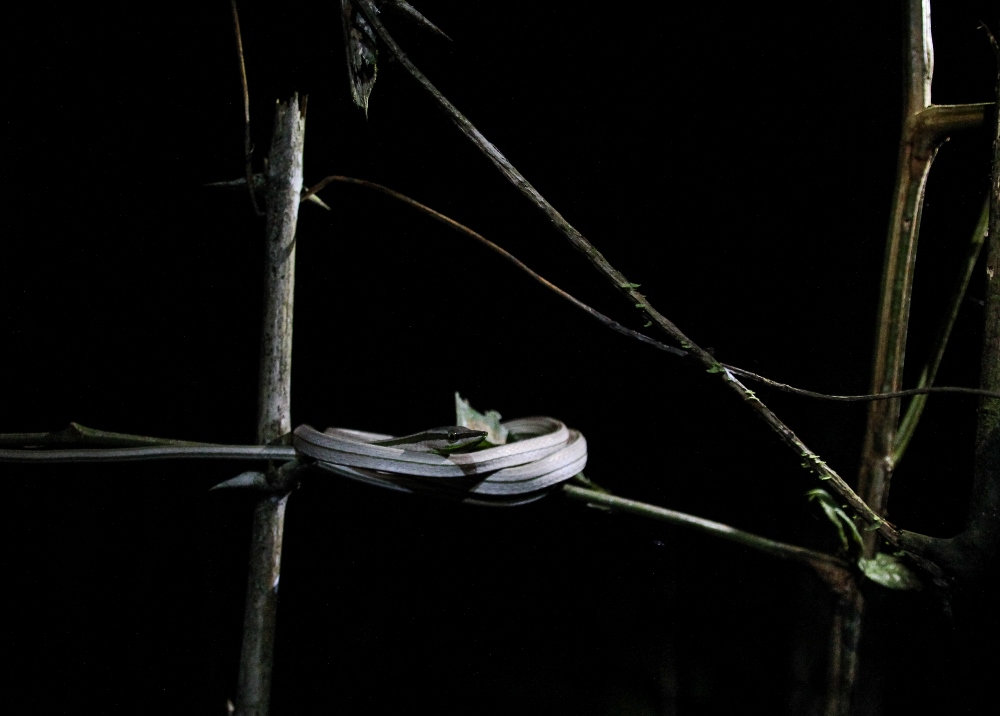 Jungle Night Walk
Our very first activity upon arriving at Itamandi was a jungle night walk. We arrived in the late afternoon, and after our welcome empanadas and a chance to put our luggage away, we met at dusk in our long-sleeved everything, headlamps and flashlights in hand, and pulled on the ubiquitous Ecuadorian rubber boots to protect our feet and legs from bugs, snakes, mud, etc. We headed out on a trail that never strayed far from the lodge, but quickly became very close, twisty, and hilly. As we walked, our guides used flashlights to point out all the creepy-crawlies of the night: giant crickets, the super poisonous banana spider, a coiled drinking snake, fever ants, and lots of other really big bugs. It was really cool to see these creatures, but the humidity and darkness made me feel a little claustrophobic and slipping through the mud had me nervous that I would accidentally slip and step on something frightening. If I could have seen into the future, I would have asked that we do this on our second or third night, as I found it a bit intense for a first activity, but still, while I wouldn't say I was enjoying it at the time, looking back on it is very cool.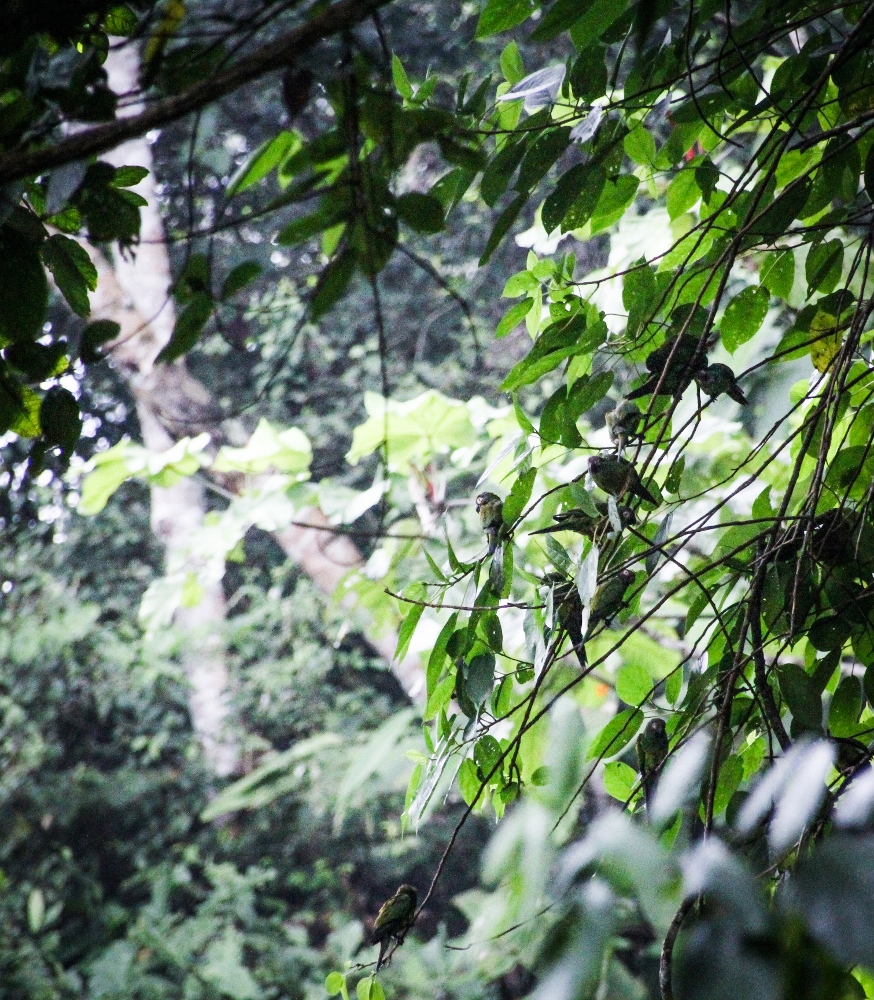 Parrot Clay Lick
Our first morning, we met before dawn to head out in the motor canoe, hoping to catch sight of parrots and parakeets coming for a morning feast at a nearby clay lick. About 20 minutes upriver we got out of the canoe and hiked up another steep jungle path to the lookout blind. This particular clay lick was very small, only about one meter in diameter, and no birds had arrived yet when we got there. Clide, our guide, explained to us that we should sit and wait, so that's what we did. This turned out to be an exercise in patience and listening, as we sat for 30 minutes, absorbing the different bird calls and noises we were hearing – it was actually really cool to start being able to parse out different birds, just from hearing their calls. We soon heard the parakeets arriving, although it took them a while to descend from the treetops toward the clay lick. The parakeets were a brilliant green color – but so were the trees, so it was a bit difficult to see them. Still, I got a couple of decent pictures before we headed back for breakfast. I'm certainly not a birding convert, but I'm glad we went.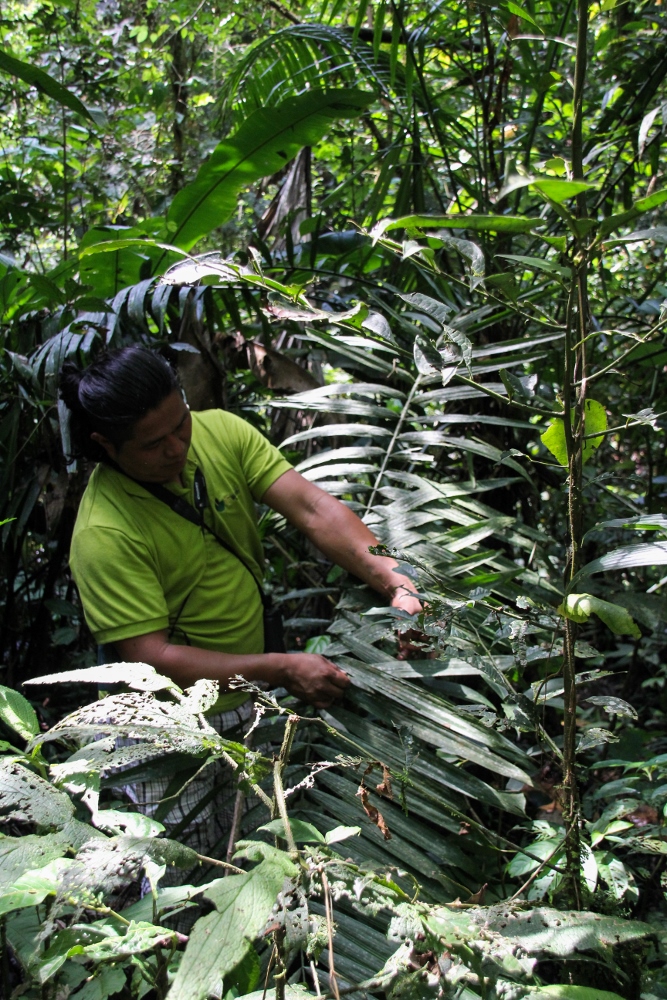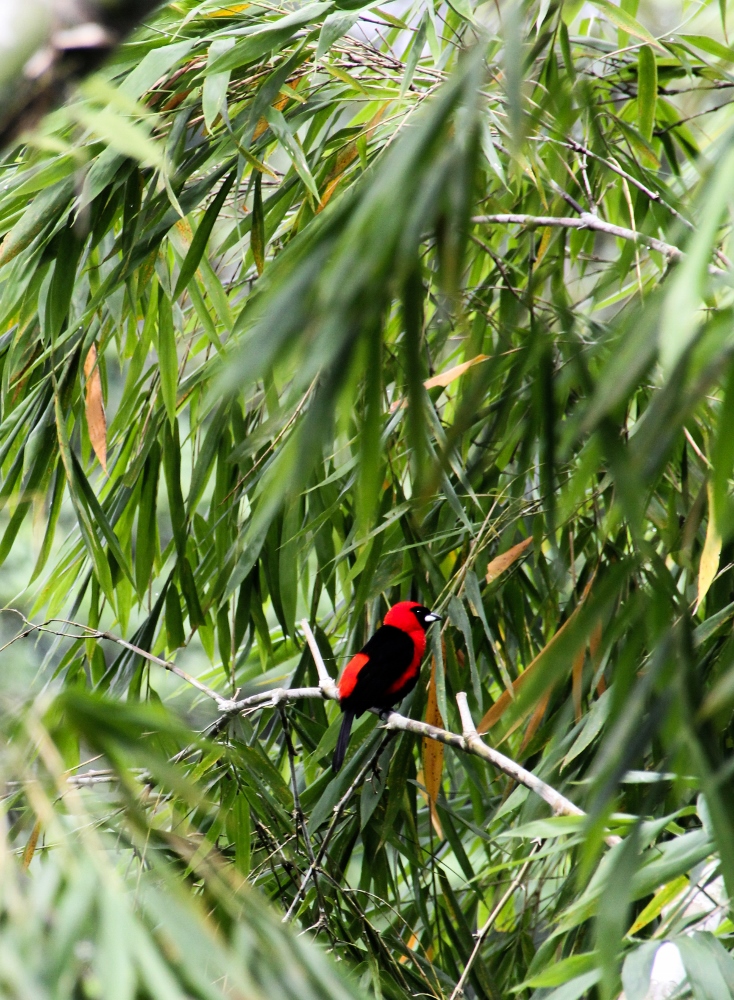 Jungle Hiking
Between the intensity of the night walk and the long wait for the parakeets, I think we were all feeling a bit apprehensive about the next two days as we sat at breakfast that first morning. After breakfast, we were back in our jungle gear for a daytime hike, and we quickly cheered up as Clide led us along a more open hiking trail, the air moved through the trees, and a little bit of sunshine filtered through to us. This walk was really an awesome experience – Clide, who grew up in a local Quichua community, was super knowledgeable about pretty much everything in the jungle (he was telling us that he sometimes leads advanced treks deep in the jungle with scientists in search of poisonous snakes. Which is both terrifying and awesome). We saw cocoa trees and sucked the sweet-sour fruit off of the beans; we found a colony of lemon ants, which are so sour (I tried one, it's like a warhead!) that nothing at all will grow near their colonies except for the one variety of tree they live in; we saw trees that "walk" by sending out new above-ground roots as they grow and trees that shed their bark every three months to prevent vines from growing on them; we tried sour cane, a bright pink stalk that grows out of rotting logs and tastes a little like rhubarb; Clide showed us how to braid giant leaves to quickly create waterproof roofing. We learned so much in the two hour walk – I didn't want it to end.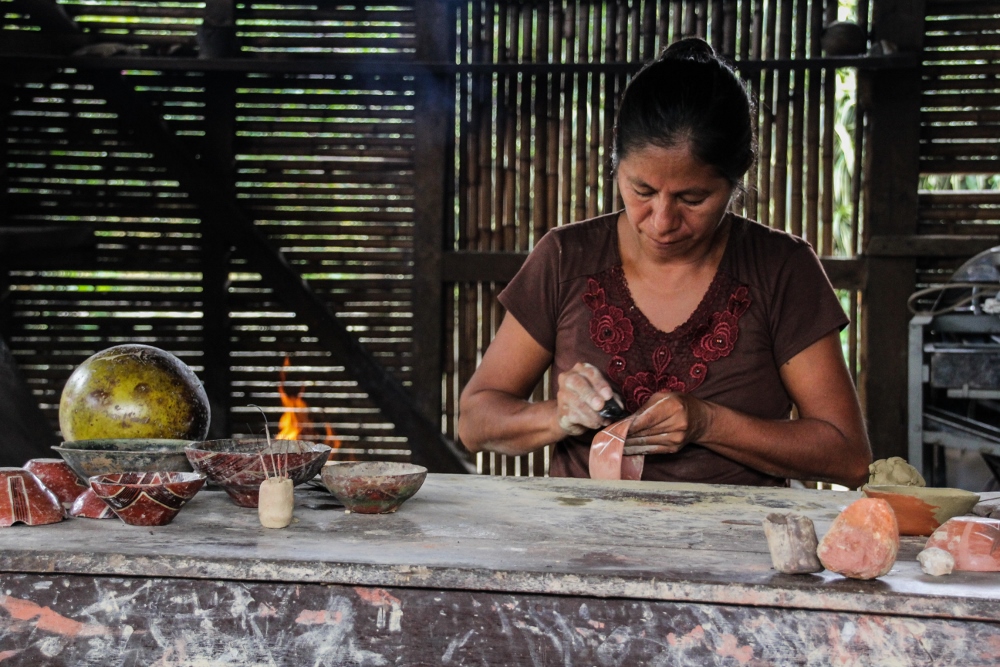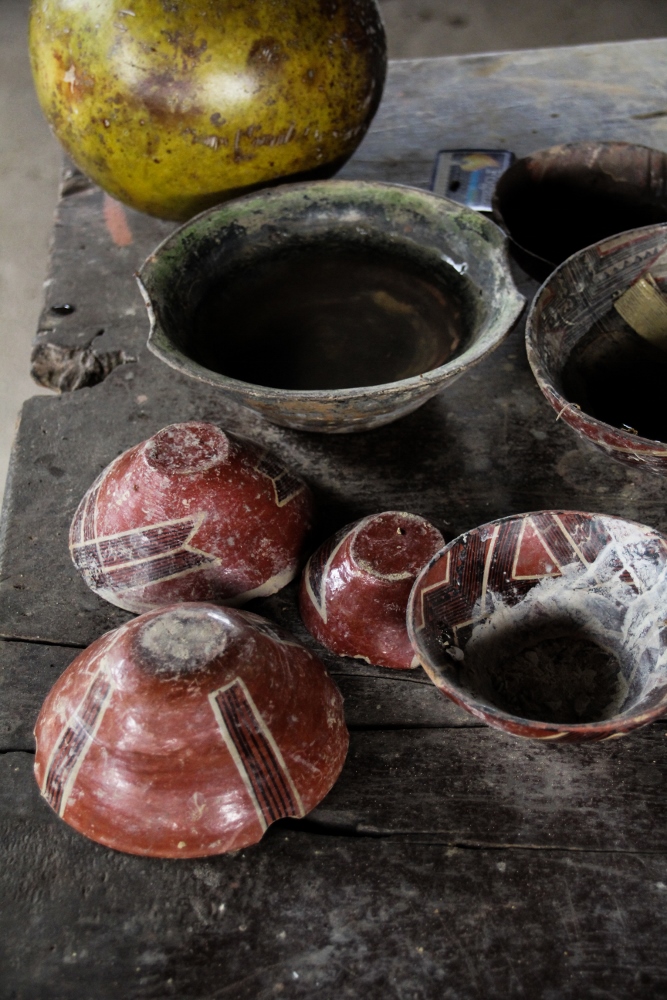 Community Visits
Part of the Itamandi experience is learning about and interacting with the indigenous Quichua people in the local communities. In general, we found that Ecuador seems to be very concerned with supporting and protecting the broad range of indigenous cultures found in the country, which was really great to see. In the Amazon, the main tribe living there is the Quichua tribe, although the famed Huaorani and Shuar tribes can be found deeper in the jungle. We visited two different Quichua communities while at Itamandi. First, we went to the community nearest to the lodge to see the village's kapok tree, meet some of the people there, and try their traditional foods. They prepared a range of food for us: three forms of maito, a method of cooking in banana leaves, one with mushrooms, one with river fish, and one with hearts of palm and grubs; roasted white cacao beans; more river fishes; caramelized banana; roasted grubs; and chicha, a fermented yuca drink. I stayed away from the grubs and the fish, but I couldn't stop eating the roasted white cacao – it had an amazing nutty, smokey, crunchy quality. Trevor went all out and tried everything, although he paid for it later in the week. It was really neat to try the foods, and afterward we bought a couple of necklaces made from beautiful red and black seeds from the women. Although the interaction felt a little bit uncomfortable at times, it was a really unique and educational experience.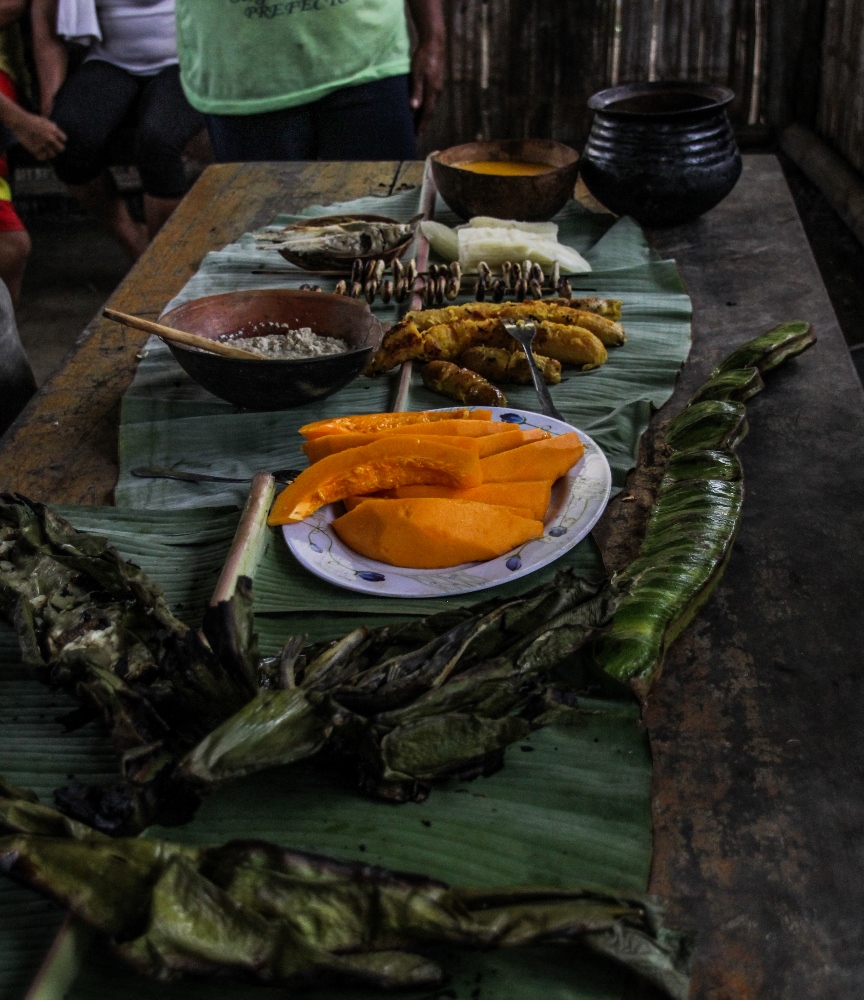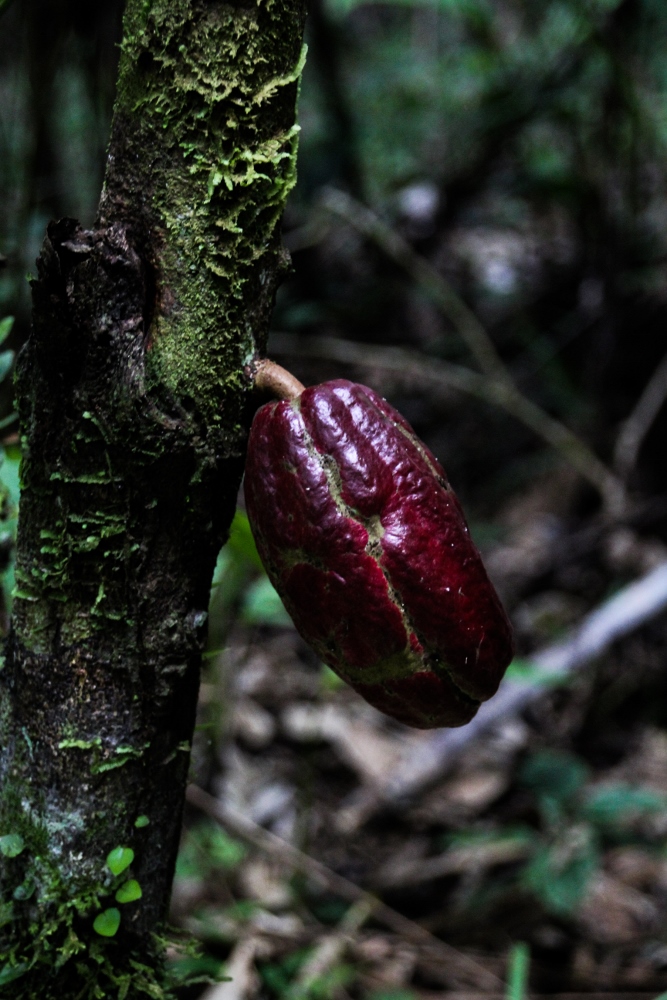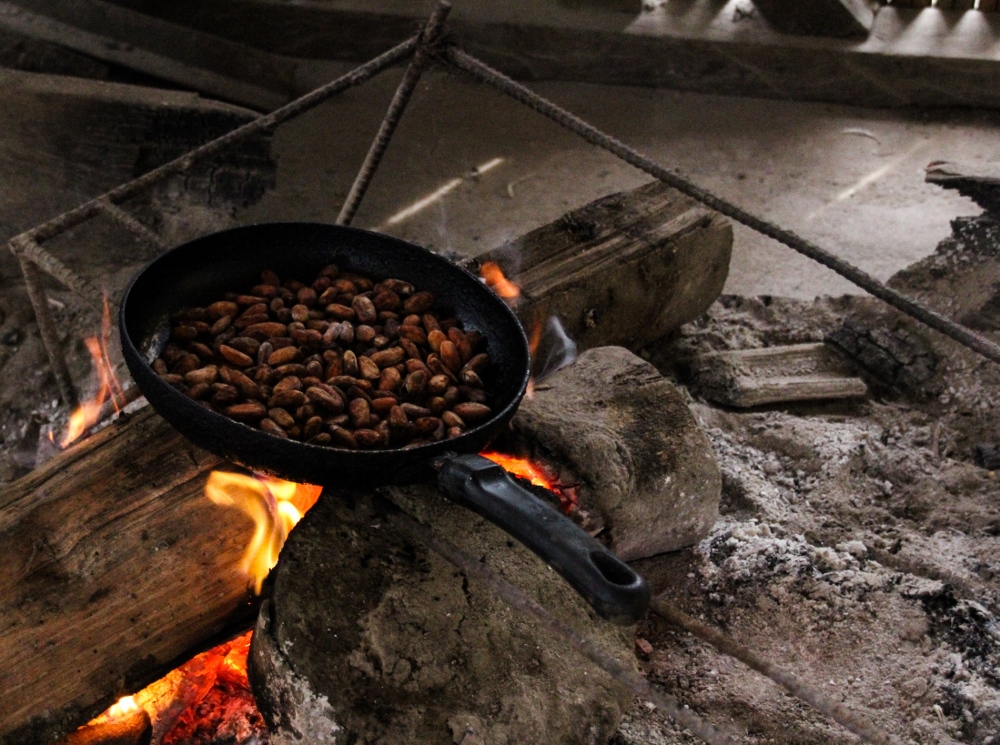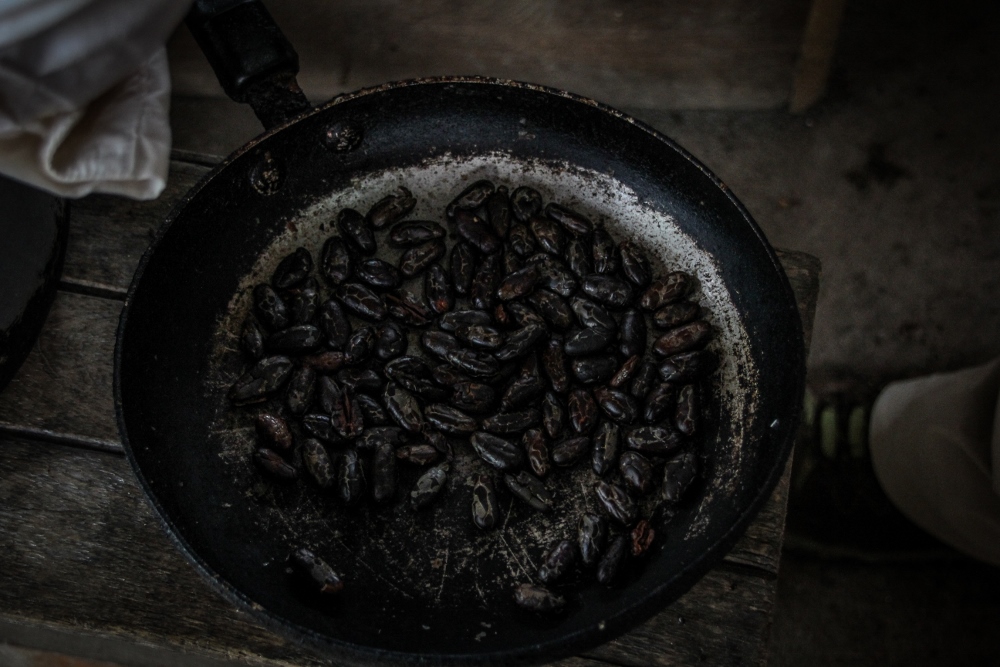 Later in the trip we visited a second community, which was a much larger town, accessible by road (not just boat, like the others), with a population of 3,000 people. While here we saw two different demonstrations – one of traditional pottery making and the other of chocolate making. The process for making pottery was really cool – everything they use to dye, glaze, and decorate the pottery is natural, from plant dyes to a certain black rock that is used to burnish the finished pieces. The designs and colors were really beautiful, so we brought home a couple small pieces from the adjacent shop. As for the chocolate, we started with a cacao pod, cracked open, and tried some more of the white fruit surrounding the beans. When cacao pods are harvested, the fruit-coated beans are left to dry in the sun for 5-6 days, until the fruit dries off. At this point, the beans are roasted until the skin cracks, then peeled, before the beans, now a very dark brown, are returned to the pan for a second roasting. The beans are then ground, and sometimes mixed with sugar. We got to participate in the whole process, and at the end we had a bag full of the freshest cocoa powder imaginable, with an amazing, heady, chocolate scent. We brought it back to the lodge with us, where Clide made us a very memorable batch of hot chocolate.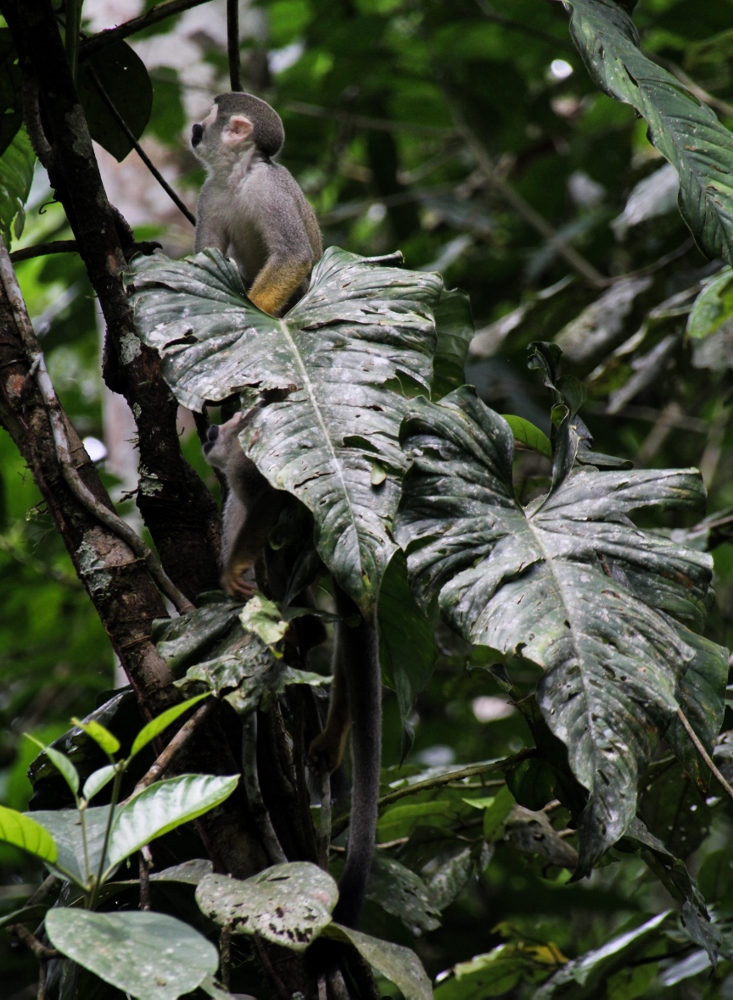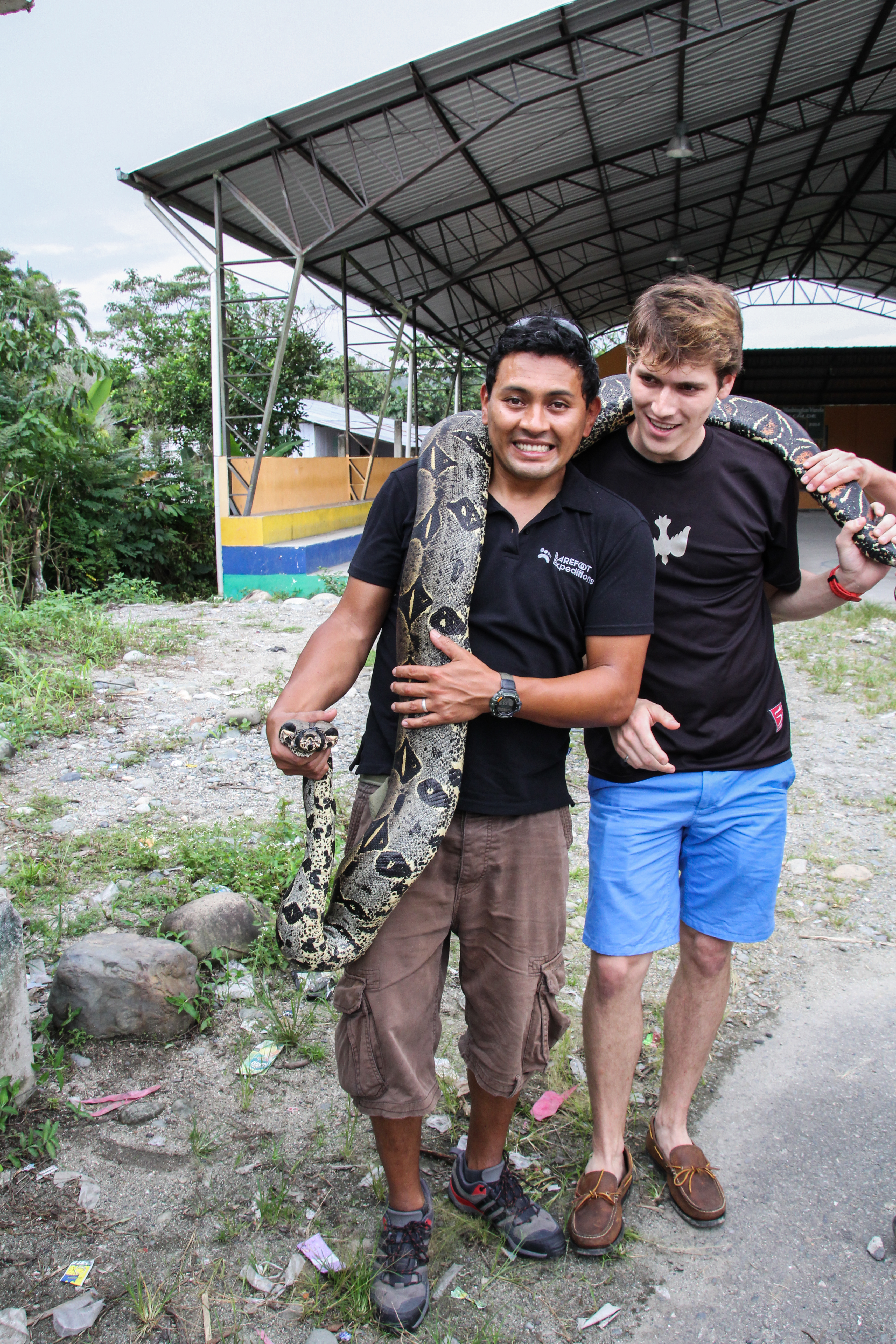 Amazoonico
On the second day, we went a bit further down the river and took a turn onto the Napo river, a much larger tributary of the Amazon. Our first stop on the Napo was Amazoonico, one of several animal rescue centers in Ecuador. The people at Amazoonico take injured or abused animals, frequently ones that have been kept illegally as pets, and attempt to rehabilitate them before releasing them back into their natural habitat. Some of the animals will never be fully rehabilitated, and those animals stay at the facility, living in somewhat natural, but still caged settings. It's an interesting project, and our two Swiss volunteer guides gave us a really good tour (plus we got to see the troop of wild squirrel monkeys that hang around to steal food up close and personal). On our way out of the Amazon the next day, our guide told us that a local village had just recently captured a big boa up in the highlands, and asked if we wanted to stop and see it. We did, and even though Trevor was really sick that morning he opted to drape it around his neck. It was exactly the kind of situation that we had heard about at Amazoonico, which brought up the question for all of us of whether or not the villagers had the right to keep that boa, as part of their traditional lifestyle, or if it was the type of thing that should be reported to Amazoonico, where it would just live in a different form of captivity. Maybe we didn't learn our lesson, but it seems like a somewhat complicated moral issue.
More from our Ecuador adventures…
Ecuador Travelogue: Quito
Ecuador Travelogue: Baños
Ecuador Travelogue: Cotopaxi
0