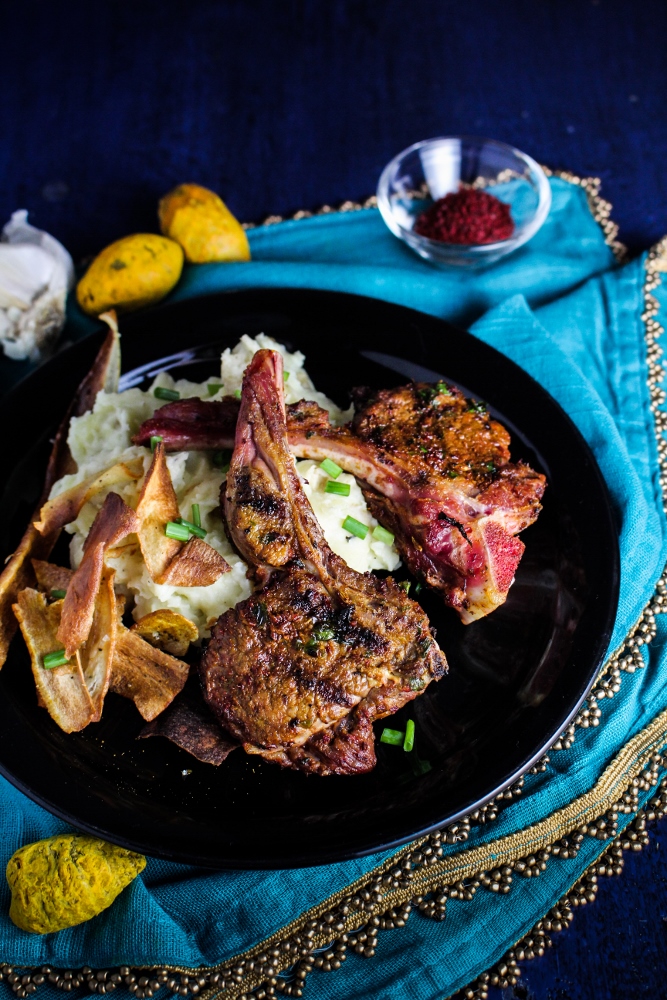 As I complained about a few weeks ago, Trevor recently took a work trip to Oman. He brought back all kinds of spices and goodies from a market he visited while he was there, and used them to make these tasty grilled goat chops flavored with mint and sumac. I decided I wanted to blog about them, and by that I mean I asked him if he would write about his trip and type up the recipe. He's the best so he agreed, and wrote the short novel below which makes me look bad as a writer/blogger, but I'm letting it go since it's all about what's best for my readers, right? We're off on our next adventure now – I have posts scheduled for you while I'm gone, but if you want to follow along as we travel through the jungles and up the mountains of Ecuador, come see what we're up to on Instagram, where I'll be sharing pictures and stories and hopefully some really tasty food. And now to Trevor…
Not only did I get to travel to the middle east for work, I'm lucky enough to have an exceptional girlfriend that will let me blather about it on the internet just as long as there's a recipe involved. At the company where I work, the exciting trips to exotic places don't generally get thrown to the low guy on the totem pole. I constantly hear stories about floatplane rides in Alaska and almost-bar fights in Ukraine, and I've kinda been waiting my turn. I was getting ready for disappointment when this trip cropped up, but in the space of a week, everyone else was called off to different corners of North and South America and I totally lucked out.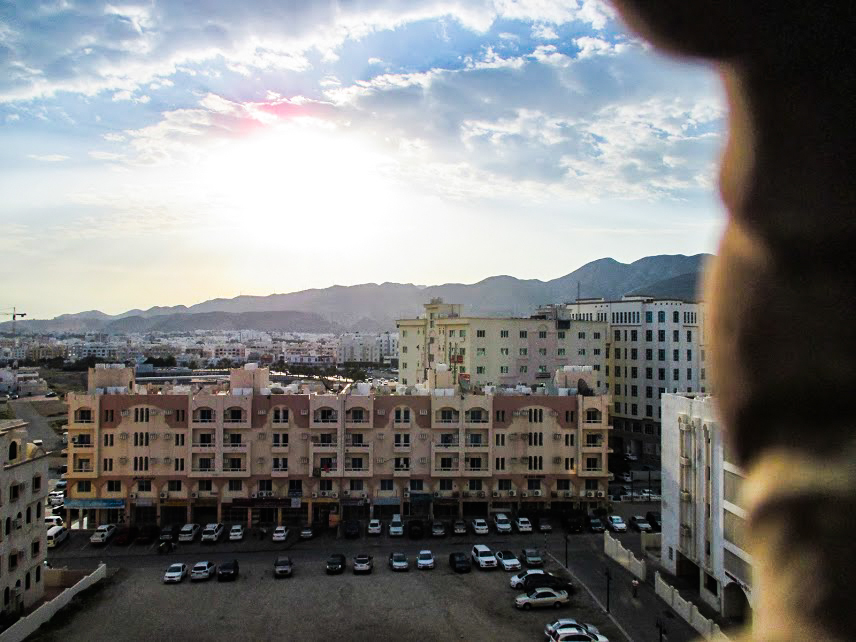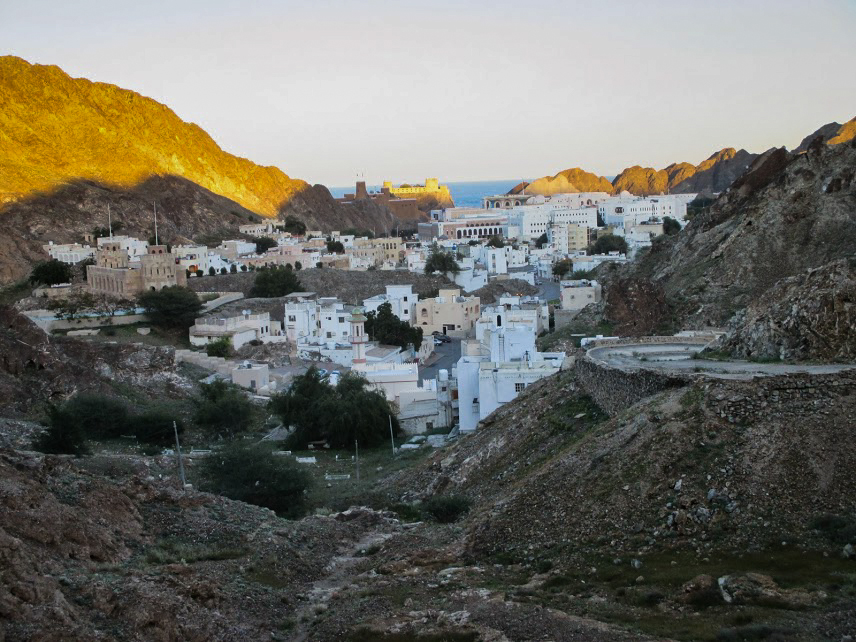 At any rate, (back story: I'm a structural engineer) we were asked to take a look at a brand new shipyard in the soon-to-be port city of Duqm. As part of a plan to establish Oman as a shipping powerhouse in the Persian (Arabian) gulf, a massive port was built mid-way between the capital, Muscat and the southern port city, Salalah. The port of Duqm is designed to handle an incredible amount of freight, and the nearby shipyard can service (e.g. repair, paint, scrape-the-barnacles-off…) some of the most massive ships in the world, (VLCCs and some some smaller ULCCs for ship nerds). What they don't have yet in Duqm are a ton of roads.
For the most part of our trip, we stayed at a very well-appointed resort-style hotel on the beach, replete with BBQ nights and Budweiser. It was extremely comfortable, and also the only thing for miles. Every morning we drove through beige desert, past places where the road would abruptly end, and where bits of infrastructure were being jackhammered out of the bedrock. We drove at incredible speeds; (a little alarm would go off at 160kph,) into a sprawling yard where fourteen cranes dwarfed the silhouettes of fishing dhows in the harbour, and every berth in the yard was occupied by a huge ship crawling with workers. The yard recently celebrated the docking of its 200th vessel in a mere 3 years of service, so It isn't hard to imagine Duqm growing into a successful center of trade and industry.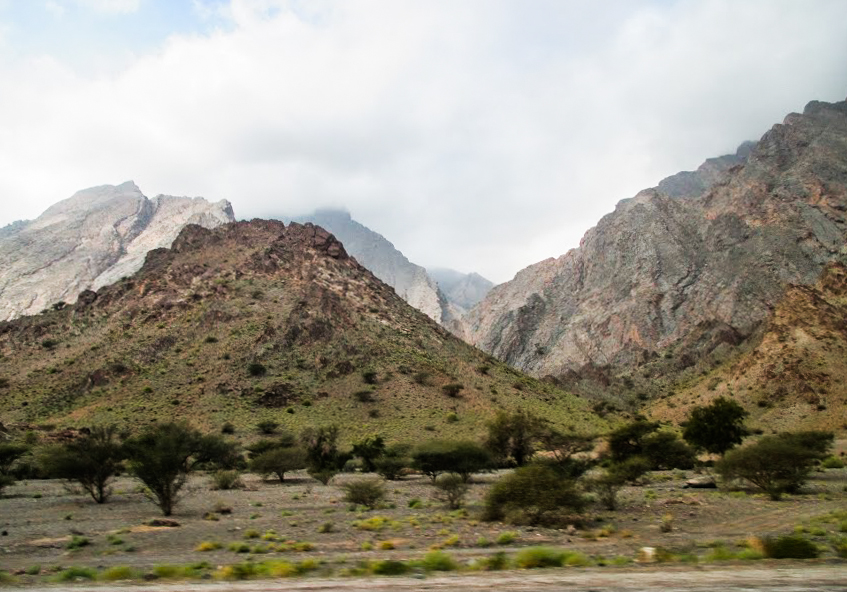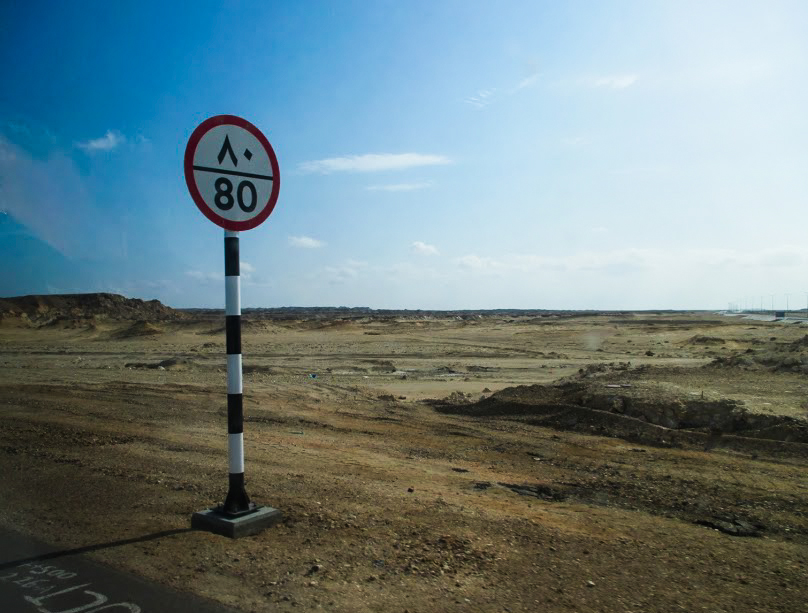 But we were looking for a little culture. So on our way home, back through Muscat, we begged for a tour of the city and for ideas of what to bring home to show off to our friends and family. We were treated to an evening tour through the beautiful old city and past the Indian-style palace built by Sultan Qaboos bin Said Al Said. It was explained to us that the Portuguese once invaded Oman in order to position itself along the same crucial trade routes that are used today. Old forts from this time flank the harbour and look down on a city in transition. More and more cruises are stopping in Muttrah, a city in the province of Muscat, as it becomes a destination of interest for National Geographic-style expeditions. We visited one of the oldest marketplaces on the Arabian peninsula, the Muttrah or Al Dhalam Souq (Darkness Souq) which now hosts only a few stalls catering to Omanis, and many which cater to tourists.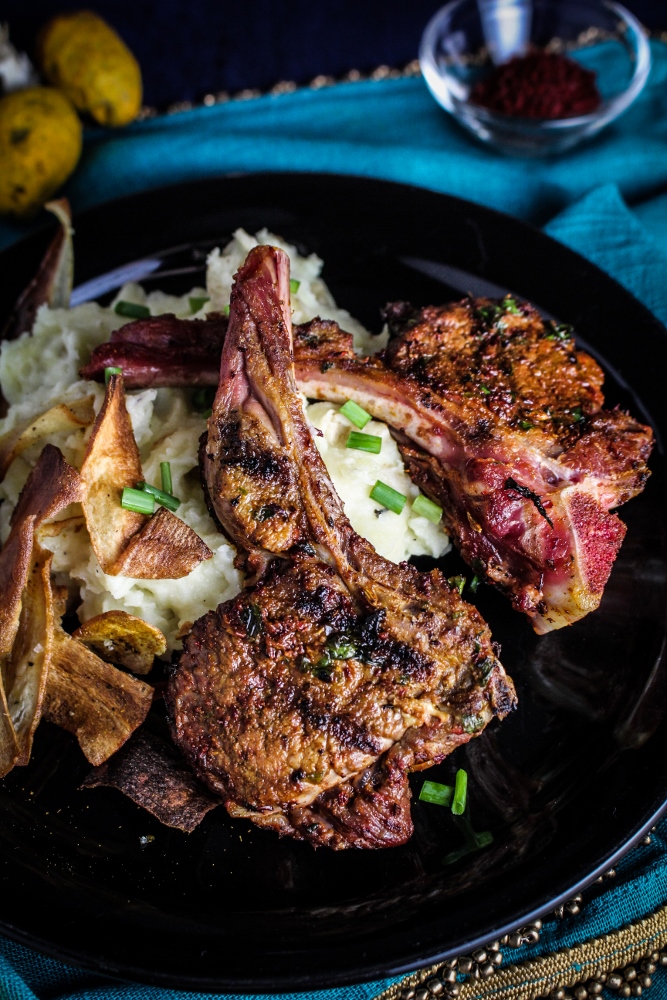 With our extremely gracious host guiding us, we sampled delicious gelatinous candy, and sorted through cheap knockoffs for old-school Omani coins. We sampled powerful perfumes and checked out a small grocery which was full of snacks, candy, oil extracts and spices. I managed to grab some sumac, which is a lemony spice from the sumac berry, and some whole turmeric roots, which are super funky looking. (Side note: I tried to buy two little nubbins of turmeric, but ended up with a whole kilo… so we're set for life.) I also grabbed some rose petals for candying and then escaped for fear of blowing the weight limit on our checked bags. Everything we asked for was shoveled out of giant colorful sacks which created such an incredible set of smells that the other market-goers' heads would whip around every time the door was opened.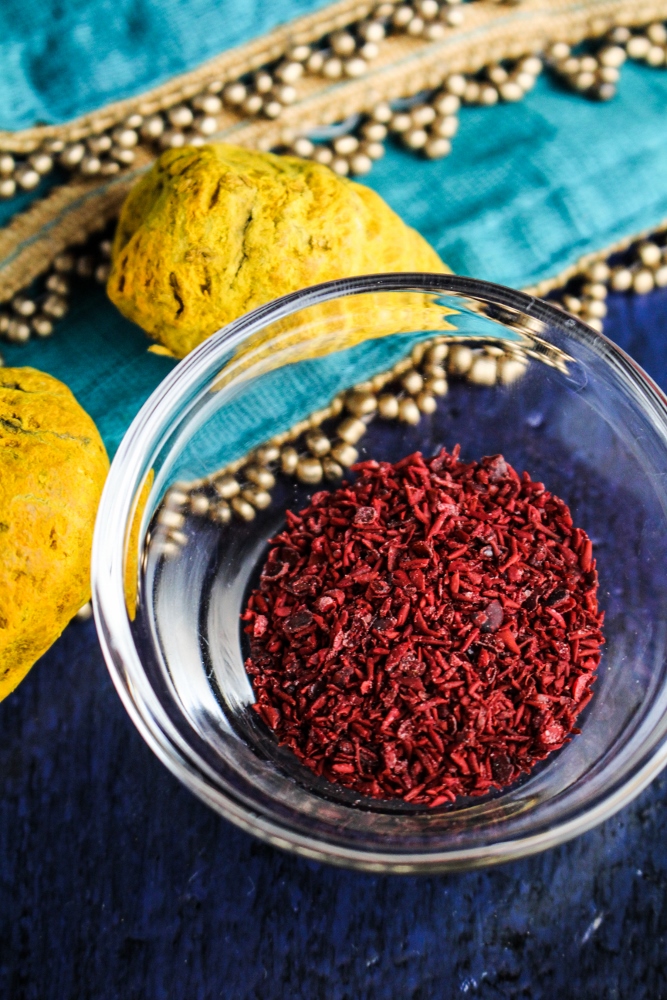 Our last stop was the smallest stall yet; a six-foot square with walls lined floor-to-ceiling with bags and bags of frankincense. Just as we walked up, a small crowd formed of people firing off questions and haggling with a young man in the middle of the whole thing, perched at a raised counter. There was frankincense for chewing and making tea, frankincense for burning, and frankincense mixed with every kind of perfume and oil. We got away with a big bag of huge chunks of the dark, powerful-smelling sap, and a smaller bag of the clearer variety used as as a sort of panacea.
But that's enough babbling. Our extremely friendly host treated us to a dinner of everything-on-the-menu at a lively outdoor restaurant full of men smoking sheesha and drinking fresh fruit juice, and then sent us on our way. Part of our feast included a small grill, placed on the table full of kebabs, lamb sausage and goat chops, all of which were super delicious, and one of which, I tried to recreate here.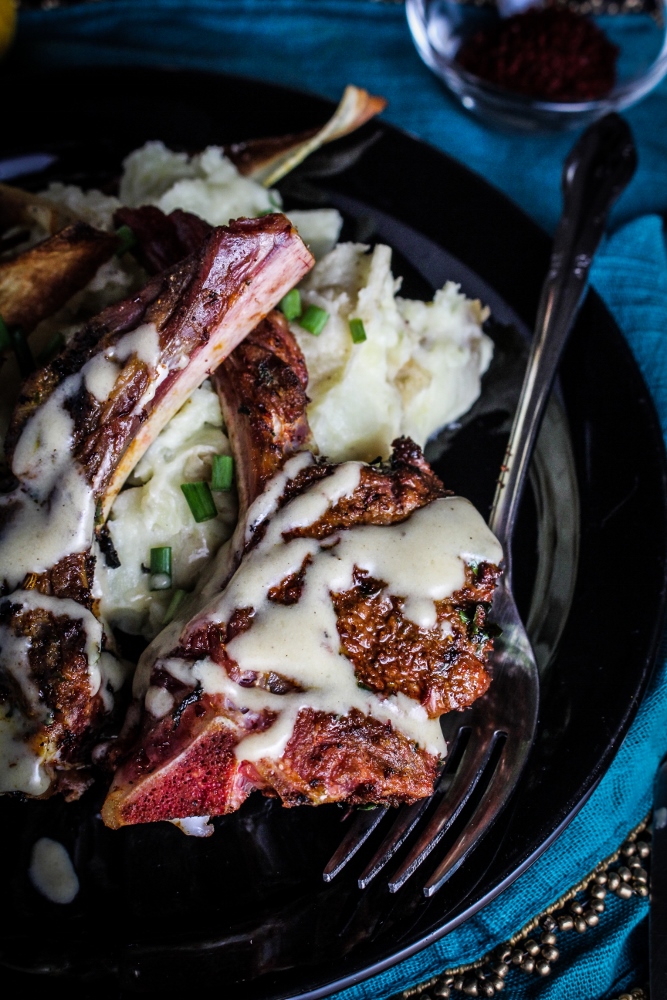 Mint and Sumac Goat Chops with Tahini Sauce
Adapted from Bruce Aidells' The Great Meat Cookbook. Serves 2.
For the Goat Chops:
2 small garlic cloves, peeled and chopped
½ cup parsley, chopped
2 tablespoons fresh mint, chopped
1 tablespoon sumac
2 tablespoons olive oil
1 teaspoon salt
1 teaspoon ground black pepper
½ teaspoon cayenne pepper
2 teaspoons sweet Hungarian paprika
1 teaspoon ground cumin
1 teaspoon turmeric
1 teaspoon fennel seeds
⅛ teaspoon ground cinnamon
4-6 small goat chops (about 1 lb. in total)
For the Tahini Sauce:
2 tablespoons tahini
3 tablespoons fresh lemon juice
3 tablespoons extra-virgin olive oil
1 tablespoon water, or more if needed
salt to taste
In a mortar and pestle, grind up the olive oil, garlic, mint, parsley, sumac, and fennel until you have a rough paste, and there are no huge chunks. Add the rest of the the spices and mix it up until it's a uniform consistency. Trim the chops of any silver skin or ragged edges, then coat them with the rub. Let the chops sit covered in the fridge for two hours or so.
For the tahini sauce, mix the tahini, lemon juice, olive oil and water in a small bowl with a whisk, making sure there are no lumps. The sauce should have a syrupy consistency; season with salt.
On medium-high heat, grill the chops for about five minutes per side for medium-rare (125-130 degrees, internal temp). Let them rest for a couple of minutes after removing them from the heat and then artfully drizzle them with the tahini sauce.
1