Update 8/2014 – Relished Foods has re-branded to Home Chef, and their new website can be found here!
A few weeks back, a relatively new meal delivery company called Relished Foods reached out to see whether I would be interested in reviewing their service. Like Plated and Blue Apron, Relished delivers fresh ingredients to your door with instructions for making three meals each week. Based in Chicago, they currently ship to most of the Eastern half of the U.S., and, if after reading this review you'd like to try them out, you can get 50% of your first order with the code "KitchenDoor" through next Friday, March 14th. Since I love coming up with and cooking my own recipes, I'm probably not the ideal customer for this type of service, but I figured some of you might be interested in how it works and how good the recipes are. Overall, I think Relished offers a pretty good service – I was very happy with the portion sizes (having enough leftovers for lunch the next day was a big win), the quality of the ingredients, the speed of preparing the recipes (the longest I spent in the kitchen, including dish-washing, was 40 minutes, which is pretty quick in my book), and the overall healthfulness of the meals. I do think the company has some kinks to work out – I found a few places where the recipe instructions weren't super clear, or where the cooking times seemed too short, and the first meal was almost ruined by the amount of sugar added to the tomato sauce. These little things are easy to catch if you're an experienced cook, but if you are someone who's just learning, it might be hard to know intuitively how to adjust the recipe. That said, I do think these recipes overall were easy and clear enough that they would be a good way for beginners to learn to cook. And taking both meal-planning and grocery shopping off your weekly to-do list is a definite time-saver, beginner or otherwise. I would categorize my overall experience with Relished as positive, but not overwhelmingly so – read on for more details about each recipe I tried.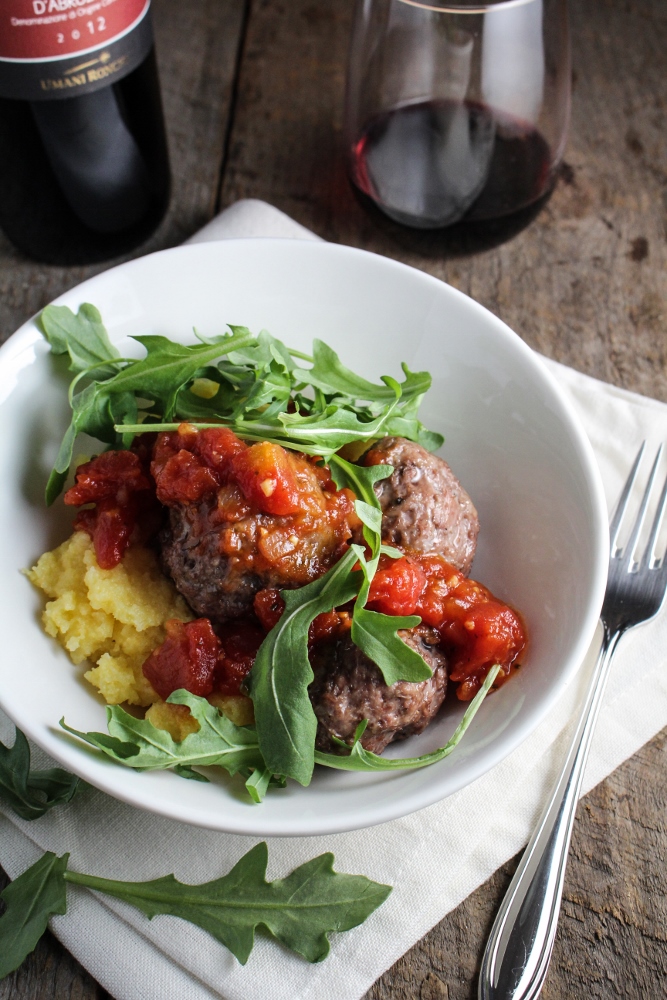 Lamb Meatballs with Creamy Polenta and Tomato Ragout
This is the dish I was most excited about when I read the menu, and the first recipe I tried – it has three of my favorite foods all combined into one comforting meal. The pros? It's a filling, warming, seasonally appropriate dish; it took exactly 30 minutes to prepare, from the time I opened the package to the time I put it on the table, including a bit of dish washing while everything cooked; the portion sizes were very generous, making at least three full-sized servings for us, if not four. Unfortunately, I found the flavors in this recipe a bit off, mostly due to the amount of seasoning. The most glaring thing was the sweetness of the sauce – this was the only element of the recipe I adjusted as I cooked (it just looked like a ton of sugar for the amount of tomatoes, so I only used half) and I still found it way too sweet. Honestly, it didn't need more than 1 TBS of sugar. The polenta was also a little too salty, but this was probably more a matter of personal preference. The meatballs themselves were fine, and all together it was OK but not great. I think a knowledgeable cook would naturally make a few easy tweaks to this to take it up a level – some more spices in the meatballs, maybe oregano and paprika; a splash of cream in the polenta; a light vinaigrette on the arugula; and no sugar in the tomato sauce and I think you'd have a really tasty meal. But a beginner cook is unlikely to come up with this type of adjustment, and might have been disappointed with the results.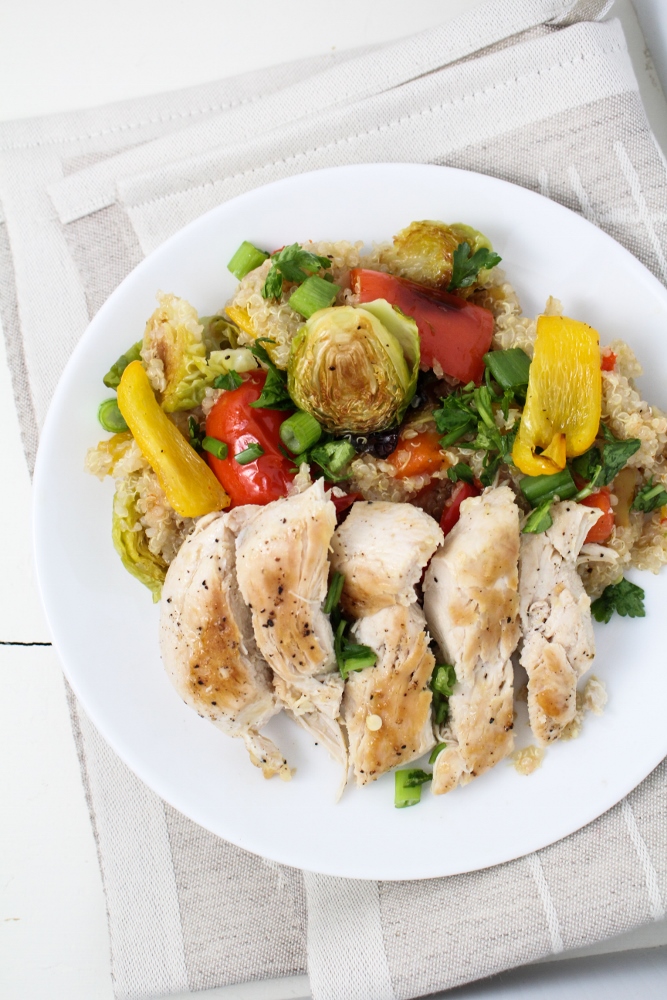 Quinoa and Roasted Vegetable Salad with Pan-Seared Chicken
Dinner number two was a simple roasted vegetable and quinoa salad topped with a quick pan-seared chicken breast. The meal was simple, but very satisfying, and I was much happier with the outcome than I was with the lamb meatballs. The balance of veggies, protein, and grains felt healthy and nourishing, and it was definitely something I could see making myself for dinner. It took a little longer to make – about 40 minutes – but it was straightforward to prepare. I do think the instructions could have been a little clearer, especially for a beginner cook: simple additions like describing how to clean and slice a pepper (instead of just "chop pepper") would be helpful. I also made a small change to the veggie roasting technique, letting them roast for 20 minutes instead of 10 (brussels sprouts do not fully cook in 10 minutes!), and seasoning them before cooking instead of after, arguably both matters of personal preference. There was some quinoa and veggies left over, which I tossed with crumbled Italian sausage and feta cheese for a very satisfying lunch the next day. All in all, I was happy with this meal.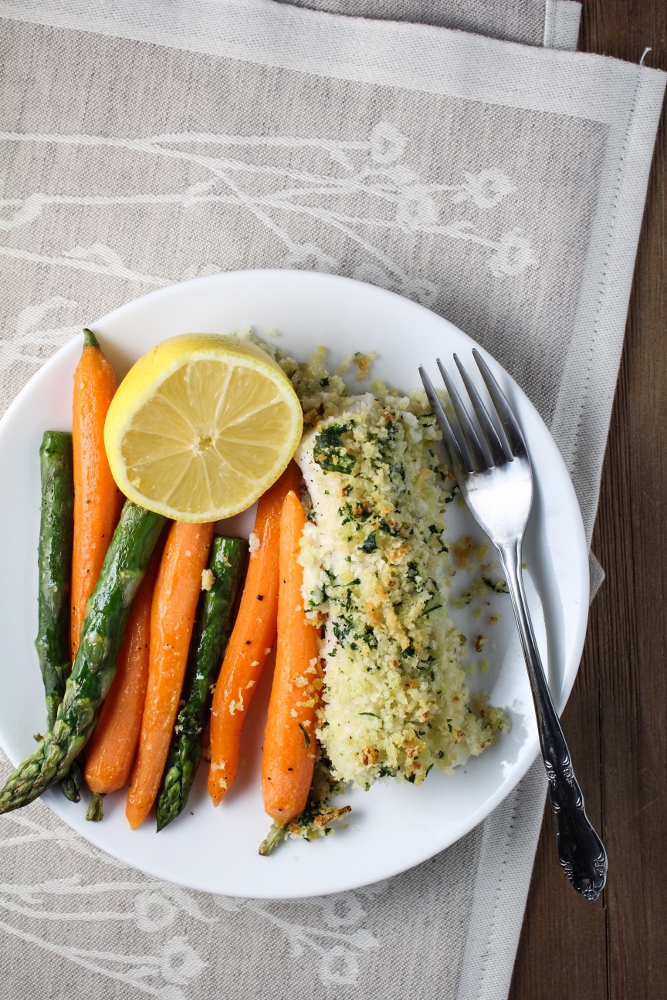 Panko-Crusted Cod with Roasted Baby Carrots and Asparagus
Some of you know that I'm not a huge fish fan, so I wasn't thrilled to see baked cod, my childhood dinnertime nemesis, on the menu. However, I've been trying to approach fish-eating with an open mind these days, so although I did task Trevor with the preparation of the cod itself, I made myself take a few bites without wrinkling my nose in advance. And you know what? It was OK. I still don't love it, but I'll eat it. The preparation was simple and quick – you prepare a pan of buttered, garlickly breadcrumbs and mix with chopped parsley, then coat the fish with them and bake – and the fish mostly tasted like breadcrumbs and the copious amount of lemon I squeezed on it. The fish itself seemed fresh and of good quality, and the roasted asparagus and carrots it was served over were really tasty veggies, with no woodiness at all to the asparagus. A fine dinner. My only issues with this meal were that there was a lot of leftover panko crust that had to be tossed, and that it was a very light dinner. Because we could only use half of the buttery panko crumbs, I'm guessing this meal came in at closer to 350 calories than the advertised 430, and unlike the other meals, there were no leftovers. If we hadn't been going straight to bed after eating this, I think we would have gotten hungry quickly.
Disclaimer: I received one box from Relished Foods free of charge for the purposes of writing this review. I was not otherwise compensated and all opinions are my own.
0