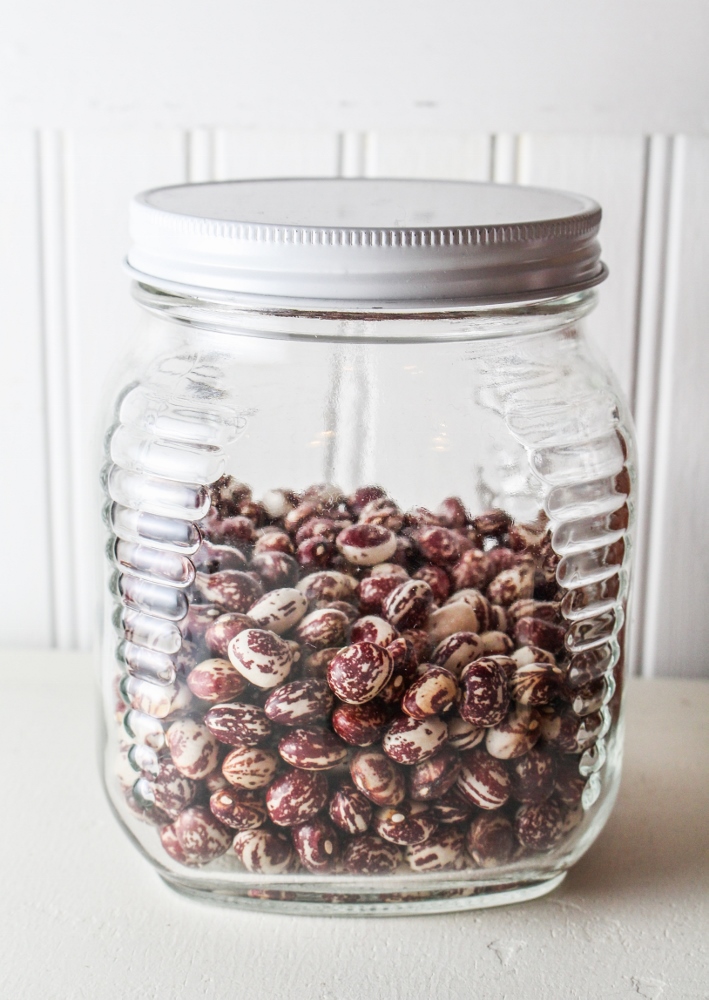 Last summer, in our wild, overly ambitious garden, we planted a few handfuls of beans. After seven varieties of tomatoes, three eggplants, four types of peas, and six melons, the beans were kind of an afterthought. We planted green beans in two neat rows, then poked a handful of seeds of mixed varieties in a circle around our bean pole, and proceeded to ignore them for the rest of the summer. Towards the end of August the pole beans began to reward us despite our negligence. Two "Gold Marie Vining" plants produced dozens of 8-inch long yellow pods, the sweetest fresh bean I've ever tried. We liked them so much that it took us a little while to notice that the less tasty, less prolific green pods hanging on the same pole were slowly turning a beautiful mottled pink. They still didn't taste great, so we continued to leave them. And then, just like that, it was the first frost, so we pulled the now dried and wrinkled pods from the vines and tore the plants out of the ground. We shucked the pods open to reveal gorgeous cranberry beans, threw them in a jar for later, and continued to clean up the garden.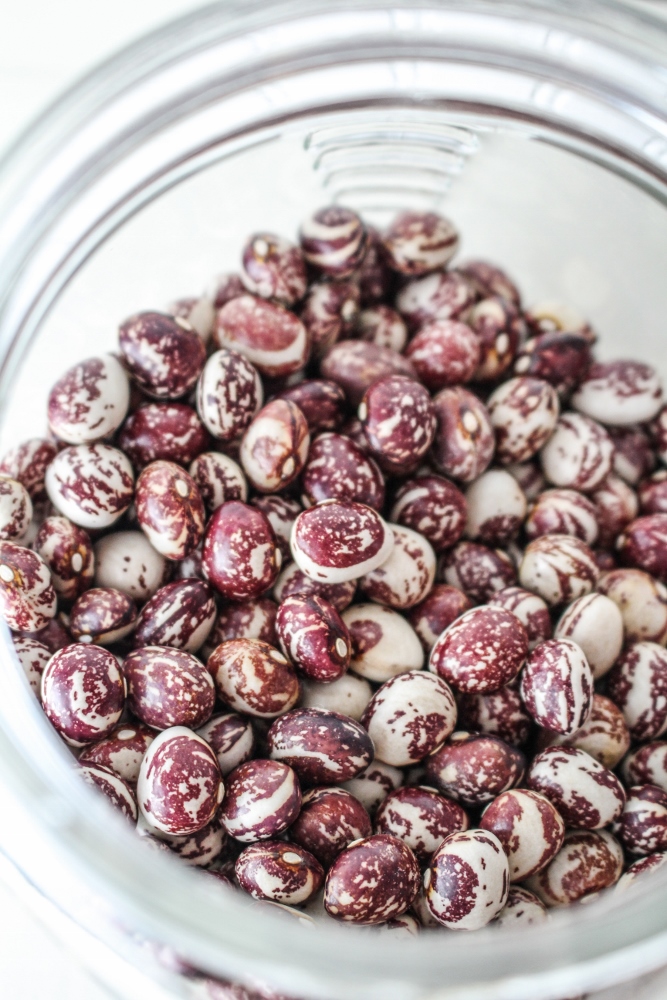 That jar of beans, which we have since determined must be the "Good Mother Stollard" variety, has been sitting patiently on our counter all winter, waiting for its time to shine. Stacked next to the slowly dwindling supply of jarred tomato puree and pickled green beans, they've served as a quiet reminder that summer will come again, with its bounty of food that will take us through yet another winter. A few weeks ago, we finally decided it was time to cook those beans, so we soaked them overnight, then dumped them in a pot with a few aromatics, a hunk of parmesan, and some chicken stock and let them simmer away. A few hours later, when we lifted the lid from the pot, we had the most amazing bowls of beans. The parmesan had completely melted, infusing the whole thing with a deep, rich, cheesy flavor. The beans themselves had a bite to the skin but were creamy and soft inside. Topped with a  provolone-laced crumbled Italian sausage, they were winter comfort food perfection.
That humble jar of almost-forgotten beans turned into one of the best meals we've had this winter. Simple but so satisfying, I'm already looking forward to next year's jar of beans. That small handful of beans I grabbed from the jar and set aside will soon be buried in the earth, ready to turn into another reminder of summer for another winter.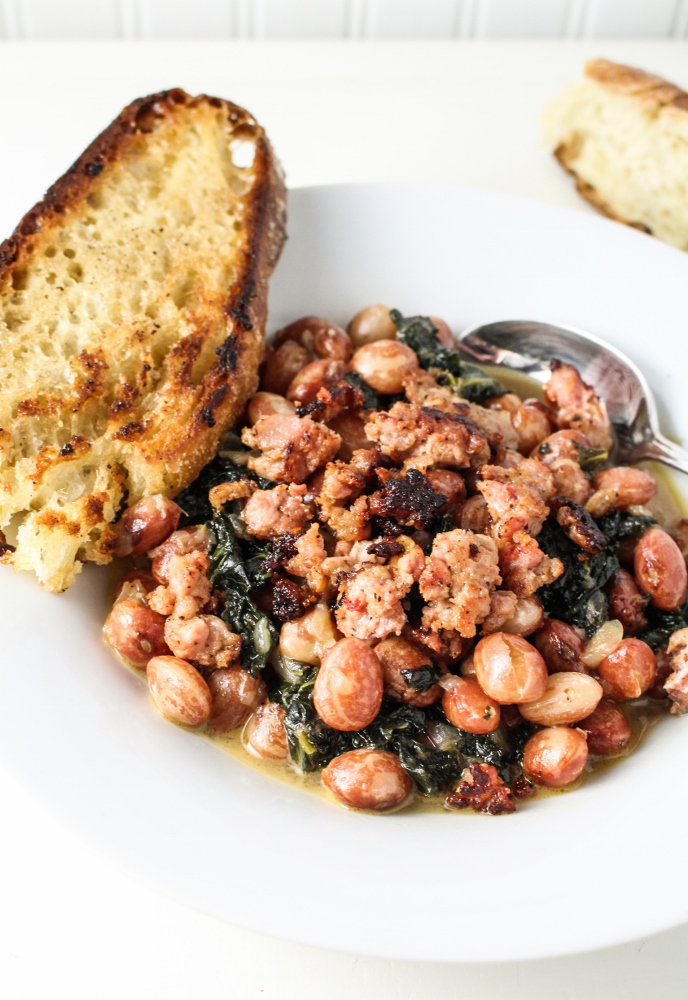 Parmesan Beans with Kale and Sausage
Serves 3-4.
2 c. dried cranberry beans or other medium-sized white bean, soaked overnight

1 TBS olive oil
1 onion, peeled and finely minced
6 cloves garlic, peeled and finely minced
3/4 tsp red chile flakes
2 parmesan rinds
4 c. chicken stock
2 c. chopped kale
1/2 lb. Italian sausage
sea salt and black pepper to taste
Take soaked cranberry beans and rinse several times; they should have doubled in size. Drain and set aside.
Heat the olive oil in a medium saucepan over medium heat. Add the onion and saute until translucent about 4-5 minutes. Add the minced garlic and the chile flakes and saute for another 2 minutes, until fragrant. Add the parmesan rinds and cook until they begin to melt, stirring occasionally, another 2-3 minutes.
Add the beans and the chicken stock to the pot and bring to a boil, then reduce to a simmer and cover. Simmer the beans until they are tender, 1 1/2 to 2 hours. Remove the lid and simmer liquid until it is reduced to 1 cup. Add the chopped kale and  cook for another 8-10 minutes until tender.
As soon as you add the kale to the pot, heat a small frying pan over medium heat. Crumble the sausage into the pan and use the back of a wooden spoon to break into small pieces. Cook fully, stirring frequently until sausage is browned and crispy.
Spoon the beans into serving bowls and top with the crumbled sausage. Serve immediately.
0