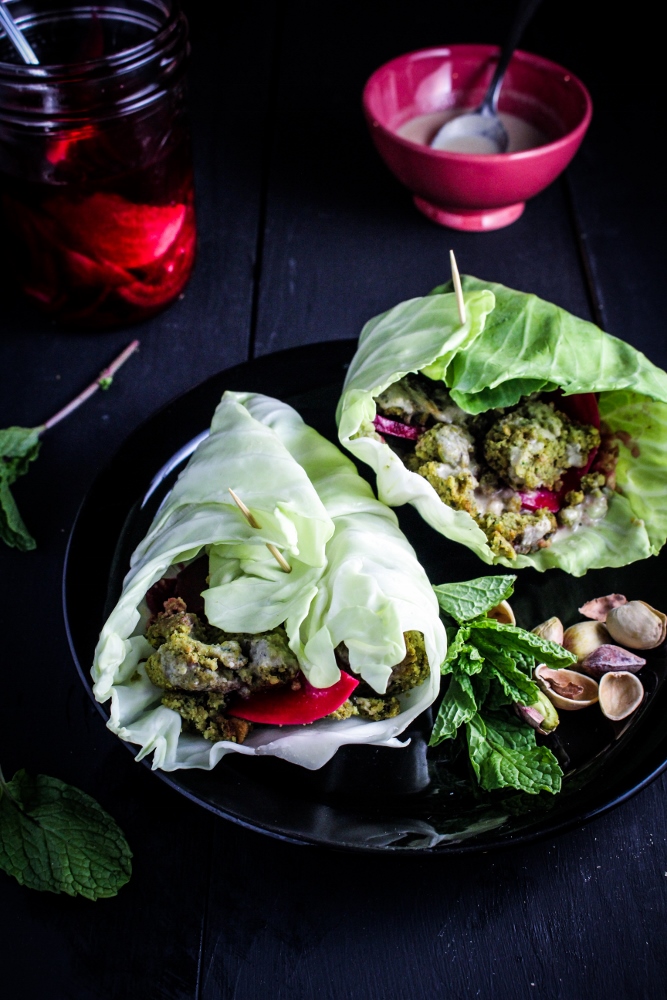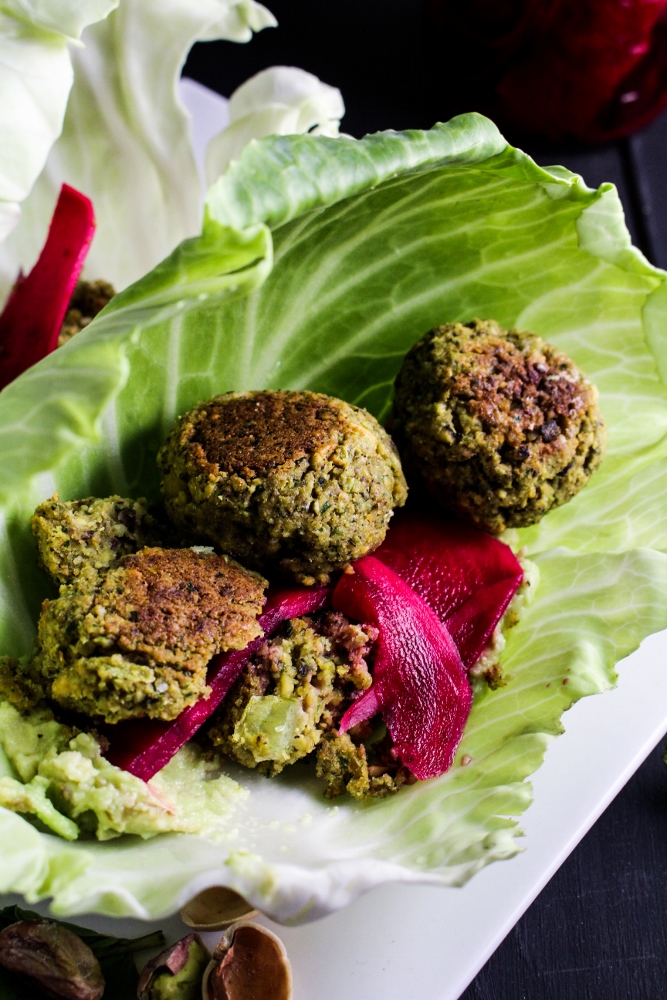 Falafel is kind of a health-food poser. Sure, it has nutritious ingredients like chickpeas and herbs, and healthy fast-food chains like Pret a Manger and Sweetgreen put them on top of salads, but really, eating falafel feels kind of indulgent. It's certainly better for you than a grilled cheese sandwich or pasta carbonara or fried dough or a lot of other things, but at it's heart, it's fried street food. Delicious. Just not that good for you.
However, falafel can be easily transformed into something healthier – just nix the oil and trade the soft, floury pita for a crunchy cabbage wrap, and your craveable Middle-Eastern snack has become downright virtuous. David and Luise of Green Kitchen Stories have done just that with their Baked Herb and Pistachio Falafel, a flavor-and-nutrition-packed recipe from their book, Vegetarian Everyday (one of my favorites). These falafels are about 50% chickpeas and 50% pistachios, a combo that gives them a wonderful and unexpected creamy sweetness. Baked instead of fried, nestled into a crisp leaf of cabbage, drizzled with lemon-honey tahini sauce, and topped off with bright pink beet and turnip pickles, they make a filling and delicious meal that's vegan and gluten-free. And you'd never know from the taste how much your body will thank you for giving it all those good things.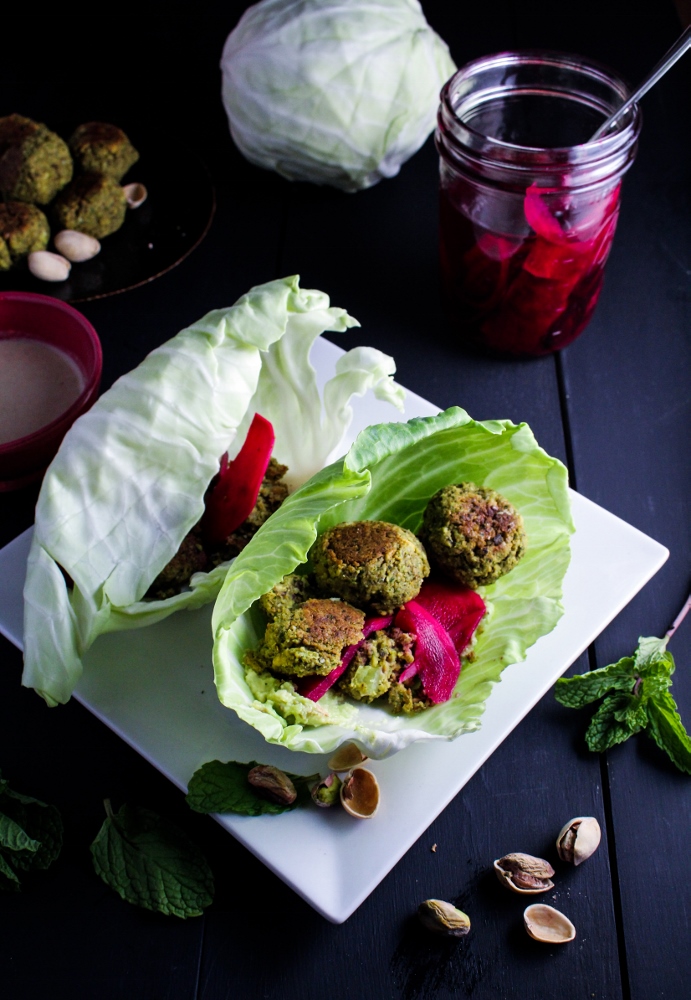 P.S., one of my first posts ever was about falafel, too. 2010! So many years ago! Does having been a food blogger for four years mean I'm getting old? Also, reading that post reminds me that those polka dot plates that I kind of hate are also four years old, and it really would not be a crime if I got some newer, more attractive ones. They have been used well, and served their purpose. I'm totally just trying to justify that I might spend a good portion of my snow day online shopping for kitchen things. I mean working.
Like what you just read? Subscribe to Katie at the Kitchen Door on Feedly or Bloglovin', or follow along on Facebook, Twitter, Pinterest, and Instagram. Thanks for reading!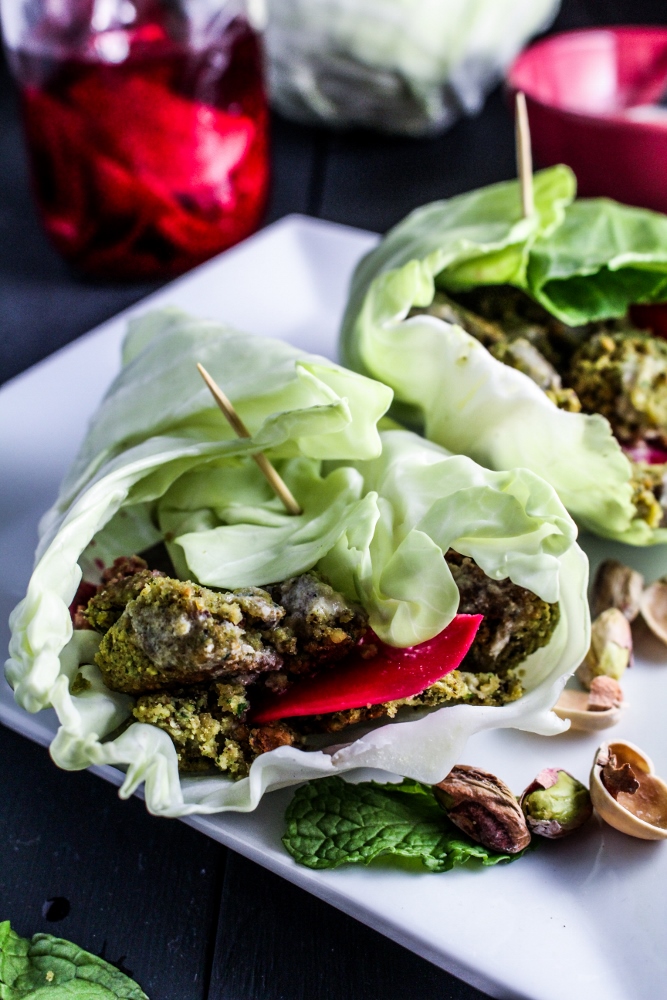 Baked Herb and Pistachio Falafel
Recipe adapted slightly from Vegetarian Everyday. Makes about 24-30 falafels, serves 4-5.
leaves from 8 sprigs of mint
leaves from 8 sprigs of parsley
2 c. shelled raw pistachios (8-1/2 oz.)
2 garlic cloves
1/2 medium onion, peeled
3 TBS olive oil
2 c. cooked chickpeas (or drained, canned chickpeas)
1 tsp ground cumin
1 TBS buckwheat flour (or another gluten-free flour)
1 tsp baking soda
sea salt
1 small head green cabbage
lemon-honey tahini sauce (recipe below)
quick spicy beet-and-turnip pickles (recipe below)
Preheat the oven to 375°F. Place the mint and parsley leaves in a food processor and process for about 30 seconds. Add the pistachios, garlic, onion, and olive oil and process until all ingredients are well minced and combined, about 30-60 seconds. Add the chickpeas, cumin, flour, and baking soda and blend for about 15 seconds at a time, stopping to scrape the mixture down the sides of the processor as needed, until the mixture is fairly uniform but not smooth – you want the mixture to still have some chunks of chickpea and pistachio in it.
Remove the mixture from the processor and season to taste with salt. Form the mixture into 24-30 small balls, about the size of a ping pong ball. Line a baking sheet with parchment paper and place the falafel balls on the sheet. Bake for 15-20 minutes, using tongs to turn the balls over every 5 minutes so that they brown evenly.
Slice off the end of the cabbage with a sharp knife. Remove the large outer leaves and rinse them individually. Pat them dry, then fill with the baked falafel. Serve with lemon-honey tahini sauce and spicy beet-and-turnip pickles. Baked falafel balls are also delicious tossed with a green salad with some avocado and feta cheese.
Lemon-Honey Tahini Sauce
3 TBS tahini
1 TBS honey
juice from 1/2 a lemon
1/4 c. water
Stir all ingredients together in a small bowl until smooth. Refrigerate until ready to use.
Quick Spicy Beet and Turnip Pickles
Technique adapted from Eating Well and Cook for Good. Makes two 1-pint jars of pickles.
1 medium turnip, peeled
1 medium beet, peeled
sea salt
1/2 medium red onion, peeled and very thinly sliced
1 jalapeno, stem and seeds removed, thinly sliced
1 c. white wine vinegar
1 c. water
1 TBS sugar
1/2 tsp salt
20 whole  black peppercorns
Cut the turnip and the beet into quarters, then slice each quarter as thinly as you can (use a mandoline if you have one). Layer the slices in a colander, with a sprinkling of sea salt between each layer. Place over a bowl and let sit for 10-15 minutes, then toss and squeeze with your hands to remove some of the excess liquid. Repeat this process until the vegetable slices feel a bit limp, about 30-45 minutes. Rinse the slices under cold water to remove the salt and then drain.
Toss the beet and turnip slices with the sliced red onion and sliced jalapeno. Divide the vegetable mixture between two clean glass pint jars.
In a small pot, mix vinegar, water, sugar, 1/2 tsp salt, and peppercorns. Heat over medium-low heat, bringing just to a gentle simmer. Stir to dissolve sugar and salt, then remove from heat and pour through a funnel into the two veggie packed jars. Cover the jars with lids and shake a few times to distribute the brine. Put the pickles in the fridge and let sit for at least 3-4 hours. Will keep in the fridge for up to two weeks.
0