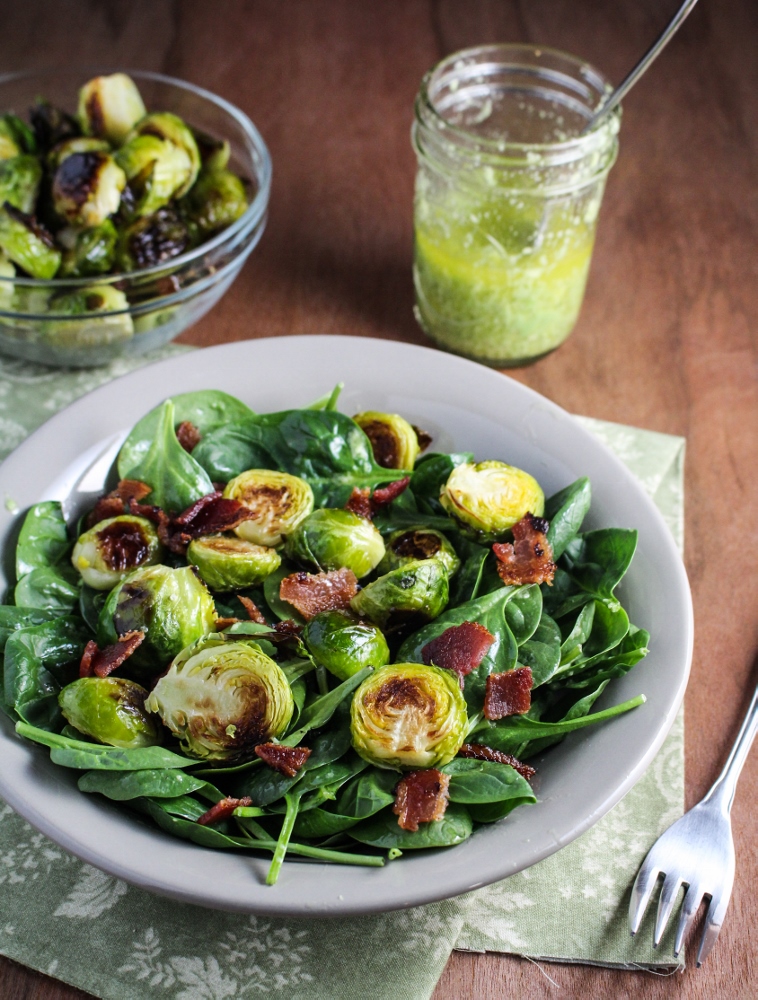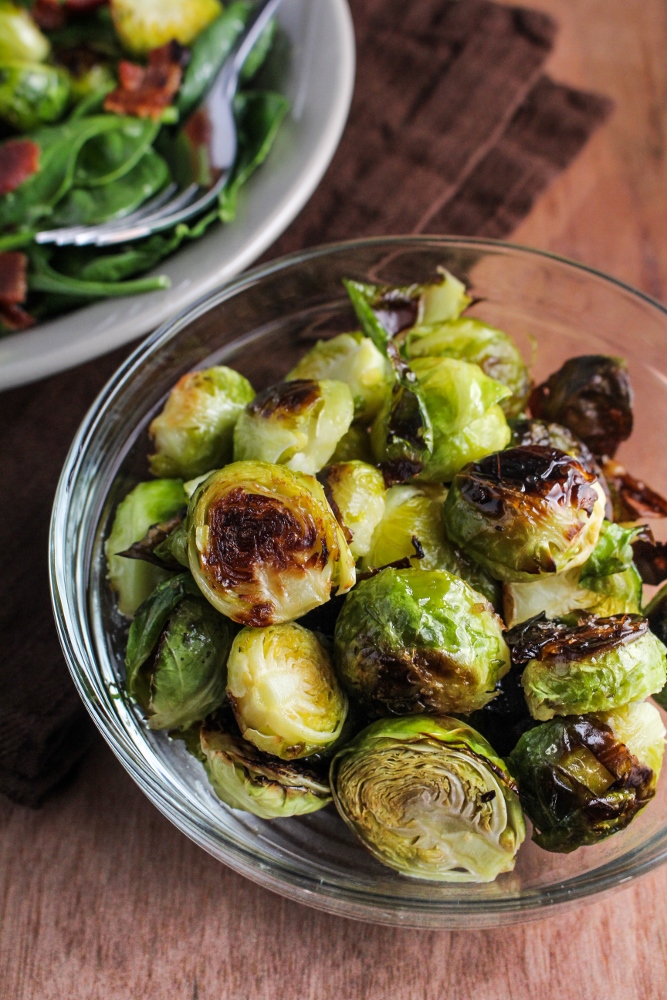 Guys, so far the first 8 days of 2014 have been a huge success, health-wise. I'm not going to get too excited, since 8 days is a really short period of time to maintain motivation in the grand scheme of things, but still, it's nice to remember how rewarding taking care of yourself can feel. I've done two solid treadmill sessions, two strength training sessions, spent an afternoon rock climbing (and made it to the top of the wall for the first time!), and gone to a great ballet class. I downloaded the Moves app to try and trick myself into walking more every day, and dragged the dusty scale out from under the bed. We stocked the fridge up with veggies and have been noshing on green smoothies, homemade minestrone, big roasted beet salads, and this carrot and tahini soup (which I had forgotten is really, really delicious). And tonight, as soon as I publish this post, I'm getting out of bed and doing one of those killer Nike Training Club butt workouts. I swear. Getting out of bed is a realistic aspiration. I'm going to do it. I know everyone's on the straight and narrow right now, but let's see if we can make it last!
One of the tasty, healthy things we've been eating is this salad, which contains several of my favorite ingredients, namely bacon, avocado, and brussels sprouts. I'm not the best at putting together inspiring salads – put me in front of a salad bar and I get kind of overwhelmed and end up with a bunch of weird things that don't really go together, finished off by a healthy sprinkling of bacon bits, no matter what the other ingredients are. However, I've recently discovered that pretty much any green salad is drastically improved by including a warm, craveable element: crispy spiced chickpeas, shredded rotisserie chicken, salty chunks of pancetta, or whole roasted brussels sprouts. So when I saw a recipe for spinach and bacon salad with avocado dressing in Diane and Todd's new cookbook, and then saw a recipe for bacon-roasted brussels sprouts immediately after, my mind started turning, and a salad that I could actually look forward to eating was born. I like that this salad is fairly simple but still feels like a complete meal – it's much more put-together than a boring bowl of dressed greens, but doesn't have 20 separate components to be prepped in order for it to taste good, like a Cobb salad does. It's also seasonal, filling, and… it has bacon. What's not to love?
Like what you just read? Subscribe to Katie at the Kitchen Door on Feedly or Bloglovin', or follow along on Facebook, Twitter, Pinterest, and Instagram. Thanks for reading!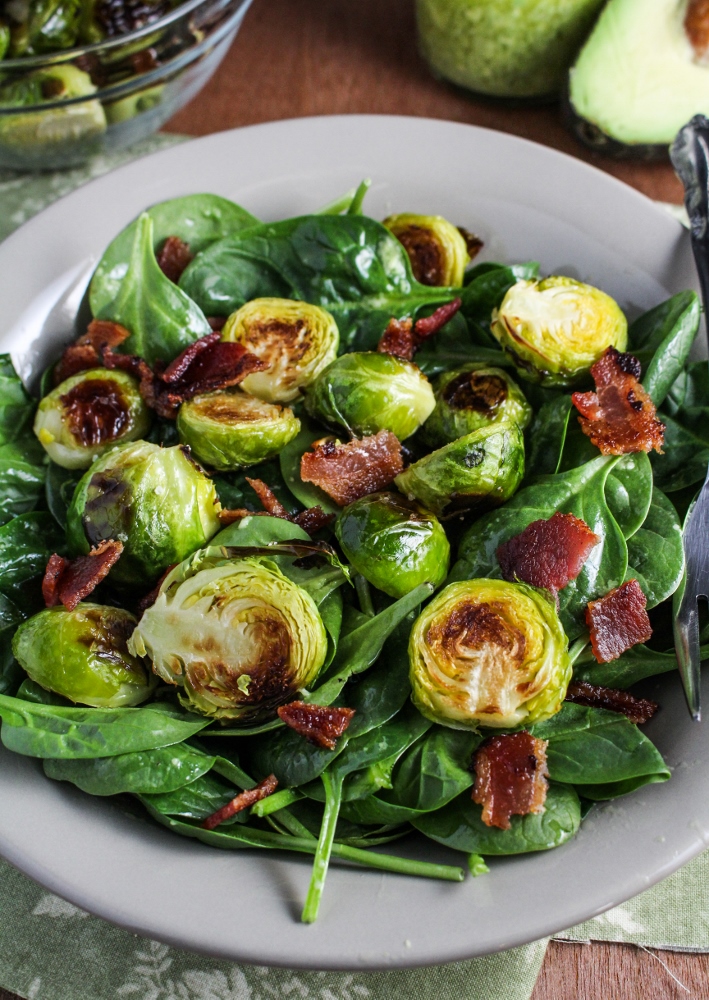 Roasted Brussels Sprout and Bacon Salad with Avocado Vinaigrette
Inspired by Bountiful. Serves 2.
1 lb. fresh Brussels sprouts
4 TBS olive oil, divided
sea salt
freshly ground black pepper
4 strips bacon
1 avocado
1 1/2 tsp champagne vinegar
1 1/2 tsp fresh lemon juice
4 large handfuls of fresh baby spinach
Preheat the oven to 400°F. Cut the white end off the base of each brussels sprout, remove the outer leaves, and then slice in half lengthwise. Toss the halved brussels sprouts with 2 TBS of olive oil, sea salt, and freshly ground black pepper to taste. Spread on a roasting pan and roast for 25-30 minutes or until tender with crispy golden-brown spots, flipping with a spatula after the first 15 minutes.
While the brussels sprouts are cooking, cook the bacon until crispy, drain on paper towels, and then roughly chop.
Cut the avocado in half, remove the pit, and scoop out the flesh. Place half of the avocado in a mason jar and mash up with a fork. Add the remaining 2 TBS of olive oil, the vinegar, and the lemon juice to the jar, close the jar, and shake vigorously to mix up the dressing. Season to taste with salt and pepper. Cut the remaining half an avocado into rough chunks.
Divide the spinach between two bowls. Top each with some avocado pieces, crumbled bacon, and a generous helping of warm brussels sprouts. Spoon some of the avocado vinaigrette over each salad and toss to coat. Serve immediately
8