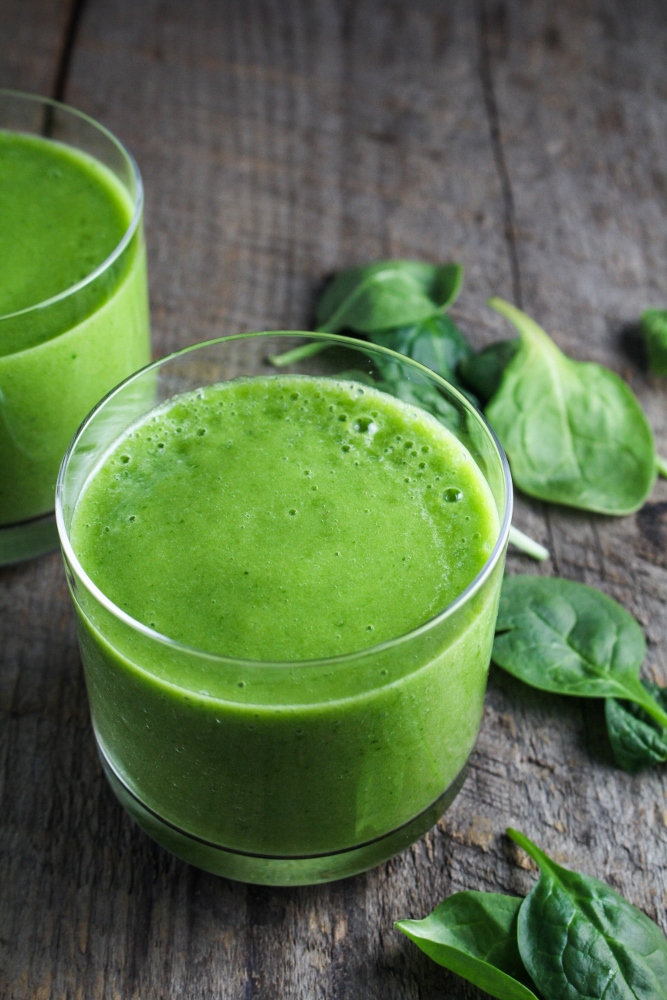 I've been sort of slow to come around to the idea of green smoothies being worth drinking. The first few I tried were not pleasant. This is not a smoothie, I thought, this is poorly blended, slightly chewy spinach water! Thankfully, I kept trying, and after much trial and error, I genuinely love starting my day with a green smoothie. My friends and coworkers are still skeptical, and I figured some of you might be as well, so I wanted to put together a list of tips I've discovered through experimentation. Hopefully, this gives some of you the encouragement you need to keep blending up those greens.
Tips for making tasty green smoothies…
Use sweet fruits and juices when you get started. I tried to make my first few smoothies with just a banana, spinach, and some milk or water. They were not good, and I ended up adding several tablespoons of sweetener to them. I quickly realized that I needed at least half a cup of orange or apple juice along with sweeter fruits like peaches or mango to make myself really enjoy a smoothie – even though juices can be pretty sugary, the trade-off of consuming a salad's worth of fresh greens before I start work is worth it to me!
Start out with mild tasting greens, like spinach, and work your way up towards more intensely flavored greens like parsley and kale. Smoothies made with even a generous amount of spinach will still taste like their other main ingredients (banana, mango, strawberry, etc.). You will notice the flavor of kale in your smoothie, so work more intense greens in in stages (adding a little bit of kale to your spinach smoothie, working up to 50/50, then going all-out kale).
If you find yourself chewing your smoothies, take the extra 2 minutes to strain them through a fine mesh strainer before drinking them. You'll have to scrape the edges of the strainer with a spoon as you strain to get as much liquid as possible through, but having a smoothie that's actually smooth will make the whole experience so much more pleasant.
Make sure to include something creamy in your ingredient list – it will make a big difference in the final texture. Bananas are the most obvious choice, but if you're not a banana lover, peaches and pears will also add creaminess (although not quite as much as a banana), or if you're up for something different, try using half an avocado.
Follow a recipe for your first five smoothies. Take it from someone who's tried a lot of times – the results of "winging it" can be pretty gross when it comes to smoothies. Over time, you'll learn to balance sweetness, the amount of liquid, and the intensity of "green" flavor in your own combinations, but practice some basic recipes first.
If you want your smoothie to look vibrantly green and appetizing, stick with other ingredients that are light in color – oranges, bananas, peaches, mango, apple, etc. If you don't care what it looks like, throw in those blueberries! Just be warned that it's going to look like brown sludge.
I've included a recipe for my favorite green smoothie  below – it's fairly basic, but super creamy, sweet, and energizing. It's also delicious with frozen peaches instead of frozen mango. I won a Vitamix this fall, and I'm a little bit obsessed with it, but the ingredients in this smoothie will get blended up just fine in a regular blender. And since no one wants to have the exact same breakfast every day, I've rounded up some other delicious-looking smoothies from around my favorite food blogs. Any other favorite smoothie recipes? Please share them in the comments! I'd love to give them a try.
Other delicious looking smoothies to try…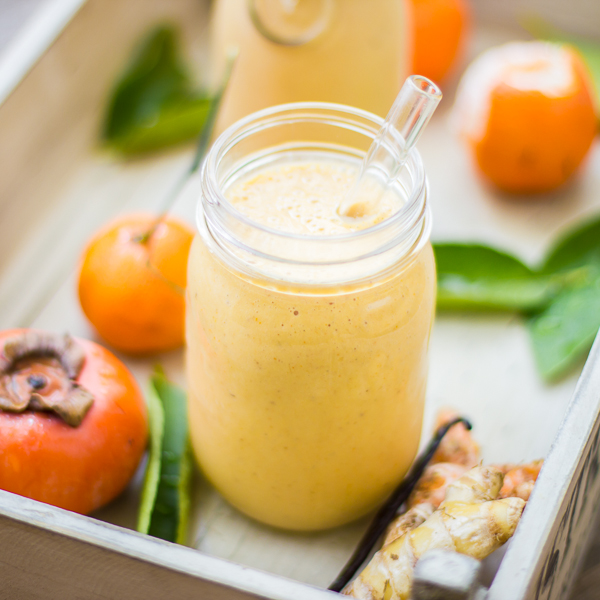 Persimmon and Tangerine Smoothie with Vanilla, Ginger, and Turmeric by The Bojon Gourmet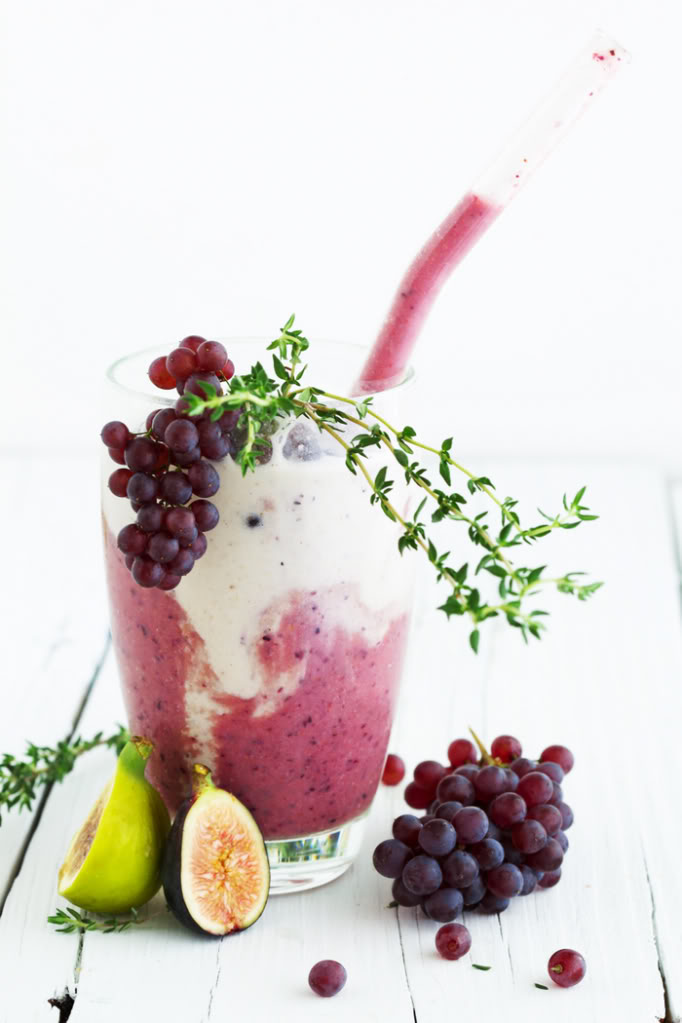 Fig and Grape Oat Milk Smoothie by Golubka Kitchen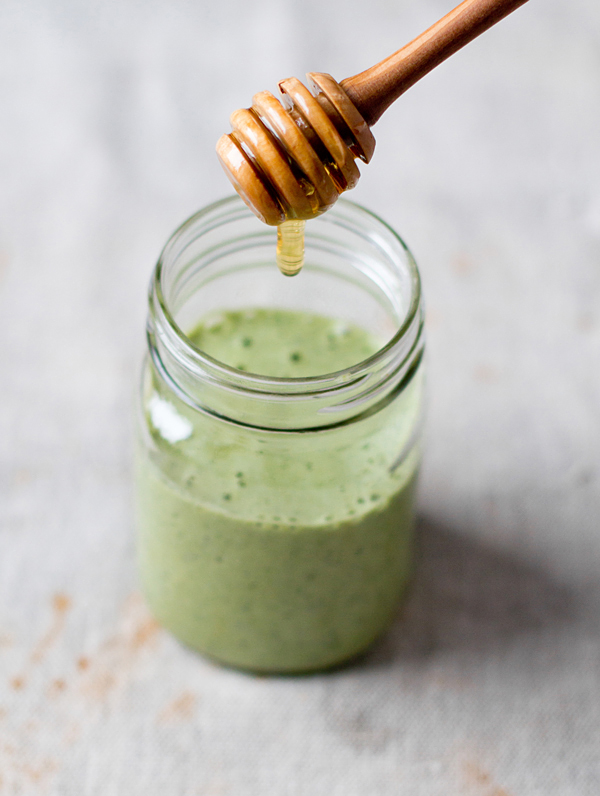 Kale-Ginger Smoothie by Oh My Veggies
Like what you just read? Subscribe to Katie at the Kitchen Door on Feedly or Bloglovin', or follow along on Facebook, Twitter, Pinterest, and Instagram. Thanks for reading!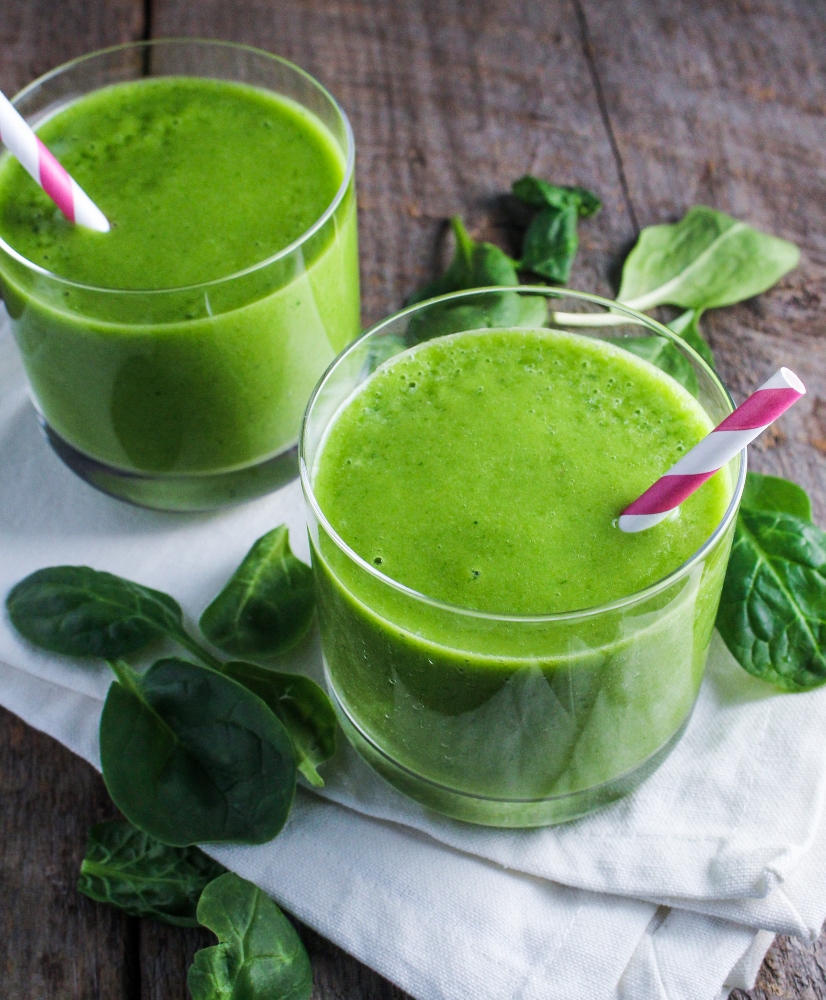 Sweet Spinach-Mango Smoothie
Serves 1.
1 c. orange juice
1/2 c. water
1 banana
1 c. frozen mango pieces
2 c. fresh baby spinach
Add all the ingredients to blender in order listed and blend on high until smooth and thick. If your blender is not powerful enough to fully blend the spinach, strain the smoothie through a fine mesh sieve for a finer texture. Drink immediately, or keep in the fridge for up to 24 hours, stirring before serving.
31