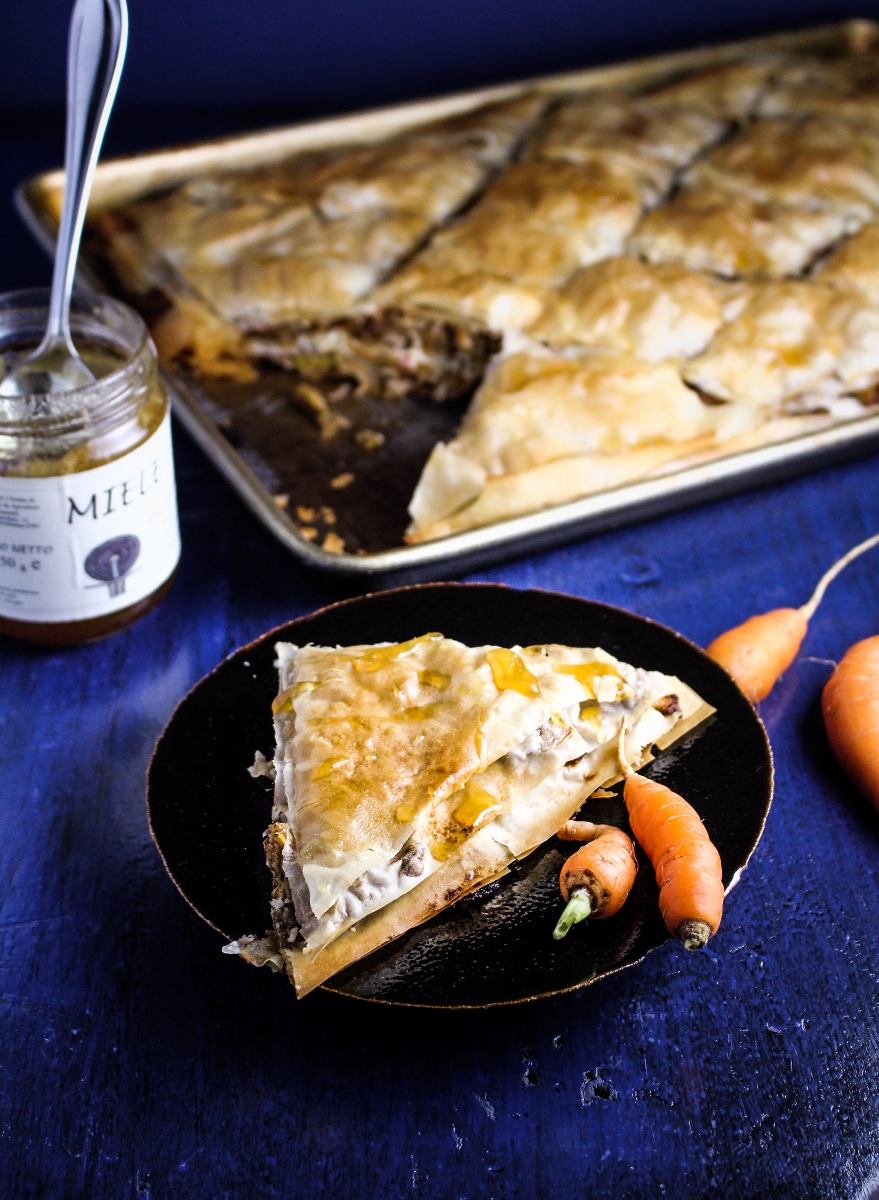 I started an "Ingredient of the Week" feature earlier this year, challenging myself to make the most of a particular in-season ingredient by posting a creative recipe starring that ingredient for 5 days in a row. I managed to feature rhubarb and green peas, and had grand plans for doing blackberries and peaches and zucchini and tomatoes by the end of the summer, but the summer sort of got away from me. Still, just because home grown produce isn't as bountiful now as it was in August doesn't mean that there aren't seasonal ingredients worth celebrating. This week, I'm celebrating one of the last vegetables we were able to harvest from our garden – the carrot.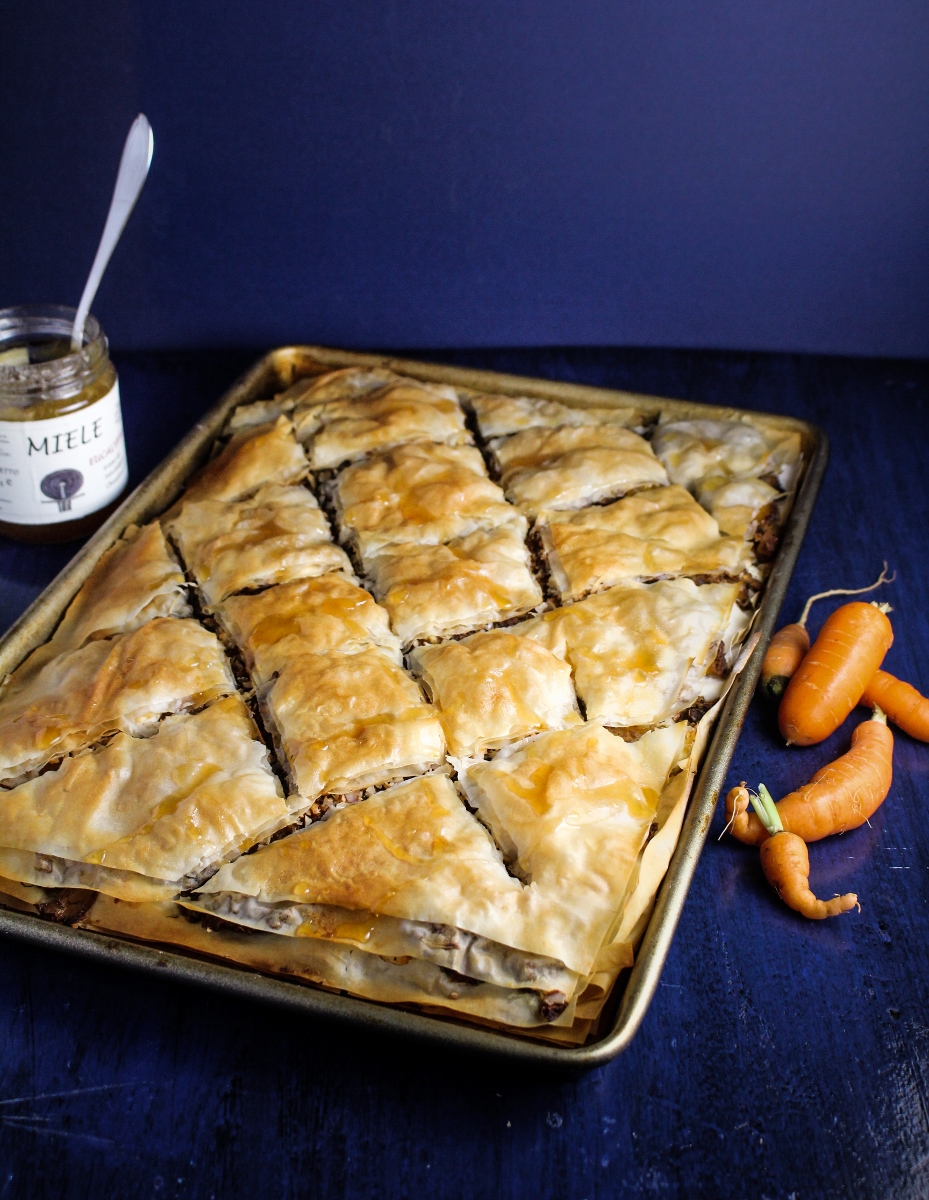 While not as popular as another sweet, orange fall vegetable (although I do feel like the pumpkin mayhem is a little more under control this year), the carrot is a humble, under-utilized little root. Usually, when I think of carrots I think of them as part and parcel with onions and celery for starting out a soup, or as stubby little dippers for hummus. But they're so much more versatile than that! Cakes, sauces, juices, roasts – if you take a minute to think about it, you'll realize that carrots add sweetness and depth to many different meals.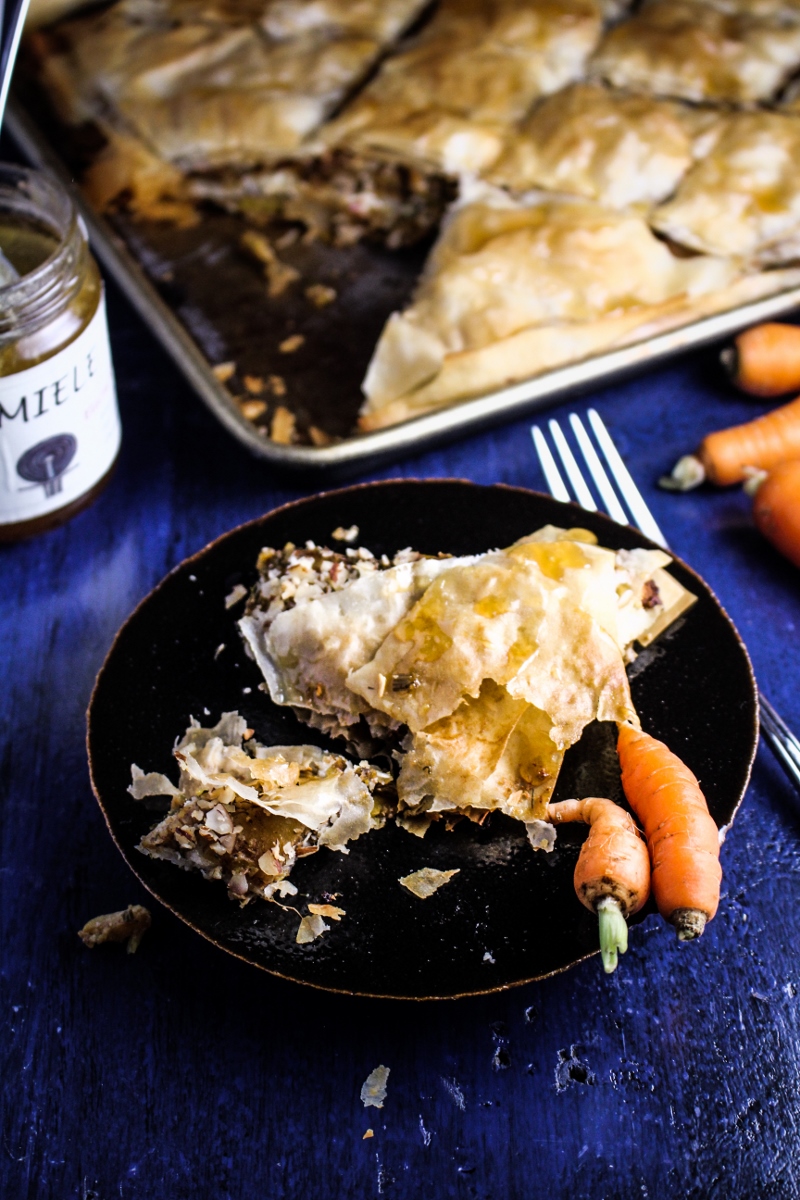 Whenever I kick off an ingredient of the week feature, I first spend an evening sitting on the floor, surrounded by piles of cookbooks, searching for the most interesting recipes I can find. Once I have a big list compiled, I choose the four or five recipes that I think are the most unique and delicious-sounding. The most interesting recipe from this weekend's cookbook research comes from a new member of my collection, Maria Elia's Full of Flavor. In her "roots" chapter, amidst more typical presentations like carrot and herb salad and spiced carrot puree, I found this recipe for a savory carrot, feta, and almond baklava. I'd never had a savory baklava before, and loved the idea. The carrots are thinly sliced and stewed with cinnamon, lemon, caramelized onions, and dill, before a portion of them are pureed. Layered with feta and crushed almonds between butter-soaked sheets of filo dough, they are then baked to crusty perfection and drizzled with honey. I loved the sweet and salty play of the honey and feta cheese, and think these would be a great (if a little messy) vegetarian party appetizer at any time of the year. A good start to carrot week, if you ask me.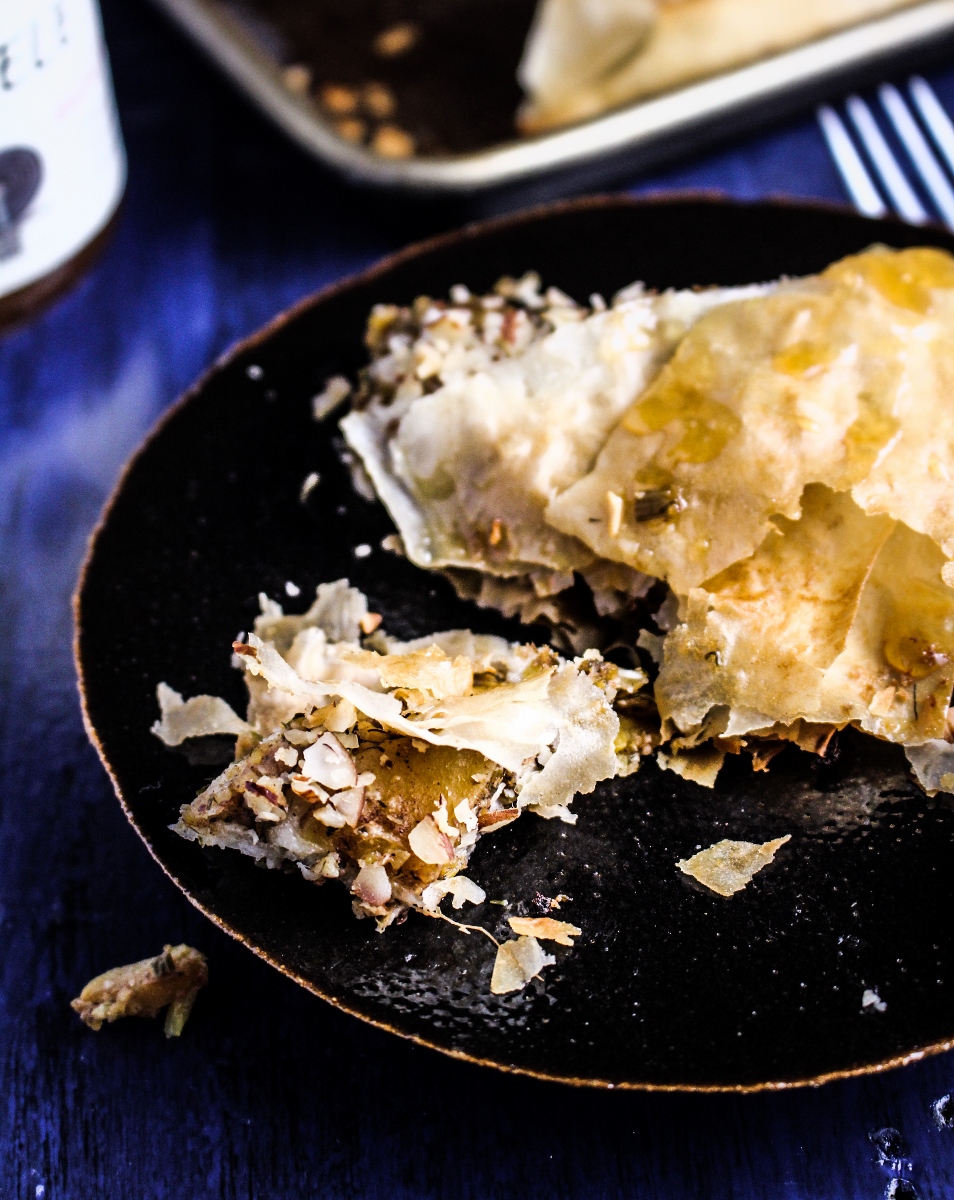 Carrot, Almond, and Feta Baklava
Recipe adapted slightly from Full of Flavor. Serves 8-10.
3 TBS olive oil
1 large onion, peeled, halved, and thinly sliced
2 garlic cloves, peeled and finely minced
2 lb carrots, peeled and thinly sliced
1 small bunch fresh dill, including roots, finely chopped (about 1 1/2 c. chopped dill)
1 TBS ground cinnamon
finely grated zest of 1 lemon
juice of 1/2 lemon
sea salt
9 sheets filo pastry (about 3/4 of a package)
6 TBS butter, melted
2/3 c. whole almonds
1 2/3 c. crumbled feta cheese
4 TBS honey
Preheat the oven to 350°F. Heat the olive oil in a large saucepan, then add the sliced onions. Caramelize the onions over medium heat until dark and sticky, stirring frequently to prevent burning. This should take 15-20 minutes.
Stir in the garlic, carrots, dill, cinnamon, lemon zest, and lemon juice, and season with sea salt. Cook for another 6-8 minutes, stirring frequently. Add 3 cups of water, and bring to a gentle simmer. Cook over medium heat until most of the liquid has been absorbed and the carrots are tender, about 30 minutes.
Process the almonds in a food processor until they are the consistency of a coarse breadcrumb, then set aside in a bowl. Mix the feta cheese with the ground almonds. Add 1/3 of the carrot mixture to the food processor and process until smooth, then stir back into the whole carrots.
Unfold the filo dough, and cut to the size of the baking sheet you will be using (ideally around 9×13. Save the extra dough. Cover the sheets you will be using with a damp paper towel to keep them from drying out as you work.
Brush the baking sheet lightly with melted butter, then lay one sheet of filo dough on it. Brush the filo with melted butter, and top with another sheet of filo. Repeat to have three sheets of filo in the first layer. Spread half the carrot mixture gently on top of the filo, pushing it out to the corners. Sprinkle half the feta-almond mixture on top of this, pressing down lightly to smooth. Repeat the filo-butter process with three sheets of filo, then spread the remaining carrot and feta mixture on top. Finish the baklava with another three sheets of butter-brushed filo. Before brushing the top sheet, score gently with a sharp knife to cut the pastry into diamonds. Then brush with the remaining butter and sprinkle with cold water. Bake for 35-40 minutes, until golden. Remove from the oven and let cool to room temperature before drizzling with the honey.
0