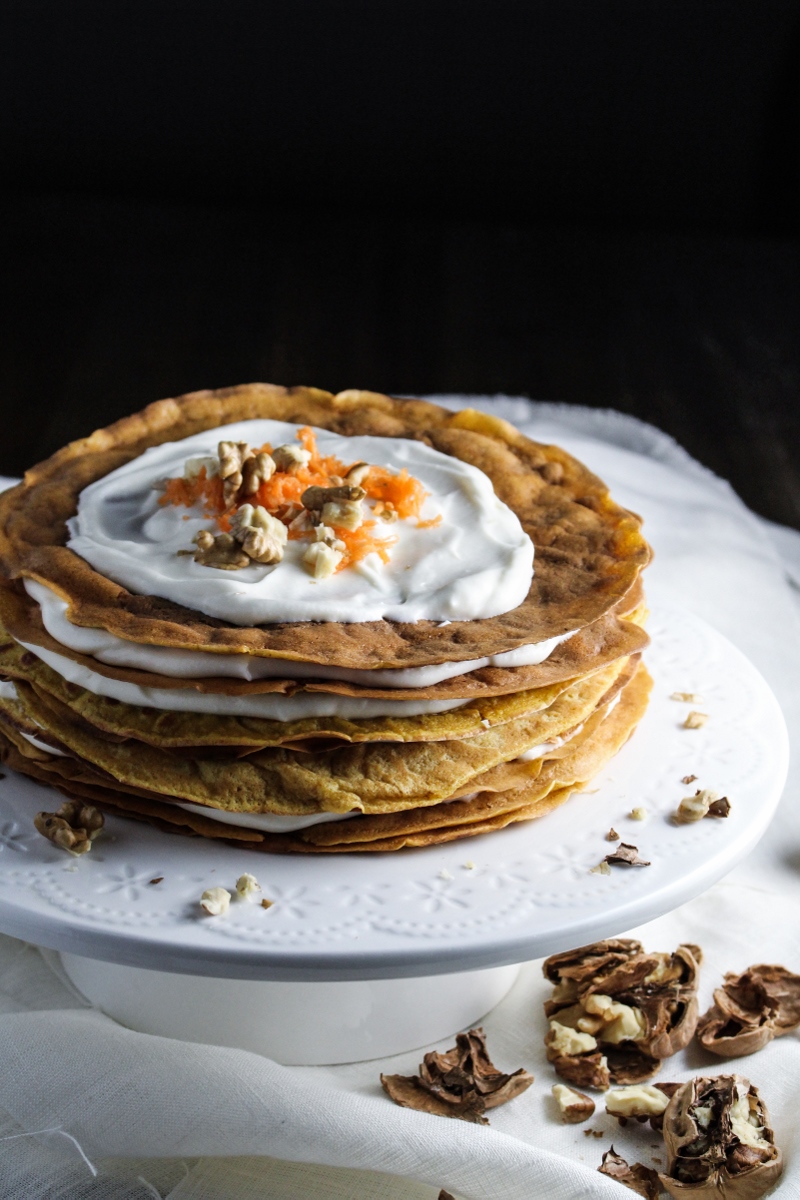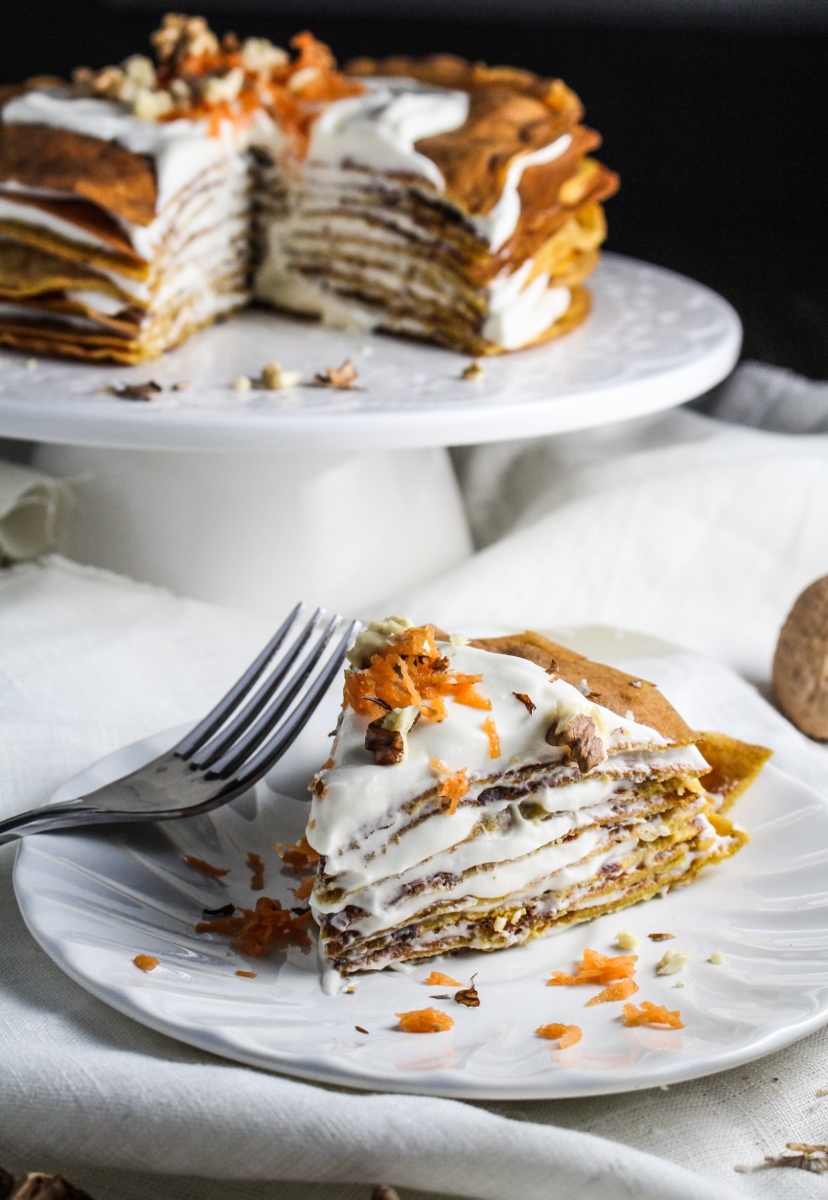 This is how I thought I should start this blog post: "To kick off carrot week, we took a typically sweet dessert, baklava, added carrots, feta cheese, and caramelized onions, and made it savory. Today, we're taking the opposite approach and reinterpreting a classic carrot-based dessert: carrot cake."
Trevor read this, gave me his best "could-you-be-any-duller" grimace and began dictating: "My boyfriend is allergic to carrots. I'm making these recipes this week in an attempt to kill him. Living with him these past few months has been unbearable, so unbearable that I've been forced to stay out late drinking too much on Monday nights with my friends, which in turn leads to me being behind in my blogging schedule forcing me (and him) to make carrot crepes way past my bedtime. If the act of making these not-very-well-recipe-tested crepes doesn't get him, hopefully eating them well."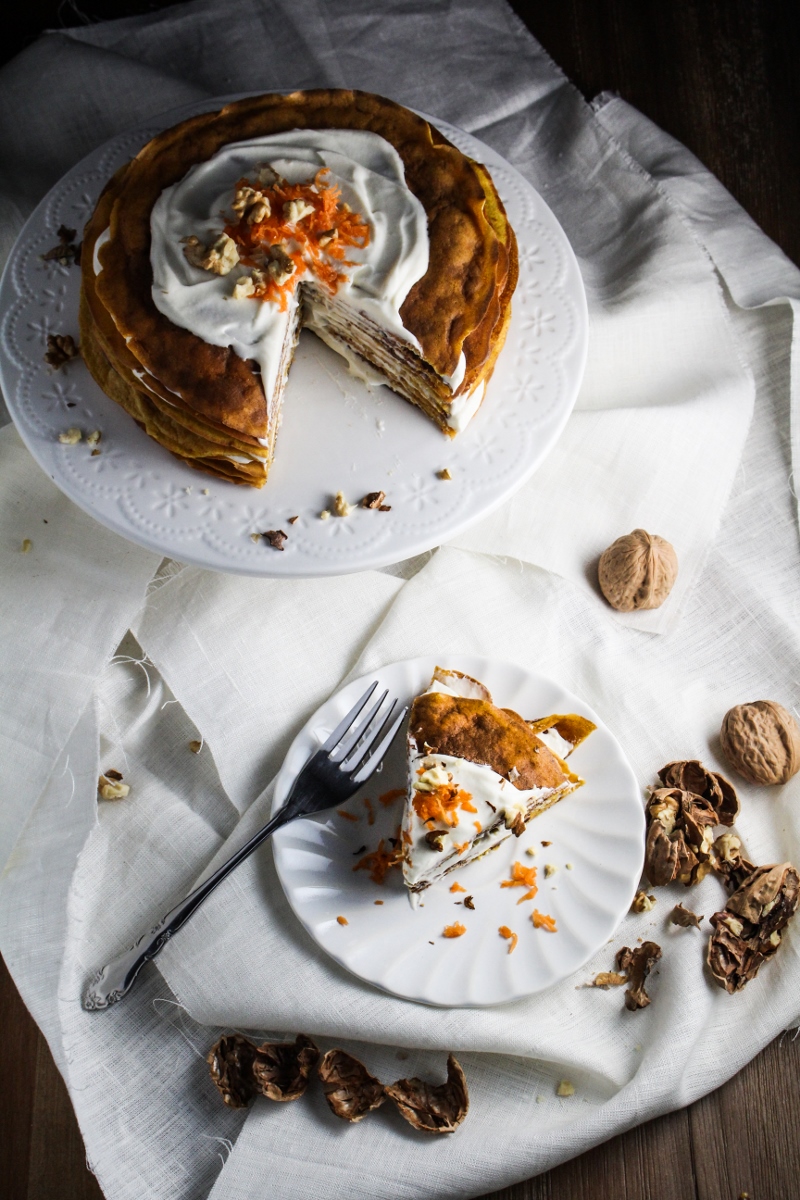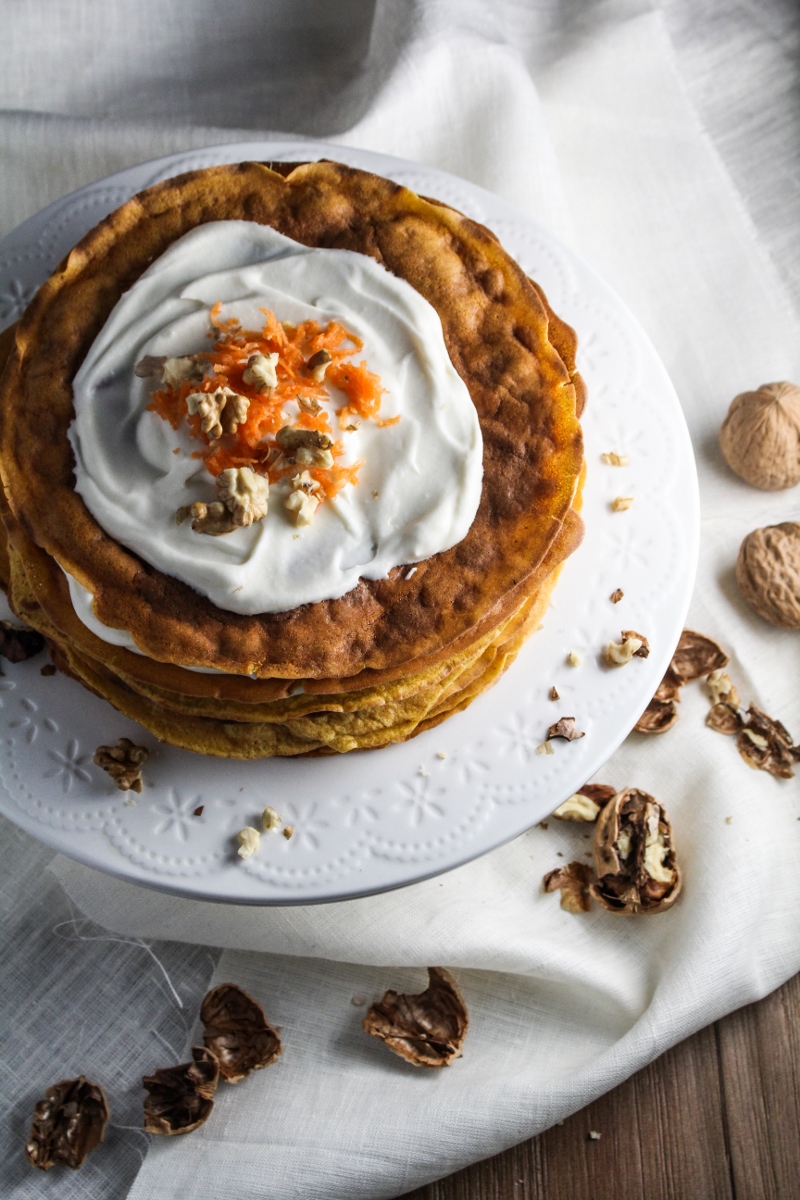 I think I might just stop trying.
Anyway, we made carrot cake crepes, and assembled them into a huge cake with layers of whipped cream cheese frosting. It's a good concept, although to be fair, it's not really my concept – I was going to make Deb's carrot cake pancakes, until I saw one of her readers comment about making a crepe cake version, and I wanted to try. I googled "carrot crepes" a lot of times, but I couldn't find a recipe that incorporated raw carrots. In hindsight, there might have been a reason for that. The first few attempts to cook these came out kind of raw and mushy, but with a bit of tinkering, we got these to work out nicely. If you have your own adjustments, please, share – they definitely aren't perfect yet. The frosting, on the other hand, is amazing – you could always just make that and eat it off a spoon.
I will do my best to begin writing before 9PM tomorrow, for all our sakes.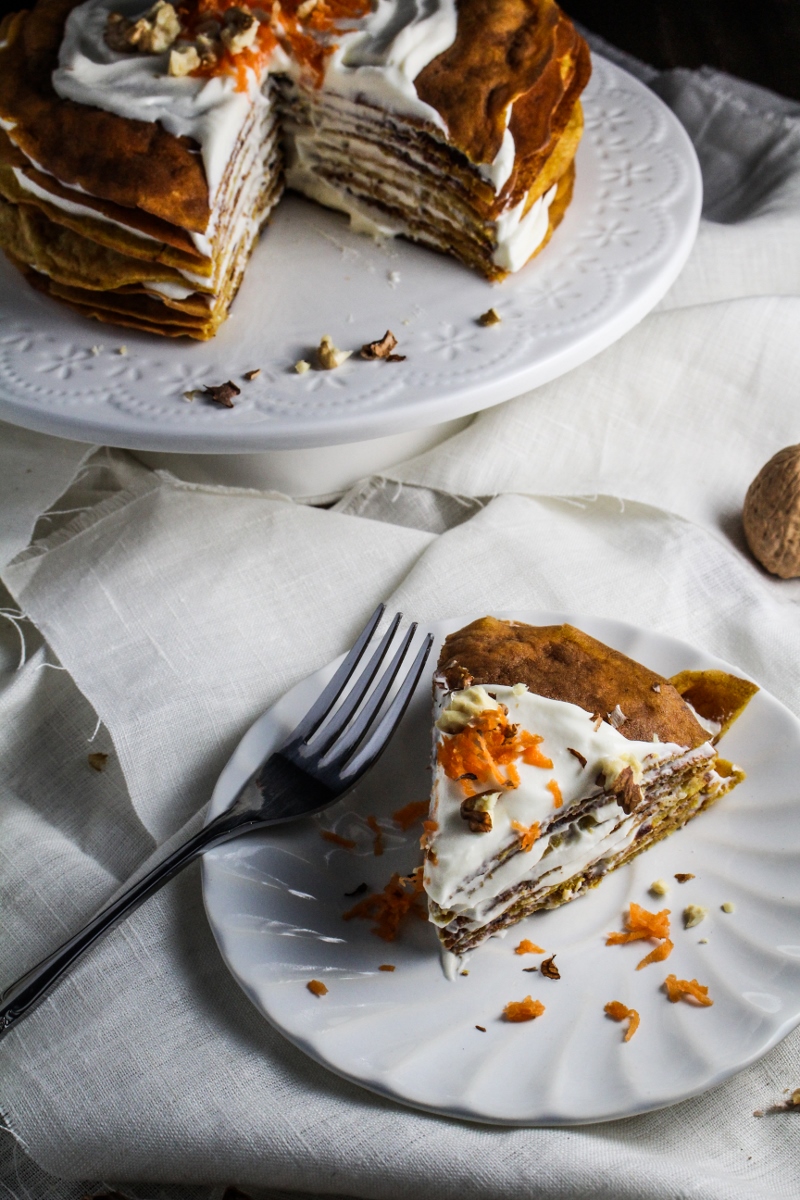 Carrot Cake Crepe Cake with Whipped Cream Cheese Frosting
Inspired by Lili's comment on Smitten Kitchen. Makes 1 cake.
1 c. whole milk
1/2 c. buttermilk
1/2 lb. carrots, peeled and sliced into 1-inch chunks
3 eggs
1 c. flour
1 tsp cinnamon
1/2 tsp nutmeg
1/4 tsp baking powder
1/4 tsp salt
4 TBS brown sugar
1 TBS canola oil
1 (8-oz.) package of cream cheese, softened
 1 1/2 c. heavy cream
1 lb. powdered sugar
2 tsp lemon juice
1 tsp vanilla
butter, for greasing the pan
Add the whole milk and the buttermilk to a blender. Add 1/2 of the sliced carrots, and pulse the blender a few times to break them into chunks. Once they are broken up, slowly increase pulsing speed until the mixture is smooth. Add the remaining carrots and repeat to make a thick, smooth mixture. Add the eggs and pulse the blender a few times to combine, then pour the batter into a large bowl.
In a separate bowl, mix together the flour, cinnamon, nutmeg, baking powder, and salt until evenly combined. Whisk in the brown sugar. Add the flour mixture to the liquid in batches, stirring to combine between additions. Stir in the canola oil until fully combined. Let the batter rest for 30 minutes.
While the batter is resting, make the frosting. In a large bowl, beat the cream cheese until it is smooth and easy to stir. Add the heavy cream 1/2 cup at a time, beating thoroughly between additions to lighten the cream cheese. At the last addition of heavy cream, use a whisk to thoroughly beat and aerate the frosting. Whisk in the powdered sugar until smooth and lump free, then whisk in the lemon juice and vanilla. Taste and add more sugar or lemon if desired. Set aside.
Heat a small pat of butter over medium-low heat in a medium frying pan. Add about 1/4 of the crepe batter in the center of the pan, and swirl to make a large, thin circle. Cook the crepe until golden brown on each side, about 3-4 minutes per side (this is much longer than your average crepe recipe, but don't be tempted to flip them too early or they'll tear). Once fully cooked, remove and let cool fully on a cookie rack before transferring to a plate.
To assemble the crepe cake, place one crepe on a cake stand or plate, and place a small dollop of frosting in the center of the crepe. Use a spatula to gently spread the frosting out in a circle to make a thin layer covering the entire crepe, up to about 1/4 inch from the edge. Place a second crepe on top. Repeat until you have used all the crepes and frosting. Top with a final dollop of frosting, and garnish with grated carrot and crumbled walnuts if desired.
3