Le Pigeon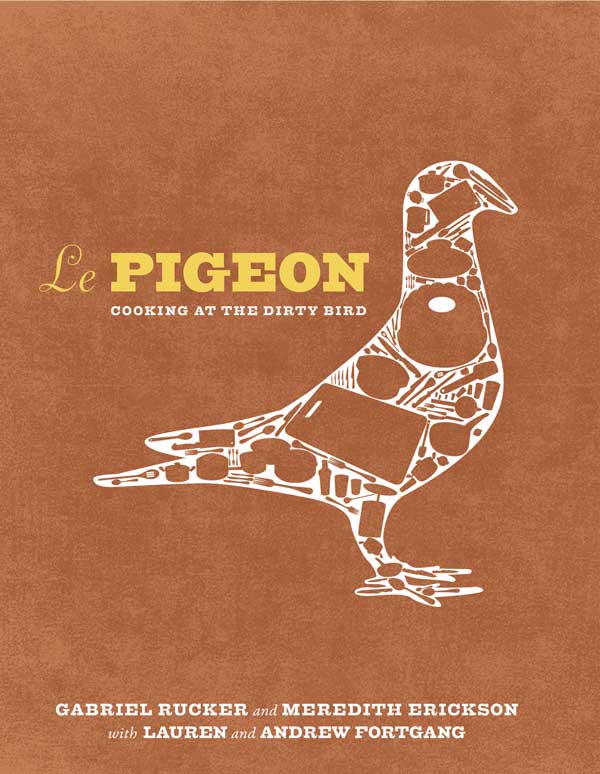 The Book: There have been a lot of big-name chef and restaurant cookbooks published this fall. I find that restaurant cookbooks can be hit or miss – not all delicious restaurant food translates well to home kitchens, and sometimes scaling restaurant quantities down results in more recipe errors. However, I took a chance on one of this season's restaurant books, Le Pigeon, since I couldn't get over the intriguing table of contents (tongue, fat liver, little birds, pork, horns and antlers, lamb, etc.). I'm glad I did – this book is a winner. While it's not for vegetarians or timid cooks, adventurous eaters will find dozens of recipes that stretch the way they think about food – this is outside-of-the-box cooking. Every dish is creative and company-worthy, but there's a broad range of accessibility: a newer cook might try the simple radicchio and pear salad with an addictive-sounding blue cheese dressing or the slow-roasted lamb served over risotto (featured here!). On the other end of the spectrum, even the most ambitious chef will probably be challenged by the 7-component banana cream pie with pineapple and macadamia nuts, or the 5-component calf's head terrine with gribiche, sweetbreads, and bruleed eggs. Some of the recipes go a little too far for my taste – I get a little squeamish about offal and other infrequently used meats, so recipes like eel dumplings and foie gras served in eel consomme are not something I'm going to cook – but for some people these unique recipes could be the highlight of the book. One note of warning: as you might have gleaned already, some of the ingredients used in this book will be really hard for the average joe to find, especially given seasonality. The book itself is one of the heftier ones on my shelves, with over 340 pages, and plenty of big, full-page photos – of the food, the city, customers, and the chefs just goofing around. I've never been to Portland (the Oregon one) or eaten at Le Pigeon, but my gut tells me that this book, full of stories, notes from the chef, and lots of meat and offal, is true to the experience you might have at the restaurant.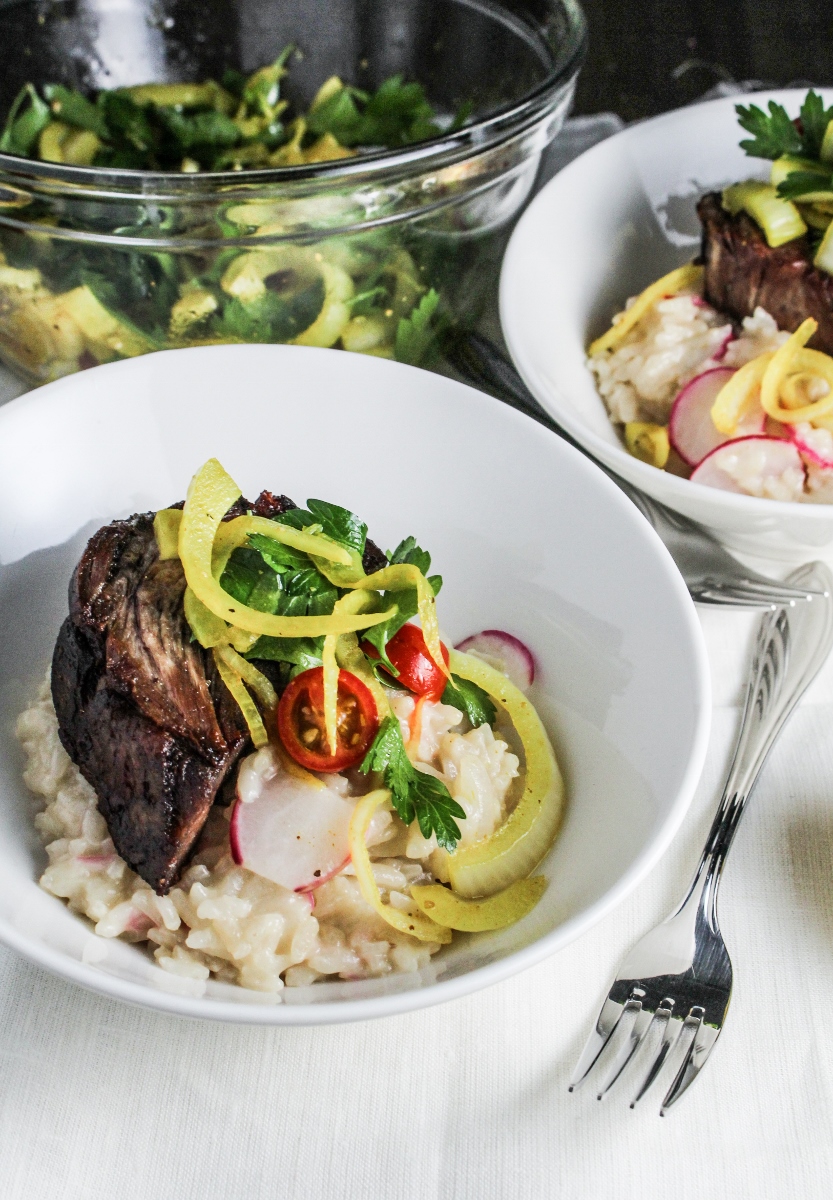 The Food: There were only a handful of recipes from Le Pigeon that were approved to be shared for promotional purposes, but they all sounded delicious. We were initially going to make the Maple-Lacquered Squab with Duck Confit Hash, but squab proved very difficult to find (actually, we bought cornish game hens as a potential substitute, but it turns out that they are not game at all, they're just tiny, expensive chickens). So we pushed this review back a week and took the time to roast the 5-hour lamb for the Lamb with Green Garlic Risotto. The name of this dish does not do it justice – it's incredible. Although relatively simple to put together, the three components of this dish – a lamb shoulder that's roasted until falling apart, sliced, then quickly pan-fried before serving; a creamy pecorino and radish risotto; and a mind-blowing curry-pickled fennel and parsley salad – come together in an amazing burst of flavor. The lamb is intensely gamey, the risotto rich and cheesy, and the fennel bright and crunchy and exotic. I couldn't get enough of the fennel, until I took a few bites without risotto and realized that it was the combination of the two that I was liking so much. Really, a showstopper. If you plan ahead and roast the lamb the night before, this is actually easy enough for a weeknight dinner. It is one of the simpler recipes in the book, so I hope we find the other recipes have the same great time to flavor payoff. Scroll down for the recipe.
Recipe Shortlist: Cedar-Planked Zucchini, Chevre, Almonds; Fig and Fois Gras Terrine with Fermented Black Bean Muffins; Pheasant Gnocchi, Sake Pears; Duck Nuggets; Smoked Rabbit Pie, Cheddar, Mustard Ice Cream; Creamed Rabbit, Polenta, Black Truffles; Potato and Nettle Soup, Crispy Pork; Lamb Shepherd's Pie, Curry Mash; Honey-Bacon Apricot Cornbread, Maple Ice Cream
Pickles, Pigs, & Whiskey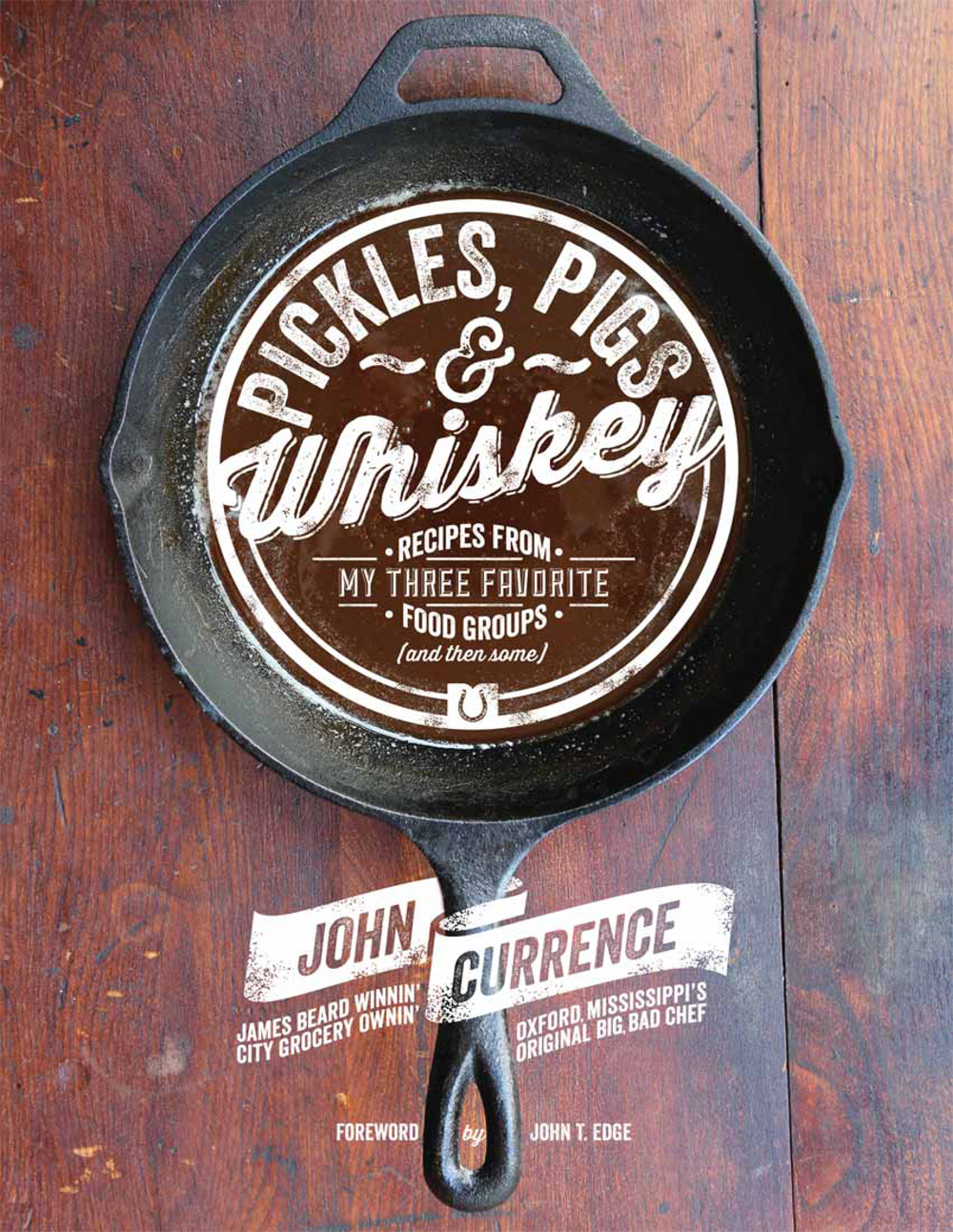 The Book: Pickles, Pigs & Whiskey is a different sort of cookbook. With the strongly-felt influence of its chef-author, John Currence of City Grocery, it meanders through the foods that have influenced his culinary journey. You will find more than just dinner and dessert here, with whole chapters dedicated to condiments, canning, cocktails, and meat curing. Mostly rooted in Southern cooking (deep Southern and Creole cooking to be more specific), it occasionally veers into the culinary traditions of Latin America, Italy, and France. Between the different cooking techniques and different regional influences, all together this book is a bit of a hodge podge, but in a good way. It has personality. Most of the recipes manage to be both fancy and rustic at the same time – comforting stews and roasts and braises, but always with an elegant spin. Like Le Pigeon, many of these dishes are fairly meat-heavy – again, probably not the best choice for vegetarians or for those trying to eat lightly, but great for creating intense flavors. I'm not the biggest fan of the design of the book – the multiple photo layouts are a little bit too yearbook-like for me – but that's obviously a matter of personal taste. What I do like is the inclusion of music to listen to while you're cooking each dish; I think it's such a fun and original idea to include playlists in a cookbook.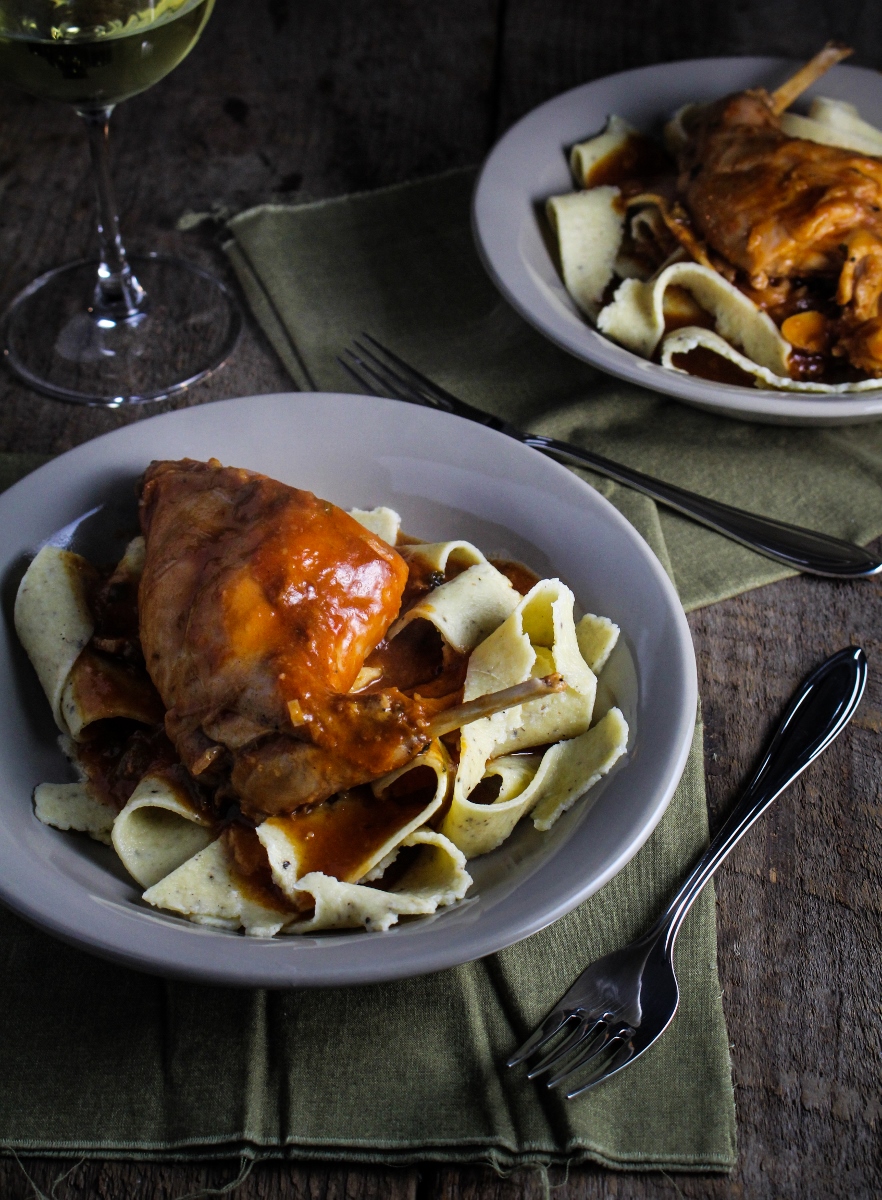 The Food: Perhaps we were being foolish, but the recipes we chose to test from this book didn't contain any of the three title ingredients. In fact, they aren't even that Southern, but Rabbit Cacciatore with Black Pepper Pappardelle was what sounded good to us on a freezing November night, so that's what we made. I'm a big fan of rabbit, but I thought this recipe didn't really showcase it – it actually ended up tasting kind of like chicken, where chicken was the protein it was intended to replace. Plus, it was a bit tricky to eat with the rabbit pieces left whole; next time, I would pull the rabbit meat off the bones before serving. The mushroom and tomato sauce was good, a little one dimensional perhaps, but with an unexpected smoky kick to it that I liked, and it had gained complexity by lunchtime the next day. I can't really fairly review the pappardelle, since I accidentally used bread flour, thought I didn't have enough, and added some semolina flour to make up for it – but it did end up coming out really well after some thorough kneading, and I loved the black pepper bite to it. All told, this was a solid recipe, but not particularly special, especially given the price of rabbit. I'm certainly not giving up on the book, but next time I think I'll choose something a bit more Southern. Scroll down for the recipe.
Recipe Shortlist: Bourbon Milk Punch; Gumbo Z'Herbes; Pickled Sweet Potatoes; Top-Shelf Chicken and Dumplings; Chicken-Fried Duck with Caramelized Onion Gravy; Grillade and Grits Casserole; Pecan-Smoked Duck with Molasses Lacquer; Pork Fat Beignets with Bourbon Caramel
Recipes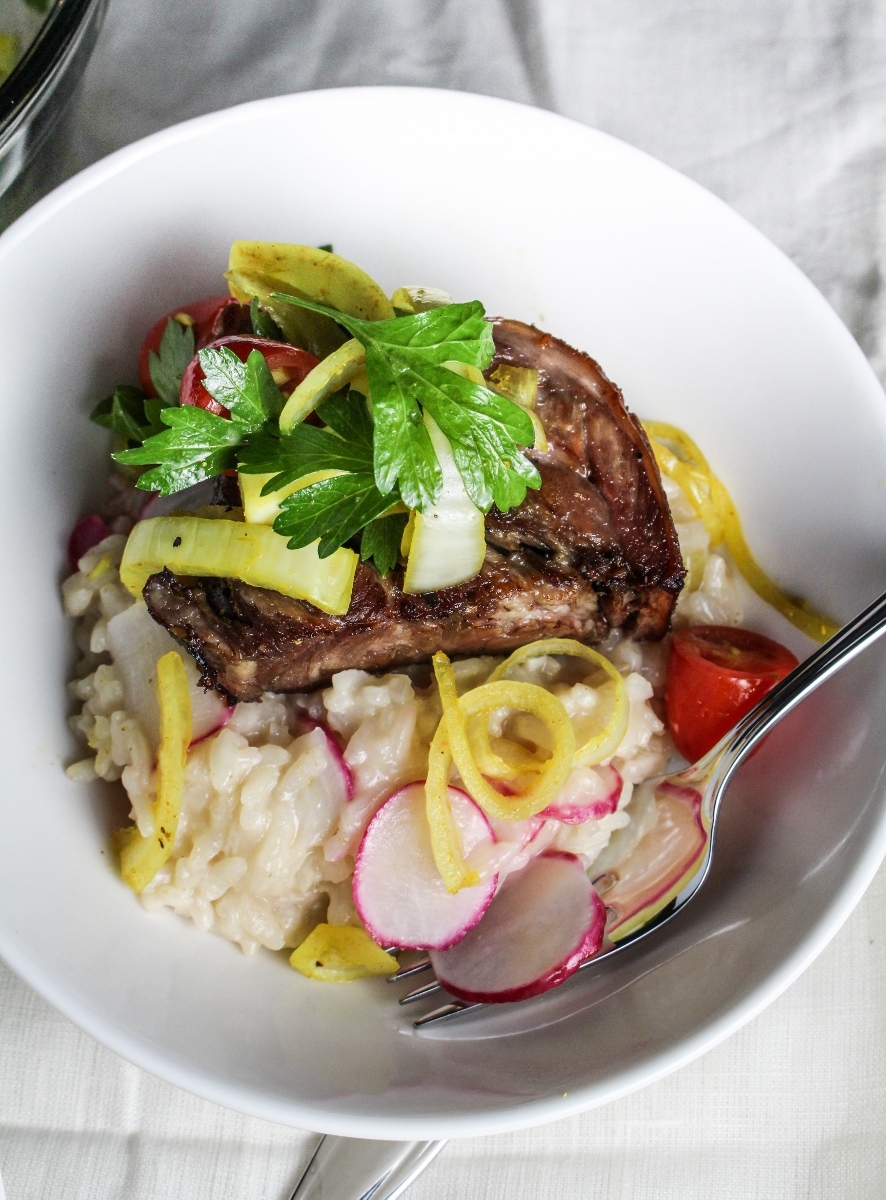 Lamb, Green Garlic Risotto
Recipe from Le Pigeon. Serves 4.
For the lamb:
1/2 tsp garlic powder
1/4 tsp onion powder
1/2 tsp ground fennel seeds
2 TBS kosher salt
1 tsp freshly ground black pepper
1 boneless lamb shoulder, about 3 lbs.
1 c. dry white wine
1 head green garlic, halved (use regular garlic + 2 shallots of green garlic is unavailable)
neutral oil, for frying
Preheat the oven to 350°F. Stir together the garlic powder, onion powder, fennel seeds, salt, and pepper in a small bowl, then rub the lamb all over with the spice mixture. Place in a roasting pan with the wine and garlic. Cover with aluminum foil and roast for 5 hours. Remove from the oven and let cool. Refrigerate until cold.
When ready to serve, remove the lamb from the fridge and cut into 6 equal round slices. Heat 1/4 inch of oil over medium-high heat, and fry the lamb slices in batches until heated through and crispy, about 3 minutes per side. Transfer to a plate line with paper towels. Serve on a bed of risotto with a spoonful of pickled fennel salad on top.
For the risotto:
1/4 c. butter, divided
1/2 yellow onion, peeled and finely diced
2 cloves garlic, peeled and thinly sliced
1 1/2 c. Arborio rice
kosher salt
3/4 c. dry white wine
4 c. chicken stock, heated until steaming
1/2 c. grated pecorino cheese
1/2 c. thinly sliced radish
In a heavy pot over medium heat, melt 2 TBS of the butter. Add the onion and the garlic and saute until translucent, about 4 minutes. Add the rice and season with salt. Cook for 3 minutes or until rice is translucent around the edges, stirring the whole time. Add the wine and cook, stirring, until the wine has evaporated, about 4-5 minutes. Ladle the hot stock into the risotto 1 cup at a time, stirring the risotto constantly. Let each cup absorb into the rice fully before adding more stock. Once you have used all the liquid and the rice is al dente, stir in the pecorino, the radish, and the remaining 2 TBS of butter. Season to taste, remove from the heat, and serve immediately.
For the pickled fennel salad:
1 c. champagne vinegar
1 TBS curry powder
1/2 c. water
2 TBS sugar
2 TBS kosher salt
1 TBS ground fennel seeds
1 small fennel bulb, cored and thinly sliced
1/2 small yellow onion, peeled and thinly sliced
1/2 c. fresh flat leaf parsley leaves
1 c. halved cherry tomatoes
2 TBS good quality olive oil
a squeeze of fresh lemon juice
Heat the champagne vinegar, curry powder, water, sugar, salt, and ground fennel over medium heat in a small saucepan. Bring just to a boil, then remove from the heat and pour it over the sliced fennel and onion in a heatproof bowl. Let cool, cover, and refrigerate until chilled. (Can be made up to 1 week in advance)
Toss the pickled fennel with the parsley, tomatoes, olive oil, and lemon juice. Season to taste with salt.
Reprinted with permission from Le Pigeon by Gabriel Rucker & Meredith Erickson, copyright 2013. Published by Ten Speed Press, a division of Random House, Inc.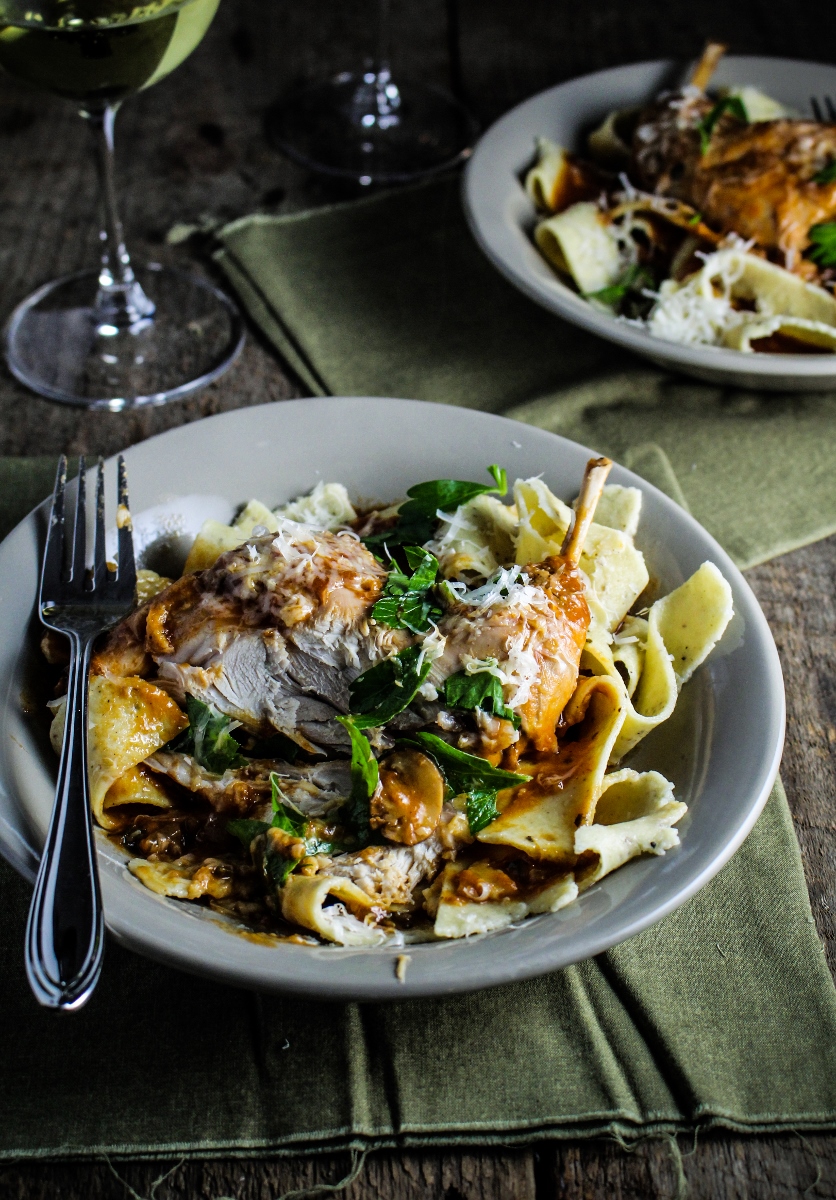 Rabbit Cacciatore with Black Pepper Pappardelle
Recipe adapted slightly from Pickles, Pigs & Whiskey. Serves 6-8.
For the rabbit:
8 rabbit hindquarters
4 tsp + 3/4 tsp salt, divided
4 tsp + 3/4 tsp freshly ground black pepper, divided
garlic-infused olive oil (we used regular olive oil plus two cloves halved garlic)
1/4 c. chopped fresh oregano, divided
1 c. flour
3/4 tsp smoked paprika
1/2 tsp garlic powder
1/2 tsp onion powder
1/4 tsp cayenne
5 TBS olive oil
1 c. diced yellow onions
1 green bell pepper, seeded, stemmed, and diced
3 TBS thinly sliced garlic
4 c. sliced cremini mushrooms
2 1/2 c. chopped fresh tomatoes
2 TBS fresh thyme leaves
1 TBS chopped fresh rosemary leaves
3 c. crushed, canned tomatoes
1 1/2 c. chicken stock, plus more if needed
1/2 c. Marsala
Parmesan cheese
fresh flat-leaf parsley, chopped, for serving
fresh pappardelle noodles with 4 tsp of freshly ground black pepper added to the flour before starting, cooked for 3 minutes in boiling water
Season the rabbit pieces with 4 tsp of the salt and 4 tsp of the pepper, 3 TBS of the oregano, and some garlic oil. In a small bowl, mix together the flour, smoked paprika, garlic powder, onion powder, cayenne, and remaining 3/4 tsp of salt and pepper. Dredge the rabbit pieces in this seasoned flour, shaking off any excess.
In a large Dutch oven or pot, heat the olive oil over medium heat. Brown the rabbit pieces in batches, cooking for about 2 minutes per side, then reserve them on a paper towel lined plate. Add the onions, bell peppers, and garlic to the pan and saute until they begin to sweat, about 5 minutes. Add the mushrooms and chopped fresh tomatoes and saute for an additional 5-7 minutes. Stir in the remaining 1 TBS oregano, the thyme, and the rosemary.
Return the rabbit legs to the pan, add the crushed tomatoes, stock, and Marsala. Bring to a low simmer, then lower the heat, cover, and simmer for 45 minutes. Check the sauce every 15 minutes or so – if the sauce appears to be drying out, add more stock 1 cup at a time as needed. After 45 minutes, uncover the sauce, season to taste, and simmer for an additional 15 minutes uncovered. Serve over the fresh pappardelle noodles with parmesan and fresh parsley.
Disclaimer: I received a review copy of both these cookbooks from Ten Speed Press and Andrews McMeel free of charge, but was not otherwise compensated for writing this review.
0