Ever since getting back from Russia, I can't seem to get enough soup. I've been daydreaming about it: creamy sweet potato bisques, homemade chicken noodle spiked with chili oil, my mom's El Cid chili with cornbread (for Sunday afternoon football watching), tangy tomato soup thickened with bread, and hearty bowls of Portuguese-style kale and linguica soup. I'll take them all. Thankfully, soup is an easy, healthy way to feed yourself, so I can do more than daydream – I can make soup as often as I please. I find that making soup is the most intrinsic, relaxing form of cooking. There's a rhythm to it, the chopping of onions and garlic, the sauteeing, more chopping, more sauteeing, adding spices, broth, root vegetables, stirring, simmering, smelling, stirring. When people ask me how they can start to learn to cook, I always recommend starting with soup. It's wonderfully forgiving, and it's hard to make a bad one. This soup – an Ecuadorian chicken and rice stew spiced with achiote, smoked paprika, and cumin – is no exception.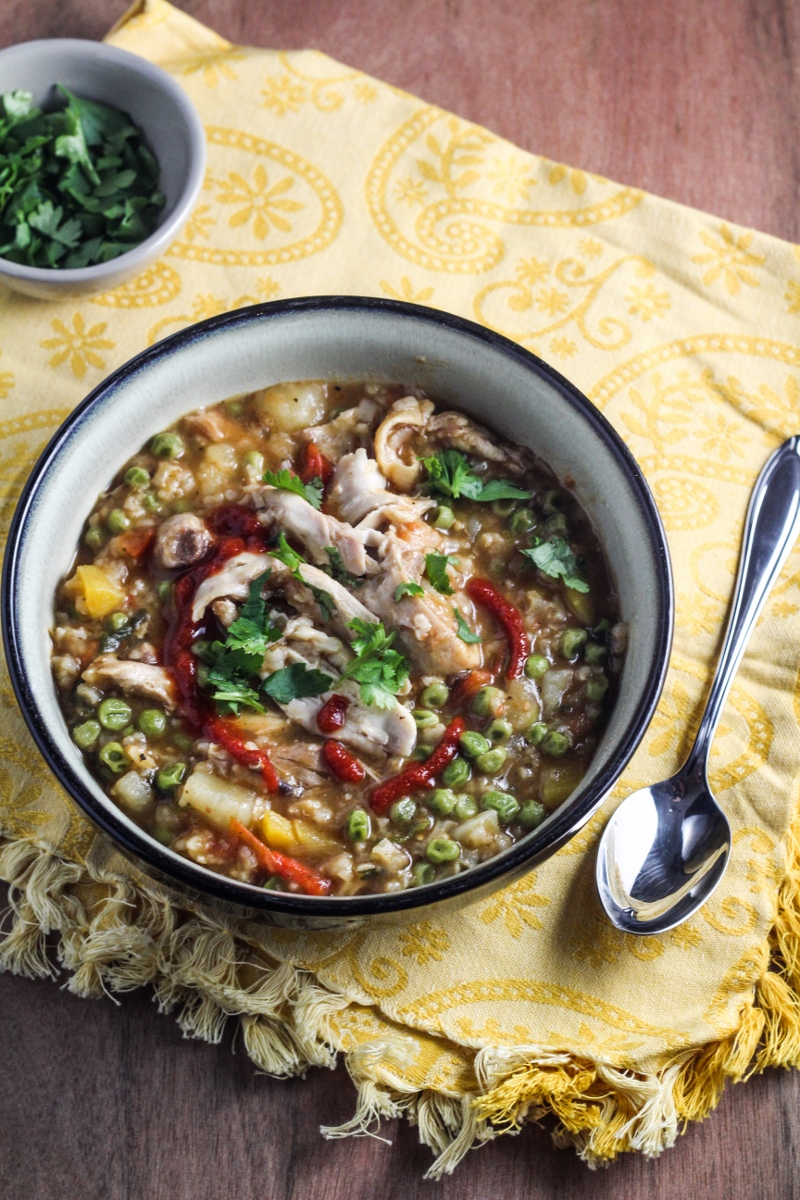 I really enjoyed making this last Sunday. Trevor had tickets to the Pats game with his coworkers, so I had a long, chilly afternoon to myself. I went running, caught up on reading, swung by the grocery store, and made this stew, all without feeling rushed or stressed. After four frenetic months moving, traveling, and adjusting to a different pace of life, the fact that I'll get to spend the entire month of November at home, cozying up with Trevor feels like an early Christmas present. Last Sunday afternoon was the first time in months that I really felt slowed-down, and filling my house up with the rich, spicy smell of this soup just cemented that feeling.
As far as taste goes, this stew is a winner. It's quite hearty, made thick and creamy by the addition of rice and potatoes, and just a bit spicy from a combination of smoked Spanish paprika, achiote paste, and a dash of hot sauce. The recipe, which comes from Jose Garces' The Latin Road Home (I reviewed it here last year, if you're interested – it's a great cookbook), said it serves four, but I think this recipe makes a huge batch, at least 8 filling servings. Which means, not only is it delicious, but also economical for feeding a family. Give this one a try this fall, I think you'll like it.
Ecuadorian Chicken and Rice Stew
Recipe adapted slightly from The Latin Road Home. Serves 8-10.
3 lb. bone-in, skin-on chicken thighs
sea salt and freshly ground black pepper
2 TBS olive oil
1 yellow onion, finely chopped
1 red bell pepper, stem and seeds removed, diced
6 cloves garlic, finely minced
2 TBS whole cumin seeds
2 TBS achiote paste (I used a Latin spice mix with achiote in it that I found at Wholefoods)
1 tsp Spanish smoked hot paprika
2 TBS tomato paste
6 c. chicken stock
2 fresh bay leaves
1 1/2 lb. fresh tomatoes, preferably plum, cored and cubed
1 c. long-grain white rice
2 lb russet potatoes, peeled and diced
3 carrots, peeled and diced
1 lb. frozen peas
1/2 tsp dried oregano
1/4 c. minced fresh flat-leaf parsley
1/4 c. minced fresh cilantro
hot sauce to taste
Season the chicken thighs with salt and pepper. Heat the olive oil in a large, heavy-bottomed pot over medium heat, and sear the chicken pieces in batches. Cook thighs until skin is crispy and golden brown on both sides, flipping over once, about 4 minutes per side. Transfer the chicken to a plate.
Lower the heat to medium, and add the onion and red pepper to the pot. Cook until softened and translucent, about 10 minutes. Add the garlic, cumin seeds, achiote paste, and paprika to the pot and cook, stirring, until spices are toasted and fragrant, about 2 minutes. Add the tomato paste, then return the chicken pieces to the pot. Add the chicken stock and bay leaves and bring to a boil. Stir in the tomatoes and cook for about 5 minutes. Add the rice, potatoes, and carrots, return soup to a simmer, then cover, and cook until chicken is falling off the bone and rice is fully cooked, about 40 minutes.
Uncover the soup and stir in the peas, oregano, parsley, and cilantro. Let peas heat through, then season to taste and serve with hot sauce.
2