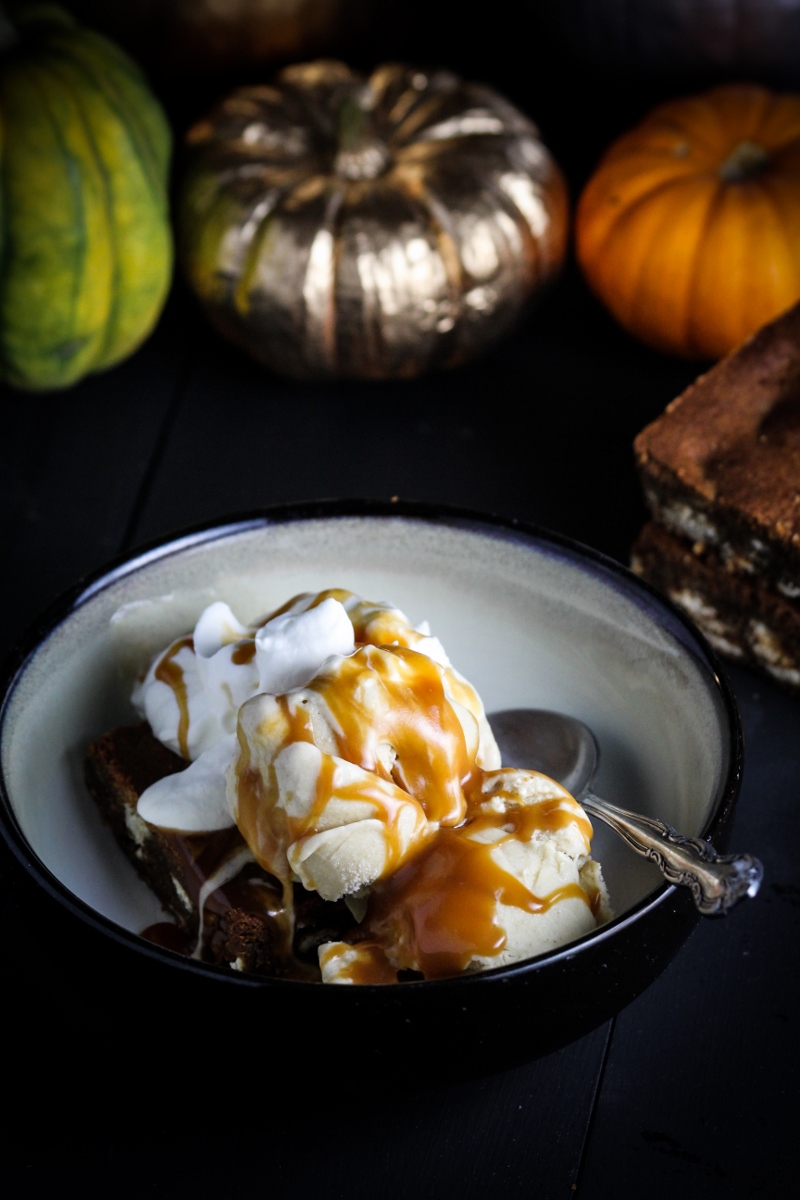 I've been thinking about this recipe for over a year now. The phrase "pumpkin ice cream sundae" popped into my head one day, and since then, I've been considering how to get this just right. I knew it had to have all of the components of a brownie sundae, but tweaked for fall. Some sort of gingerbready brownie. Super creamy pumpkin ice cream. Caramel sauce and whipped cream. I tinkered with the brownie base last year, but never hit on the right combination of brownie consistency and gingerbread taste, so I put it to rest until this fall. And now, I think I have it.
The key to getting the gingerbread base right was making the mental switch from "brownie" to "blondie." A quick google search revealed that someone else had already perfected the recipe for me, so I made Pink Parsley's White Chocolate and Gingerbread Blondies pretty much as written. For the ice cream, I used the Pumpkin-Maple Ice Cream from the new book Jenny McCoy's Desserts for Every Season (I just reviewed it a few weeks ago, if you want to know more). It has 7 egg yolks in it, so I knew there wasn't going to be a problem with creaminess. Topped off with a caramel sauce runny enough to drizzle and some fresh whipped cream, it was just what I was imagining – spicy, chewy blondie, sweet pumpkin ice cream, and rich and salty caramel sauce blending together in every bite.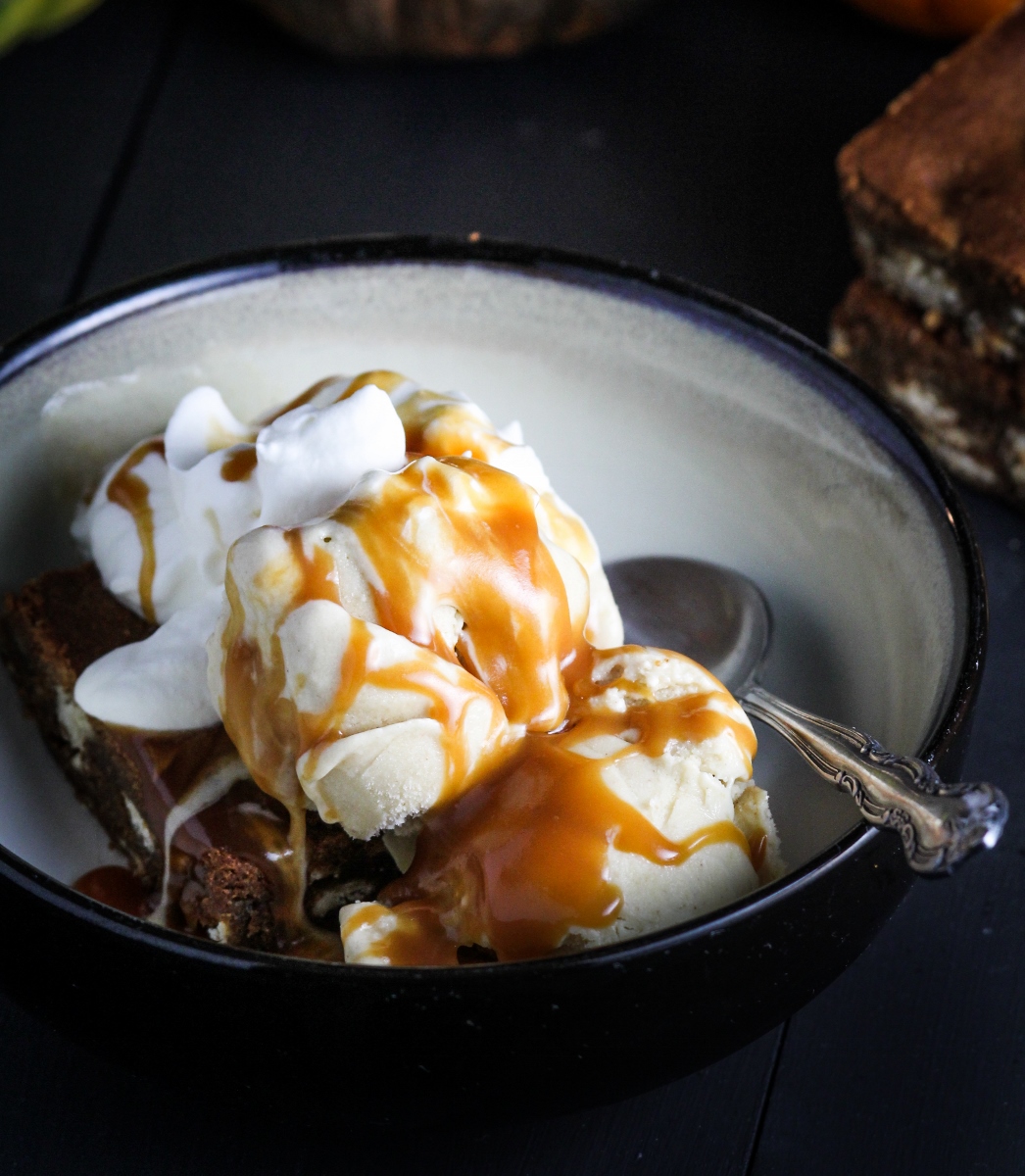 But, as I was finally assembling this perfect fall dessert, I knocked my camera off the chair. Total klutz. Several minutes of panic ensued as I tried to get my relatively new, fairly expensive camera to turn back on while simultaneously wanting to smack myself repeatedly in the forehead. Thankfully, I switched out the lenses and realized that the camera works fine but the front of the lens had popped apart on impact. I still feel like an idiot, but it's one of my cheaper lenses, so if I can't get it repaired it won't devastate my bank account to replace it. Speaking of, does anyone know of any good camera repair shops in Boston? Or should I just send it straight to Canon? Anyway, if this sundae looks a little melty/panic-tinged, that's the reason. On the other hand, I really needed an ice cream sundae after all that camera-stress, and a perfect one was sitting right in front of me.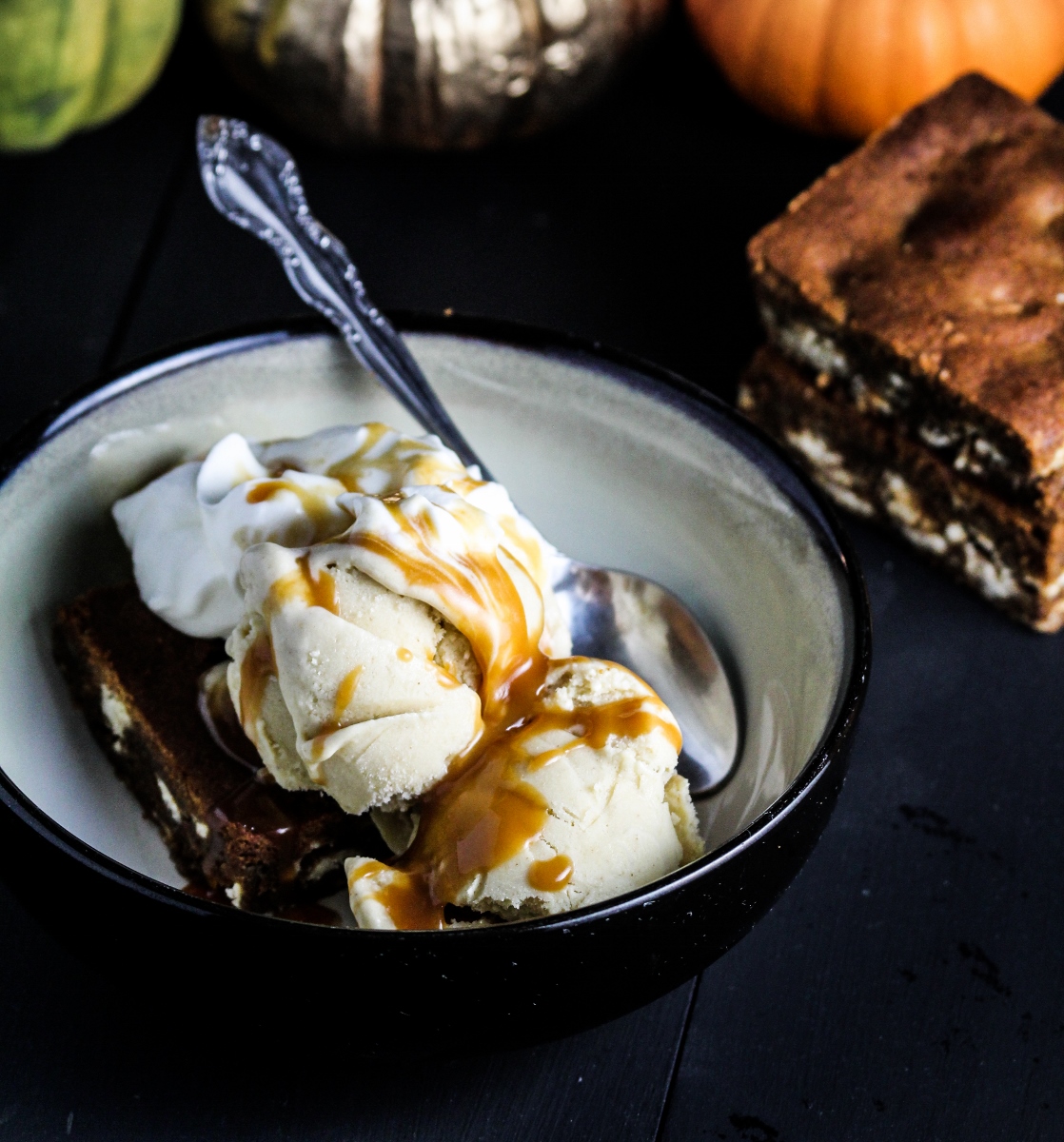 Pumpkin and Gingerbread Ice Cream Sundaes
Serves 1.
1 gingerbread blondie, recipe below
2 scoops pumpkin-maple ice cream, recipe below
3 TBS caramel sauce, recipe below
1/4 c. heavy cream, beat into soft peaks, OR canned whipped cream
chopped nuts for topping
Assemble, serve, be happy.
White Chocolate Gingerbread Blondies
Recipe adapted slightly from Pink Parsley. Makes one 9×13 inch pan.
cooking spray
2 3/4 c. flour
1 1/2 tsp baking soda
1/2 tsp salt
1 1/2 tsp ground cinnamon
1 tsp ground ginger
1/2 tsp ground nutmeg
1/4 tsp ground cloves
2 sticks salted butter, softened
1 1/4 c. packed brown sugar
1/2 c. white sugar
2 large eggs plus 1 large egg yolk
1 1/2 tsp vanilla extract
1/3 c. molasses
12 oz. (1 bag) high-quality white chocolate chips
Preheat the oven to 350°F. Spray a 9×13 inch baking dish with cooking spray.
In a medium bowl, whisk together the flour, baking soda, salt, cinnamon, ginger, nutmeg, and cloves, until evenly mixed. In a separate, large bowl, beat the softened butter until light and creamy. Add the sugars and beat to incorporate fully. Add the eggs/egg yolk one at a time, beating well between each addition. Beat in the molasses and vanilla, then add the flour mixture 1/3 at a time, incorporating fully between additions.
The batter will be very thick at this point. Stir the white chocolate chips in to the batter to distribute evenly throughout. Spoon the batter into the prepared baking pan, and smooth the top with the back of a wooden spoon. Bake for 35-45 minutes, or until the top is golden brown and a toothpick poked into the center of the pan comes out clean. Let cool completely in the pan before cutting and serving.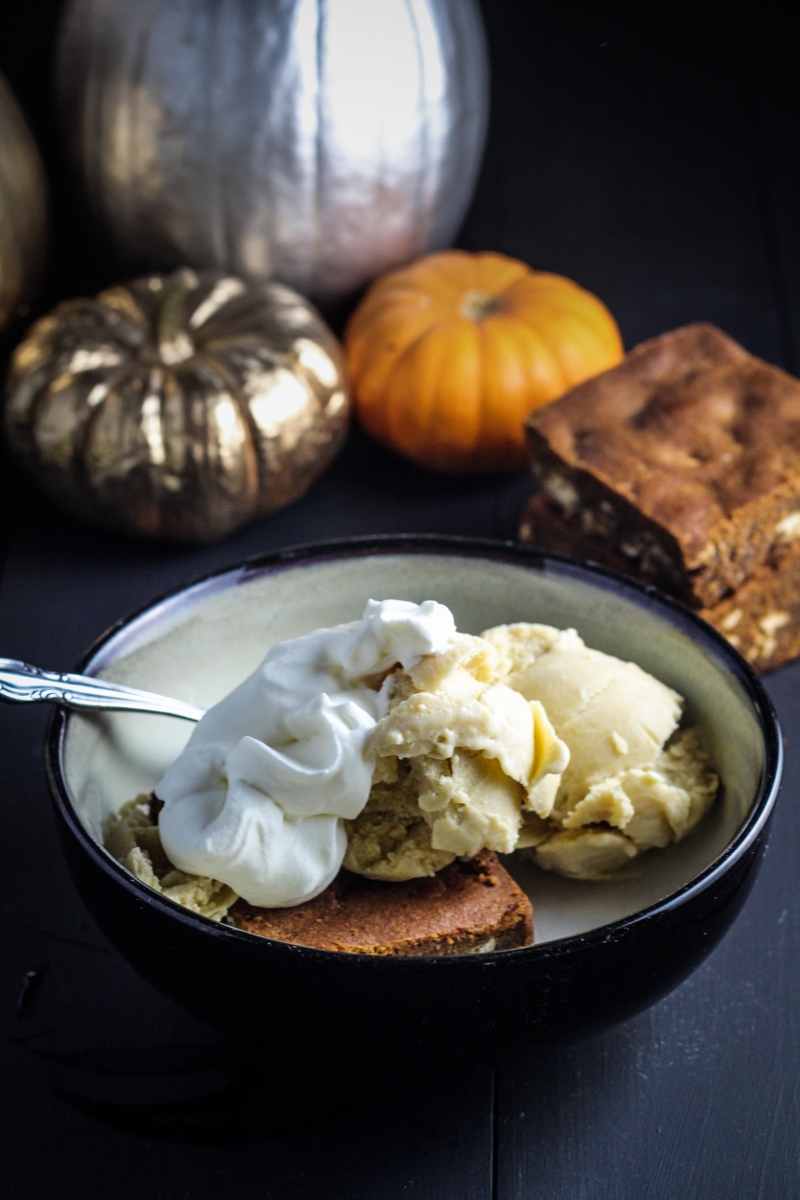 Pumpkin-Maple Ice Cream
Recipe from Jenny McCoy's Desserts for Every Season. Makes 1 quart.
7 large egg yolks
1 cup grade B maple syrup
1 1/2 c. whole milk
1 1/2 c. heavy cream
1/4 tsp fine sea salt
1/4 tsp ground cinnamon
generous pinch ground ginger
generous pinch ground nutmeg
Prepare a large bowl of ice water and set aside. In a separate, large bowl, whisk the egg yolks together, then set aside.
In a medium saucepan, simmer the maple syrup over medium heat until the volume is reduced by half. Add the milk, cream, salt, cinnamon, ginger, nutmeg, and pumpkin puree, and bring to a boil. Slowly pour the hot cream over the egg yolks, whisking the eggs vigorously as you do so, until the mixture is fully combined.
Strain the mixture through a fine-mesh sieve into a large, heatproof bowl. Place this bowl over the ice water and stir until cool. Refrigerate the ice cream base until thoroughly chilled, then churn according to your ice cream maker's instructions. It will have a soft-serve like consistency when done – freeze for 4 hours to set before serving.
Caramel Sauce
Makes about 1 1/4 cups.
1 c. sugar
4 TBS butter
1 c. heavy cream
Pour the sugar into the bottom of a heavy-bottomed saucepan in an even layer. Place over medium heat, and melt sugar, whisking frequently. As you whisk, the sugar will clump up, but once melted, all the clumps should dissolve. As soon as all the sugar is melted, stop whisking but swirl slightly. Watch the sugar closely as it begins to darken. As soon as it reaches a golden caramel color, add the butter all at once. Be careful, the caramel will bubble violently when you do this. Whisk the butter in until melted.
Once the butter is melted, add the heavy cream. Again, be careful. The caramel may seize up in the middle, but keep whisking it and it will dissolve into the heavy cream eventually. Once dissolved, let bubble gently, still whisking, for about 2-3 minutes, then remove from heat and let cool slightly. Serve warm.
1