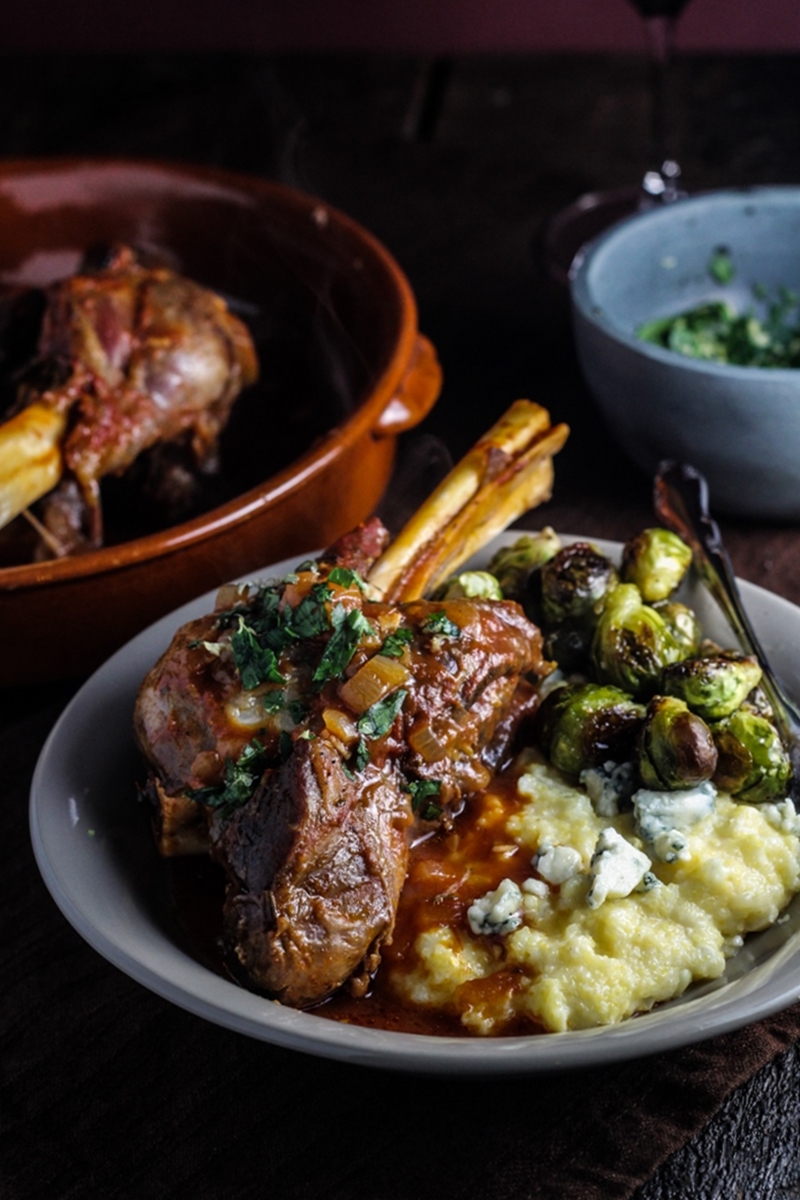 I've been wanting to do another Sunday Dinner post since the last one I wrote in July, but, as I've probably mentioned one too many times, the second half of this year has turned out kind of nutty. So, before my most recent trip to Russia, I made it a priority to do a real Sunday dinner menu. I had gone a little crazy at the farmer's market that Friday, walking home with 4 pounds of apples, 4 pounds of beets, fresh sweet corn, and brussels sprouts still on the stalk. I sometimes forget that there's still plenty of late summer produce mingling with all the fall favorites at the farmer's market in October – the corn is still wonderfully sweet, the last big, juicy tomatoes tempt everyone, and ripe melons sit side-by-side with pumpkins. Combined with the root vegetables, cabbages, brussels sprouts, squashes, apples, and pears that are so plentiful, these veggies make the middle of fall one of the most abundant times of year.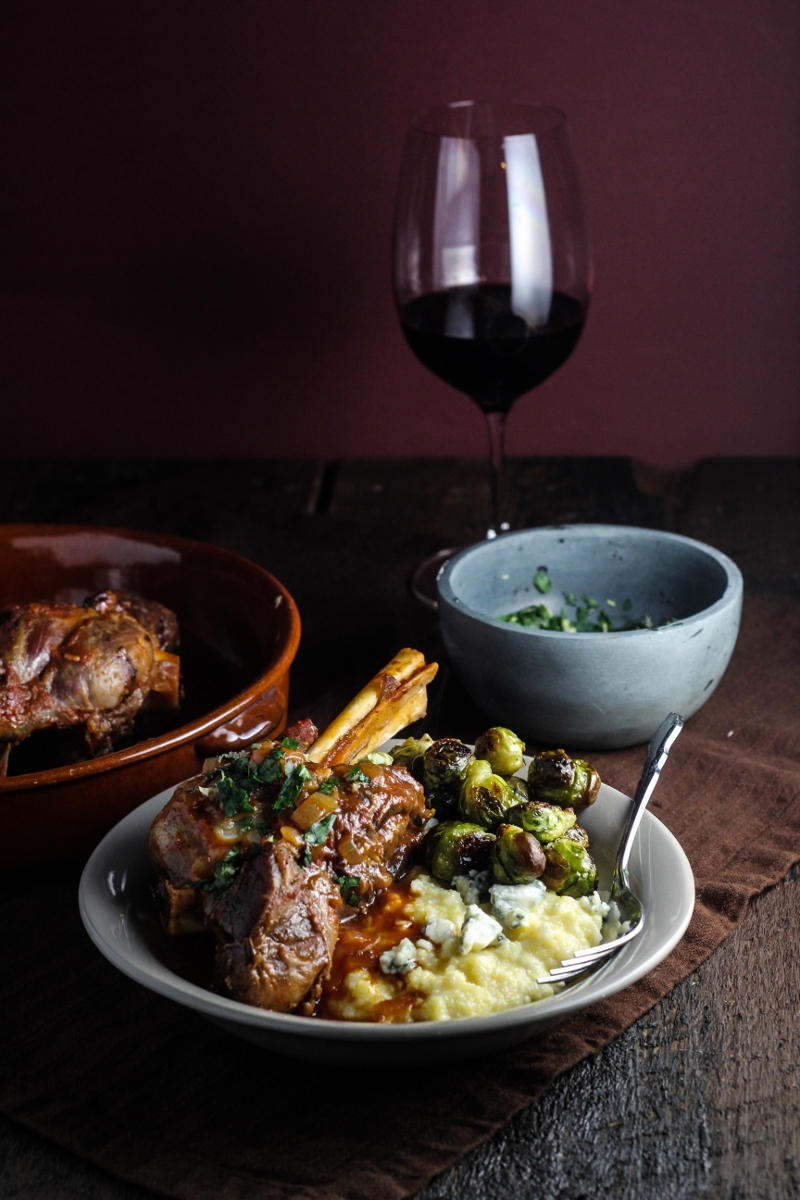 Since we had two lamb shanks in the freezer that needed to be put to good use, we decided to make a slow-braised lamb in a rich tomato sauce, served over polenta jazzed up with fresh corn and blue cheese, and a side of roasted brussels sprouts. With a few glasses of a nice red wine and a classic apple pie for dessert, it was a delicious summer-meets-fall dinner (and then I flew off to St. Petersburg where there was more of a fall-meets-winter thing going on). In all honesty, this is one of the best meals I've had in recent memory – fall-off-the-bone tender lamb in a tangy sauce and rich and cheesy polenta with bursts of sweet fresh corn make a really excellent pairing, perfect for a lazy, chilly, Sunday afternoon.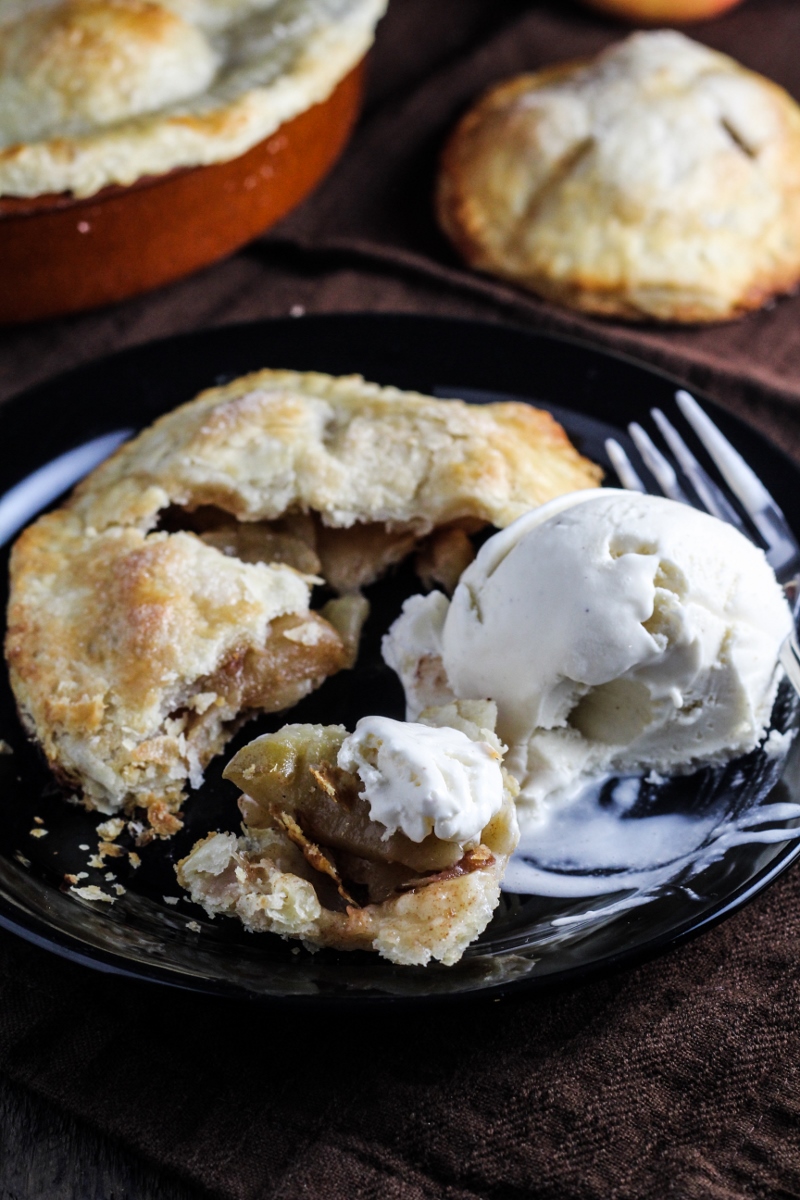 The Menu
Braised Lamb Shanks with Gremolata (adapted from Bon Appetit) – see recipe below
Creamy Polenta with Fresh Corn and Blue Cheese – see recipe below
Roasted Brussels Sprouts
Classic Apple Pie
Past Sunday Dinners:
May 26, 2013: Coffee-and-Chile Rubbed Strip Steaks with Chimichurri Sauce; Charred and Smoky Belgian Endives; Oven-Roasted Potatoes; Strawberry-Sour Cream Ice Cream
July 1, 2013: Strawberry-Lime Agua Fresca; Smashed Pea, Dill, and Feta Crostini; Chilled Asparagus Soup with Meyer Lemon Yogurt; Mustard Spaetzle with Mushrooms; Ricotta Bavarese with Red-Wine Poached Rhubarb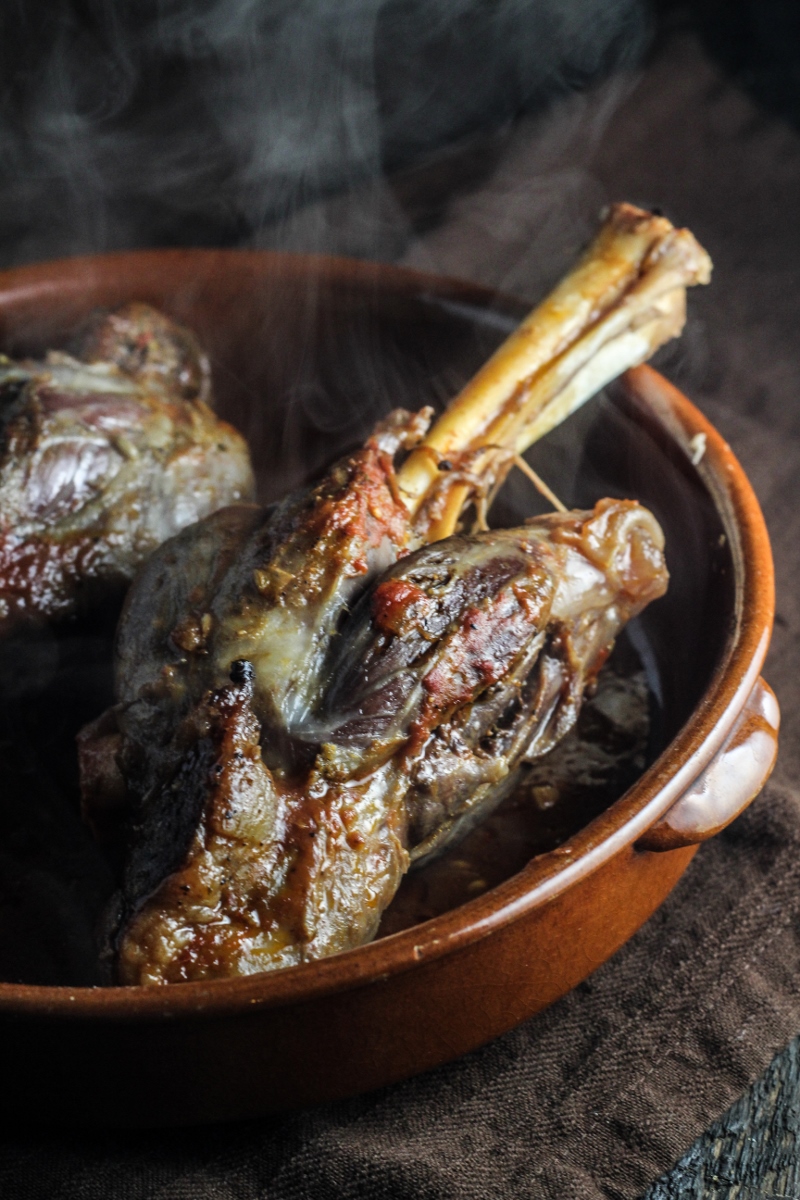 Braised Lamb Shanks with Gremolata
Recipe adapted slightly from Bon Appetit. Serves 4.
4 lamb shanks (about 3 lbs.), trimmed
1 TBS kosher salt
1 tsp. freshly ground black pepper
2 tsp. minced fresh rosemary
1 tsp coarsely ground fennel seeds
4 garlic cloves, 1 grated, 3 minced
2 TBS olive oil
1 large onion, minced
1 TBS flour
1 tsp paprika
1/2 tsp crushed red pepper flakes
1 cup canned diced tomatoes
1/4 c. dry white wine
2-3 c. chicken broth
For the gremolata:
3/4 c. flat leaf parsley, minced
2 cloves garlic, minced
1 TBS finely grated lemon zest
1 tsp minced fresh rosemary
Place the lamb shanks on a rimmed baking sheet. Stir salt, black pepper, minced rosemary, ground fennel seeds, and grated garlic together in a small bowl, then massage into lamb. Cover and let sit at room temperature for 1 hour, or refrigerate overnight.
Preheat the oven to 350°F. Heat the olive oil in a large dutch oven over medium heat, add onions and saute until golden, about 10 minutes. Add minced garlic, flour, paprika, and red pepper flakes and stir vigorously to distribute flour. Cook until mixture becomes dry, about 1 minute, then add tomatoes and wine. Simmer, stirring frequently, until mixture begins to thicken and tomatoes are breaking down, about 10 minutes. Stir in 2 cups of the chicken broth and simmer for about 5 minutes. Season to taste with salt and pepper. Add lamb shanks to pot in a single layer, pushing them down into the sauce. If necessary, add additional chicken broth so that the shanks are about 3/4 submerged
Roast, uncovered, for 30 minutes, then use tongs to flip the shanks over and roast for another 30 minutes. Then, cover the pot and cook, turning the shanks occasionally, until the meat is falling off the bone, about 45-90 minutes. Remove from oven and skim fat off the surface. Let shanks rest in liquid for 20 minutes before serving.
Stir the gremolata ingredients together and let sit for 30 minutes. Serve on top of the lamb shanks.
Creamy Polenta with Fresh Corn and Blue Cheese
Serves 4-6.
2 c. water
2 c. milk
2 TBS butter
1/2 tsp salt
1 c. polenta
kernels from 3 ears fresh corn (about 3 cups)
1/2 c. crumbled blue cheese
Bring the water, milk, butter, and salt to a boil in a medium saucepan. Gradually add the polenta to the boiling liquid, whisking as you do so. Once all the polenta has been added, lower the heat to low, and cook, stirring continuously, until the polenta is thick and creamy, about 10-15 minutes. Add the fresh corn kernels, and cook 2 minutes longer. Season to taste with salt and pepper, and remove from heat. Serve hot, with blue cheese crumbled over each bowl.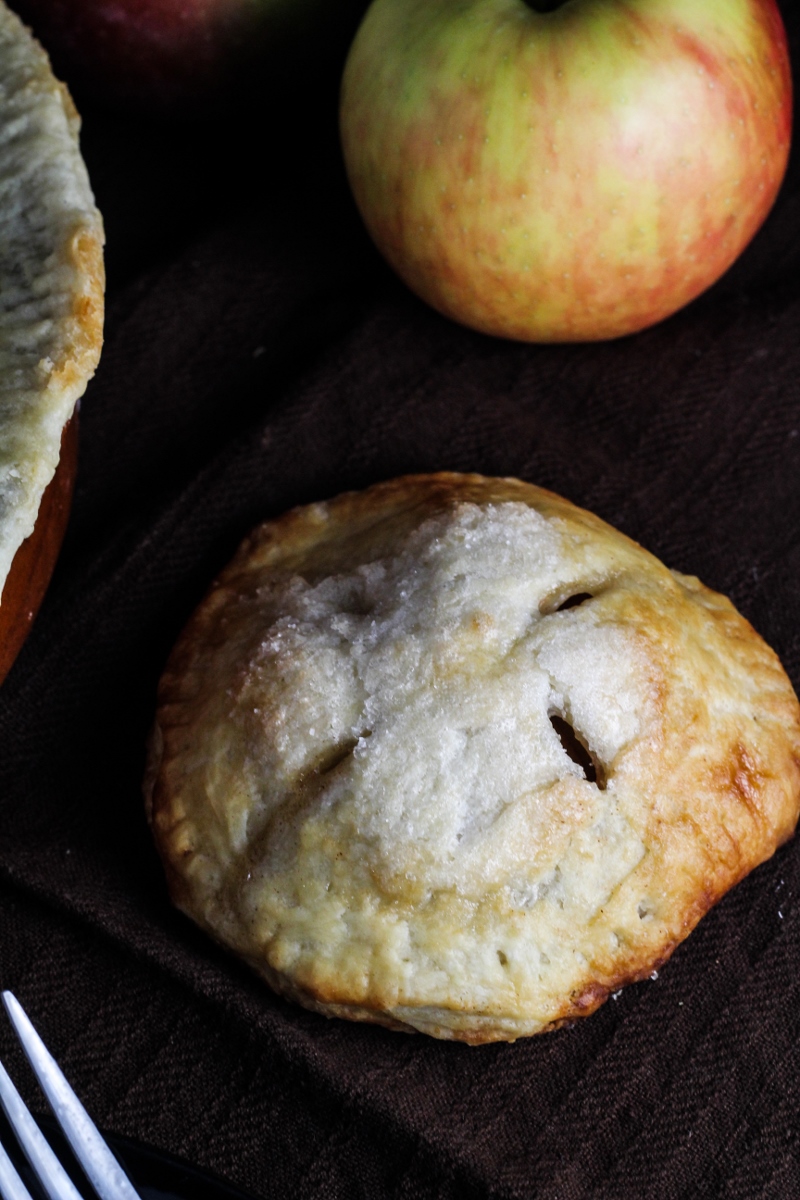 23