Jenny McCoy's Desserts for Every Season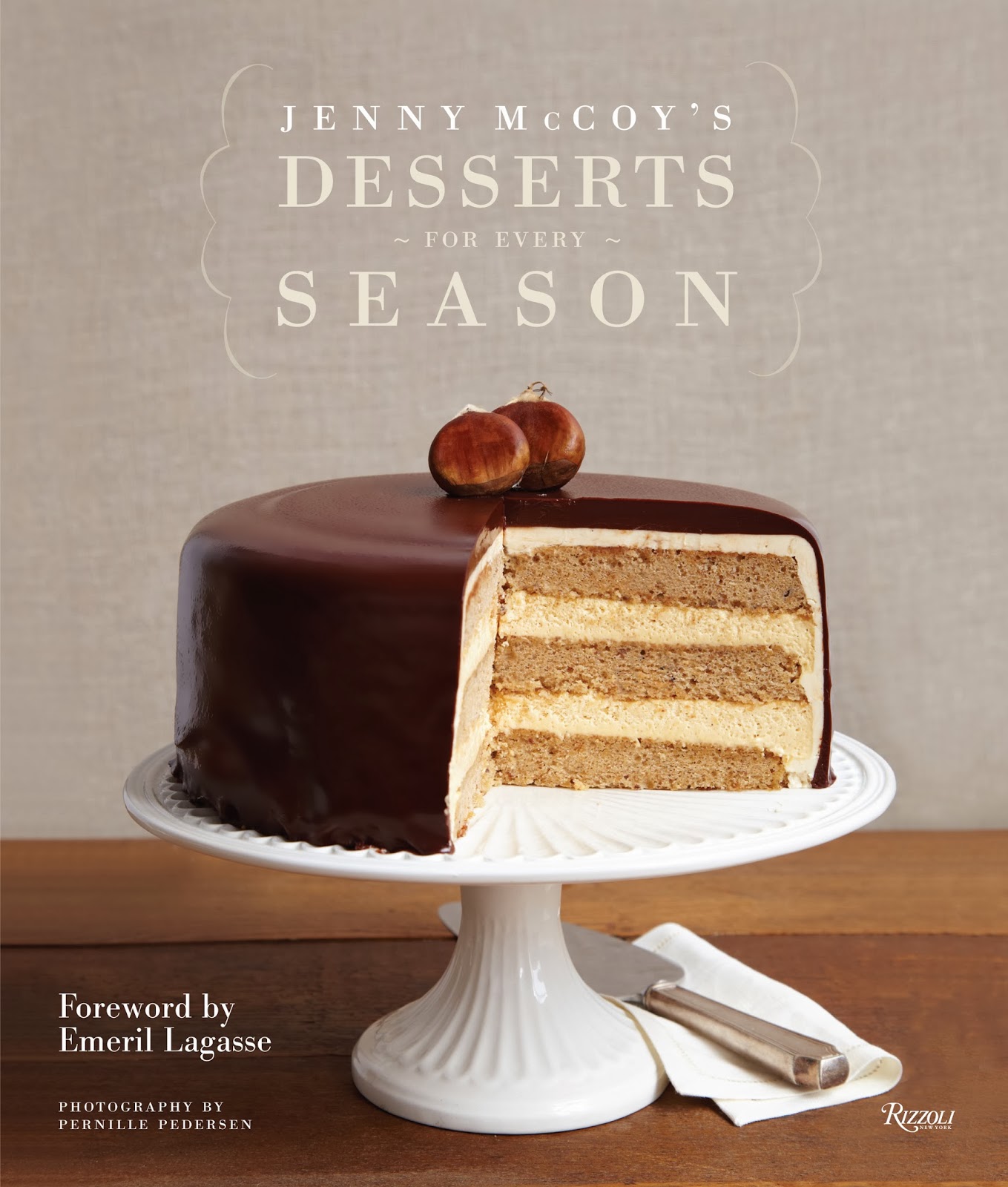 The Book: If you're looking to update your go-to dessert recipes to something more elegant, modern, and seasonal, you are going to want to pick up a copy of Jenny McCoy's Desserts for Every Season. There's nothing run of the mill here – the recipes are unique and impressive but still uncomplicated. I love the emphasis on produce and seasonality – every recipe is firmly anchored to a time of year, which is something I'm glad to see, given that there seems to have been less emphasis on this in pastry than in main courses during the whole farm-to-table/seasonal/local movement. Although, I will say that Jenny's "spring" recipes are definitely more like late July recipes for New England, given the inclusion of blueberries and lavender. As far as design goes, the whole book has a classy, subdued aesthetic that I very much like, with muted tones, botanical prints, and sedate, full-page pictures for most recipes. This will definitely be a book that I turn to for every future dinner party I plan.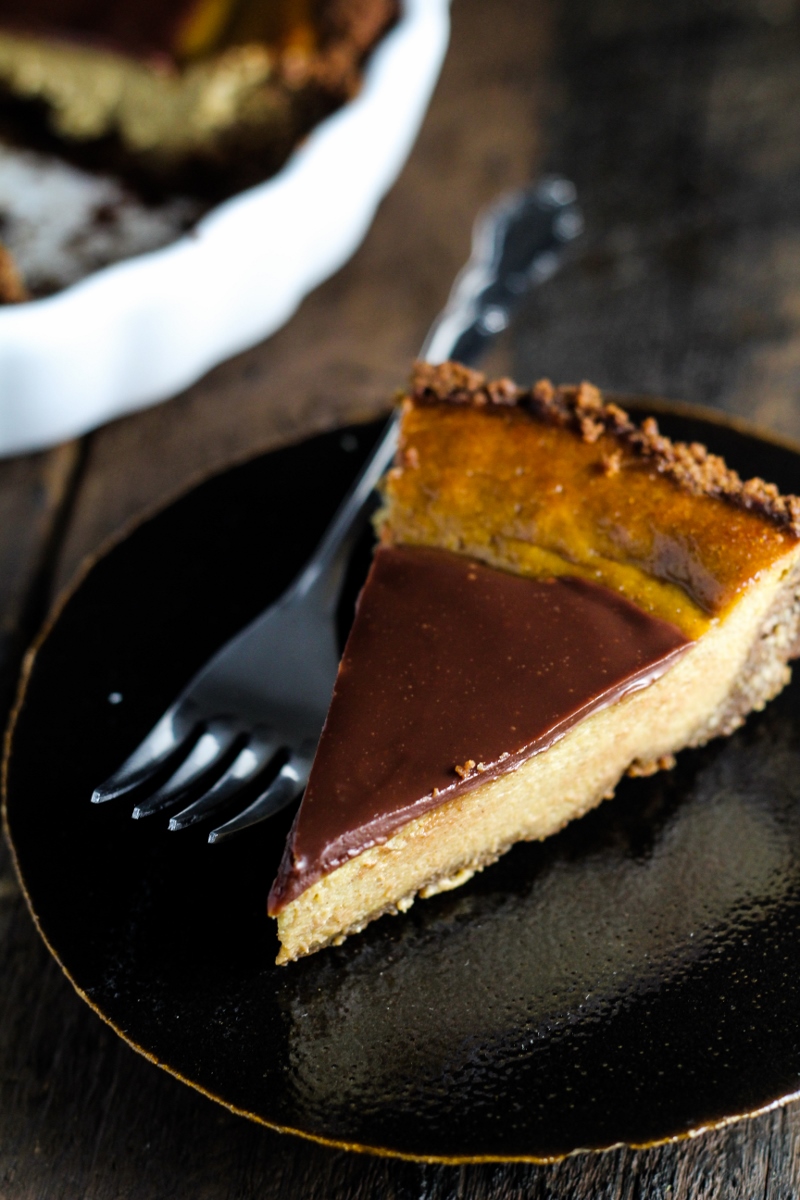 The Food: The fact that some of the pages are already stuck together with sugar spills is a good sign, right? I tested this book out by making two pumpkin desserts  to celebrate October – a Pumpkin-Maple Ice Cream, and this Pumpkin Pie with a Gingersnap Crust and Milk Chocolate Ganache. I actually haven't tried the ice cream yet (I made it right before I left on this trip and stuck it straight in the freezer as a treat for when I get back), but the base tasted delicious. This pie, however, I did taste, and it's quite good. The pumpkin custard is a fairly typical pumpkin pie filling, although I love that it's made with fresh pumpkin puree. But the two twists – a spicy, buttery gingersnap crust and a rich chocolate ganache – make this pie something special. If my mom gives up her pie-making rights, maybe I'll bring it to Thanksgiving this year.
Recipe Shortlist: Honey-Roasted Pear Sorbet; Chestnut-Chocolate Layer Cake; Butterscotch Budino with Creme Fraiche; Cocoa-Lavender Cream Puffs; Peach and Sweet Corn Ice Cream Cake; Plum-Poppy Seed Kolache
Disclaimer: I received a review copy of Jenny McCoy's Desserts for Every Season free of charge from Rizzoli, but was not otherwise compensated for writing this review.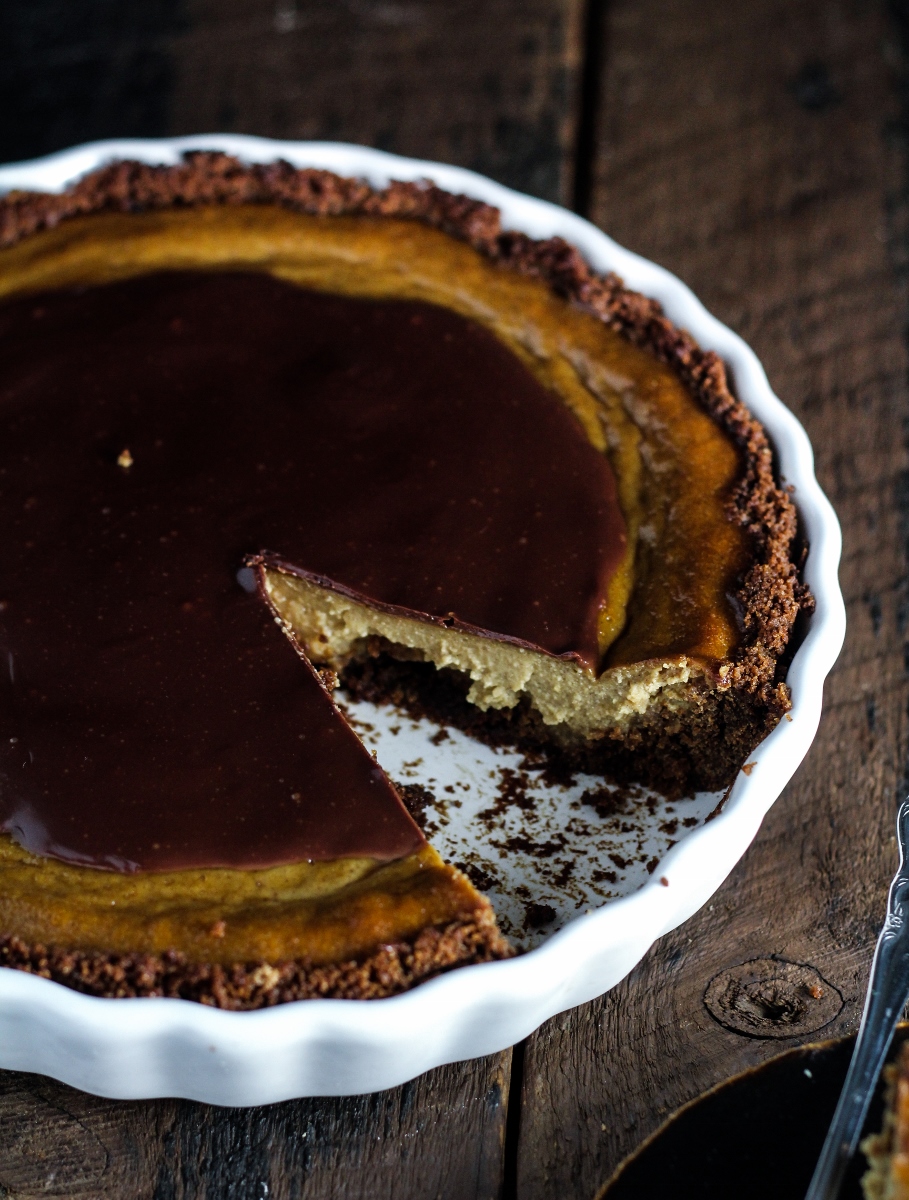 Pumpkin Milk Chocolate Pie with a Gingersnap Crust
Recipe from Jenny McCoy's Desserts for Every Season. Serves 8-10.
nonstick cooking spray
1 1/2 c. (about 6 oz.) gingersnap cookie crumbs
2 TBS plus 1/2 cup light brown sugar, divided
3/4 tsp fine sea salt, divided
5 TBS unsalted butter, melted
1 1/2 c. Roasted Sugar Pumpkin and Kabocha Squash (recipe below)
4 large eggs
1 large egg yolk
3/4 c. plus 3 TBS heavy cream, divided
1 TBS molasses
1 tsp pure vanilla extract
1/2 tsp ground cinnamon
1/4 tsp ground ginger
1/4 tsp ground nutmeg
1/2 c. (3 oz.) milk chocolate chips
1 TBS light corn syrup
Preheat the oven to 350ºF. Spray a 9-inch pie plate with nonstick cooking spray and set aside.
Stir together the gingersnap crumbs, 2 TBS of the brown sugar, 1/4 tsp of the sea salt, and the melted butter. (If you are using whole gingersnaps, you can crush them and combine with the other ingredients by blending everything in a food processor.) Stir until the mixture has the consistency of wet sand, then pour into the pie plate and pack very firmly and evenly against the bottom and sides of the pan. Bake for about 8 minutes, or until the crust is slightly puffed and a bit darker in color. Let cool at room temperature for 5 minutes, then freeze until ready to use.
Change the oven temperature to 325°F. In a large bowl, whisk together the remaining 1/2 c. brown sugar, the remaining 1/2 tsp salt, the roasted pumpkin, the whole eggs, the egg yolk, 3/4 c. of the heavy cream, molasses, vanilla, cinnamon, ginger and nutmeg until completely smooth. Pour the custard into the pre-baked pie crust. Carefully transfer to oven, and bake until custard is set in the center when the pie is slightly jiggled, about 50 to 60 minutes. Let cool to room temperature, then refrigerate for at least 30 minutes to set.
About 25 minutes before you are ready to serve the pie, prepare the milk chocolate ganache. Place the chocolate chips in a large heatproof bowl and set aside. Place the remaining 3 TBS of heavy cream and the corn syrup in a small saucepan and bring to a boil. Pour over the chocolate, let stand for 2 minutes, then gently whisk the ganache until smooth. Spread the ganache over the center of the pie, leaving a slight gap between the crust and the chocolate. Refrigerate for 20 minutes to set the ganache. Serve chilled, with whipped cream.
Roasted Sugar Pumpkin and Kabocha Squash
Recipe from Jenny McCoy's Desserts for Every Season. Makes 8 cups of puree.
One 4-lb sugar pumpkin
One 4-lb kabocha squash
Preheat the oven to 350°F. Cut the pumpkin and squash into eighths, then remove and discard the seeds. Place the pumpkin and squash pieces in a large baking dish, fill with about 1/4 inch of water, and cover with aluminum foil. Roast for 1 hour to 1 hour and 15 minutes, until the flesh is fork tender.
When the pumpkin and squash pieces are cool enough to handle, use a large spoon to scrape the flesh out of the skins, discarding the skins. Puree the pumpkin and squash flesh in a food processor or blender until totally smooth (don't skip this! It makes a big difference in the consistency of your baked goods). Let cool to room temperature before using in a recipe. You can freeze any leftover puree for up to 3 months.
1