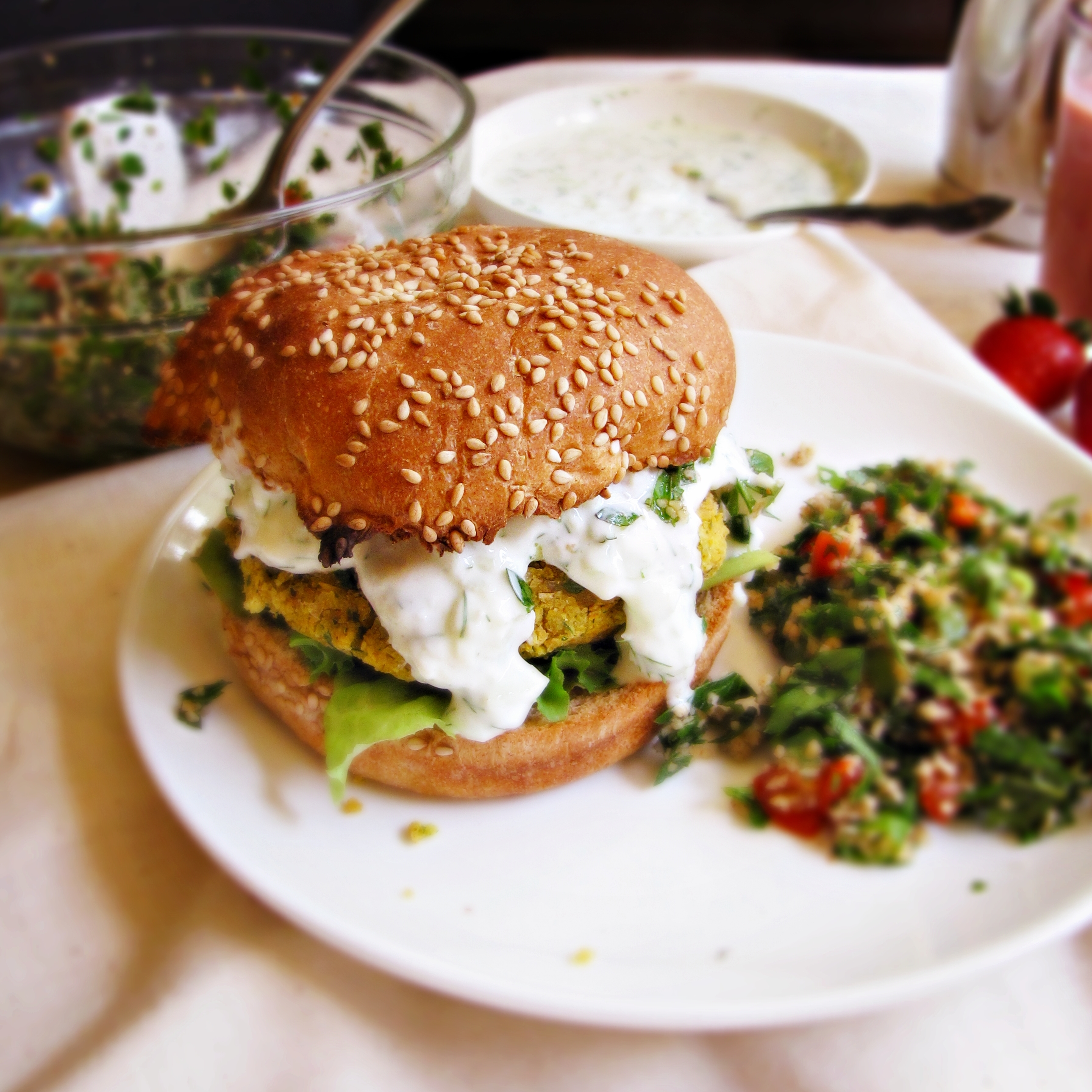 Recently, a good friend of mine sent me an email asking for a few recipes she could use for a dinner party she was hosting with friends.  She wanted two to three recipes, preferably with a theme, and easy enough to prepare with friends on the spot.  She and her friends wanted to use the party partially as a way to learn to cook better, as well as just a chance to catch up and eat good food.  A simple enough plan.
Two catches – one, she's one of the least kitchen-savvy people I know – cooking is just not really in her interest set.  (Illustration: she once asked me if sauteeing onions in olive oil was one of those fussy things that only I did while we were making soup.)  Two, she's a health nut.  Like, super fit, eats primarily superfoods, drinks only green tea and water, will only eat one bite of dessert ever kind of healthy.  Actually, I'm a little bit jealous of her self-control and love for vegetables – if I loved leafy greens like she does, I'd probably be 3 times as energetic as I am now.  Anyway, knowing that nothing could be too fancy and that I couldn't sneak any cheese or butter or cream or bacon (all my favorite ingredients, noooooo!)  into the meal made it a bit more challenging to come up with recipes for her.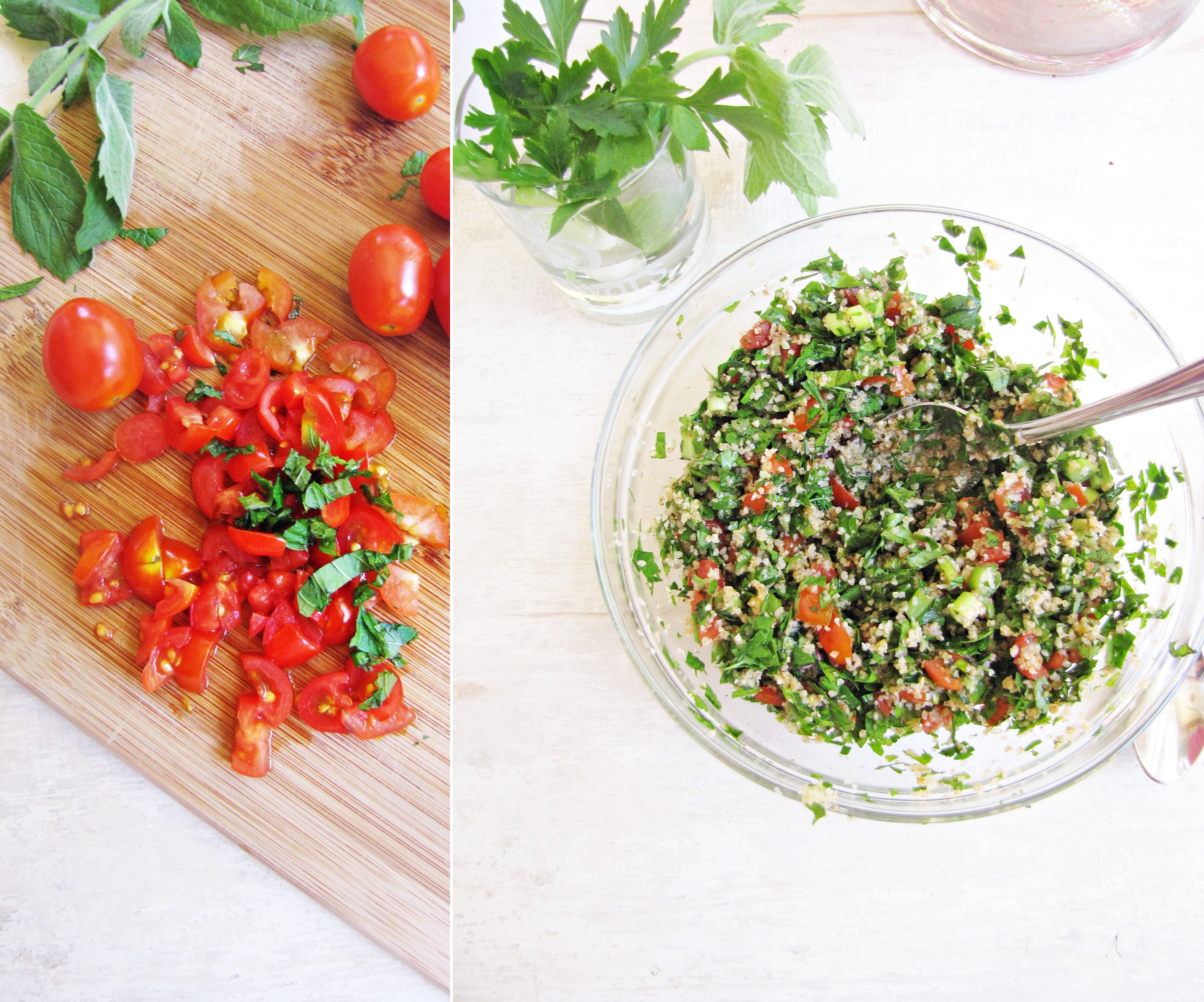 As I thought about it, I realized that this was the perfect situation for a Greatist post.  Greatist is all about trying to make making healthy choices easier and more fun, and dinner parties are pretty fun, right?  I imagine there are plenty of people out there looking for simple, healthy recipes to use when entertaining that will still impress their friends.  So, as I was sending recipes back to my friend, Greatist Dinner Party was born.
For this first dinner party, I chose Middle Eastern recipes as the theme, partly because many Middle Eastern recipes manage to pack tons of flavor into a dish with very little fat – that's the beauty of herbs and spices!  Also, the recipes I chose – baked chickpea burgers with tzatziki, traditional tabbouleh, and strawberry-rosewater-buttermilk lassis – are all dishes that are easy to make ahead and stash in the fridge until go-time.  In terms of health, it's a super balanced meal – tons of herbs and veggies, protein from the chickpeas and the Greek yogurt, a manageable amount of carbs from the tabbouleh and pita/burger bun, and fruit and cultured dairy from the lassis.  Even though I wasn't having friends over, I prepared everything as if I was and sat down to a very delicious lunch Sunday afternoon, so I can attest to the fact that this menu is easy and relatively quick to prepare and super, super delicious.  My favorites were the chickpea burgers (so flavorful, and baked to boot!) and the tzatziki (the garlic really kicks it up a notch).  Got leftovers?  Crumble a chickpea burger into a tupperware with leftover tabbouleh and drizzle with tzatziki and you'll have a filling to-go lunch that will give you something to look forward to all morning.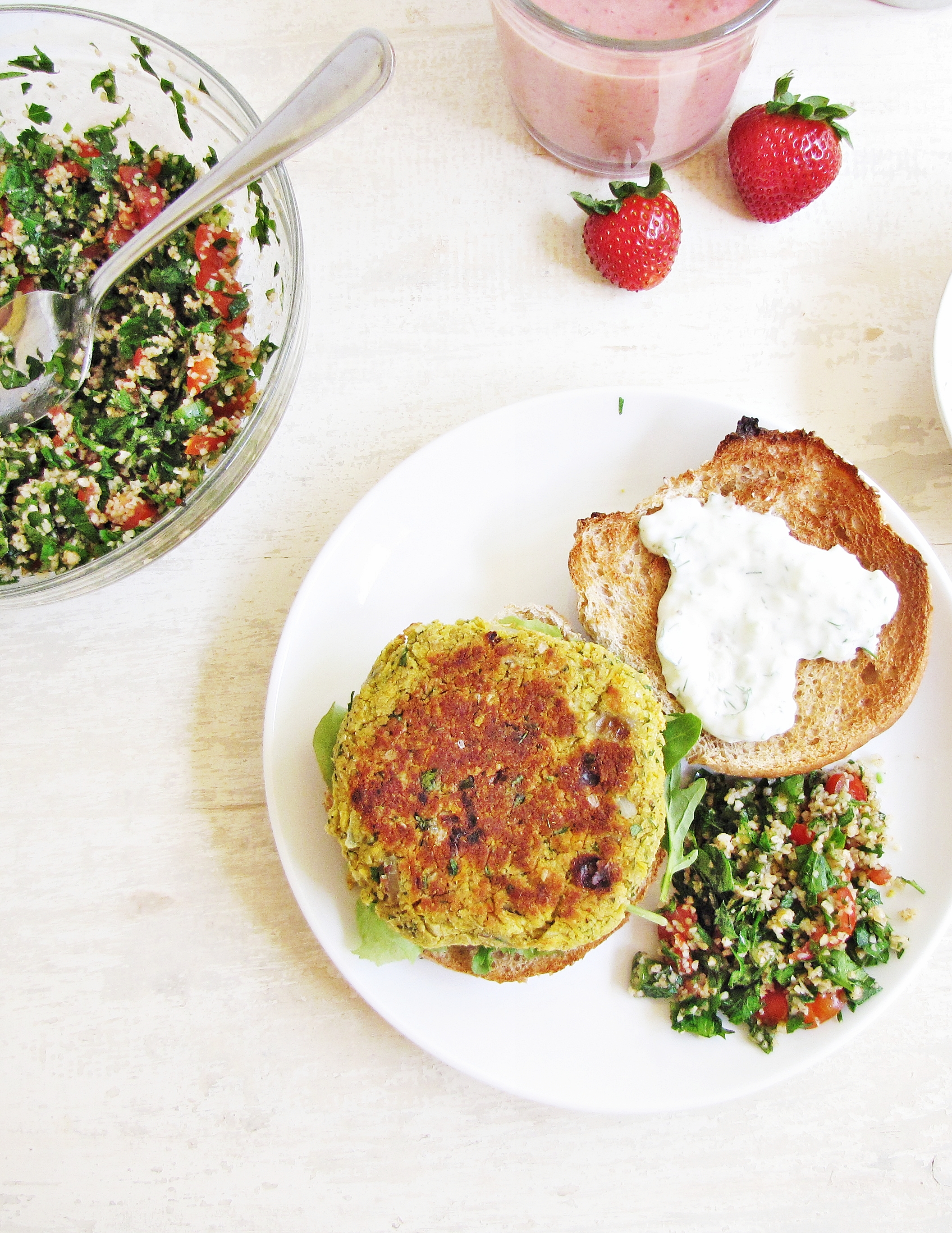 Head on over to Greatist for the chickpea burger recipe, and see below for all the yummy accompaniments, as well as a little schedule I put together if you need help planning out your prep time!
P.S. My friend reported back that the dinner party was a success – they made and enjoyed all of the recipes.  So maybe she's not as kitchen-impaired as I thought :-)  Next time, you're getting a challenge, girl.  xo.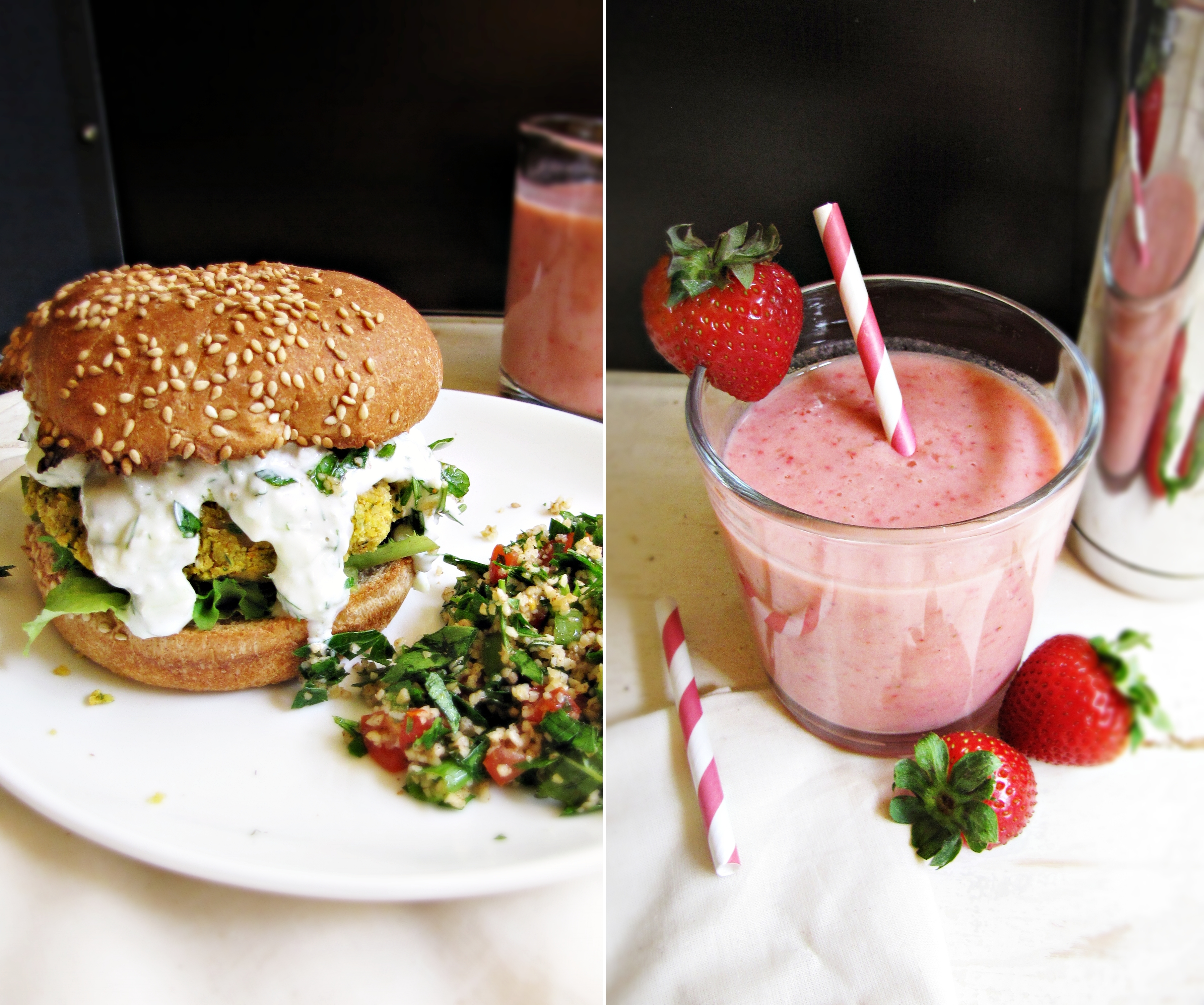 Greatist Dinner Party – Middle Eastern
Dinner party plan of attack (I think I've been fairly generous with the time you will need as a single person preparing the meal – with friends, you could easily divide and conquer and take less than an hour overall.  As far as cooking implements, you will need – 1 cutting board, 1 knife, blender, food processor, 1 saute pan, 2 large bowls, fine-mesh colander, 2 medium bowls, utensils/measuring implements):
5:00 – peel, chop and salt cucumbers, leave to drain in colander.
5:05 – prepare tabbouleh ingredients: slice/chop/mince tomatoes, scallions, parsley, mint, mix together with spices, lemon juice, and olive oil.  Set aside in a large bowl.
5:20 – make smoothies: wash, hull, and quarter strawberries, blend with other ingredients, and refrigerate until ready to serve.
5:30 – remove cucumbers from colander, pat dry, and add to food processor with dill, garlic, and lemon juice.  Process until smooth, mix with yogurt, season to taste, cover, and refrigerate until ready to serve.
5:40 – rinse bulghur in colander, let drain 5 minutes, fluff with fork, then add to other tabbouleh ingredients.  Mix together, cover, and refrigerate until ready to serve.
5:45 – preheat oven.
5:50 – clean up break: wash blender, colander, and various utensils/measuring items.  Rinse out food processor.  Rinse off cutting board and knife.
6:00 – peel and chop onion.  Saute in pan with olive oil for 5 minutes, then place in large bowl.
6:10 – prepare chickpea burgers: peel and chop carrot, peel garlic, pulse remaining ingredients in food processor.  Mix with breadcrumbs and spices.  Prepare baking sheet, form into patties, brush with olive oil.
6:30 – cook chickpea burgers.  While waiting, clean up remaining dishes, wipe down counters.
6:45 – remove other items from fridge.  Toast hamburger buns.
6:50 – dinner is ready!
Traditional Tabbouleh
I've shared a tabbouleh recipe before (actually, it was another Greatist post…), but it was a souped-up all-in-one version with lentils and feta cheese to make it a complete meal on it's own.  This version is a more traditional version, heavy on the herbs with just a bit of bulghur wheat – although I chose to use a bit more than David recommends to make it a more substantial salad.
Adapted from David Leibowitz.  Serves 4 as a side.
1/4 c. bulghur wheat
20 grape tomatoes, finely diced
4 scallions, roots and dark green tips removed, thinly sliced
large bunch parsley – about 3 c. packed leaves
20 large stalks of mint – about 3/4 c. packed leaves
1/2 tsp ground cinnamon
1/2 tsp ground allspice
2 tsp lemon juice
1/4 c. olive oil
kosher salt, to taste
Wash herbs, shake or spin dry, and remove leaves from stalks, leaving as little stalk as possible attached to leave.  Discard stalks.  Gather herbs in a bunch and finely slice into thin slivers, working with a handful at a time.  Add to a large bowl, along with diced tomatoes and sliced scallions.
Place bulghur wheat in a fine-mesh colander and rinse under cold water for about 1 minutes.  Let drain over a bowl for 5 minutes, then fluff with a fork.  Sprinkle bulghur wheat over salad.  Stir in cinnamon, allspice, lemon juice, and olive oil and check for seasoning.  Salt to taste.  Refrigerate until serving.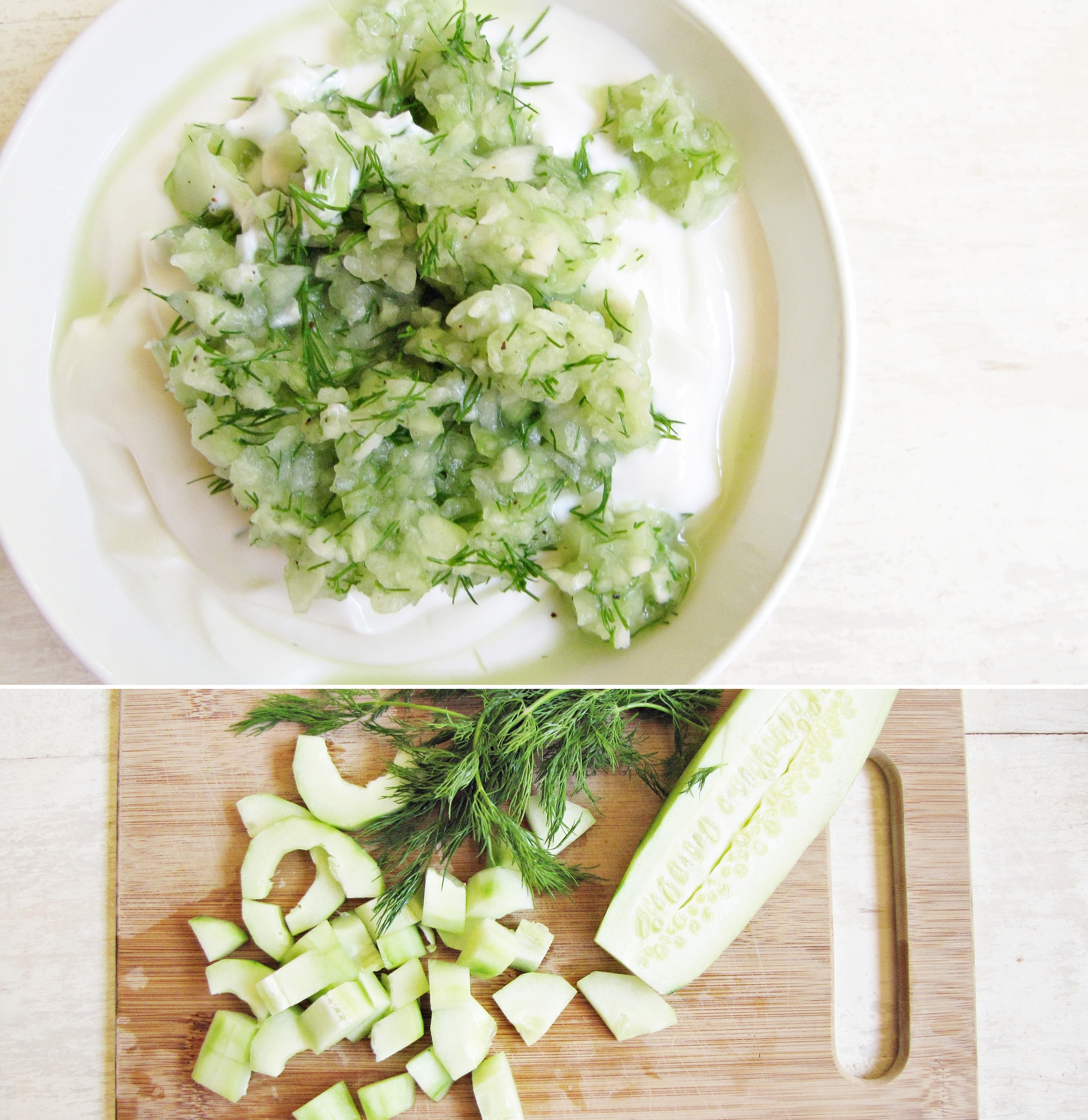 Tzatziki
This is hands-down the best tzatziki I've ever tried.  Usually, I go the lazy route and just toss some cucumbers and a bit of dill into a bowl of yogurt, but the slight extra effort required for this recipe is 100% worth it – the finely blended garlic, lemon juice, dill, cucumber, and salt makes this a totally addictive and healthy dip.
Recipe adapted from Kalyn's Kitchen.  Makes about 1 cup.
1/2 small cucumber, peeled, and seeds scooped out of center with a spoon
kosher salt, to taste
1/4 c. dill fronds, thick part of stems removed
1 garlic clove
1 c. plain Greek yogurt
2 tsp. lemon juice
black pepper, to taste
Finely chop cucumber, and place in colander over bowl.  Sprinkle with a small amount of salt, and let sit for half an hour.  After half an hour, pat cucumber dry with a paper towel, and add to food processor with dill, garlic, lemon juice, and a bit of black pepper.  Process until smooth, then stir into yogurt.  Season to taste with salt, and additional pepper if needed.  Refrigerate until serving.  Will keep in fridge for a few days.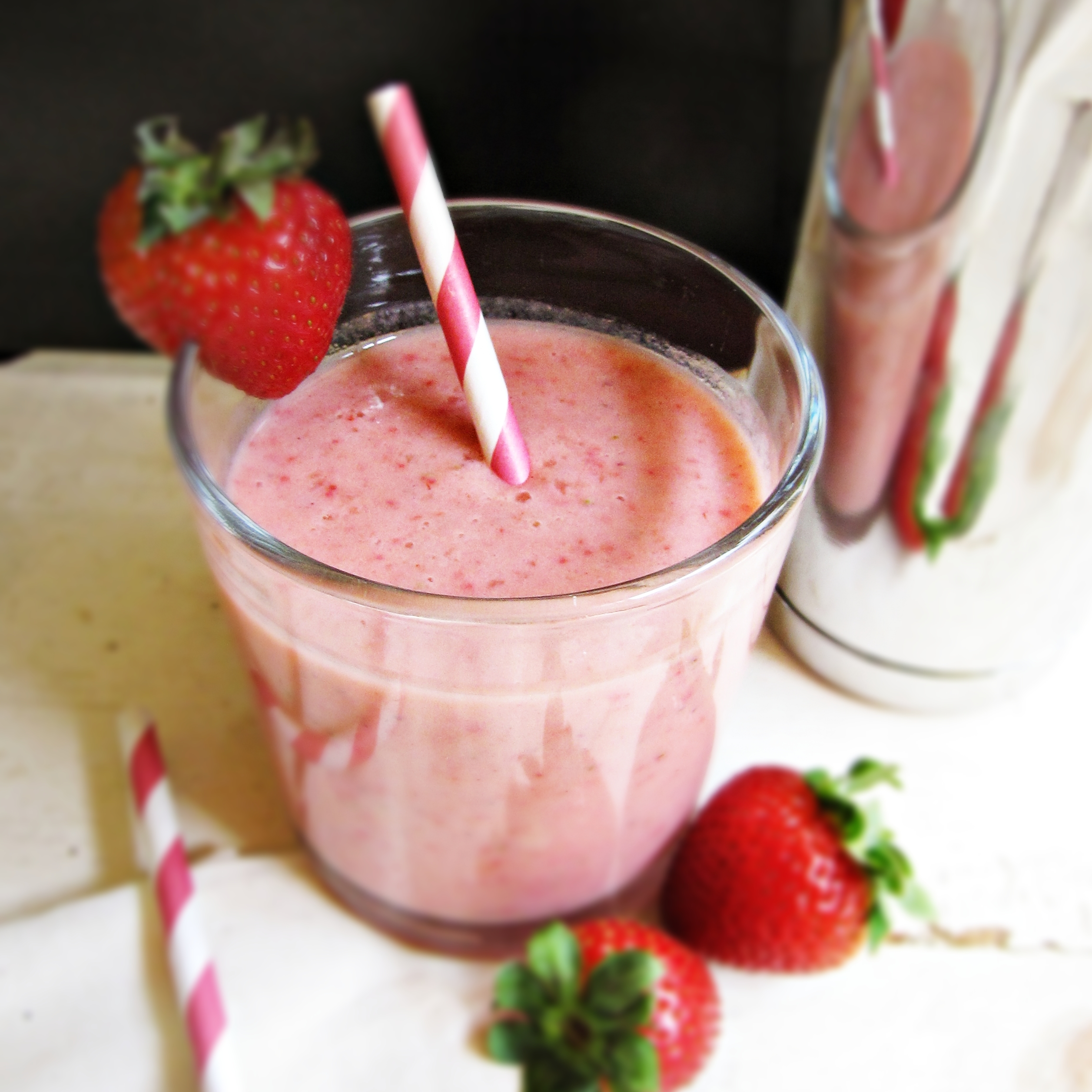 Strawberry and Rosewater Lassis
Adapted from Pairs Well With Food.  Serves 4.
1 1/2 lbs fresh strawberries, hulled and quartered
1 1/2 c. cold buttermilk
3-4 TBS honey, depending on sweetness of berries
1 tsp ground cardamom
1 1/2 tsp rosewater
1/2 c. ice
chopped pistachios for garnish (optional)
Add all ingredients to a blender and blend until smooth and frothy.  Taste for sweetness and add more honey if necessary.  Serve cold, with chopped pistachios if desired.
1