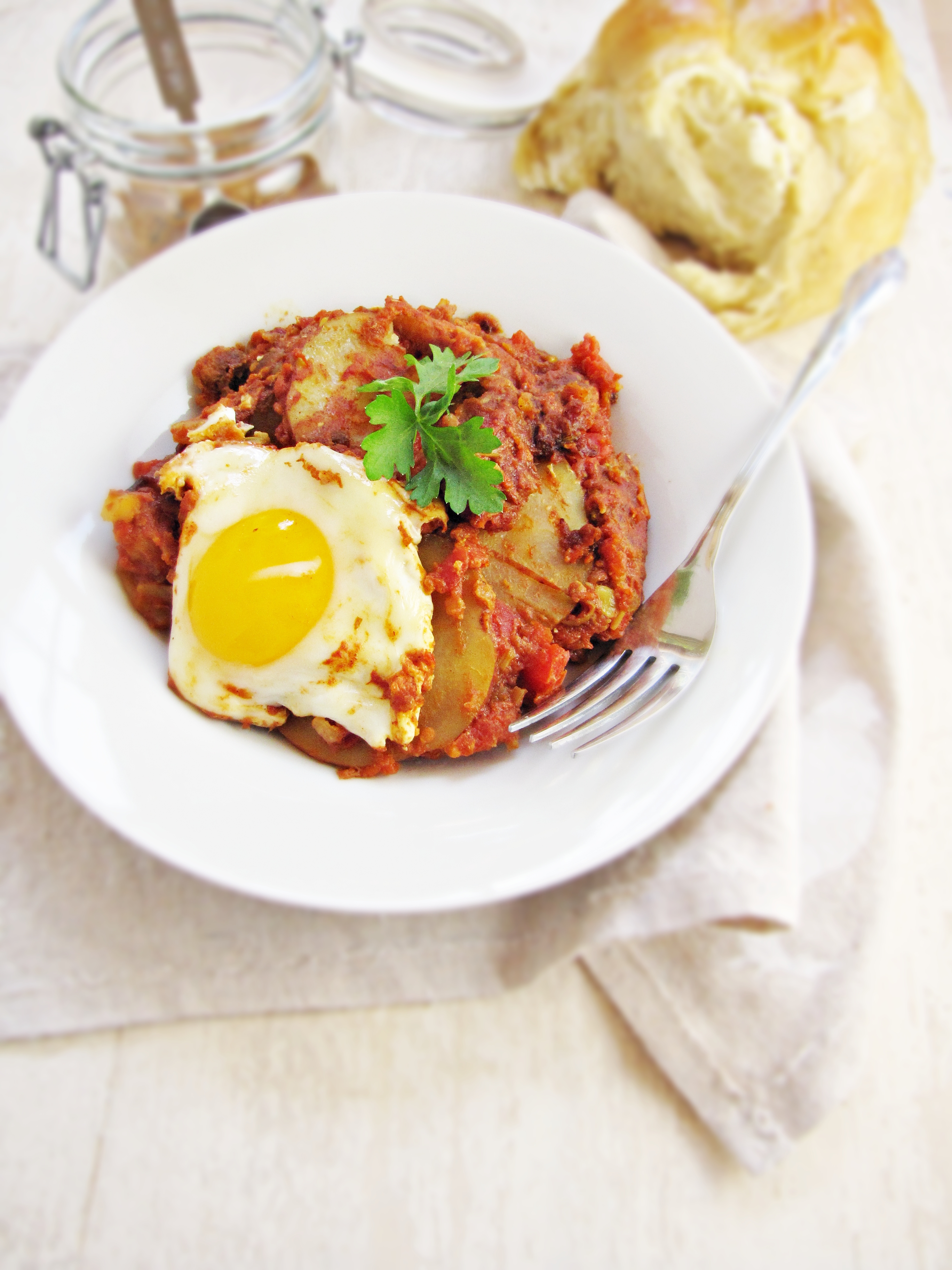 Time for another easy, healthy dinner over on Greatist!  I really enjoy doing these posts, since it forces me to work within parameters that I would ideally apply to myself for most dinnertimes – light and nutritious meals that take 30 minutes or less to put together, but that don't skimp on flavor.  I don't always accomplish all of those things – like on the nights I resort to eating ice cream with granola and just call it a day (don't worry, Mom, that's not that frequently) – but when I do, it makes me feel pretty good.  Especially when there's leftovers, like is always the case with this meal, and I can feel good about what I'm eating again the next day at lunch.  Planning ahead – it pays off.
I found this recipe via my friend Ranjani's blog Four Seasons of Food.  Shakshuka – a traditional Middle Eastern breakfast dish of eggs poached in a spicy tomato sauce – is a dish I've seen quite a bit around the blogosphere in the past year, and one that I've always found intriguing.  But when I saw that the version Ranjani shared included sausage and potatoes, I was more than intrigued – I made it within 3 days of seeing the recipe.  Since then I've made it a handful of times (which is saying a lot, given that the only recipes I repeat are my absolute favorites), but I only just realized that it would be a perfect fit for Greatist.  It's definitely comfort food – warm, spicy, sausage-y tomato sauce, tender potatoes, and barely poached eggs – but without the guilt that usually accompanies comfort food.  I mean, it's comfort food without cheese – it has to be good for you!  In fact, the sausage is the only questionable ingredient in terms of health, and there's only a little in the dish – just enough to give it a slightly smoky, meaty flavor.  It might be a little challenging to find the ras el hanout spice mix (or alternatively to round up all the spices and make it yourself, which is what I do), but this dish is 100% worth it.  Plus, once you have all the spices you can enjoy this whenever you're needing a little comfort food but don't want to go all out on a plate of spaghetti or a pizza.
You can find the recipe over at Greatist – enjoy!
2