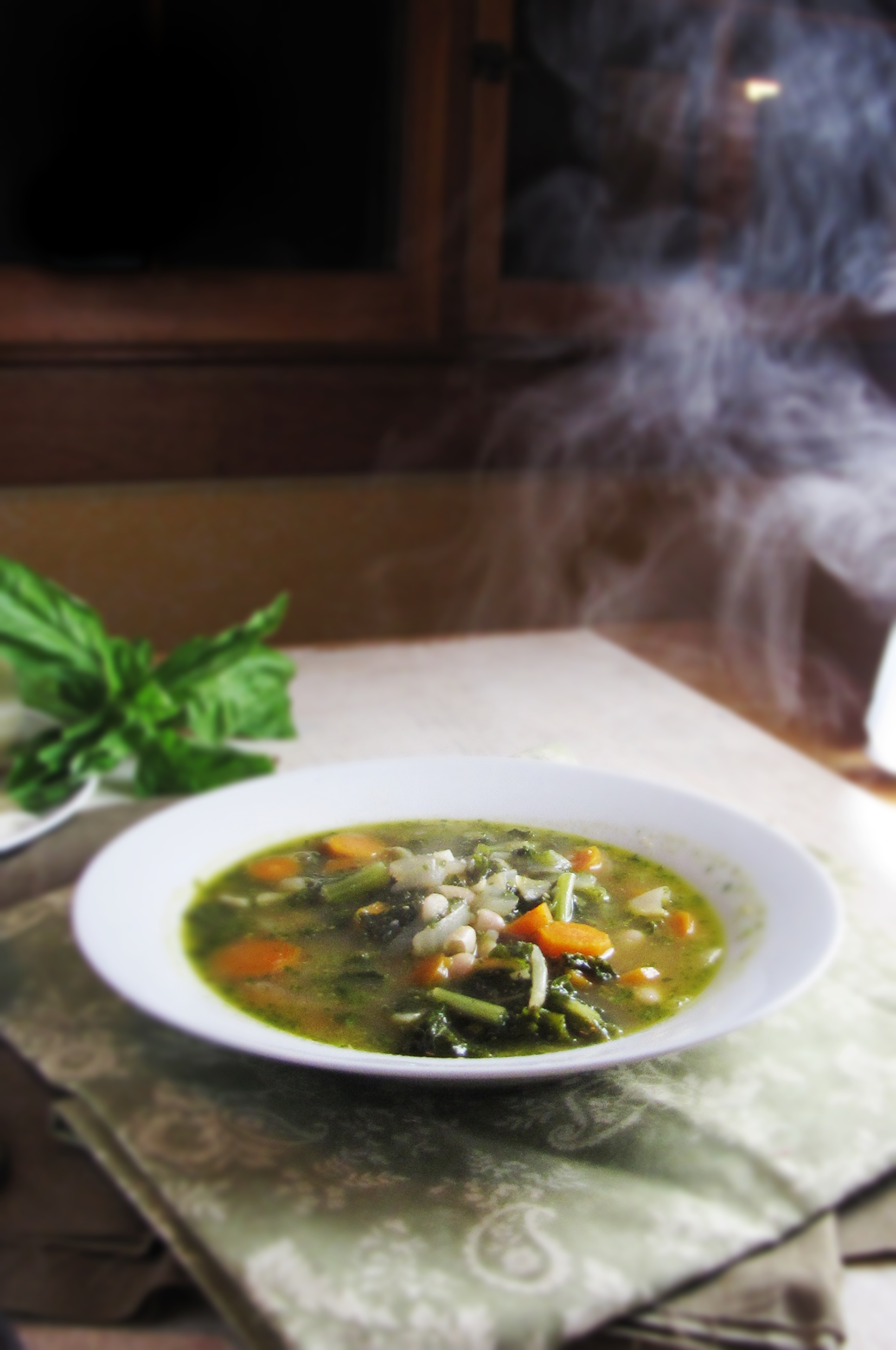 I had sort of thought that soup season was over, but apparently the weather disagrees with me.  All the cold, rainy weather we've had in New England (did someone switch April and June?) has had me drinking a lot of tea, baking, and craving cold-weather dishes.  I guess it could be worse, since soup is one of my favorite things to make – and eat.  It's easy, quick, and pretty much the best way to pack a massive dose of vegetables into a single meal.  And this recipe is no exception.
I've tried a lot of recipes for soups and stews over the past two years, but there are a handful that I come back to time and again.  Portuguese kale soup, corn and cheddar chowder, minestrone, pork and black eyed pea chili, and this one.  I love how the pesto melts into the soup and gives it a smooth, creamy texture and an herbal, slightly sharp flavor.  Plus, the pesto makes this a good summer soup – perfect for a cold-rainy-wintery day in June.  I always use pecorino for this recipe, as I love how the sharp nutty tang plays off the creaminess of the white beans, but if you're not a pecorino fan, substitute parmesan, or another hard, salty cheese.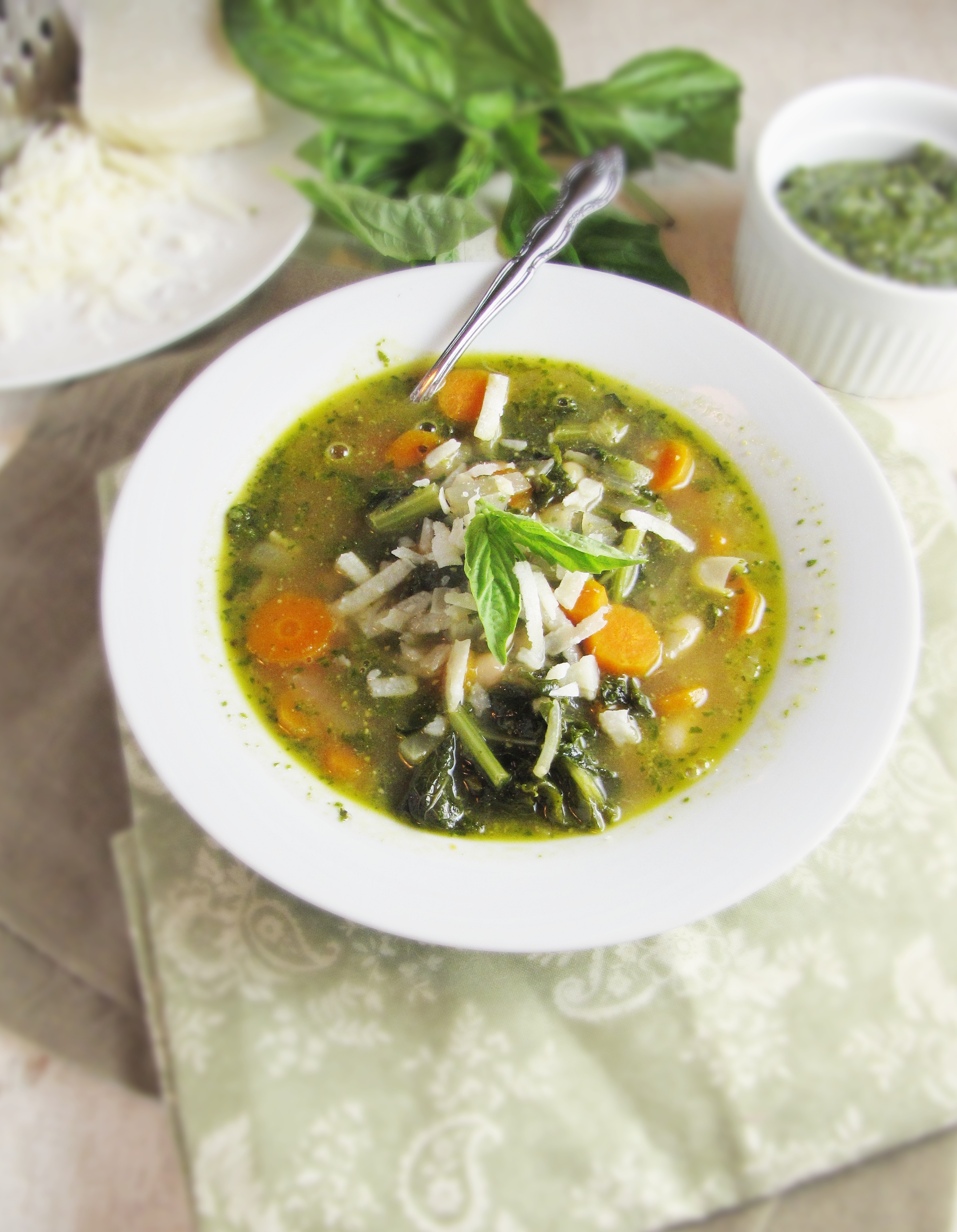 In other news, I am immensely tired.  My trip to Spain was productive, if not super-fun, and I did manage to find blogging inspiration in some of the incredible meals we ate, which I'll share with you later.  But the nutty schedule is starting to catch up with me a little bit, and I'm feeling kind of worn out.  Hopefully things will calm down soon and the sun will come back out, and you'll be seeing a lot more of me (and with recipes for ice cream and grilling instead of soup)!
More like this…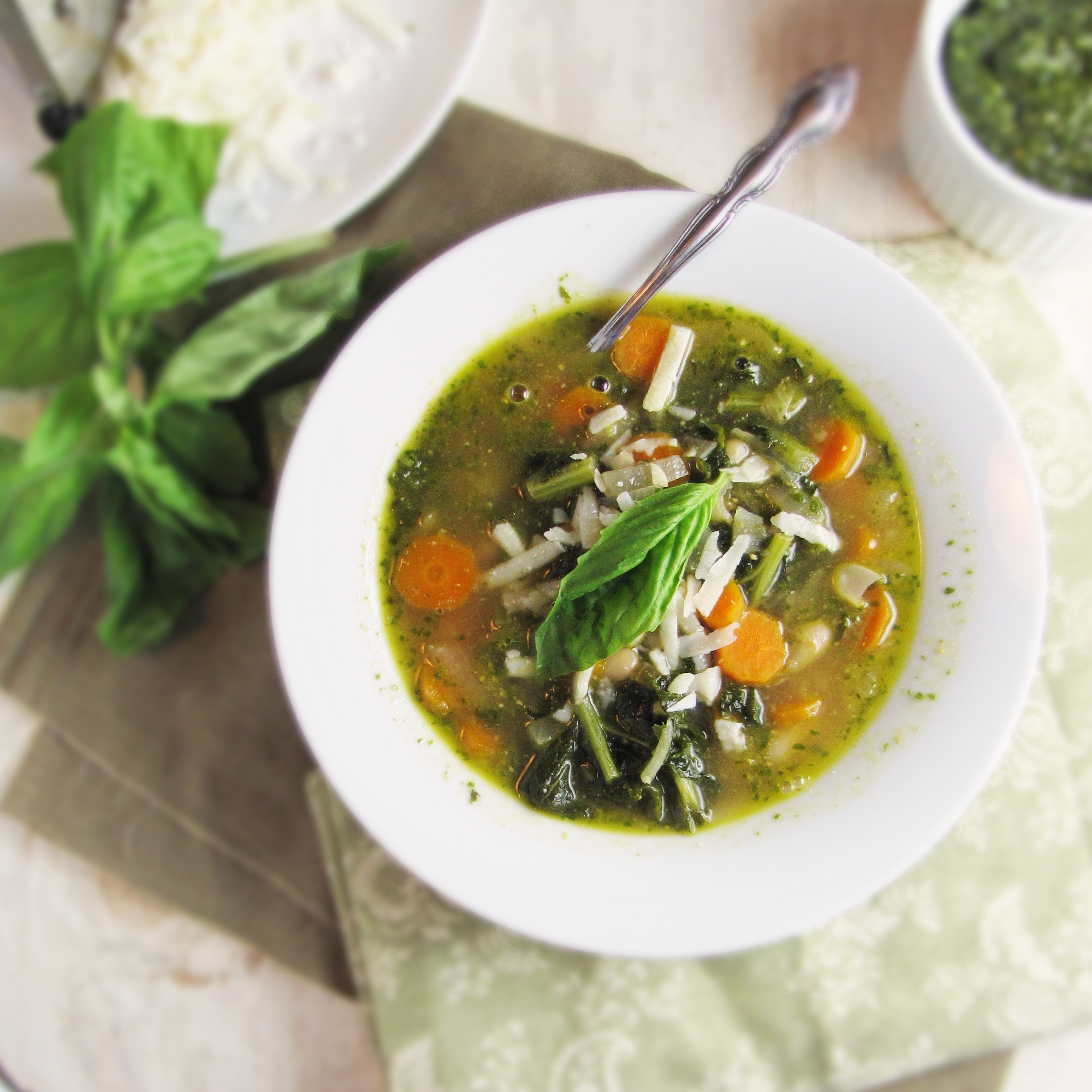 White Bean, Kale, and Pesto Soup
A Katie at the Kitchen Door Original.  Serves 4.
2 TBS olive oil
1 onion, coarsely chopped
4 carrots, peeled and sliced about 1/4 in. thick
4 cloves garlic, minced
1/2 tsp dried oregano
1/2 tsp dried parsley
4 c. chicken or vegetable broth (use vegetable broth to make the recipe vegetarian)
1/2 large head fresh kale, roughly torn into bite-sized pieces (or 1 1/2 c. frozen chopped kale)
1 can cannelini beans, rinsed
1/2 c. prepared pesto (homemade is best, but store-bought is fine too)
1/2 c. grated pecorino cheese
1/4 tsp nutmeg (optional, but I love the interplay of pecorino and nutmeg)
Heat oil in a large stockpot over medium heat.  Add onion and carrot, and saute, stirring occasionally, for 5-8 minutes, or until vegetables have begun to soften.  Add garlic, oregano, and parsley, and cook 2 minutes more, stirring.
Add chicken broth, kale, and beans, bring to a boil, then lower heat and simmer for 15 minutes, until kale and carrots are tender.  Remove from heat and stir in pesto, cheese, and nutmeg.  Serve hot with additional grated cheese and crusty bread.
12