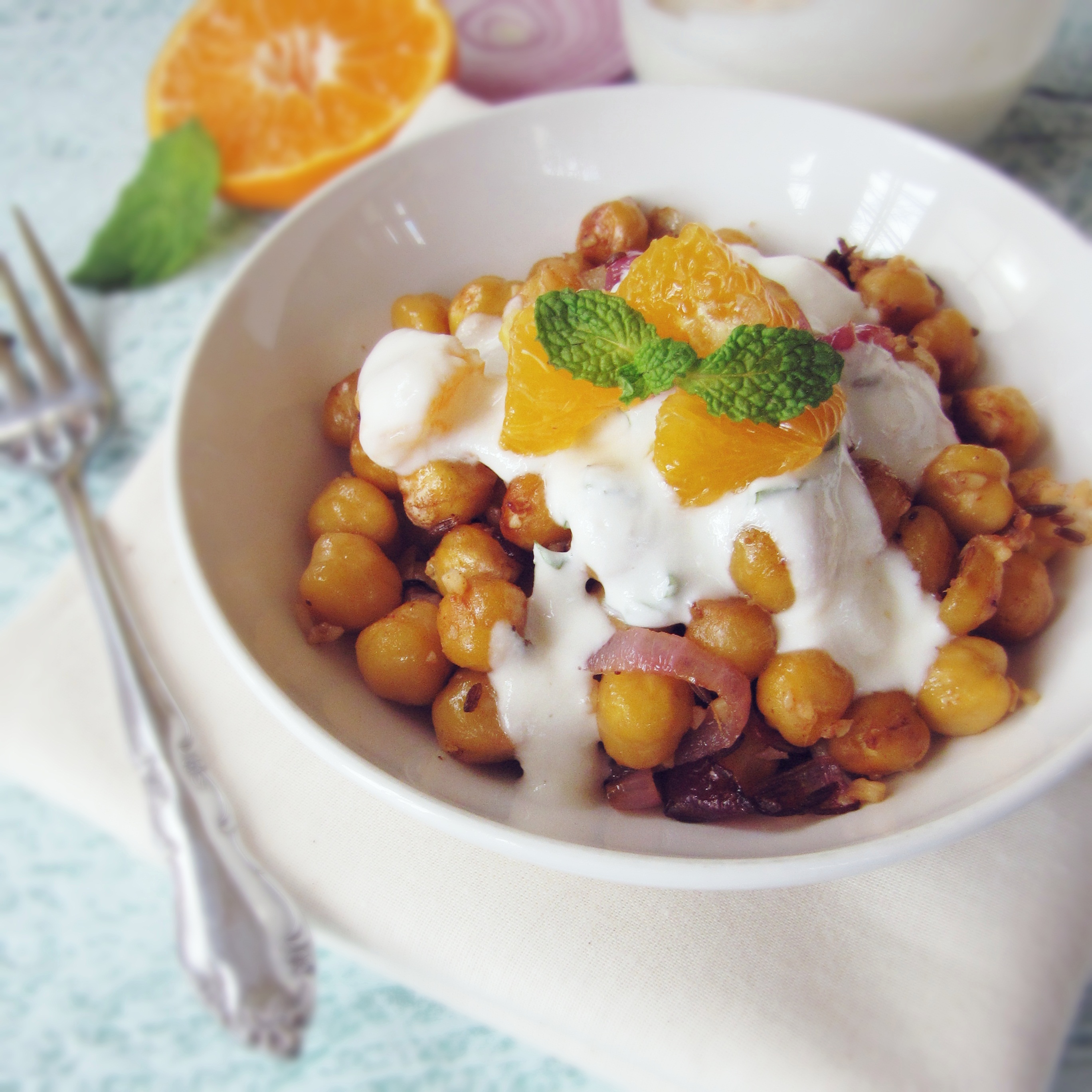 This is the kind of meal I make all the time, when I don't feel like cooking for more than 15 minutes but I want something hot, hearty, and wholesome.  I almost always have all of the ingredients on-hand, so it appears frequently on weeknights when I get home late, days before I go to the grocery store, and lazy Sundays when I don't want to leave bed for too long.  For something which takes so little effort, the flavors in this are fantastic.  When cooked properly, the chickpeas develop a crunchy, garlicky outside that give way to a soft creamy interior as you sink your teeth into them, with little hints of lemon and chili-powder spicing up the experience.  The yogurt sauce is sweet and cooling, with a refreshing hit of mint, and combined with the hot savory chickpeas, absolutely perfect.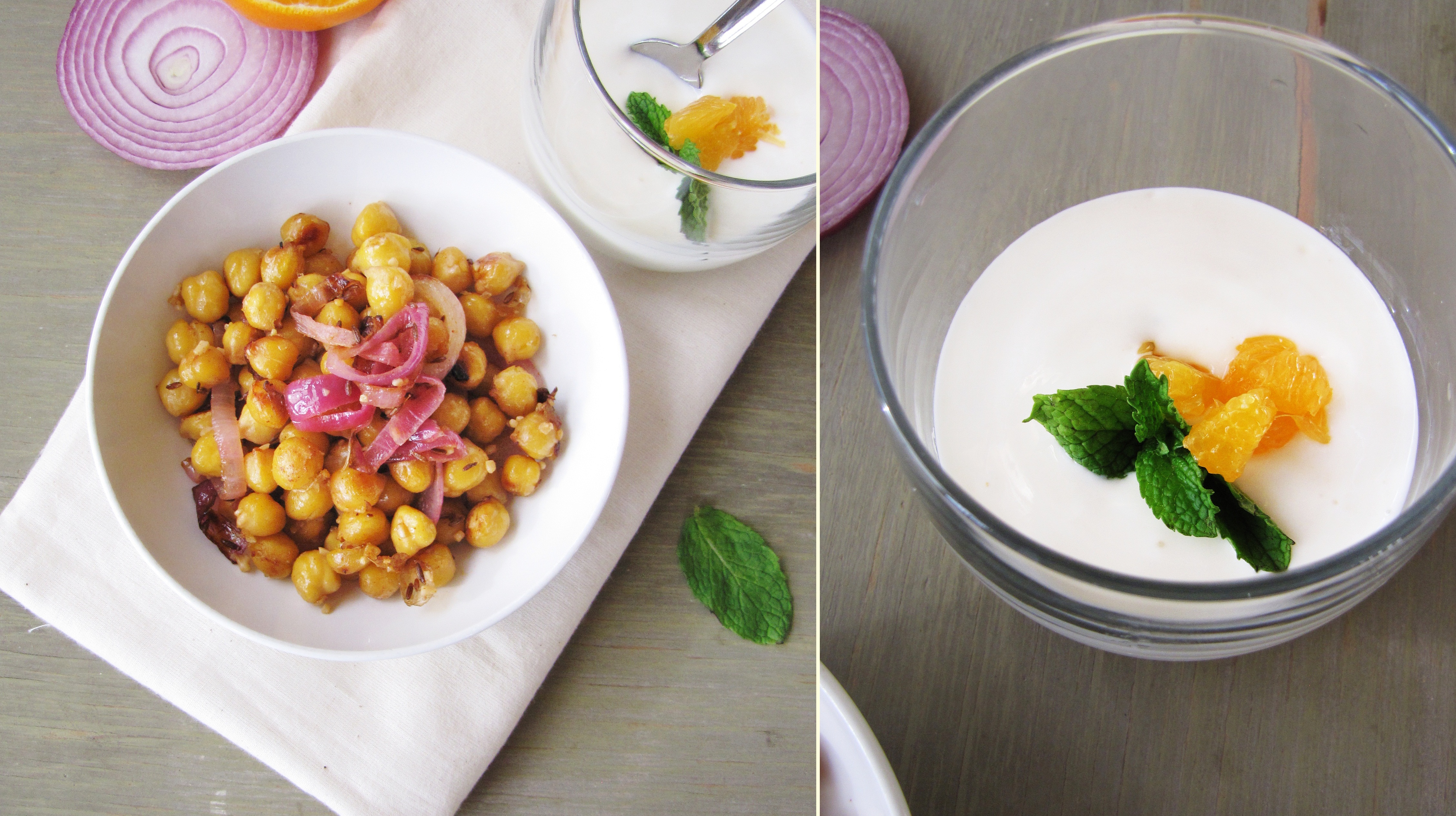 I initially started making fried chickpeas because of this recipe on 101 cookbooks.  Later I tried these fried chickpeas, and this chickpea and spinach salad, and since then I've morphed all of these experiences into my own favorite way of combining these flavors, and feel safe in calling this particular recipe my own.  Isn't that really how all recipes are created, anyway?  The final recipe definitely plays strongly off classic Middle-Eastern flavor combinations, and would make a great side dish for a Middle-Eastern lamb dish, or mixed with couscous for a more complete meal.
I included this recipe as part of my winter cleanse rotation – you can find the rest of the recipes for week one here.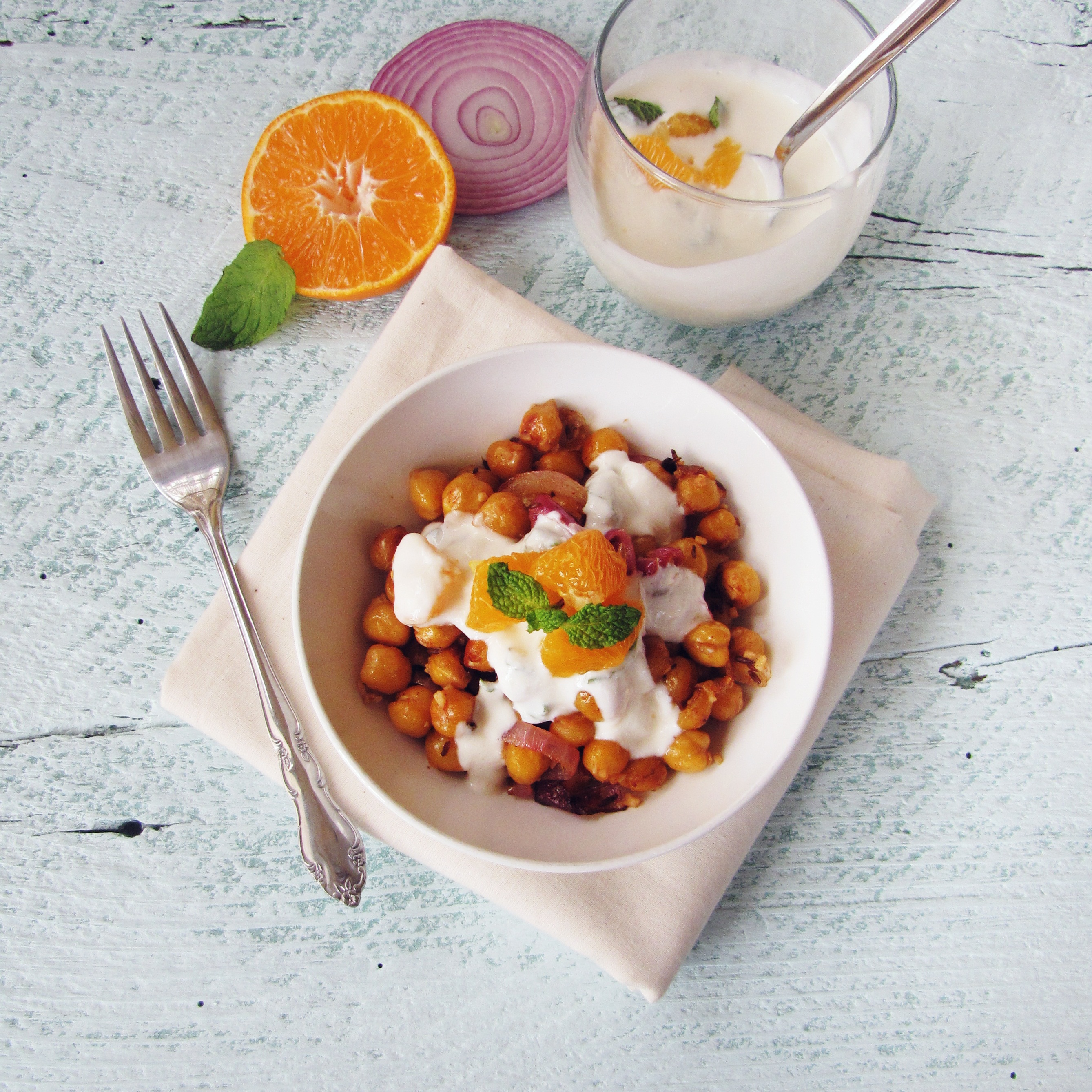 Fried Chickpeas with Orange-Mint-Yogurt Sauce
A Katie at the Kitchen Door original.  Serves 2.
2 c. cooked chickpeas
2 TBS olive oil
1/2 red onion, sliced
1 1/2 tsp whole cumin seed
1/8 tsp cayenne powder
1/2 tsp coarse sea salt
2 tsp lemon juice
1 1/2 TBS minced garlic
1 6-oz. container of plain greek yogurt
2 small oranges or clementines
10 large leaves fresh mint, finely diced
1 TBS honey
Slice one of the oranges in half.  Squeeze the juice from the orange halves into the yogurt container, and stir.  Add the honey and diced mint and stir until evenly combined.  Taste for sweetness and flavoring, and add more of any ingredients you feel necessary.  Set aside.
Peel remaining orange and separate segments, cutting into bite sized pieces if necessary.  Set aside for topping the chickpeas.
Heat the olive oil over medium heat in a large frying pan for about 1 minute, then add the cumin seed and cook for 1-2 minutes, until fragrant and beginning to turn brown.  Add the onion, chickpeas, and cayenne powder and cook, stirring every 2-3 minutes, until onions are soft and chickpeas are golden-brown and burnt in places, with a crunchy exterior, about 15 minutes.  Add sea salt, lemon juice, and minced garlic, and cook for another minute (the lemon juice and garlic should sizzle quite a bit when added to the pan), then turn off heat and serve, hot, with dressing spooned on the top and orange segments placed on top of dressing.
0