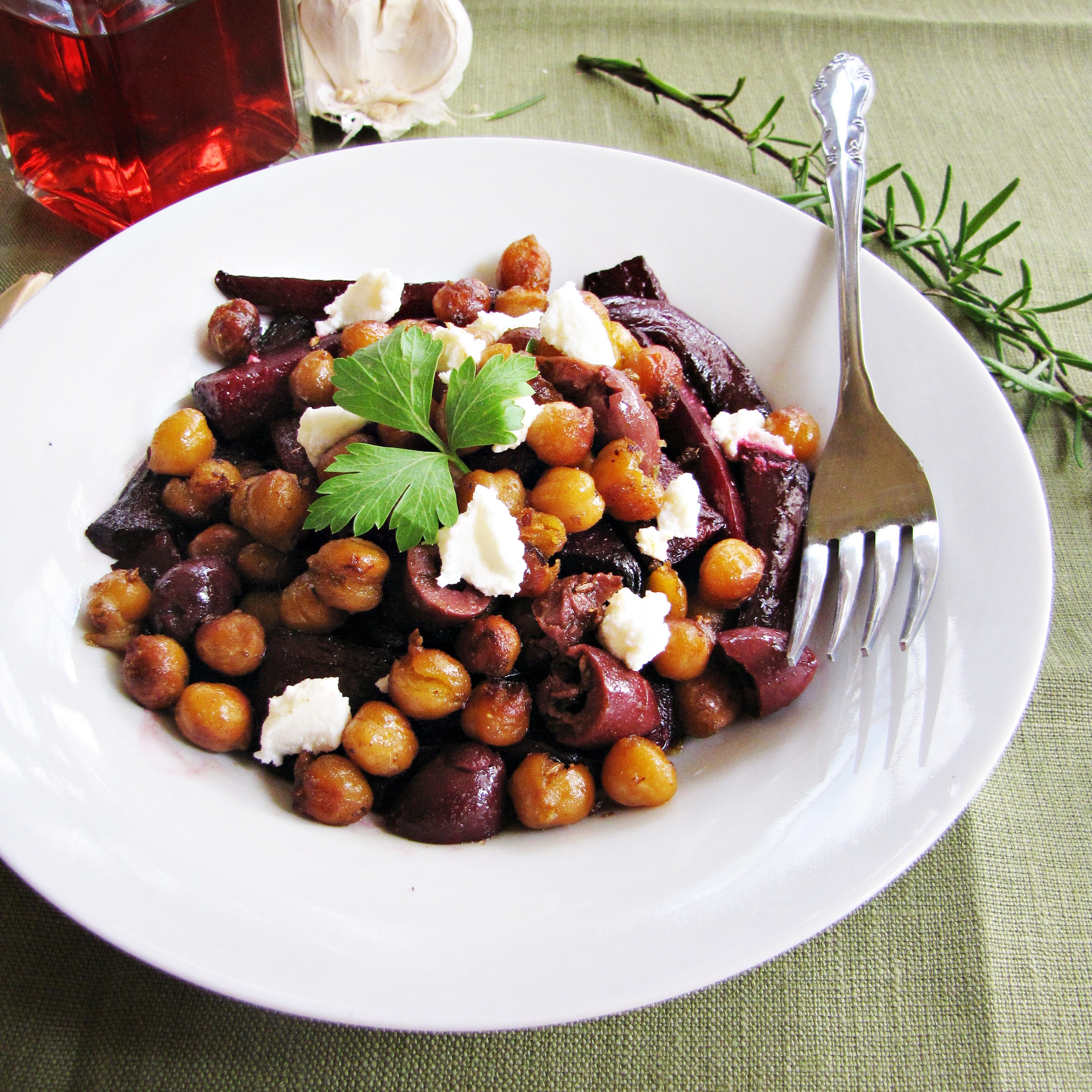 I've been on a bit of a beet kick lately – I made beets for Thanksgiving, I've made this incredible beet and chickpea salad twice in the past week, and I have recipes for beet keftedes and beet soup and beet-bulghur pilau shortlisted for the next two weeks.  This isn't such a bad thing – beets are packed with health benefits.  I mean, their vegetable family also includes spinach, chard, and quinoa – superfoods much?  Beets are full of something called betalains, which have got all that antioxidant, pro-eyesight, anti-cancer stuff going on.  Plus, they're filling and delicious and even eating them roasted in large amounts of olive oil makes me feel good about myself.  However, I suppose there can be too much of a good thing, even when that good thing is related to lots of superfoods.  So if there's any blame to be laid for the perhaps excessive amount of beets in my diet recently, I'm laying it on the Somerville Winter Farmer's Market and the super gorgeous, super sweet, potato shaped beets they have every week.  They're so pretty and pink and shapely, I just can't help myself!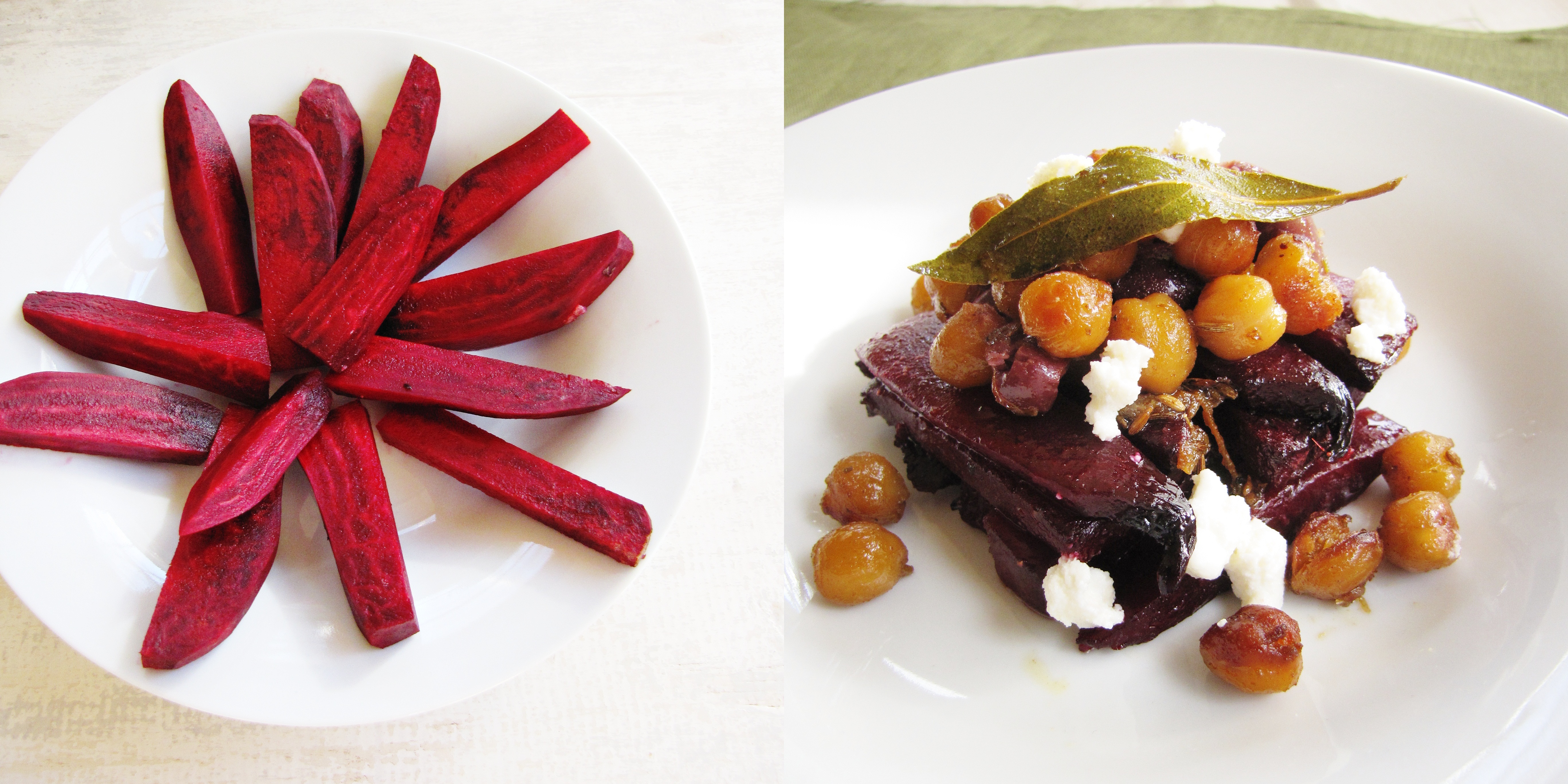 This salad is, as Trevor would put it, "flavor-exciting."  There's a lot going on in this dish, and all of it is good.  Roasted beets, chickpeas cooked in spiced broth and fried with cumin, ricotta cheese, kalamata olives, parsley, and a simple dressing of red wine vinegar and lemon juice give you pretty much every flavor and texture you could want in a single dish.  For me, the chickpeas are the star element of this dish, and the key to getting them just right is patience.  Now, I'm not usually that patient in the kitchen – think slightly undercooking the pasta, turning the heat up on an omelette to get it to cook faster and burning it in the process, etc.  But these chickpeas are worth the wait.  After cooking to a firm-tender bite in the beautifully spiced broth, you have to wait even longer for them to fry.  And fry.  And fry.  It takes a long time (a good 15 or 20 minutes) for these little beans to get to that golden-brown chewy-crunchy magic spot, but don't let yourself toss them into the salad until they're just right.  With under-fried chickpeas the salad will be good… but with perfectly fried chickpeas you won't be able to stop eating it.  Promise.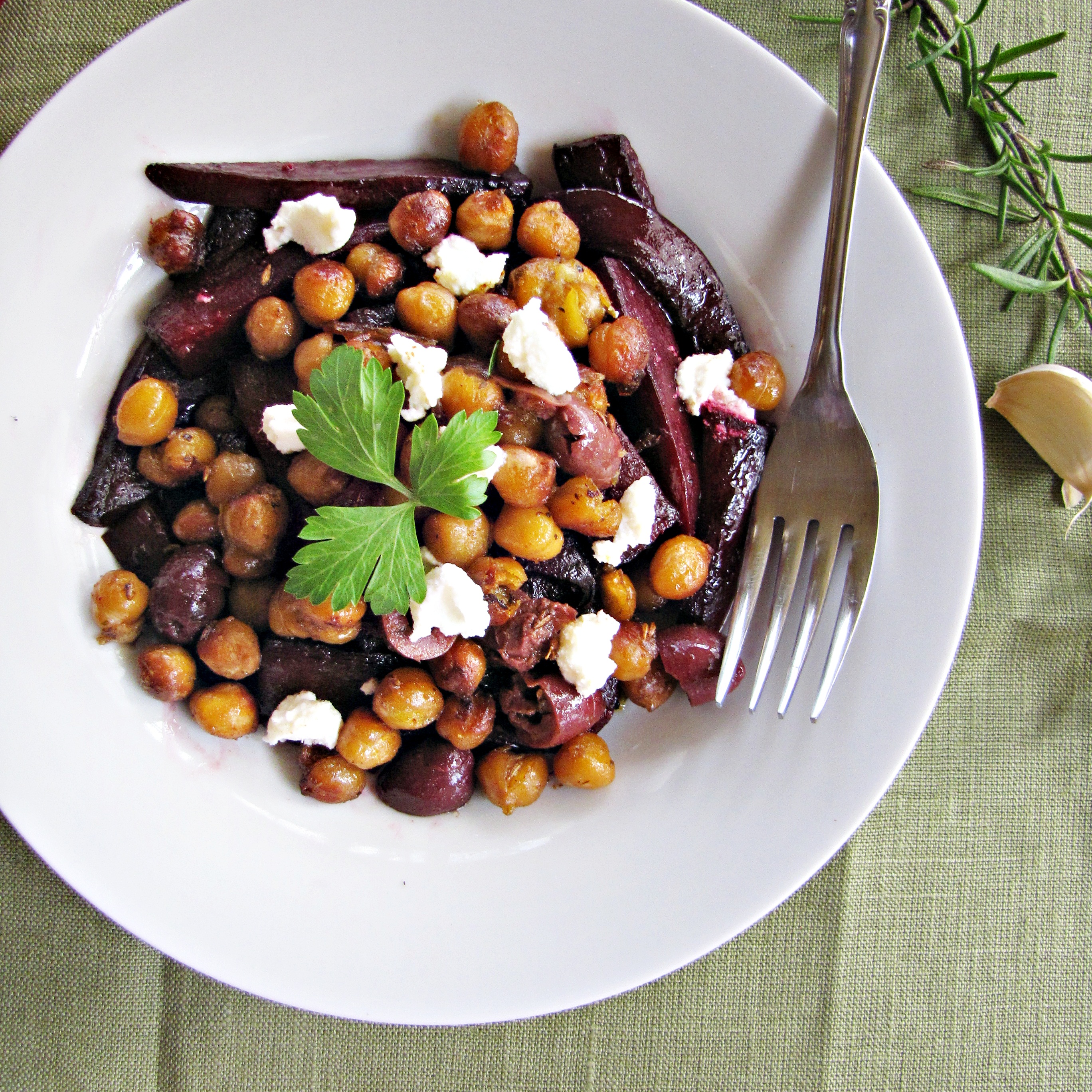 Roasted Beet and Fried Chickpea Salad
Recipe adapted from Sunday Suppers at Lucques
.  Makes 3-4 meal-sized servings.
For the chickpeas:
1 c. dried chickpeas, soaked overnight and drained
2 TBS oilve oil
1 small onion, diced
6 cloves garlic, smashed
1 aji amarillo chile or chile de arbol, crumbled
1 bay leaf
1 tsp sweet Hungarian paprika
1/8 tsp cayenne pepper
1/2 tsp. cinnamon
For the salad:
4-5 large beets, peeled and cut into wedges
1/4 c. + 2 TBS olive oil
sea salt and pepper to taste
1 tsp cumin seeds
2 TBS red wine vinegar (optional)
1 TBS lemon juice (optional)
1/2 c. kalamata olives, halved
1/2 c. fresh flat parsley leaves, chopped
1/2 c. fresh ricotta
Make the chickpeas: In a medium saucepan, heat olive oil over medium heat.  Add onion and smashed garlic and cook for 5 minutes, stirring occasionally, until starting to brown.  And chile, bay leaf, spices, and chickpeas and cook for 2 minutes, stirring to coat chickpeas with spices.  Add just enough water to cover chickpeas and cook at a low simmer for 1/2 an hour.  Add 1 tsp salt, then continue cooking until chickpeas are tender, another 15-30 minutes.  Take off heat and set aside, leaving in cooking liquid.
Preheat oven to 425°F.  Place peeled beet wedges in a 9×13 glass baking pan, toss with 1/4 c. olive oil and salt and pepper – beets should be well coated with oil.  Cover pan tightly with aluminum foil and roast for 40-50 minutes, until tender when pierced with a fork.
In a large frying pan, heat remaining 2 TBS olive oil over medium heat.  Add cumin seeds and toast for 1 minute.  Add chickpeas (drained of their liquid but including chile and onion bits – I use a large slotted spoon to scoop them from the saucepan to the frying pan) and fry, stirring every 2 minutes or so, until golden-brown and crunchy on the outside, about 20-25 minutes.
Mix roasted beets, fried chickpeas, kalamata olives and parsley leaves until combined.  Drizzle vinegar and lemon juice over salad if using and toss to combine.  Serve warm, and dot with fresh ricotta after plating.