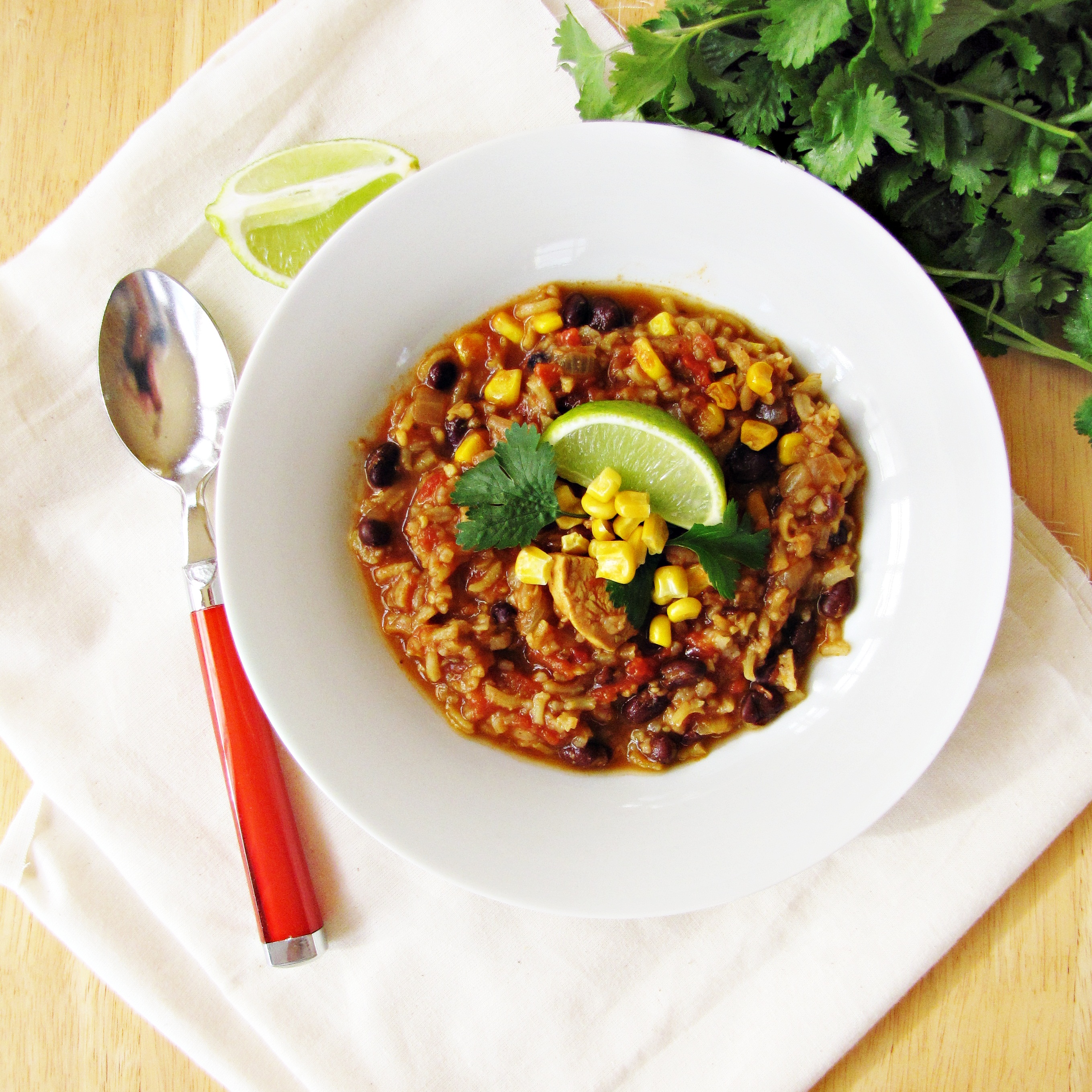 I really wanted to call this "the fastest soup in the west."  'Cuz, you know, I just cut up some chicken and opened some cans and threw in some spices and BAM, there was dinner.  No pre-meditation, just a sudden flash of inspiration followed by a rush to the kitchen to create the meal I has just tasted in my imagination.  And, you know, it's Southwestern, and it was fast, so… fastest soup in the west?  Yes?  Man, my cheesy side is just dying to get out right now.  Dying.  But I feel a little better at least having told you how kinda-funny I think I am.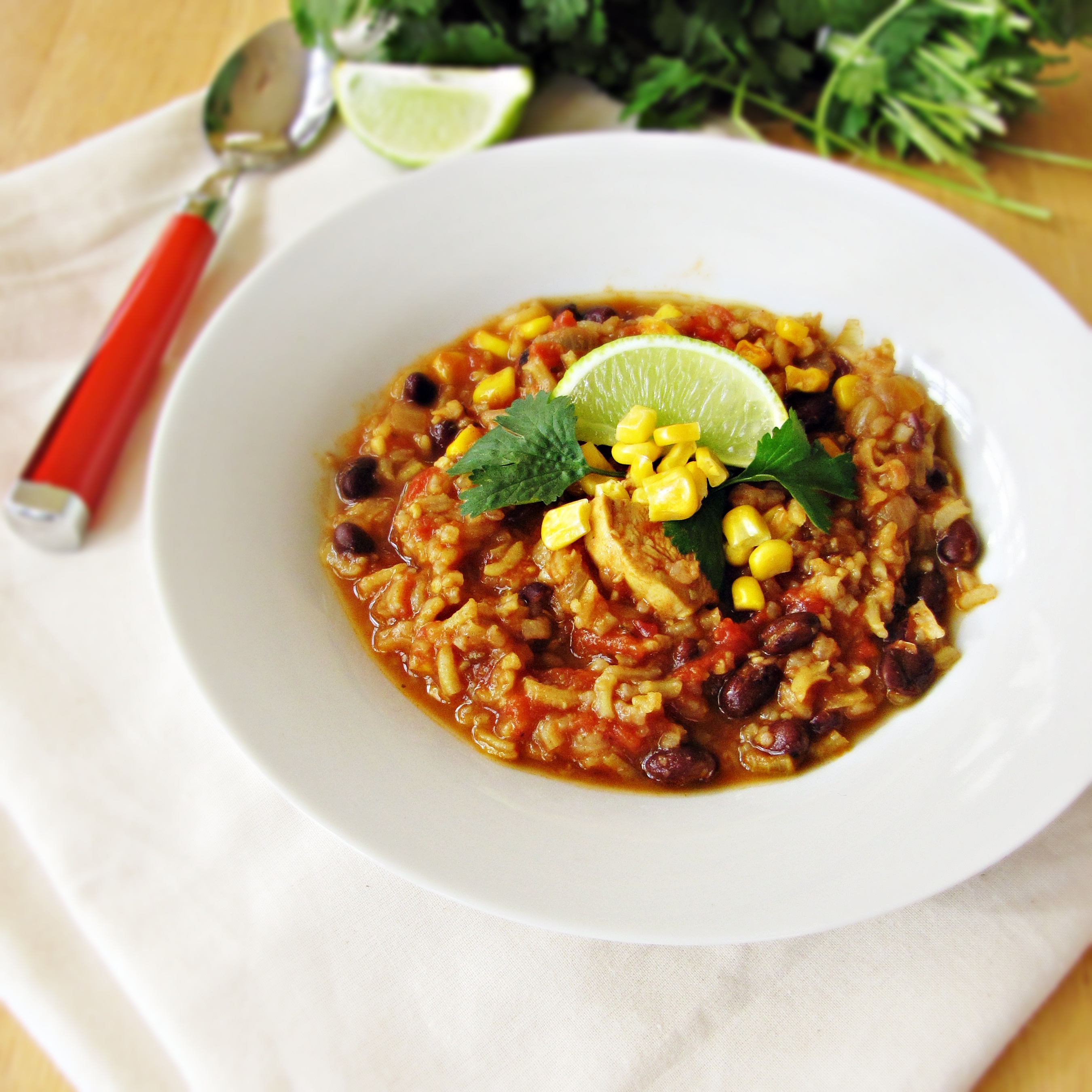 Anyway, this recipe was created mostly out of laziness.  On the cleanse menu for Saturday night was Pink Parsley's Red Chile Chicken with Black Beans and Rice, which has been on my to-make list for almost forever, but I was procrastinating making dinner because I didn't feel like making multiple components to a meal (although on looking back at that recipe, it actually is pretty easy.  Still, one pan is better than two).  Plus, I wanted soup.  Big, hearty, spicy soup.  So I took the four ingredients in the name of that recipe (chile, chicken, black beans, and rice), and morphed them into a soup in my head.  And once I got the idea of a spicy, tomatoey chicken soup, I couldn't shake it, so I went down to the kitchen and made the soup I was imagining.  And it turned out really good, for very, very minimal effort. So I wrote down the recipe, and here it is.  Make it when you're feeling under the weather or lazy or bland or too tired to make anything else, and I'm pretty sure you'll be pleased with the results.
I included this recipe as part of my winter cleanse rotation – you can find the rest of the recipes for the week here.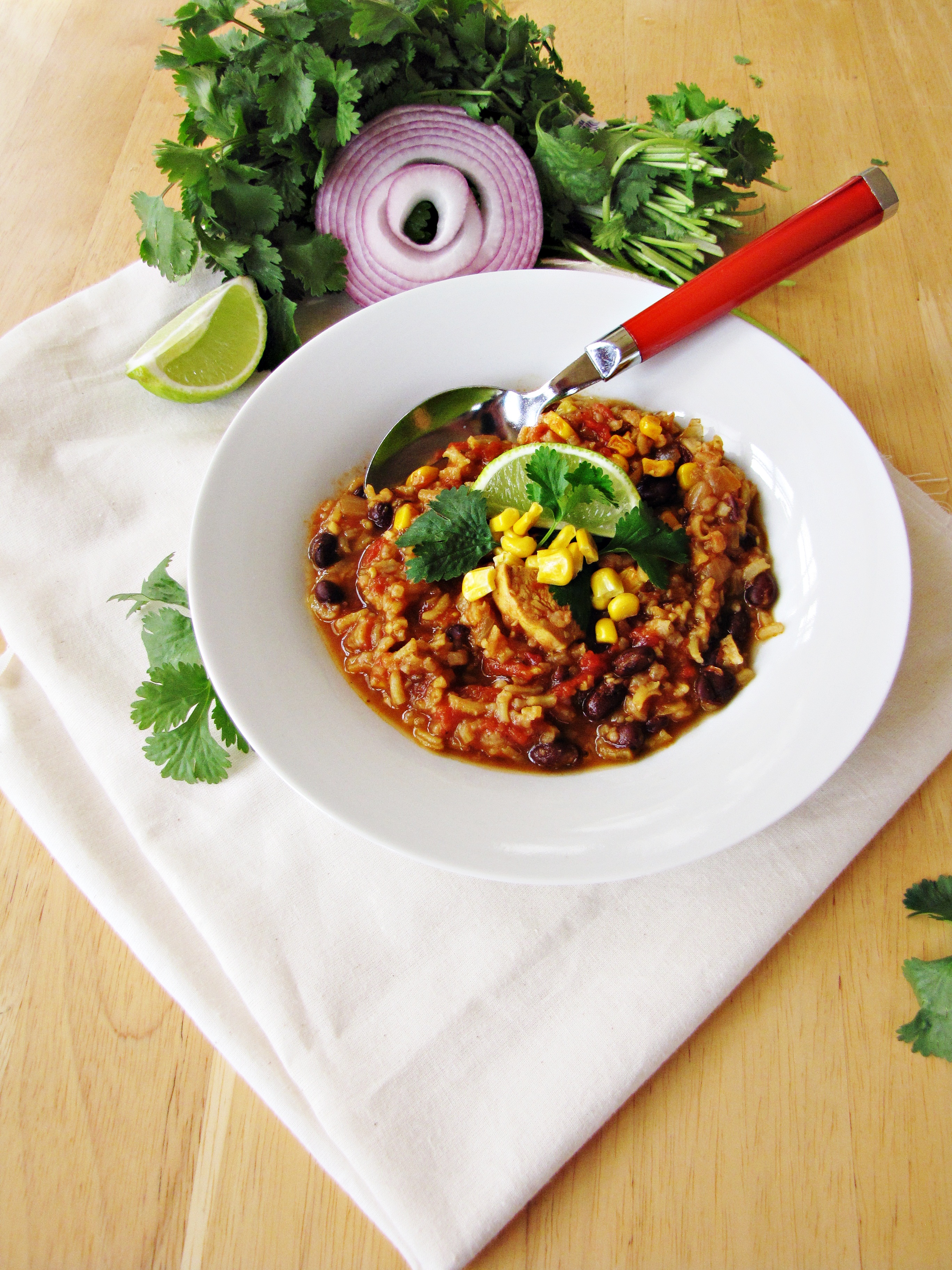 Chili-Chicken Stew with Black Beans and Rice
A Katie at the Kitchen Door original.  Serves 4.
2 TBS olive oil
1 onion, diced
1 TBS minced garlic
2 chicken breasts, cut into bite sized pieces
2 tsp sauce from canned chipotles in adobo
1 TBS harissa (or chili-powder, adjust amount to spiciness of your favorite brand of chili powder)
2 tsp dried oregano
1 (28-oz.) can crushed tomatoes
1 (15 oz.) can black beans, rinsed and drained
3/4 c. rice
3 c. chicken stock
1 c. water
1 bay leaf
1/2 c. frozen corn
fresh cilantro, lime wedges, and jack cheese for garnish (optional)
Heat olive oil in a large saucepan over medium-heat, and add onion once oil is hot.  Sautee onion for 3-4 minutes, until translucent, then add garlic, and sautee for another minute.  Add chicken pieces, chipotle sauce, harissa, and oregano, and brown chicken on all sides, which should take about 2-3 minutes, stirring frequently.
Add tomatoes, beans, rice, stock, water, and bay leaf to pot.  Bring to a boil, then lower heat and simmer on low, uncovered, for about 30 minutes.  Check pot occasionally during this time, and add water if necessary to keep rice covered.  After 30 minutes, check chicken and rice for doneness, then add frozen corn and cook for another 2 minutes.  Remove from heat, and serve hot, garnished with cilantro, freshly squeezed lime juice, and jack cheese.
3