This post is sponsored by La Crema Wines. All opinions here are my own. You can find the companion recipes over on the La Crema blog. 
Over the past two years, I've developed a series of dinner menus with La Crema, each one featuring the flavors of a different country. For most of the dinners in this series – Japanese Izakaya, Italian Seafood, Provencal Rose – my inspiration has been firsthand. But for this one, featuring the warming spices of Morocco, I'm an armchair traveler. An armchair eater maybe? So I can't tell you if these recipes taste just like they would if they were eaten outside the bustling Medina or in the cool courtyard of a riad. All I can promise is that they evoke warmth and vibrancy, two things I find myself craving as the days shorten and darken.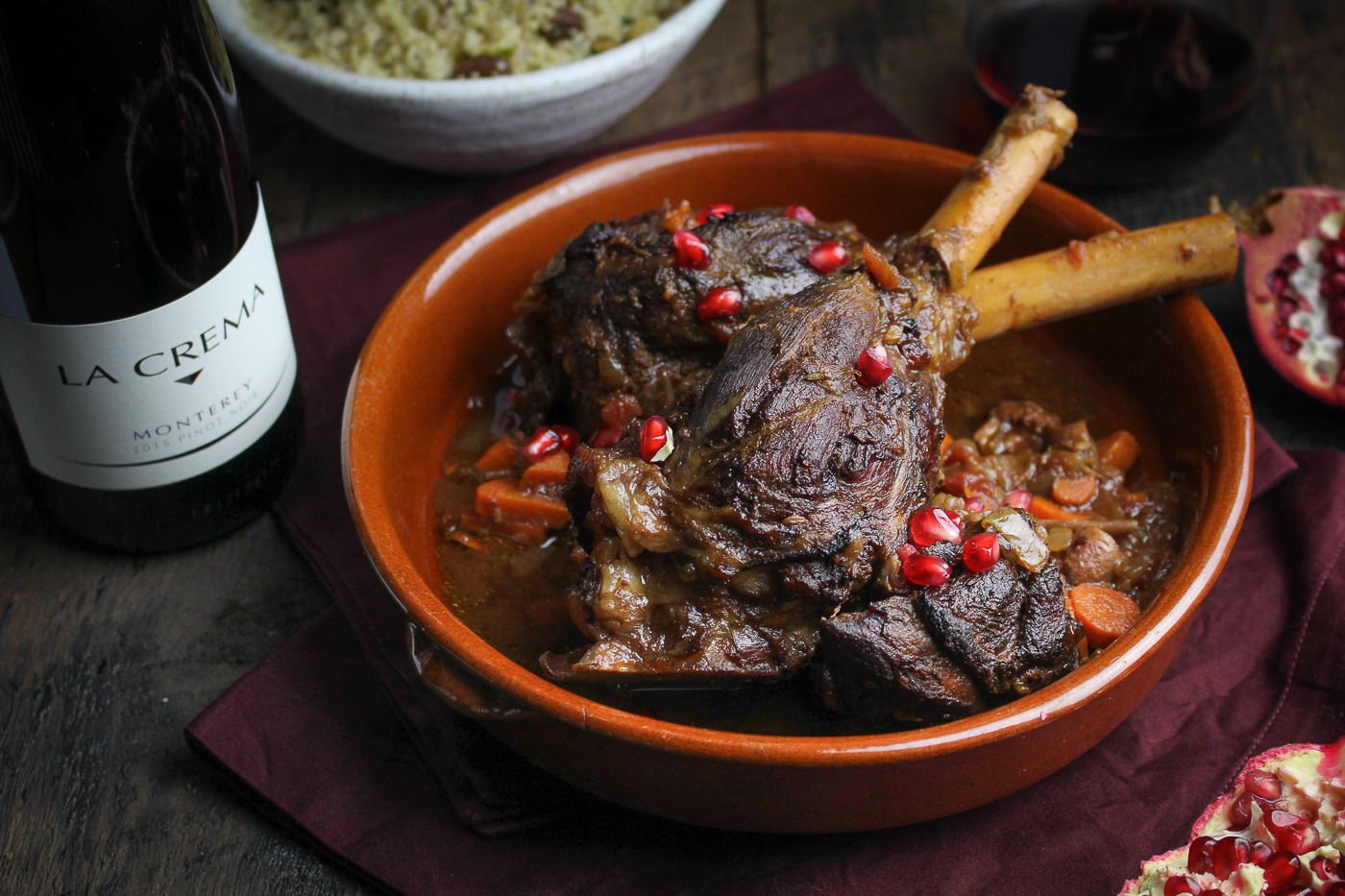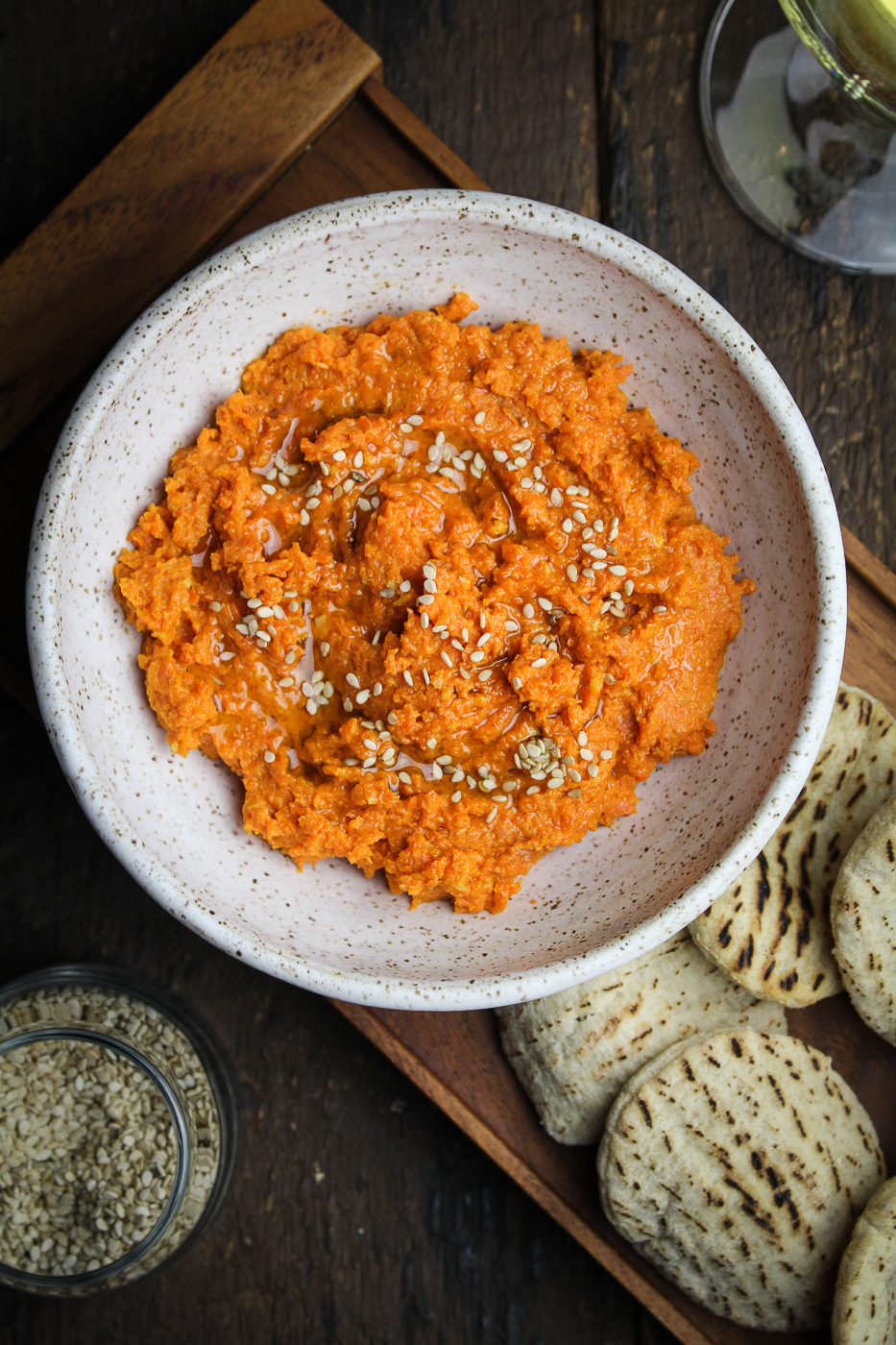 As usual, this menu contains an appetizer,  a main course, a side dish, and a dessert. The first three courses are all over on the La Crema blog, and you can find the dessert recipe – for Pistachio Thumbprint Cookies – below. The appetizer this time is a Spiced Moroccan Carrot Dip, served with fresh pita bread. It's a surprisingly flavorful and vibrant appetizer, made bright with a bit of lemon, tahini, and pomegranate molasses. I found myself craving it after work the day after I made it, which is pretty rare for snacks that are mostly made of vegetables.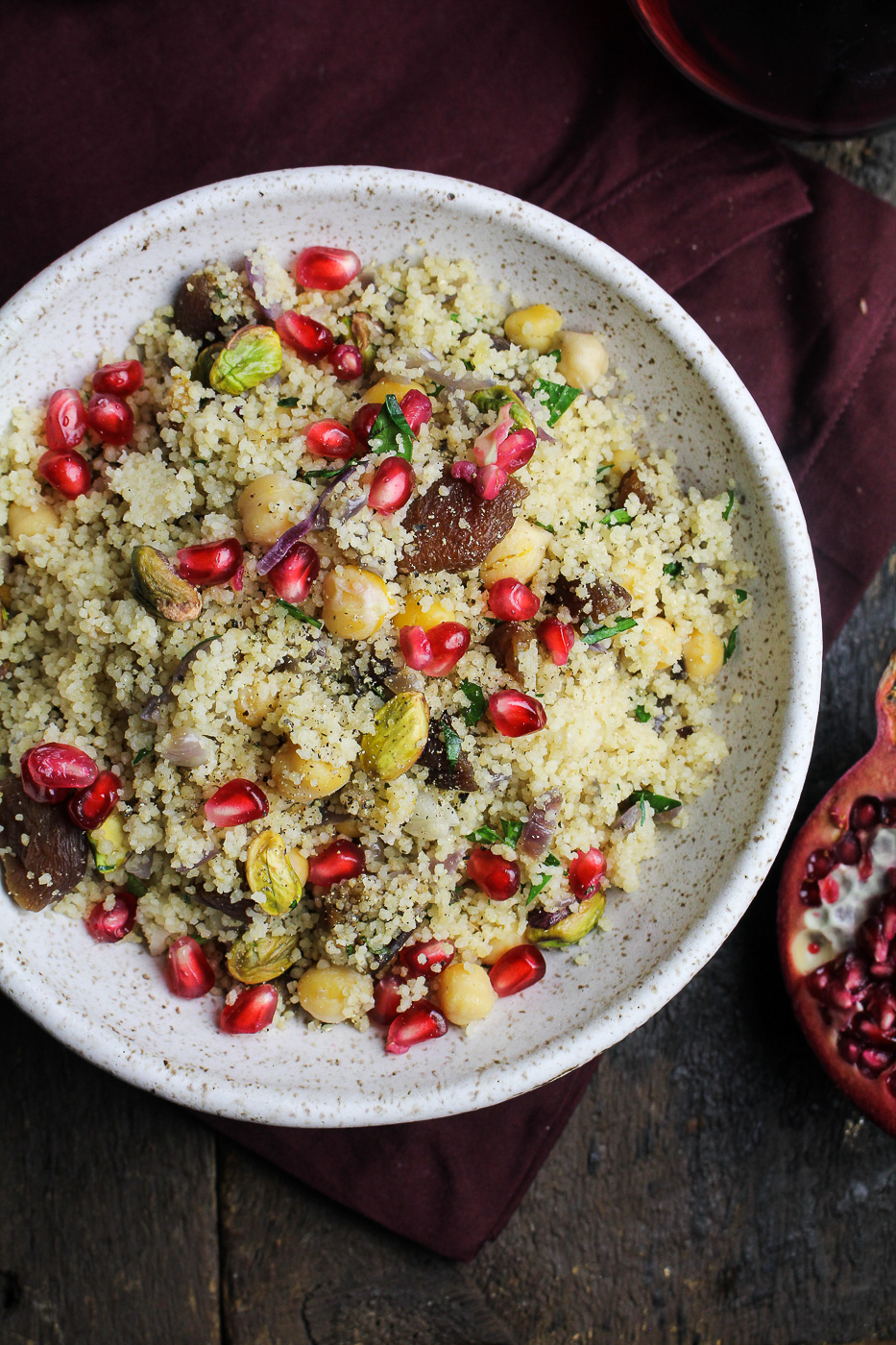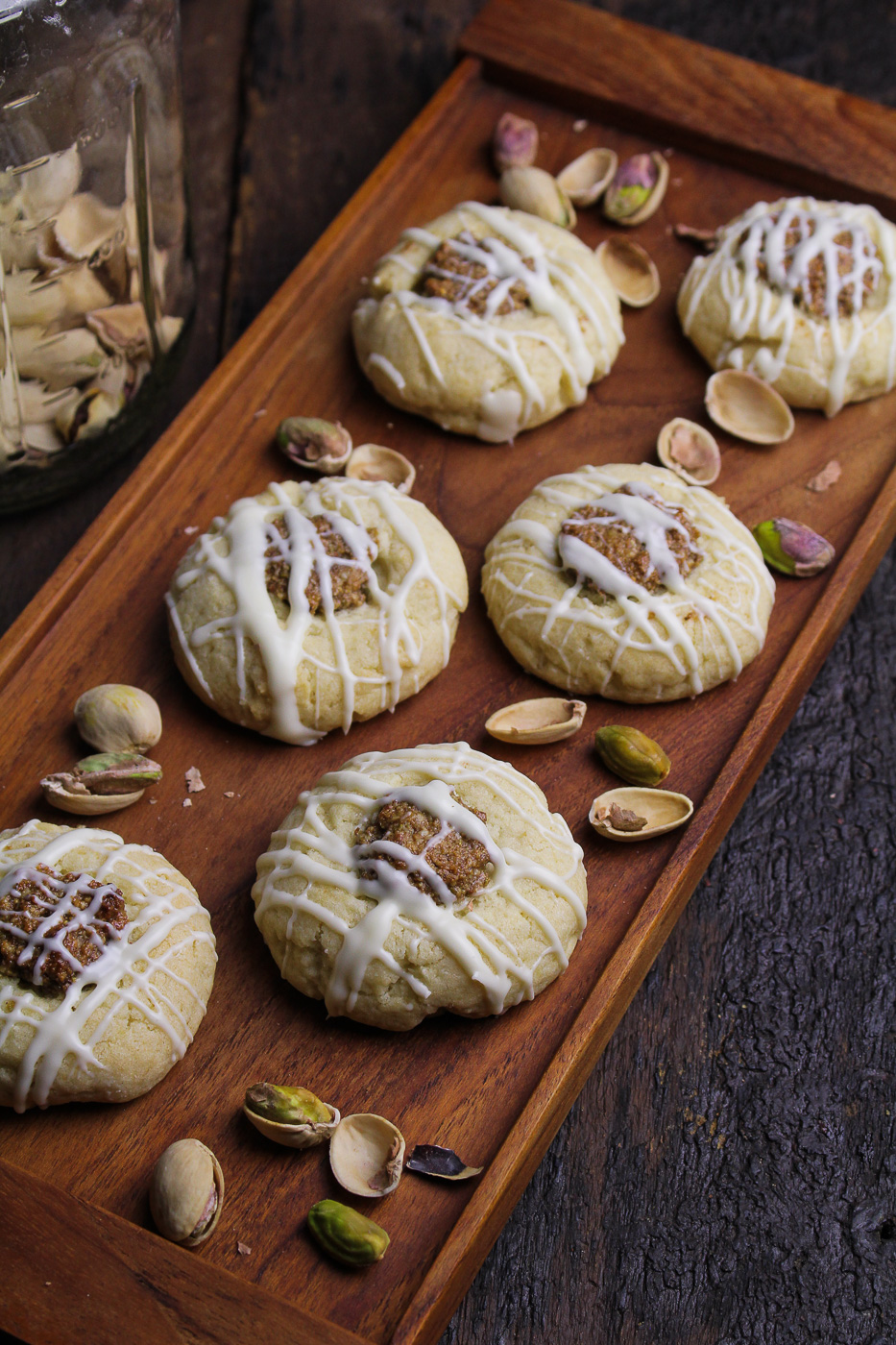 The main course is Moroccan-Braised Lamb Shanks, served over what I've decided to call Royal Couscous – couscous with lots of delicious mix-ins like apricots and pistachios. The lamb is a rich, slow-cooked dish flavored by sweet dates, Pinot Noir, tomatoes, stock, and warming spices. After two and a half hours in the oven the lamb should be meltingly tender. Spooned over couscous mixed with apricots, pistachios, chickpeas, apricots, parsley, red onion, and preserved lemon it makes a meal fit for a feast. Especially with a bottle of La Crema's Monterey Pinot Noir  served alongside it! Lamb is great with lighter-bodied, fruity, yet spicy red wines like Pinot Noir.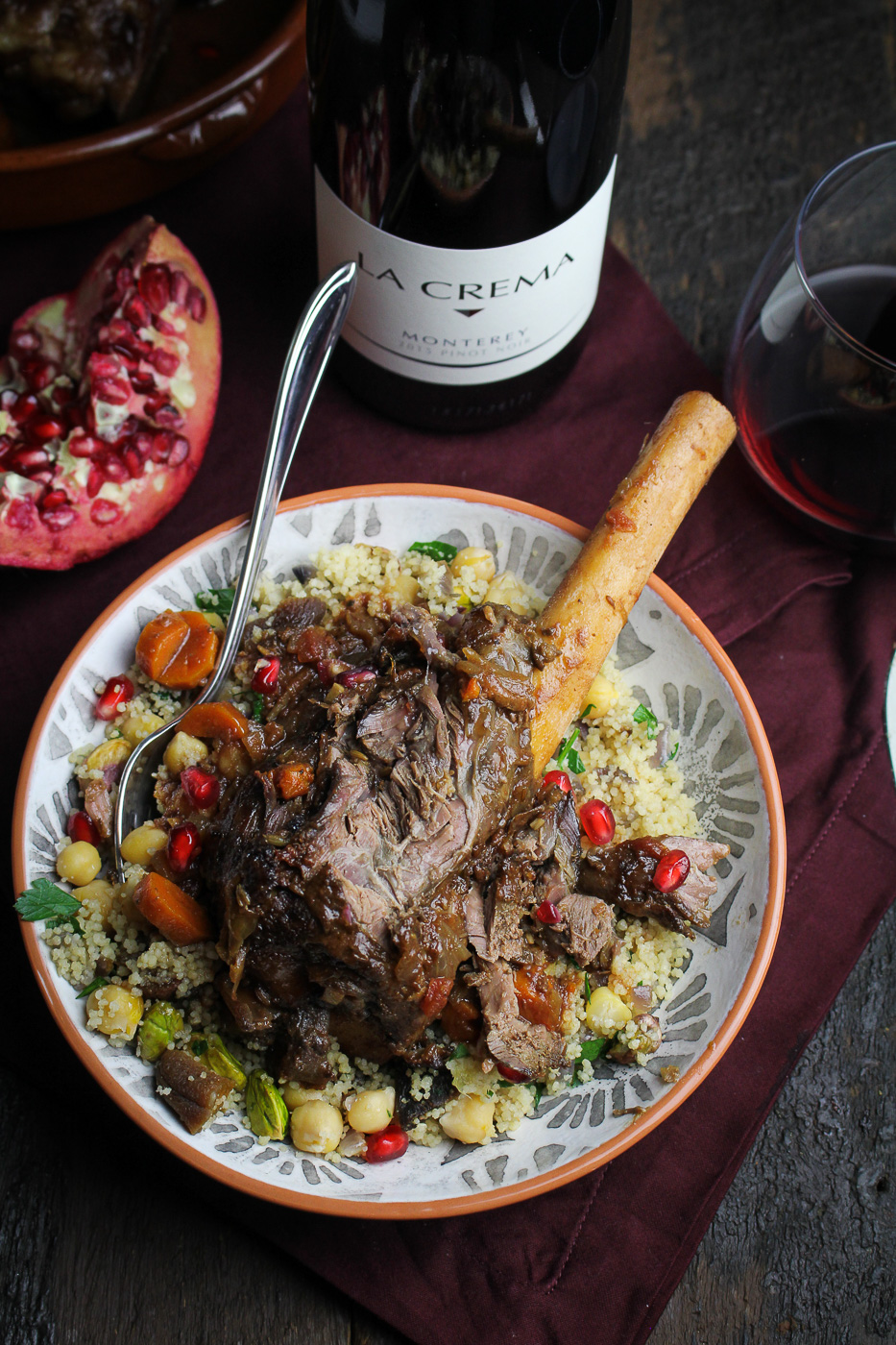 And for dessert, Pistachio Thumbprint Cookies. There is a traditional Moroccan dessert called a m'hanncha, commonly translated as snake cake. As far as I can tell, it's an impressive rolled and coiled version of baklava. I thought about making this massive dessert for this post, but thought it might be a bit much for Trevor and I to tackle eating in the next few days. And also, I really wanted a cookie. It's that time of year, you know? So I took the flavors of the m'hanncha and translated them to something more bite-sized: Pistachio Thumbprint Cookies.
They're not the world's prettiest cookie – although that little drizzle of white chocolate helps! The lovely green color I was imagining was instantly lost when I added a tablespoon of cinnamon the filling mixture. But – they are really delicious! The filling has such a lovely hint of rosewater in every bite. They are easy to make and the flavors are unexpected. The cookie base is a simple, soft sugar cookie that I adapted from these thumbprint cookies on Epicurious. It comes together really easily and rolls nicely without any chilling or finesse needed. Since the nut filling is fairly sticky, it's easy to get the filling to adhere to the cookie.
Enjoy, and don't forget to head over to the La Crema blog via the links above for the other recipes!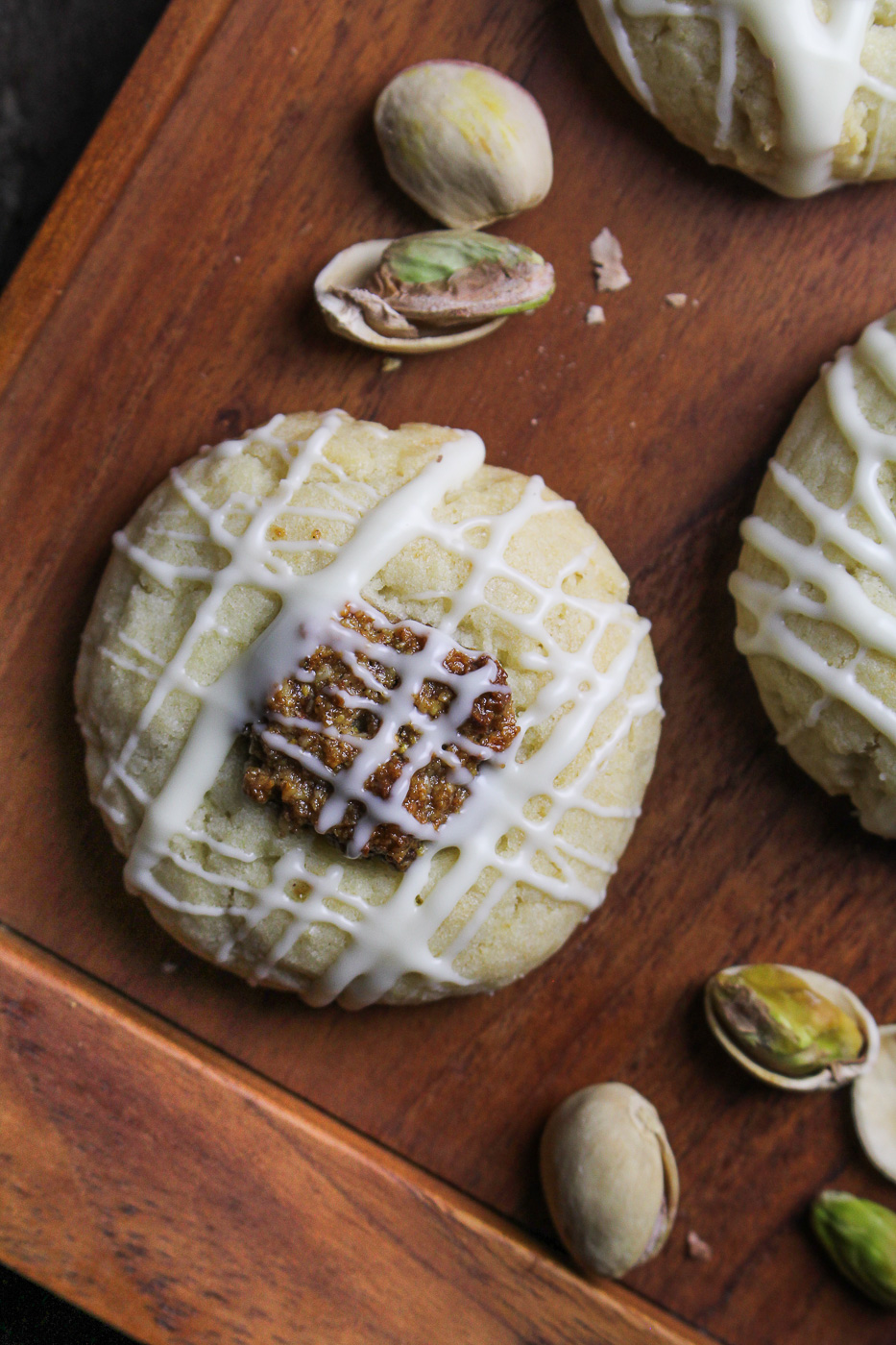 Print
Pistachio Thumbprint Cookies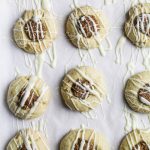 Thumbprint cookies with a rosewater-scented pistachio and almond filling. Inspired by the traditional Moroccan "snake cake" called M'hanncha.
Cookie dough recipe adapted from Epicurious.
Author:
Yield:

18

-

24

1

x
Category:

Cookie
For the filling:
2/3

c. shelled pistachios

2/3

c. raw almonds

1/2

c. powdered sugar

2 tsp

cinnamon

1

TBS rosewater

2

TBS honey

1

egg
For the dough and topping:
1 1/2

sticks butter, at room temperature

1/2

c. sugar

1

egg, at room temperature

1 tsp

vanilla extract

2

c. AP flour

1/4 tsp

baking soda

3 oz

. white chocolate broken into small pieces
Instructions
To make the filling: Place the pistachios, almonds, powdered sugar, and cinnamon in a food processor. Pulse several times, until the nuts are very finely chopped and the sugar is evenly mixed in with the nuts. Add the rosewater, honey, and egg to the food processor and pulse several more times, until the filling is evenly damp. It should be a thick, sticky mixture, almost paste-like. Set aside.
To make the cookie dough: Cream the butter and the sugar together on medium speed (or vigorously by hand) until light and fluffy. Add the egg and beat until it is evenly incorporated. Add the vanilla to the dough and beat to combine. Add the flour and baking soda and beat until just combined (don't overmix). The dough should be smooth and easy to roll into small balls.
To assemble and bake cookies: Preheat the oven to 350F and line a cookie sheet with parchment paper. Roll the cookie dough into small balls, slightly smaller than the size of a ping pong ball. Space the balls evenly on your prepared cookie sheet, then use your thumb to make a deep impression in the center of each ball. Fill the thumbprints with the nut mixture, pressing the filling gently against the sides of the cookie to help it adhere. Bake the cookies until they are just starting to turn golden brown on the top, about 15 minutes. Remove from the oven and let cool.
If you'd like to decorate with a white chocolate drizzle, place the white chocolate in a metal bowl. Bring a small pot of water to a simmer, then place the metal bowl on top of the pot. Gently melt the chocolate, using a spatula to stir it and encourage even melting. As soon as all the chocolate is melted, remove the bowl from the heat (use pot mitts – the bowl may be hot!) and use the spatula or a spoon to drizzle white chocolate on top of the cookies. Let chocolate harden before serving.
5