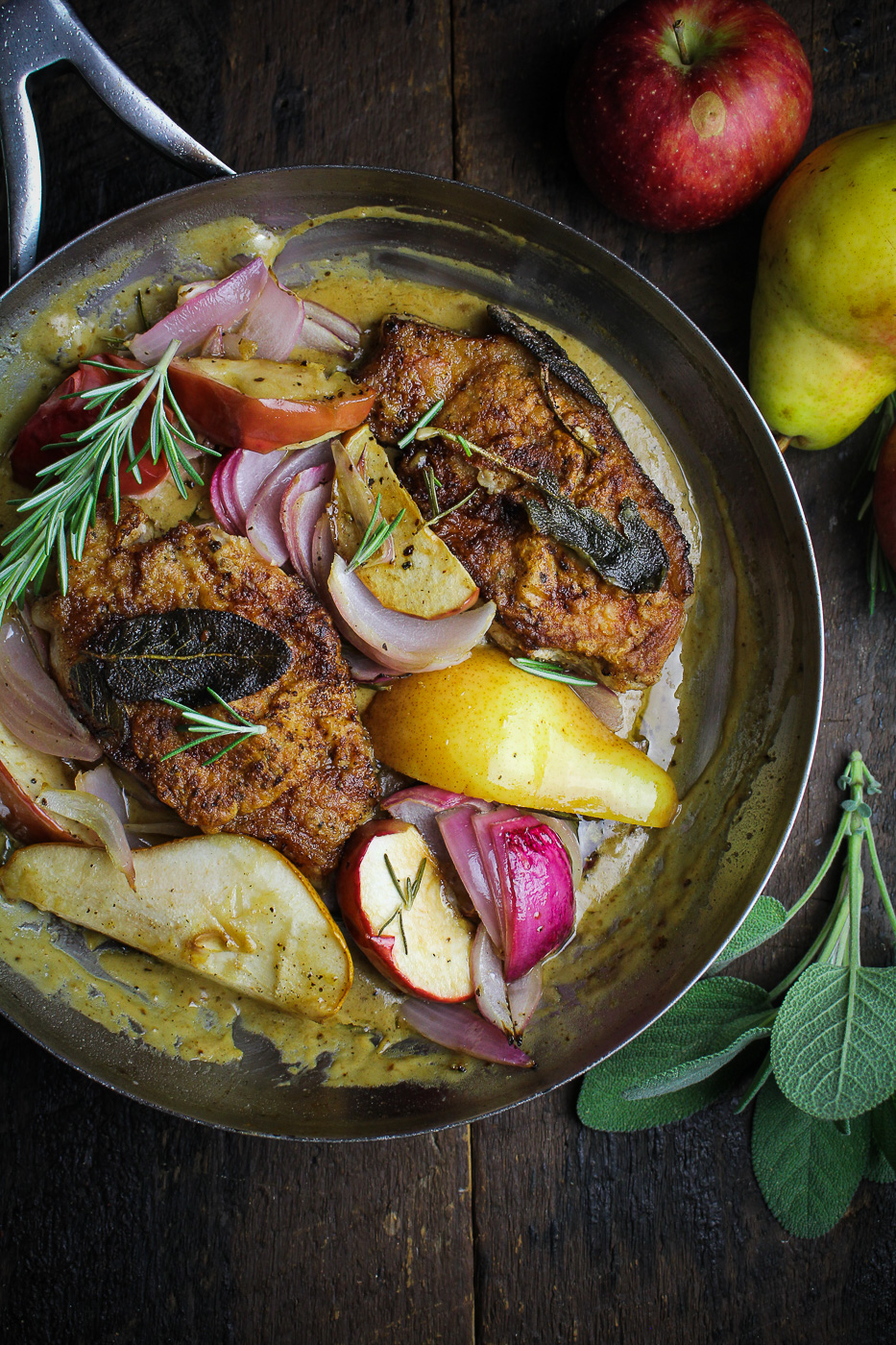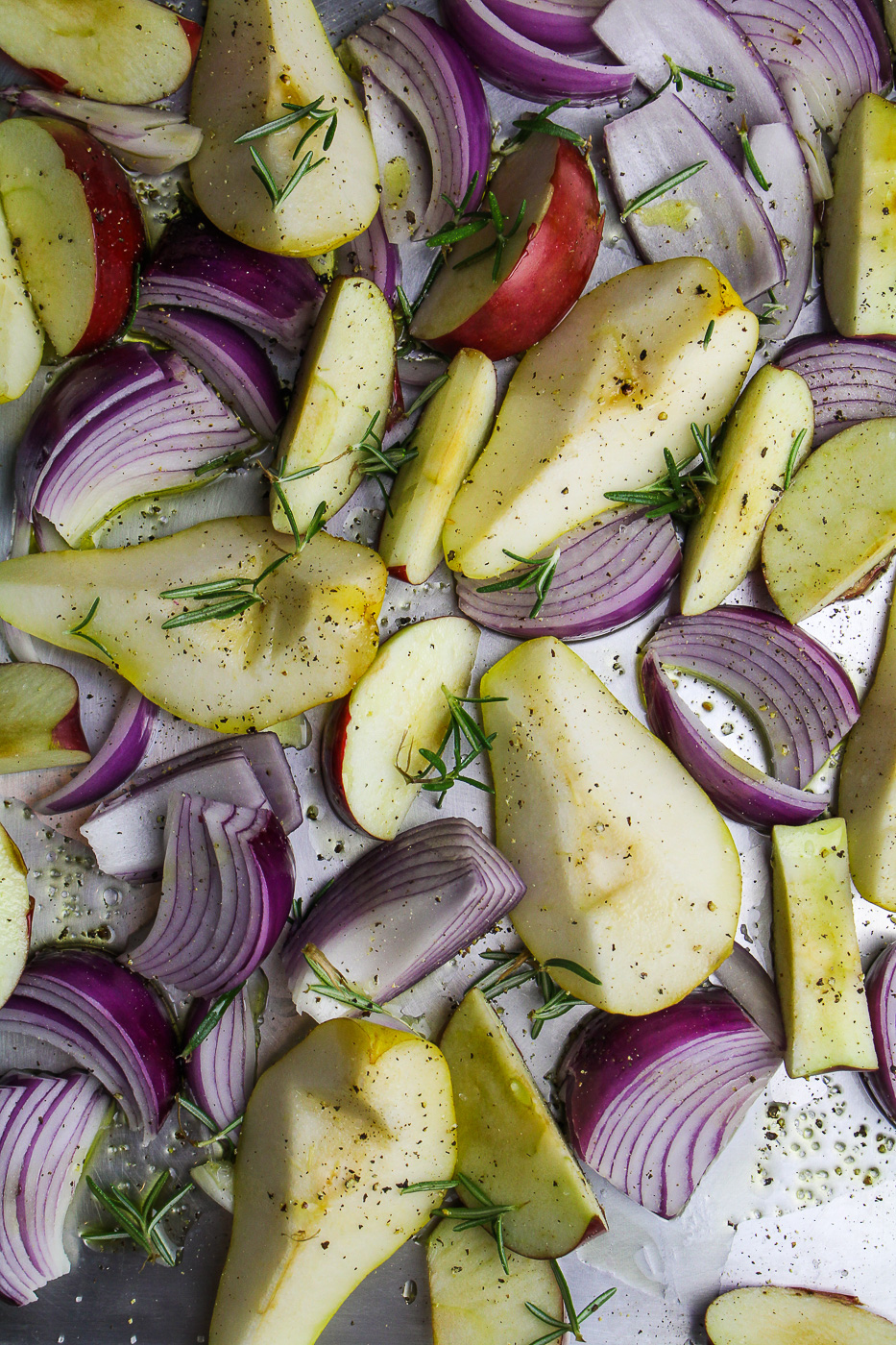 I've spent a lot of time in the past year grappling with the future of this blog. As do all bloggers, writers, or people who show up to do anything consistently day after day. I've gone from certain I want to make this blog my full time business to certain I want to quit entirely (the range of the uncertainty effectively negating either option as the best one). Hearing about other people's "should I or shouldn't I" blog crises always bores me, so I'll keep this short and sweet. Here's how I feel today: I'm proud of what I've accomplished here. I still feel the urge to write and create. I tried the blogging-as-a-business thing (the podcasts, the SEO otpimization, etc., etc.) and it mostly left me frustrated. My job challenges and fulfills me and right now that, not blogging, is my career. So I will keep coming here, keep cooking, keep writing, but I'm not going to worry so much about stats and schedules. I want this to be a place that inspires and fulfills me, not a chore to stress over.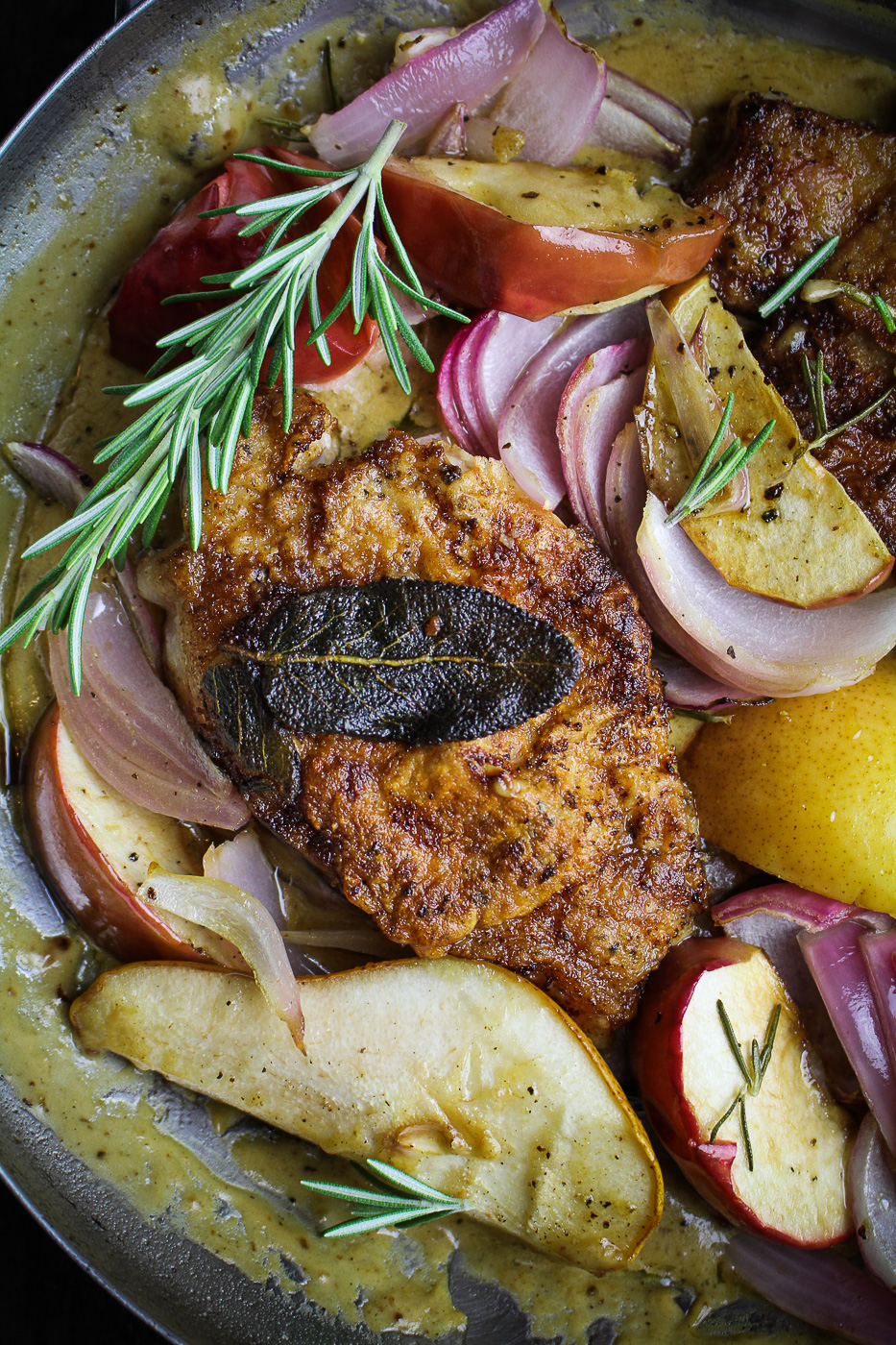 Now that that's out of the way – hi! I've been gone because Trevor and I got married! Then we went on an incredible honeymoon and spent three weeks in Croatia, Slovenia, and Prague. It was awesome. I took a lot of pictures, I drank a lot of wine and beer and mead, I walked a bajillion steps every day, and I spent so much time with Trevor everyday that I think I'm going to go through withdrawal. I'm happy to be home though, not least because it's fall. An exceptionally warm, lovely fall at that.
With wedding planning off my plate I'm just starting to find room in my mind for cooking and creativity. The day we got back from our honeymoon we did a deep clean of the fridge, freezer, and pantry which was also strangely inspiring. I feel like I have a clean slate in the kitchen now. That, combined with the beautiful fall produce, inspired these Pan-Fried Pork Chops with Roasted Apples and Pears. It was the first real home-cooked dinner we've had in months.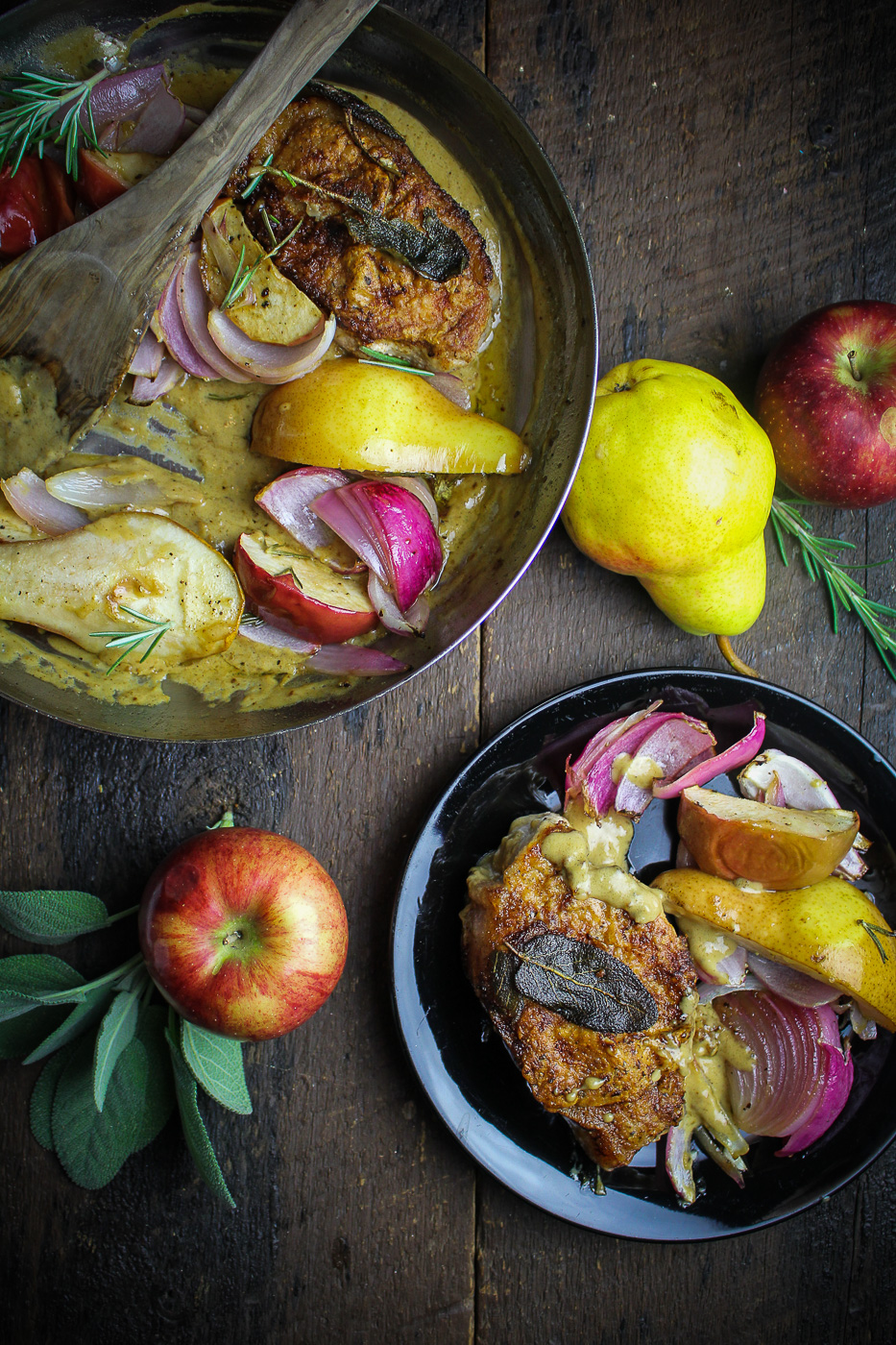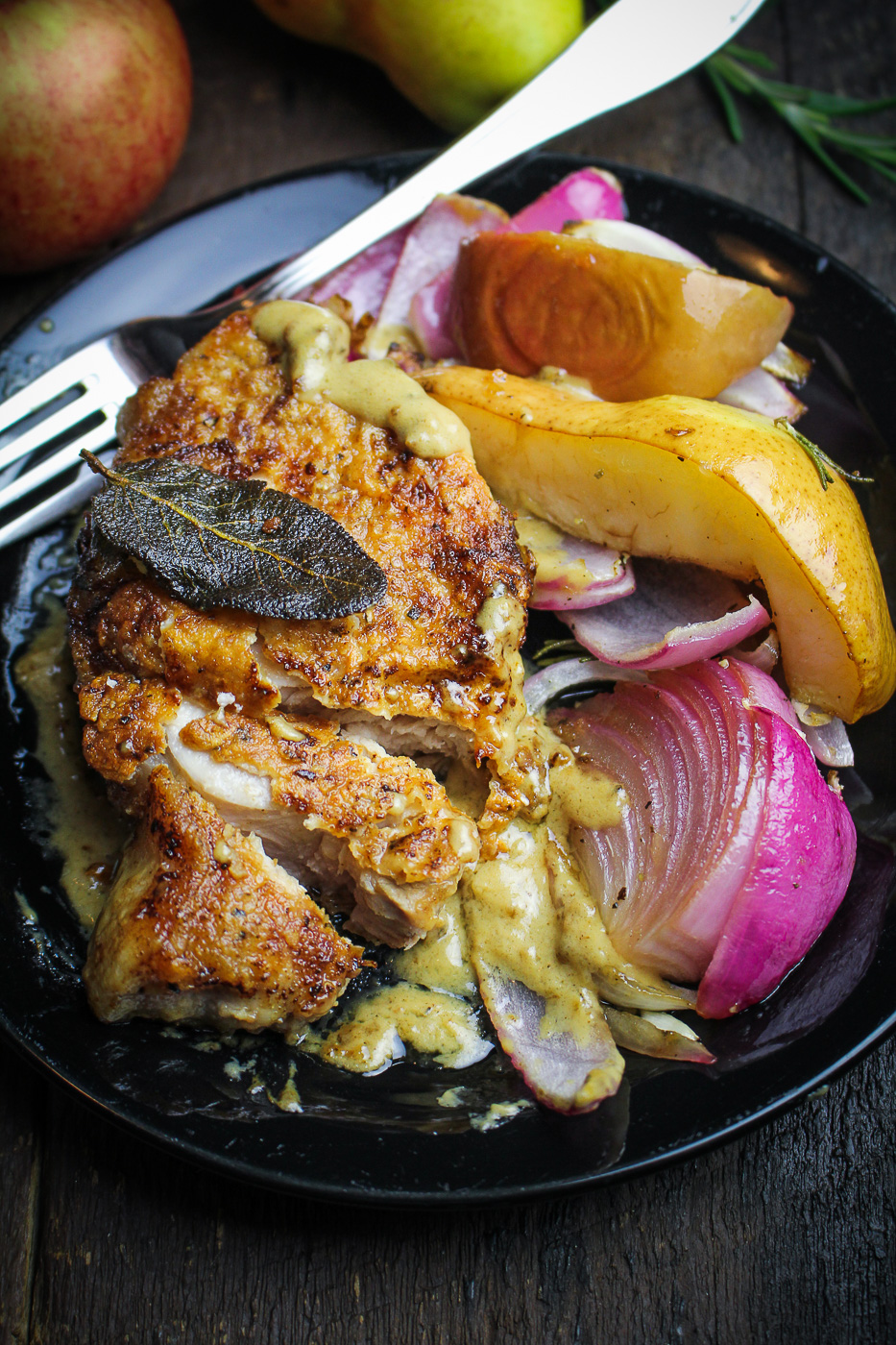 This recipe is pretty easy, doable on a weeknight, and hearty without being heavy.  The pork chops are simply dredged in seasoned flour and pan-fried. The fruit – chopped and tossed with rosemary, olive oil, a hint of brown sugar, and cider vinegar. While the fruit is roasting and the chops are resting, you make a quick pan sauce using calvados to tie everything together. The roasted fruit was my favorite part of this, with it's balance of sweet and savory flavors. It would also go well with other mains, particularly sausages or grilled chicken, so it seems likely I'll make it again while fall fruits are still at their peak.
P.S. Don't worry! When we get our wedding pictures back I'll share some here. I'll most likely do a few honeymoon posts as well, because, you know, Slovenian venison goulash seems like a thing you might like.
Print
Pan-Fried Pork Chops with Roasted Apples, Pears, and Brandy Cream Sauce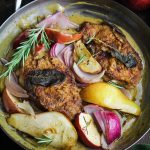 An easy fall dinner of pan-fried pork chops, roasted apples, pears, and red onions, and a quick  brandy pan sauce. 
Inspired by Diana Henry's Roast Figs Sugar Snow and Hilary Davis' French Comfort Food.
2

red onions, peeled and cut into wedges

2

Bartlett pears, cut into quarters and cored

2

McIntosh apples, cored and cut into thick slices

2

TBS olive oil

2

sprigs rosemary leaves, finely chopped
sea salt and pepper to taste

2

TBS brown sugar

1

TBS apple cider vinegar
Four

8

-oz pork chops

1/4 cup

plus 2 TBS flour

2

TBS butter

4

leaves sage

1/2 cup

dry hard cider

1/4 cup

calvados / apple brandy

1/4 cup

heavy cream
Instructions
For the fruit: Preheat the oven to 375F. Arrange the onion wedges, pear slices, and apples slices on a rimmed baking sheet. In a small bowl, whisk together the olive oil, chopped rosemary leaves, sea salt (to taste), black pepper, brown sugar, and apple cider vinegar until combined. Drizzle the olive oil mixture on top of the fruit and onions. Use a spatula to flip everything over once to coat with the oil. Place in the oven and roast until the fruit is soft, about 20 minutes.
For the pork chops: Place 1/4 cup of the flour on a large plate and spread into a thin layer. Season with sea salt and black pepper to taste. Pat the pork chops dry with a paper towel and then dredge in the seasoned flour so that they are lightly coated with flour on both sides. Melt the butter in a large, heavy-bottomed frying pan over medium-high heat. When the butter starts to foam and sizzle, add the sage leaves and fry for 60 seconds. Add the floured pork chops to the pan, spacing them out evenly so they aren't touching one another (you may need to do this in batches if your pan is small). Fry the pork chops until golden brown on one side, then flip and fry on the other side. This should take about 5 minutes per side. Use a meat thermometer to check the internal temperature of your pork chops – they should be 145F at the thickest portion. If they have not yet reached this temperature, cook 1 minute longer then check again. As soon as they reach 145F remove them to a paper-towel lined plate and let rest for 5 minutes.
For the pan sauce: Return the pan you used to cook the pork chops to the heat. Add 2 TBS of flour to the juices left in the pan and quickly stir until thickened, about 60 seconds. Add the hard cider to the pan and let simmer, then use a wooden spatula or spoon to scrape the bottom of the pan until it is clean, stirring the sauce as you scrape. Add the apple brandy to the pan, stir to incorporate into the sauce, and cook for 2-3 minutes, then remove from the heat. Stir in the heavy cream and season the sauce to taste.
To serve: Place a pork chop on each plate along with several pieces of roasted fruit. Spoon some of the pan sauce over the pork and serve immediately.
4